May 26, 2015
Strawberry Rhubarb Oatmeal Bars
It's rhubarb season – try these strawberry rhubarb oatmeal bars with a crunchy oatmeal cookie crust and a thick layer of fruit compote. Easier than a pie, but just as delicious!
Rhubarb! I really enjoy receiving rhubarb in CSA boxes, because it's somewhat of a novelty vegetable for me. It's not something I've ever actively looked to purchase, but I'm excited to use it when it falls into my lap.
It's really a strange domesticated vegetable when you think about it. It's too tart to really use unless it's cooked down with lots of sugar. So… let's turn this bitter, somewhat inedible stalky thing into a dessert!
Also, there's the whole vegetable/fruit debate. While rhubarb actually a vegetable, a New York court deemed it a fruit for tax purposes in 1947.
Fruit? Dessert? Whatever. Let's talk about how to use it!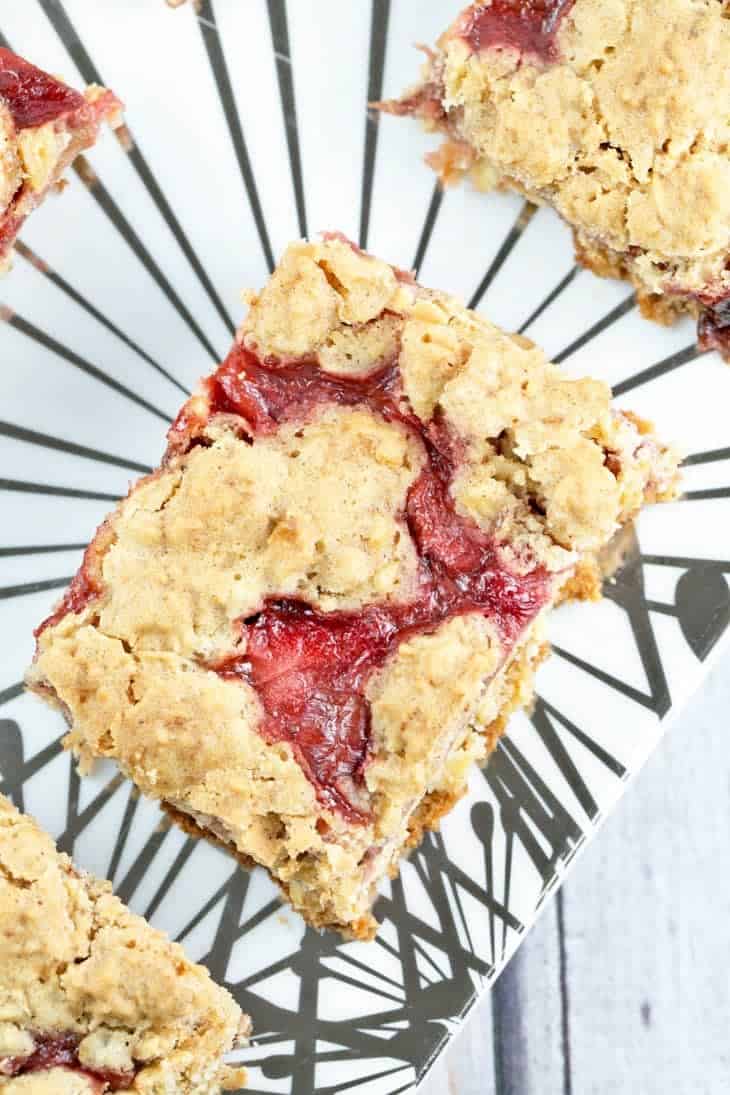 Last year, I made a rhubarb simple syrup, which went into Rhubarb Collins. I really, really enjoyed these – the perfect summer drink, perhaps? And while I would have been thrilled to make them again, what's the fun of repeating something when there are so many other things to make?
And as it so happens, our CSA box also included strawberries. Strawberries and rhubarb the same week? Our CSA basically begged us to make a strawberry rhubarb pie!
But then my husband had to unexpectedly head out for the evening and I was home with an unhappy baby who only wanted to be held.
I loaded him up in our Nesting Days carrier and dashed into the kitchen. I knew my hands-free time was limited, even while wearing him. Making, chilling, rolling out, and filling a pie crust? Impossible.
So instead, I opted for much quicker strawberry rhubarb oatmeal bars. These came together quickly and as an added bonus, are much easier to eat than a pie (one-handed while holding a baby!).
I served them for dessert after grilling for Memorial Day, topped with a blueberry sauce and a big dollop of freshly-whipped cream. Delicious!
(tiny sous chef in training)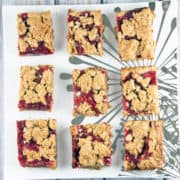 Strawberry Rhubarb Oatmeal Bars
With a crunchy oatmeal cookie crust and a thick layer of fruit compote, these strawberry rhubarb oatmeal bars are easier than a pie, but just as delicious!
Ingredients:
Strawberry/Rhubarb Layer:
1 quart strawberries, sliced
2 cups (approximately 6 stalks) rhubarb, sliced into half-inch pieces
1/2 cup granulated sugar
1 tablespoon lemon juice
4 teaspoons cornstarch
1 tablespoon vanilla extract
Oatmeal Bar Base:
1 3/4 cup all-purpose flour
1/2 teaspoon baking powder
1/2 teaspoon salt
1/2 teaspoon ginger
1 teaspoon cinnamon
1/2 teaspoon nutmeg
1 cup unsalted butter, room temperature
1 cup brown sugar
1 cup granulated sugar
2 eggs
1 tablespoon vanilla extract
3 cup rolled oats
Blueberry Sauce (optional):
1/4 cup granulated sugar
2 teaspoons cornstarch
dash salt
1 pint blueberries
2 tablespoons lemon juice
Directions:
To prepare the strawberry/rhubarb layer, combine all ingredients in a medium saucepan and toss with a wooden spoon to coat the fruit.  Cook over medium heat until rhubarb is fork-tender and juices have thickened, about 6-8 minutes.  Set aside to cool.
Preheat the oven to 350F.  Cover a 9×13-inch baking pan with aluminum foil, leaving an overhang on both ends of the pan.  Spray the foil with nonstick cooking spray.
In the bowl of a stand mixer, beat butter on medium speed until fluffy, about 2 minutes.  Add sugars and beat until well combined, another 2-3 minutes.  Reduce mixer speed to low and add in eggs, one at a time.  Add vanilla and mix until combined.
Add flour, baking powder, salt, and spices and mix on low speed until just combined.  Add in oats and mix on low speed, stirring by hand a few times to evenly incorporate the oats.
Press 3/4 of the dough mixture evenly into the foil-lined baking pan.  Place the remaining quarter of the dough mixture into the freezer for 10-15 minutes.
Spread the fruit compote over the layer of pressed dough, spreading evenly over the surface with a rubber spatula.  Crumble the remaining chilled dough over top of the fruit.
Bake for 50-60 minutes, until the crumble layer is golden brown.  Cool completely in the pan on a wire rack.
Remove from the pan using the foil handles.  The bars are heavy, so the center may require support from a spatula – it will start to sag when lifted by the foil.  Slice into 18 large bars or 24 squares.
Optional: serve with blueberry sauce and freshly-whipped cream.  Combine all ingredients for blueberry sauce in a small, heavy-bottomed saucepan over medium heat.  Bring mixture to a boil, stirring constantly.  Cook 2-3 additional minutes, stirring occasionally, until sauce is thickened.  Serve warm or at room temperature.  Top with whipped cream.