May 18, 2017
Cream Cheese Swirl Brownies
Rich and fudgy brownies with a tangy cream cheese swirl – these cream cheese swirl brownies are perfect for sharing! Plus, tips on how to properly store cream cheese desserts.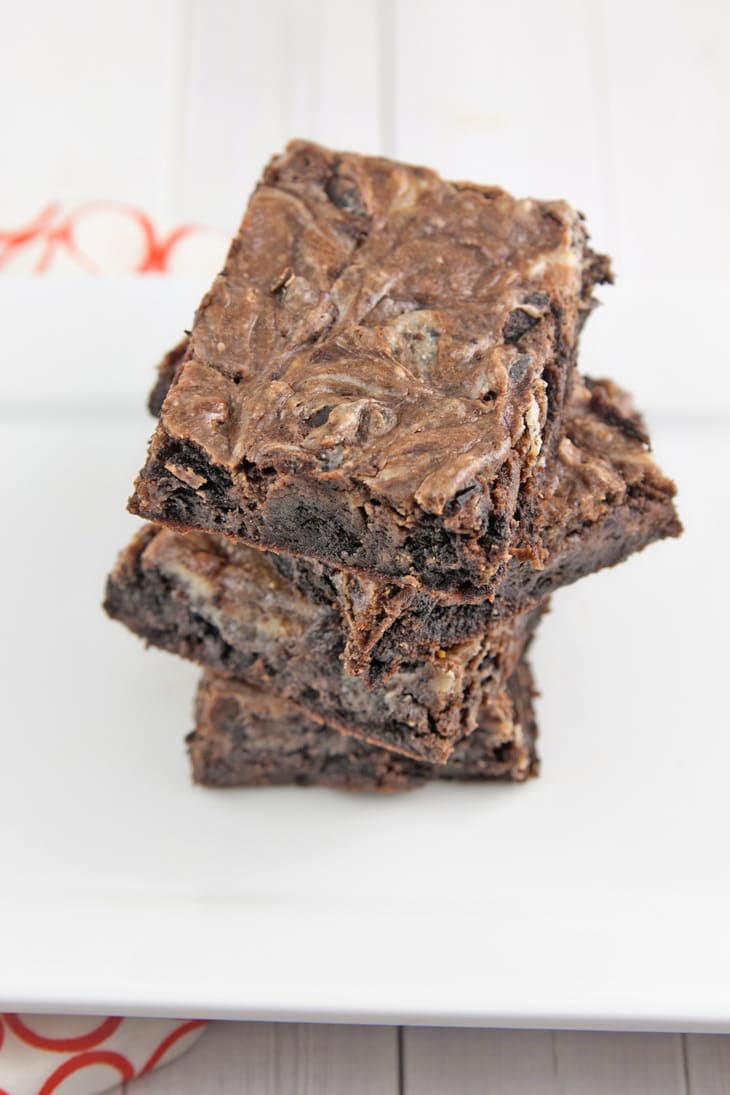 Brownies are one of those foods that are not remotely seasonal.  There's no special ingredient that is only available one time of year.
It's not like soup or a popsicle, which you only crave when temperatures reach certain highs or lows.  Brownies are, truly, an all the time option.
There's just something about summer, however, that calls for brownies.  Picnics in the park, potluck BBQs, 4th of July parties.  Stoop sitting, although that might mostly be a Philly thing.
All perfect situations for sharing a big pan of brownies.  So now that the temperature has jumped to 90 (wah!) and summer is well on its way, let's talk brownies.  Like these Cream Cheese Swirl Brownies.
Before we get into the cream cheese swirl brownies, though, let's discuss this cream cheese swirl… and the hotly-debated topic of baked good refrigeration.
Do You Need To Refrigerate Buttercream Frosting?
Do these brownies, with a baked cream cheese swirl, require refrigeration?  What about a cake decorated with cream cheese frosting?  Or a cake with buttercream frosting?
It's obviously time for some…
Kitchen Chemistry: Sugar acts as a preservative.  (Think about making jam — it's the sugar content that allows us to can jam and save it for months at room temperature.)   Sugar is hygroscopic, meaning it absorbs water.  It can draw the water out of dairy , thus reducing the amount of water available for growth of bacteria.  Butter, cream, and cream cheese are stabilized by all the sugar, and thus safe to store at room temperature for up to three days if the sugar content is sufficient.
So, sugar acts as a preservative.  Great! But what's that about needing sufficient sugar content?
Take American-style buttercream frosting.  Butter is 80% fat, 20% water, so you need enough sugar to stabilize the 20% water from the butter (and a splash of heavy cream).  American buttercream is super sugary, so you don't need to worry about it – there is plenty of sugar compared to the 20% water in the butter.
Do You Need to Refrigerate Cream Cheese Frosting?
Cream cheese, however, is roughly 33% fat and up to 55% water — that's a lot more water!  So you have to have more sugar present to act as a preservative.
Not all cream cheese frosting recipes (or cream cheese swirl, in the case of these cream cheese swirl brownies) contains enough powdered sugar to control for the excess water in cream cheese.  You need (roughly) a pound (4 cups) of sugar per half-pound (8 ounces) of cream cheese to stabilize the frosting enough to let it sit out at room temperature.
Whew!  Are you still with me after our kitchen chemistry explanation?
If you want the TL;DR version: American-style buttercream frosting is fine to keep at room temperature.  Cream cheese frosting is okay… if you are confident that you use enough sugar.
Personally, I will let a cake with cream cheese frosting sit at room temperature overnight, or for a day, but much longer than that and I pop them into the refrigerator (or freezer) for storage.
How to Store Cream Cheese Swirl Brownies
How about these cream cheese swirl brownies?  Well, the sugar content in the swirl is definitely less than necessary for preservation… but the brownies are baked, which also helps to dry out the excess moisture.  So for these, much like the frosting, I'll let them stay at room temperature for a day or two, but if we won't eat them right away, I'll usually store them in the freezer.
Now onto these cream cheese swirl brownies! I'm calling them "cream cheese swirl" and not "cheesecake" brownies, because it's really just that — a light, cream cheese swirl.  I don't like (hate! loathe!) cheesecake, so a thick layer of cheesecake on top?  Not my jawn.
This, however, adds just a little creamy cheesy tang, a perfect complement to rich, fudgy brownies.  Perfect for sharing at potlucks, picnics, or stoop sitting sessions.  Or for hoarding and eating all yourself, because… brownies.
Love brownies? Don't miss these other brownie recipes!
Cream Cheese Swirl Brownies
Rich and fudgy brownies with a tangy cream cheese swirl – these brownies are perfect for sharing!
Ingredients:
For the brownies:
3/4 cup butter, melted
1 1/2 cups sugar
3 eggs
3/4 cup cocoa powder
3/4 teaspoon salt
3/4 teaspoon baking powder
1 tablespoon vanilla extract
1 1/4 cups flour
For the cream cheese swirl:
6 ounces cream cheese, room temperature
1/3 cup sugar
1 egg
1 teaspoon vanilla
Directions:
Preheat the oven to 350 °F.  Line a 9″ square baking dish with aluminum foil, extending the foil over the edges to form handles, and grease the foil.
Combine the melted butter and sugar together in a small bowl, whisking until smooth and shiny.  In a large bowl, combine the eggs, cocoa powder, salt, baking powder, and vanilla.  Whisk by hand for about 5 minutes, until well combined.  Add the melted butter/sugar mixture to the egg/cocoa mixture, stirring until smooth.  Add in the flour, stirring just until the flour is incorporated.
To make the cream cheese swirl, combine all the ingredients together in a small bowl, whisking until fully combined and creamy.
Pour the brownie mixture into the prepared pan.  Drop dollops of the cream cheese swirl mixture onto the brownies, swirling across the top with a knife.  Bake for 20-22 minutes, until a cake tester inserted into the center comes out clean.  Set aside to cool completely before slicing.
Brownies can be kept at room temperature for 1 to 2 days, refrigerated for up to a week, or frozen for up to 3 months.
A Bunsen Burner Bakery Original Protocol