August 10, 2021
Three Layer S'mores Cake
With a graham cracker crust, moist chocolate cake, marshmallow fluff buttercream, and milk chocolate ganache, this Three Layer S'mores Cake is the ultimate cake for s'mores lovers!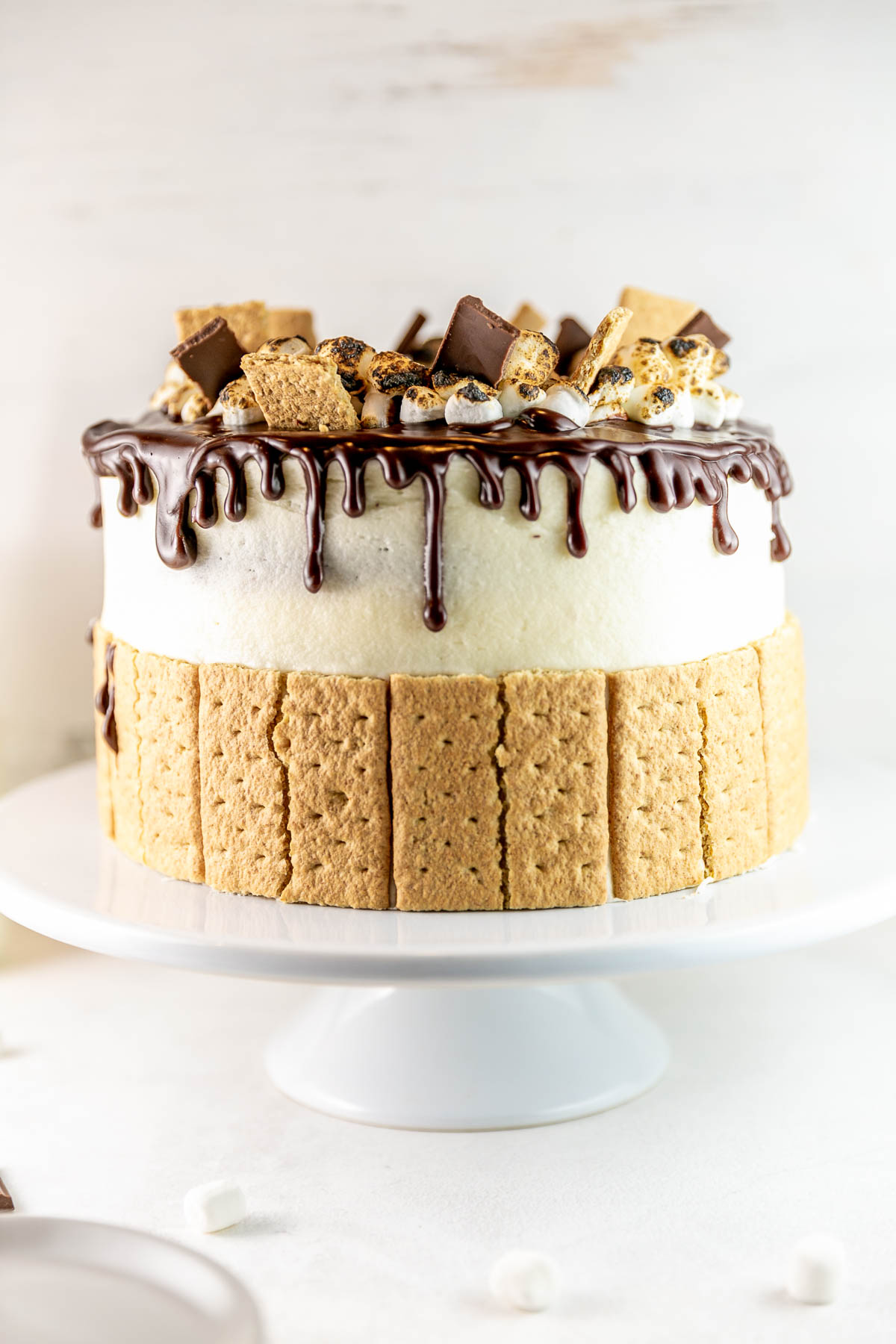 This post may include affiliate links. As an Amazon Associate I earn a fee from qualifying purchases.
Happy National S'mores Day!
Of all the silly, made-up food holidays, National S'mores Day is one of the few I'm willing to celebrate (along with Pi Day, of course!). S'mores are delicious and such a fun nostalgic childhood treat.
Of course, these days, I live in the middle of the city, so instead of camping and outdoor bonfires, we eat our s'mores in other forms.
Fortunately, the classic combination of graham crackers + marshmallows + chocolate is delicious in so many different ways… like this incredible three-layer s'mores cake!
A crispy graham cracker layer, my favorite chocolate cake recipe, and marshmallow fluff buttercream, topped with milk chocolate ganache and toasted marshmallows.
Just please don't make me wait until next August 10th to make this cake again!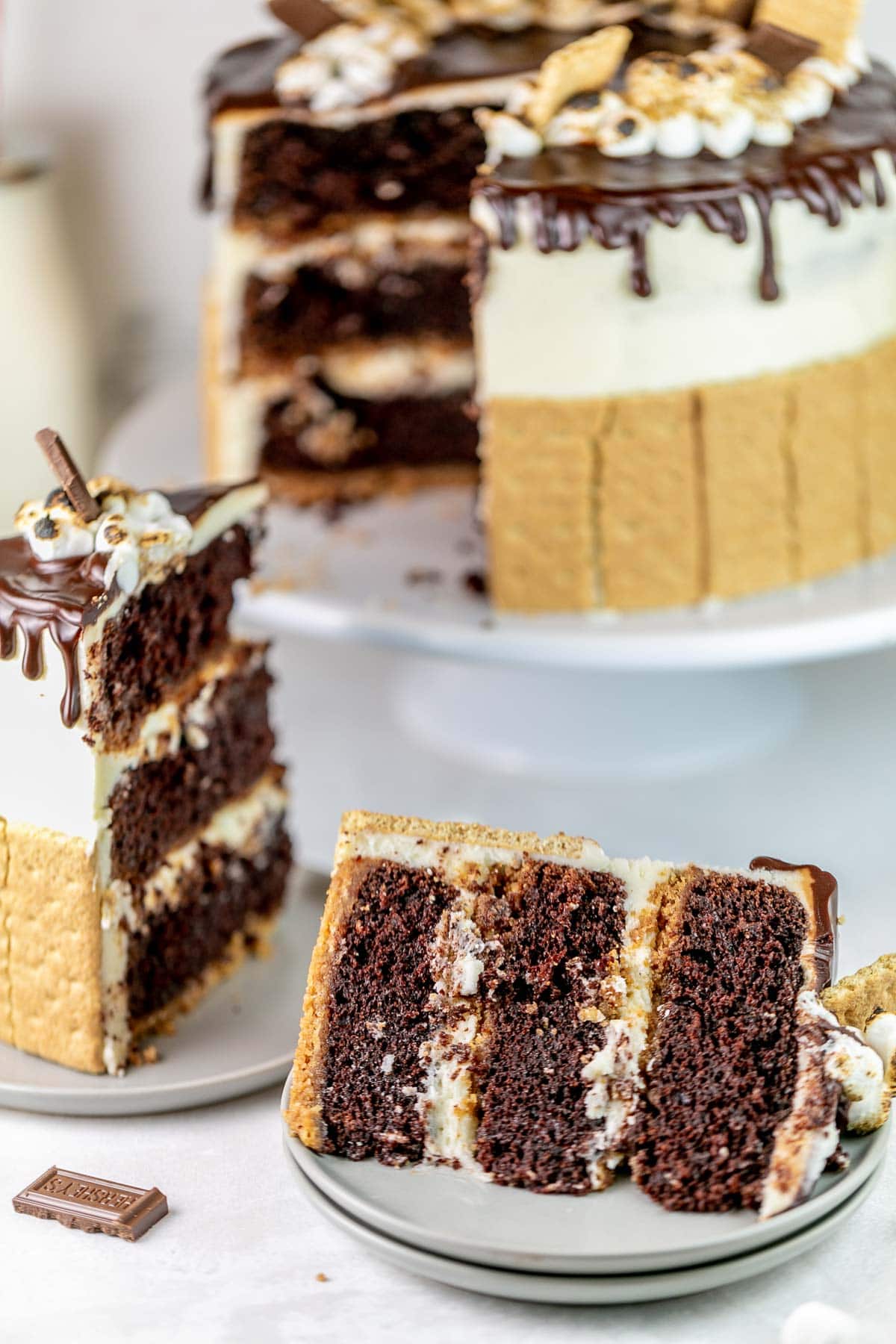 S'mores Cake Components
There are a lot of components going into this cake, so let's discuss them. (But don't worry, it comes together as quickly as most other layer cakes!)
Graham Cracker Crust: The bottom layer of each cake is a graham cracker crust. That's right – we're baking an entire layer of graham cracker crust in the bottom of a cake pan, then pouring the cake batter on top. This ensures an even distribution of crispy graham crackers across the entire cake.
The Best Chocolate Cake: Next up, my favorite chocolate cake – extra moist and extra chocolatey!
Marshmallow Buttercream Frosting: In between each layer and outside the cake, we'll use a buttercream frosting made with marshmallow fluff to add marshmallow flavoring without the stickiness of melted marshmallows!
Milk Chocolate Ganache: You can, of course, use any type of chocolate for the ganache, but to stick with the class s'mores flavor, I like to use milk chocolate. The ganache gets poured over the top of the cake.
Toasted Marshmallows: Top the cake with miniature marshmallows, which will be toasted (or burnt – your choice!) just like a real s'more.
Extra Graham Crackers for Decorating: Optional, of course, but I pressed graham crackers along the perimeter of the cake and in the toasted marshmallows on top. Bonus: between the ganache poured on top of the cake and the graham crackers along the edge, you don't have to worry about perfectly smooth frosting!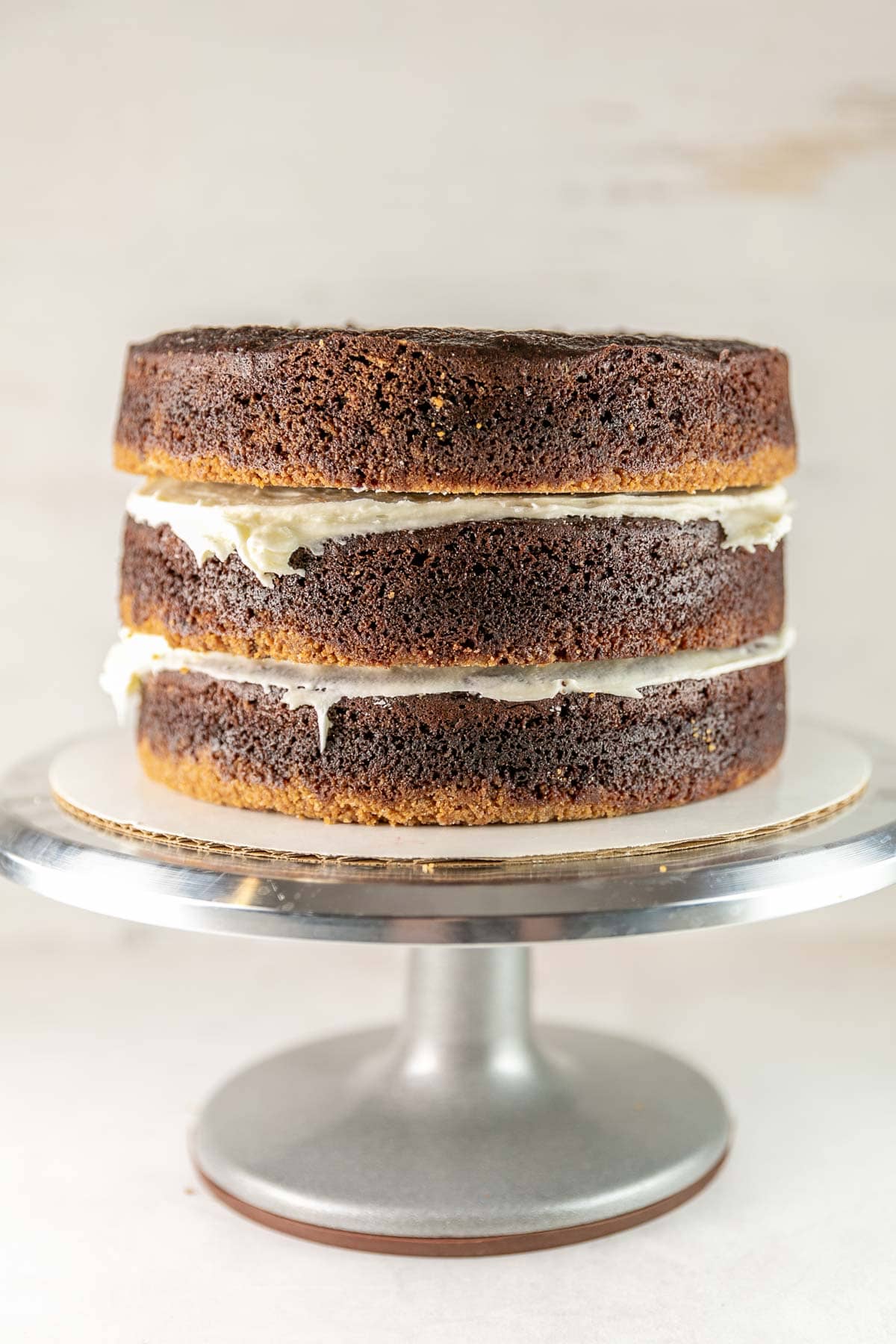 Graham Cracker Crust
The one part of this s'mores cake that is a little extra work compared to a typical layer cake is the graham cracker crust.
We'll make it just like we would a graham cracker pie crust, combining crushed graham crackers, butter, and a little sugar.
Add one-third of this mixture to each of the prepared cake pans, then press the crumbs down to form a compact, flat layer. Bake for 10 minutes to help set the layer, then set aside to cool before pouring the cake batter on top.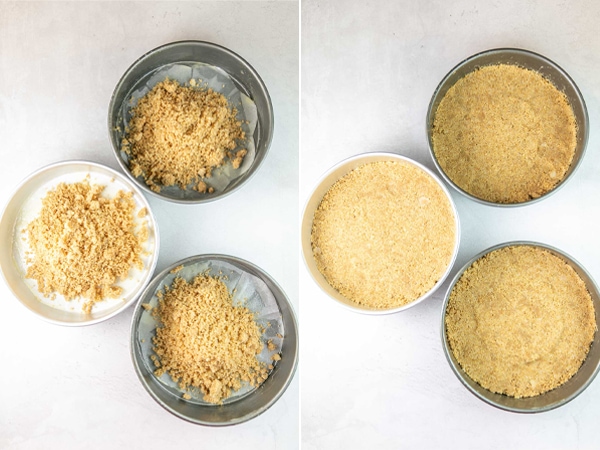 Toasting Marshmallows Indoors
If you're not into toasted marshmallows, you could certainly skip toasting the marshmallows on top of the cake (or skip the marshmallow decorations entirely).
But really… if you don't like toasted marshmallows, you probably wouldn't be making a s'mores cake in the first place.
There are a few different ways to get these marshmallows on top a perfect toasty brown (or charred black, depending on your preference!)
Broil in the oven. Put the cake 5-6″ underneath the broiler until the marshmallows are brown. This is my least favorite method for this cake because the broiler heats up the chocolate ganache while also toasting the marshmallows.
Kitchen torch/soldering torch. Kitchen torches, also called creme brûlée torches, have a very moderate flame and will allow you to get a nice golden color. If you have a "go big or go home" motto like yours truly, you can use a soldering torch, but just be warned that this is a lot more power than you need (and why my toasted marshmallows are a little more black and a little less golden!).
Long-Reach Butane Lighter. You know, the long stick-like lighters people use to light birthday candles? Just be prepared for this to take a long time because the flame is so small. But you won't run the risk of burning your marshmallows – it's just not a strong enough flame.
While we're on the topic of toasting marshmallows for our s'mores cake, how about a little discussion about why marshmallows toast in the first place? It's time for my favorite subject… kitchen chemistry!
Kitchen Chemistry

Marshmallows are made predominantly out of sugar, which is composed of carbon, hydrogen, and oxygen.  Carbon, hydrogen, and oxygen are the primary components of fuel — meaning a marshmallow is basically a piece of fuel, waiting to ignite, which is why it's so easy to go from toasty brown to on fire! 
Recommended Tools to Make S'mores Cake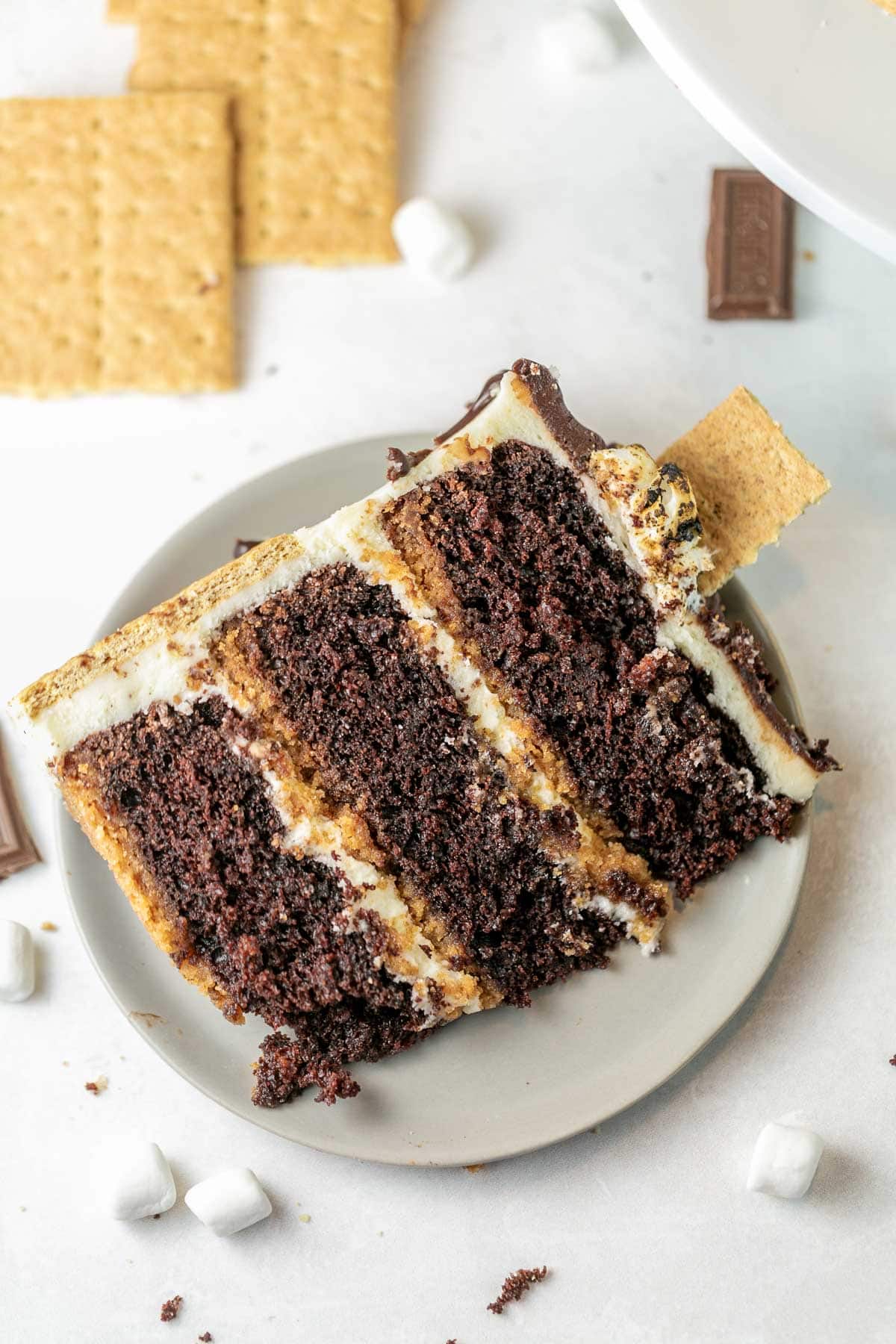 Tips and Tricks for The Best Three Layer S'mores Cake
Crush the graham crackers into tiny crumbs.  This imparts graham cracker flavor into the base while maintaining the perfect texture without large pieces of graham crackers.
To keep cake layers perfectly flat, use Bake Even Strips (or wet cloth soaked in water and wrapped tightly around the outside of the cake pan).
Use miniature marshmallows, or cut large marshmallows into small pieces.  Jumbo marshmallows are too big to toast all the way through without melting the ganache on top of the cake. Use miniature marshmallows for a gooey, melted texture.
For an authentic s'mores experience, use milk chocolate for the ganache.  (But of course, semisweet or dark chocolate will work as well.)
Prefer homemade marshmallow fluff for the frosting? Store-bought works just fine, but if you want to take it a step further, use the "marshmallow meringue frosting" recipe found here.
More S'mores Desserts: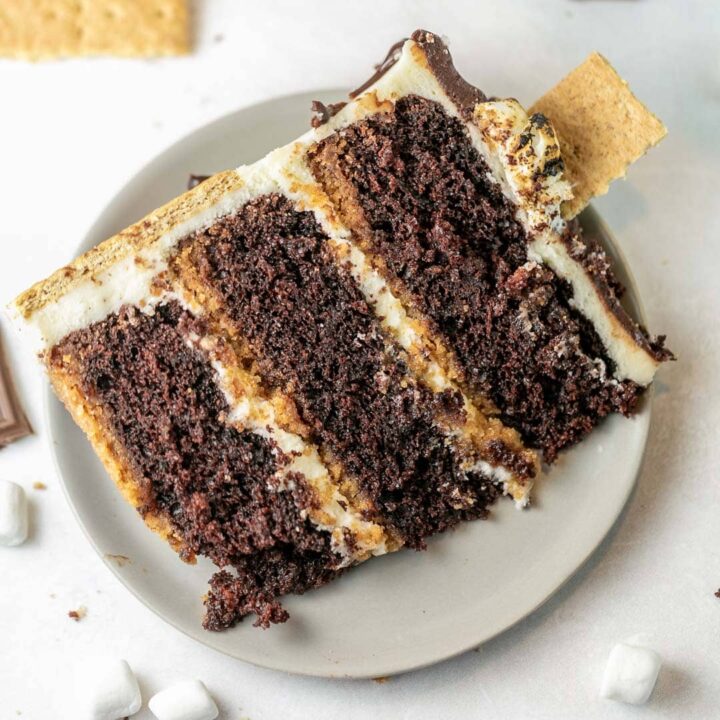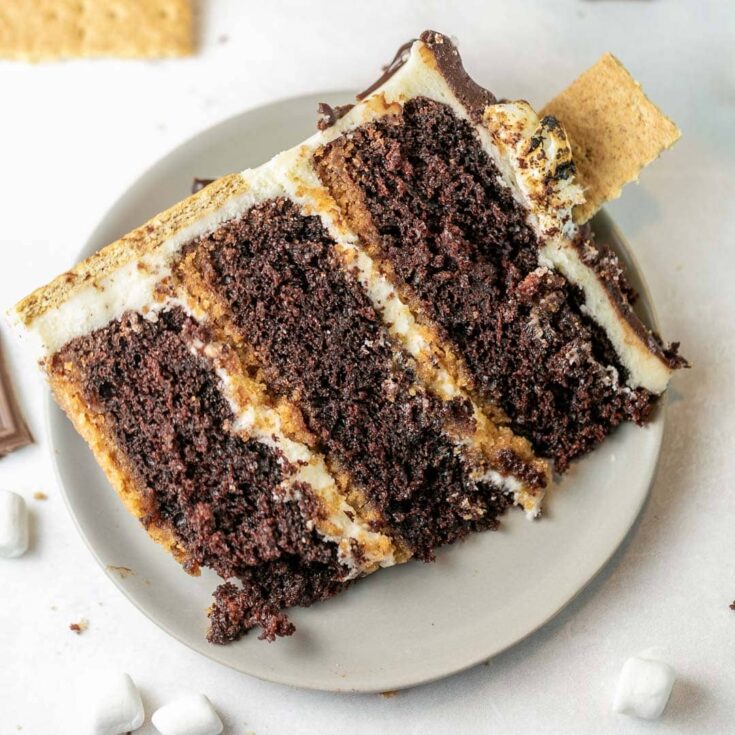 Three Layer S'mores Cake
Total Time:
2 hours
35 minutes
With a graham cracker crust, moist chocolate cake, marshmallow fluff buttercream, and milk chocolate ganache, this Three Layer S'mores Cake is the ultimate cake for s'mores lovers!
Ingredients
For the Graham Cracker Crust:
18 full sheets (279 grams) graham crackers
8 tablespoons (113 grams) unsalted butter, melted
1/2 cup (99 grams) granulated sugar
For the Cake:
2 3/4 cups (330 grams) all-purpose flour
3 cups (594 grams) granulated sugar
1 cup (84 grams) natural unsweetened cocoa powder
1 tablespoon baking soda
1 1/2 teaspoon baking powder
1 1/2 teaspoon salt
3 large eggs, room temperature
1 1/2 cups (340.5 grams) buttermilk
1 1/2 cups (340.5 grams) hot coffee
3/4 cup (148.5 grams) vegetable oil
1 1/2 tablespoons vanilla extract
For the Marshmallow Fluff Buttercream:
1 1/2 cups (339 grams) unsalted butter
7 cups (794.5 grams) confectioners' sugar
10 ounces (283.5 grams) marshmallow fluff
2 teaspoons vanilla extract
1/2 teaspoon salt
For the Chocolate Ganache
7 ounces (200 grams) chopped milk chocolate
3/4 cup (170.3 grams) heavy cream
pinch of salt
For Decorating
miniature marshmallows
additional graham crackers
squares of milk chocolate
Instructions
Preheat the oven to 350 °F. Grease and flour (or spray with nonstick baking spray) three 8-inch round cake pans. Line the pans with parchment paper, then spray or grease and flour again.
Make the graham cracker crust. Crush graham crackers into fine crumbs using a food processor or by hand. Combine graham crackers, melted butter, and sugar in a large bowl and mix until no dry clumps remain. Divide the mixture between the three prepared cake pans and press mixture into an even layer using a sturdy measuring cup, glass, or the back of a spoon. Bake for 10 minutes, then set aside to cool
Make the cake batter. Using a mixer, combine together the flour, sugar, cocoa powder, baking soda, baking powder, and salt in a large bowl. In a separate smaller bowl, whisk together the eggs, buttermilk, coffee, oil, and vanilla extract. Add the wet ingredients to the dry ingredients and mix on low speed until combined, about 2 minutes. The batter will be thin.
Bake the cake batter. Divide the batter evenly among the three pans. Bake for 35 minutes, or until a toothpick inserted into the center of the cake comes out with a moist crumb. Cool the cakes in the pan for 20 minutes, then carefully turn out onto cooling racks to cool completely before frosting.
Make the frosting. To make the frosting, cream the butter until smooth using an electric mixer on low speed. Slowly add in the powdered sugar, 1 cup at a time, followed by the marshmallow fluff. Add the vanilla extract and salt and beat on medium-high speed for an additional 4 minutes. If the frosting heats up too much during mixing, refrigerate for 5-10 minutes until consistency is thick enough to frost the cake.
Assemble the cake. Level the cakes if necessary. Set one cake layer, graham cracker side down, on a plate. Cover this layer of cake with 3/4 cup of the frosting. Top with a second cake layer and repeat. Place the final layer on top of the cake, face down, and frost the sides and top of the cake. Refrigerate to set the frosting.
Prepare the chocolate ganache. Microwave the heavy cream on 50% power for 30 second increments or heat on the stovetop in a small saucepan until it just comes to a boil. Place the chopped chocolate and pinch of salt in a glass mixing bowl and pour the cream over the chocolate. Allow this mixture to sit for 2 minutes to melt the chocolate, and then whisk from the center outside until the ganache is smooth. Set aside to cool, whisking occasionally, until the ganache has thickened but is still pourable, 10 to 15 minutes. Transfer the ganache into a piping bag, snip off the corner, and drip the ganache along the edge of the cake, encouraging the ganache to run down the sides. Pour the remaining ganche into the center of the cake.
Decorate the cake. Add graham crackers along the base of the cake. Place miniature marshmallow around the top of the cake and toast, using a kitchen torch, lighter, or oven broiler. Once marshmallows are toasted, press additional graham cracker squares and pieces of chocolate into the melted marshmallows.
Notes
Buttermilk can be substituted for 1 cup of whole or 2% milk + 1 teaspoon of lemon or vinegar. Mix together and set aside for 5 minutes before adding to the batter.
For perfectly flat, even cakes, weigh the batter to ensure the same amount is in each pan and use Bake Even strips while baking.
This recipe makes 3 8-inch layers. To use 9 inch pans, multiply each ingredient by 1.25. To use 6 inch cake pans, divide the recipe in half.

A Bunsen Burner Bakery Original Protocol
Recommended Products
As an Amazon Associate and member of other affiliate programs, I earn from qualifying purchases.