April 30, 2020
Peanut Butter Stuffed Brownies
Filled with a thick layer of peanut butter and topped with peanut butter chips and a peanut butter drizzle, these Peanut Butter Stuffed Brownies are the ultimate brownies for a peanut butter lover! 
We're sneaking in just under the wire with April's Brownie of the Month recipe. That line about good things coming to those who wait? It's true when it comes to brownie recipes, too.
Sure, you can swirl your brownies with peanut butter. Or you can top your brownies with peanut butter frosting.
But if you love peanut butter (and the continued popularity of my chocolate and peanut butter-based cakes tells me you do!), you want lots of peanut butter. Maximum peanut butter flavor packed into a fudgy brownie.
And the best way to achieve this? By stuffing the brownie full of peanut butter. A big, fat, peanut buttery layer sandwiched between bites of delicious chocolate brownie.
Oh, and then we'll add some chocolate chips and peanut butter chips on top. And a peanut butter chip drizzle, because… why not?
The only downside to these peanut butter stuffed brownies? They disappear way too quickly. Good thing you can save this recipe and keep making more!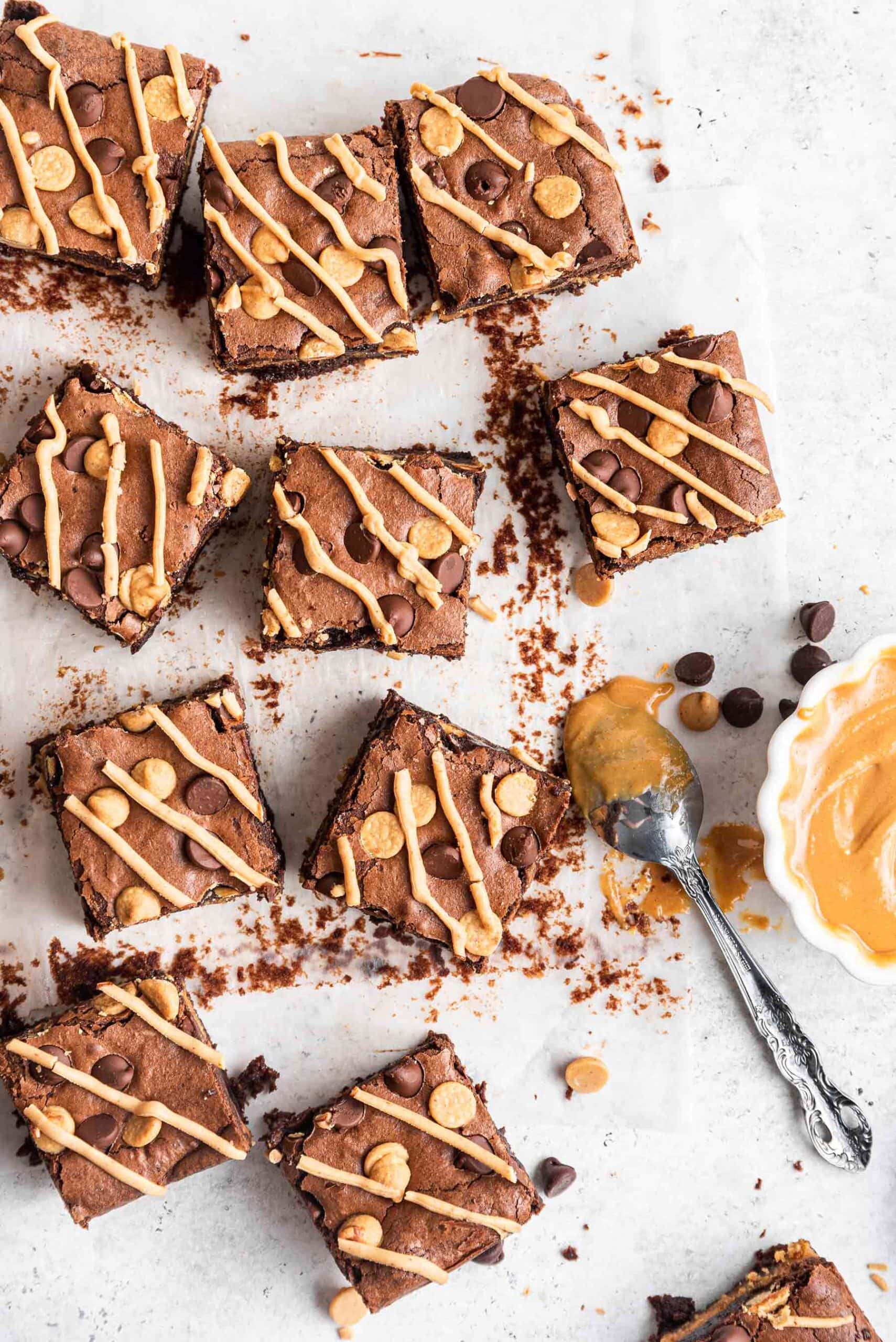 Easy Mix By Hand Brownies
This recipe starts with one of my favorite homemade brownie bases. You've seen it before in these Mint Irish Cream Brownies.
They're thick and fudgy and taste even better when refrigerated. (If warm brownies are more your thing, they're still good. But chilling them first makes them EXTRA fudgy.)
It's the perfect "bread" in our sandwich of stuffed peanut butter brownies. They're thick enough to stand up to that peanut butter layer, and full of chocolate flavor.
And the best part (in my opinion) is that they're easy to mix by hand in one bowl – no dragging out the mixer and fewer dishes to wash!
Thick Peanut Butter Layer
The key to these peanut butter stuffed brownies is, obviously, stuffing them with peanut butter.
Simply spreading a layer of peanut butter on top of the batter doesn't really work, though. As the batter bakes, the peanut butter melts in, diffusing the taste. (Delicious, but not what we're after.)
One way to avoid this is to freeze a layer of solid peanut butter as I did with my Ultimate Nutella Brownies. But sometimes, you want brownies sooner without having to wait, and sometimes you don't have room in your freezer. If you have both time and space, this method will definitely work!
Instead, what we're going to do here is mix the peanut butter with confectioners' sugar, similar to what I use in my No Bake Peanut Butter Bars. This makes sure the peanut butter layer stays separate and doesn't mix in with the batter. There's a definite peanut butter flavor you can both see and taste separate from the chocolate brownie.
(And as an added bonus, the sweetened peanut butter + chocolate brownie combination makes it taste like a baked brownie peanut butter cup – delicious!)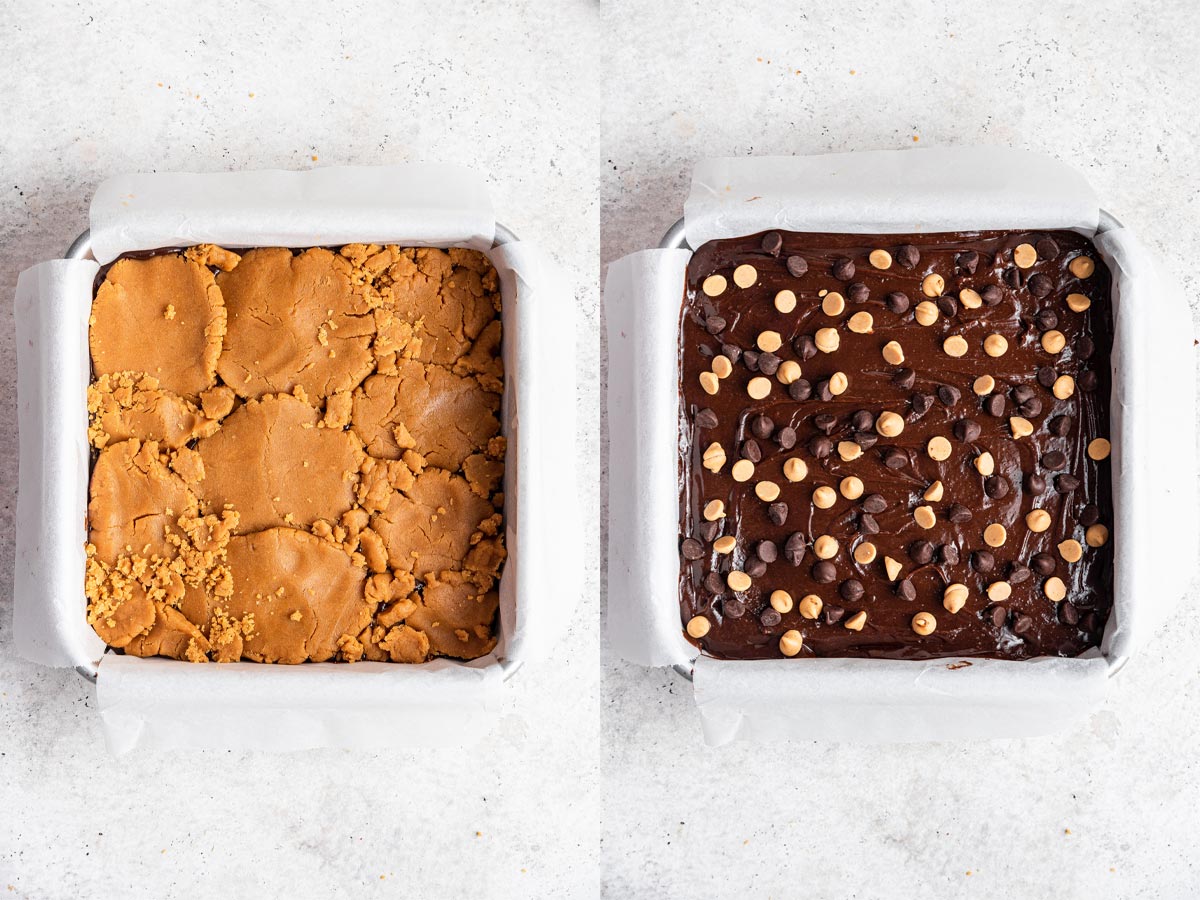 Use Commercial Peanut Butter for Baking
One quick tip: I recommend using commercial peanut butter, not natural. Why is commercial peanut butter generally better for baking? It's time for my favorite subject… kitchen chemistry!
Kitchen Chemistry

Commercial peanut butters undergo a homogenization process, which adds a stabilizer to the ground peanuts to eliminate the separation of oil. As a result of this homogenization, commercial peanut butter is smoother and less gritty textured, but most importantly: will not separate out after temperature fluctuations. When baking with natural peanut butter, there is often a little extra oil that has not properly been stirred back in, which will result in a greasier texture in the baked goods.
Of course, you CAN make these with natural peanut butter if it's what you keep on hand – just make sure to mix the entire jar extremely well and realize the peanut butter layer may not be as smooth.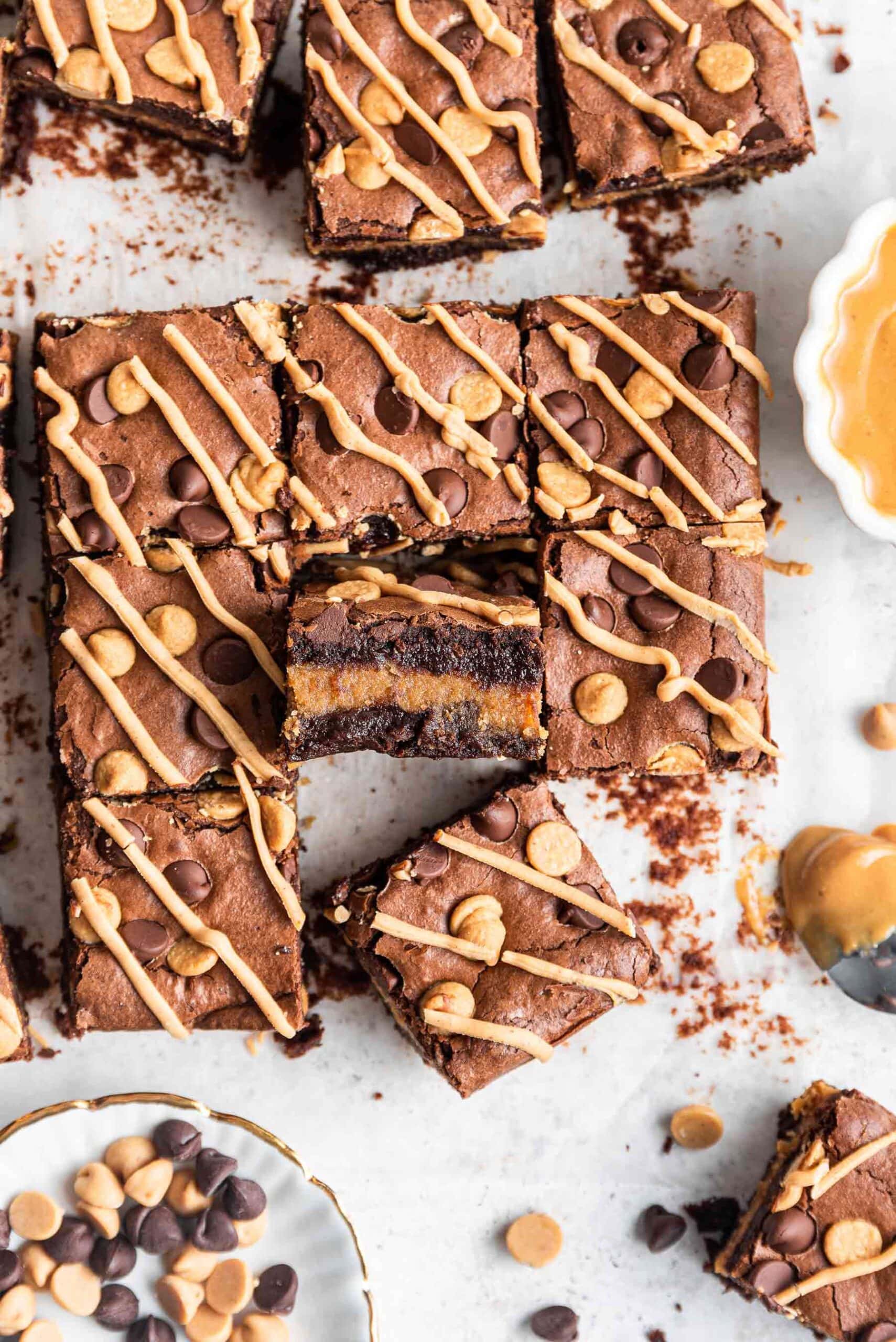 Tips and Tricks for the Best Peanut Butter Stuffed Brownies
Use "regular" commercial peanut butter, not natural-style peanut butter, for the best texture.
Use high-quality baking chocolate for the melted chocolate. Chocolate chips contain extra stabilizers which affect the taste and texture — the brownies will taste even better if made with a good quality baking chocolate bar or larger baking wafers.
Don't overbake the brownies! These brownies continue to cook slightly in the pan after removing from the oven, so they should still look slightly underbaked when you pull them out.
The recipe can be doubled and baked in a 9×13-inch pan. Add an extra 5-10 minutes to the baking time.
Made too many brownies? Leftover brownies can be stored in the freezer for up to 3 months.
More Chocolate Peanut Butter Desserts:
2020 Brownie of the Month Recipes
Peanut Butter Stuffed Brownies
Filled with a thick layer of peanut butter and topped with peanut butter chips and a peanut butter drizzle, these Peanut Butter Stuffed Brownies are the ultimate brownies for a peanut butter lover!
Ingredients
For the Brownies:
8 tablespoons (113 grams) unsalted butter
8 ounces (226 grams) semisweet chocolate, chopped
3 large eggs, room temperature
1 cup (198 grams) granulated sugar
1/2 teaspoon salt
2 teaspoons vanilla extract
1/4 cup (21 grams) natural unsweetened cocoa powder
1 cup (120 grams) all-purpose flour
For the Peanut Butter Layer:
1 cup (270 grams) smooth peanut butter
1 cup (113 grams) confectioners' sugar
1 teaspoon vanilla extract
2 tablespoons milk
For Topping:
2 tablespoons chocolate chips
6 tablespoons peanut butter chips
Instructions
Prepare the pan. Preheat the oven to 350 °F. Line an 8-inch square baking dish with aluminum foil and extended the foil over the edge. Spray with nonstick cooking spray.
Make the brownies. Combine the butter and chocolate in a large microwave safe bowl. Microwave the butter and chocolate for 1 minute at 50% power and stir. Continue microwaving in 1 minute increments at 50% power until chocolate is fully melted and mixture is smooth. Whisk in the eggs, one at a time, followed by the sugar, vanilla extract, and salt. Stir in the cocoa powder and flour with a wooden spoon. The resulting brownie batter will be quite thick; it will take some effort to stir in all the flour.
Make the peanut butter layer. Combine the peanut butter layer ingredients in a medium bowl and mix by hand or with a mixer until well combined and smooth.
Assemble the brownies. Spread half the brownie batter in the bottom of the prepared pan. Press the peanut butter mixture on top of the brownies -- this mixture will be a little crumbly and it is easiest to place clumps all over the brownie batter and gently press into a flat layer using the bottom of a measuring cup or glass. Spread the rest of the brownie batter over the peanut butter, using a knife to spread to the edges. Place the chocolate chips and two tablespoons of the peanut butter chips on the top of the brownies.
Bake the brownies. Bake for 30 - 35 minutes, or until a toothpick inserted into the center comes out with a moist crumb. Transfer the pan to a wire rack to cool completely.
Make the peanut butter drizzle. Once brownies have cooled completely, cut into 16 squares. Melt the remaining 4 tablespoons of peanut butter chips in a small microwave safe bowl, melting for 30 seconds and stirring well, repeating until smooth. Transfer the melted peanut butter chips to a small plastic bag, snip off the corner, and drizzle over each of the brownies. Refrigerate for 10 minutes to set the peanut butter before serving.
Notes
Use "regular" commercial peanut butter, not natural style peanut butter, for the best texture.
The brownie texture will be better with good quality baking chocolate or chocolate bars, rather than chocolate chips.
Don't overbake the brownies -- the brownies should just start to pull away from the sides of the pan with a slightly soft center when done.
To bake in a 9x13-inch pan, double the recipe and add an extra 5-10 minutes to baking time.
Brownies can be stored at room temperature for a week, but taste even fudgier when stored in the refrigerator. Left over brownies can be stored in the freezer for up to 3 months.

A Bunsen Burner Bakery Original Protocol
Recommended Products
As an Amazon Associate and member of other affiliate programs, I earn from qualifying purchases.
Nutrition Information:
Yield:

1
Amount Per Serving:
Protein:

7.6g