August 22, 2014
Peach French Toast Casserole
Sweet and custardy, this overnight baked Peach French Toast Casserole is covered in beautiful fresh peaches. Easy enough for every day, but decadent enough for company.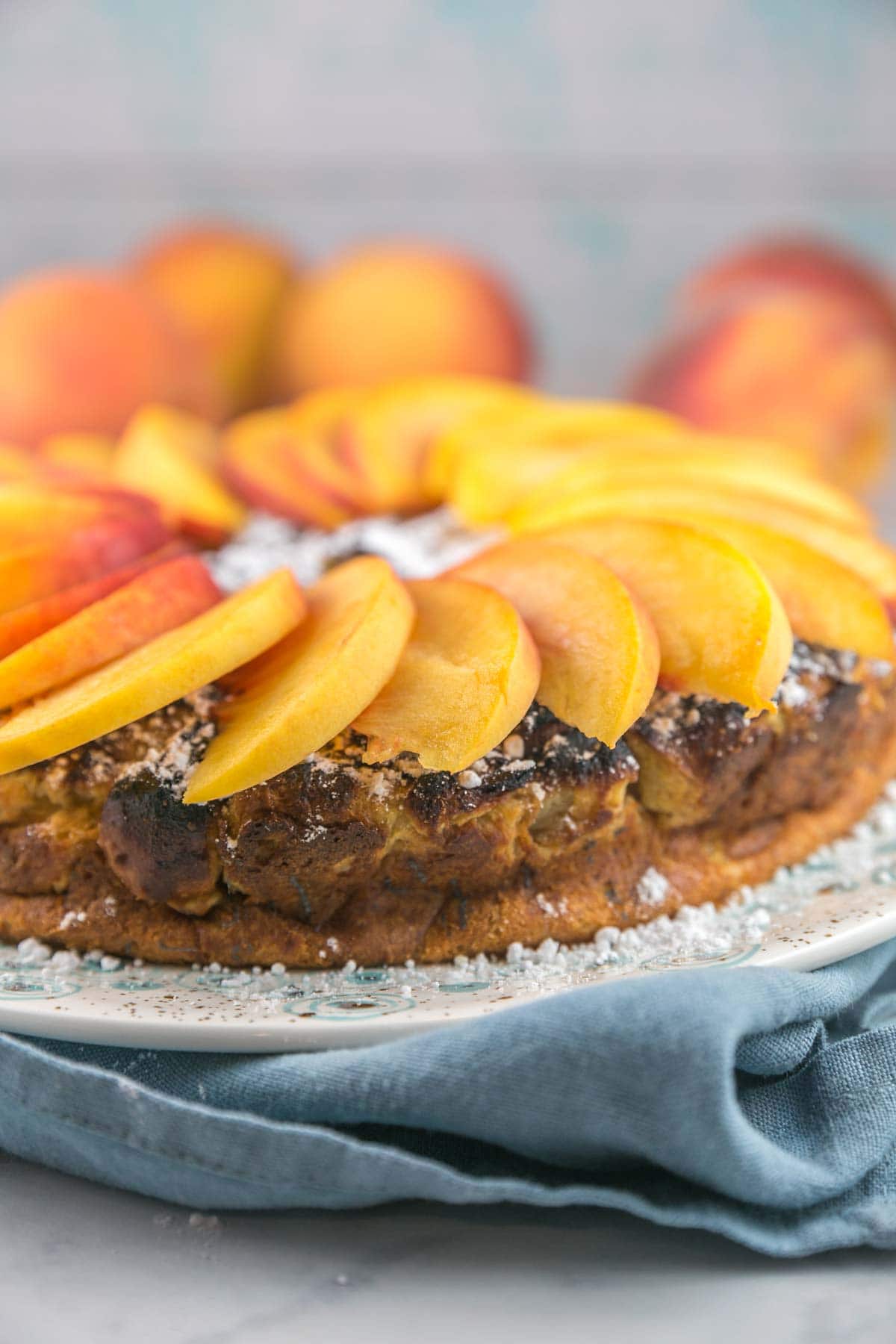 French toast casseroles are amazing in theory. Prep everything the night before and bake in the morning. With minimal work in the morning when you're still tired, you can have a delicious hot breakfast, worthy of weekend company.
However! I find baked toast casseroles are rarely actually that good in reality. Somehow they're always too soggy, too dry, or too bland. Many French toast casseroles include cream cheese, which seems to separate out and bake in little curdled-like bits.
After years of trying, I finally have what I'm deeming an actually worthwhile one: this peach French toast casserole is perfection!
It's not soggy, not bland, and not dry. It's rich and decadent, without being overly sweet. It has almost more of a bread pudding-like consistency. The fresh peaches take it to a whole new level, adding sweet, fresh, juicy flavor.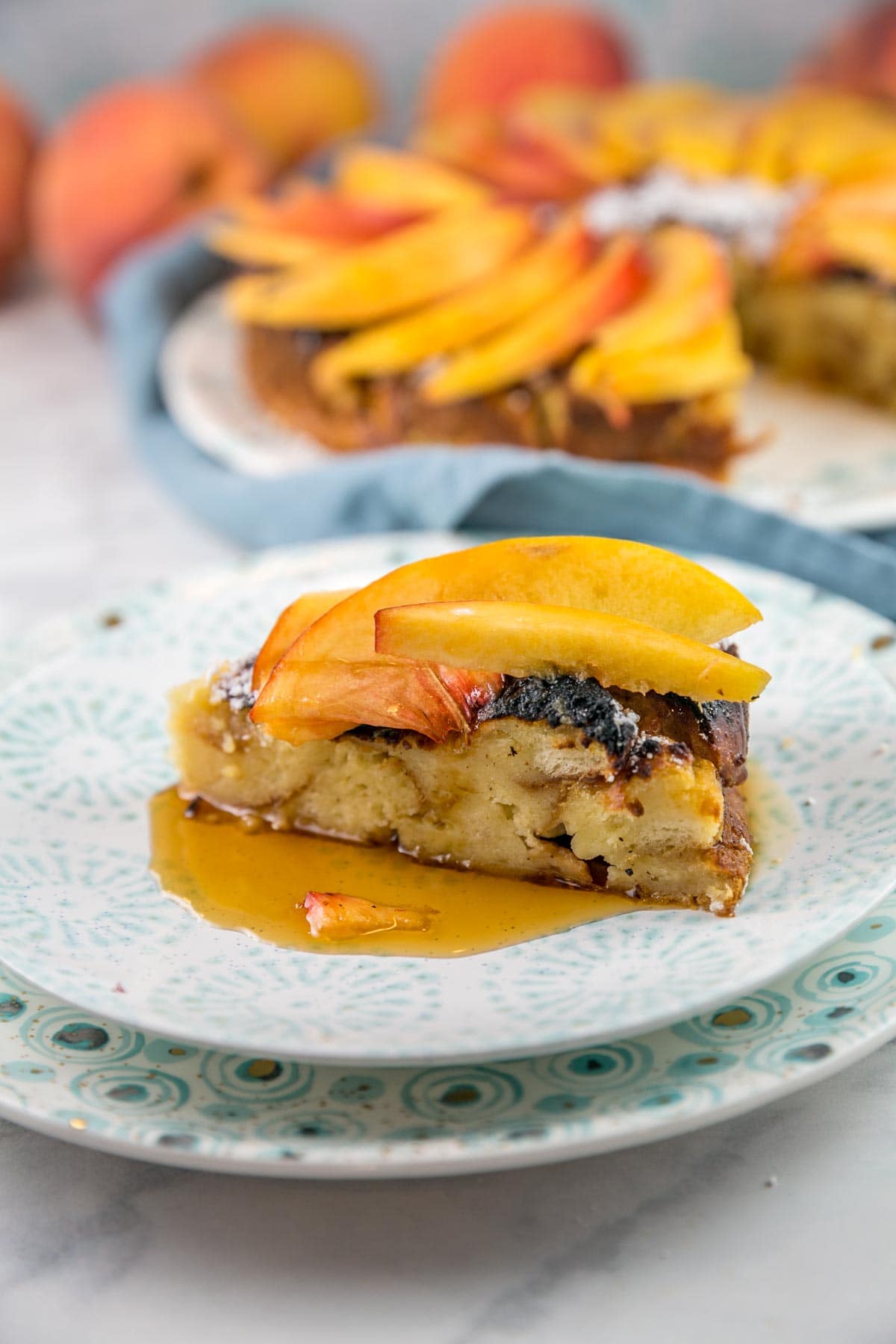 Best Type of Bread for French Toast Casserole
The best part about this French toast casserole? It's a great way to use up leftover, slightly stale bread!
Whenever we have leftovers from a loaf of bread, I freeze it. The stale bread is perfect for this casserole, easily soaking up the liquid.
Challah is my favorite bread to use for this. But when I bake a fresh loaf of challah, we never have leftovers! So if I'm using a fresh store-bought loaf of bread, I just let it sit out for a day or so beforehand to get a little stale.
Why do we want to use stale bread rather than fresh bread? It's time for my favorite subject… kitchen chemistry!
Kitchen Chemistry

As bread absorbs liquid, the overall starchy structure of the bread begins to weaken.  Bread that is fresh and moist will dissolve into the liquid.  However, bread that is stale and dry is able to draw in significantly more moisture before dissolving and becoming too soggy.
Any sort of soft white bread works. I've even made this with leftover hamburger buns after summer BBQs! French bread is another delicious option, too.
Whatever kind of bread you use, you're looking for 16 ounces of bread, cut into 1 1/2-inch cubes.
Make Ahead Egg Custard
To rehydrate our stale bread, we're going to add a mixture of egg yolks, heavy cream, milk, and sugar. Whisk together in a large bowl, add in the cubes of bread, and toss to combine.
Make sure to push all the pieces of bread into the custard – we want each piece to be fully saturated with the custard mixture!
Cover the bowl with plastic wrap and store in the refrigerator for at least two hours, preferably overnight.
Bake the Next Morning
When you wake up the next morning, remove the French toast casserole from the refrigerator. Transfer the (now soggy!) bread into a greased 9″ springform pan.
Preheat the oven to 325 °F. Once the oven is heated, bake the casserole for 30 minutes, until the top is well browned and the casserole is baked through. If you like the top layer to be slightly caramelized, I love to pop this under the broiler for a minute or two at the very end. Just keep an eye on it – it will go from golden to black quickly! (As evidenced by my photo – oops!)
Remove from the oven, cool for 10 minutes, and run a knife around the outer edge of the casserole. Unmold from the springform pan and transfer to a serving dish.
Top with a dusting of confectioners' sugar, if desired, and arrange with a layer of thinly sliced fresh peaches.
Pan Size Substitutions
I always like to bake this in a springform pan. Being able to remove the casserole from the dish is a lovely presentation – and makes cutting the first slice so much easier!
No springform pan? No worries! This peach French toast casserole can also be baked in a 9 x 9-inch square baking dish or a 7 x 11-inch baking dish.
A 9 x 13-inch baking dish can also be used – the resulting slices will just be thinner.
Tips and Tricks for the Best Peach French Toast Casserole
If using fresh bread, cut it into slices and let the slices sit out at room temperature for 12+ hours so they start to dry out.
If the casserole will be baked in a springform pan, soak the bread in the custard in a mixing bowl. Pouring the custard into the springform pan before it is absorbed by the bread may resulting the custard leaking out the bottom!
Substitute peaches for any other fruit you love – like sliced strawberries, blueberries, nectarines, or plums.
Bake the casserole, cool, and freeze for an even easier breakfast! The whole casserole can be frozen (before adding fruit), thawed overnight, and reheated in the oven before serving. Leftover slices can also be frozen individually and reheated in a toaster oven or microwave.
More Breakfast Recipes:
Peach French Toast Casserole
Total Time:
4 hours
40 minutes
Sweet and custardy, this overnight baked Peach French Toast Casserole is covered in beautiful fresh peaches. Easy enough for every day, but decadent enough for company.
Ingredients
16 ounces (450 grams) stale bread (challah, French bread, biroche, or other white bread of choice)
4 large egg yolks
1/2 cup (113.5 grams) heavy cream
1 1/2 cups (340.5 grams) milk (any variety)
1/4 cup (49.5 grams) granulated sugar
pinch of salt
2 teaspoons vanilla exract
1 teaspoon cinnamon
3-4 fresh peaches, sliced, for serving
Instructions
Cut bread into cubes and place in a large bowl.
Whisk together the egg yolks, heavy cream, milk, sugar, salt, vanilla, and cinnamon and pour over the bread. Toss bread cubes until most of the liquid is absorbed.
Pour into a greased 9-inch springform pan, and press down lightly on the bread to spread evenly. Refrigerate for 4 hours up to overnight, until all liquid is absorbed into the bread.
Bake at 325 for 30 minutes, until browned. If desired, place under the broil for 1-2 minutes until the top is darker brown and the top just starts to get a little crunchy. Let the casserole rest for 10 minutes, then run a knife around the edge of the pan and remove the ring. Top with peaches and cut into 8 wedges to serve, along with maple syrup or confectioners' sugar.
Notes
This is best with stale bread. If using fresh bread, cut into slices and let it sit out at room temperature for at least 12 hours before using.
Casserole can also be baked in a 9 x 9 or 9x 13-inch square baking dish instead of a springform pan.
Store leftovers in the refrigerator for up to 2 days or freeze for up to 3 months.
Recommended Products
As an Amazon Associate and member of other affiliate programs, I earn from qualifying purchases.