January 22, 2018
Spicy Buffalo Quinoa Bites
Vegetarian and gluten free, spicy buffalo quinoa bites with a melted cheesy center are a perfect option for your football party or tailgate.  Easy to make and packed full of spicy flavor, they're a big hit with both meat eaters and vegetarians alike!  
Alright, football fans.  Who's excited for the Super Bowl?
As a Steelers fan, I am, of course, disappointed in the way the post-season played out.
But as a Philadelphia resident, married to a Philadelphia-native Eagles fan, raising a toddler who will inevitably become an Eagles fan based on our geographic location, I'm glad to at least have a vested interest in the game.
So this week, in honor of both the Eagles winning the NFC Championship, and my passionate, never-ending love of football party-appropriate snack food, we're making it SUPER BOWL RECIPE WEEK!
That's right.  Super Bowl recipe week, both savory and sweet.  Stay tuned for some delicious recipes to make your Super Bowl party the best on the block!
(Confession: I don't actually have all the recipes done yet, so I don't even know what's going to make the final cut.  It will be a surprise for me, too!)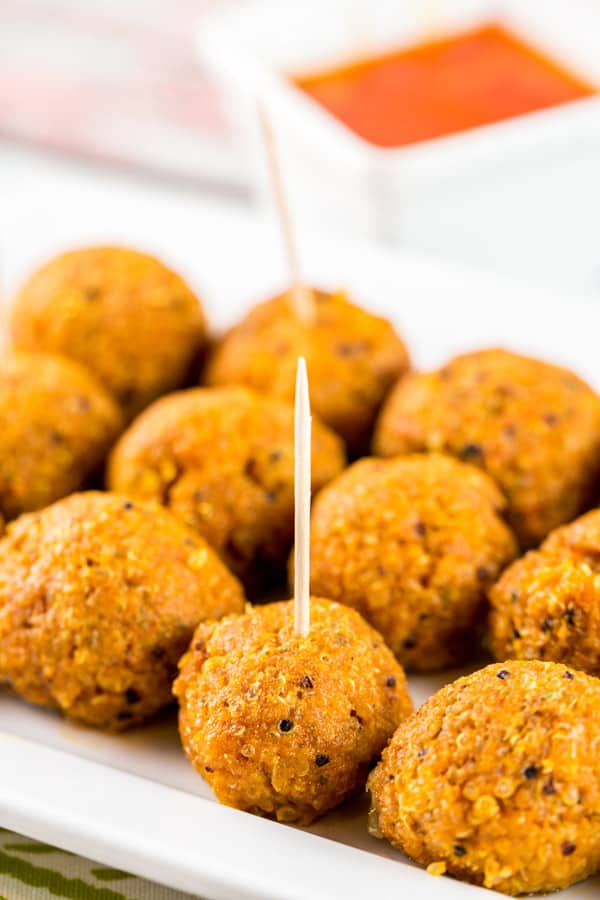 I've thrown a lot of parties over the years.  One of my biggest goals is to ensure there is something available that everyone can eat.  You never know who is going to show up last minute, so I try to make sure I have all my bases covered.
Something hearty and meat filled, like these crockpot BBQ pulled pork sliders.  A classic, crowd-pleasing dip, like this spinach and artichoke biscuit skillet.
Something on the healthier side, like taco stuffed mini peppers.  And of course, a few vegetarian and gluten free options.
Spicy buffalo quinoa bites are the perfect meat-free, gluten-free, bite-sized appetizer for football parties.
In lieu of buffalo chicken wings or buffalo chicken dip, using quinoa as a base packs the same spicy buffalo flavor, but provides an option for your vegetarian friends, too.
And using finely ground rolled oats (certified gluten free!) instead of breadcrumbs lets your gluten free friends enjoy, too!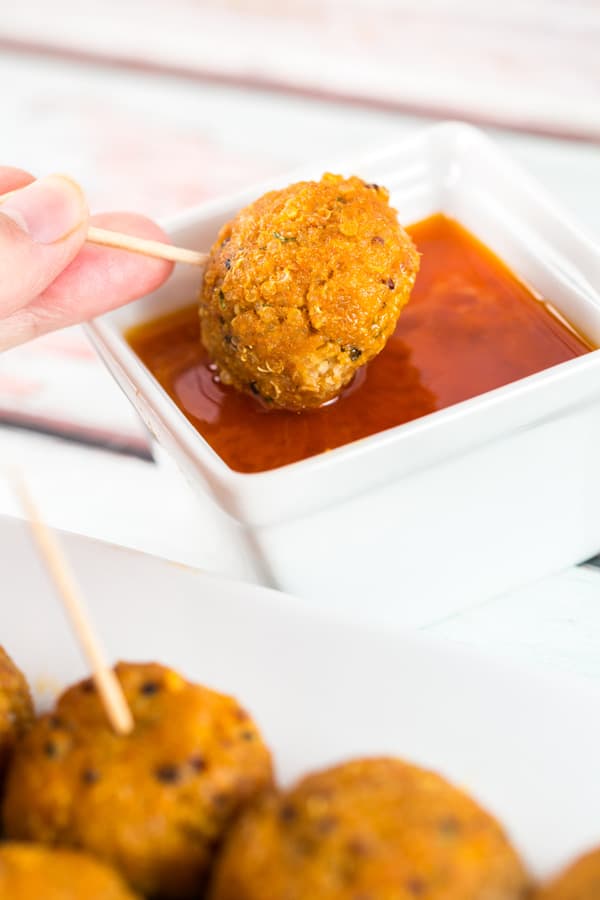 Protip: if you don't have precooked quinoa lying around, make it in the microwave!  Super fast and easy, and the texture is perfect for these.
And as a little bonus surprise, the middle of the quinoa bites is a melty bite of cheddar.  A delicious gooey center, surrounded by hot and spicy, slightly crispy, baked quinoa.
Despite eating both meat and gluten, spicy buffalo quinoa bites have become one of my favorite appetizers to enjoy at our parties.  I love the unexpected kick from the hot sauce, the extra protein punch from the quinoa, and enjoying them pretty much guilt free, compared to the other heavy, cheesy, bacon-y standard football offerings.
Plus, you get to eat them with a toothpick (or your fingers!), which is perfect for a party – no one has time for forks when you're standing around watching the game!
Extra bonus: these spicy buffalo quinoa bites are so easy, my toddler helped me make them.  And by "helped me make them", I mostly mean ate the excess quinoa right out of the bowl with a spoon, but anything that gets him involved in the kitchen makes party prep fun!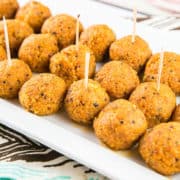 Yield:
30 bite-size appetizers
Spicy Buffalo Quinoa Bites
Vegetarian and gluten free, spicy buffalo quinoa bites with a melted cheesy center are a perfect option for your football party or tailgate.
Ingredients:
4 tablespoons butter
1/2 cup hot sauce
2 cups cooked quinoa
3 eggs
4 tablespoons tomato paste
1 teaspoon salt
1 teaspoon garlic powder
1/2 teaspoon smoked paprika
1/2 teaspoon chili powder
1/2 teaspoon dried chipotle powder or cayenne pepper
1/2 teaspoon freshly ground black pepper
1 cup finely ground rolled oats (or breadcrumbs)
30 1/2-inch cubes of cheddar
Directions:
Preheat oven to 350 °F.  Line a baking sheet with parchment paper.
To make the buffalo sauce, combine the butter and hot sauce in a small saucepan set over medium heat.  Cook until butter is fully melted, whisk to fully combine, then set aside.
In a large bowl, combine the quinoa, eggs, tomato paste, salt, garlic, smoked paprika, chili powder, chipotle powder or cayenne pepper, black pepper, and 2 tablespoons of the buffalo sauce.  Add in the ground rolled oats and stir well to combine.  If the mixture seems too dry, add another tablespoon of the buffalo sauce and stir to combine.
Using a tablespoon or a small cookie scoop, gather a heaping tablespoon of the quinoa mixture and flatten into an oval using lightly greased hands.  Place a cube of cheese into the center of the oval, then roll the mixture around the cheese into a ball.  Repeat to use up all quinoa.
Place the quinoa bites on the prepared baking sheet.  Bake for 15 minutes, then brush on a thin layer of the remaining buffalo sauce and return to the oven for an additional 10 minutes.  Serve hot with remaining buffalo sauce on the side for dipping.