January 24, 2018
Jalapeño Popper Pinwheels
The spicy-creamy flavors of jalapeño poppers, rolled up into fun and easy jalapeño popper pinwheels! Easy to make and even easier to eat, plus fully customizable based on your personal preference for heat. Add crumbled bacon for a delicious smokey flavor! Perfect for parties, tailgates, and the Super Bowl!
Super Bowl Party Week Day 3! We started off the week with some spicy buffalo quinoa bites and then forged ahead straight into dessert with this peanut butter cup cheesecake dip.
Today, we're heading back into bite-sized appetizer territory with some jalapeño popper pinwheels!
What's so nice about these is that they're fully customizable.
Love things hot hot hot? Leave in the jalapeño seeds and membranes. Want to dial down the heat a little? De-seed two of the four jalapeños. Prefer things totally mild? Remove all the seeds!
Ooooor… go half and half, and roll up one sheet of puff pastry as a spicy version, and one as a mild. Everybody wins!
I made these jalapeño popper pinwheels as an appetizer for a dinner party hosted by a friend. We didn't know most of the people in attendance, so I kept these on the moderate heat side and left them vegetarian, just in case there were any vegetarians in attendance.
But if you're hosting a bunch of spice-loving meat-eaters for your Super Bowl party, leave in all those seeds and add some crumbled bacon.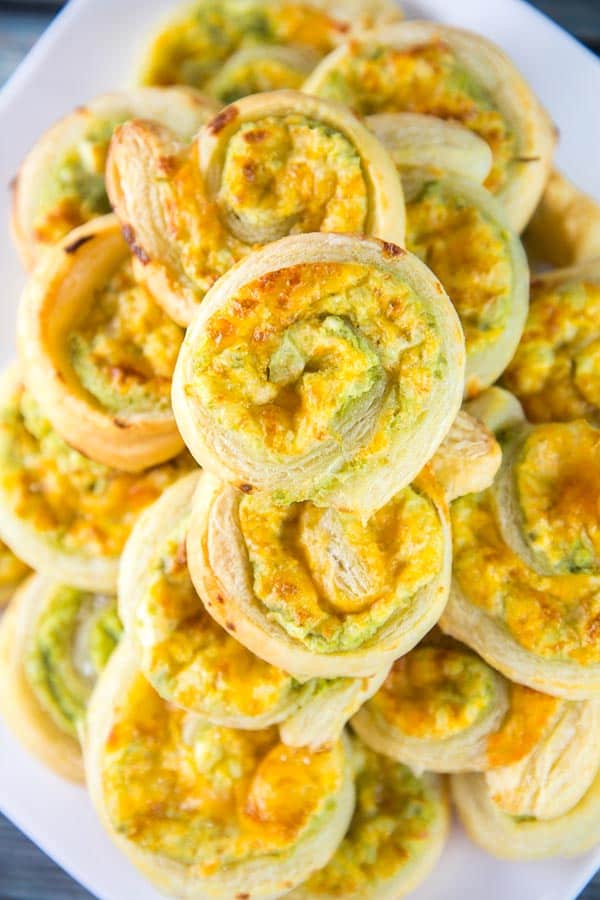 (This sparked a discussion about whether or not bacon makes everything better. My husband says yes. I said I don't think bacon would make a pumpkin pie taste better. But apparently, there are actually recipes out there for bacon pumpkin pie.
So this begs the all-important question: is there actually anything out there that doesn't pair well with bacon?!)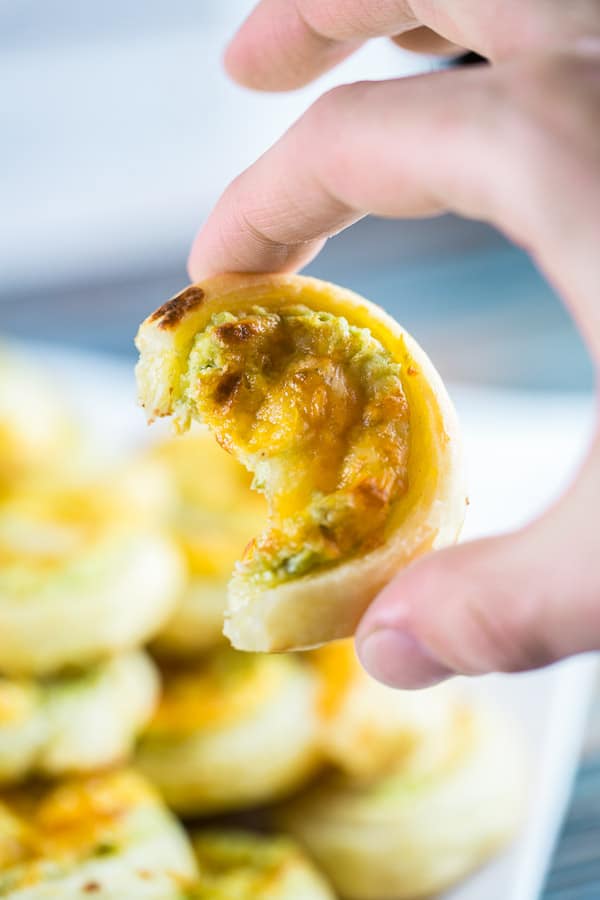 Why I love these so much for a Super Bowl party, besides the obvious spicy/cream cheesey/preferably bacony filling: so. easy. I often hear people say that that they want to host parties, but they feel like they can't because they can't cook. This is the recipe for you!
Buy a box of puff pastry sheets. Thaw them. Unroll them into a flat sheet. Spread on some cream cheese, diced jalapeño peppers, shredded cheddar, and roll up into a log. Slice. Bake. Serve. See? Easy peasy.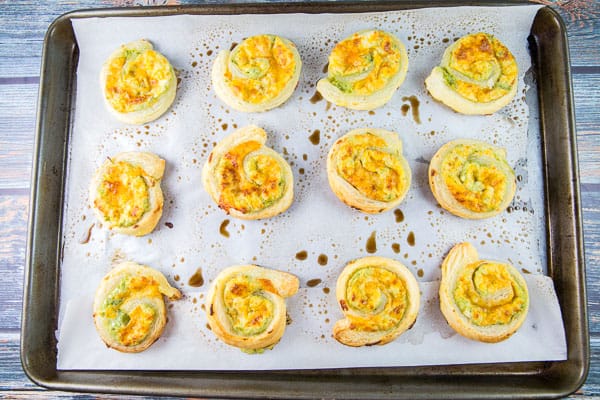 Jalapeño popper pinwheels are way easier than making real jalapeño peppers, and much easier to eat, too. (No cream cheese squeezing out everywhere when you take a bite). Quick appetizers and one handed snacks are the name of the game when it comes to parties.
Plus, the diced jalapeños make the cream cheese look green. And we might have a slight preference for the Eagles around here.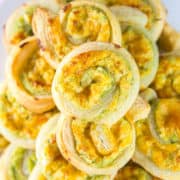 Jalapeño Popper Pinwheels
The spicy-creamy flavors of jalapeño poppers, rolled up into fun and easy jalapeño popper pinwheels!
Ingredients:
1 package (2 sheets) frozen puff pastry dough, thawed
4 jalapeño peppers
8 ounces cream cheese, room temperature
1 teaspoon garlic powder
1/2 teaspoon salt (omit if adding bacon)
1 cup shredded cheddar cheese
8 slices of bacon, cooked and crumbled (optional)
Directions:
Preheat oven to 400 °F.  Line two cookie sheets with parchment paper.
Unfold sheets of puff pastry.  Using a rolling pin or fingers, gently push the dough together over the seams to form one smooth rectangle of dough.
Remove membranes and seeds of all or half of the jalapeños, if desired.  Finely dice by hand, or alternatively, chop using a food processor.  Mix the cream cheese with the diced jalapeños by hand, or add cream cheese to the food processor and pulse until full combined.  Add in the garlic powder and salt, mixing until evenly distributed.
Using a spoon, spread a thick layer of the cream cheese over both sheets of the puff pastry dough.  Sprinkle with the shredded cheddar and bacon, if using.
Starting with the long edge, roll the puff pastry up into a log.  Place on a cutting board and use a serrated knife to cut into 3/4-inch slices (approximately 15 pinwheels per log).  Arrange the rolls 1 inch apart on the prepared baking sheets.  Bake until puff pastry starts to brown and cheese is bubbling, about 15-18 minutes.  Serve warm or at room temperature.
A Bunsen Burner Bakery Original Protocol