January 18, 2018
Peanut Butter Chocolate Chip Banana Bars
Easy to bake, these Peanut Butter Chocolate Chip Banana Bars are like banana bread meets blondie meets sheet cake, full of chocolate and peanut butter chips!  Bake up a batch today; easy to cut into squares and share with your friends. Breakfast, dessert, mid-afternoon snack? Perfect for all three!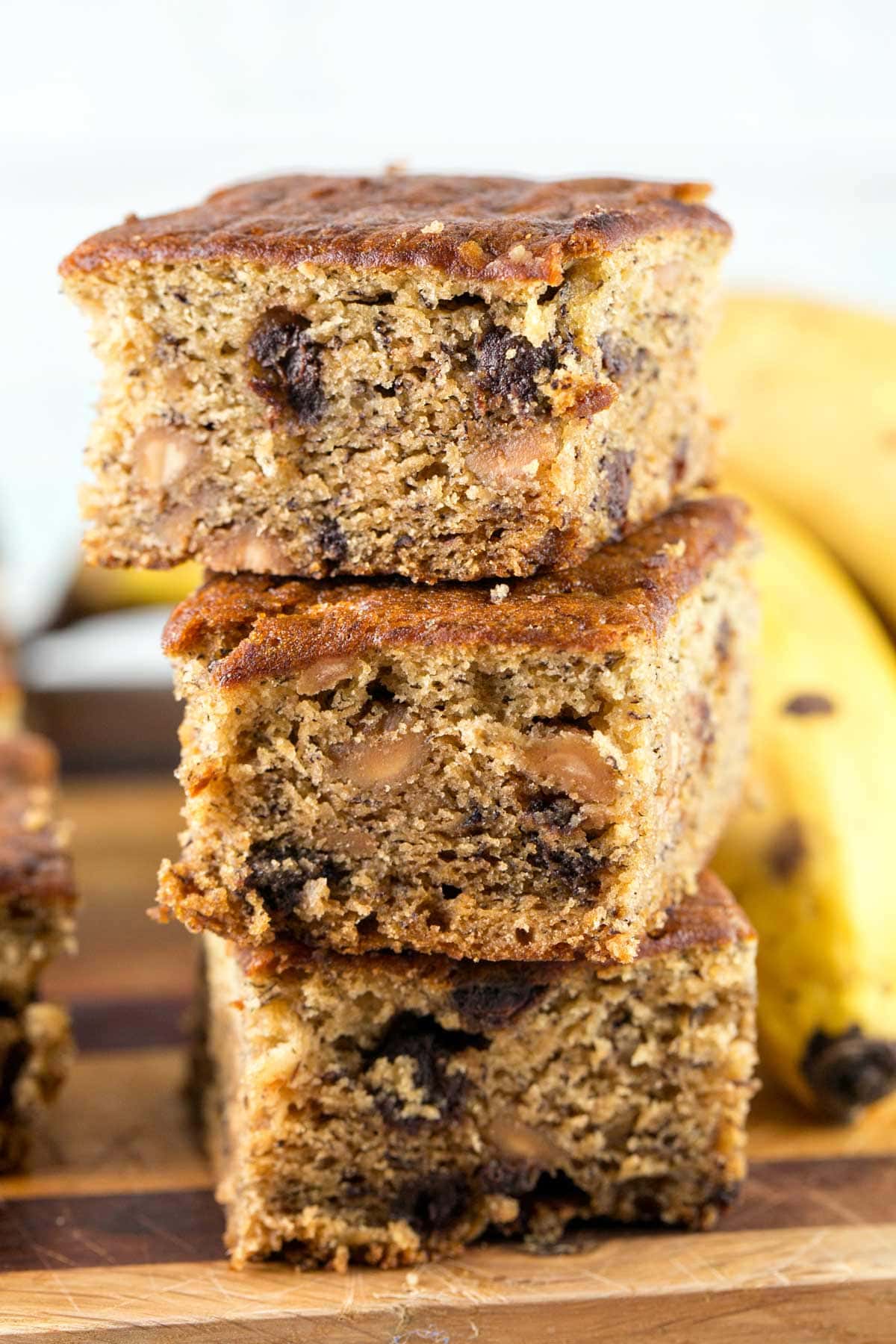 Stuck under a big pile of snow like half the country? These peanut butter chocolate chip banana bars are the perfect snow day baking activity!
Hopefully you, like me, keep a bag of extra ripe bananas in your freezer, ready to pull out and bake something banana-based on a whim.
Is this a normal thing?  Do most people keep frozen bananas because you never know if you'll unexpectedly need to make banana bread or cake at 11pm?
I guess I can answer my own question based on the number of times people on my Buy Nothing neighborhood group ask if anyone has any extra ripe bananas to give away because they are in the mood to bake.
In other words: everyone should have a banana freezer stash. Banana baked goods whenever you want them!
Which means whether it's a snow day, a lazy weekend morning, or a late-night craving, you can make these peanut butter chocolate chip banana bars any time at all. And they're so good, you definitely should.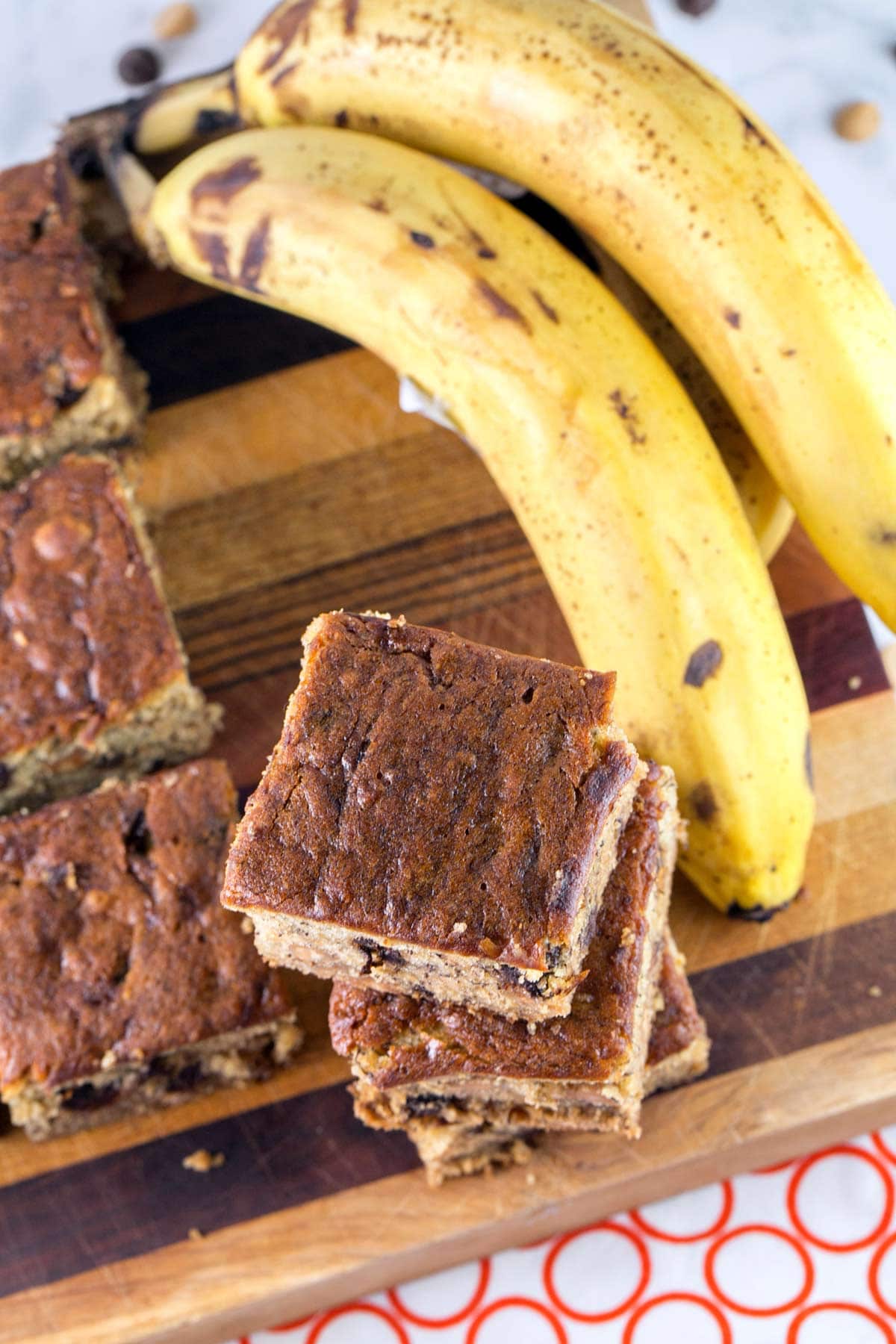 Best Banana Bars
We can all agree that banana bread is good.  Great, even!  I have four different variations on my site.  (See: chocolate chip banana bread, maple glazed banana bread, rocky road banana bread, and nutella banana bread.) And don't forget about my super popular banana bread muffins!
But sometimes, you don't want a slice of banana bread.  Instead, let's make some banana bars.
So what's different about these peanut butter chocolate chip banana bars? They're kind of like banana bread meets a blondie meets a sheet cake. A little less egg makes them slightly denser and more brownie-like in texture, but the banana keeps them super moist and not at all dry.
Because the banana bars are denser than a quick bread loaf, it's easy to slice ahead of time into bars and share.  Bringing pre-cut slices of quick bread with you?  Be careful with how you package them – those slices might break in half and crumble!  But these bars?  Just toss them into a container and go, just like you would a brownie or blondie.
And if you're baking with kids on a snow day, another added benefit is the baking and cooling time is a little bit shorter than a loaf of banana bread.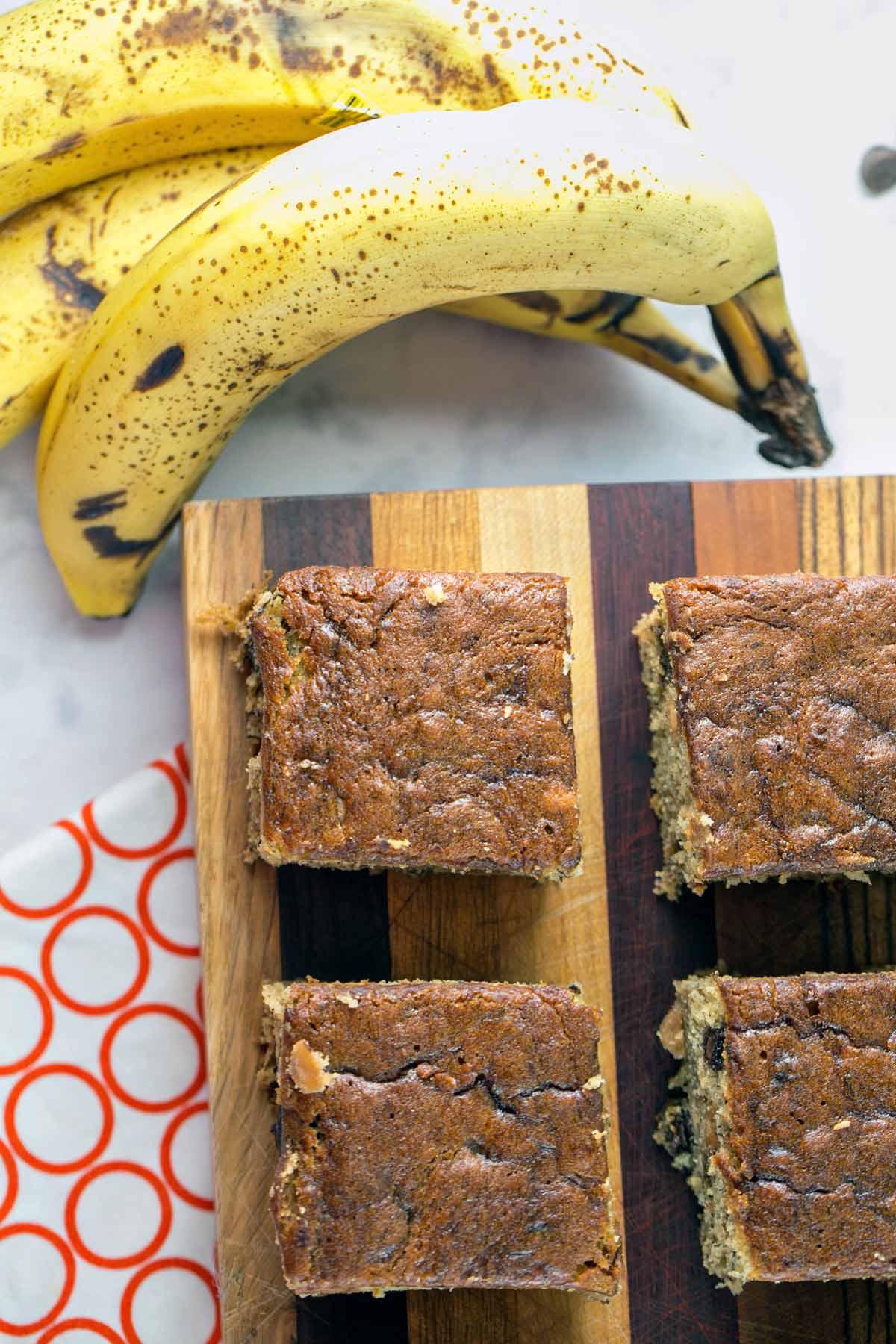 Ingredients and Substitutions
So what do we need to make these deliciously thick, easy-to-transport banana bars?
Butter: Use room temperature (around 65°F) unsalted butter. Butter that is too warm or too cold will not properly cream with the sugar.
Sugar: The recipe calls for granulated sugar, but you could replace up to half with brown sugar if you prefer the more caramelized taste of brown sugar.
Egg: One large egg, room temperature. To keep these bars egg-free, you can substitute in a flax egg: combine 1 tablespoon of flaxseed with 3 tablespoons of water and let it sit for 10 minutes before adding to the recipe.
Vanilla Extract: Vanilla extract makes everything sweet taste a little better!
Bananas: You'll need 3 medium-large bananas for this recipe. Make sure they're ripe – the softer the banana, the sweeter it tastes.
Flour: You can either use properly measured all-purpose flour or substitute in a 1:1 gluten-free baking mix.
Baking Powder/Soda: We're using both baking powder and baking soda since the ripe banana lowers the pH of the overall batter.
Salt: Use regular table salt or Morton's Kosher salt. Adjust accordingly if you use Diamond Crystal salt.
Chocolate Chips: Either full-size or mini chocolate chips work here, but I like the chocolatier bite of full-size.
Peanut Butter Chips: Adding peanut butter to the batter always made these banana bars denser and heavier than I wanted, so instead, we're getting our peanut butter flavor by adding some peanut butter chips. Feel free to leave them out or replace them with all chocolate chips if you're not into peanut butter!
Notice I stated the importance of RIPE bananas. What if you have everything you need to make these banana bars, but your bananas are still a little underripe? We can ripen those bananas quickly using my favorite subject… kitchen chemistry!
Kitchen Chemistry

Ethylene is a plant hormone. As fruit gets closer to ripening, ethylene production increases, resulting in a transformation from underripe to ripe. To help bananas ripen faster, place a bunch of bananas inside a paper bag, ideally with another fruit that gives off ethylene, like an apple or avocado. Fold over the top of the bag and set it aside – the ethylene will be trapped inside the bag and circulate around the bananas, speeding up the ripening process.
Recommended Tools to Make Banana Bars
Stand Mixer: An electric mixer is the best way to beat together the butter and sugar, and this is my favorite stand mixer!
Beater Blade: I never use my stand mixer without this beater blade, which scrapes down the side of the bowl for you.
9×9-inch Baking Pan: A metal baking pan conducts heat the best, while the light color helps prevent the edges from browning too much.
Tips and Tricks for the Best Peanut Butter Chocolate Chip Banana Bars
Use ripe bananas, which will be sweeter and slightly more acidic. The bananas should be brown and spotty.
Fresh or frozen bananas work. If you are using frozen bananas, thaw first and drain out any excess liquid that pools at the bottom of the bowl.
When mixing the wet and dry ingredients together, be careful not to overmix as this can result in tough and dry banana bars. Mix just until no streaks of flour are visible.
Letting the bars cool in the pan before slicing them will help them hold their shape and prevent them from falling apart.
Leftover banana bars can be stored in an airtight container at room temperature for up to 3 days or in the fridge for up to 1 week. You can also freeze them for up to 3 months.
More Banana Recipes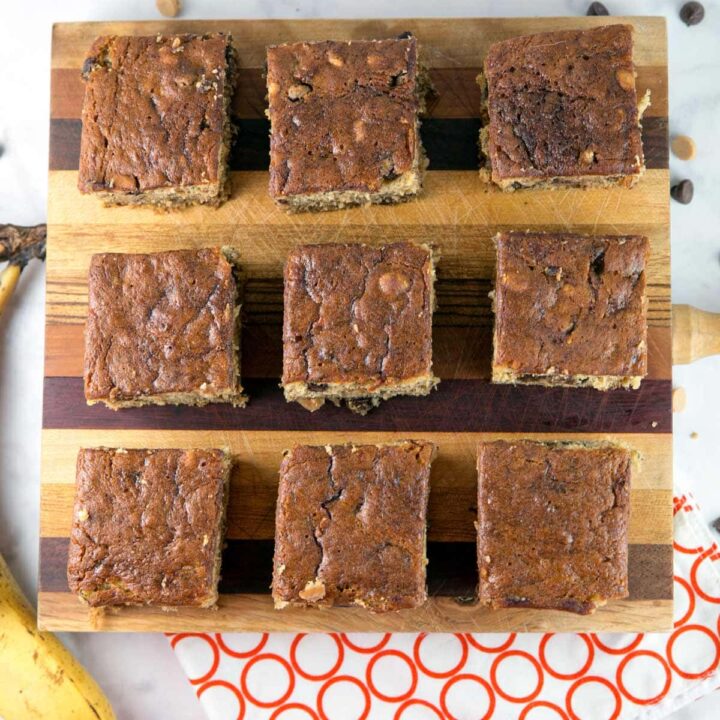 Peanut Butter Chocolate Chip Banana Bars
Easy to bake, peanut butter chocolate chip banana bars are like banana bread meets blondie meets sheet cake, full of chocolate and peanut butter chips!
Ingredients
1/2 cup (113 grams) unsalted butter, room temperature
1 cup (198 grams) granulated sugar
1 large egg, room temperature
1 teaspoon vanilla extract
1 1/2 cups (340 grams) mashed ripe banana (about 3 medium to large bananas)
1 1/2 cups (180 grams) all-purpose flour
1 teaspoon baking powder
1 teaspoon baking soda
1/2 teaspoon salt
1/2 cup (90 grams) chocolate chips
1/2 cup (90 grams) peanut butter chips
Instructions
Preheat the oven to 350 °F. Grease a 9×9-inch square metal baking dish.
Cream together the butter and sugar in the bowl of an electric mixer. Add in the egg, vanilla, and bananas, and beat until thoroughly combined.
Slowly add in the flour, baking powder, baking soda, and salt. Continue to mix until no streaks of flour remain.
Fold in the chocolate and peanut butter chips.
Spread the batter into the prepared pan and bake for 50 to 55 minutes, or until a tester inserted into the center of the banana bars comes out clean. Cool in the pan and cut into 16 squares.
Recommended Products
As an Amazon Associate and member of other affiliate programs, I earn from qualifying purchases.