March 28, 2018
Sheet Pan Eggplant Parmesan
Make a healthier twist on classic Italian eggplant parmesan at home with this easy Sheet Pan Eggplant Parmesan! Quick enough for a weeknight and baked instead of fried – delicious, without all the heaviness of fried eggplant.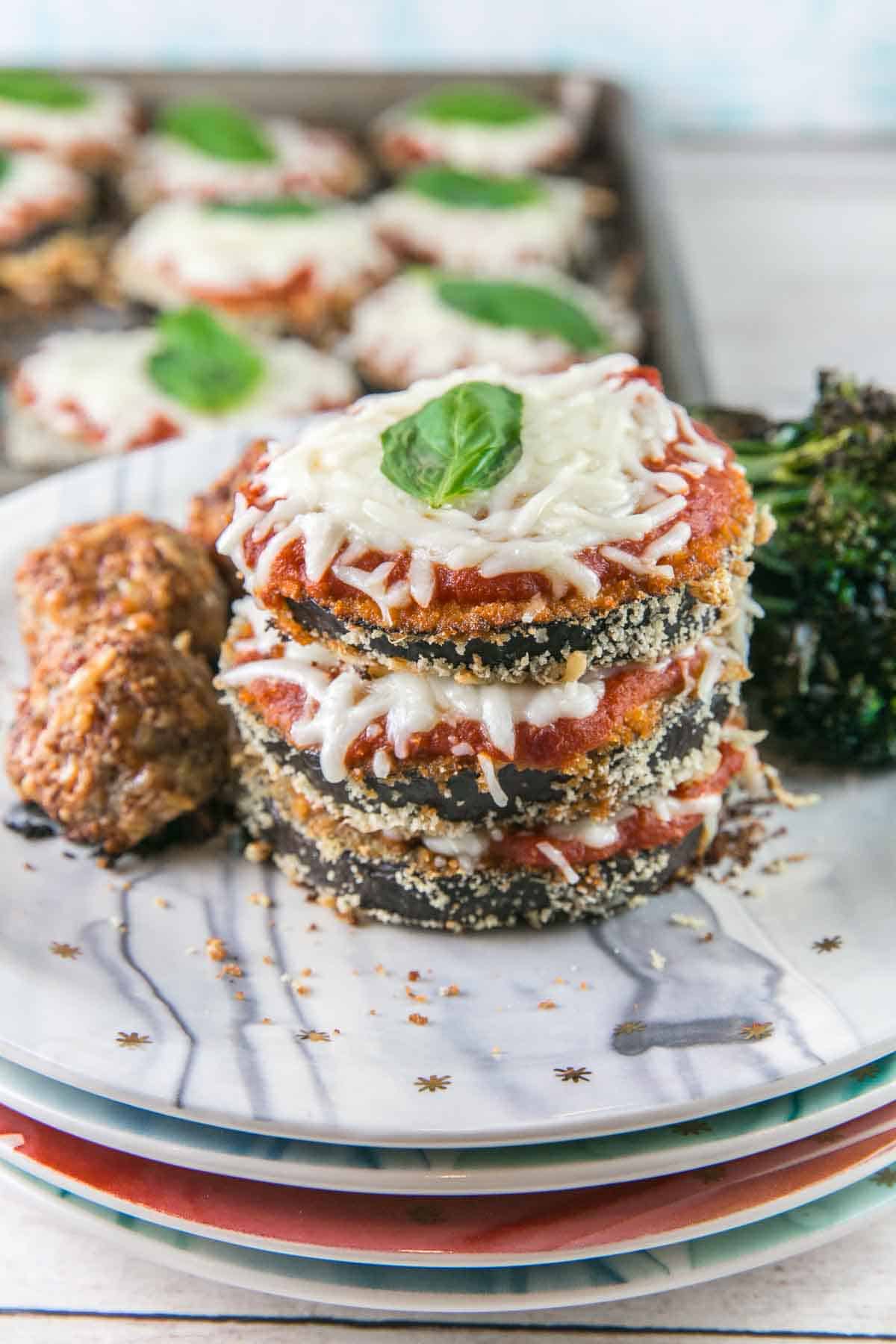 Growing up, eggplant parmesan was probably my favorite thing to order from Italian restaurants. I was a vegetarian for 15 years, and I've never been a huge fan of tomato-based sauces, so my choices were a little limited.
But a big slice of eggplant, battered and fried, covered in cheese, and served with a side of pasta? Yes, please!

And then I became an adult and became a little more conscientious about my eating.  Fried foods are a sometimes food now – and I save them for eating out. Cooking at home means looking for some healthier (and easier!) swaps. And fortunately, eating healthier doesn't mean we have to sacrifice flavor, like with this sheet pan eggplant parmesan!
Skip frying the eggplant and bake it instead.  Serve with a side of turkey meatballs, if desired – but this baked sheet pan eggplant parm is plenty delicious on its own. (I just happen to live with a small meatball-lover!). Serve with pasta if desired, but I usually opt for some roasted vegetables.
This is the delicious sort of make-at-home meal that is packed full of flavor, but doesn't leave you feeling heavy afterwards. And as an extra bonus: you just have to wash a sheet pan when you're done – not clean out a frying pan full of oil!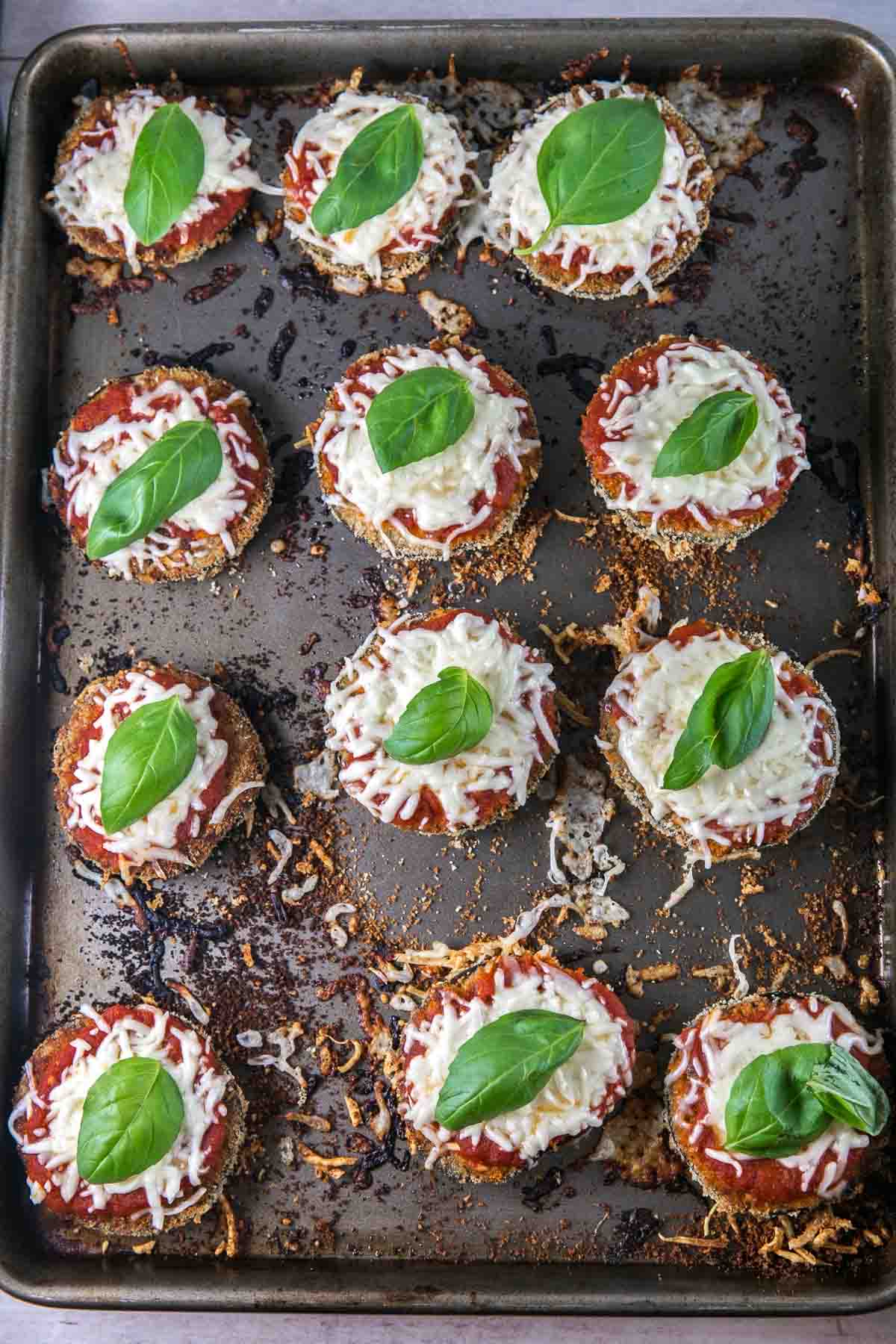 Ingredients and Substitutions
Oil: Use a neutral oil with a high smoke point, like vegetable oil or avocado oil.
Panko: Panko provides extra crunch compared to bread crumbs, but you can use bread crumbs in a pinch. To keep this eggplant parm glute-free, use gluten-free panko.
Parmesan Cheese: Freshly grated is better, but the store-bought pre-shredded will work!
Italian Herbs: The recipe includes dried oregano and basil, but you can also use 4 teaspoons of an all-purpose dried Italian herb mix instead.
Garlic Powder
Salt
Eggs
Eggplant
Tomato Sauce: Homemade, or whatever your favorite brand happens to be!
Mozzarella Cheese: Again, freshly grated has a better texture, but you can absolutely use pre-shredded to make dinner easier.
Fresh Basil
If you'd also like to make the turkey meatballs to go with the eggplant parm, you'll also need the following as well:
Ground Turkey
Onion Powder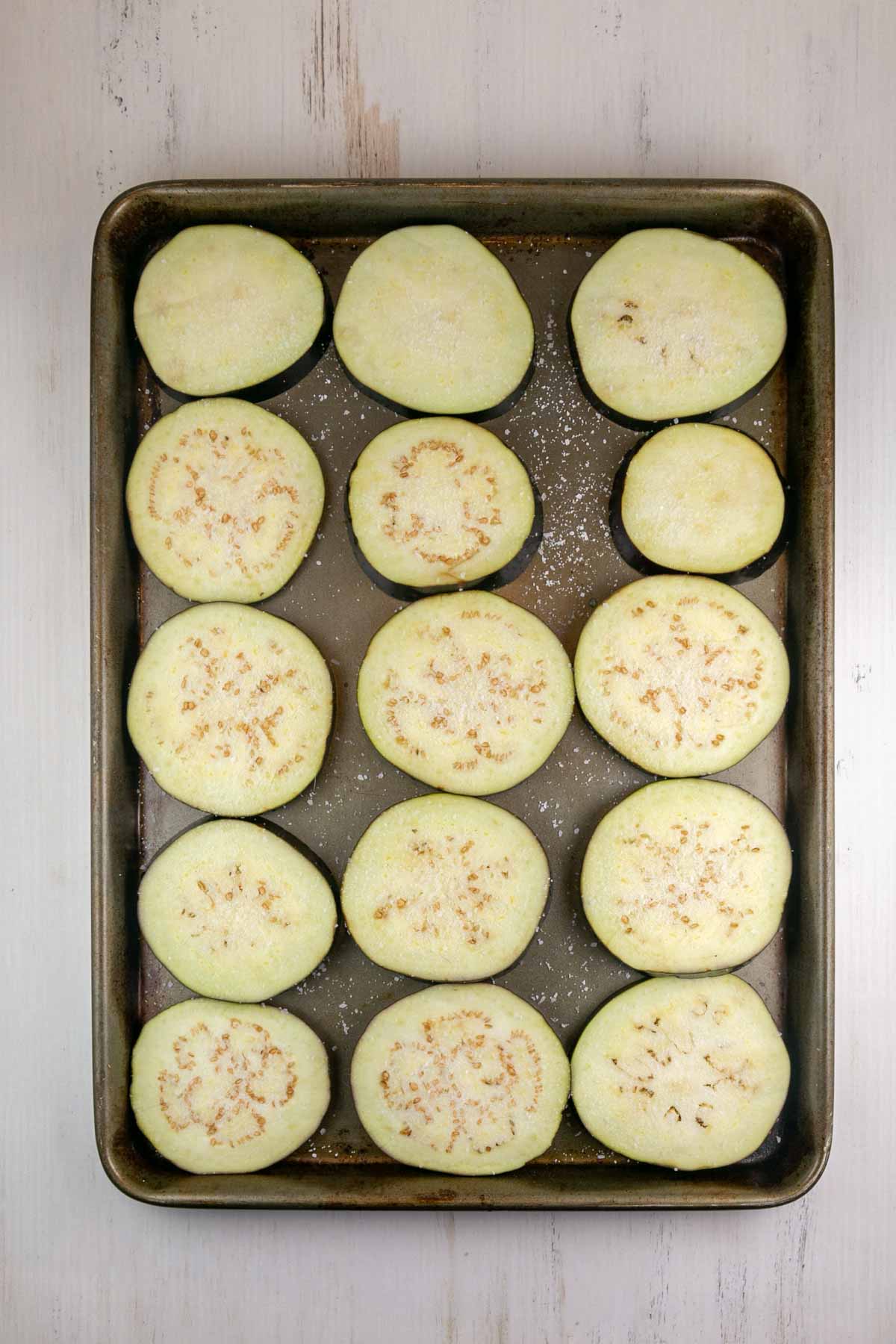 Sweat Eggplant for the Best Texture
First up, let's talk about "sweating" an eggplant – what it means and why it's important.
Eggplant can sometimes have a stringy or chewy texture, which can turn people off. To keep our eggplant soft and tender, we're going to do something called "sweating" the eggplant. Let's learn a little more about this with my favorite subject… kitchen chemistry!
Kitchen Chemistry

Before cooking with an eggplant, evenly apply salt to the cut surface of the eggplant and allow it to rest. Salting the surface of the eggplant results in a scientific process known as osmosis. During osmosis, the solvent (the water present in the eggplant's cells) naturally moves from an area of lower salt concentration (within the eggplant) to an area of higher salt concentration (the outside of the eggplant). This process pulls the water from the inside of the eggplant to the outside surface.
This process is called sweating because after a little while, the eggplant is covered with little drops of water – like it's been sweating! Rinse off the eggplant to remove the extra salt, pat it dry with a paper towel, and you're ready to go.
People often think that sweating an eggplant is necessary to reduce bitter taste, but it's really just the salt masking any bitter flavor. Eggplants today really aren't as bitter as they used to be, so salting is not at all necessary for taste. Where it does make a big difference, however, is the texture! Salted eggplant is softer and more tender, especially the skin.
If you don't want to go through the process of sweating your eggplant, look for smaller, fresher eggplant with thinner skin.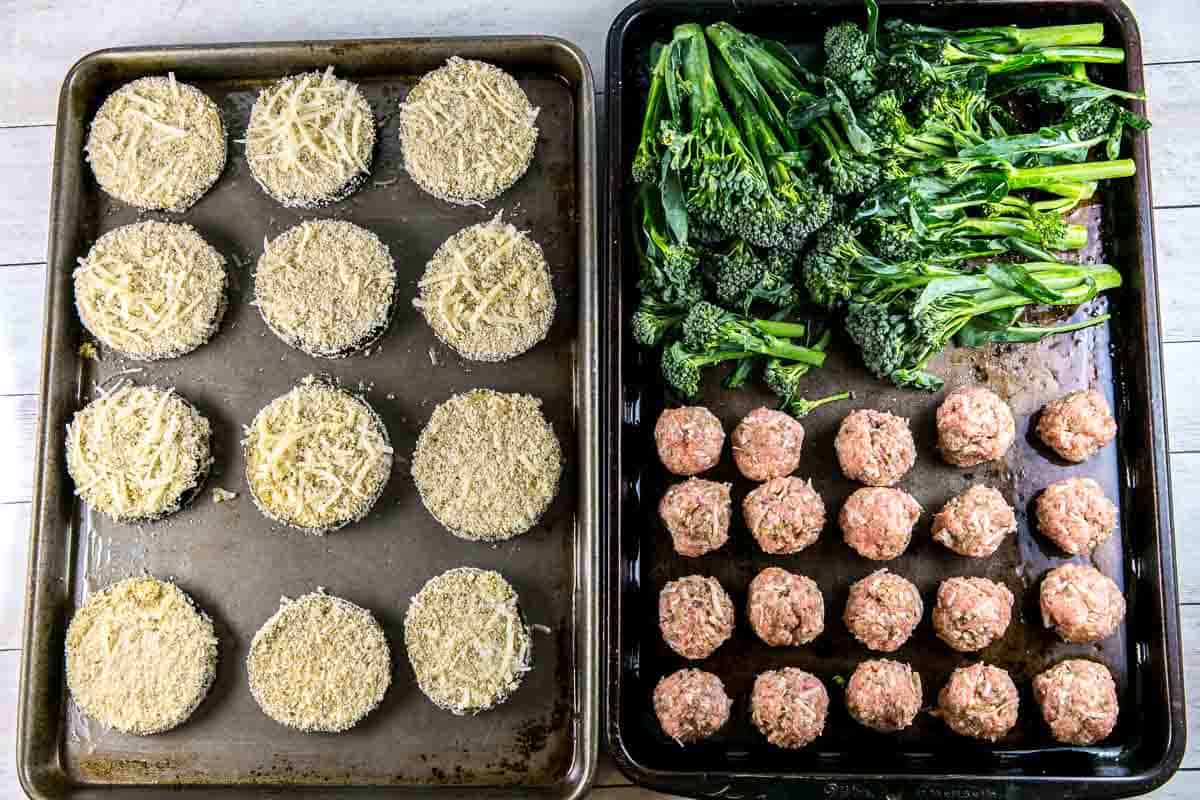 Easy Make Ahead Sheet Pan Dinner
I've talked before about my love of sheet pan dinners (like this sheet pan Asian salmon) and how you can prep everything ahead of time.
This eggplant parm is exactly the same: you can dredge the eggplant and roll the meatballs in the morning before work, and then bake them when you get home.
You could make this even easier by using store-bought turkey meatballs, but it only takes about 10 minutes to make your own from scratch. Extra bonus: you know exactly what goes in them (and my 2.5-year-old devoured these)!
Once you get home, preheat the oven to 400°F. Once the oven is hot, pop the sheet pan with the eggplant in the oven and proceed with the recipe as directed.
You will have to flip the eggplant to ensure both sides are crispy and then add the tomato sauce and cheese, so this isn't an entirely hands-off dinner once it's in the oven. But all the hard work can be done in advance, leaving you free to play with your children or help with homework or relax after your day in between brief trips back to the oven!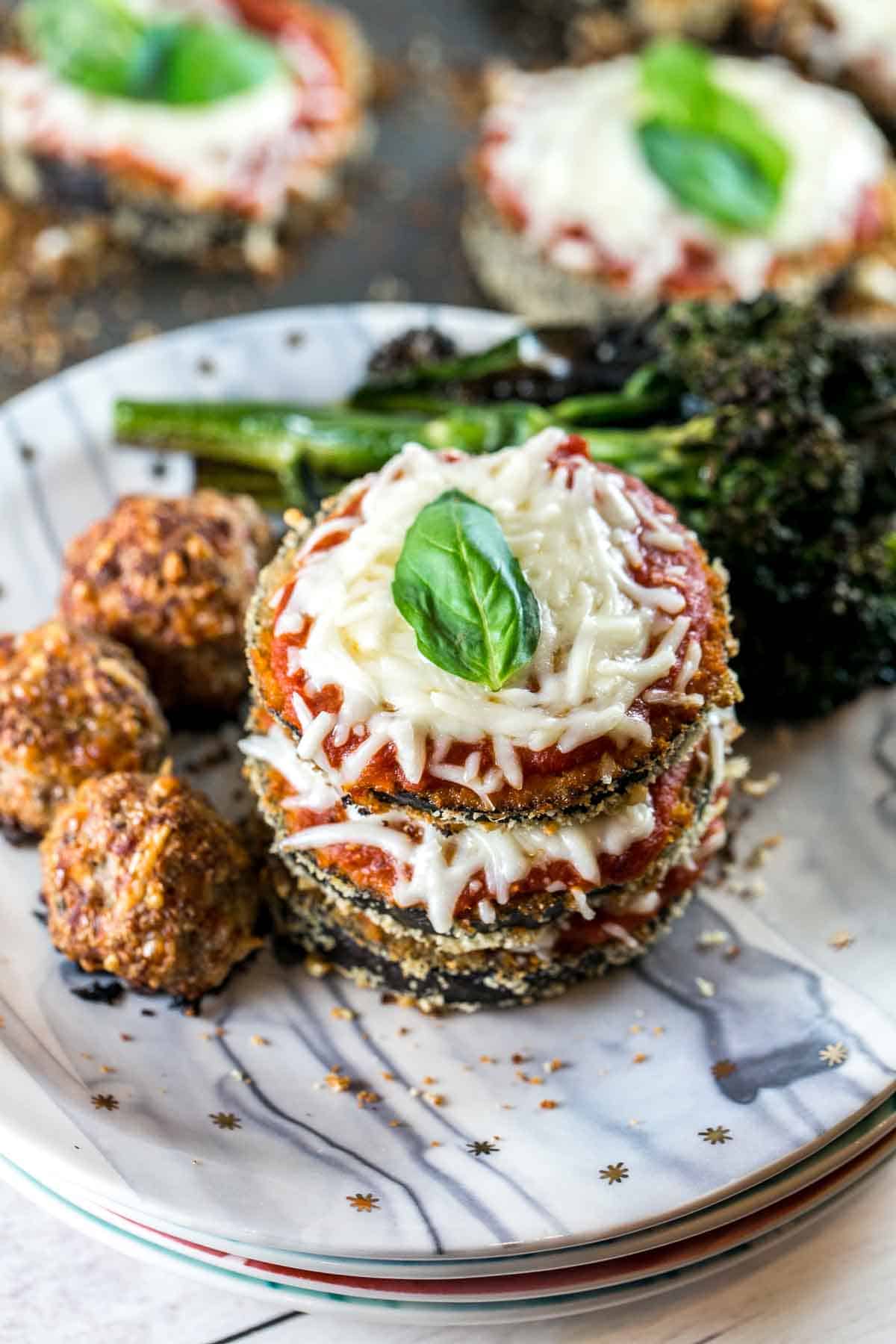 Recommended Tools to Make Baked Eggplant Parmesan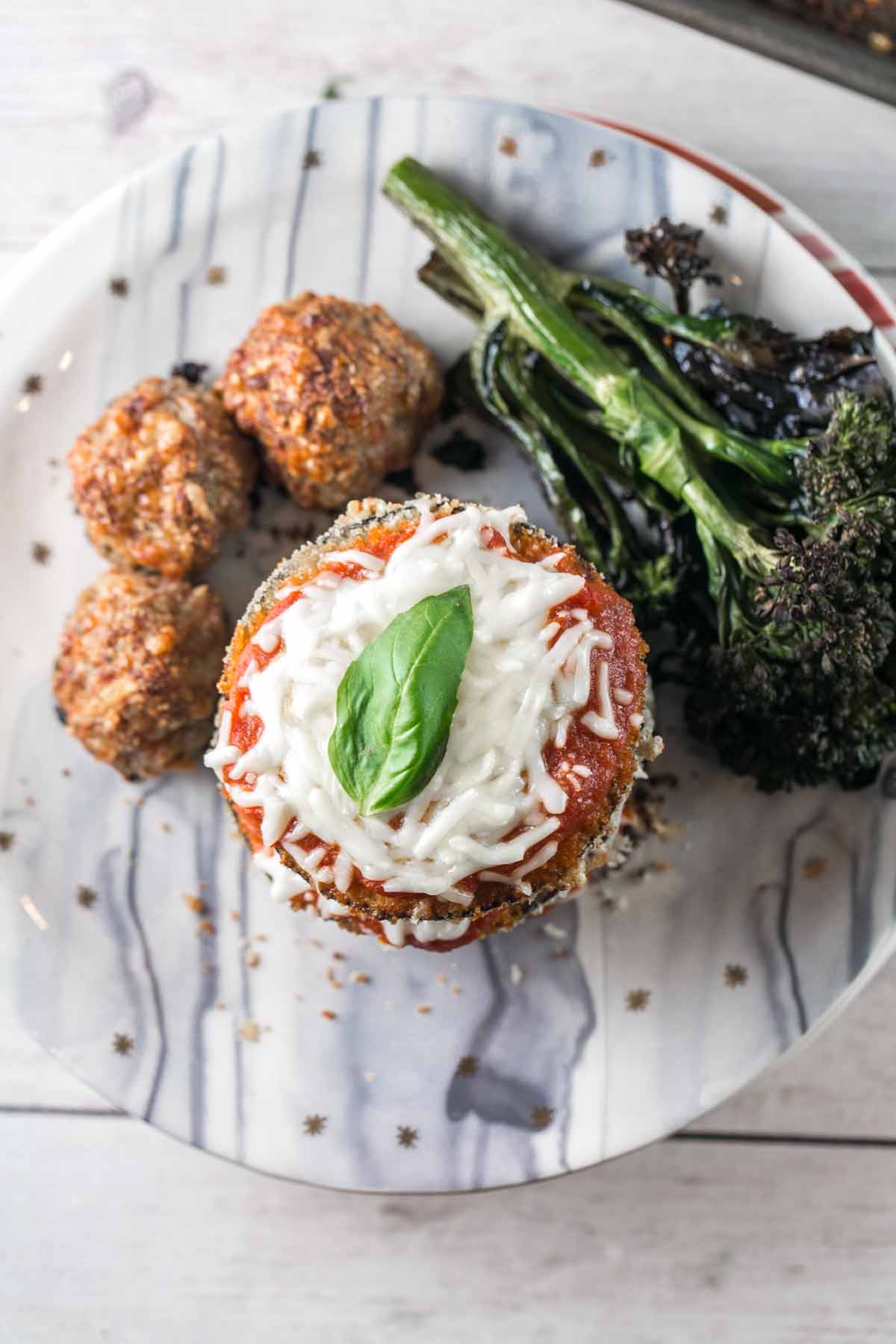 Tips and Tricks for the Best Sheet Pan Eggplant Parmesan
Sweat the Eggplant: To achieve the best texture, always salt your eggplant slices and allow them to rest. This step helps remove excess moisture, resulting in a less watery and more flavorful dish.
Salt Adjustments: When salting the eggplant, ensure you rinse them thoroughly and pat them dry. This step helps eliminate excess salt, maintaining the right flavor balance.
Uniform Slicing: When cutting your eggplant, aim for uniform slices. This ensures even cooking and a consistent texture.
Mixing Cheeses: Experiment with cheese combinations. A blend of Parmesan and Pecorino Romano can add depth to the flavor, or try using a different cheese altogether for a unique twist.
Grill Instead of Baking: For a healthier alternative, grill the eggplant slices instead of breading and baking them. It offers a smoky, charred flavor.
Make Ahead: The eggplant can be salted, dredged, and placed on the sheet pan and the meatballs can be mixed and rolled the morning before baking. Store the sheet pans in the refrigerator and bake straight from the refrigerator. Add an extra 2 to 3 minutes to the baking time for the first side of the eggplant since the sheet pan will be cold when it goes into the oven.
More Easy Sheet Pan Dinners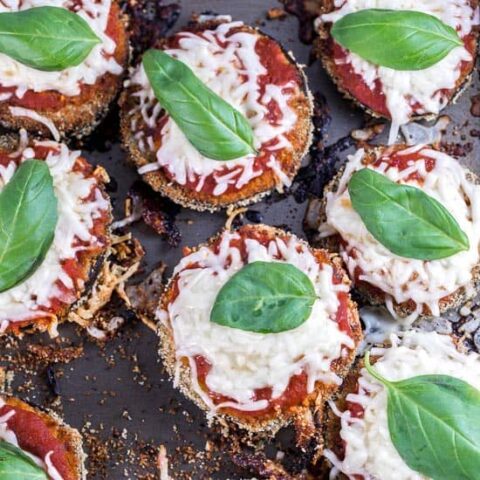 Sheet Pan Eggplant Parmesan
Make this twist on Italian eggplant parmesan at home quick enough for a weeknight, and healthier too, with sheet pan eggplant parmesan and homemade turkey meatballs.
Ingredients
For the Eggplant:
1 medium eggplant, cut into 1/4-inch slices
2 teaspoons salt, divided
2 tablespoons vegetable oil
2 cups panko
1/2 cup grated parmesan cheese
2 teaspoons dried oregano
2 teaspoons dried basil
1 teaspoon garlic powder
2 eggs
2 cups tomato sauce
8 ounces mozzarella cheese, shredded
fresh basil
For the Turkey Meatballs:
2 tablespoons vegetable oil
1 pound lean ground turkey
1/2 cup panko
1/2 cup grated Parmesan cheese
2 teaspoons onion powder
2 teaspoons garlic powder
1 teaspoon dried oregano
1 teaspoon dried basil
1/2 teaspoon salt
1 egg
Instructions
Spread the slices of eggplant on a towel and sprinkle both sides generously with 1 1/2 teaspoons of salt. Allow the eggplant to sweat for 20 minutes, then rinse off the salt and pat dry with a towel.
Preheat oven to 400 °F. Drizzle two tablespoons of oil onto a sheet pan.
Combine the panko, parmesan cheese, oregano, basil, garlic powder, and 1/2 teaspoon of salt in a shallow dish and mix. In a separate dish, whisk the eggs. Dip the eggplant slices in the eggs, followed by the panko mixture, turning to coat both sides.
Place the breaded eggplant slices on the sheet pan. Bake for 15 minutes.
While the eggplant is baking for the first 15 minutes, prepare the turkey meatballs. Coat a second sheet pan with two tablespoons of vegetable oil. Combine all other ingredients for the turkey meatballs in a large bowl and mix, using your hands, until the ingredients are just combined (do not overmix). Using your hands, roll into golf ball-sized meatballs and place on the sheet pan.
After the eggplant has been baked for 15 minutes, flip the eggplant and return the pan to the oven, along with the pan with the turkey meatballs. Bake for an additional 15 minutes, then spoon tomato sauce over each slice of eggplant and top with the shredded mozzarella. Return to the oven and bake for an additional 10 minutes, or until the cheese is fully melted and the turkey meatballs reach an internal temperature of 165 °F. Remove from the oven and top each eggplant slice with fresh basil.
Notes
The eggplant can be salted, dredged, and placed on the sheet pan and the meatballs can be mixed and rolled the morning before baking. Store the sheet pans in the refrigerator and bake straight from the refrigerator. Add an extra 2 to 3 minutes to the baking time for the first side of the eggplant since the sheet pan will be cold when it goes into the oven.
Recommended Products
As an Amazon Associate and member of other affiliate programs, I earn from qualifying purchases.