September 24, 2020
Spicy Butternut Squash Salad
Roasted butternut squash, green lentils, and turnip greens combine into one nutritional superfood salad! Spicy butternut squash salad is delicious warm or cold and perfect for an easy bowl dinner or served as a vegetarian and gluten free side for holiday celebrations.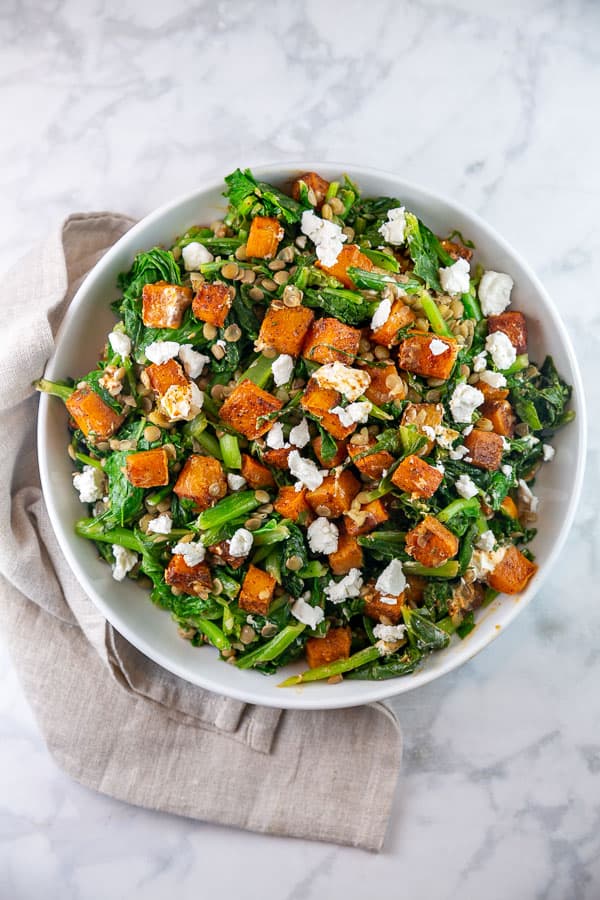 I don't know about you, but all summer long, we eat lots of salads. Grilled chicken cobb salads.  Broccoli salads.  Italian pasta salads.
And then fall shows up and the delicious summer produce starts to wane and "salads for dinner" practically comes to a screeching halt.
But really, there's no need. Instead of giving up on salads, we just need to adapt to fall produce.
Trade in the juicy fresh tomatoes for fall produce staples… like butternut squash.
Swap the summer lettuce for heartier fall greens, like kale or turnip greens.
And suddenly, even fall can continue to be salad season.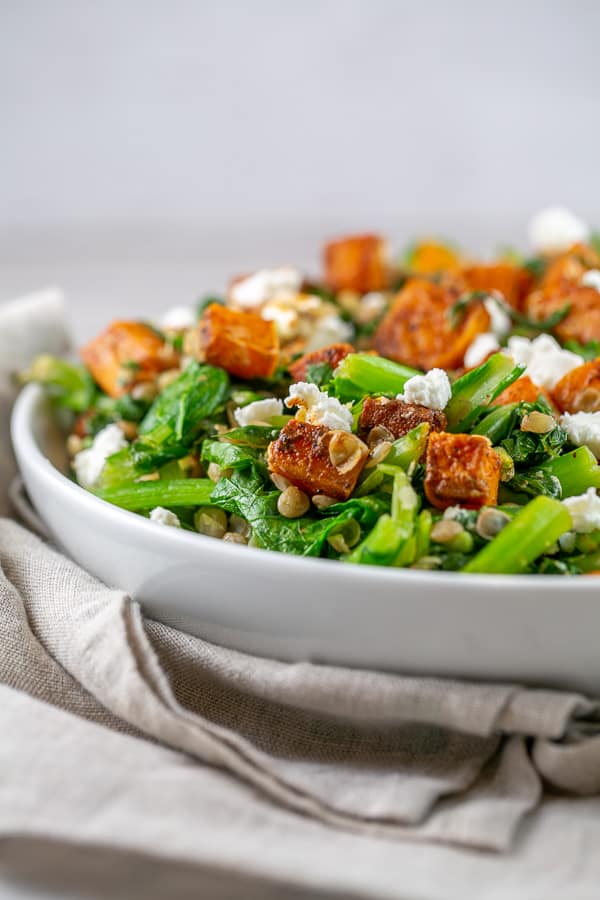 Fall Salad Ingredients
This butternut squash salad packs a huge nutritional — and flavor — punch, thanks to a few easy ingredients:
Spicy roasted butternut squash. Soft and creamy, the butternut squash is a little on the spicy side, tossed with cumin, paprika, chili powder, and cayenne pepper.
Green lentils. Lentils are an excellent source of protein and make this either a side salad or a stand alone lunch or dinner option.
Turnip greens. Turnip greens are a nutritional "superfood," high in fiber, protein, Vitamin A, and Vitamin C, along with having one of the highest calcium levels of the cruciferous vegetables.
Goat cheese. Goat cheese cuts the spiciness of the squash and provides the perfect creamy texture.
Red wine vinegar. Vinegar adds a little tang and helps cut any bitterness from the turnip greens.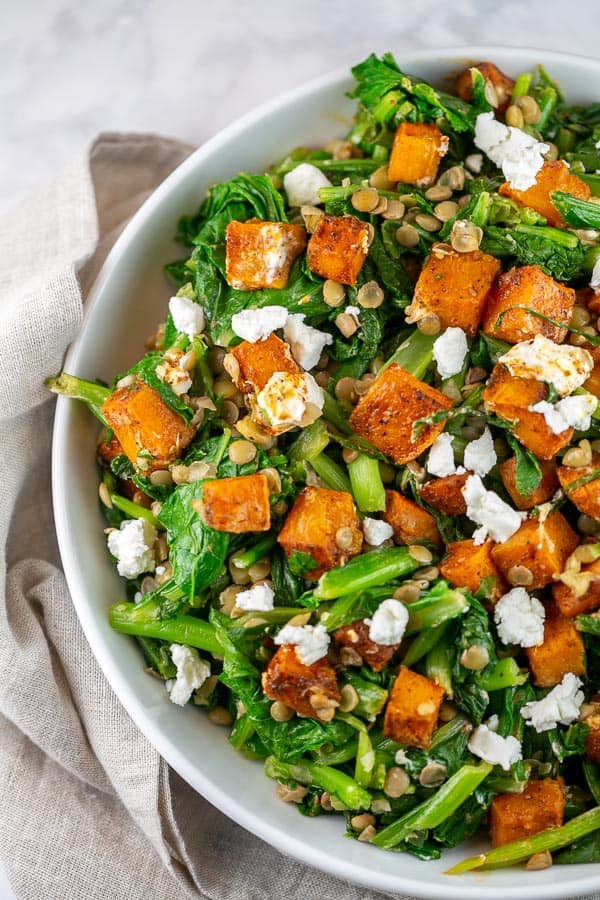 Spicy Roasted Butternut Squash
The star of this salad is the roasted butternut squash.
To roast a butternut squash, peel the outside skin and scoop out any seeds. Use a sharp knife to cut the squash into 1-inch sized cubes.
Toss the squash with a little olive oil. Add some cumin, paprika, chili powder, cayenne pepper, and salt. Spread the squash cubes in an even, single layer on a baking sheet.
Roast for 20 minutes, flip, and roast for an additional 10-15 minutes until the squash is tender and golden brown.
You'll definitely want to wait for the squash to start to brown, because this imparts the best flavor. Butternut squash roasted until it begins to caramelize tastes nuttier and sweeter. Why is this? It's time for my favorite subject… kitchen chemistry!
Kitchen Chemistry

When dry heat is applied to vegetables during roasting, the vegetable undergoes caramelization, a non-enzymatic browning reaction. The naturally occurring sugars in the vegetables break down (around 320 ° for sucrose and glucose) into hundreds of new aromatic compounds, making the vegetables taste much sweeter.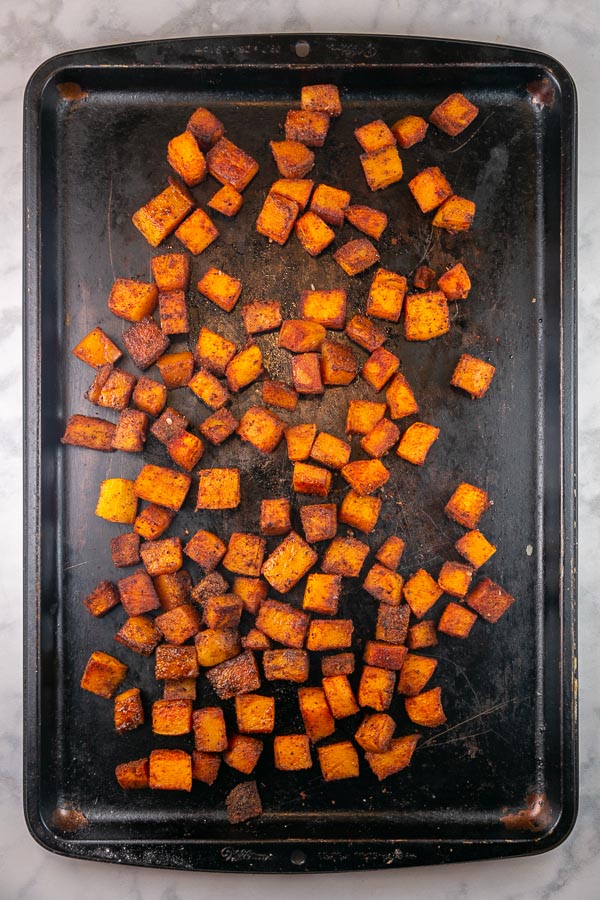 Common Questions About Spicy Butternut Squash Salad
How can you tell if a butternut squash is ripe?
Look at the outer rind – if there are any green spots, the squash is not yet ripe. The skin should be evenly colored. If buying pre-cut squash, look for firm cubes.
What can I use instead of lentils?
Quinoa or brown rice are good substitutes for the lentils; cook appropriately for other grains.
Can other greens be substituted for the turnip greens?
Kale, chard, collard greens, mustard greens, or spinach are all perfect substitutes.
How should this salad be served?
This can be enjoyed warm, room temperature, or cold. It can be served as a main dish for lunch or dinner or as a side paired with grilled or roasted meats.
Is this butternut squash salad gluten free?
Yes, this salad is gluten free and vegetarian. Omit the cheese (or swap it for avocado) to make the salad vegan.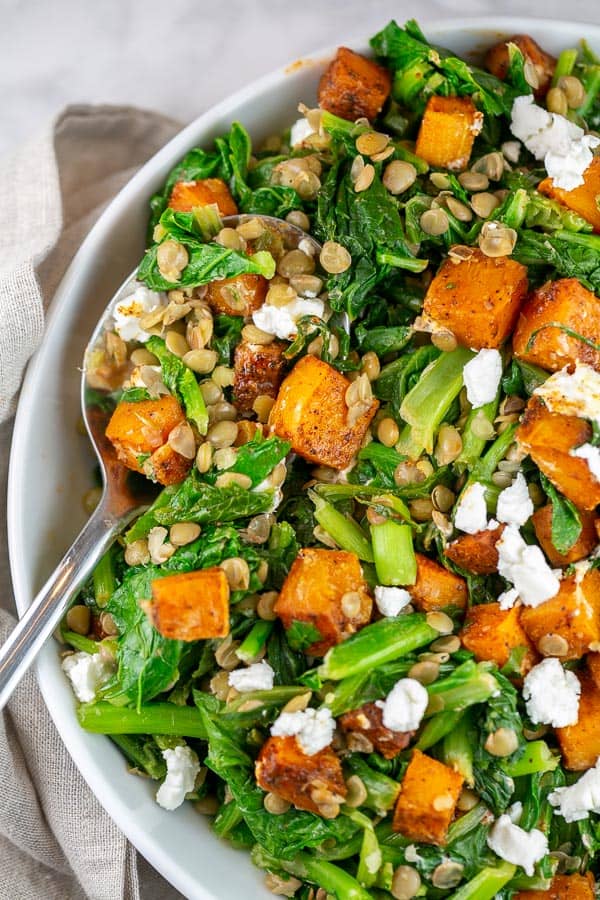 More Delicious Fall Sides
Spicy Butternut Squash Salad
Yield:
Serves 6 (as a side)
Spicy butternut squash, green lentils, and turnip greens combine into one nutritional superfood salad!
Ingredients
3/4 cup dried green lentils
6 cups cubed butternut squash, cut into 1-inch cubes
2 tablespoon olive oil, divided
1 tablespoon ground cumin
1 tablespoon smoked paprika
1 teaspoon chili powder
1/2 teaspoon cayenne pepper
1/2 teaspoon kosher salt
2 pounds (~8 cups) turnip greens
4 ounces soft goat cheese, crumbled
2 tablespoons red wine vinegar
Instructions
Cook the lentils. Soak lentils in cold water for 10 minutes. Drain, then cook in boiling water until tender but firm, about 30 minutes. Rinse under cold water and drain.
Roast the butternut squash. Preheat oven to 375 °F. Toss butternut squash one tablespoon of olive oil. Sprinkle the cumin, paprika, chili powder, cayenne pepper, and salt over the butternut squash and mix well. Spread in a single layer on baking sheet. Roast for 20 minutes, flip squash, and roast another 10 minutes.
Wilt the turnip greens. Place turnip greens in a large stock pot with one cup of water. Cover and heat over medium-low heat until wilted, 10-12 minutes.
Make the salad. Combine lentils, squash, and turnip greens, and crumbled goat cheese in a large bowl. Toss with olive oil and red wine vinegar.
Notes
Spicy butternut squash salad can be served warm, at room temperature, or cold. Leftovers should be stored in the refrigerator for up to 4 days.
Recommended Products
As an Amazon Associate and member of other affiliate programs, I earn from qualifying purchases.
Nutrition Information:
Yield:

6
Amount Per Serving:
Calories:

275
Total Fat:

9.7g
Carbohydrates:

38.3g
Protein:

13.1g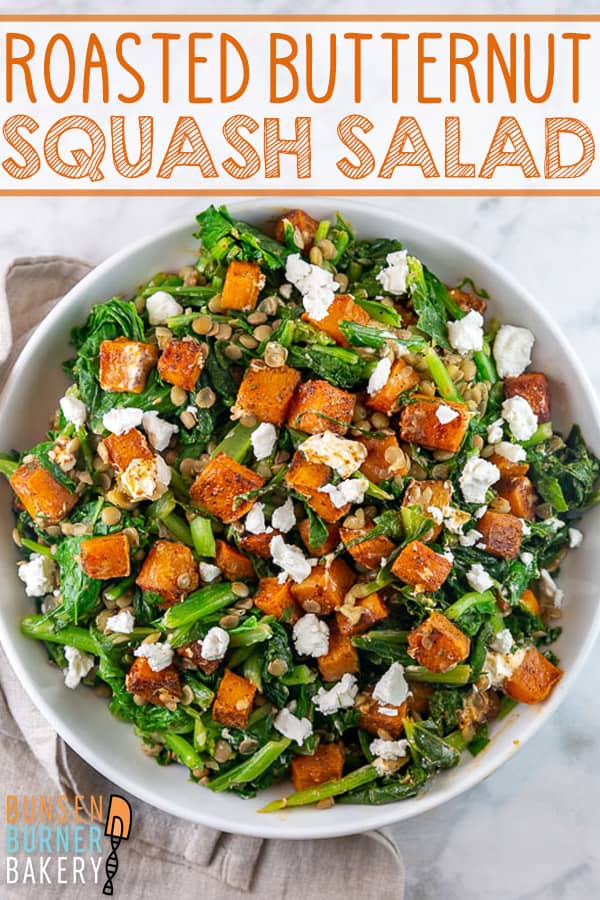 This Spicy Butternut Squash Salad recipe was originally published on 08/13/2011 and republished with new photos and additional tips on 09/24/2020.