May 22, 2019
Classic Italian Pasta Salad
A classic Italian Pasta Salad is the perfect summer side or one-bowl dinner.  Full of fresh vegetables, cheese, and salami, it's an extremely easy crowd pleaser that is even better when made ahead of time!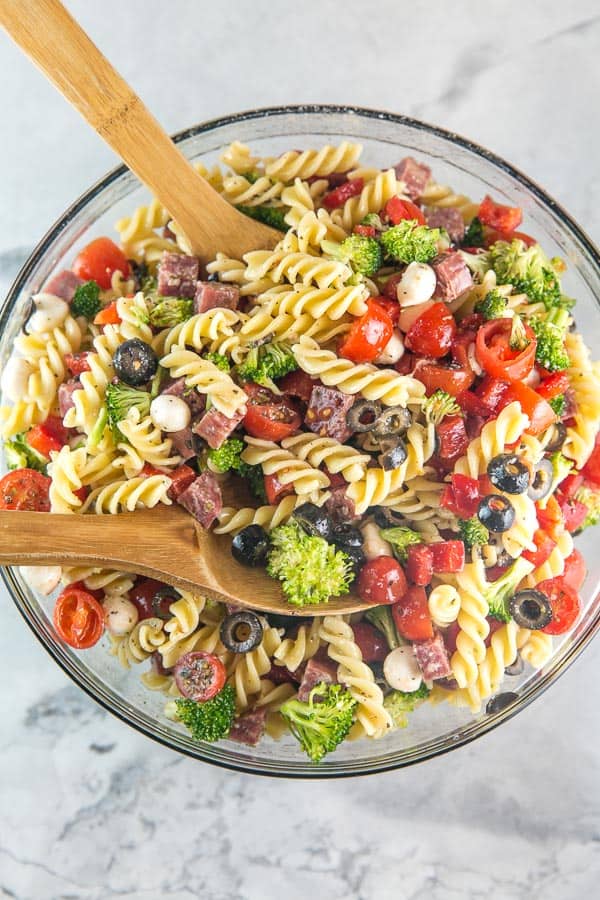 We don't eat a lot of pasta in our house — but one exception we always make is for this classic Italian pasta salad in the summer!
Pasta salad is particularly great for two scenarios:
A crowd-pleasing side for a summer picnic, BBQ, or potluck.
A perfect "I don't really feel like cooking" dinner all summer long.
Because we're filling this pasta salad with meat and cheese (protein!) and packing it full of some raw veggies (healthy!), it's not just a side. It's also an insanely easy one-bowl dinner. And both my kiddos (currently 4 years and 13 months) love it, so basically, the ultimate win.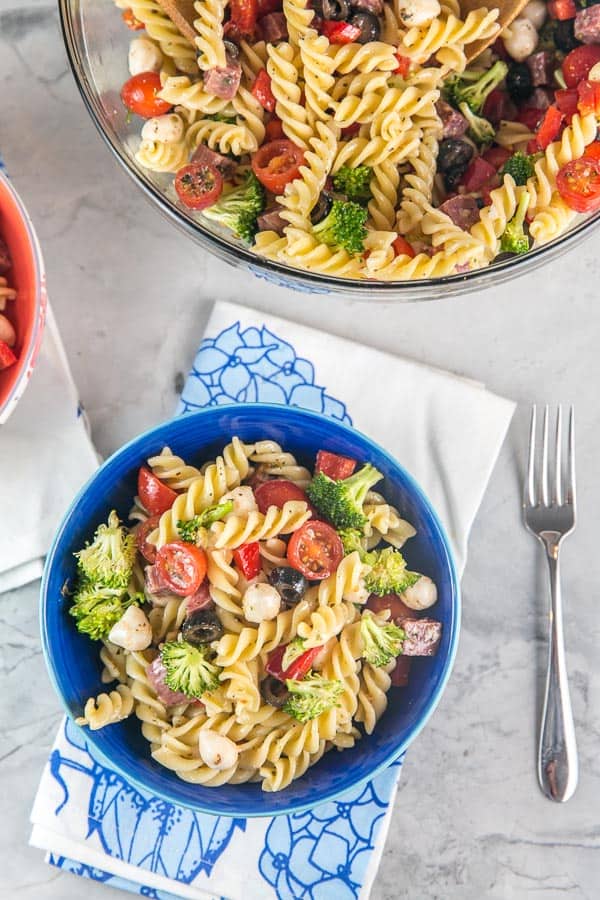 Traditional Italian Pasta Salad Ingredients
At the basic level, we have pasta, meat, cheese, raw vegetables, and Italian dressing.
For the pasta, we like to use rotini pasta. The little spirals are perfect for holding the dressing and fresh herbs!
For meat, we use chopped hard Italian salami. Good substitutions are pepperoni or turkey pepperoni.
When it comes to cheese, mozzarella is the way to go! We like the small round balls of soft mozzarella but cubed fresh mozzarella works well, too. If you'd like to make it extra cheesy, sprinkle some shredded Parmesan on top!
As far as the vegetables, use whatever you have on hand! I always include cherry tomatoes, black olives, broccoli, bell peppers, and marinated artichokes. Other great additions include shredded carrots, sliced zucchini, sliced radishes, asparagus, and fresh peas are delicious.
While some of these veggies veer away from "classic" Italian pasta salad, I firmly believe that the more vegetables we toss in there, the more we can justify it as a one-bowl diner!
Of course, we're going to add a little extra at the end, to take this pasta salad from good to wow. I always end with a sprinkle of fresh herbs and some finely sliced red onion.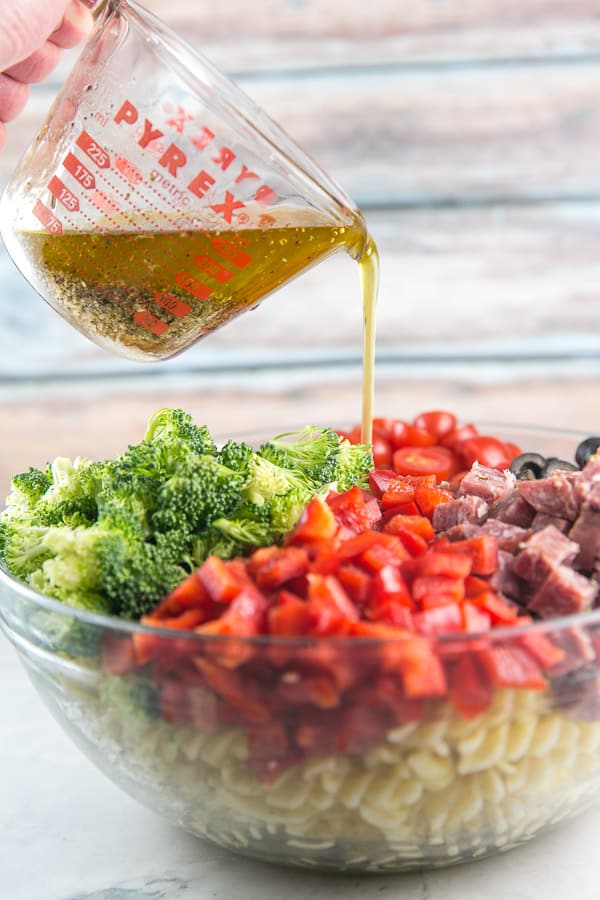 How to Make Classic Italian Pasta Salad
Can you boil water? Can you cut some vegetables? You can make this classic Italian pasta salad!
(This was actually a fairly regular dinner staple when my husband lived in a little apartment in med school with no oven or stove. We would boil water in a deep fryer to make the pasta, and nothing else needs to be cooked for this.)
Cook the pasta thoroughly — a minute or two past al dente. I know slightly undercooked pasta is all the rage, but for a pasta salad – no one wants chewy pasta!
Here's my favorite tip: while the pasta is done cooking, toss it in a tablespoon or two of vinegar. Why? It's time for my favorite subject… kitchen chemistry!
Kitchen Chemistry

Vinegar keeps pasta from sticking together. Pasta releases starch while cooking, which makes it sticky on the surface. Adding vinegar to the pasta while it is cooking lowers the pH of the water, which reduces the stickiness of the pasta.
While stickiness is good for some pasta dishes, we don't want it in our pasta salad. This simple tip prevents it, and the vinegar flavor blends right in with the rest of the homemade Italian dressing!
When the pasta is done, drain (but don't rinse!). Let it cool a bit (we don't want to cook the raw ingredients!), then add in your meat, cheese, and vegetables. Pour the Italian dressing on top, then toss well. Sprinkle on some fresh herbs and sliced onion and give it another good stir.
Serve warm or at room temperature — or chill to serve later. The longer it sits, the tastier it is! This classic Italian pasta salad is a perfect make-ahead option… a night or two in the fridge is even better than the first day.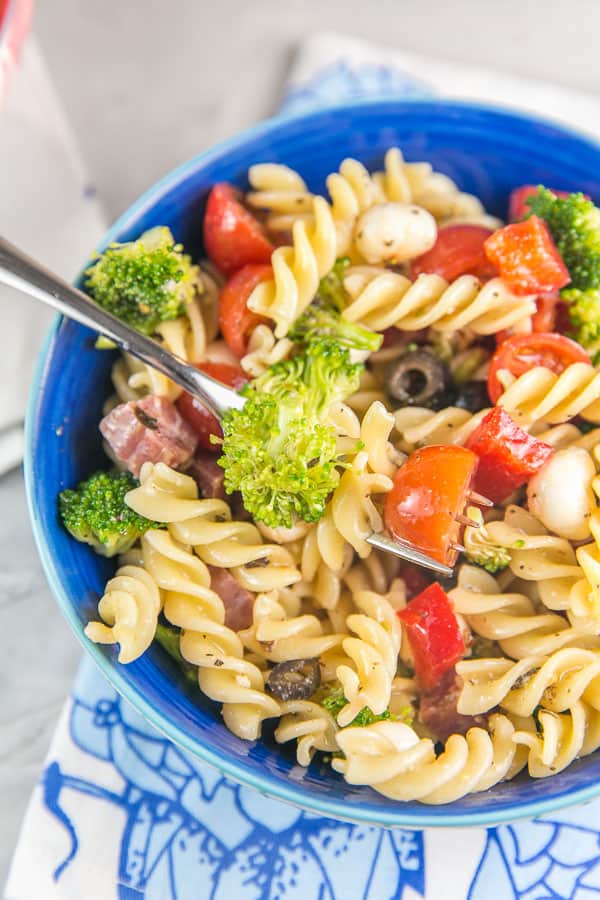 Homemade Italian Dressing
You can absolutely buy a bottle of Italian dressing and call it a day — it's easy, and it's good (use about 1 cup of store-bought dressing). Ooooor you can take it up a notch and make your own Italian dressing, which is generally even tastier and quite a bit cheaper in the long run.
We always have all the ingredients on hand for homemade Italian dressing, with the added benefit that we don't have half a bottle of dressing sitting in our fridge for the next 6 months.
To make homemade Italian dressing, we need: olive oil, red wine vinegar (apple cider vinegar or white wine work too), salt and pepper, garlic, and dried Italian seasonings — either an herb blend or dried oregano, basil, and parsley (rosemary and thyme are delicious additions too, if you have them on hand!).
Combine all ingredients and whisk away. Done.
See? So simple.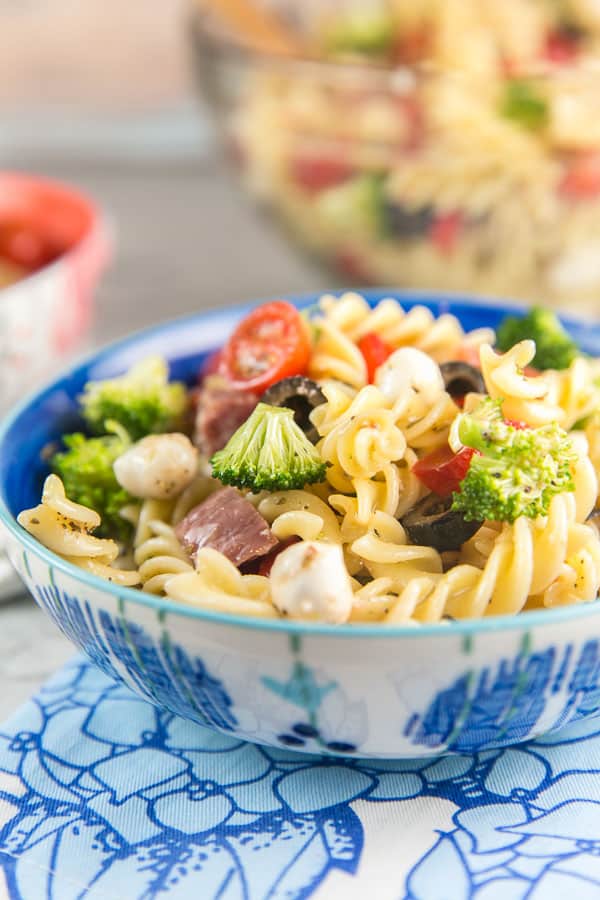 Tips and Tricks for the Best Classic Italian Pasta Salad
Add salt and vinegar to your pasta water.  This improves both the flavor and texture of the pasta.  Use a bite-sized pasta, like rotini, and add at least 2 tablespoons of salt and 1 tablespoon of vinegar to a gallon of boiling water.  
Add the dressing while the pasta is still slightly warm – it is easier to toss the pasta and ensure each piece is covered in dressing.
Cut cheeses, meats, and vegetables into small pieces.  Nothing should be larger than bite-size, but cutting them even smaller means you can get pasta, meat, and veggies all in one bite.
Finish the pasta salad with chopped fresh herbs and thinly sliced red onion.  Anything from your garden or grocery store will work, but parsley, oregano, and basil are classic Italian flavors.
Italian pasta salad tastes better the longer it sits, up to two days in the refrigerator.
More Summer Side Dishes: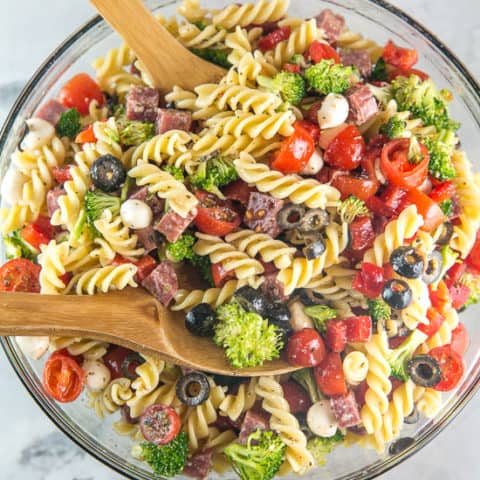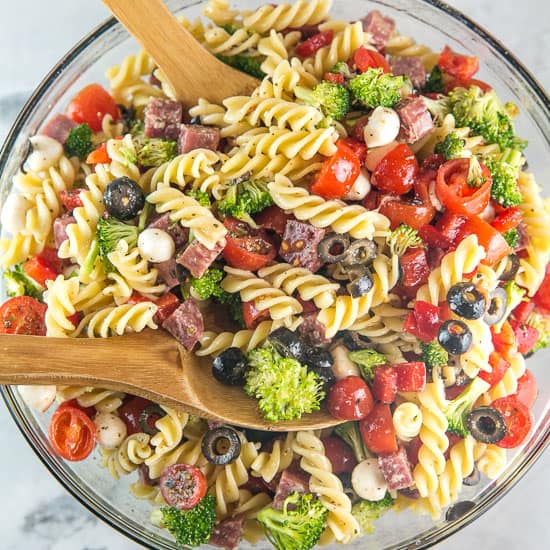 Classic Italian Pasta Salad
Full of fresh vegetables, cheese, and salami, classic Italian pasta salad is an extremely easy crowd pleaser that is even better when made ahead of time!
Ingredients
For the Pasta Salad:
1 pound rotini pasta
1 pound hard salami, cut into chunks
8 ounces bite-sized fresh mozzarella balls
2 pints cherry tomatoes, halved
1/2 cup black olives, sliced
2 cups broccoli florets
1 red bell pepper, chopped
1 (14-ounce) jar marinated artichoke hearts, drained
1/2 red onion, thinly sliced
1/4 cup chopped fresh herbs (suggested: basil, oregano, parsley)
For the Italian Dressing:
3/4 cup good quality olive oil
3 tablespoons red wine vinegar
1 tablespoon kosher or sea salt
2 cloves of garlic, crushed
1 teaspoon dried oregano
1 teaspoon dried basil
1 teaspoon dried parsley
1/4 teaspoon dried rosemary (optional)
1/4 teaspoon ground thyme (optional)
black pepper, to taste
Instructions
Cook pasta according to directions in a large pot of salted water with 1 tablespoon vinegar. Cook pasta until tender, about 8 minutes (will vary by brand). Drain pasta from water and cool slightly.
Combine salami, mozzarella, cherry tomatoes, olives, broccoli, bell pepper, and artichoke hearts in a large bowl.
Whisk together all ingredients for Italian dressing and pour over the pasta salad. Toss to combine. Pasta salad can be refrigerated up to 3 days at this point.
Before serving, stir in the red onion and fresh herbs.
Notes
Italian pasta salad can be stored in an airtight container in the refrigerator for 3 to 4 days.
A Bunsen Burner Bakery Original Protocol
Recommended Products
As an Amazon Associate and member of other affiliate programs, I earn from qualifying purchases.
Nutrition Information:
Yield:

10
Amount Per Serving:
Calories:

515
Total Fat:

37.7g
Carbohydrates:

33.2g
Protein:

21.7g