September 18, 2020
Nutella Swirl Cupcakes
Rich, buttery cupcakes with decadent swirls of Nutella baked right on top. These self-frosting Nutella Swirl Cupcakes are easy to transport and store because the frosting is baked right in!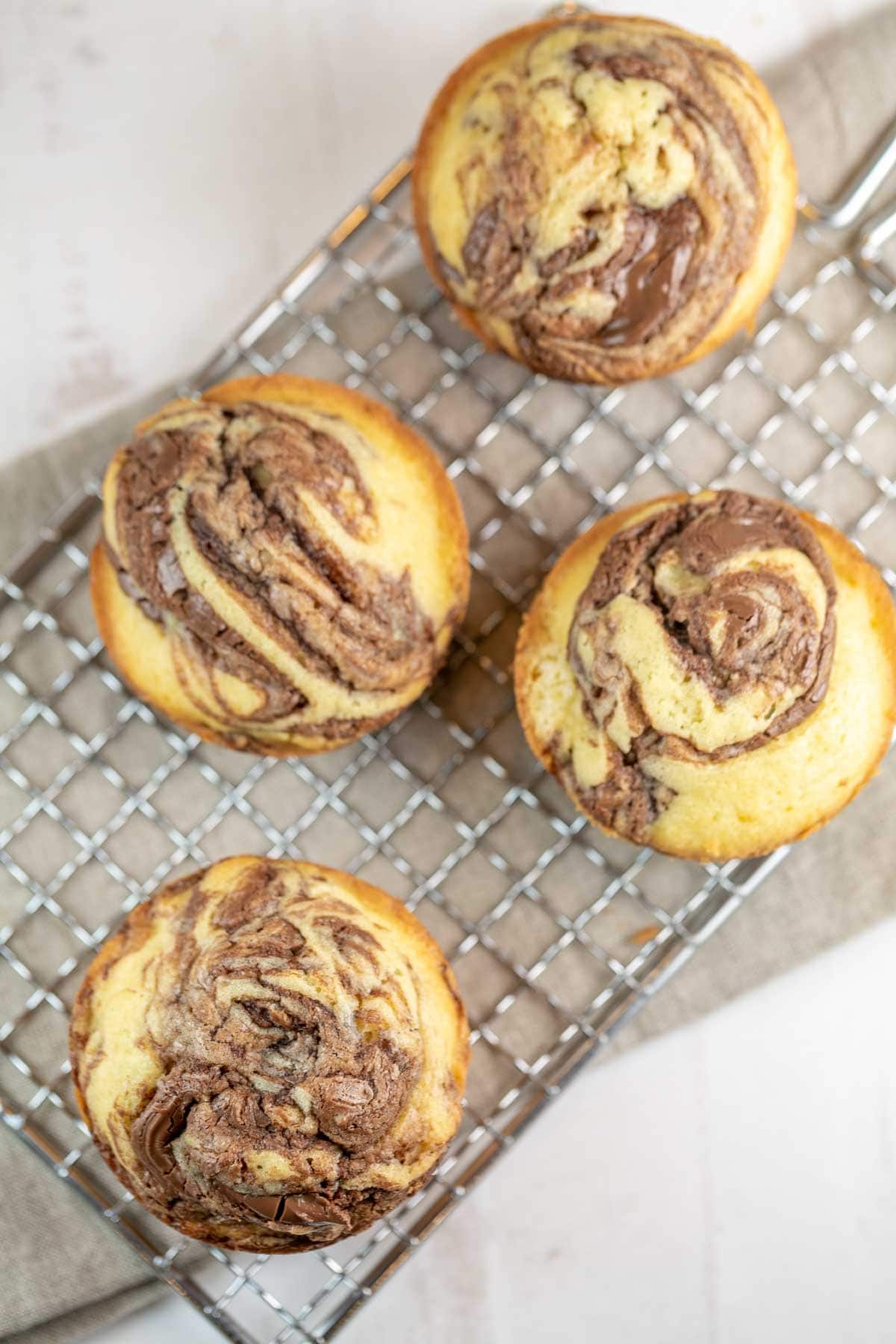 I spent a borderline ridiculously long time debating if I should call these Nutella swirl cupcakes… or Nutella swirl muffins.
Usually, I think of a muffin as having no frosting, while a cupcake has a pile of frosting on time.
But here, we have no separate frosting that we pile on top, making them like a muffin. Instead, gooey swirls of Nutella are baked into the batter and cover the top – so they're kind of self-frosting. And frosting makes me think of a cupcake.
In the end, I settled on cupcakes, because these are made by beating softened butter with sugar using a mixer. Muffins are usually whisked by hand with melted butter or oil.
But if calling these Nutella swirl muffins instead of Nutella swirl cupcakes makes you feel better about eating one of these for breakfast, I fully and completely support your decision.
Because these are absolutely delicious for breakfast.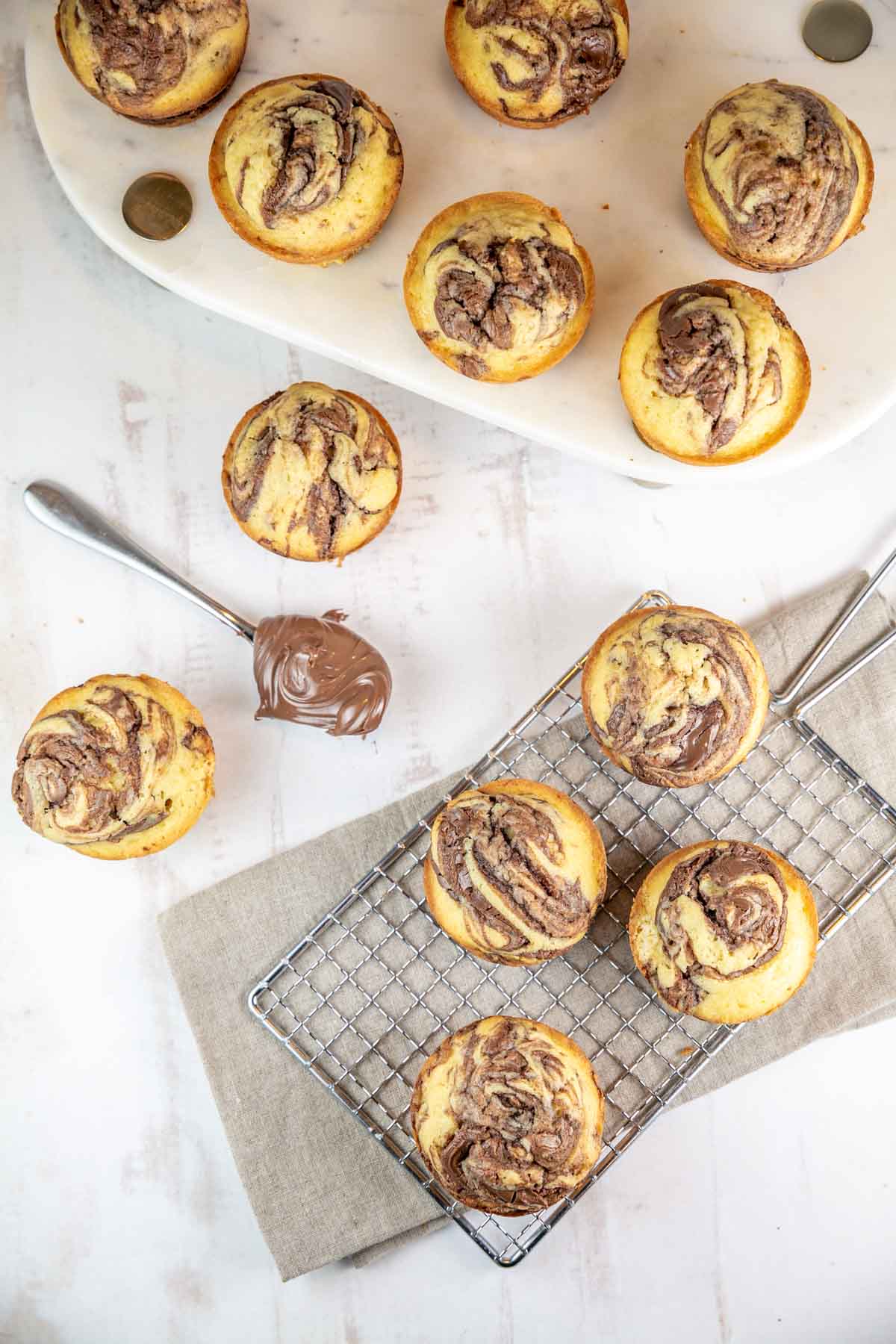 Creaming Butter and Sugar
Since the defining characteristic of these being cupcakes is creaming together butter and sugar, let's talk about this.
Properly creaming together butter and sugar is the most important step you can take to get the perfect texture for your baked goods!
Why is this so important? It's time for my favorite subject… kitchen chemistry!
Kitchen Chemistry

When sugar and butter are creamed together, the jagged edges of the sugar crystals dig into the butter, creating little pockets of air.  These air pockets expanding during baking when they are filled with steam and the carbon dioxide released from the baking powder.  The expansion lifts the batter as it sets, creating a lighter and fluffier texture.
To properly cream together butter and sugar, we want to make sure to use the right temperature butter! Cold butter will not mix well with the sugar, while butter that is too warm does not have enough structure to create air pockets.
Butter should be 60 – 65 °F — soft enough to bend, but not so soft that you can push your finger right through it.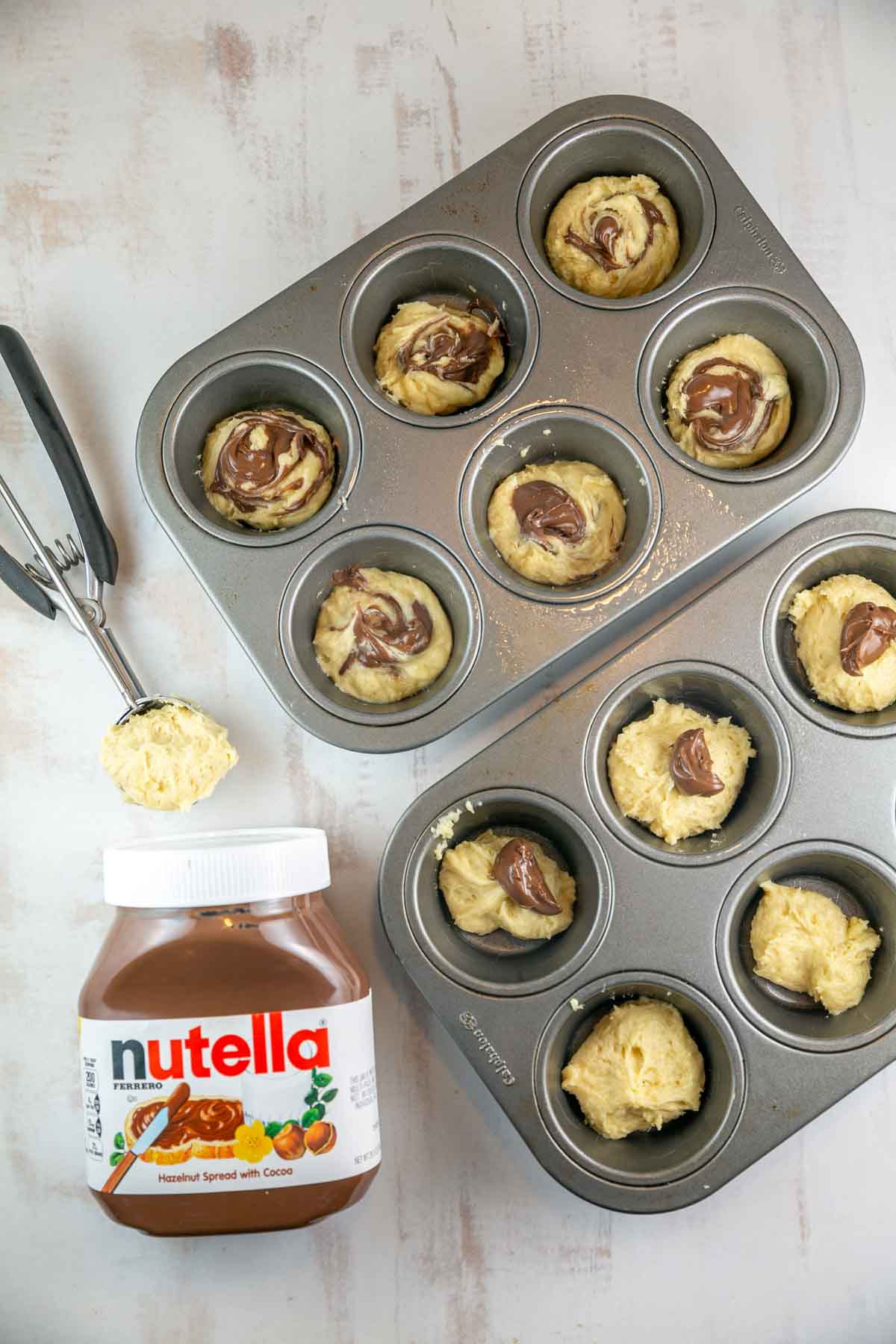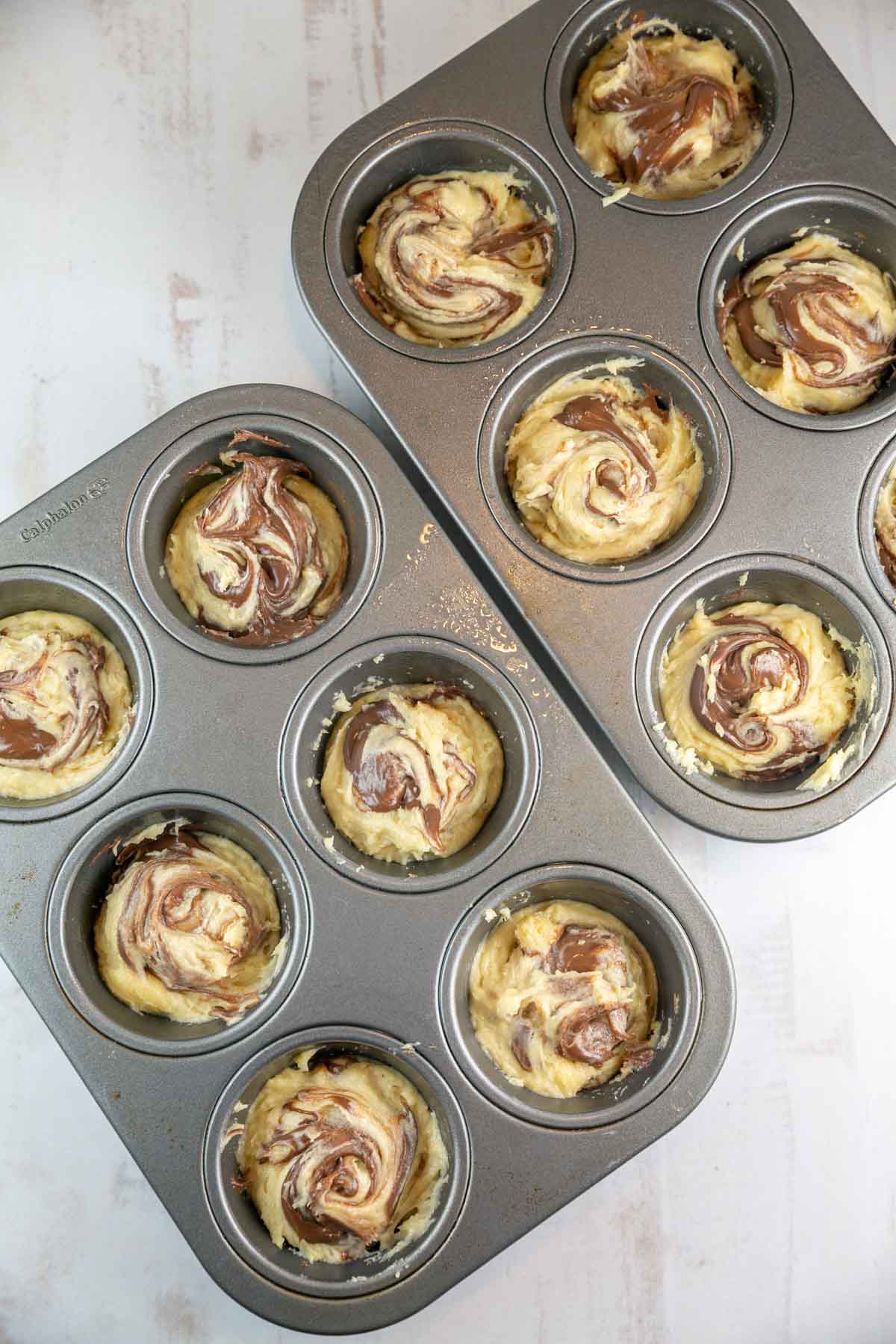 Self-Frosting Cupcakes
What makes these cupcake-muffins really fun is that swirling the Nutella into the batter essentially self-frosts them.
Before baking, dollop some Nutella on top and swirl with a knife or toothpick. As the cupcakes bake, the Nutella spreads a bit across the top of the cupcake (and in through the batter!).
But because the "frosting" bakes along with the cupcake, there's no mess.
That means these are super easy to share, store for later, and about as mess-free as you can get when it comes to serving cupcakes to kids.
You can just toss these into a gallon-sized freezer bag and go on your merry way. No fancy cupcake carrier. No plate plastic wrap draped carefully over toothpicks.
Just a bag of decadently rich cupcakes with gorgeous swirls of Nutella.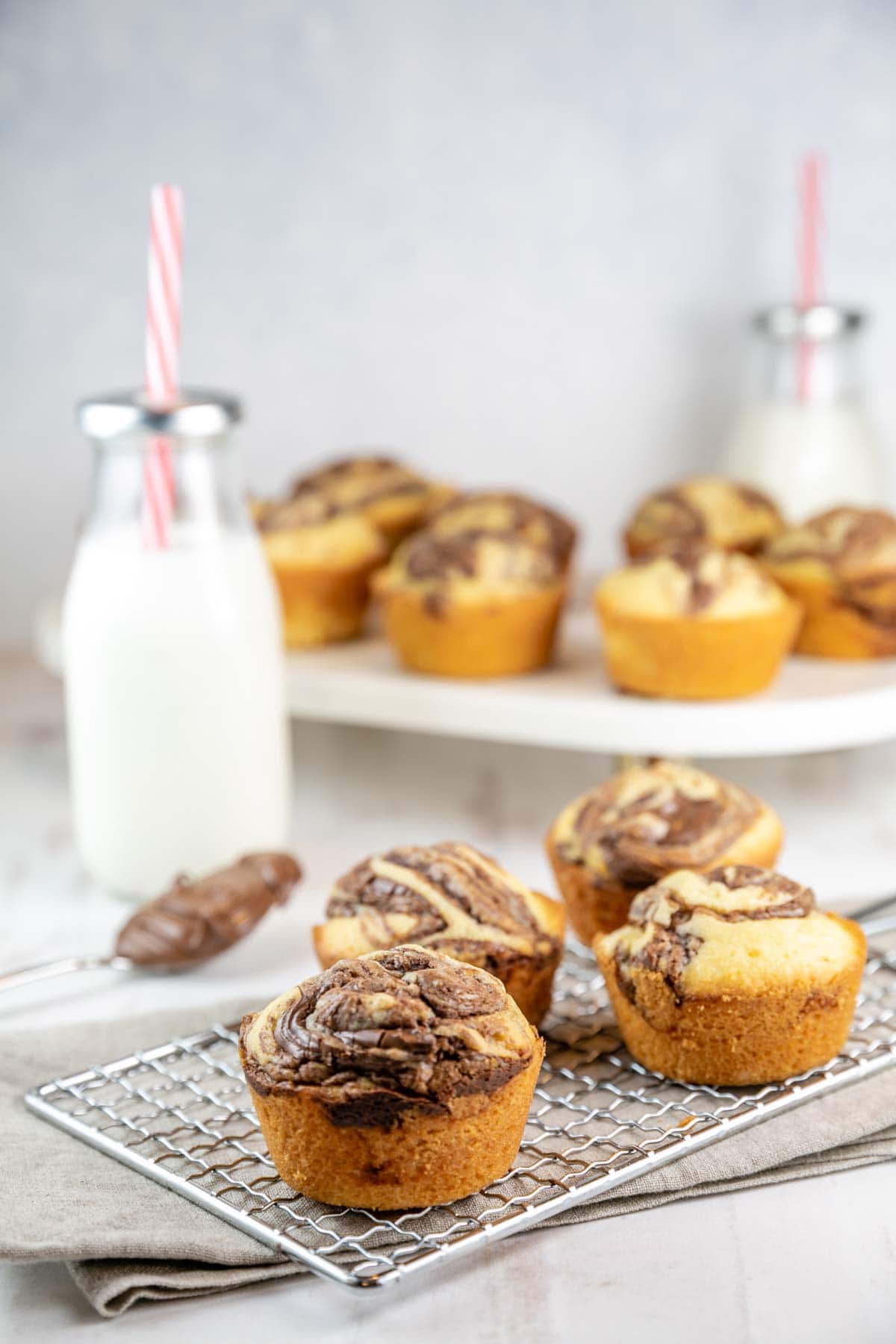 Common Questions about Nutella Swirl Cupcakes
How should I store these Nutella cupcakes?
Allow the cupcakes to cool, then store them in an airtight container at room temperature for up to 5 days.
Can Nutella swirl cupcakes be frozen?
Absolutely. Once cool, cupcakes can be frozen in a freezer-safe bag for up to 3 months. Thaw to room temperature before enjoying.
Can I substitute peanut butter for the Nutella?
Yes! Anything that has a similar consistency to Nutella can be used. I recommend commercial peanut butter — natural peanut butter will separate out during baking, leaving a 'greasy' feeling.
Why are these cupcakes and not Nutella swirl muffins?
If calling them a Nutella swirl muffin makes you feel better about eating them for breakfast, I fully support the name change. 😉 (Real answer: muffins are usually mixed by hand using melted butter or oil.)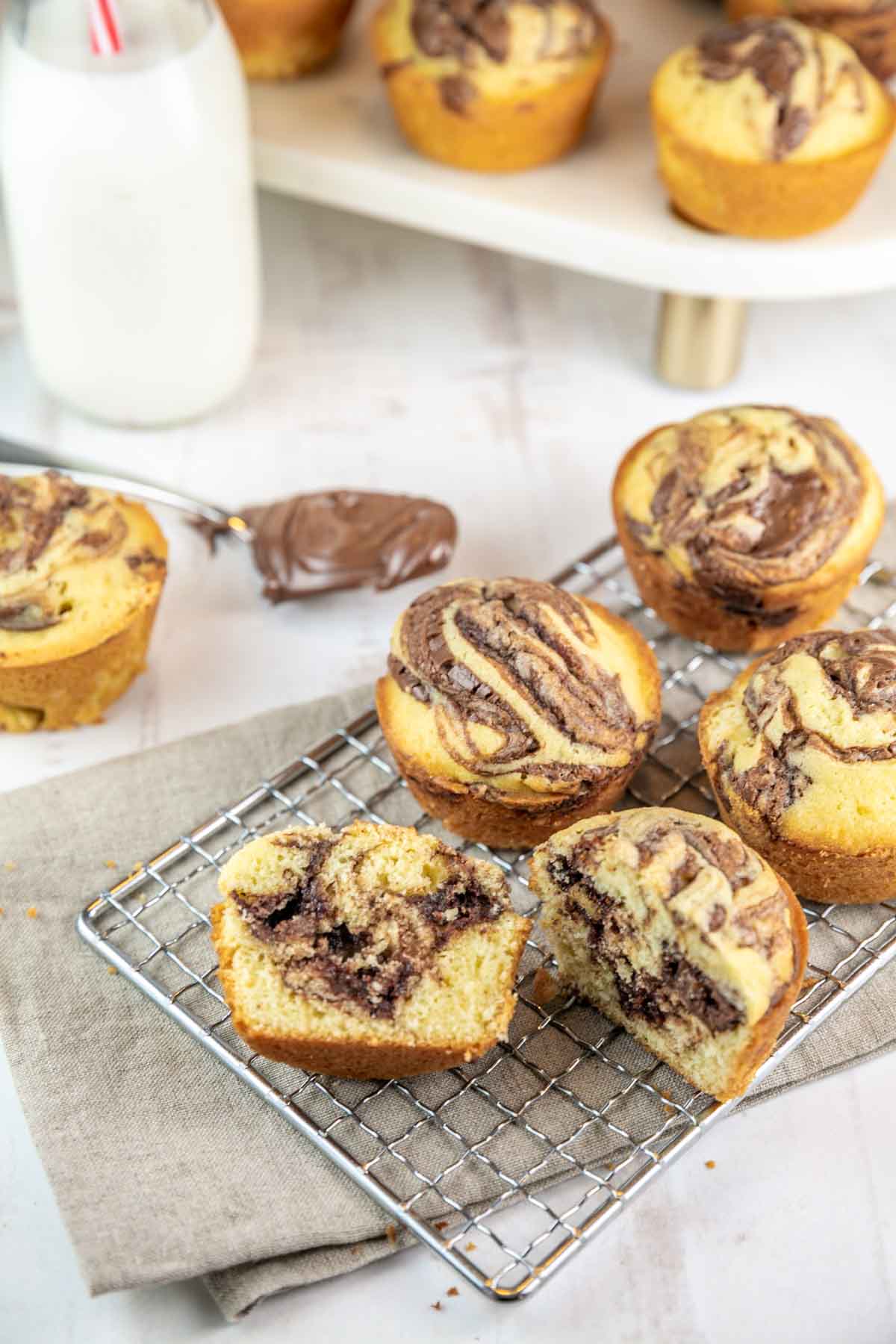 More Nutella Recipes: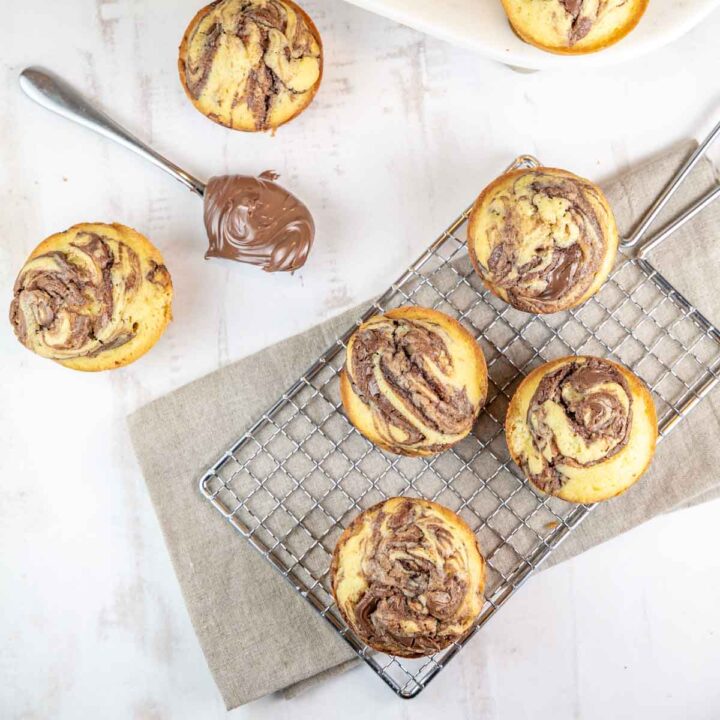 Nutella Swirl Cupcakes
Rich, buttery cupcakes with decadent swirls of nutella baked right on top.
Ingredients
10 tablespoons (141 grams) butter, room temperature
3/4 cup (148 grams) granulated sugar
3 large eggs, room temperature
2 teaspoons vanilla extract
1 3/4 cups (210 grams) all purpose flour
1/2 teaspoon salt
2 teaspoons baking powder
9 tablespoons (170 grams) nutella
Instructions
Preheat oven to 325 °F. Grease a 12-well muffin tin (recommended) or line with paper liners.
Using an electric mixer on medium speed, beat together butter and sugar until light and fluffy, 4 to 5 minutes. Add in the eggs, one at a time and beating after each addition, followed by the vanilla extract. Stir in the flour, salt, and baking powder and beat on low speed until no streaks of flour remain.
Fill each muffin well 3/4 full with batter. Top each with ~3/4 tablespoon of nutella. Use a knife to swirl the nutella around the top of the batter, folding some of the batter up over the nutella.
Bake for 18-20 minutes, or until a tester inserted into the center of the cupcake comes out clean. Turn out onto a wire rack to cool completely.
Notes
Nutella swirl cupcakes can be stored in an airtight container at room temperature for up to 5 days or frozen for up to 3 months.
Recommended Products
As an Amazon Associate and member of other affiliate programs, I earn from qualifying purchases.
Nutrition Information:
Yield:

12
Serving Size:

1 cupcake
Amount Per Serving:
Calories:

369
Total Fat:

19.1g
Carbohydrates:

43.8g
Protein:

5.1g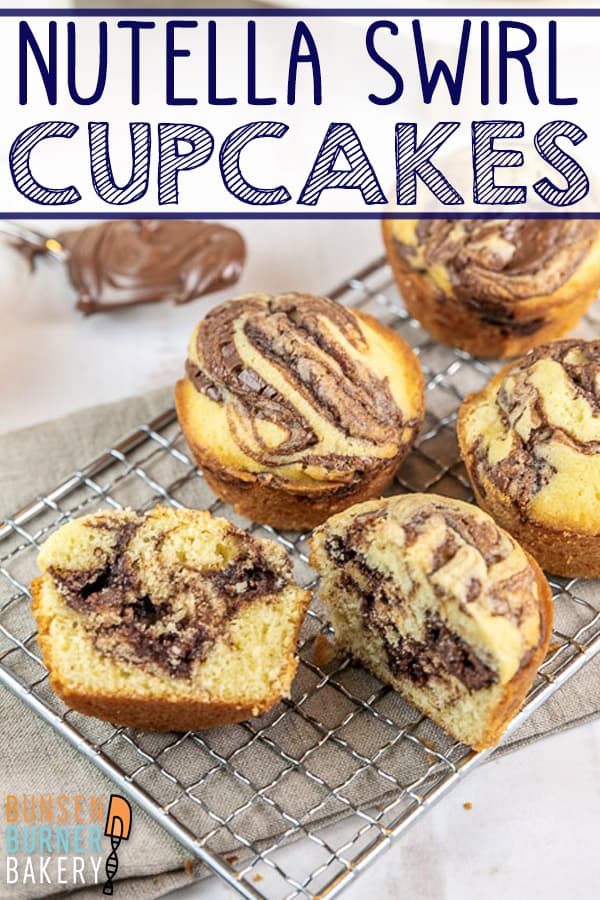 This Nutella Swirled Cupcake recipe was originally published on 12/07/2017 and republished with new photos and additional tips on 09/17/2020.