December 7, 2017
Nutella Swirl Cupcakes
Rich, buttery cupcakes with decadent swirls of nutella baked right on top. These self-frosting nutella swirl cupcakes are ideal for travel: just toss in a bag and go! No need for a fancy cupcake carrier since there's no typical frosting to make a mess. Perfect to share… or enjoy all by yourself!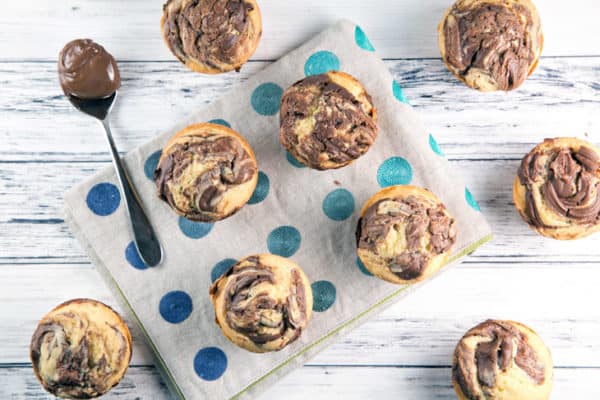 Are you traveling with baked treats this holiday season? Bringing in baked goods for a workplace holiday party? Hoping to deliver something to your child's school?
Then I have just the thing for you: these nutella swirl cupcakes.
I mean, nutella + cupcake means it's going to be delicious, right? Right. Especially since these are extra rich, buttery, decadent cupcakes.
But what makes these perfect for sharing is that they're so easily portable. The nutella is swirled on top of the batter before baking, meaning these cupcakes are basically self-frosting. Because the "frosting" bakes along with the cupcake, there's no mess.
If you just stopped and said "no frosting? no way." let me try to sway you for a minute. I get it. A cupcake without frosting is… well… basically, a muffin. And usually a little dry and bland.
But these nutella swirl cupcakes are anything but! Not only is the cupcake itself insanely good, there are giant swirls of nutella baked right on the top. Even better than a pile of buttercream frosting. Promise.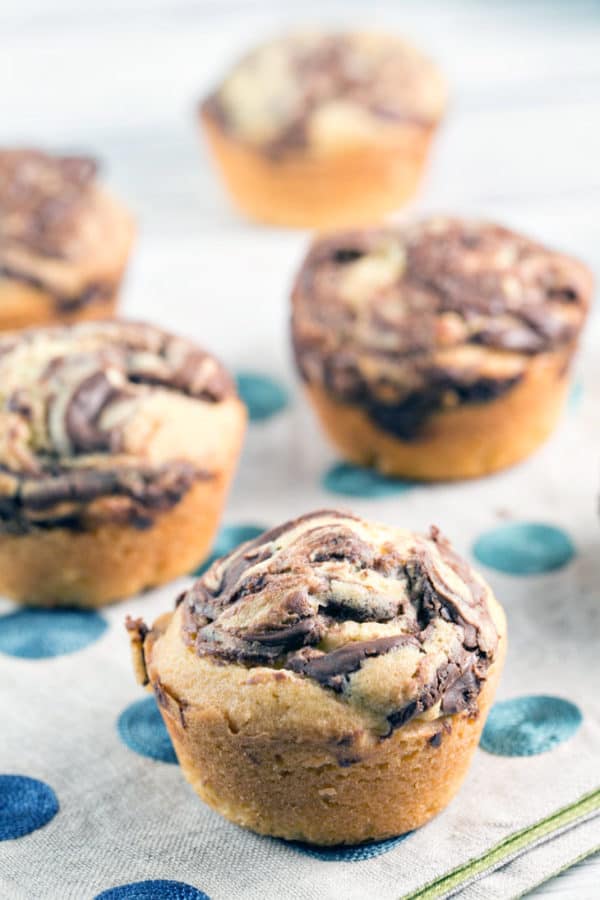 You can just toss these into a gallon sized freezer bag and go on your merry way. No fancy cupcake carrier. No plate plastic wrap draped carefully over toothpicks.
Just a bag of decadently rich cupcakes with gorgeous swirls of nutella.
Obviously, you can make nutella swirl cupcakes any time of year – not just around the holidays. And you can keep them and eat every last one yourself without sharing.
We brought ours on our road trip to Maine this fall, enjoying a morning cupcake-for-breakfast in our AirBNBs. But with all the travel and holiday parties this time of year, it seemed like the perfect season to share this recipe.
If you're traveling to my house this holiday season, feel free to bring a batch. We will gladly devour every last crumb.
Nutella Swirl Cupcakes
Rich, buttery cupcakes with decadent swirls of nutella baked right on top. These self-frosting cupcakes are ideal for travel: just toss in a bag and go!
Ingredients:
10 tablespoons butter, room temperature
3/4 cup sugar
3 eggs, room temperature
2 teaspoons vanilla extract
1 3/4 cups all purpose flour
1/2 teaspoon salt
2 teaspoons baking powder
9 tablespoons nutella
Directions:
Preheat oven to 325 °F.  Grease a 12-well muffin tin (recommended) or line with paper liners.
Using an electric mixer on medium speed, beat together butter and sugar until light and fluffy, 2 to 3 minutes.  Add in the eggs, one at a time, followed by the vanilla.  Stir in the flour, salt, and baking powder and beat on low speed until no streaks of flour remain.
Fill each muffin well 3/4 full with batter.  Top each with ~3/4 tablespoon of nutella.  Use a knife to swirl the nutella around the top of the batter, folding some of the batter up over the nutella.
Bake for 18-20 minutes, or until a tester inserted into the center of the cupcake comes out clean.  Turn out onto a wire rack to cool completely.
Cupcakes will keep at room temperature for 4 days, or can be frozen for up to 3 months.