August 25, 2022
Raspberry Brownies
These easy one-bowl Raspberry Brownies are a classic fudgy, gooey brownie filled with jammy raspberries in the batter and layered on top. It's the perfect combination of fruity, chocolatey, gooey, and delicious!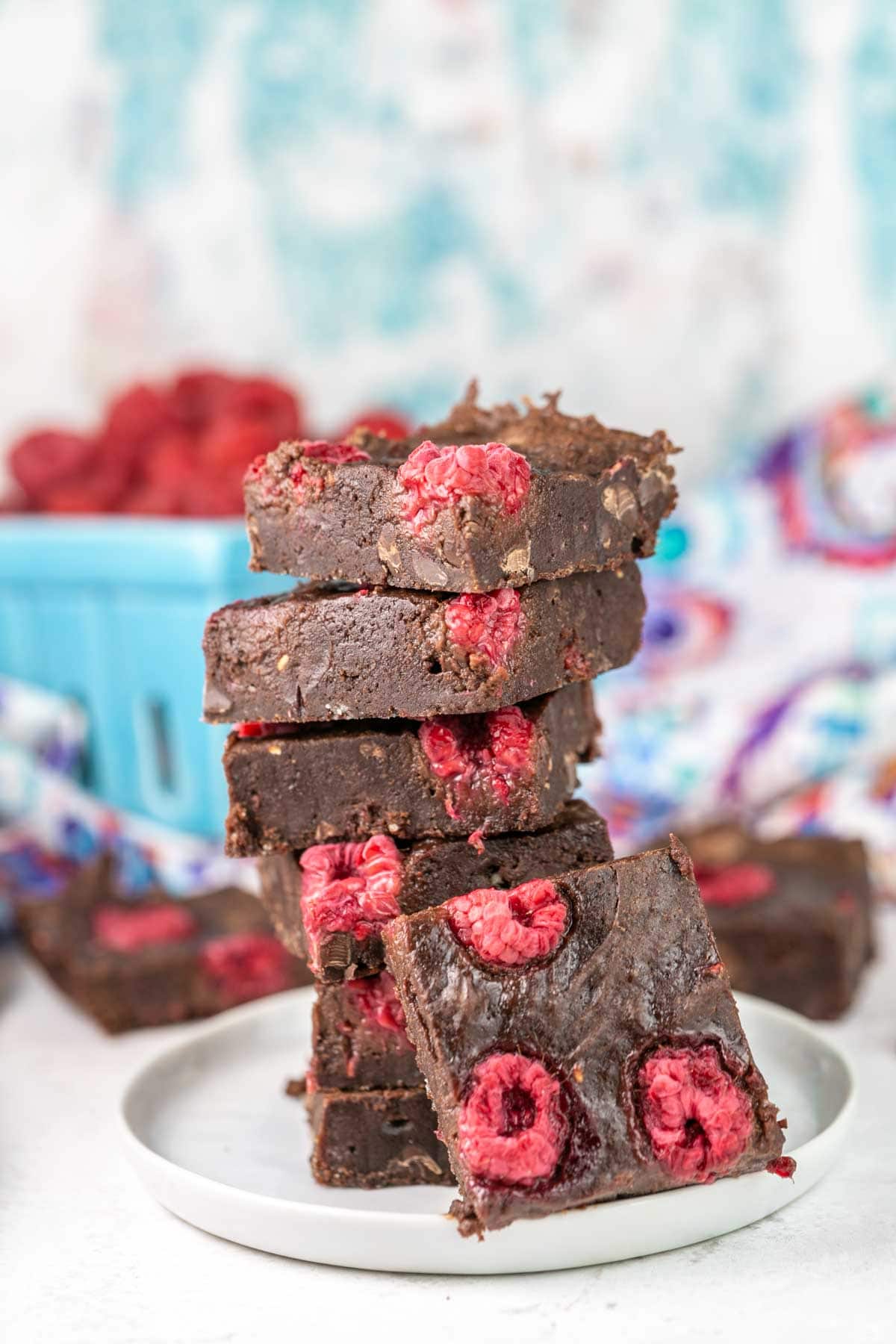 These Raspberry Brownies are a truly foolproof recipe (fool! proof!). Easy AND delicious, combining fudgy chocolate flavor and texture with tart, jammy raspberries. And best of all, you can make this recipe in ANY season using either fresh or frozen raspberries!
All you need to make this recipe is one bowl and a wooden spoon. Who doesn't love one-bowl level easy? Especially when it means super fudgy brownies!
The raspberry flavor really pairs so well with chocolate. To highlight this, we'll pack the raspberry flavor in – we're going to add them to the batter and add extras on top. The raspberries inside the batter will come out gooey and jammy and oh-so-delicious.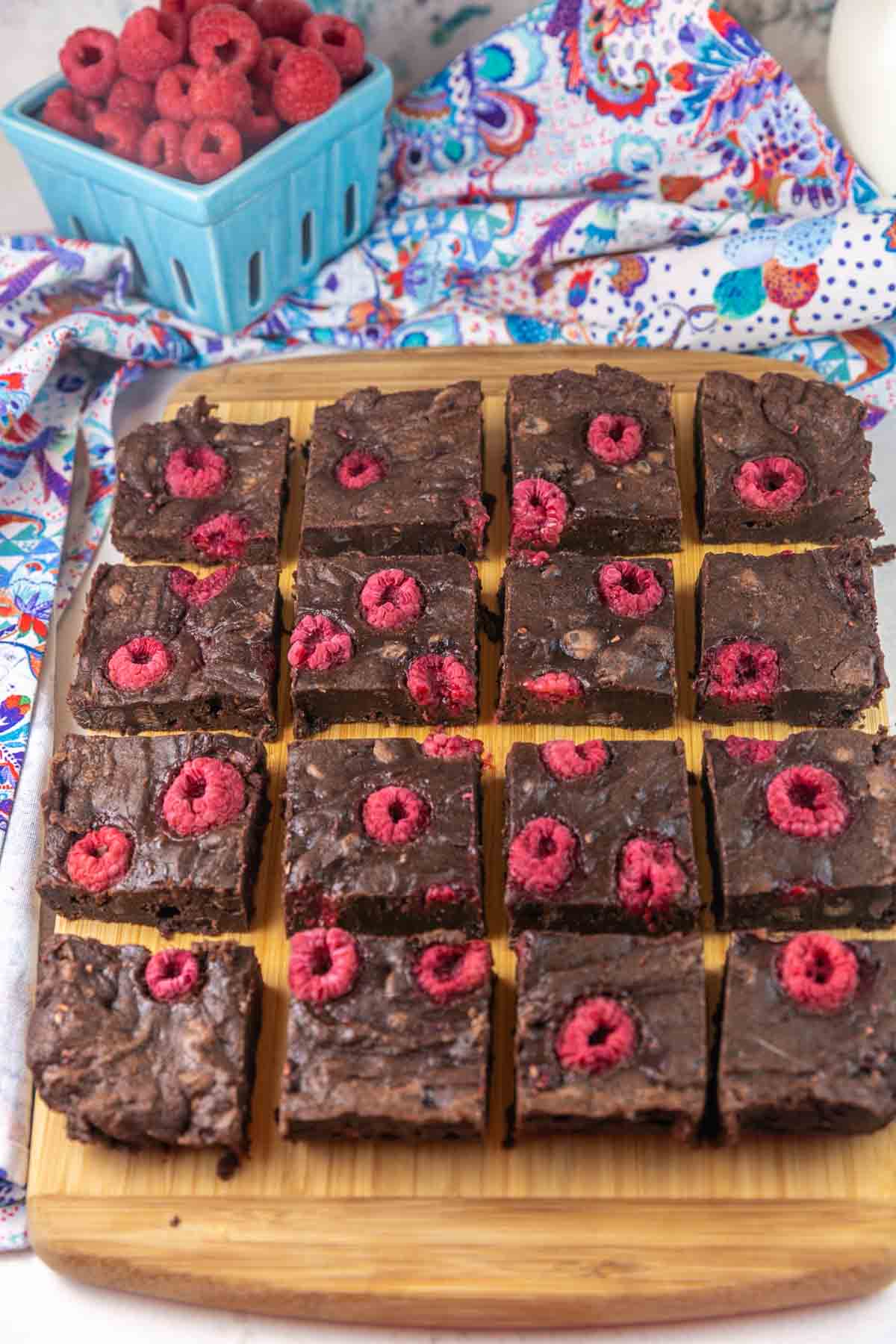 Fresh vs. Frozen Raspberries
You can use either fresh or frozen raspberries in this recipe. I always use fresh when I can, but raspberries can be hard to find (or super pricey!) out of season.
Frozen raspberries can be a lot easier and work just as well! Just be sure not to thaw the frozen raspberries before putting them into the batter so they don't wind up mushy.
If you don't have raspberries, you can also mix things up and try different fruits in this recipe. Try strawberries, blackberries, blueberries, or cherries, either fresh or frozen!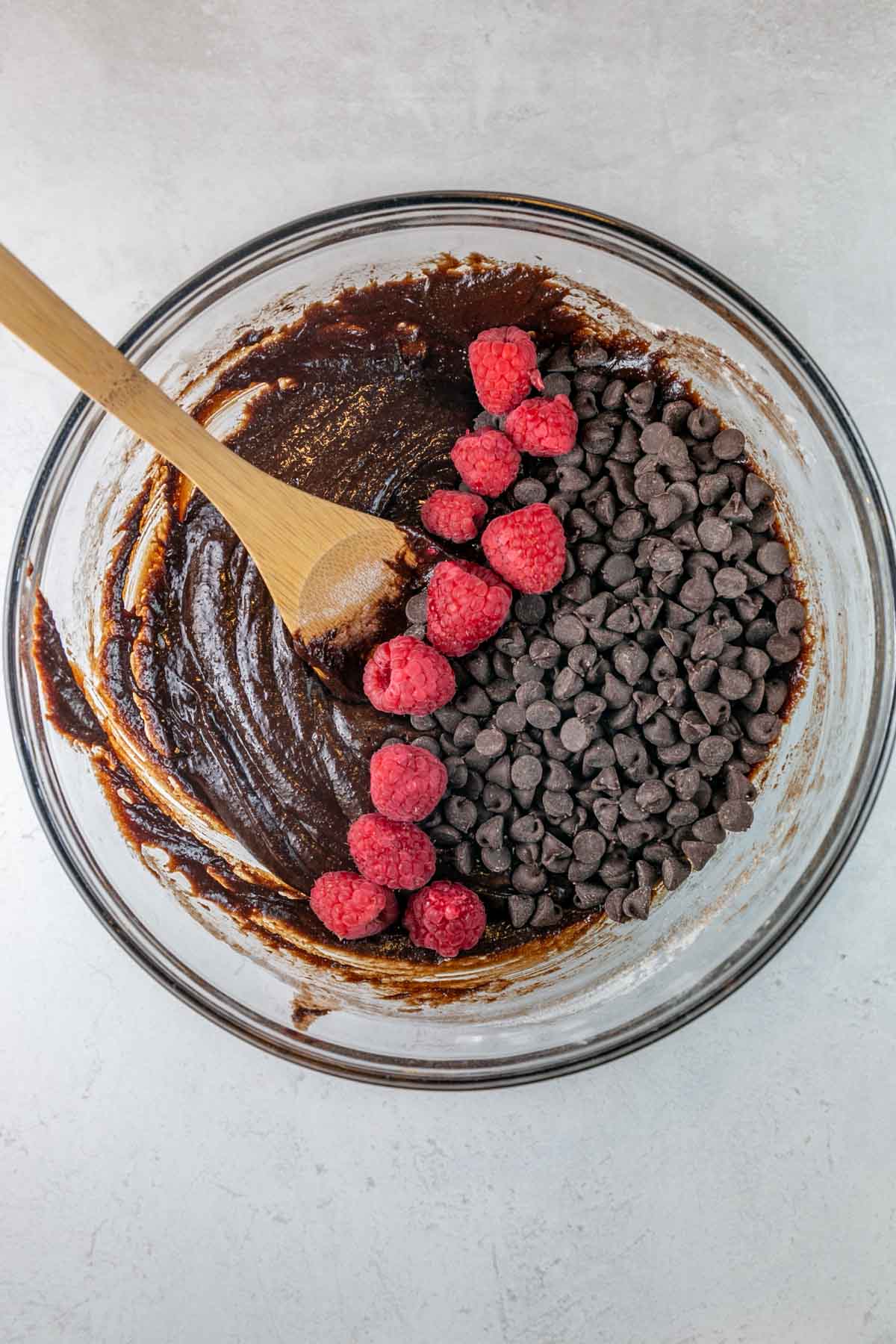 Fudgey Brownie Base
Brownies that are fudgy instead of cakey generally have a higher fat to flour ratio. So, in order to get these brownies as fudgy as possible, don't skimp on the butter and chocolate chips! The eggs also incorporate some important fat content.
To make these raspberry brownies extra chocolately, I added natural unsweetened cocoa powder, which provides that classic deep chocolate flavor. This might be a matter of personal preference, but I also love to add chocolate chips – both for a little texture and even more chocolate. (Can there be such a thing as too much chocolate in brownies? Of course not.)
Of course, you can use any kind of chocolate chips – I almost always bake with semi-sweet. But if you want the brownies to be sweeter, add white chocolate chips or milk chocolate chips. If you prefer a dark chocolate flavor, pile in the dark chocolate chips!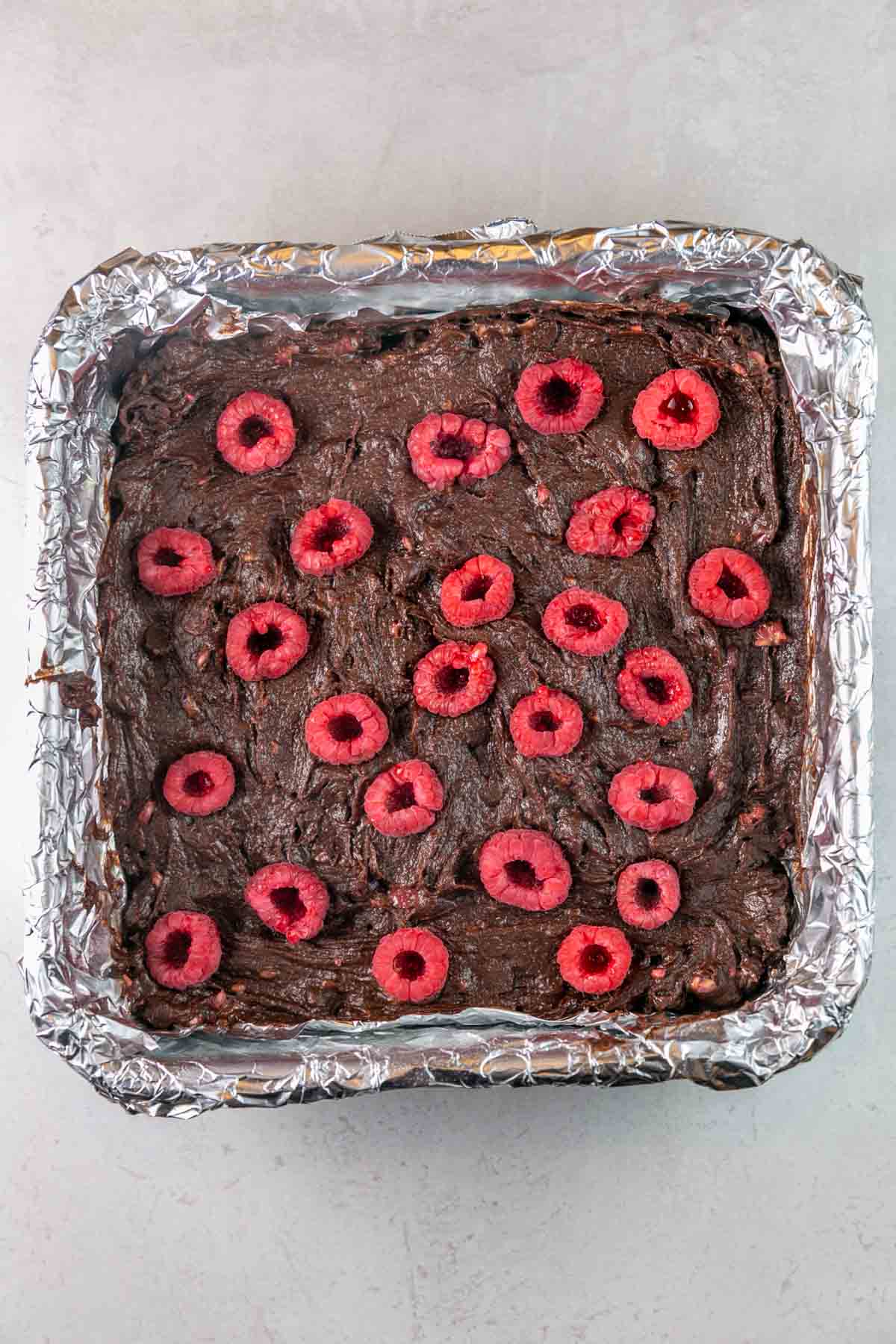 Add Raspberries Before Baking
The fudge brownie base is packed with raspberries and once everything is combined, poured into a brownie pan. But for even better flavor and appearance, top the brownie base layer with extra raspberries!
I like to add mine all facing upwards, so the raspberries look like a little cup. This is entirely optional for brownies, but I think it looks a little nicer to have all the brownies facing the same direction!
When baking the raspberry brownies, make sure that you don't overbake them! Baking for too long results in a dry, cakey brownie. But did you know that the type of pan that you bake them in also impacts on the texture of your brownies? It's time for my favorite subject… kitchen chemistry!
Kitchen Chemistry

For the fudgiest brownies, bake in a light-colored, metal pan! Darker pans will transfer more heat into the brownies and cook the edges more quickly than the center, which results in dry and cakey edges.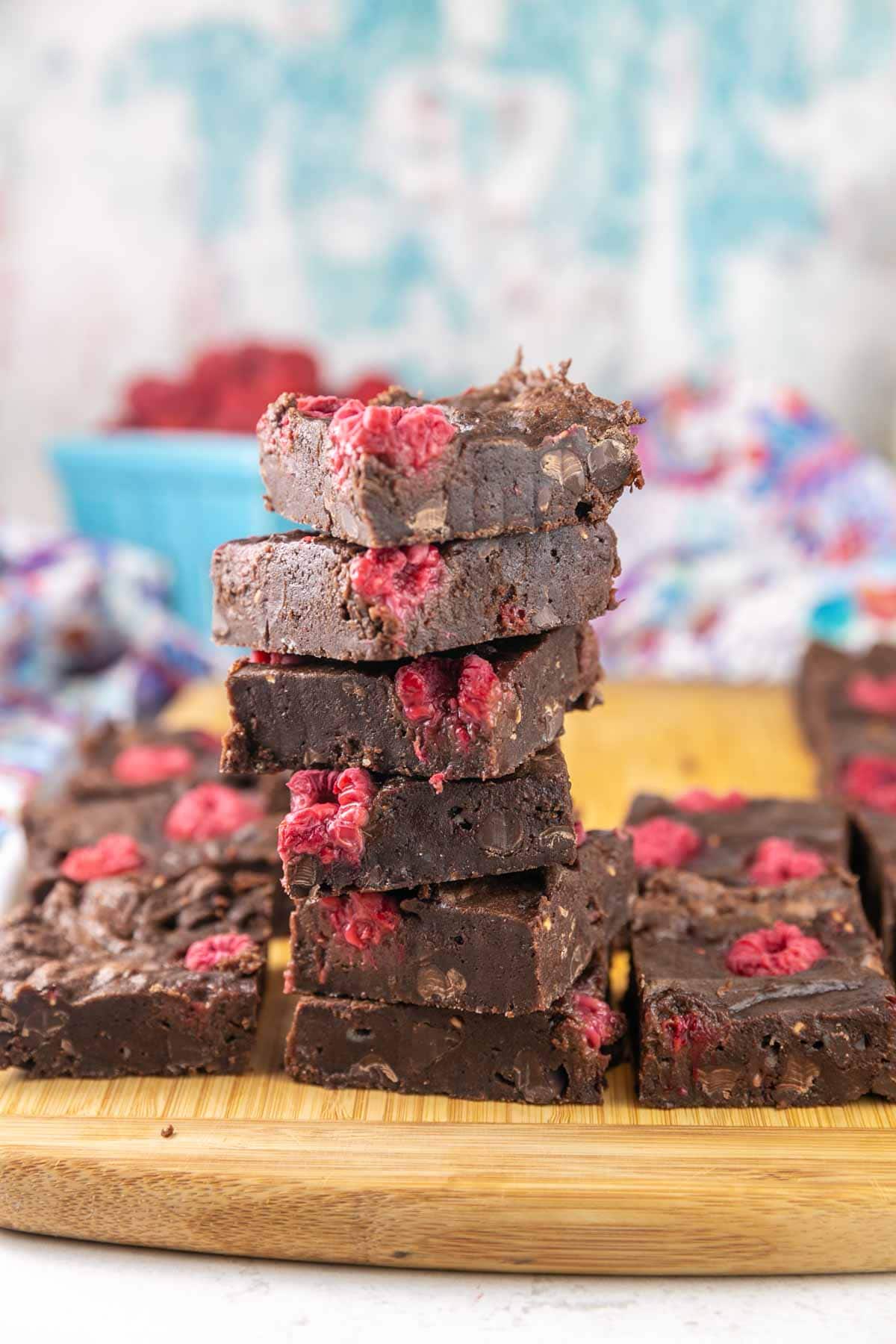 Recommended Tools to Make Raspberry Brownies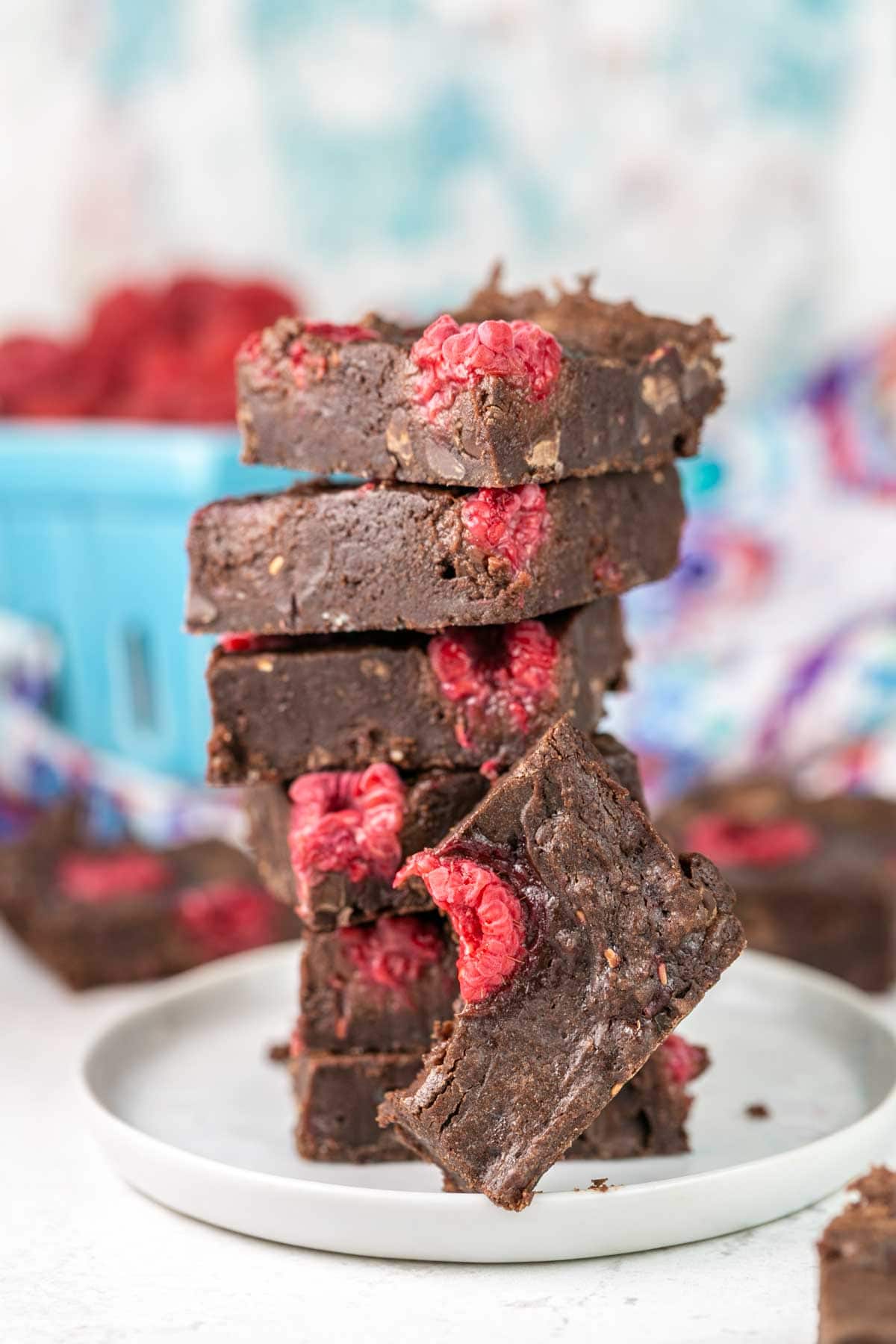 Tips and Tricks for The Best Raspberry Brownies
Cut these brownies with a plastic knife to prevent the brownie from sticking to the knife. If you don't have a plastic knife, try using a serrated knife and wipe off the knife after every cut to reduce friction and get a perfectly cut brownie!
Make sure not to over-bake your brownies in order to keep a fudgy, gooey texture. How can you tell when they're done? A few moist crumbs should stick to a toothpick inserted into the center, or remove the brownies when an instant-read thermometer registers the center of the brownies at 180 °F.
Using a good quality cocoa powder is the best way to ensure that your brownies have a wonderful flavor. Lower quality cocoa powder will result in a less chocolately brownie (and who wants that?!).
This recipe is designed to bake in a metal pan. Metal is the best conductor of heat. If you want to use a glass pan, add additional time to the baking time – 3 to 5 minutes is a good place to start.
If you want to bake these raspberry brownies in a 9×13 pan, just double the recipe and add about 5 minutes to the cooking time!
Brownies can be kept in an airtight container at room temperature for up to 3 days or frozen for up to 3 months. The brownies taste even fudgier if they're stored in the refrigerator, where they can be kept for up to 5 days.
More Brownie Recipes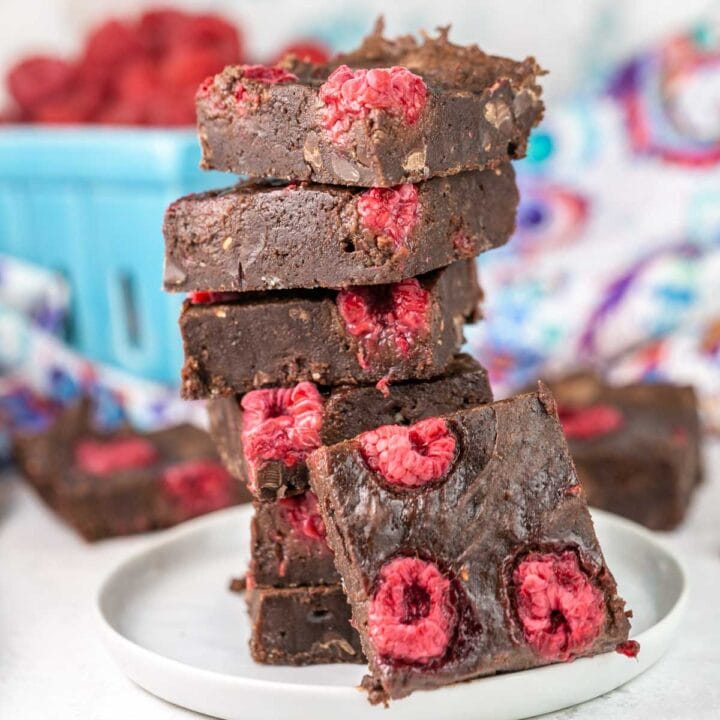 Raspberry Brownies
These easy one-bowl raspberry brownies are a classic fudgy, gooey brownie made even better with fresh or frozen raspberries baked inside!
Ingredients
1 1/2 (297 grams) cups granulated sugar
3/4 cup (170 grams) unsalted butter, melted
3/4 cup (63 grams) natural unsweetened cocoa powder
2 large eggs, room temperature
1 1/2 teaspoons vanilla extract
1 1/8 cup (135 grams) all purpose flour
3/4 teaspoon salt
1 cup (170 grams) chocolate chips
1 cup (120 grams) raspberries, fresh or frozen
Instructions
Preheat the oven to 350 °F. Line an 8x8-inch metal baking dish with aluminum foil and grease.
Melt the butter in a large, microwaveable bowl (60 to 90 seconds on high power). Stir in the cocoa powder and sugar, mixing until fully dissolved and no lumps of cocoa powder remain. Add the eggs one at a time, followed by the vanilla extract. Gently fold in the flour and salt until no streaks of flour remain. Fold in the chocolate chips and half of the raspberries.
Transfer the batter to the prepared pan and top with the remaining raspberries. Bake for 30-35 minutes, or until the center is just set and a tester comes out with a moist crumb. Cool completely before cutting.
Notes
Need more brownies? Double the recipe and bake in a 9x13-inch baking dish, adding 5-10 minutes to the baking time.
To ensure the brownies stay gooey, remove the pan from the oven when moist crumbs still stick to a toothpick, or the center of the brownies register as 180 °F using an instant-read thermometer.
The brownies can be kept at room temperature for up to 3 days or frozen for up to 3 months. For an even fudgier texture, store the brownies in the refrigerator.
Recommended Products
As an Amazon Associate and member of other affiliate programs, I earn from qualifying purchases.