March 26, 2021
Instant Pot Orange Chicken
Make your own American-style Chinese food at home with this easy Instant Pot Orange Chicken recipe!  All the flavor you love from orange chicken, cooked fast in the Instant Pot.  Healthier and cheaper than takeout?  You betchya!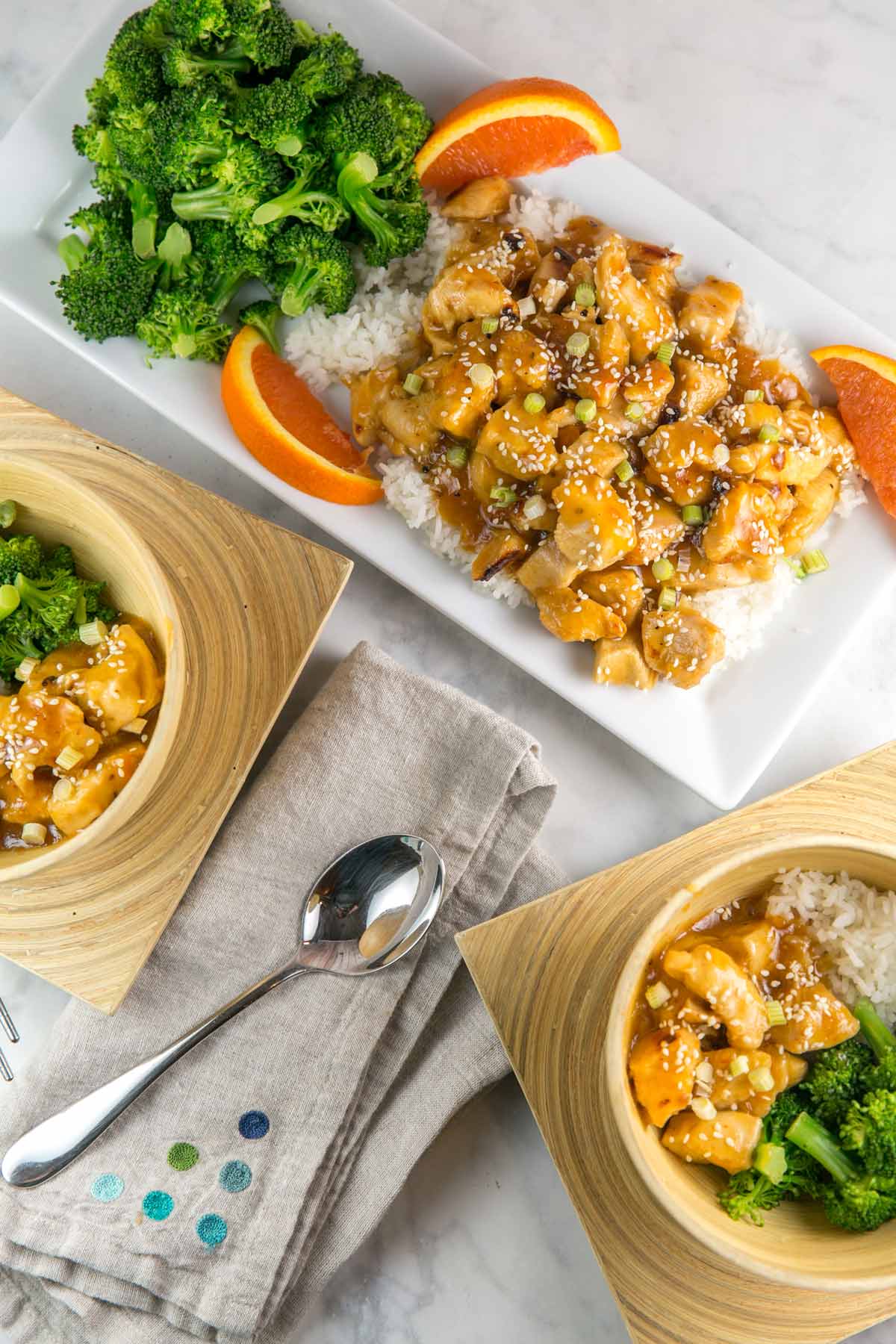 I get a lot of requests for more recipes, especially in the "quick and easy" realm. Instant Pot recipes are great for this — while they take a little more time for the pot to come to pressure and cook, once everything starts, it's an entirely hands-off cooking process.
I always get a lot of messages about my Easy Instant Pot Beef Stew recipe, so it's pretty obvious: you guys love your pressure cookers!
Let's change things up a little with some homemade Americanized Chinese take-out-fake-out: Instant Pot Orange Chicken.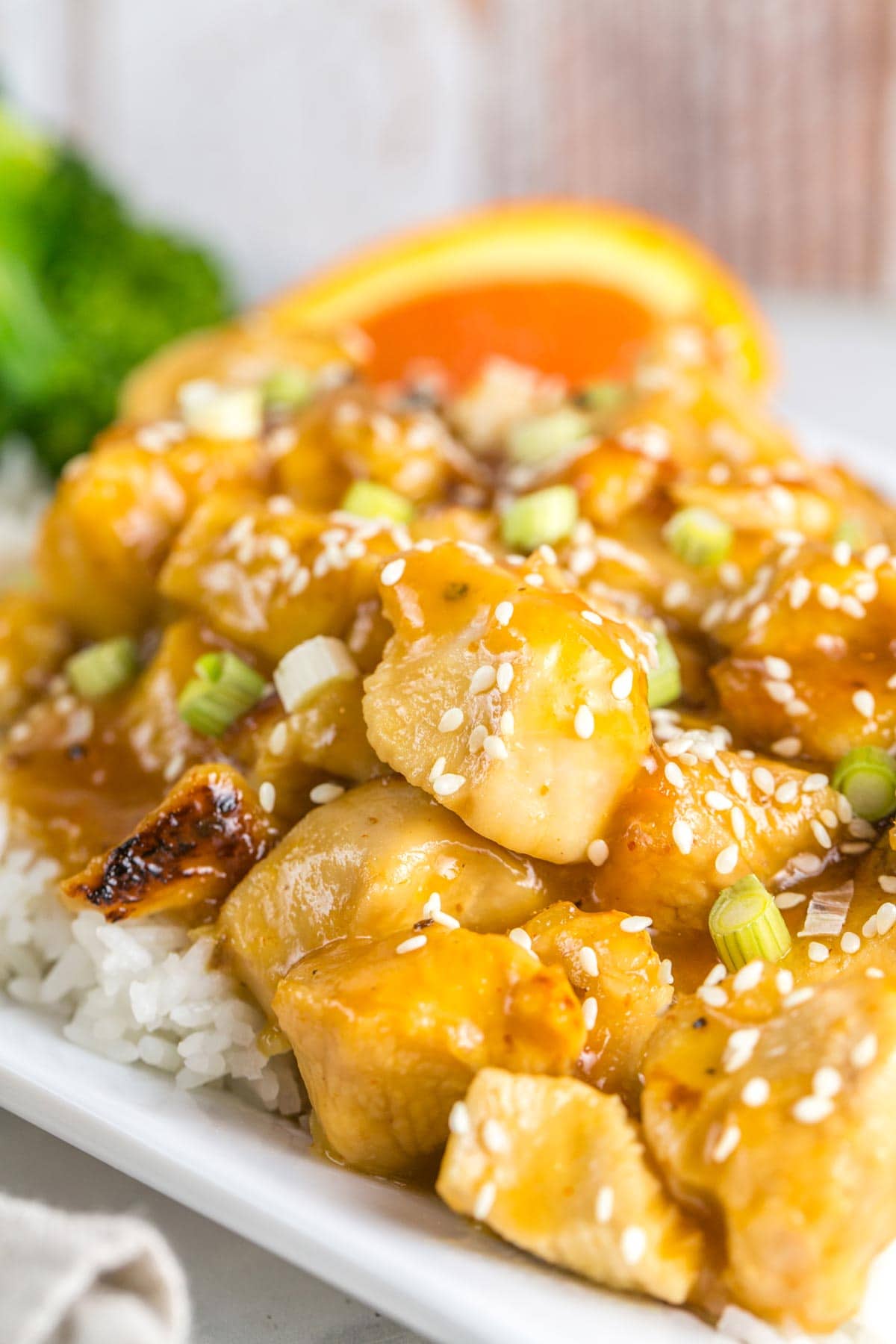 Healthier Orange Chicken
This recipe deviates a little from my general premise of trying to keep dinner as healthy as possible. I am usually pretty vigilant about weeding out adding excess sugar from our meals, because hi, I like dessert.
Orange chicken, however…. well… my attempts to keep it as healthy as possible came up a little short. I tried really hard to make a tasty, fight your Chinese food cravings, version of orange chicken with no added refined sugar other than orange juice.
It did not work. At all.
Removing that (delicious, addicting) crispy fried coating and taking out all the sugar basically means we're no longer eating orange chicken.
So… we added some back in. Health food this is not, but since the chicken is cooked in the Instant Pot instead of fried, you're definitely making a healthier choice than ordering in Chinese, and that's still winning in my book.
Right? Right.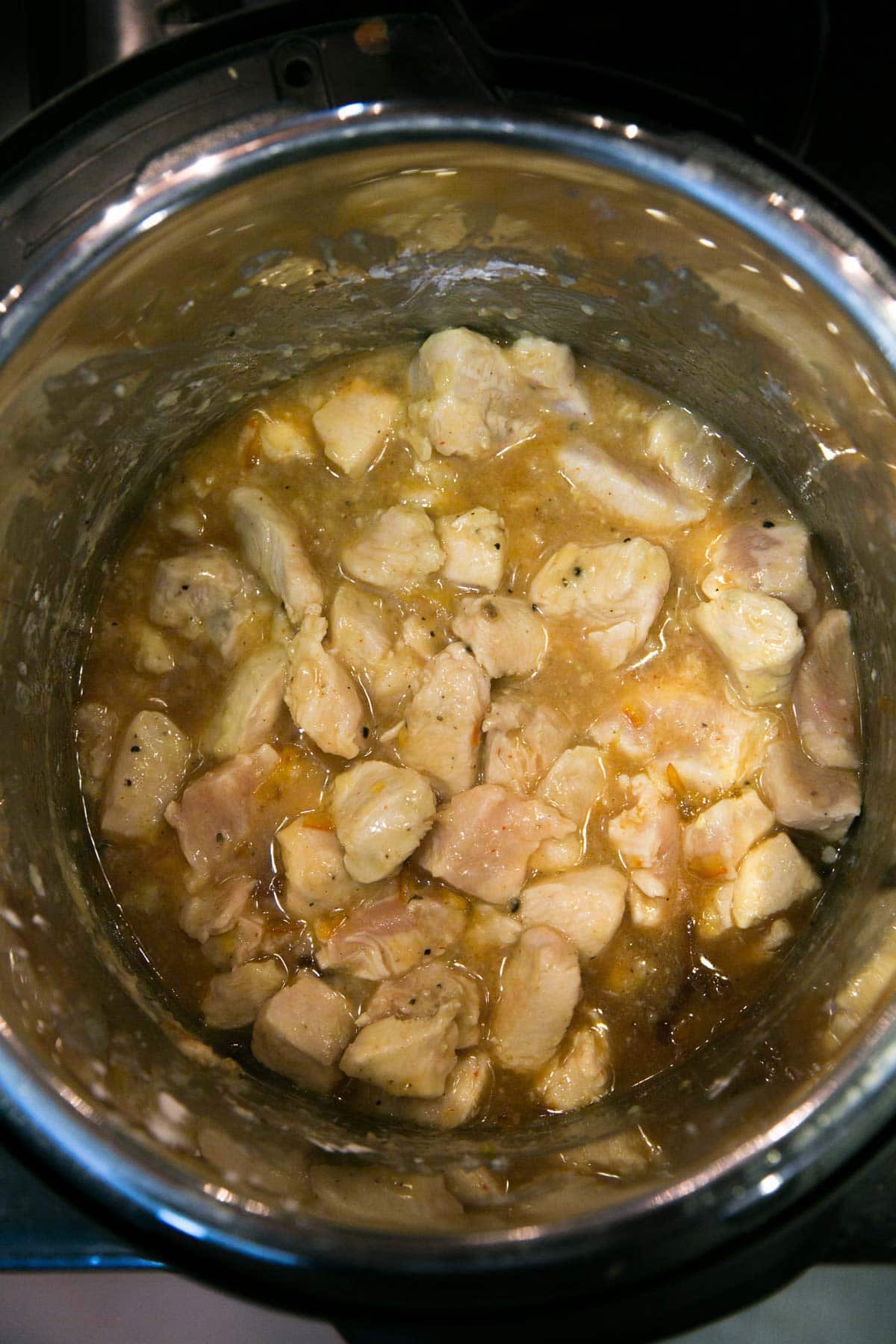 Orange Marmalade Sauce
The key to a thick sauce full of that classic orange flavor? Orange marmalade.
I initially tried orange juice with brown sugar, but the sauce just wasn't orangey enough. In the end, the best version I made used orange marmalade plus orange juice, to really boost the orange flavor.
All orange marmalades are not made the same, and I recommend finding one lower in sugar for this. I used an all-natural orange marmalade sweetened with fruit juice and no high fructose corn syrup (St. Dalfour brand), which worked perfectly. Higher-sugar orange marmalades will result in an overly sweet sauce.
One of the important steps to balancing the sweetness of the marmalade? Adding a little spice (sriracha) and acidity (vinegar). If you can only find sweeter marmalade, add double the extra rice wine vinegar. Why does this help? It's time for my favorite subject… kitchen chemistry!
Kitchen Chemistry

Balanced sauces add a vinegary kick to tone down sweetness. Vinegar, which has a low pH (acidic) adds sourness which both tones down overly sweet flavors and enhances saltiness.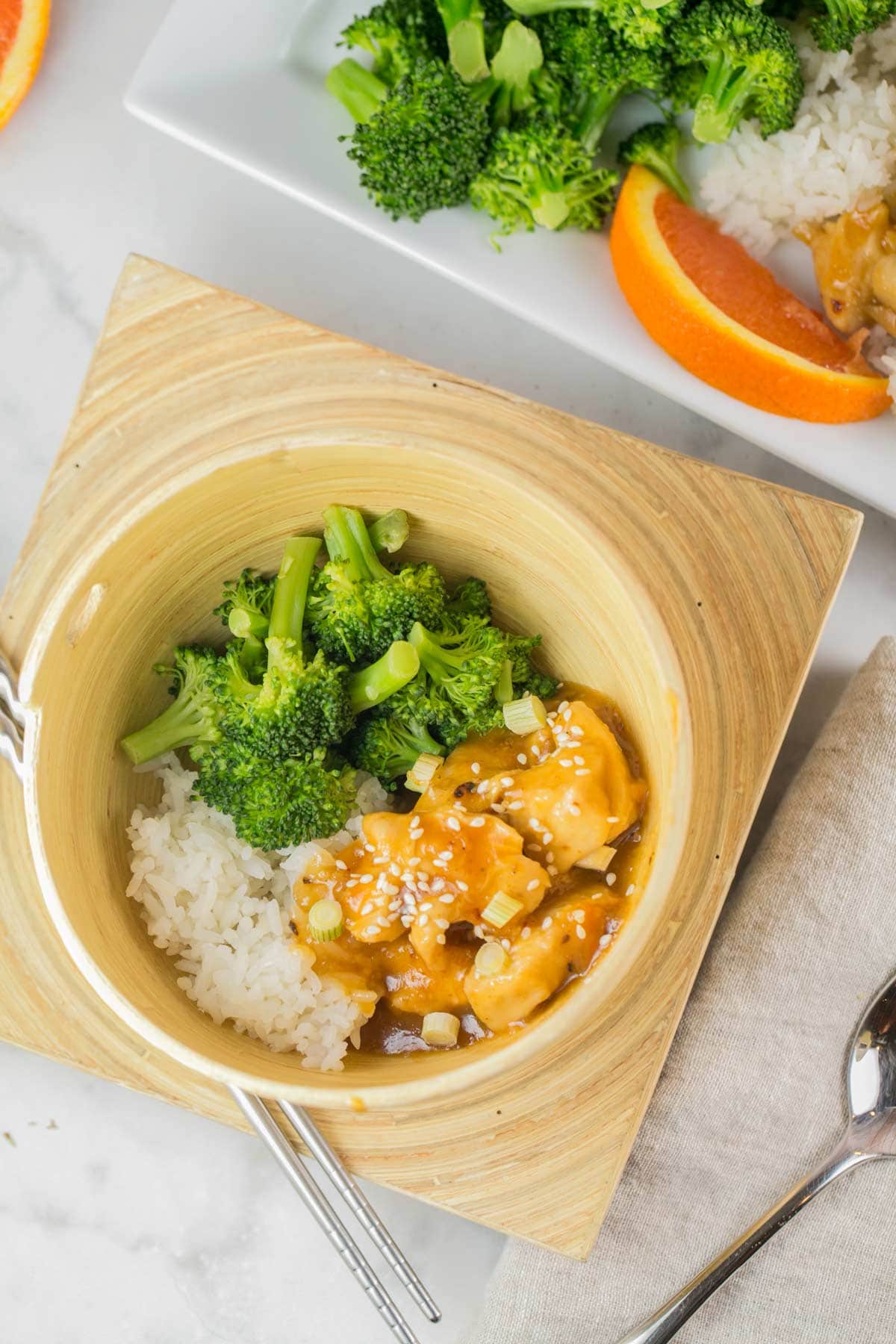 Chicken in the Instant Pot
The Instant Pot orange chicken itself is super easy to make: the pressure cooker does all the work for you! Saute the chicken for a few minutes to give it a little brown color, then toss in all the sauce ingredients and cook.
After releasing the pressure, saute again for a few minutes more until the sauce reaches the desired thickness. Sprinkle on some sesame seeds and green onions and dinner is ready.
Works with both chicken breasts and chicken thighs, so it's perfect to use whatever you have in the freezer.
We like to serve ours with a big side of steamed broccoli and rice (cauliflower or regular), and a few orange slices on the side. It's quick, easy, and healthier than takeout. The best kind of weeknight dinner!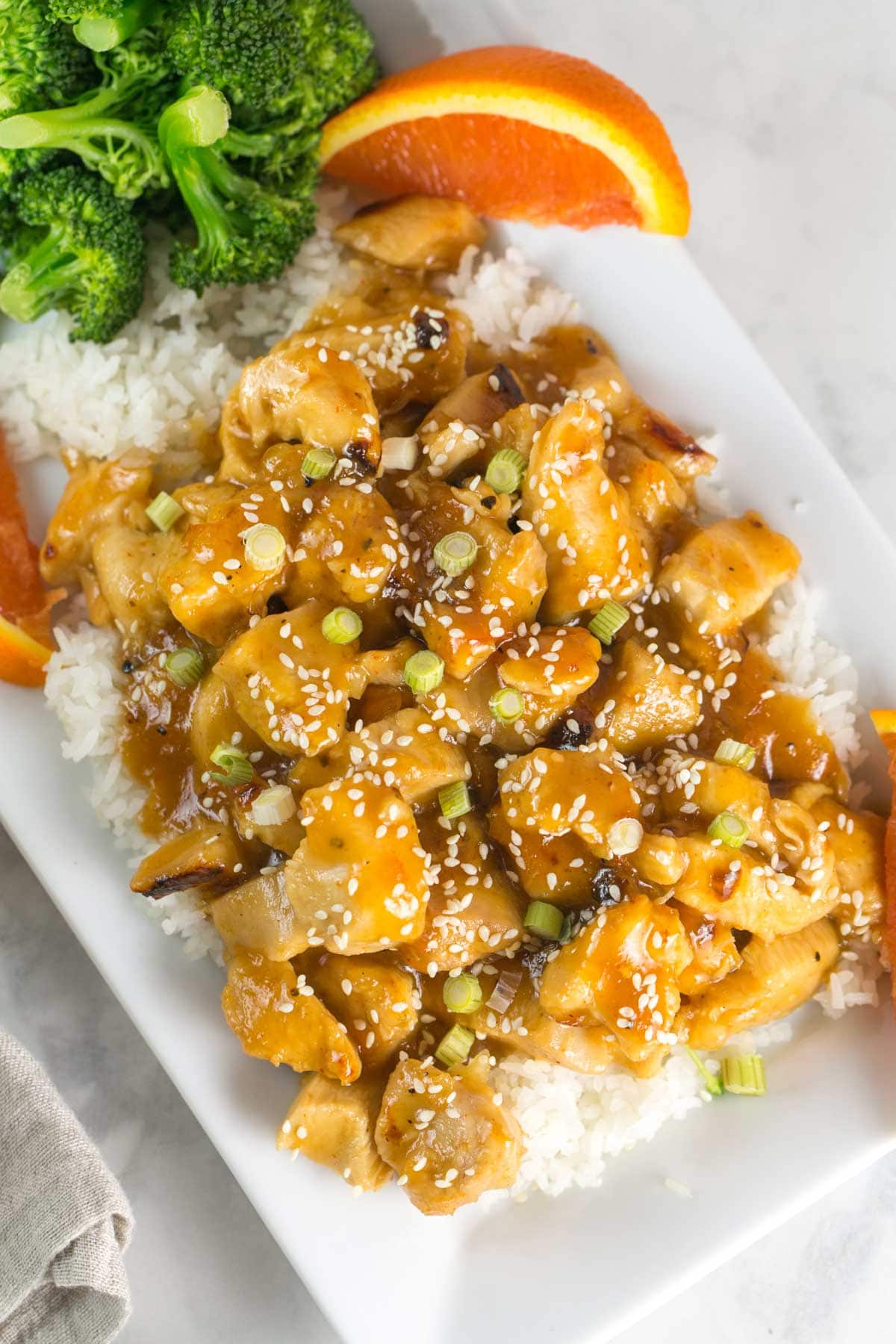 Recommended Tools for Pressure Cooker Orange Chicken
6 Quart Instant Pot: While you can use any pressure cooker, this recipe is specifically written for a 6-quart Instant Pot.
Instant Pot Sealing Rings: Because the silicone rings on the lid absorb odors, it's handy to have different colored rings for different dishes – especially one for sweet and one for savory.
All-Natural Orange Marmalade: High-quality orange marmalade without lots of excess sugar is the key to a balanced tasting sauce.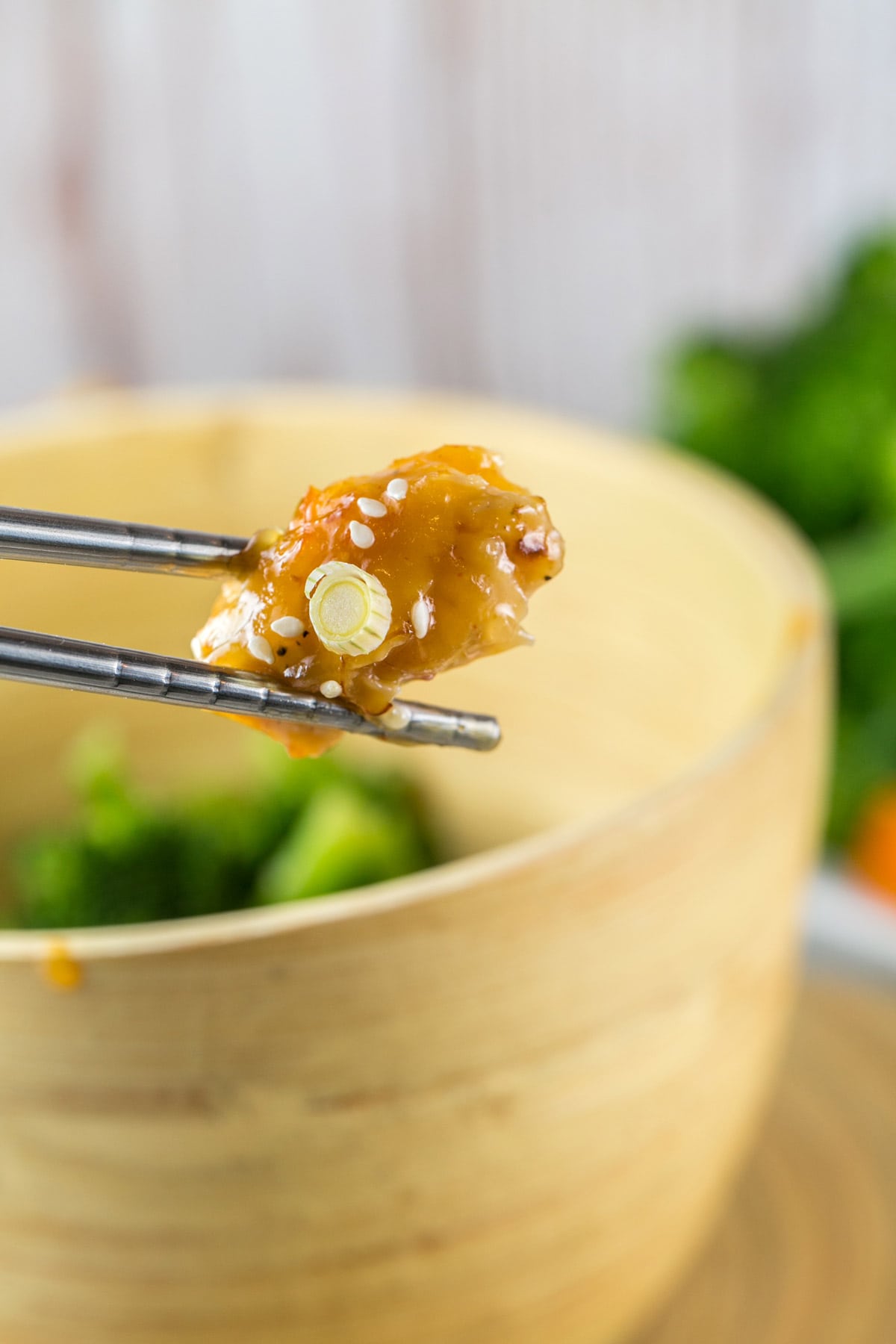 Common Questions about Instant Pot Orange Chicken
Can this orange chicken be made on the stovetop?
The sauce can be made in a small saucepot and heated until simmering. Saute chicken over medium heat until cooked through and coat with the sauce.
How about making it in a slow cooker?
Combine all ingredients in a slow cooker and cook on low for 3-4 hours or high for 2 hours, until chicken is cooked through.
Should I use chicken breasts or chicken thighs?
Either! Use whichever you prefer; the cooking time remains the same.
Can leftovers be frozen?
Yes! Because the chicken isn't breaded and fried, it won't get soggy in the freezer. Cool completely, then freeze in an airtight container for up to 3 months. Defrost and reheat until cooked through.
Is this recipe gluten-free?
Use gluten-free tamari-style soy sauce and confirm the specific brands used for other ingredients (marmalade, sriracha, rice wine vinegar) are gluten-free.
More Easy Chicken Recipes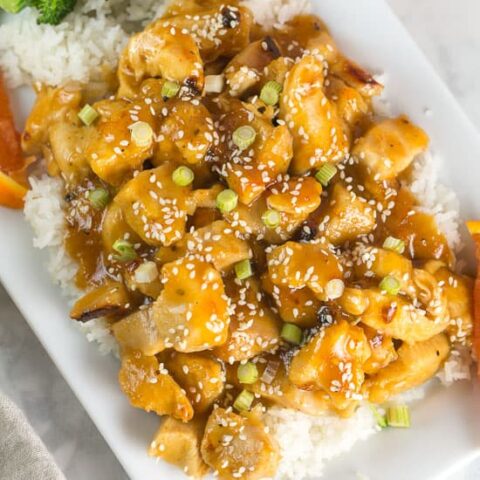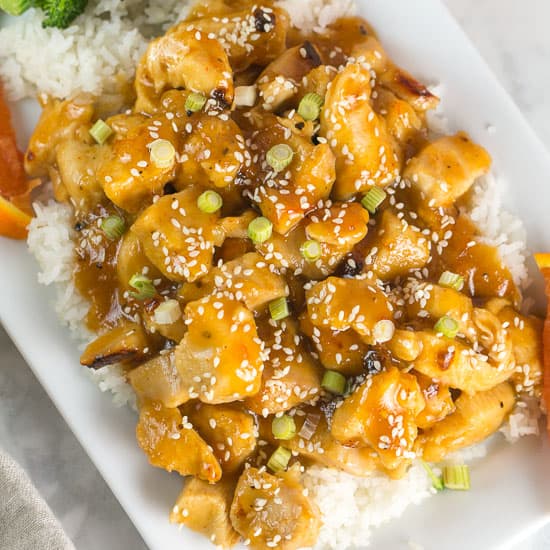 Instant Pot Orange Chicken
Make your own American-style Chinese food at home with this easy Instant Pot orange chicken recipe!  All the flavor you love from orange chicken, cooked fast in the Instant Pot.
Ingredients
2 tablespoons vegetable oil
1 1/2 pounds boneless skinless chicken breasts or thighs, cut into 1-inch pieces
1/3 cup cornstarch
1/2 teaspoon salt
1/2 cup orange juice, divided
1 cup orange marmalade
1/4 cup low-sodium soy sauce
1 tablespoon rice wine vinegar
2 tablespoons sriracha
6 cloves garlic, minced
1 tablespoon grated ginger
1 teaspoon sesame oil
2 tablespoons sesame seeds
2 tablespoons green onions, thinly sliced
Instructions
Heat the Instant Pot using the saute feature. Add the vegetable oil to the pot.
While the oil heats, combine the chicken, cornstarch, and salt in a mixing bowl and stir to coat the chicken. Add the chicken to the Instant Pot. Saute for 4-5 minutes, stirring frequently, until the outside of the chicken just starts to brown.
Add 1/4 cup of orange juice to the Instant Pot and deglaze the pan with the wooden spoon, scraping off anything stuck to the bottom of the pot (do not skip this step: any burned bits on the bottom of the pot may prevent it from coming to pressure).
Whisk together the remaining orange juice, orange marmalade, soy sauce, rice wine vinegar, sesame oil, ginger, garlic, and sriracha. Pour the sauce over the chicken and stir to coat.
Close the lid to the Instant Pot, select Manual, and set for 5 minutes on high pressure. Close the sealing vent and start – it will take 10 to 15 minutes to come to pressure. Once the pressure cycle is finished, use a quick release to vent.
Once the pot has fully vented, remove the lid and select the saute function again. Saute for an additional 5 minutes, or until the sauce is the desired thickness. The sauce will continue to thicken as it cools. Serve over rice and garnish with sesame seeds and sliced green onions.
Notes
If making this gluten free, use gluten free tamari-style soy sauce and check all ingredients to confirm that they are gluten free.
Leftovers can be stored in the refrigerator for up to 3 days or frozen for up to 3 months.
Recommended Products
As an Amazon Associate and member of other affiliate programs, I earn from qualifying purchases.
Nutrition Information:
Yield:

4
Amount Per Serving:
Calories:

585
Total Fat:

15.0g
Carbohydrates:

73.0g
Protein:

41.4g
This Instant Pot Orange Chicken recipe was originally published on 03/08/2018 and republished with new photos and helpful tips on 03/26/2021.