October 3, 2019
Apple Cider Donut Cake
Soft, tender, and moist, this Apple Cider Donut Cake is packed full of spiced apple cider flavor and covered in crunchy cinnamon sugar.  It's like a supersized version of everyone's favorite fall donut treat!
Apple cider donuts are a fall staple.
Or so I'm told — I didn't actually know they were a thing until I was an adult.
Either way, it's time to make up for lost time by eating all the apple cider donut related things I can now – like this apple cider donut-inspired cake. And since it's baked in a bundt cake, it's like one great big giant apple cider donut! (Except baked instead of fried.)
If, like me, you grew up void of apple cider donuts and have no idea what they are, or you're looking to take your apple cider donut making up a notch, read along for the secret to infusing extra apple cider flavor for these fall favorites!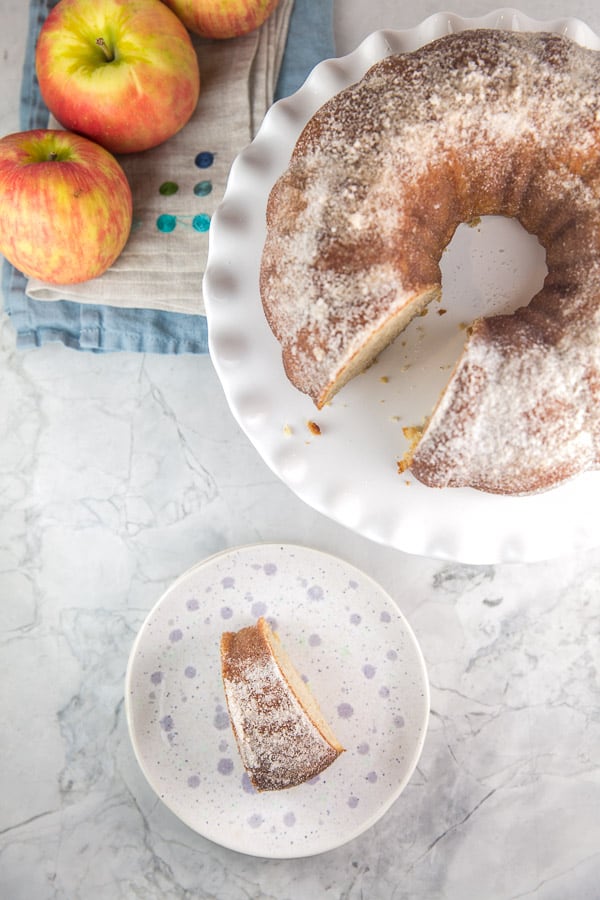 What are Apple Cider Donuts?
Apple cider donuts are, as the name implies, donuts made with apple cider.  Sometimes they're made with chunks of apples, but traditionally, all the apple flavor comes from just apple cider.
Apple cider does more than just impart delicious apple flavor, though! Apple cider donuts are extra soft and tender, too. Why is this? It's time for my favorite subject… kitchen chemistry!
Kitchen Chemistry

Apple cider is acidic, meaning it has a low pH. This low pH breaks down tough strands of gluten, which makes the donuts extra tender compared to regular donuts. The inside is cakey and light, thanks to the interaction between the acidity from the apple cider and the baking soda.
As if a soft, pillowy, cakey apple-spiced donut isn't good enough enough… it gets even better. While the donuts are still warm, they're rolled in a cinnamon sugar mixture. Soft inside, sugary crunchy outside.
This, friends, is fall donut perfection.
Reducing Apple Cider for Apple Cider Donut Cake
We're going to turn these apple cider donuts into an apple cider donut cake. Because around here, we're not really into frying donuts. But we are really into making cakes. Especially bundt cakes.
There are a few problems with moving the concept of a fried donut over to a bundt cake, however. 
First, we lose some of the pillowy texture when we switch from frying to baking. We can try to gain some of it back by adding some applesauce, to make it extra moist.
But the biggest trick in the book to make this really taste like an apple cider donut: reduce the apple cider.
Make a concentrated apple cider solution by simmering two cups of apple cider down to one cup.  By reducing out the water content, we'll have one cup of super-duper apple cider-flavored liquid, which adds all the flavor we want without excess liquid.
Turning an Apple Cider Donut into a Cake
One of the reasons I love bundt cakes so much is because they're so easy to make, and this apple cider donut cake is no exception!
The only plan-ahead part for this cake is boiling down the apple cider, which can easily be done ahead of time. 
(Forgot to do it ahead of time? Just pop your reduced apple cider in the freezer for a few minutes to chill!  We want to make sure it's no room temperature before adding to the creamed butter.)
All the other steps are standard for a cake: cream together butter and sugar, and add eggs one at a time.  Alternate adding dry ingredients (flour, baking soda, baking powder, cinnamon, cardamom, nutmeg, and salt) with wet ingredients (apple cider, apple sauce, and vanilla extract).  
Pour into bundt pan and bake. Let the cake cool in the bundt pan for 10 minutes, then invert onto a cooling rack.
Once inverted, while still warm, brush the whole cake with melted butter, then cover with cinnamon sugar. Don't skip this step; it's the best part! It's just not an apple cider donut (cake) without the cinnamon sugar coating.
(And really, I kind of wish I had drizzled a little extra cinnamon sugar on individual slices when I served it!)
How to Store Apple Cider Donut Cake
This apple cider donut cake can be stored at room temperature for up to 5 days after baking, so it's a perfect make-ahead cake for fall events and celebrations!
It can also be made even further ahead of time and frozen. (For those of you who really like to prep early – this would be perfect for Thanksgiving breakfast or brunch!)
Freeze the entire cake or individual slices wrapped in aluminum foil and then stored in a freezer-safe bag for up to 3 months. Bring to room temperature for several hours to thaw.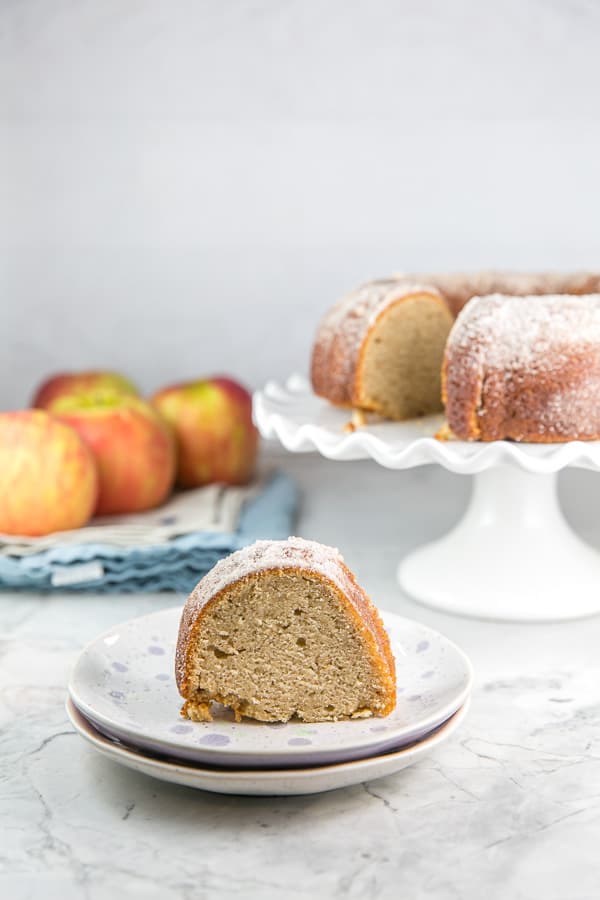 Tips and Tricks for The Best Apple Cider Donut Cake
Looking to perfect your bundt cake baking skills?  Definitely give this post on ESSENTIAL BUNDT CAKE TIPS a quick read — it covers everything from how to make sure your bundt cake doesn't stick to how to prevent the bottom of the cake from doming! 
Reduce your apple cider down to impart the best apple cider flavor in your apple cider donut cake!
Make sure all ingredients are room temperature before using — this means cooling the boiled apple cider and letting the eggs and butter sit out to warm up!
Brush the cake with butter and dust with cinnamon and sugar while it's still warm – this will help the coating stick to the cake better.
More Apple Desserts: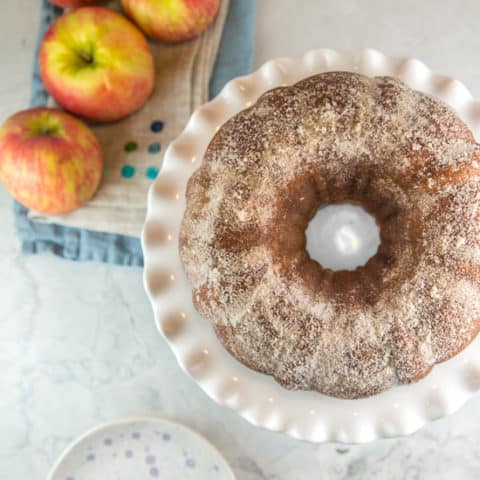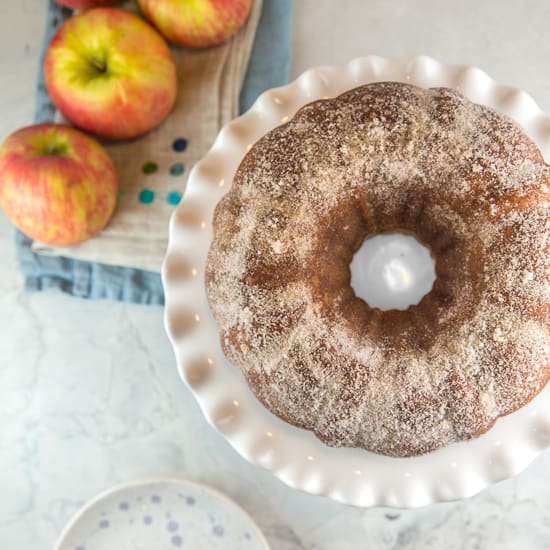 Apple Cider Donut Cake
Total Time:
1 hour
20 minutes
Soft, tender, and moist, this apple cider donut cake is packed full of spiced apple cider flavor and covered in crunchy cinnamon sugar flavor.
Ingredients
For the cake:
2 cups (500 grams) apple cider
12 tablespoons (170 grams) unsalted butter, room temperature
1 1/2 cups (297 grams) granulated sugar
3 large eggs, room temperature
3 cups (360 grams) all-purpose flour
1 teaspoon baking powder
1/2 teaspoon baking soda
1 teaspoon cinnamon
1/4 teaspoon cardamom
1/4 teaspoon nutmeg
1/2 teaspoon salt
3/4 cup (169 grams) unsweetened applesauce
2 teaspoons vanilla extract
For the Cinnamon Sugar Coating:
2 tablespoons (28 grams) unsalted butter, melted
1/4 cup (50 grams) sugar
1/2 teaspoon cinnamon
Instructions
Reduce the apple cider. Place the apple cider in a small saucepan and simmer over low heat until the two cups are reduced by half, down to a total volume of one cup, approximately 15 minutes. Set aside to cool completely.
Preheat the oven to 350 °F. Grease and flour a 12-cup metal bundt cake pan.
Make the cake batter. Using a mixer, cream together the butter and sugar on medium speed for 3 to 4 minutes, until the butter is light and fluffy. Mix in the eggs, one at a time, beating well after each addition.
Combine together the flour, baking powder, baking soda, cinnamon, cardamom, nutmeg, and salt. Add half of this mixture to the bowl, mixing just until combined.
Add the wet ingredients (the cooled apple cider, apple sauce, and vanilla extract) to the bowl and mix to combine, followed by the rest of the flour mixture, stirring just until no streaks of flour remain.
Bake the cake. Scoop the batter into the prepared cake pan and smooth the top with a spatula. Bake for 50-60 minutes, until a tester inserted into the center of the cake comes out with a moist crumb. Cool upright on a wire rack for 10 minutes, then invert.
Coat with Cinnamon Sugar. Place the cooling rack over a cookie sheet or wax paper. Use a pastry brush to brush the melted butter all over the still-warm cake, then sprinkle the cinnamon-sugar mixture all over the cake. Serve warm or at room temperature.
Notes
Cake can be stored at room temperature for up to 5 days or frozen for up to 3 months.
Recommended Products
As an Amazon Associate and member of other affiliate programs, I earn from qualifying purchases.
Nutrition Information:
Yield:

16
Serving Size:

1 slice
Amount Per Serving:
Calories:

296
Total Fat:

11.3g
Carbohydrates:

45.3g
Protein:

3.8g