July 30, 2021
Orange Creamsicle Bundt Cake
Orange lovers, this Orange Creamsicle Bundt Cake is for you! Orange and vanilla combine in three different ways: in the batter, in a syrup that soaks into the cake, and in a glaze poured on top.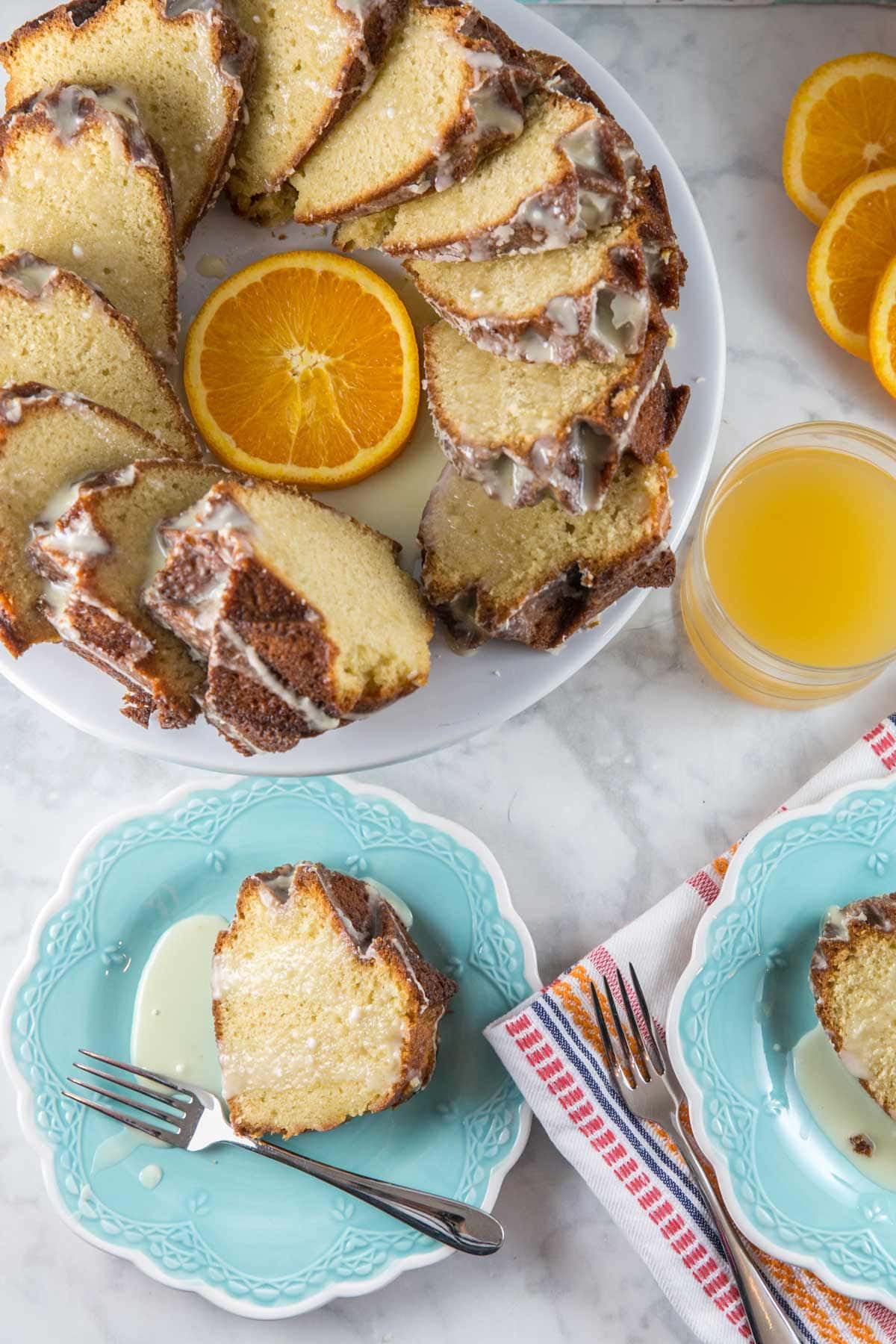 Is there anything more Classic Childhood Summer than an orange creamsicle? I'm sure there is, but there's just something so wonderful about the combination of vanilla ice cream enveloped by orange sherbert.
Or perhaps, if you grew up going to the Jersey shore, your childhood looked more like an orange-vanilla custard twist from Kohr Brothers?
Either way, the combination of orange + vanilla is time-honored and the perfect way to enjoy summer… or make a dreary winter day feel a little more summery!
And now you can enjoy the flavor in the form of a bundt cake, with this easy Orange Creamsicle Bundt Cake! Perfect for celebrations, parties, or, well… just because you want a cake. (Which is every day, right?!)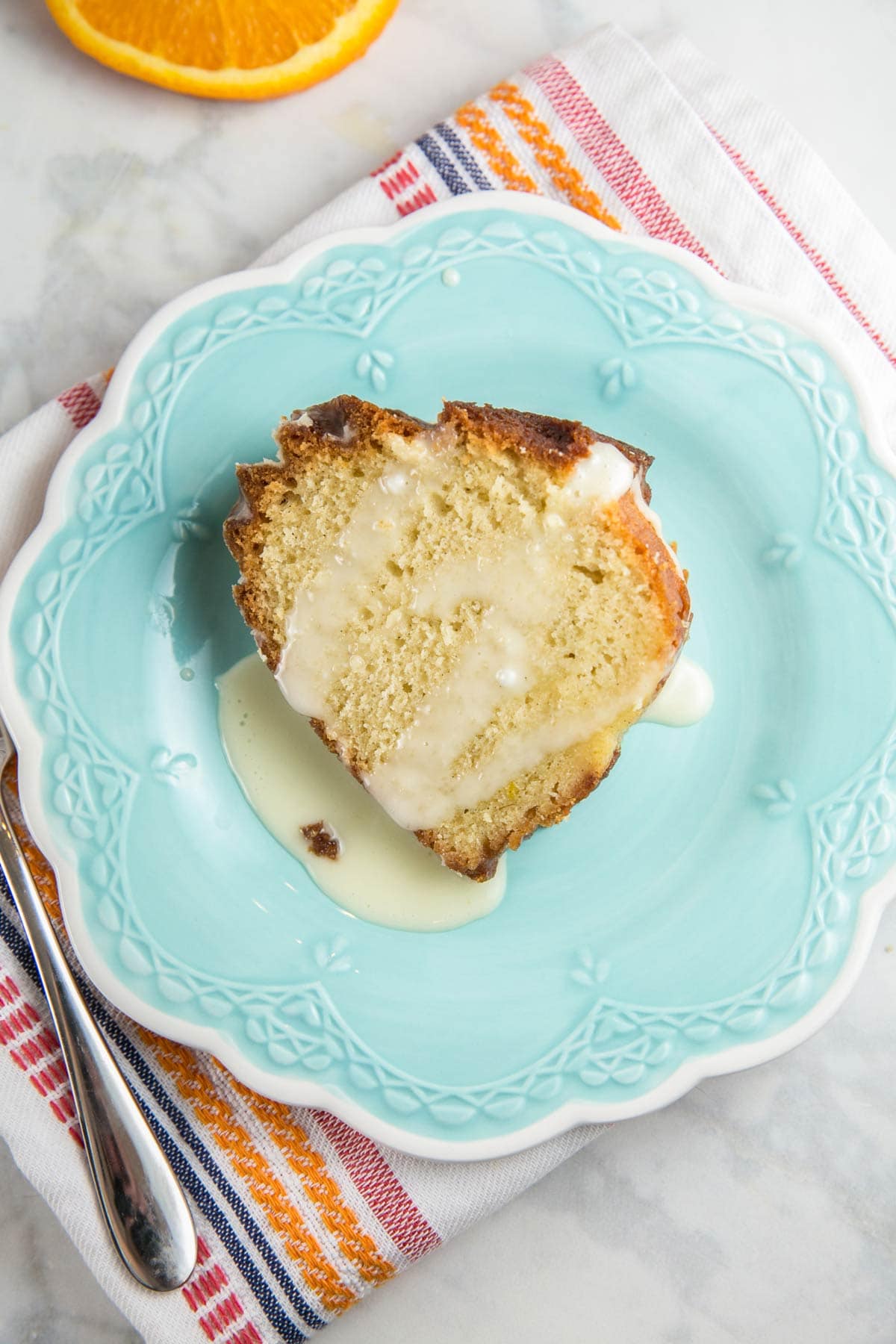 Adding Liquids to Cake Batter
I've learned quite a lot of things about baking bundt cakes after my yearlong series featuring bundt cakes in 2017.
One of the most important? Too much moisture in bundt cake batter is not your friend! If a bundt cake has too much liquid, it will crumble and fall apart.
What causes this? It's time for my favorite subject… kitchen chemistry!
Kitchen Chemistry

If too much liquid is added to cake batter, the flour cannot absorb all the moisture. As a result, the structure of the cake does not set properly and will fall apart, often sinking downward in the middle and resulting in an undercooked appearance and texture.
What this means is we can't just add orange juice to the cake without altering the ratio of flour and sugar to compensate and maintain the structure.
And even with changing the rest of the ingredients, we can't really add enough orange juice to the batter to really drive home the orange flavor.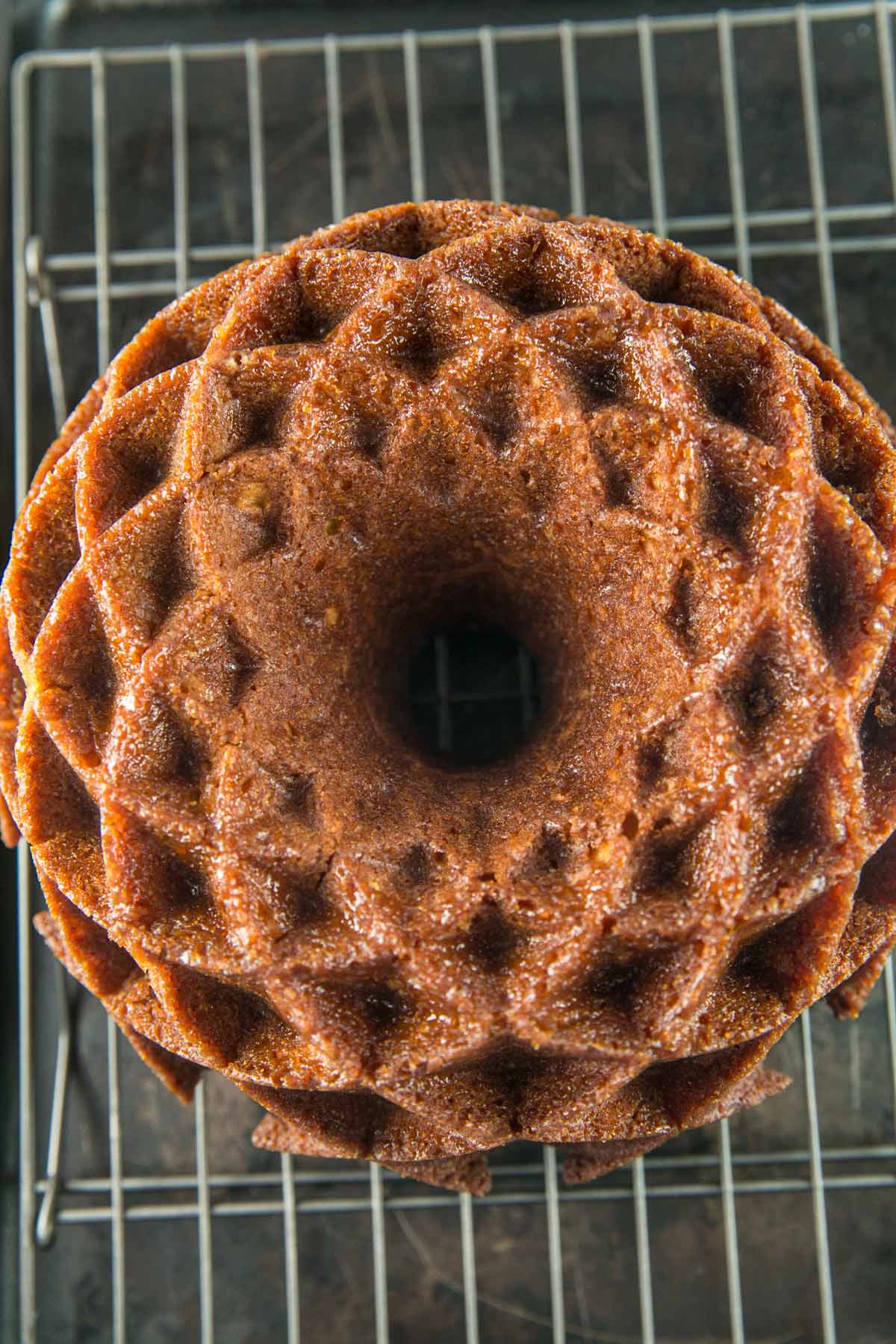 Orange Flavor Three Ways
So in order to pack as much orange juice into this cake to get a true creamsicle flavor, we're adding orange juice three ways.
First up, in the cake batter itself, which imparts a nice, subtle orange flavor.
Secondly, as a syrup, which we'll pour all over the still-hot cake. The syrup then absorbs into the cake as it cools.
And third, as a glaze, which we will not only drizzle on top but all over each slice, because this glaze is basically like drinking a liquid creamsicle… as in, it is amazing. Too amazing to merely use as a typical glaze on top of the whole cake, so we're going to slice it and pour more on each slice. YES.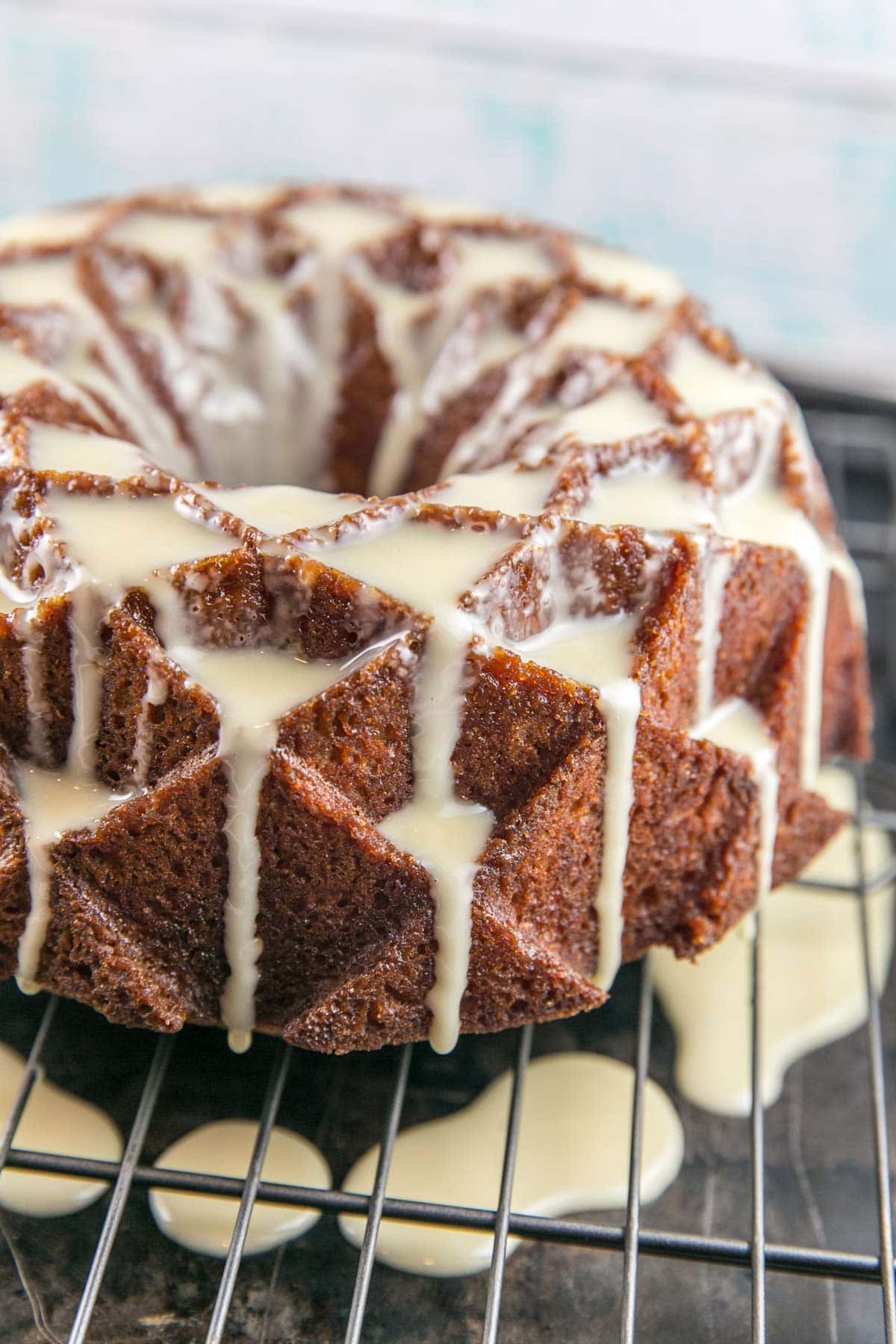 Tips and Tricks for the Best Orange Creamsicle Bundt Cake
New to baking in bundt pans? Looking for the best tips and tricks to ensure your cake doesn't stick? Check out THIS POST for all my best bundt tips!
No bundt pan? No problem! Bake this cake in two loaf pans instead of a bundt pan. Divide between two well-greased 9×5-inch loaf pans and bake for 40-50 minutes.
Don't overbake the cake – this will result in a drier, crumbly texture. Bake just until the edges begin to pull away from the pan and the top is springy when pushed back.
Brush the syrup on the cake while it is still hot so the cake will soak up the orange juice mixture.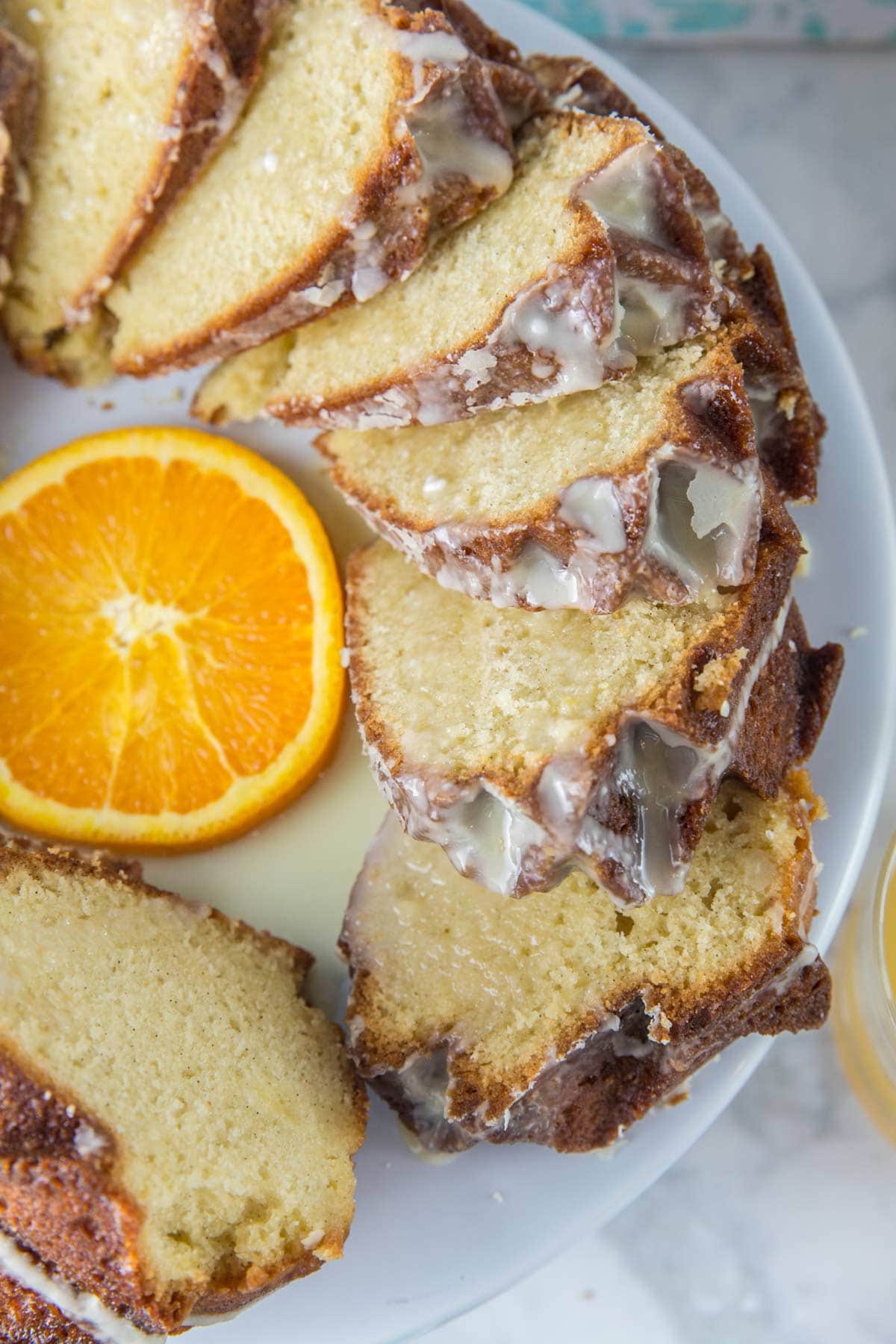 Oh, and in case you're wondering if it really tastes like a creamsicle? Without telling people it was an orange creamsicle bundt cake, a friend tried a bite, and said "oh my god, this tastes like a creamsicle!"
So for the rest of the weekend, the cake became known as the "OMG Creamsicle Cake."
More Fruit Flavored Cakes: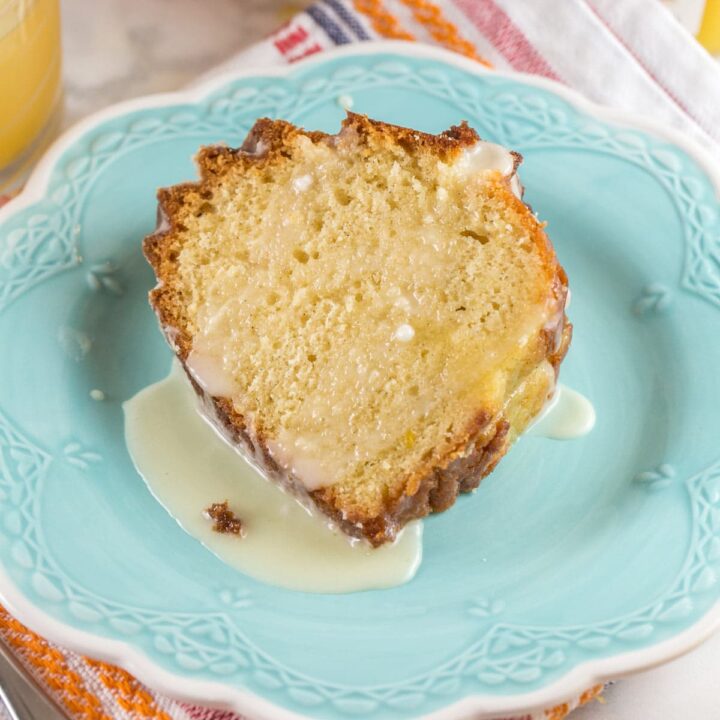 Orange Creamsicle Bundt Cake
Additional Time:
1 hour
10 minutes
Total Time:
2 hours
50 minutes
Orange lovers, this Orange Creamsicle Bundt Cake is for you!  Orange and vanilla combine three different ways: in the batter, in a syrup which soaks into the cake, and a glaze poured on top. 
Ingredients
For the Cake:
4 large eggs, room temperature
3/4 cup (148.5 grams) vegetable oil
1/4 cup (56.75 grams) buttermilk, room temperature
3/4 cup (170.25 grams) orange juice
1 tablespoon orange zest
1 tablespoon vanilla extract
3 cups (360 grams) all-purpose flour
1 3/4 cups (346.5 grams) granulated sugar
2 teaspoons baking powder
3/4 teaspoon salt
For the Syrup:
1/2 cup (56.75 grams) confectioners sugar
1/4 cup (56.75 grams) orange juice
For the Glaze:
3 cups (340.5 grams) confectioners sugar
1/3 cup (75.7 grams) orange juice
2 teaspoons vanilla extract
Instructions
Preheat the oven to 350 °F. Grease and flour a 10-cup metal bundt pan.
Make the cake batter. Using an electric mixer, beat together the eggs, oil, milk, orange juice, orange zest, and vanilla. Slowly add in the flour, sugar, baking powder, and salt. Continue to beat until the ingredients are fully incorporated and smooth. Pour the batter into the prepared bundt pan.
Bake the cake. Bake 50 to 55 minutes, until a tester inserted into the cake comes out clean and the cake springs back gently when pressed with a finger.
Make the syrup. While the cake bakes, whisk together the confectioners' sugar and orange juice for the syrup. After removing the cake from the oven, leave the cake in the pan and poke holes all over the cake with a long skewer. Pour the syrup over the cake and allow the cake to sit in the pan for 1 hour so the syrup absorbs. After an hour, invert onto a cooling rack and cool completely.
Make the glaze. To make the glaze, whisk together the confectioners' sugar, orange juice, and vanilla until smooth. Pour 1/2 of the glaze over the cooled cake. Pour the remainder of the glaze over individual slices after cutting and serving.
Notes
Cake can be made ahead and frozen.  Wrap cooled, unglazed cake in plastic wrap, followed by a layer of aluminum foil and store in the freezer for up to 3 months. Bring cake to room temperature overnight, then cover with orange glaze.
A Bunsen Burner Bakery Original Protocol
Recommended Products
As an Amazon Associate and member of other affiliate programs, I earn from qualifying purchases.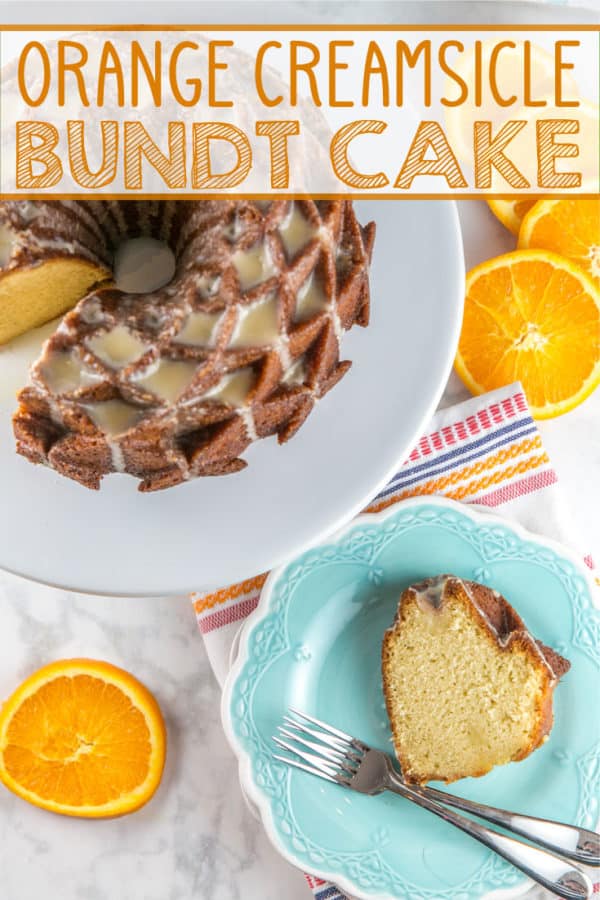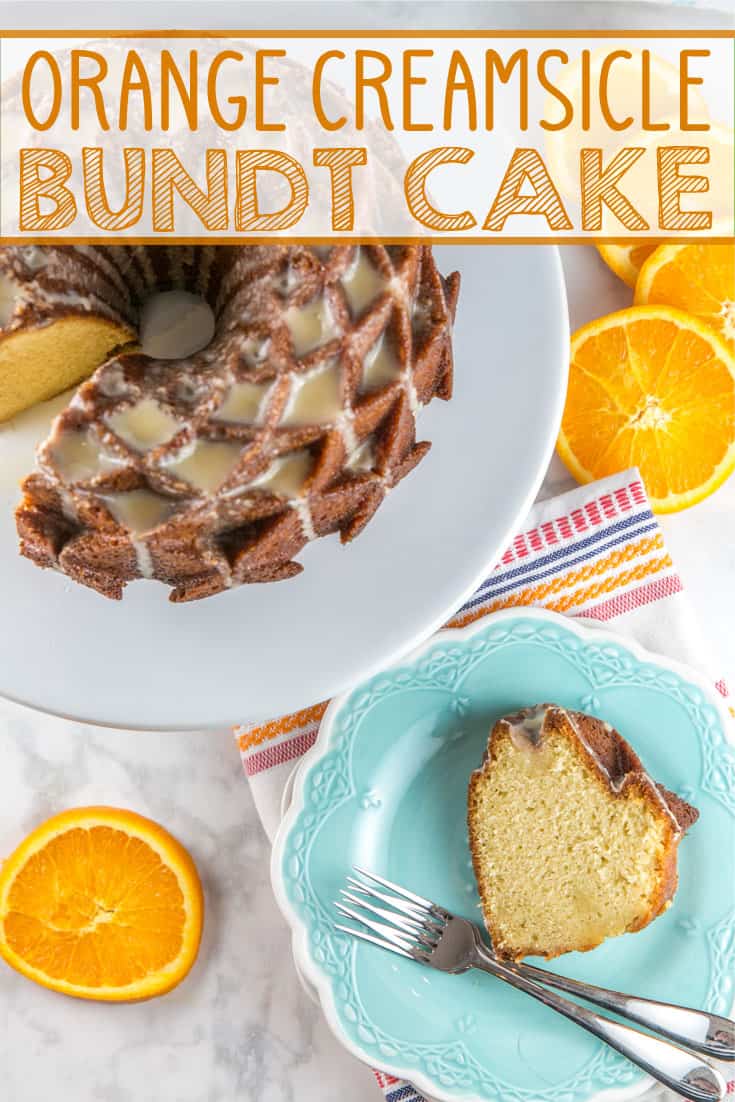 This Orange Creamsicle Bundt Cake recipe was originally published on 04/30/2018 and republished with updated text and helpful tips on 07/30/2021.