April 28, 2016
Thai Chicken with Holy Basil (pad kra pao gai)
Stir fried chicken and holy basil combine quickly into a delicious sweet and spicy dish.  Thai chicken with holy basil is Thailand's most popular street food!
A few years ago, we received a massive bunch of Thai holy basil in our Lancaster Farm Fresh CSA share.  I've had holy basil teas, but I wasn't familiar with it in other contexts, so I did what any curious home cook/CSA shareholder does when faced with an unknown ingredient: Google!  I learned all about holy basil, but most interestingly, that it's fairly hard to find here.  A lot of what is called holy basil is really just plan thai sweet basil, which is quite common (in fact, I grow it in my vertical herb garden).  But in actuality, holy basil and Thai basil are entirely different.  Apparently it's hard enough to find holy basil in the US that even many Thai restaurants substitute Thai basil instead.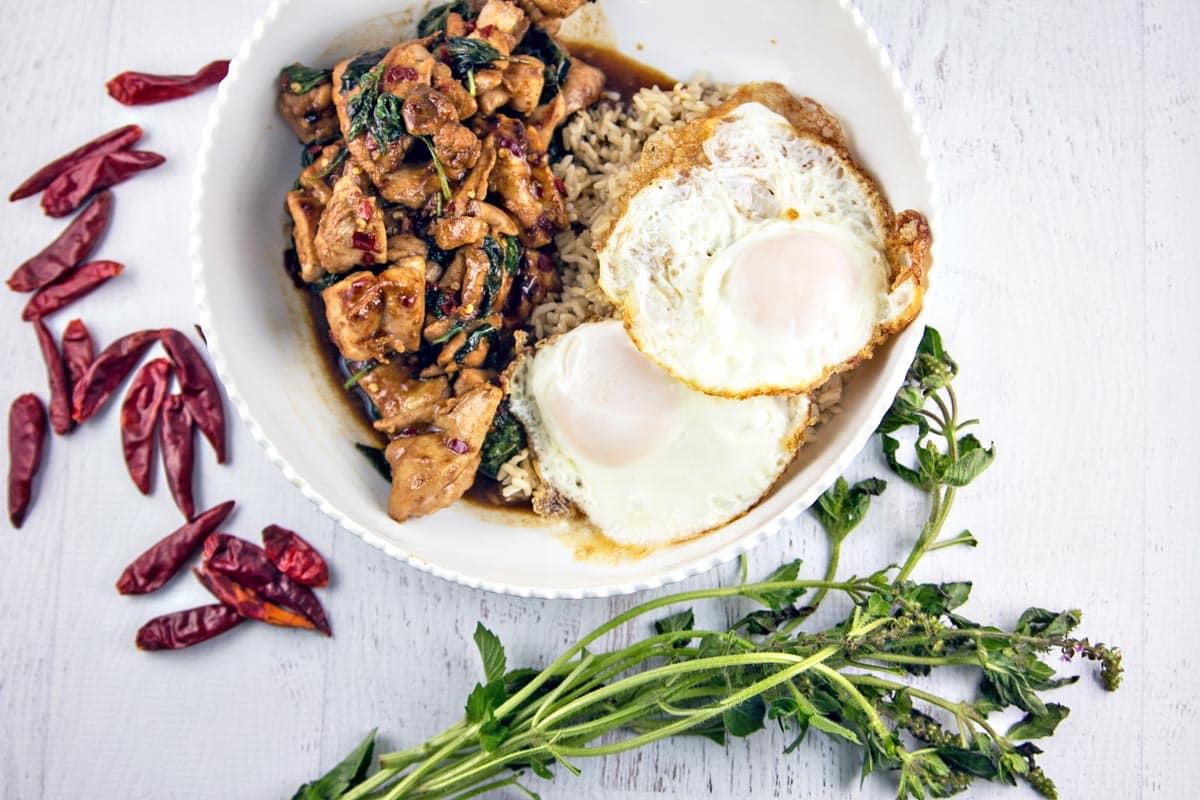 I also found an awful lot about the supposed health benefits of holy basil.  Apparently, it cures everything from stress relief and scorpion bites to tuberculosis and ringworm.  As a scientist, I take all such claims with a very, very, very large grain of salt.  In other words, I think many medicinal claims for plants in the amount we consume is vasty over-exaggerated.  That's not to say that that compounds in the plant aren't potent medicinal treatments — after all, penicillin comes from mold.  But practically, the amount we consume is not going to cure your tuberculosis (abandon your holy basil tea and get thee to a physician, please).
But what to do with the holy basil?  I found many recipes for teas and tinctures and step-by-step extraction instructions to make your own capsules.  Eventually, I stumbled across the phrase pad krapao — basil stir fry — and found dozens of recipes for what seems to be Thailand's most popular street food.  I decided to make my version with gai — chicken — stir frying the chicken with the holy basil, along with oyster sauce, dark soy sauce, Thai chili peppers, and garlic.
The holy basil is peppery with an unexpected bite with aroma almost reminiscent of cloves.  It lends a great spicy-sweet flavor combination to the dish.  I stuck with what is apparently the Thai street food tradition and served a fried egg on top, deliciously crisp and golden.  The runny yolk is a perfect rich and cooling complement to the hot Thai peppers.  Given that this entire dinner took under 20 minutes, the result was a fantastic fast weeknight option.  I can certainly see why it's such a popular dish!
Now that I know what holy basil is and I'm specifically on the lookout, I've found it in a specialty Thai market.  If you're unable to find it, you can certainly sub in regular Thai basil, although the dish will lack some of the characteristic bite and peppery flavor that led my husband to announce that my attempt at Thai chicken with holy basil tasted even more like Thai food than our local Thai restaurants!
Thai Chicken with Holy Basil (pad kra pao gai)
Stir fried chicken and holy basil combine quickly into a delicious sweet and spicy dish — Thailand's most popular street food!
Ingredients:
3 tablespoons vegetable oil
2 eggs
2 medium chicken breasts, cut into bite-size pieces
4 cloves of garlic, minced
2 Thai chilies, chopped
1 tablespoon oyster sauce
1 teaspoon dark soy sauce
1 teaspoon light soy sauce
1 teaspoon sugar
2 handfuls Thai holy basil leaves
prepared rice, for serving
Directions:
Heat the vegetable oil in a wok over medium-high heat.
Once the oil is hot, crack in the eggs.  Use a spoon to drizzle hot oil over the top of the eggs.  Once the egg is golden and crispy along the edges, but still has a runny yolk, remove the egg with a slotted spatula, allowing the excess oil to drip back into the wok.  Set the eggs aside.
Increase the heat to high.  Add the chili peppers and garlic to the wok, stirring for 30 seconds, until fragrant.  Add in the chicken and stir constantly until the chicken is just cooked through, 2 to 3 minutes.
Add the oyster sauce, soy sauces, and sugar to the pan, stirring for an additional 30 seconds to ensure the chicken is fully coated in sauce.
Add the holy basil to the pain, folding it into the chicken.  Once incorporated, remove the wok from the heat — the basil will continue to wilt from the residual heat of the chicken.
Serve the chicken over hot rice, topped with the fried egg.
If you are unable to find holy basil at a Thai specialty food store, substitute regular Thai basil, although the dish will lack the characteristic peppery taste of the holy basil.
If preparing for someone with gluten sensitivities, ensure that the oyster sauce and soy sauces are gluten free.