October 14, 2022
Neapolitan Bundt Cake
Inspired by classic Neapolitan ice cream, this Neapolitan Bundt Cake features three moist layers of strawberry, vanilla, and chocolate cake and is topped with a powdered sugar glaze!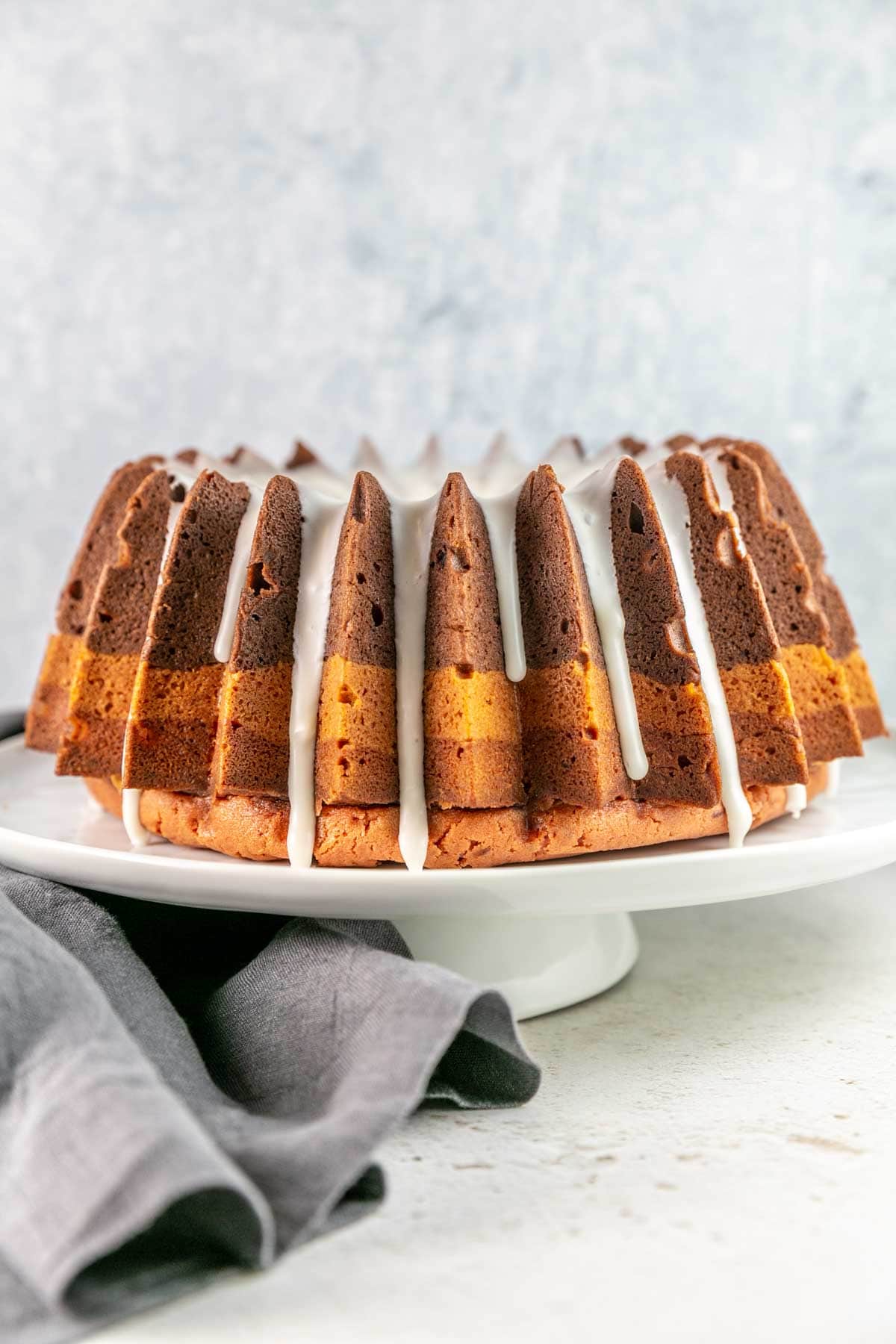 If you know me at all, you know that bundt cakes are my favorite thing to bake. They're easy to make, beautiful (thanks to so many amazing bundt pan designs), and the flavor possibilities are truly endless.
And if you're bored with making ONE flavor of bundt cake – you can make THREE!
One easy batter split three ways into a Neapolitan bundt cake, inspired by the three-flavor tubs of ice cream. Pair it with a scoop of Neapolitan ice cream and you will be in strawberry, vanilla and chocolate heaven!
This bundt cake is based on my favorite pound cake recipe, with a moist and tender crumb. It's rich and delicious on its own, but adding an easy glaze takes it to the next level. Those drips running down the side of the cake are just so pretty!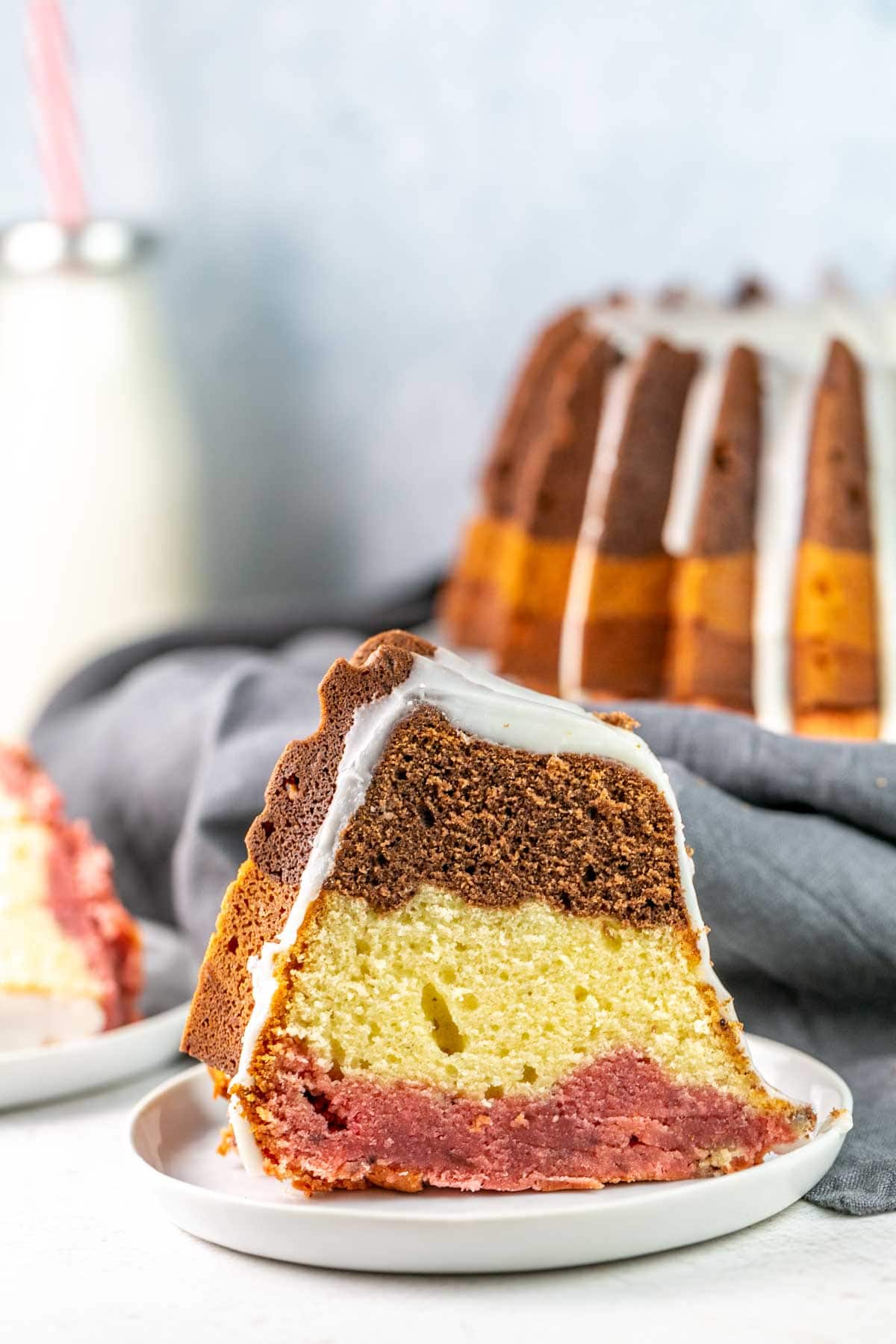 Strawberry, Vanilla, and Chocolate Layers
What makes this cake so easy is that all three layers use the same batter as a base! The initial batter we'll make serves as the vanilla layer, and then we'll just mix in a little extra for the strawberry and chocolate flavors.
For the chocolate batter, we are using cocoa powder to provide a rich, deep chocolate flavor. Since cocoa powder is very drying, we need to balance out the moisture in the chocolate layer by adding vegetable oil. Without the addition of oil, the chocolate layer can turn out drier and more crumbly than the strawberry and vanilla layers.
On the other hand, the strawberry layer will get extra moisture with the addition of strawberry preserves. To balance the moisture in the strawberry layer, you will add an additional two tablespoons of flour.
Have you ever tried to add extra fruit juice or preserves to a cake to play up the flavor and the whole cake falls apart? That's because baking a cake all comes down to ratios! We have to balance the amount of dry and wet ingredients (and fats) to ensure the resulting cake has enough structure to support its own weight. It's all about my favorite subject… kitchen chemistry!
Kitchen Chemistry

Culinary ratios such are essential to understand the science of baking. For a cake, we have to maintain the ratio between flour, egg, fat, and sugar consistent to ensure the proper texture. Too much liquid and the cake might cave in. Too much flour and the cake will be crumbly and dry!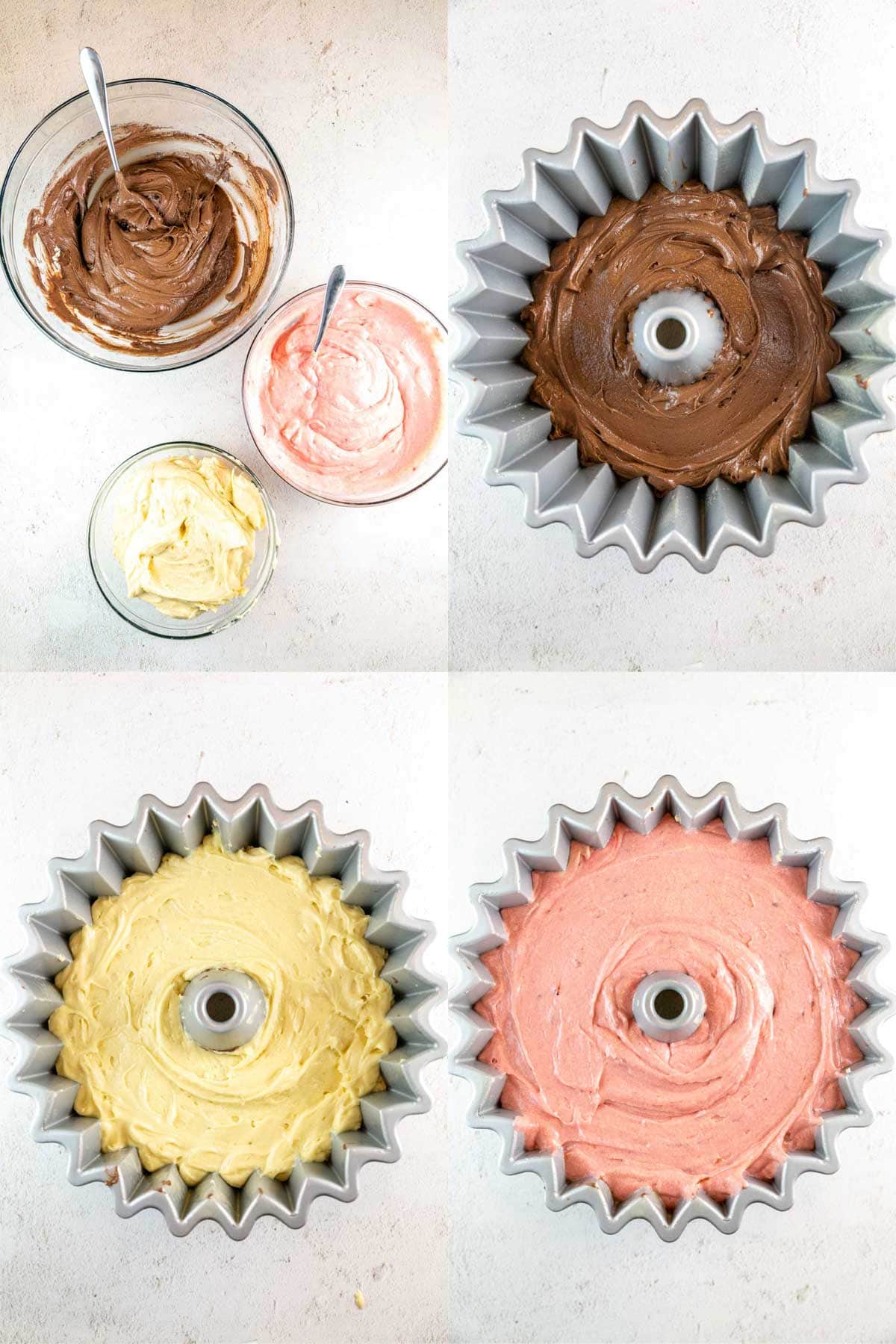 The Perfect Powdered Sugar Glaze
One of my favorite things about bundt cakes is that they are usually topped with a glaze instead of frosting. The glaze is subtle and sweet and adds the perfect touch to a well-baked bundt cake.
The powdered sugar glaze poured over the top of your Neapolitan bundt cake is the perfect topping for a touch of sweetness and beautiful decoration. Not only is it delicious, but it is also so easy to make! While the cake is baking, just whisk together the powdered sugar, heavy cream, vanilla extract, and a pinch of salt for a perfect cake glaze.
Once inverted, the chocolate layer will be on the top o the bundt cake, so I like to use a vanilla glaze for the color contrast. If you flip your batter layers and wind up with vanilla on top, add 1 tablespoon of cocoa powder to confectioners' sugar for a chocolate glaze.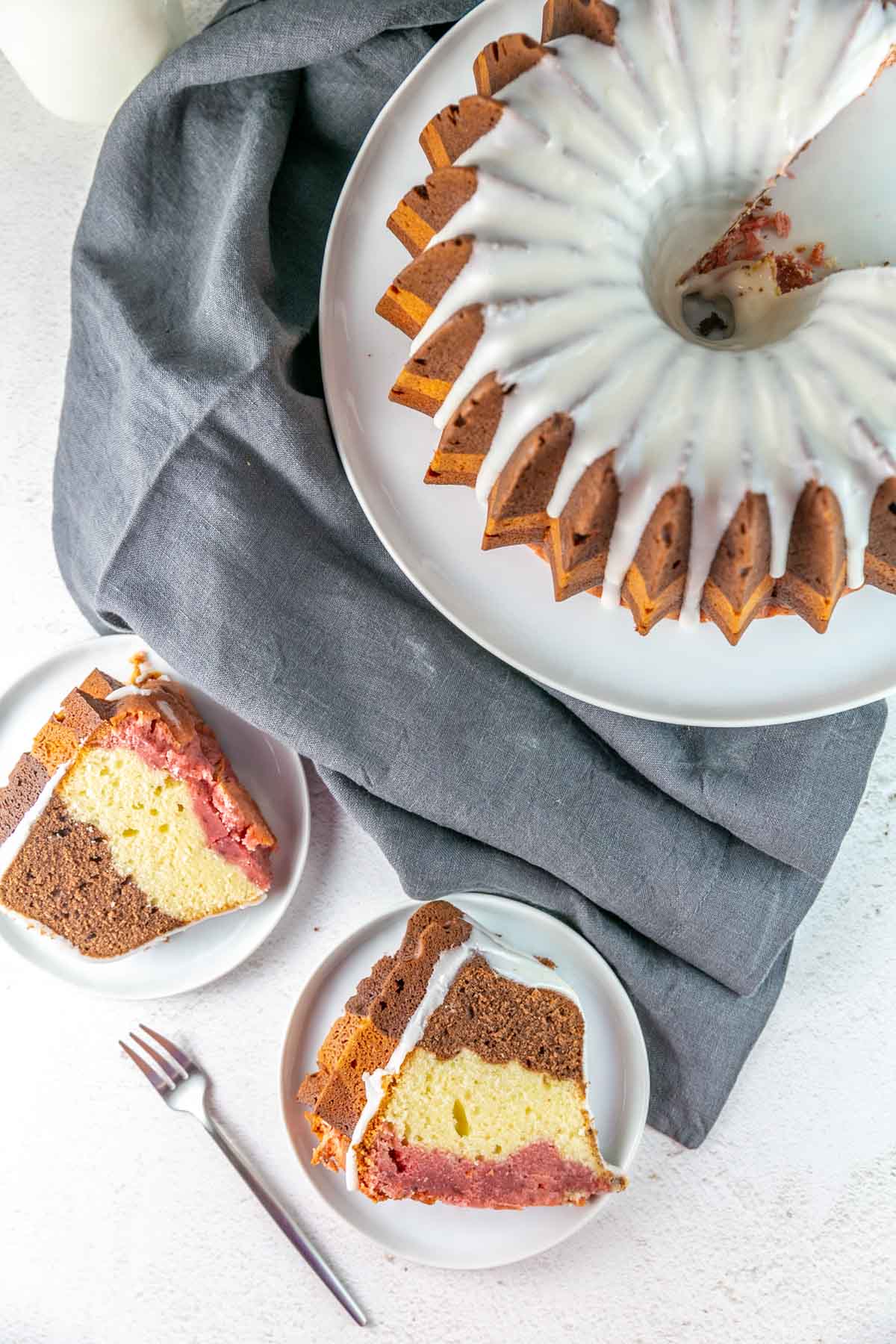 Using the Right Size Bundt Pan
You'll want to pay attention to the size of your bundt pan when baking a bundt cake. Bundt pans sizes are determined by how many cups of batter they hold when filled right up to the top. But don't use this much batter – your cake will overflow!
Since cakes rise when they bake, filling the batter to the edge will result in the batter running over the sides of the cake pan (and making a big mess in your oven – been there, done that!). You should only fill the pan approximately 4/5ths (80%) of the way to the top. If you have any extra batter, use it to make a cupcake or two on the side.
The bundt pan used in these pictures is the Nordicware Brilliance bundt pan (affiliate link). Most of the Nordicware "fancy" bundt pans are also 10 cups and can be used interchangeably. This tri-flavored, tri-colored bundt cake would also look stunning in the Heritage bundt pan. Use the instructions on my Patriotic Bundt Cake post to spiral the colors.
You can also bake this cake in a 12 cup bundt pan, which is the size of most standard donut-shaped bundt pans. Check the cake for donness 5 minutes earlier, since the cake will not be quite as thick.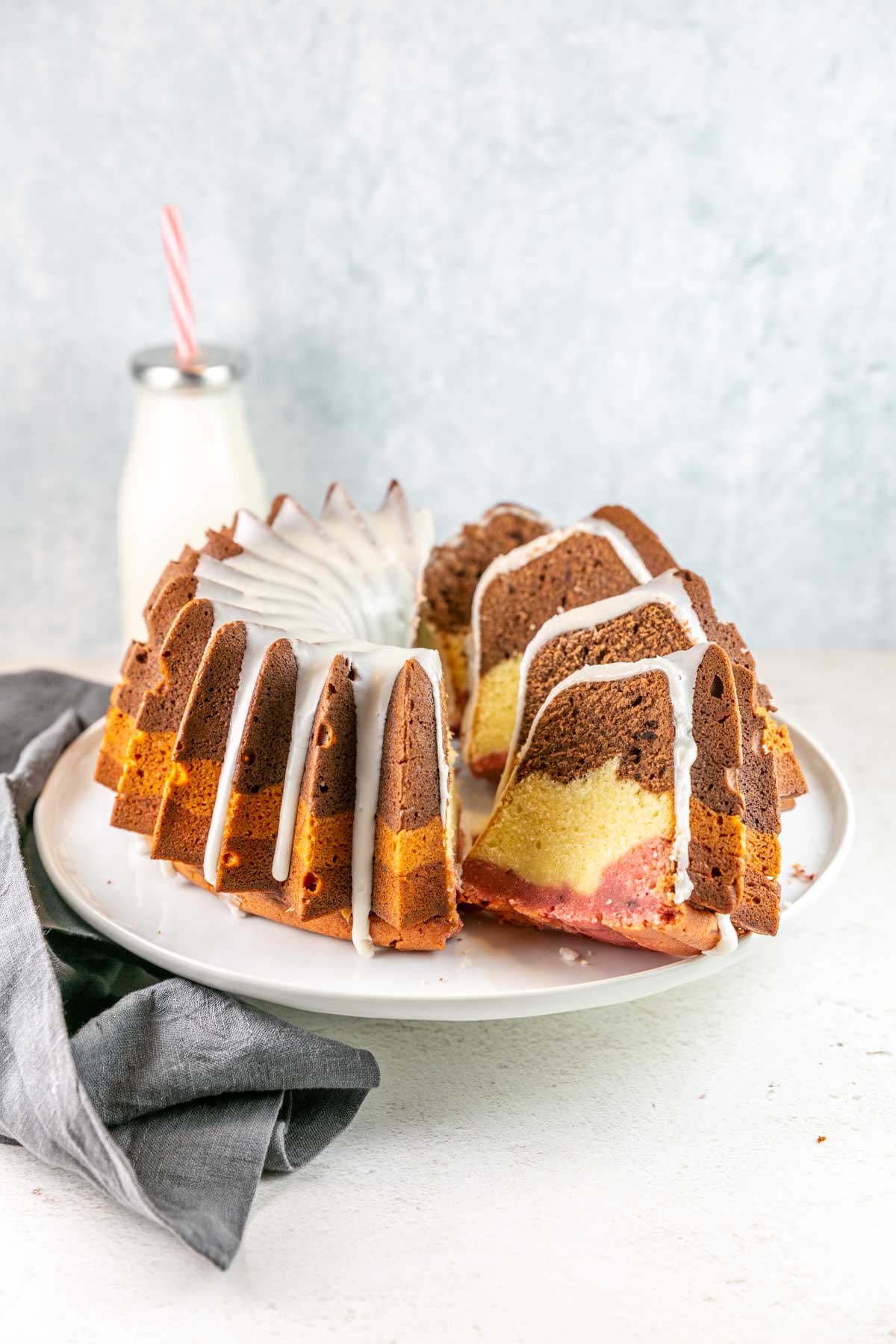 Tips & Tricks for the Best Neapolitan Bundt Cake
To ensure you get equal amounts of batter for each separate flavor, weigh the batter and divide it into thirds. Weighing with a kitchen scale is the most accurate way to get even layers!
While strawberry is the classic Neapolitan flavor, you can substitute the strawberry preserves for any fruit preserves of your choice. You can also opt for homemade preserves by simmering fresh or frozen fruit with sugar. Cook it down for 15-20 minutes, or until it is a thick, jam-like consistency!
Different bundt cake pans have different capacities. Use a 10 or 12-cup bundt pan for this recipe. Make sure to not overfill the bundt pan! No bundt pan? Bake the cake in two well-greased 9 x 5-inch loaf pans at 350 °F for 40 minutes.
To tell if the cake is done, stick a toothpick or skewer into the cake. If it comes out mostly clean, with just a few moist crumbs, it's done! If there is wet batter or lots of crumbs, bake it for another 5 minutes and check again.
New to baking in bundt pans? Looking for the best tips and tricks to ensure your cake doesn't stick? Check out THIS POST for all my best bundt tips!
More Beautiful Bundt Cakes: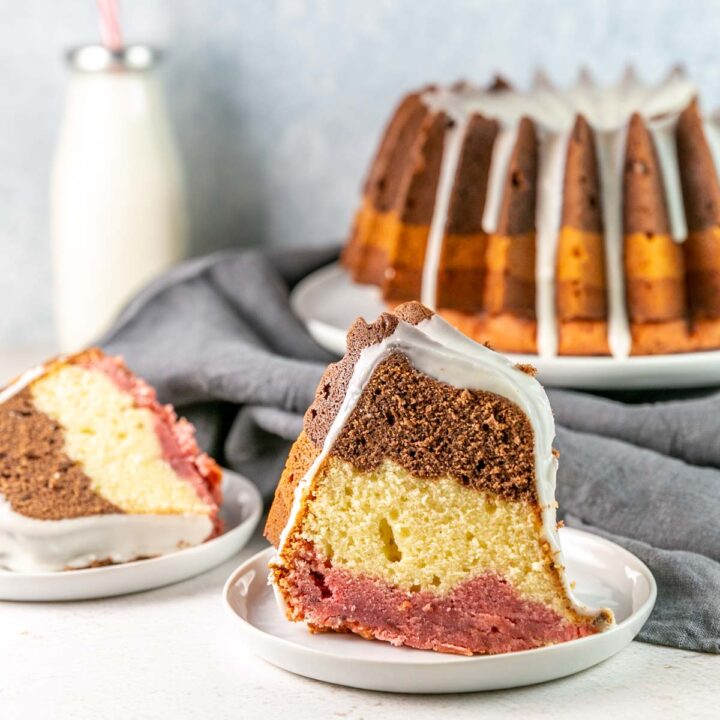 Neapolitan Bundt Cake
Inspired by classic Neapolitan ice cream, this Neapolitan Bundt Cake features three moist layers of strawberry, vanilla, and chocolate cake and is topped with a powdered sugar glaze!
Ingredients
For the Cake:
1 1/2 cups (339 grams) unsalted butter, room temperature
2 1/2 cups (495 grams) granulated sugar
5 large eggs
1 cup (227 grams) sour cream
3 teaspoons vanilla extract
3 3/4 cups (450 grams) all-purpose flour, plus 2 additional tablespoons
1 3/4 teaspoons baking powder
1 teaspoon salt
3 tablespoons Dutch-process cocoa powder
3/4 tablespoon vegetable oil
1/2 cup strawberry preserves
2 drops of red food coloring
For the Glaze:
2 cups (227 grams) confectioners' sugar
3-4 tablespoons heavy cream
pinch of salt
1/2 teaspoon vanilla extract
Instructions
Preheat the oven to 325° F and grease a 10-cup metal bundt pan.
Make the cake. In a medium bowl, cream together the butter and sugar on medium speed for 3-4 minutes, until smooth and fluffy. Add in the eggs, one at a time, beating after each addition, followed by the sour cream and vanilla extract. Mix until completely smooth.
In a separate large bowl, combine the flour, baking powder, and salt. Create a well in the center of the flour mixture and pour in the wet ingredients, mixing just until combined and no streaks of flour remain.
Flavor the batters. Equally divide the batter into three bowls, roughly 580 grams of batter per bowl. Set one bowl aside to remain as the vanilla batter. To a second bowl, add the cocoa powder and vegetable oil and mix until combined. To the third bowl, add the strawberry preserves, two remaining tablespoons of flour, and food coloring and mix until combined.
Bake the cake. Scoop the chocolate batter into the prepared bundt pan and smooth the top with the back of a spoon. Add the vanilla batter, smooth again, and top with the strawberry mixture. Bake the cake at 325 °F for 60-70 minutes, or until a toothpick inserted into the center of the cake comes out clean. Cool the cake for 10 minutes in the pan, then invert onto a cooling rack to cool completely.
Make the glaze. While the cake cools, whisk together the powdered sugar, heavy cream, vanilla extract, and salt until completely smooth. Pour the glaze over the cooled cake.
Notes
Change up the flavors: substitute the strawberry preserves with any fruit preserves of your choice.
Go homemade: simmer fresh or frozen fruit with sugar. Cook it down for 15-20 minutes, or until it is a thick jam-like consistency. Use a blender or food processor to ensure the jam is completely smooth.
The cake can be stored at room temperature for up to 3 days, refrigerated for up to 5 days, or frozen for up to 3 months.
Recommended Products
As an Amazon Associate and member of other affiliate programs, I earn from qualifying purchases.