May 11, 2016
Blueberry Cardamom Curd
Smooth, rich blueberry cardamom curd, bursting with blueberry and cardamom flavor. Perfect for scones, muffins, cakes, tarts, or just eating right off a spoon.
If you should know one thing about me in the kitchen, it's that I am most definitely NOT a direction follower.
I never read the recipe the whole way through before starting. I never double check before starting anything — I like to pave my own path. Half the time, I don't even measure. I bake by feel and cook by taste.
I think this surprises people who know I'm a scientist since we think of science as meticulous and specific. I'm a protein biochemist in a crystallography lab.
While my buffers made be made precisely, the rest of my experiments fall in line with my lab motto of "if at first you don't succeed, just try 103 more random things and something will work eventually."
I just take good notes (both in lab and in the kitchen) and wing it. Sometimes it works wonderfully… sometimes, not so much.
The first time I made curd many years ago, I tried following a recipe. I was supposed to boil together the fruit and a little water, strain the fruit, whisk together egg yolk and sugar, and then gradually add this to the fruit in a double boiler.
Except I briefly glanced at the recipe, looked over the ingredients, and jumped in.
I started by heating the fruit with the sugar, much like one would start the filling for a fruit pie. I went ahead and strained this and then peeked at the recipe, noting the next step was to whip the egg yolks with the sugar. What sugar? More sugar? I already added the sugar!
I went back to the beginning of the recipe and saw I wasn't supposed to cook the fruit with the sugar.
Oh well; nothing to do but forge on and see what happens!
What happened was delicious, perfectly smooth, and bursting with flavor.
I've since tried making curd by adding the sugar with the eggs and heating everything in a double boiler. Except… I like my "mistake" version more.
It's so much easier to forgo the double boiler, and by mixing the fruit with the sugar and spices, it's easier to adjust for taste earlier on in the process (plus, the solids you strain out are sweet and delicious and the perfect topping for a cracker!).
Recipe schmecipe — go your own way in the kitchen and you might be pleasantly surprised. And if it's a total fail, what's the worst that happens? You order pizza for dinner? Tragic.
If you've never had fruit curd, you're totally missing out. It's so much creamier than jelly or jam, but also so much easier since there's no canning involved.
The fruit is strained well and then thickened with egg and butter resulting in a silky-smooth texture, unlike a typical fruit pie filling which is thickened with cornstarch.
It's the perfect accompaniment to scones and muffins, quick breads and cakes, fillings for pastries or tarts, or — if we're being honest — my preferred method of just eating it plain with a spoon.
I mentioned previously that our little guy recently turned a year old. We decided to forgo a first birthday party, but as someone who loves to bake, I couldn't let Ryan's first birthday pass without baking his first cake.
Blueberries are definitely Ryan's favorite food (and mine, too!), so I decided to make a vanilla blueberry curd layer cake for his birthday.
Fresh blueberries, a heaping tablespoon of cardamom — it's a match made in heaven. Even our friends, who admitted afterwards that they are not really into fruit desserts, raved about the blueberry cardamom curd.
It's just that good.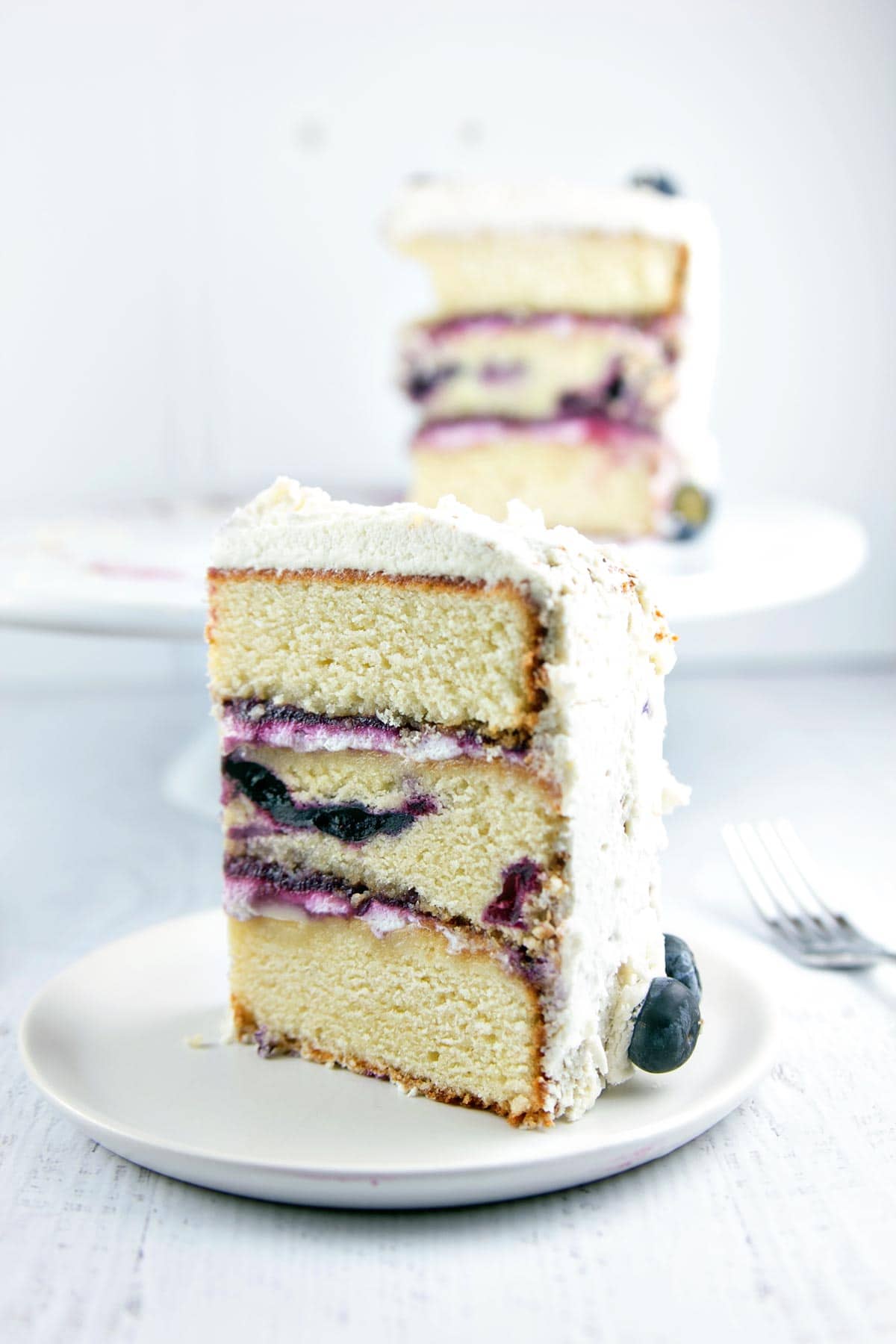 Blueberry Cardamom Curd
Smooth, rich curd, bursting with blueberry and cardamom flavor.  Perfect for scones, muffins, cakes, tarts, or just eating right off a spoon.
Ingredients:
1 quart fresh blueberries
1 cup sugar
1 tablespoon cardamom
3 eggs, beaten
6 tablespoons butter, cut into 1 tablespoon pieces
Directions:
In a heavy-bottomed saucepan, add the blueberries, sugar, and cardamom.  Cook over medium heat until the mixture comes to a boil, 10-15 minutes.  Stir frequently, breaking open the blueberries using the back of a wooden spoon.
Remove the blueberry mixture from the heat and strain through a mesh strainer.  Save the juice and discard (or eat) the remaining solids.
Return the blueberry juice to the saucepan and heat over medium heat.  Whisk in the eggs while the blueberry juice starts to warm, stirring continuously until fully incorporated.  Continue to cook over medium heat until the mixture is thick enough to see visible whisk trails while stirring (or able to coat the back of a wooden spoon), approximately 8-10 minutes.
Remove from heat.  Add the butter, one tablespoon at a time, allowing each tablespoon to fully melt before adding the next.
If desired, strain the curd again through a fine mesh sieve, and pour into a heatproof jar.  Press a layer of plastic wrap against the top of the curd and refrigerate.
Curd can be stored in the refrigerator for up to 2 weeks or frozen for up to a year.
A Bunsen Burner Bakery Original Protoocl