May 11, 2016
Blueberry Cardamom Curd
Smooth, rich Blueberry Cardamom Curd, bursting with blueberry and cardamom flavor.  Perfect for scones, muffins, cakes, tarts, or just eating right off a spoon.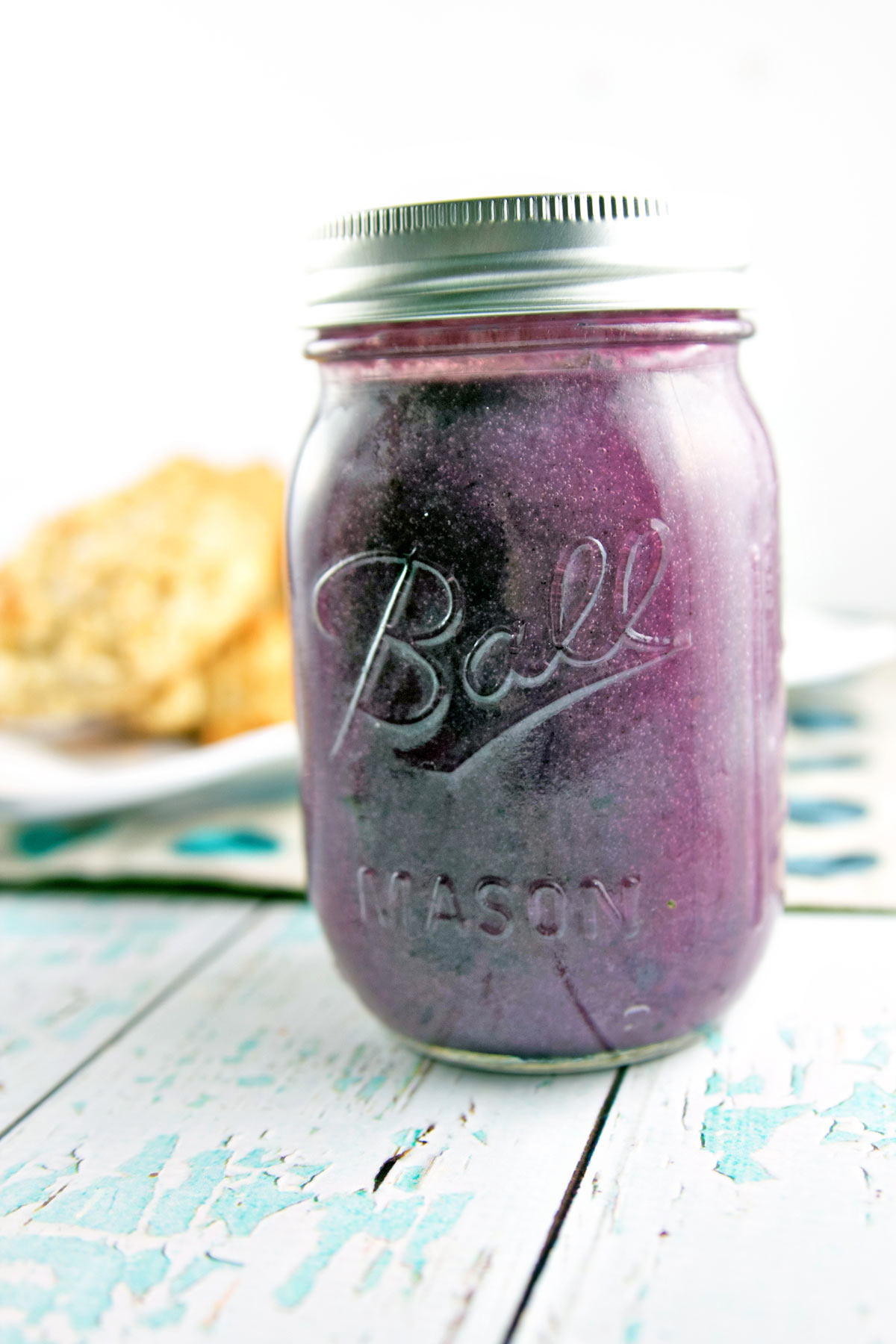 When you think of a fruit curd, you probably think about citrus fruits – like lemon, lime, or grapefruit. But it's time to think outside the citrus box and start turning new fruits into curd.
And I'm here to suggest my current obsession: blueberry curd. Curds work best when there's some sharpness – which is why we usually see them with citrus. The acid present in citrus prevents the fruit curds from becoming too sweet and flat.
How do we translate this to blueberries? Cardamom is the answer. It adds just the right hint of spiciness with an almost pepper-like bite. Paired with blueberries, this curd is anything but one-note and boring!
This blueberry cardamom curd is the PERFECT accompaniment to scones and muffins, quick breads and cakes, fillings for pastries or tarts, or, if we're being honest, just eating it off a spoon (my preferred method at the moment).
I recently used this to fill a layer cake and even friends, who admitted afterwards that they're not really into fruit desserts, raved about the blueberry cardamom curd. It's just that good.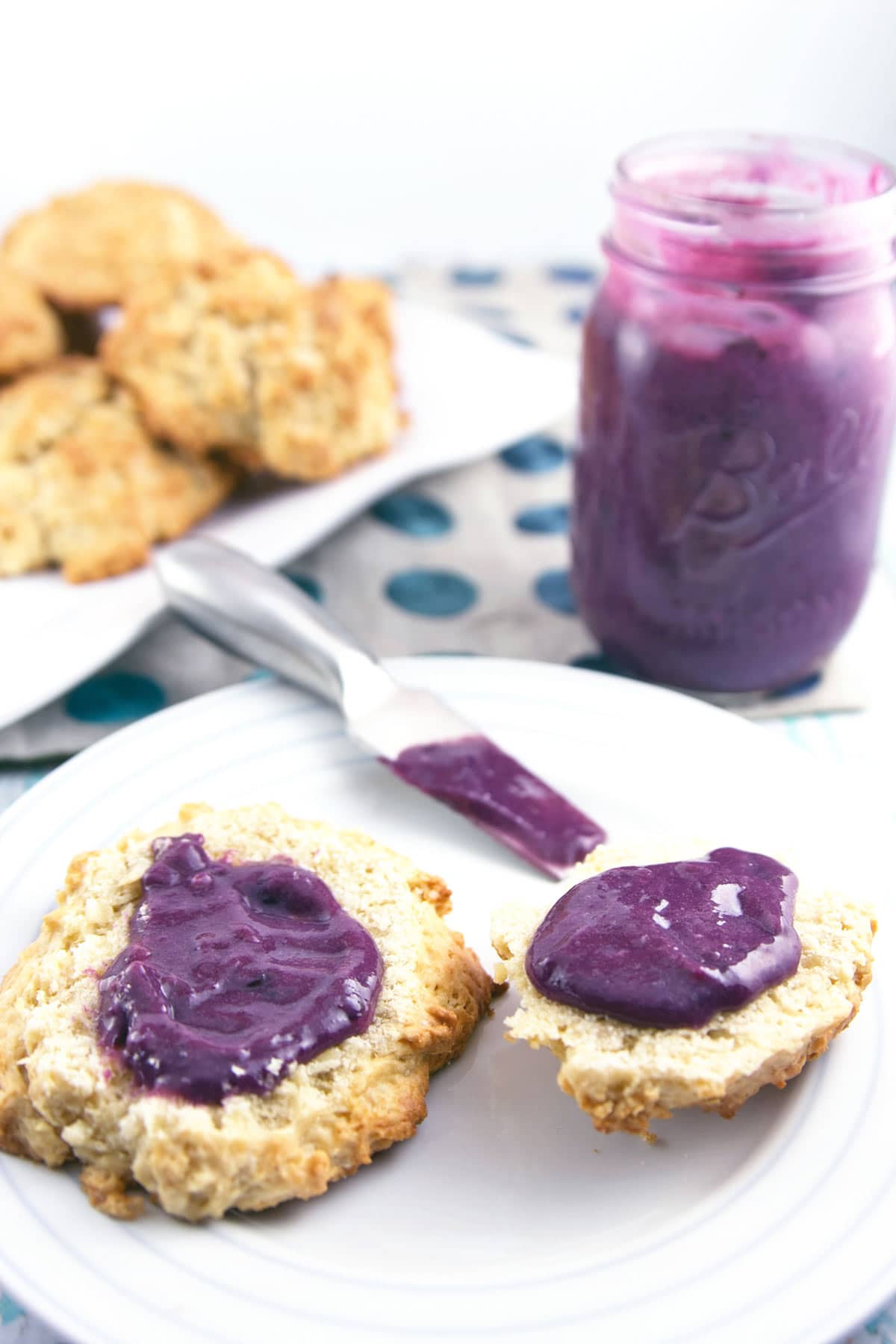 Ingredients and Substitutions
Fruit curds are surprisingly simple and require few ingredients! You'll need the following: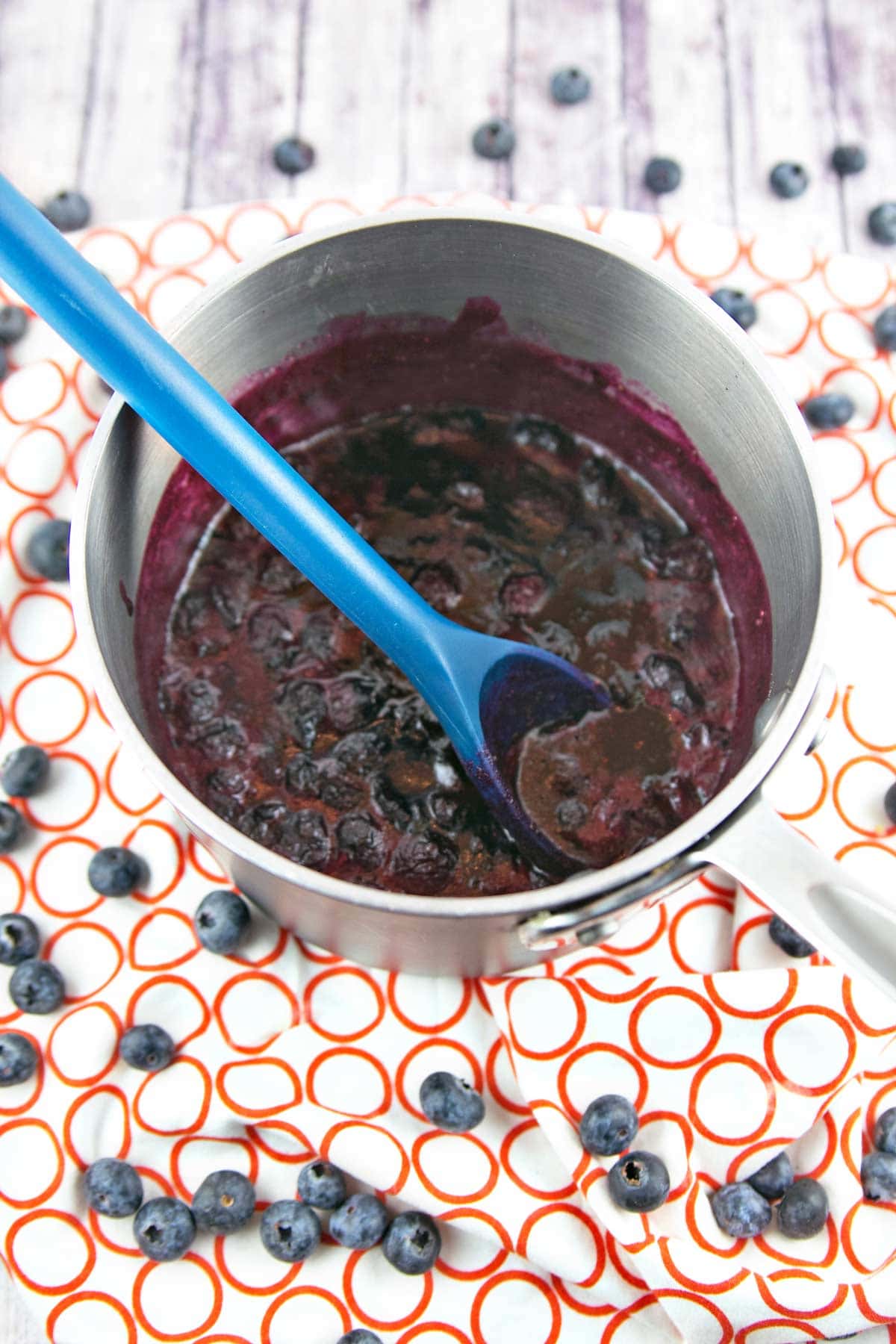 Eggs as the Magic Ingredient
How do we create such a smooth, delicious texture with only these simple ingredients? The answer is in the eggs!
To make blueberry card, we'll cook down blueberries, the sugar, and cardamom unit the blueberries pop open and release their juices. Filter this through a fine mesh sieve to retain the juice (and discard the solids), leaving us with a sweetened, cardamom-infused blueberry juice.
This juice is then cooked down with eggs. Once the mixture is thickened, we can slowly add butter, one tablespoon at a time, and the end result is a smooth, creamy curd. How does this work? We can explain it all with my favorite subject, kitchen chemistry!
Kitchen Chemistry

Eggs play a role in fruit curd by forming a stable emulsion. In our curd, we have water (from the blueberry juice) and are trying to mix it with fat (from the butter). Under normal conditions, water and fat don't combine. In the presence of eggs, however, we are able to successfully bring the two together. Egg yolks contain an emulsifier called lecithin that forms a barrier between the fat droplets and the water droplets. Slowly whisking the butter in is crucial to forming this emulsion. Without the eggs, the water and fat would separate out over time, resulting in a watery, clumpy curd.
Eggs may be the key to making a good curd, but if the mixture is overcooked even the slightest, the eggs can also ruin the smooth texture. Heating the curd too quickly or for too long can cause the proteins from the eggs to clump together, resulting in tiny bits of cooked egg.
I always recommend straining the cooked curd again through a fine mesh sieve to remove any of these tiny bits of cooked egg clumps – it's the secret to the smoothest, creamiest texture!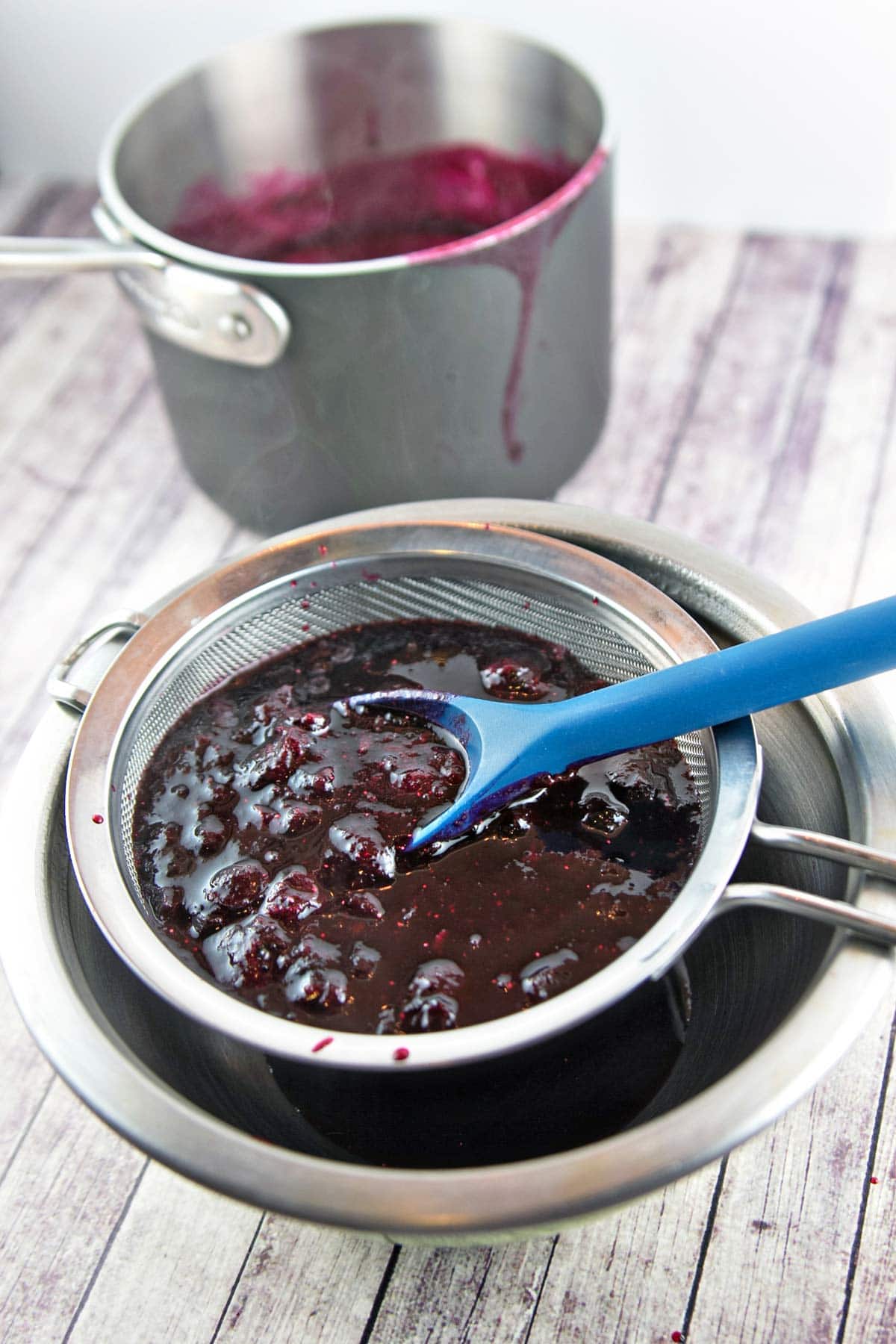 Ways to Use Blueberry Curd
There are an endless number of ways to use this blueberry cardamom curd! We love it on toast, with scones, or spread on quick breads and muffins. It's amazing as a filling for a cake, a dip for fresh fruit, or a topping for pancakes or waffles.
Here are just a few recipes that would be delicious with your creamy dreamy homemade blueberry curd!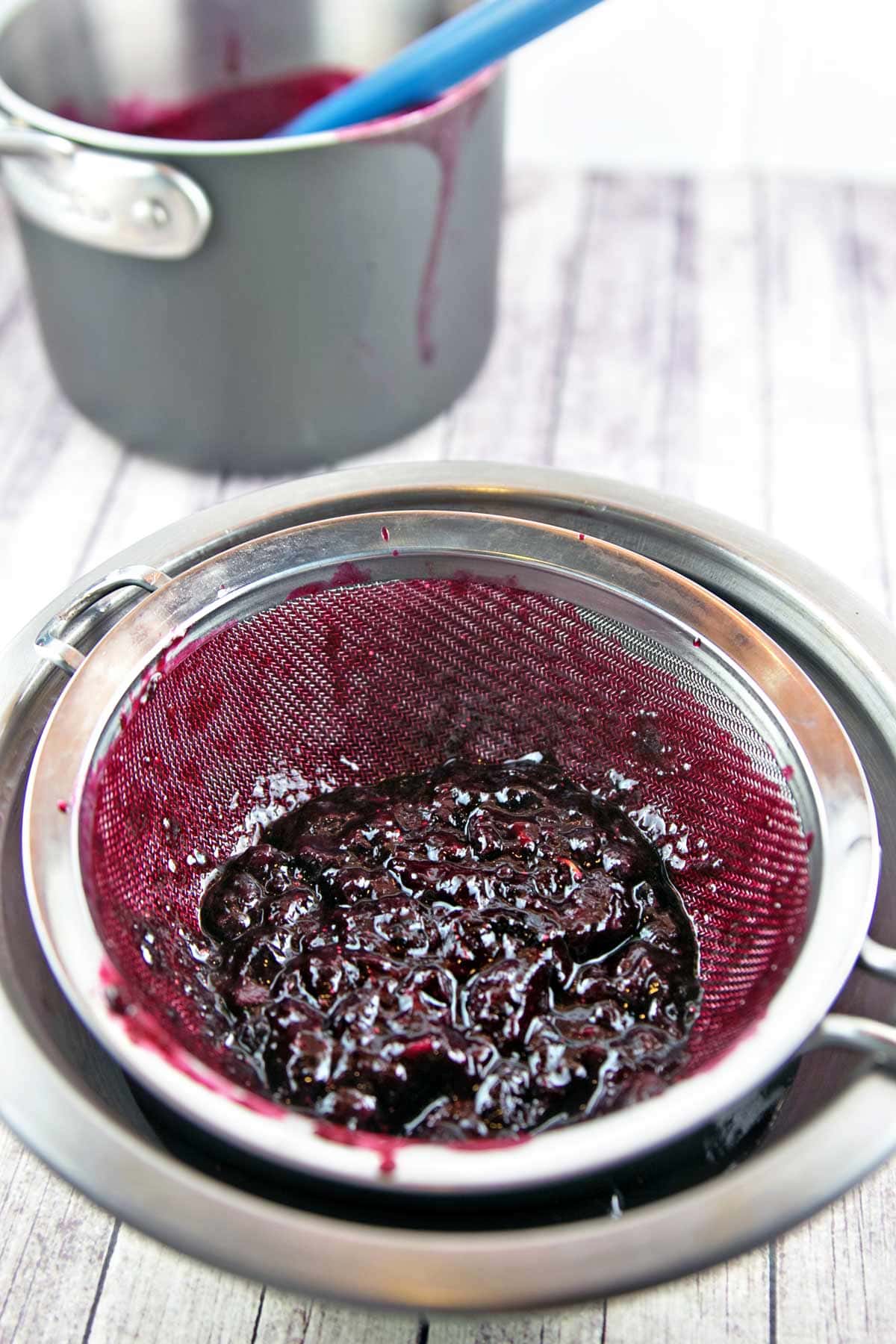 Recommended Tools to Make Blueberry Curd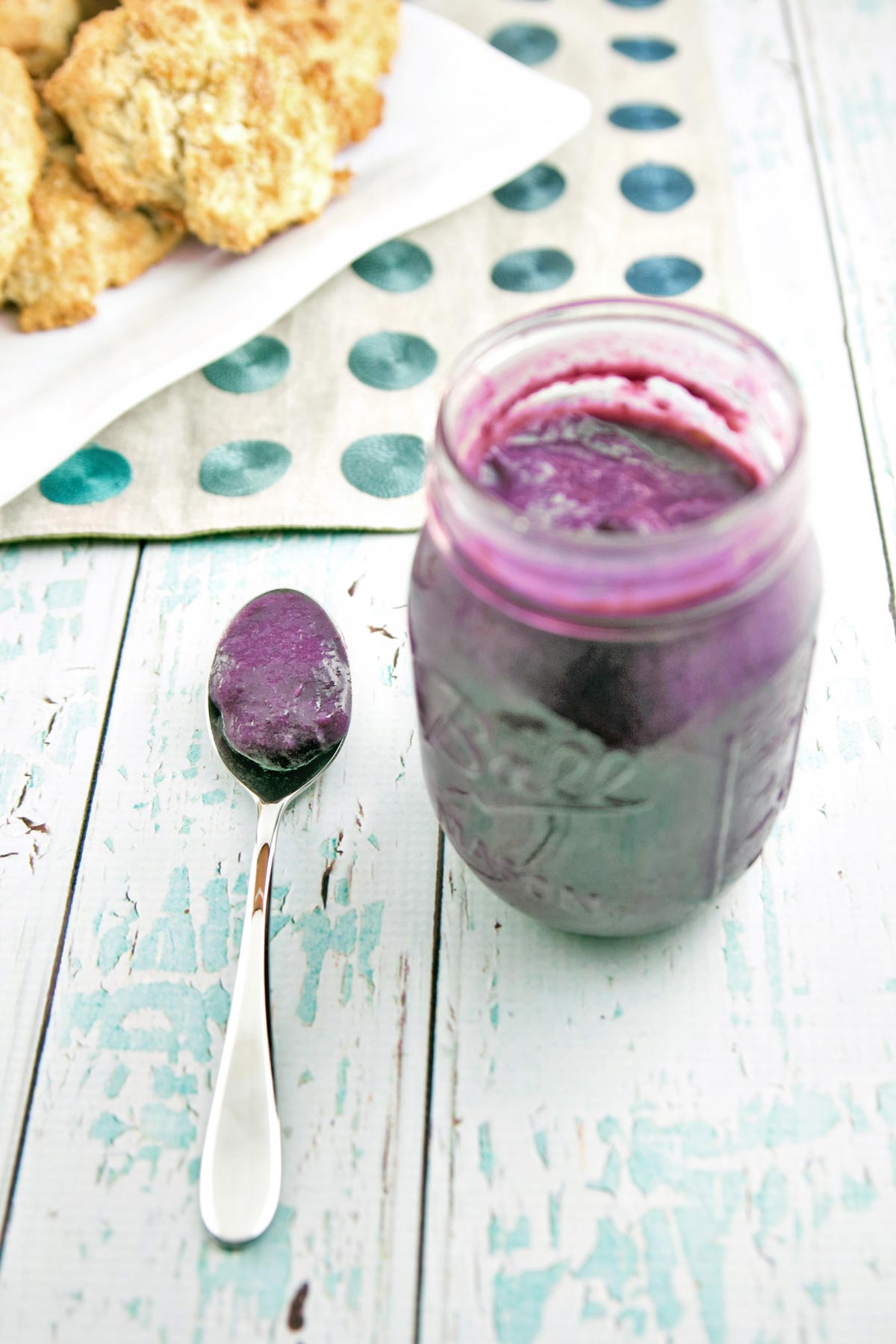 Tips and Tricks to Make the Best Blueberry Cardamom Curd
Use fresh blueberries. While you can use frozen, fresh blueberries will result in a more vibrant color and flavor compared to using frozen blueberries.
Cook over low heat. If the heat is too high, the eggs will curdle and separate out from the curd.
Use a heavy-bottomed saucepan, which helps prevent hte mixture from sticking to the bottom of the pan and burning.
Add the butter in small pieces after the mixture has cooked down with the eggs. If the butter is added too quickly, it can break the emulsion.
Strain the mixture after cooking the eggs and adding the butter. This will remove any little lumps and clumps.
Cooled blueberry cardamom curd can be stored in an airtight container in the refrigerator for up to 2 weeks or frozen for up to 3 months.
More Fruit Curd Recipes:
Blueberry Cardamom Curd
Smooth, rich blueberry cardamom curd, bursting with blueberry and cardamom flavor.  Perfect for scones, muffins, cakes, tarts, or just eating right off a spoon.
Ingredients
1 quart fresh blueberries
1 cup granulated sugar
1 tablespoon cardamom
3 large eggs, beaten
6 tablespoons European-style salted butter, cut into 1 tablespoon pieces
Instructions
In a heavy-bottomed saucepan, add the blueberries, sugar, and cardamom. Cook over medium heat until the mixture comes to a boil, 10-15 minutes. Stir frequently, breaking open the blueberries using the back of a wooden spoon.
Remove the blueberry mixture from the heat and strain through a mesh strainer. Save the juice and discard the remaining solids.
Return the blueberry juice to the saucepan and heat over medium-low heat. Whisk in the eggs while the blueberry juice starts to warm, stirring continuously until fully incorporated. Continue to cook over medium-low heat until the mixture is thick enough to see visible whisk trails while stirring (or able to coat the back of a wooden spoon), approximately 8-10 minutes.
Remove from the heat. Add the butter, one tablespoon at a time, allowing each tablespoon to fully melt before adding the next.
If desired, strain the curd again through a fine mesh sieve, and pour into a heatproof jar. Press a layer of plastic wrap against the top of the curd and refrigerate.
Notes
Frozen blueberries can be used, but fresh blueberries provide the best color and flavor.
European-style salted butter results in the best texture and flavor. If using American-style unsalted butter, add a tiny pinch of salt while adding the eggs.
Cooled blueberry curd can be stored in an airtight container in the refrigerator for up to 2 weeks or frozen for up to 3 months.
Recommended Products
As an Amazon Associate and member of other affiliate programs, I earn from qualifying purchases.