April 26, 2016
Chocolate Buttermilk Quick Bread
Rich and tangy Chocolate Buttermilk Quick Bread, dotted with chocolate chips and covered in a rich chocolate glaze.  Dessert? Breakfast? The lines have been blurred.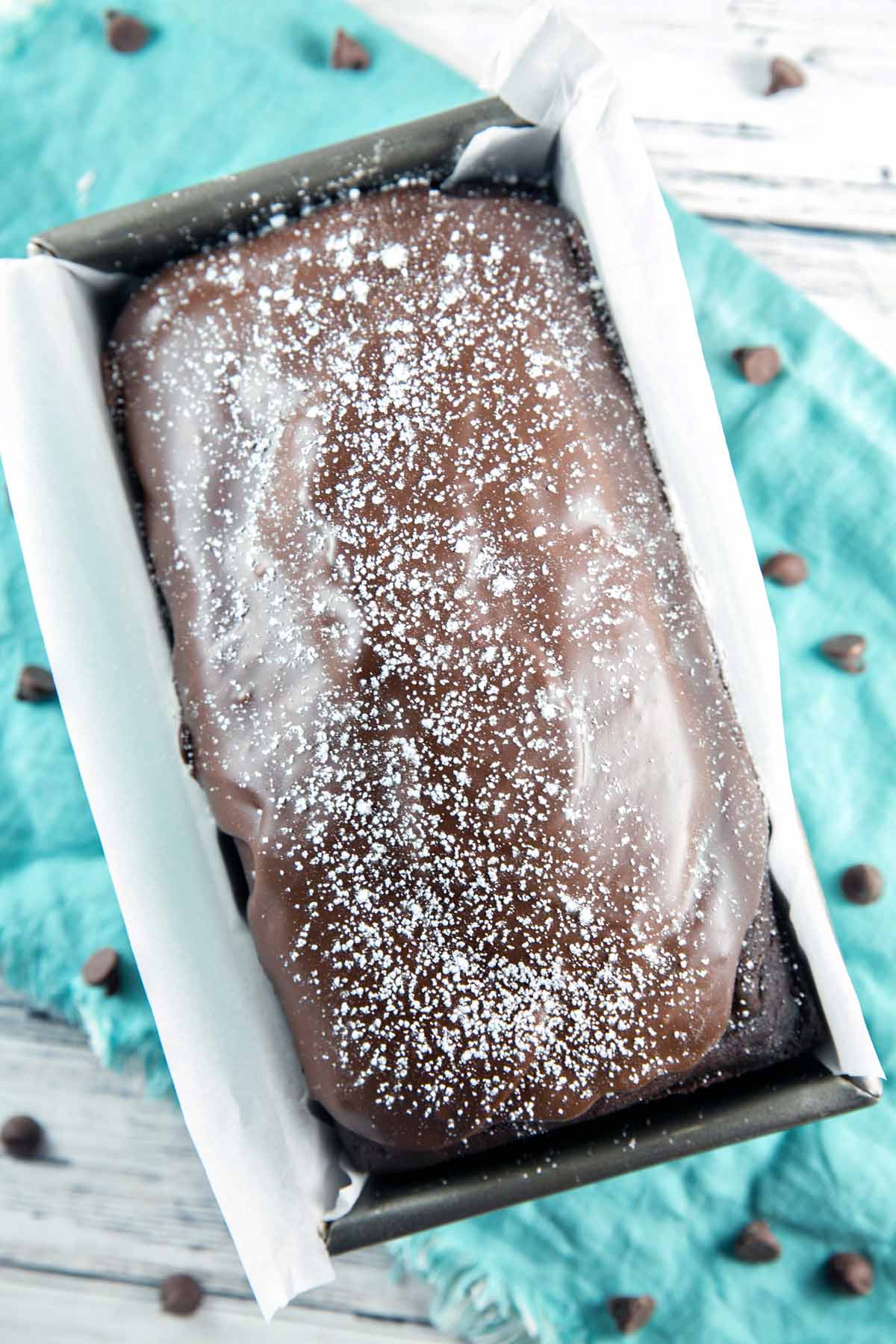 Well, here we are. Right smack dab in the middle of Passover, and I'm sharing a quick bread recipe. This right here is the ultimate definition of poor planning.
I didn't mean for it to work out this way — I was going to share this recipe two weeks ago.
And then I was going to share a delicious Passover-friendly layer cake last week, so those of you who celebrate could make it for your Seder this past weekend. It was all going to work out so wonderfully!
But… well… life.
So, here we find ourselves, the last week in April, in the middle of Passover, with no Quick Bread of the Month recipe posted yet. Avert your eyes, carb-deprived fellow Jewish friends, and save this one for later.
Trust me: this will be worth the wait.
I'm calling it chocolate buttermilk bread, but really, you could also call this a chocolate loaf cake. The quick bread batter is not dissimilar to a cake, and it has a thick layer of glaze that feels like frosting.
Whether you call it a chocolate quick bread or a chocolate cake, you will not be disappointed!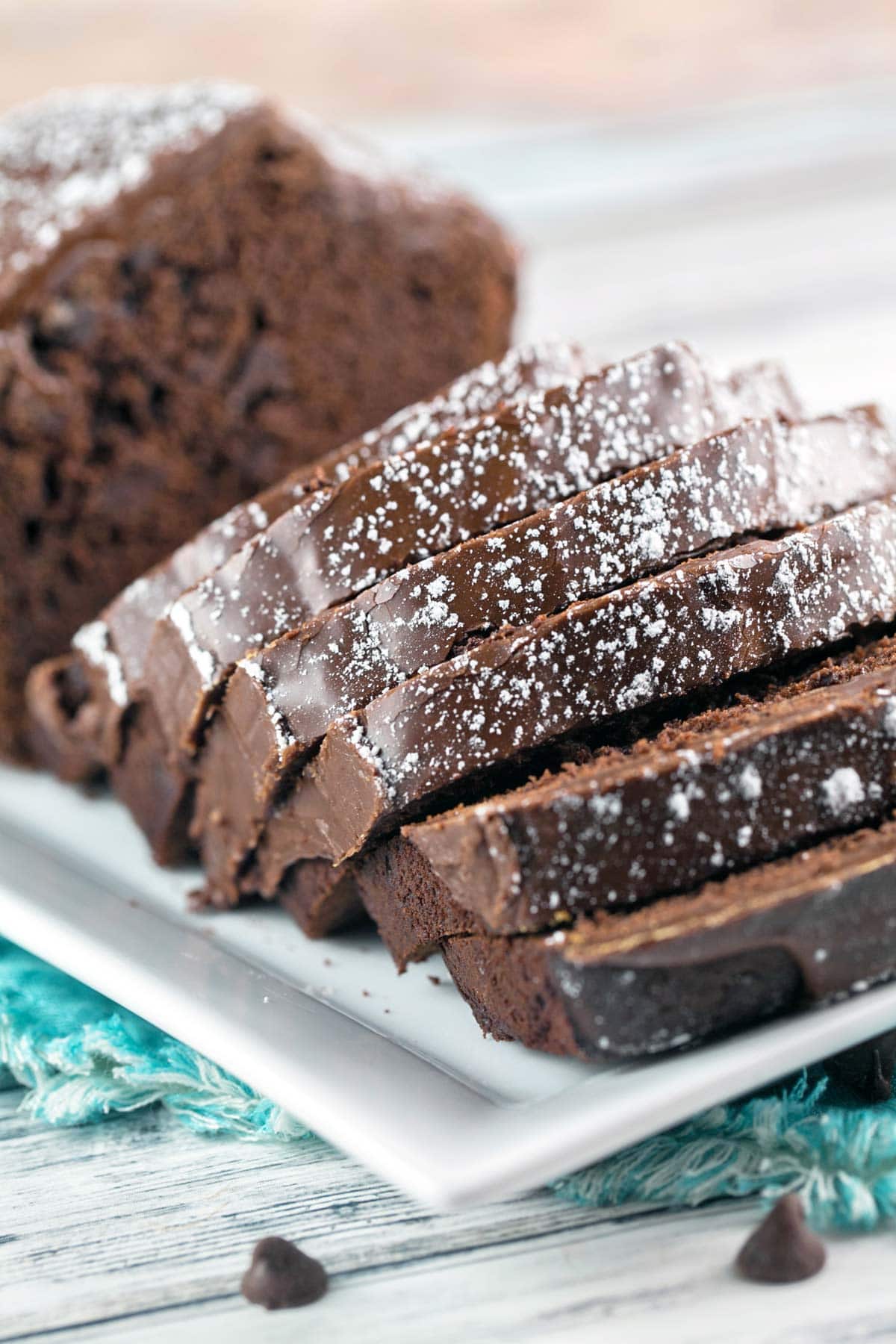 Easy Buttermilk Quick Bread
The base of this bread is a chocolate quick bread. It's easy to make: one bowl and comes together in fewer than 10 minutes using an electric mixer.
The key to making this bread extra soft and tender? Using buttermilk! What does buttermilk do in baking? It's time for my favorite subject… kitchen chemistry!
Kitchen Chemistry

The acidity of buttermilk contributes to the leavening of baked goods by reacting with baking soda to produce carbon dioxide.  But that's not it — the acidity in buttermilk also breaks down tough strands of gluten, making quick breads and cakes both more moist and more tender than using regular milk.  
Can you use regular milk instead of buttermilk? Sure — you'll still get a loaf of chocolate quick bread in the end.
But it won't be as soft and tender. Plus, that characteristic tang pairs so well with rich chocolate!
Here's the good news: buttermilk freezes wonderfully. So next time you buy a container of buttermilk, take the leftovers and freeze it in ice cube trays or silicone molds. Thaw the next time you have to bake with buttermilk!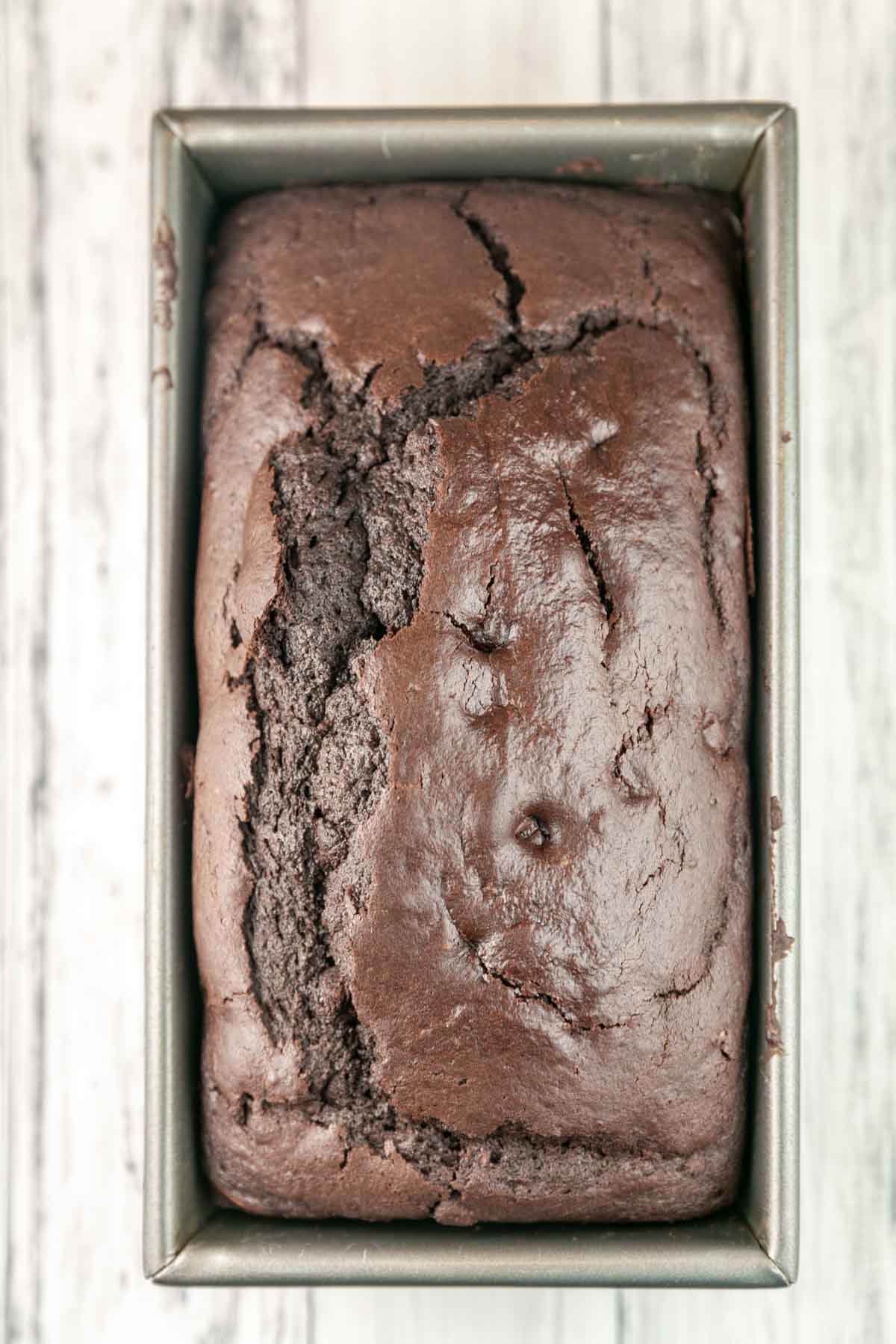 Thick Chocolate Glaze
Arguably the very best part of this chocolate quick bread? The thick chocolate glaze! It's so thick, it's practically a frosting, but so much easier!
All you need is some confectioners' (powdered) sugar, cocoa powder, and heavy cream or milk. Heavy cream creates a thicker glaze, but milk is a perfectly fine substitute.
If you want your glaze super thick, add a little extra confectioners' sugar. If you'd like it a thinner drizzle, add a little extra milk.
And if you're not into super sweet, add a little pinch of salt to the glaze to tone down the sweetness!
Added bonus: the glaze adds a little extra moisture and a barrier from the air. It helps keep the bread nice and fresh, even for a few days after baking.
So you don't have to eat it all in one day. But if you do, well, I fully support it!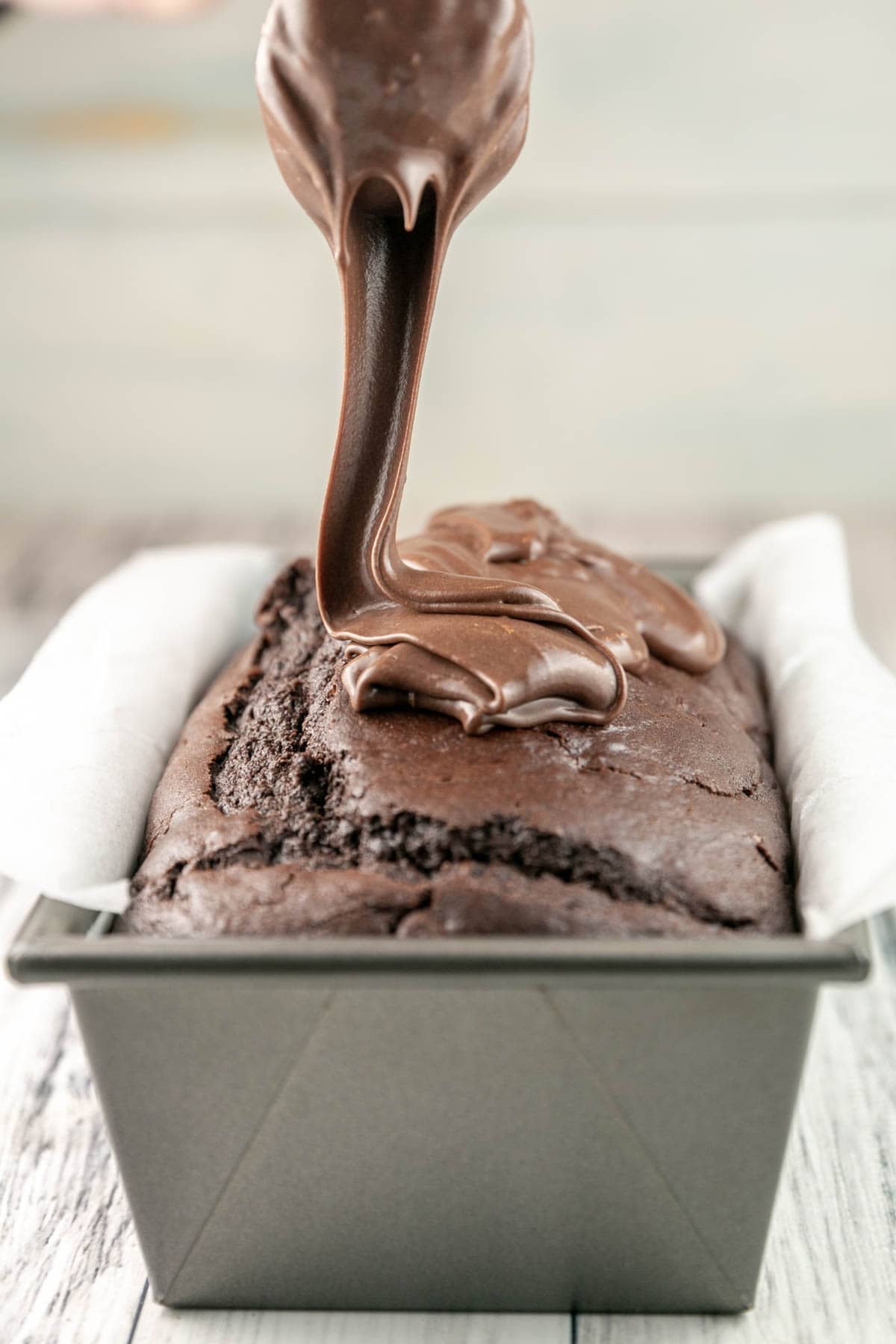 Frequently Asked Questions About Chocolate Buttermilk Bread
How should quick bread be stored?
Chocolate buttermilk quick bread can be stored in an air-tight container at room temperature for 3-4 days or in the refrigerator for up to a week. The bread will dry out more quickly in the refrigerator, however.
Can chocolate buttermilk bread be frozen?
For long-term freezing, it is best to freeze the whole loaf without the glaze. Thaw completely, then add the glaze before eating. To freeze leftover slices, cut the bread and freeze laying slices flat on a cookie sheet. Once the bread and glaze are frozen completely, remove them from the cookie sheet and wrap each slice individually in plastic wrap, then a layer of aluminum foil, and store in a freezer-safe bag. Unwrap completely before storing at room temperature.
How do I keep the bread tender and light?
Use room temperature butter and eggs for better incorporation of ingredients while mixing and do not overmix the batter. Use buttermilk instead of regular milk.
Can I substitute regular milk for buttermilk?
You can, but the texture and taste of the loaf are best with real buttermilk (rather than the milk + lemon juice hack often recommended). Real buttermilk is thicker and has a better texture. It freezes well, so I recommend buying buttermilk and freezing the rest in ice cube trays or small containers to thaw and use for future baking.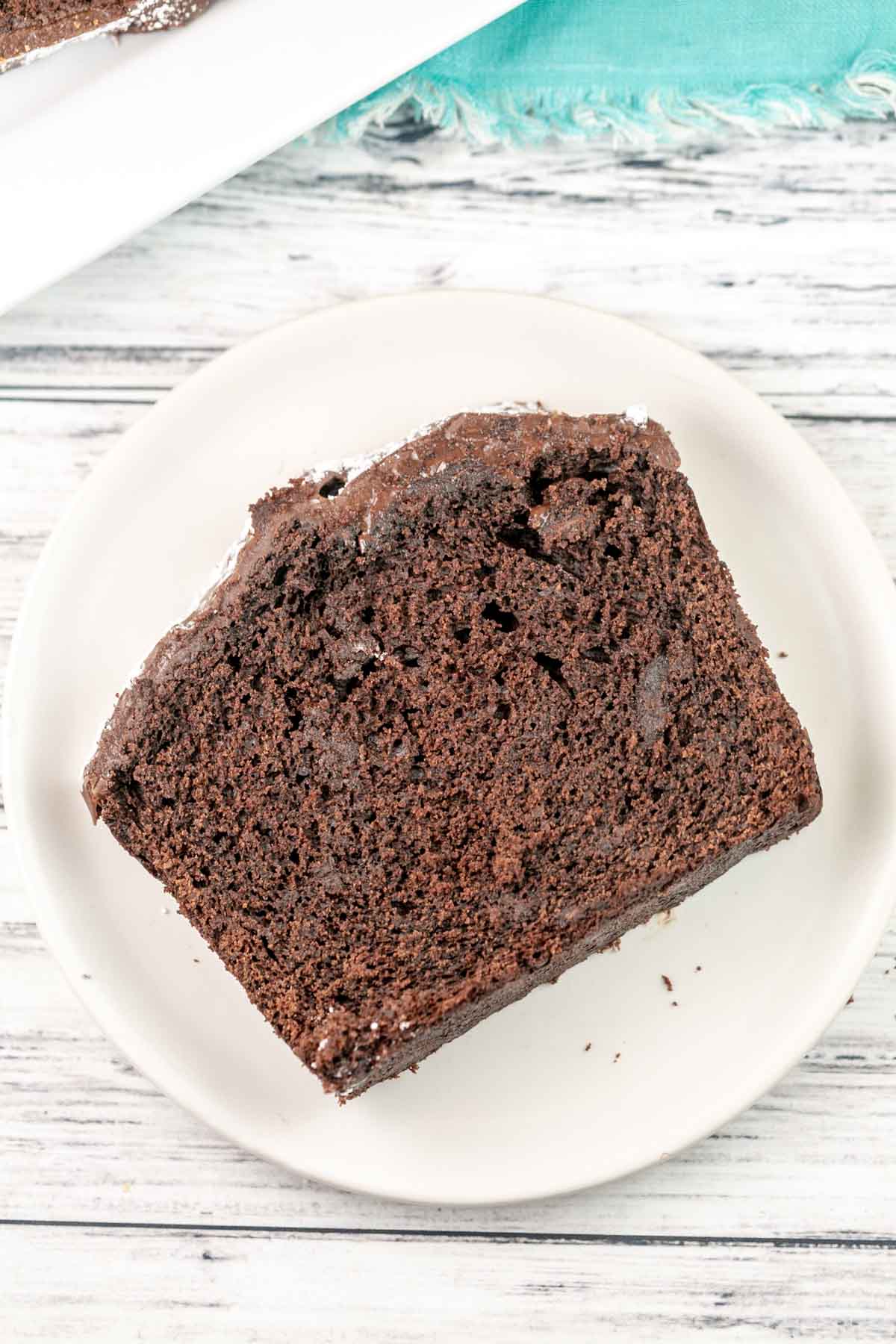 More Quick Bread Recipes
2016 Quick Bread of the Month Series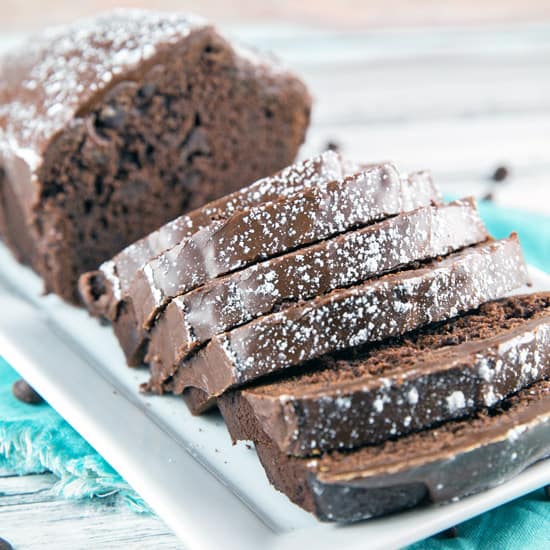 Chocolate Buttermilk Quick Bread
Yield:
1 loaf (12 slices)
Additional Time:
50 minutes
Total Time:
1 hour
5 minutes
Rich and tangy chocolate buttermilk quick bread, dotted with chocolate chips and covered in a rich chocolate glaze. 
Ingredients
For the Bread:
1/2 cup (113 grams) unsalted butter, room temperature
1 cup (198 grams) granulated sugar
2 large eggs, room temperature
1 cup (227 grams) buttermilk
2 teaspoons vanilla extract
1 1/2 cups (180 grams) all-purpose flour
3/4 cup (63 grams) natural unsweetened cocoa powder
1 teaspoon baking soda
1/2 teaspoon salt
1/2 cup (85 grams) chocolate chips
For the Chocolate Glaze:
3 tablespoons natural unsweetened cocoa powder
1 cup (113.5 grams) confectioners' sugar
2-3 tablespoonsmilk
Instructions
Preheat oven to 350°F. Grease the bottom only of an 8.5 x 4.5-inch loaf pan.
Make the batter. Using a mixer, beat together the butter and sugar on medium speed until sugar is pale and fluffy, 4 to 5 minutes. Add in the eggs, one at a time, beating well after each addition.
Lower the mixer speed to slow and slowly pour in the buttermilk and all of the vanilla extract, followed by the flour, 3/4 cup of the cocoa powder, baking soda, and salt. Finish by adding the rest of the buttermilk. Continue to beat the mixture just until the dry ingredients are incorporated. Stir in the chocolate chips by hand.
Bake the bread. Pour the batter into the prepared pan and bake for 50-55 minutes, until a tester inserted into the center of the bread comes out with a moist crumb. Allow the bread to cool in the pan for 15 minutes, then invert onto a cooling rack and cool completely.
Make the glaze. Once cool, prepare the chocolate glaze by whisking together the remaining 3 tablespoons of cocoa powder, confectioners' sugar, and milk. Pour the glaze over the bread, allow to set, and then slice.
Notes
Chocolate buttermilk quick bread can be stored at room temperature in an airtight container for 3-4 days, or frozen for up to 3 months. Freeze without the glaze, then add after the bread has fully thawed. To freeze individual slices, wrap each slice in plastic wrap, a layer of aluminium foil, and then store in a freezer bag.
A Bunsen Burner Bakery Original Protocol
Recommended Products
As an Amazon Associate and member of other affiliate programs, I earn from qualifying purchases.