April 26, 2016
Chocolate Buttermilk Quick Bread
Rich and tangy chocolate buttermilk quick bread, dotted with chocolate chips and covered in a rich chocolate glaze. Dessert? Breakfast? The lines have been blurred.
Well, here we are. Right smack dab in the middle of Passover, and I'm sharing a quick bread recipe. This right here is the ultimate definition of poor planning.
I didn't mean for it to work out this way — I was going to share this recipe two weeks ago. And then I was going to share a delicious Passover-friendly layer cake last week, so those of you who celebrate could make it for your Seder this past weekend. It was all going to work out so wonderfully!
But… well… life.
And by "life" I mean a normally delightful little one year old, who has been hit with the wonderful trifecta of teething, 12 month vaccines, and the dreaded "look I just learned how to stand so now I'm going to pull myself up in my crib every time I'm in it and stand but I don't know how to sit yet so WAAAAH I'M STUCK HELP ME" sleep regression.
So, over the past two weeks, my normal post-bedtime blogging time has been occupied by a certain someone. I know this will pass quickly, but I sure do miss having a little time to myself in the evenings to get things done!
(Also: get it together, nature. Why do babies learn to pull themselves up weeks before they learn how to sit down? The giant bags under my eyes do not appreciate this.)
So, here we find ourselves, the last week in April, in the middle of Passover, with no Quick Bread of the Month recipe posted yet. Avert your eyes, carb-deprived fellow Jewish friends, and save this one for later.
In the meantime, I offer up these Passover-friendly desserts for your sweet tooth: a raspberry linzer tart, a chocolate ganache cake, or from the way-back archives, a macaroon-crust chocolate-swirl cheesecake. Please forgive me for this poor planning.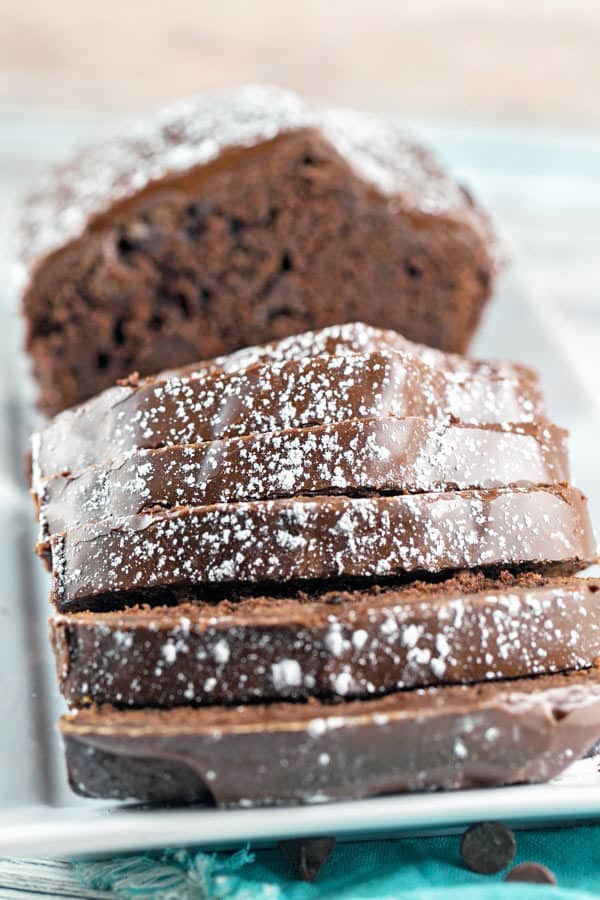 Now that my apologizes are out of the way, let's talk about this chocolate buttermilk quick bread. One of the most commonly asked questions I get from friends about baking is why you use buttermilk instead of regular milk. Time for a little science lesson!
Kitchen Chemistry: Buttermilk is like magic when it comes to baking! The acidity of buttermilk contributes to the leavening of baked goods by reacting with baking soda to produce carbon dioxide, which I mentioned in last month's QBotM post (Guinness Irish Soda Bread). But that's not it — the acidity in buttermilk also breaks down tough strands of gluten, making this bread both more moist and more tender than using regular milk. So can you swap out buttermilk for regular milk? Sure – you'll still get a loaf of chocolate quick bread in the end – but it won't be as soft and tender. Plus, that characteristic tang pairs so well with rich chocolate!
We're going to to top this chocolatey, buttermilky, bread with a thick chocolate glaze, because… who doesn't like a chocolate glaze. The glaze also adds a little extra moisture and will keep this nice and fresh, even for a few days after baking, so you don't have to feel obligated to eat the whole thing at once.
But if you do happen to eat an entire loaf of chocolate buttermilk quick bread right away, well… I won't tell. 😉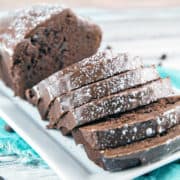 Yield:
1 loaf (12 slices)
Chocolate Buttermilk Quick Bread
Rich and tangy chocolate buttermilk quick bread, dotted with chocolate chips and covered in a rich chocolate glaze.  Dessert? Breakfast? The lines have been blurred.
Ingredients:
For the bread:
1/2 cup butter, room temperature
1 cup sugar
2 eggs, room temperature
1 cup buttermilk
1 1/2 cup all-purpose flour
3/4 cup unsweetened cocoa powder
1 teaspoon baking soda
1/2 teaspoon salt
1/2 cup chocolate chips
For the chocolate glaze:
3 tablespoons cocoa powder
1 cup confectioners' sugar
2 tablespoons milk
Directions:
Preheat oven to 350°F.  Grease the bottom only of a 9×5-inch loaf pan.
Using a mixer, beat together the butter and sugar on medium speeduntil sugar is pale and fluffy.  Add in the eggs, one at a time, beating together after each addition.
Lower the mixer speed to slow and slowly pour in the buttermilk, followed by the flour, 3/4 cup of the cocoa powder, baking soda, and salt.  Continue to beat the mixture just until the dry ingredients are incorporated.  Stir in the chocolate chips by hand.
Pour the batter into the prepared pan and bake for 50-55 minutes, until a tester inserted into the center of the bread comes out with a moist crumb.  Allow the bread to cool in the pan for 15 minutes, then invert onto a cooling rack and cool completely.
Once cool, prepare the chocolate glaze by whisking together the remaining 3 tablespoons of cocoa powder, confectioners' sugar, and milk.  Pour the glaze over the bread, allow to set, and then slice.
Bread can be prepared ahead of time and frozen without the glaze; add chocolate glaze after bread has fully thawed.
A Bunsen Burner Bakery Original Protocol