June 6, 2019
Blackberry Pie Bars
Everything you love about blackberry pie, in an easy-to-make, easy-to-share, bar form.  Blackberry Pie Bars are the perfect way to highlight summer's best berry!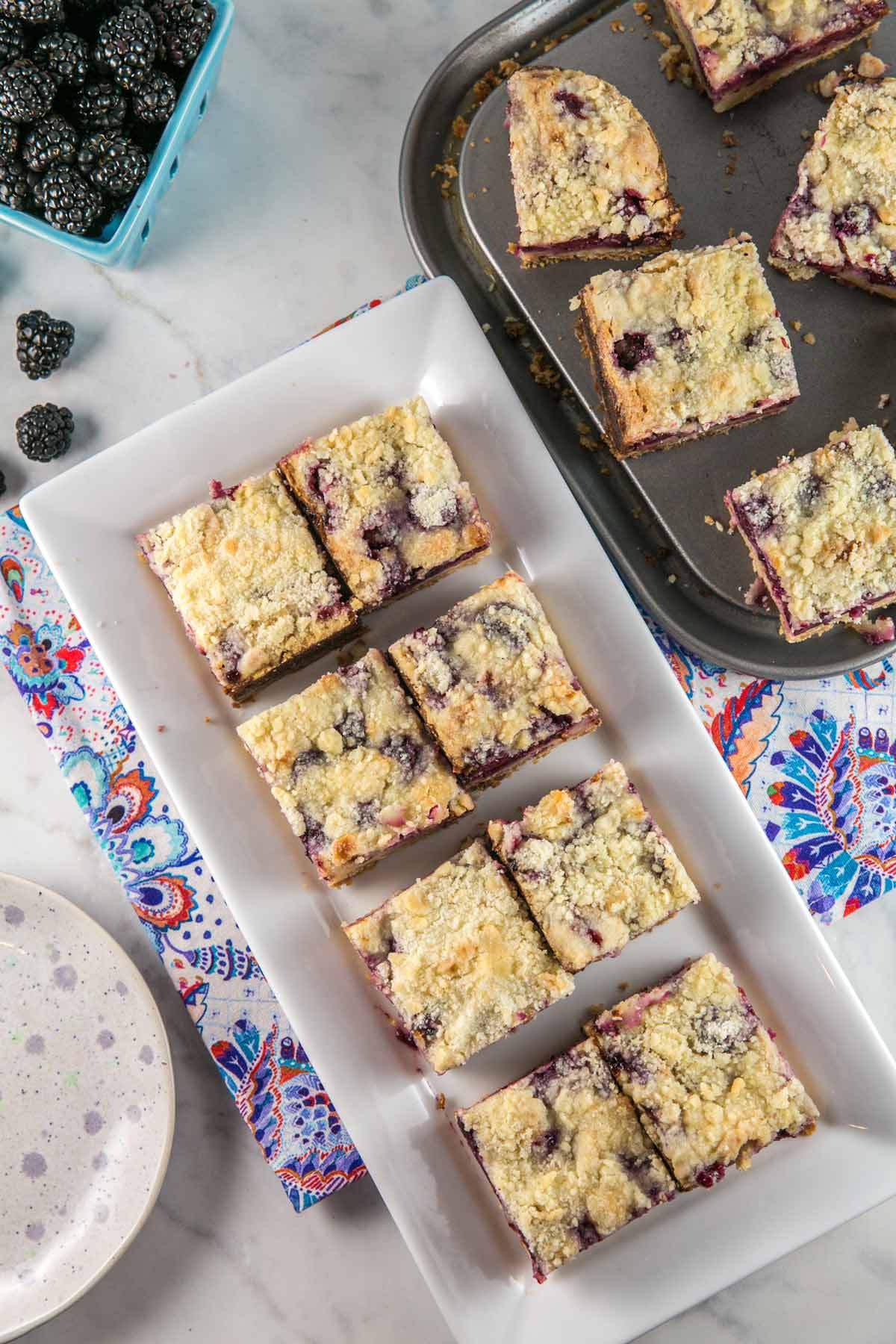 These blackberry pie bars were one of the first recipes ever posted on Bunsen Burner Bakery, allll the way back in August 2011.
They were getting a little lost back in the archives, so I thought it was time to spruce up the post a bit — new photos, a few recipe tweaks (I've learned a thing or two about baking over the past 8 years!), and some new tips and tricks before featuring them back on the front page.
Now that we're finding fresh blackberries in the stores again, it seemed like the perfect time to republish these easy blackberry pie bars. One thing that hasn't changed over the past 8 years: my love of fruit dessert and pies. These are still a favorite!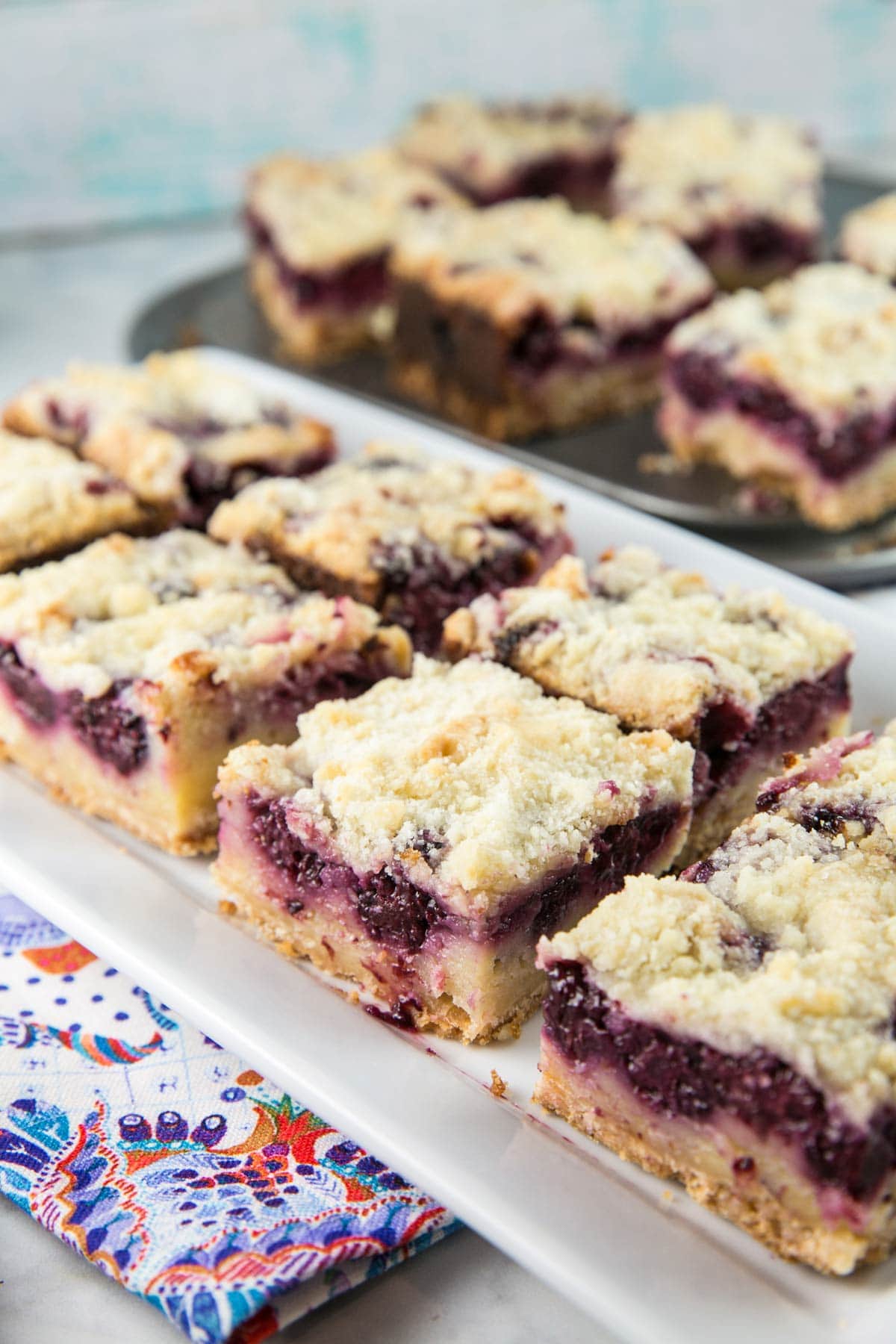 What are Pie Bars?
Pie bars take the best parts of pies: the crispy crust, the delicious fruit filling — and put them in dessert bar form! Easy to make, portable, and perfect for sharing!
I love rolling out pies. (Obviously — I did a yearlong series on pies last year!) But let's be honest: pie is not the best dessert to share with a crowd. At a sit-down dinner, sure — but to bring to an event where people might be milling around with a plate in one hand? Not so much.
Let's talk about what these pie bars bring to the table. A buttery crust? Check. A custard-like blackberry filling, combining the texture of a cream pie with the flavor of a fruit pie? Check. A crumble-like topping holding everything together? Check again!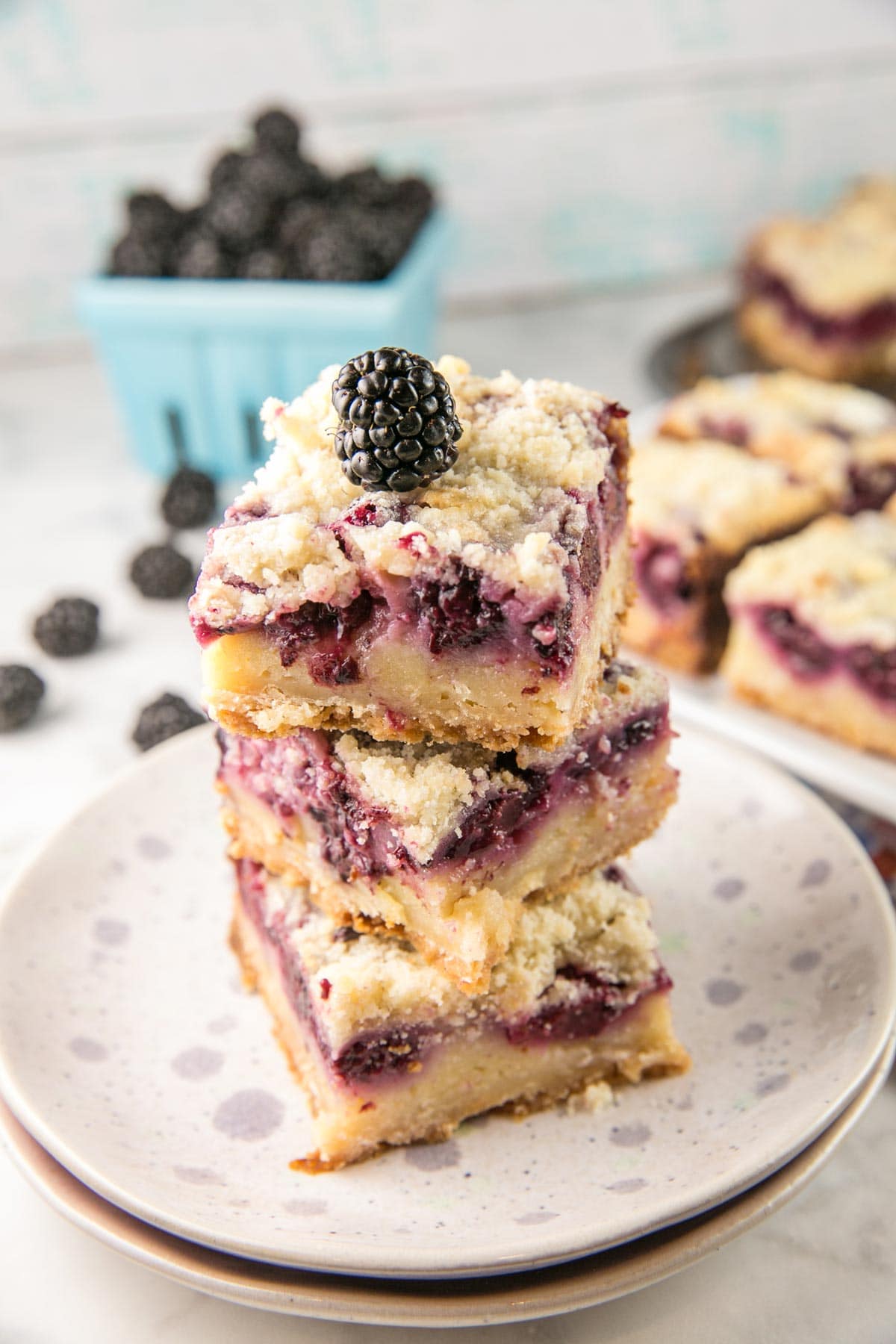 Shortbread Crust + Blackberry Custard
First up: the crust. It's an easy shortbread-style recipe, made by mixing ingredients together with a mixer. No cutting in butter, no rolling. Just mix together and press into the bottom of the pan.
We'll then par-bake the crust, meaning we'll bake the crust empty. This ensure the crust stays crisp and firm, even after we pour the liquid custard on top.
The filling for this custard is a starch-thickened custard, meaning the eggs are set with the help of a starch — in this case, flour. Why do we want to add starch to our custard for these blackbery pie bars? It's time for my favorite subject… kitchen chemistry!
Kitchen Chemistry

Adding starch (like flour) to a custard slows the coagulation of the egg proteins as they heat, preventing overcooking and curdling. A startch-thickened custard must reach a simmering point to properly denature the amylase enzyme in the egg yolks.
Using a starch-thickened custard allows us to bake the blackberry pie bars at a higher temperature. We can fully cook the crumble on top of the bars, but the filling stays nice and creamy. No curdling, no need for a water bath. It also makes the custard thicker — meaning we can slice these bars and the filling will hold its shape!
The custard is super easy to make, since we'll be cooking it in the oven and not on the stovetop. Whisk together eggs, sugar, sour cream, flour, lime juice, lime zest, and salt.
Lemon seems to be a common flavor to pair with blackberry desserts, but I love using lime instead. Lime is such a great flavor for summery desserts. Plus, blackberries and limes are such a good combination — hello, blackberry mojitos!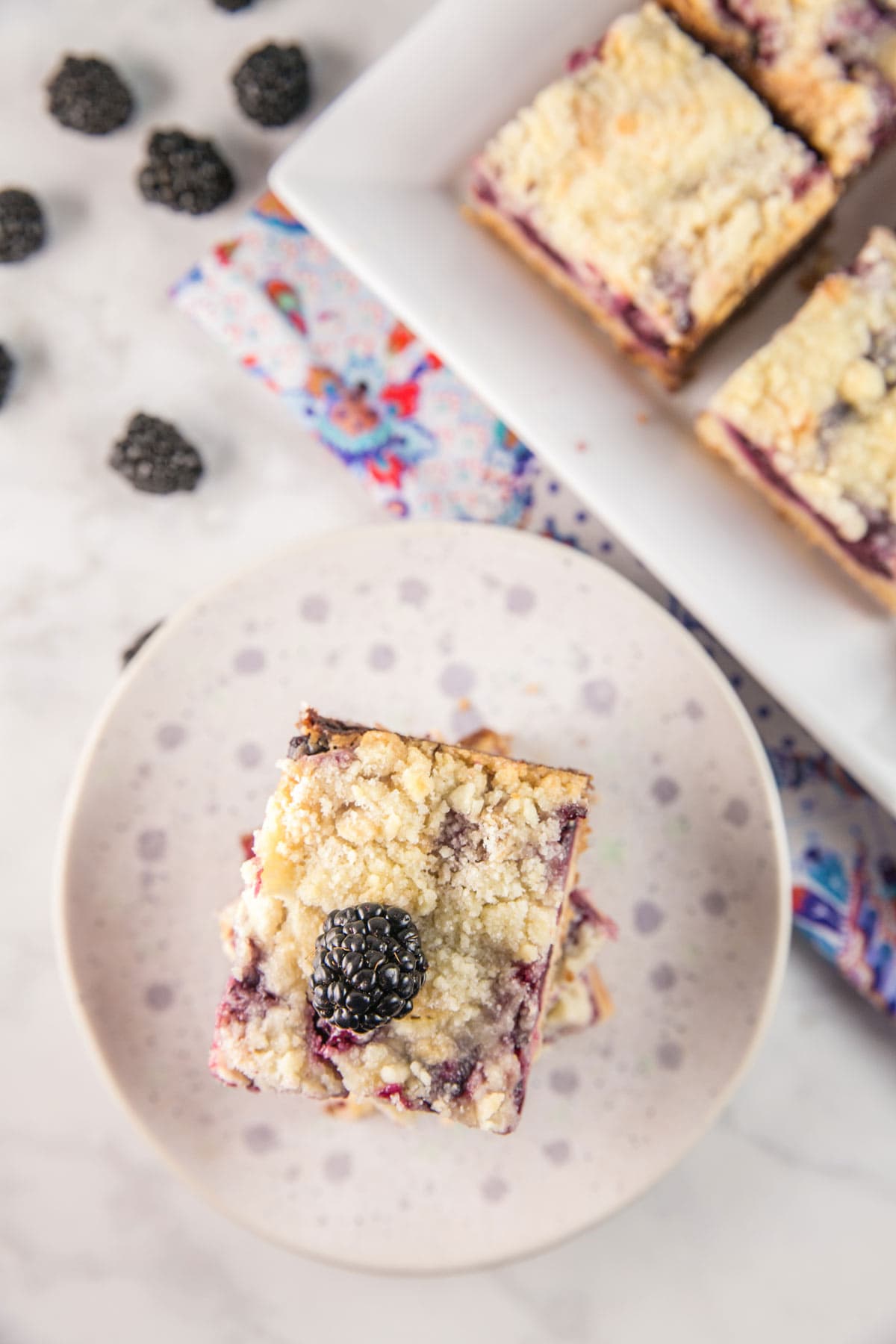 Fruit Substitutions
Two common questions: can you use frozen blackberries or can you substitute in other fruits? Yes and yes!
If you're using frozen blackberries instead of fresh, you'll want to thaw and drain the blackberries first.
As for other fruit substitutions: of course! Blueberries or raspberries are a natural swap. Strawberries work too, but you'll want to cut the strawberries down into pieces closer in size to a blackberry or blueberry.
I have not personally tried these with peaches, but I think using pieces of peaches would be a delicious option, too!
How to Store Blackberry Pie Bars
Because of the custard component, blackberry pie bars are best stored in the refrigerator. While these can be consumed at room temperature, we actually found that we like the flavor and texture best coming straight from the fridge.
Made too many? These blackberry pie bars freeze beautifully as well! Cut into individual bars, then wrap in plastic wrap followed by a layer of aluminum foil and store in an air-tight freezer bag. Thaw in the refrigerator before eating.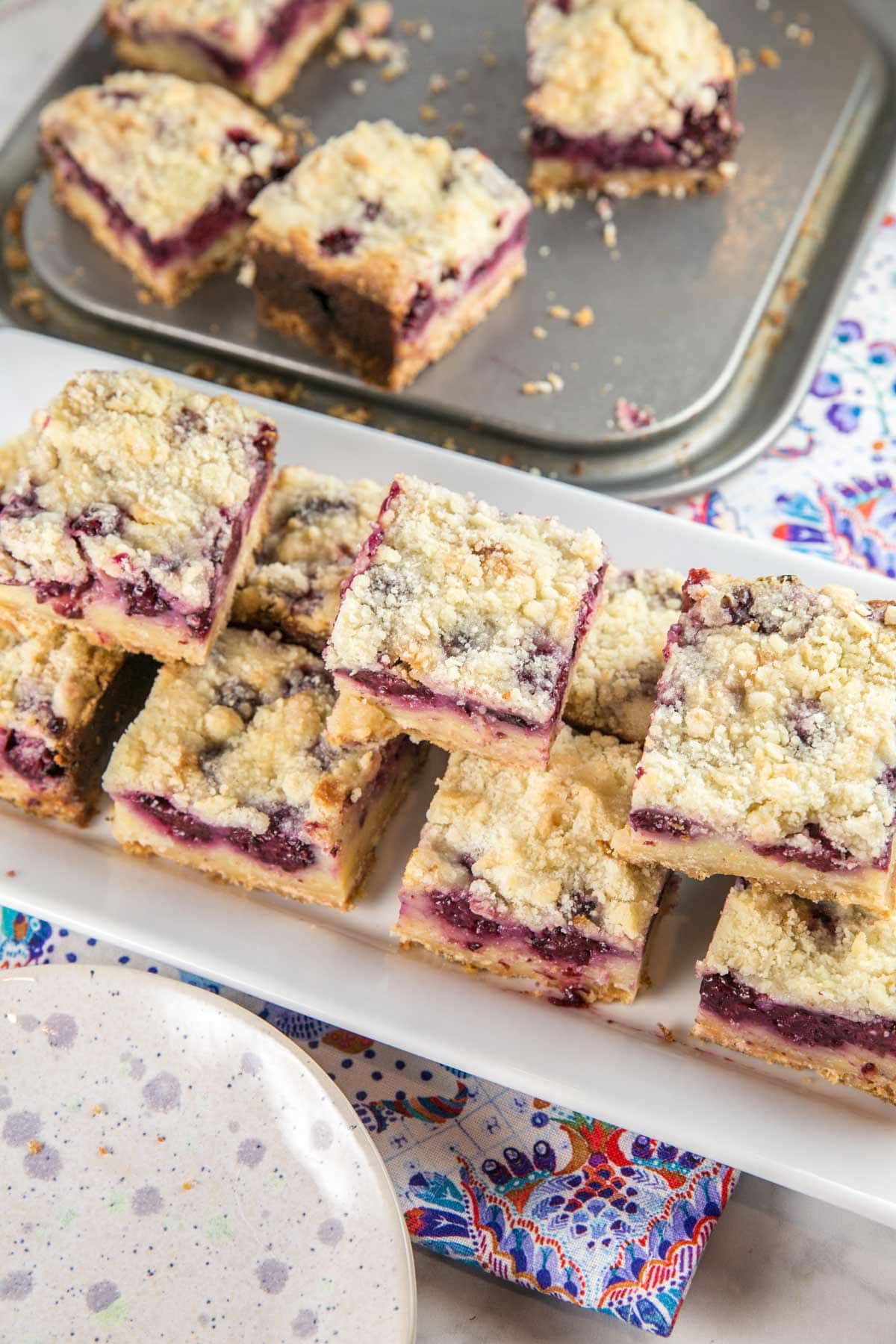 Tips and Tricks for Blackberry Pie Bars
If you're using frozen blackberries, thaw the berries and drain excess liquid first.  The easiest way to do this is thaw on a plate overnight in the refrigerator.
Ensure your butter is cold and cubed when making the crust and crumble topping. This will create a flakier texture.
To prevent a soggy bottom, prebake the crust for 15 minutes before adding the blackberry filling. This helps maintain a crisp texture.
After baking, allow the bars to sit for at least an hour before slicing.  This ensures the custard center will fully set.
These blackberry pie bars are extremely rich, so cut the bars into small pieces.  (All the better for sharing with more people!)
More Dessert Bar Recipes: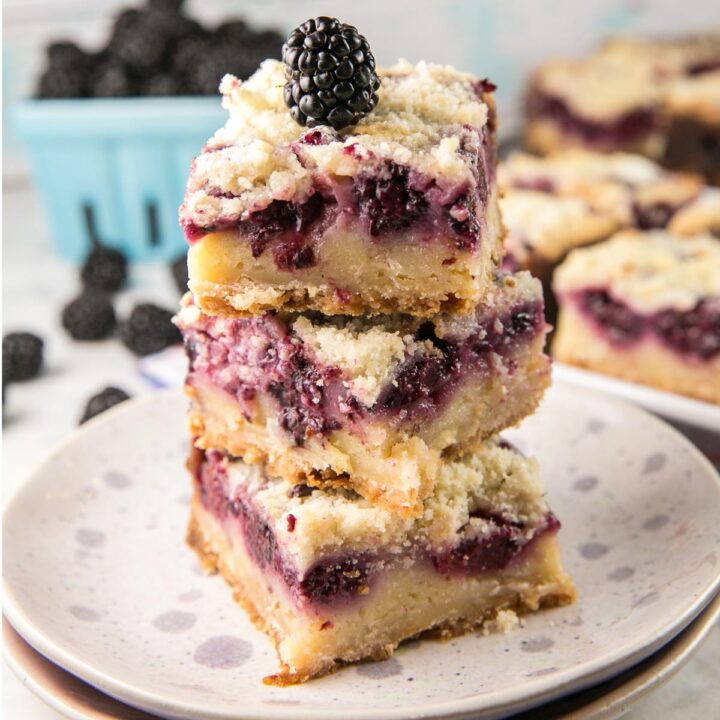 Blackberry Pie Bars
Total Time:
2 hours
10 minutes
Everything you love about blackberry pie, in an easy-to-make, easy-to-share, bar form.
Ingredients
FOR THE CRUST:
2 cups (240 grams) all-purpose flour
1 cup (198 grams) granulated sugar
1/4 teaspoon salt
1 cup (226 grams) unsalted butter, cold, cut into 1/2-inch cubes
FOR THE FILLING:
2 large eggs
3/4 cup (148 grams) granulated sugar
2/3 cup (151 grams) sour cream
1/2 cup (60 grams) all-purpose flour
1 1/2 tablespoons lime juice
zest of 1 lime
pinch salt
4 cups (approx. 2 pints) fresh blackberries
Instructions
Preheat the oven to 350 °F. Grease a 9x9-inch square baking dish.
To make the crust, combine the sugar, flour, salt, and butter in an electric mixer fitted with a paddle attachment. Beat the ingredients on medium speed until the mixture looks dry and crumbly.
Reserve 1 1/2 cups of the crust mixture to use as a topping. Press the remaining mixture into the bottom of the pan. Bake the crust for 12 to 15 minutes, until golden brown.
While crust is cooling, prepare the filling. Whisk the eggs in a large bowl and add the sugar, sour cream, flour, lime juice and zest, and salt. Fold in the blackberries.
Spread the mixture over the crust. Sprinkle the reserved crust mixture over the filling.
Bake for 45 to 55 minutes, until the top is lightly browned. Cool for 1 hour before slicing and serving.
Recommended Products
As an Amazon Associate and member of other affiliate programs, I earn from qualifying purchases.
Nutrition Information:
Yield:

16
Serving Size:

1 bar
Amount Per Serving:
Calories:

303
Total Fat:

14.4g
Carbohydrates:

41.2g
Protein:

3.6g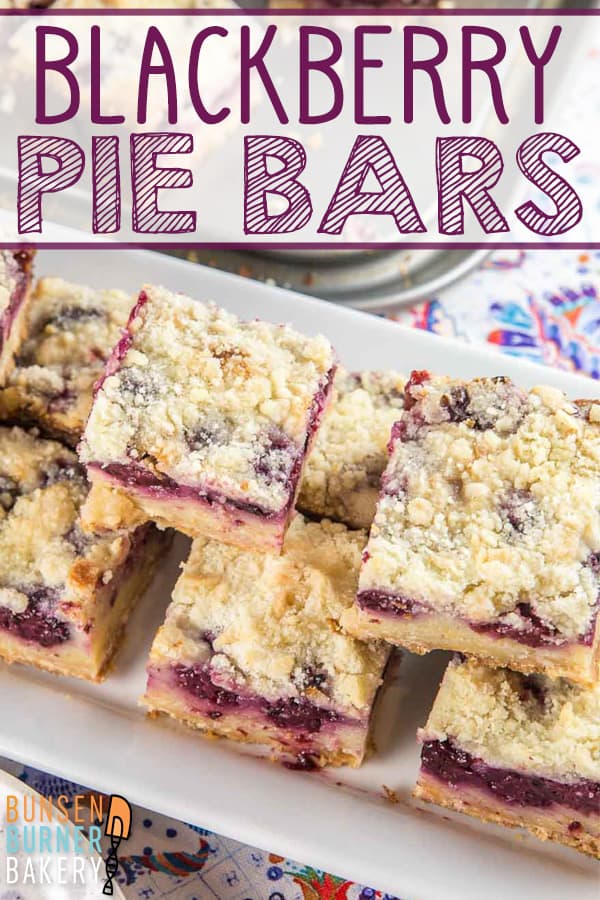 This recipe was originally published in August 2011 and republished with updated text and photos in June 2019.