July 30, 2018
Lemon Pie Bars
Goodbye, cakey or chewy lemon squares. These lemon pie bars are made with a creamy custard, jam packed with lemon flavor, on a crisp lemon shortbread crust.  The perfect combination of sweet-tart and creamy-crispy.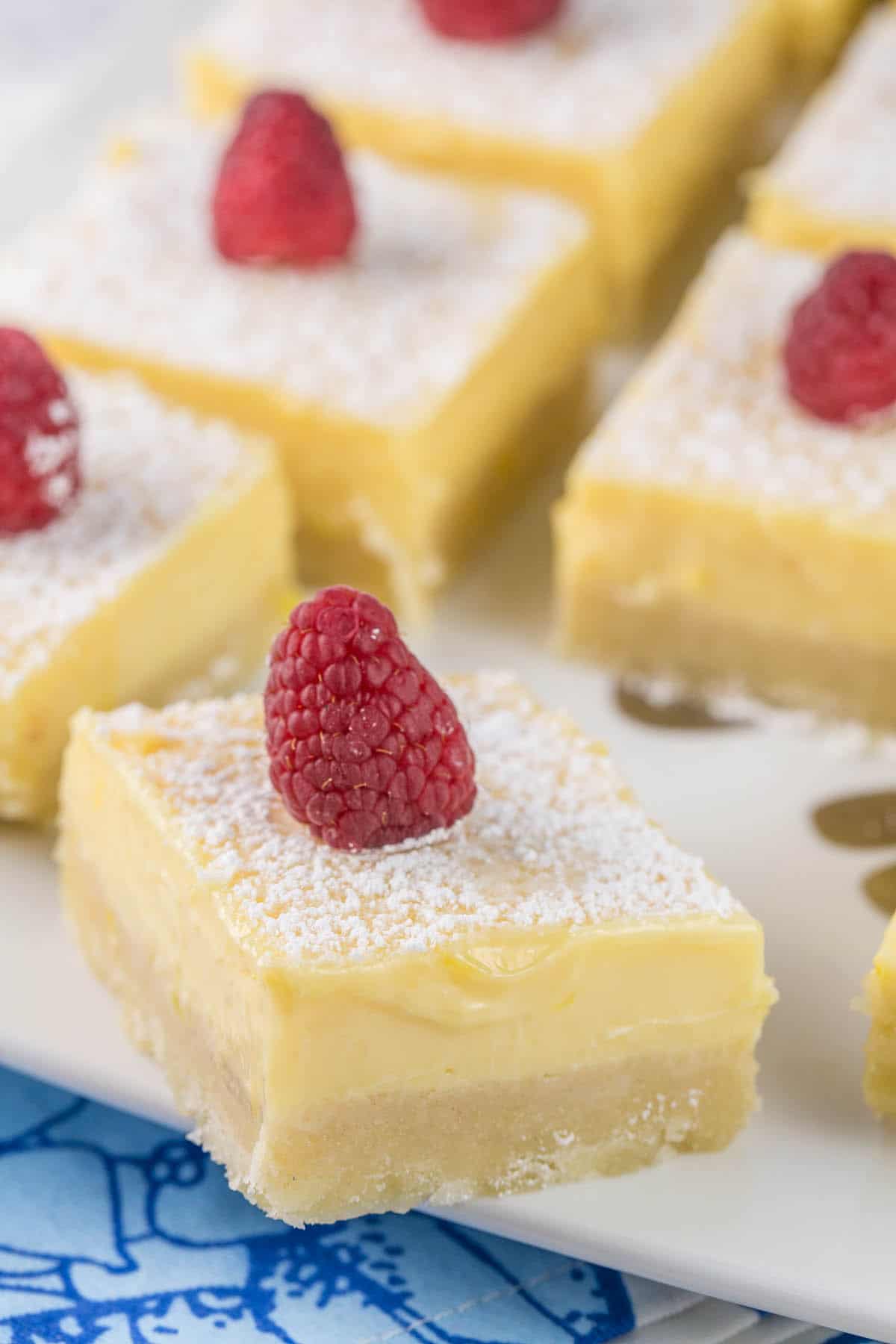 These aren't your standard lemon squares.  Lemon square are usually pretty flat.
There's a thin shortbread-ish crust, topped with a thin layer of flour-based lemon filling.  The flour (or sometimes cornstarch) helps to set the bars, but it also bakes into an often gummy-ish consistency.
Don't get me wrong: I love a good lemon dessert.  Lemon is quite possibly my favorite dessert flavor, and I will never turn down a lemon square.
But after finding a jar of lemon curd in the back of the refrigerator and spreading it on pancakes and waffles and everything in sight for a week or two, I wanted something better.
Something richer and smoother and softer, with more lemon flavor and more creaminess.  I wanted lemon curd, except thick enough to slice in a bar farm.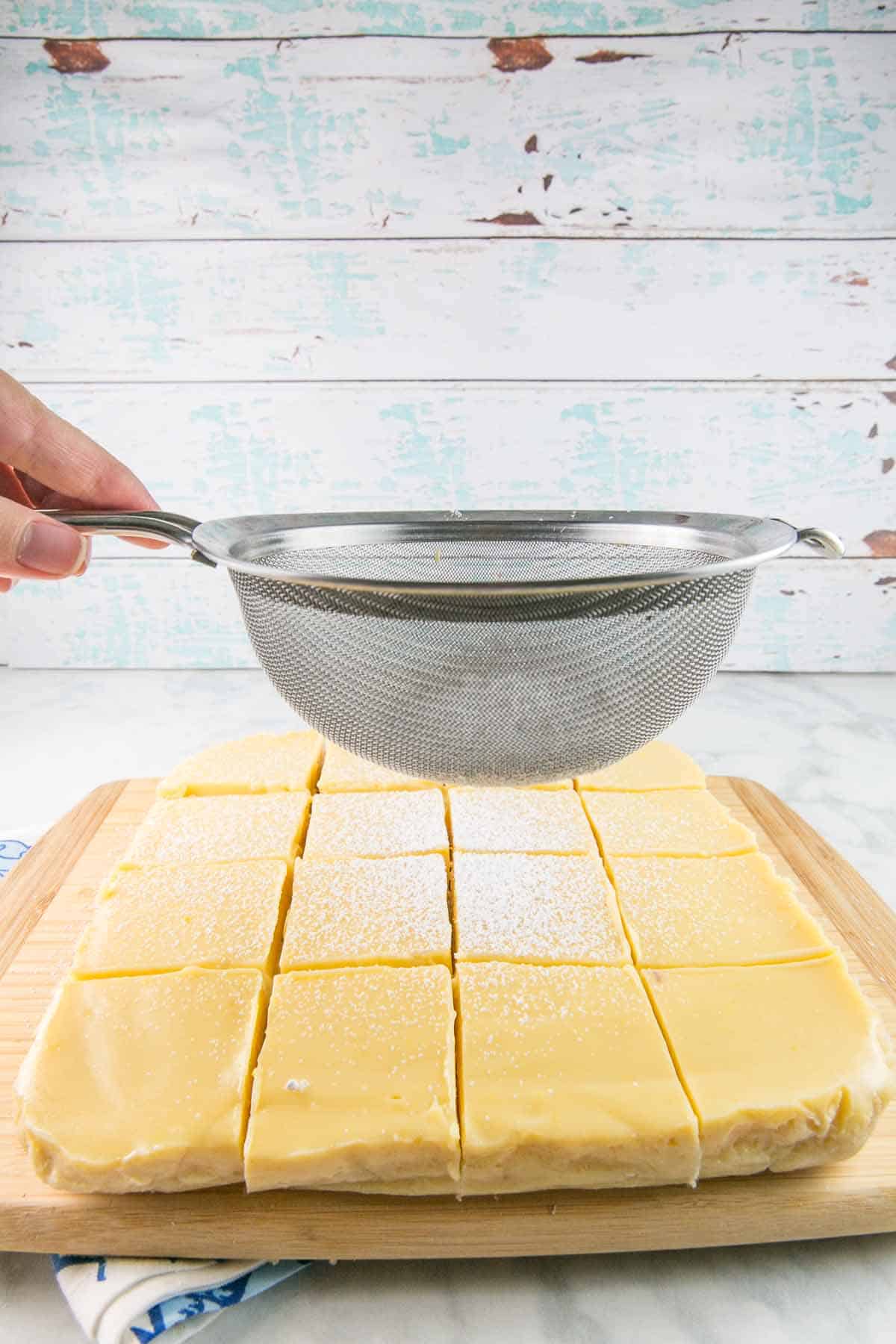 Then I realized what I really wanted was the creamy lemon pie I made earlier in this year.
Usually I make desserts, I enjoy a slice, and I pass the rest on to neighbors.  Except… I've kind of been thinking about that lemon pie nonstop since I made it in March.
(I edited the photos and wrote the post for that recipe while in the hospital with my newborn baby girl, so I will forever associate one of my favorite desserts I've made with her birth.  Very sweet — literally and figuratively.)
I wanted more of that lemon pie, and I wanted it in a hand-held bar form.  So that's exactly what I made — lemon pie bars, instead of classic lemon squares.
How to Make Extra Creamy Lemon Bars
Instead of a flour-based filling like most lemon squares, this has a soft custardy filling made from lemon juice, condensed milk, and egg yolk.  That's it.  (Well, and a little lemon zest, but you already need the lemons for the juice anyway.)
The egg yolk helps to 'set' the condensed milk and lemon juice as it cooks, resulting in a firm enough texture that you can slice the lemon pie bars.  The lemon pie filling stays soft and silky smooth, but is just stiff enough to give you a nice clean cut when you slice into the bars.
No oozing filling, but also no cake-like texture from too much baked flour.  It's as close to eating straight lemon curd as you can get in bar form!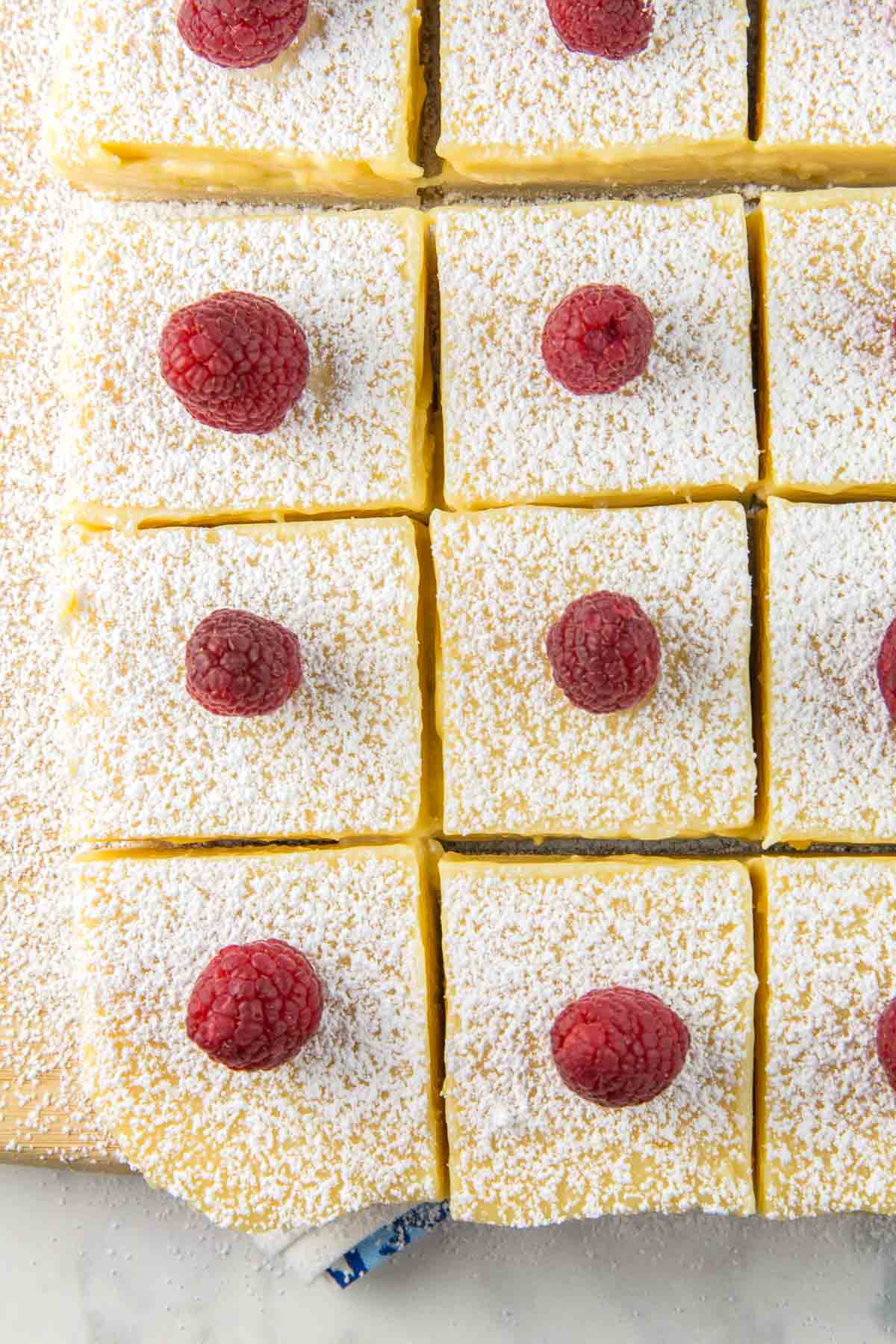 Lemon Pie Bar Crust
Instead of the graham cracker crust for the pie, I went with a shortbread crust with a little lemon zest.  As much as I loved the original graham cracker crust, it can be a little crumbly for a handheld food.  Plus, we want something that can last for a few days before getting too mushy.
One of the reasons I really like a shortbread crust is because it doesn't puff up too much as a base layer.  By skipping the classic creaming-together-butter-and-sugar step, we're not adding additional air and lift into the dough.  Instead, everything gets quickly mixed together in the food processor (or cut the butter in by hand), making these super simple.
I also like shortbread crusts because they're not too sweet — a nice contrast to the rich lemon pie filling.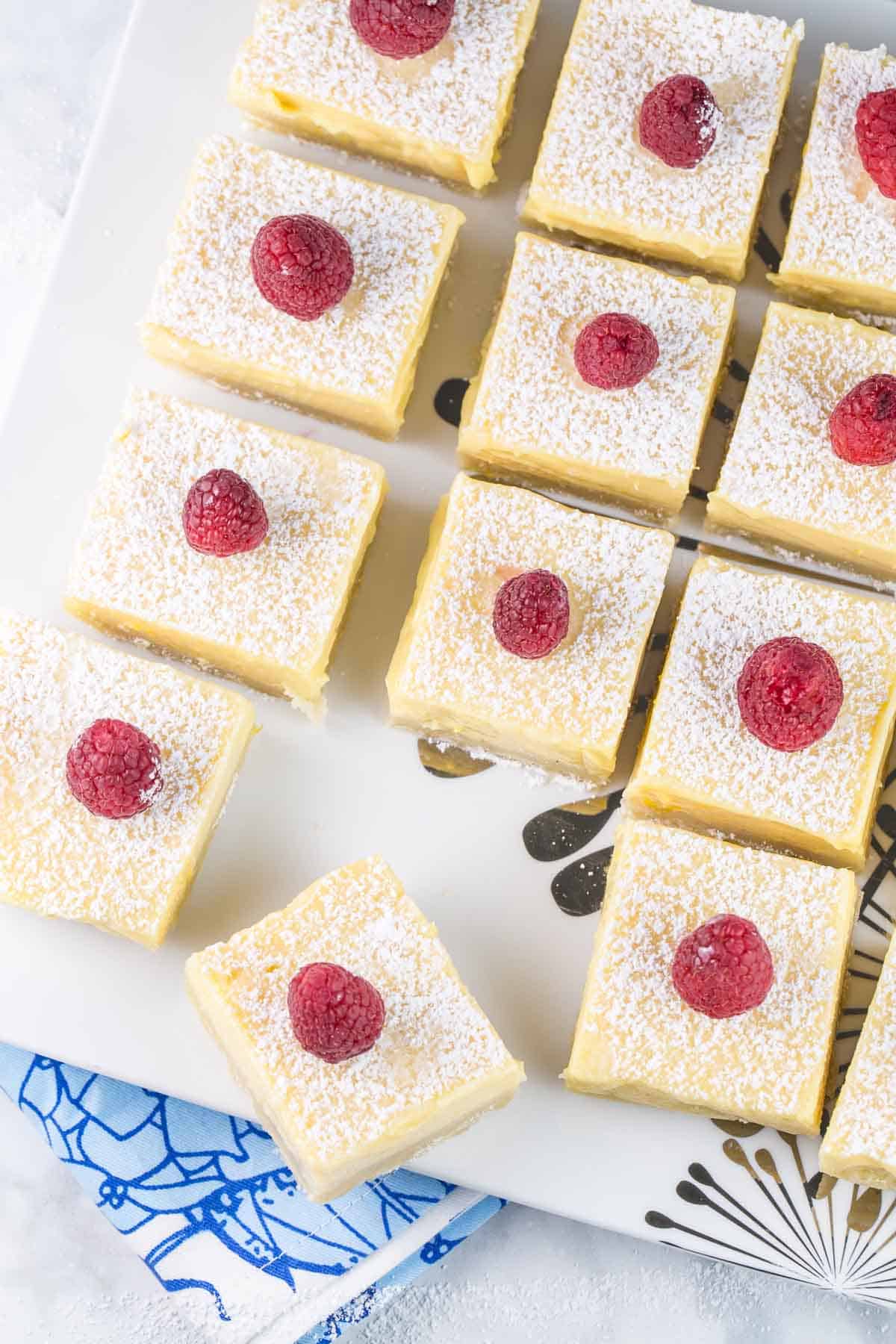 Serving Lemon Pie Bars
Unlike the actual lemon pie, lemon pie bars are best topped with a thorough dusting of confectioners sugar.  I mean, is it really a lemon bar without that beautiful coating?  Just wait until immediately before serving; the sugar will melt into the bars within a half hour or so!
I love the look of perfectly crisp lines outlined with a coating of powdered sugar, but if it's not your thing, go with a dollop of whipped cream.  Or some berries and sprig of mint.  Or naked – just let the delicious sweet-tart lemony goodness shine.
Love lemon desserts? Don't miss these lemon recipes!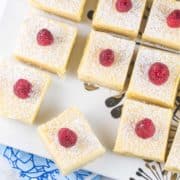 Lemon Pie Bars
These lemon pie bars are made with a creamy custard, jam packed with lemon flavor, on a crisp lemon shortbread crust.
Ingredients:
For the crust:
2 cups flour
1/2 cup confectioners sugar
1/2 teaspoon salt
1 cup (2 sticks) butter, cut into 1/2-inch pieces
zest of 1 lemon
For the filling:
2 (14 ounce) cans full-fat sweetened condensed milk
3/4 cup freshly squeezed lemon juice (about 4 lemons)
zest of 1 lemon
4 large egg yolks
optional garnish: confectioners sugar, freshly whipped cream, additional lemon slices, raspberries
Directions:
Preheat oven to 350 °F.  Line a 9×9-inch square pan with aluminum foil, then lightly grease.
Add the flour, sugar, and salt to the bowl of a food processor and pulse several times to combine.  Add the butter and lemon zest and continue to pulse in short, one second bursts, until the mixture resembles coarse sand.  (Alternatively: whisk together ingredients and cut butter into the dough with two knives.)
Spread the shortbread crust into the prepared pan, pressing the crumbly dough down with a heavy glass, until dough forms an even layer across the pan.  Bake for 12 minutes, then remove from the oven.
While the crust bakes, prepare the lemon pie filling.  In a large bowl, whisk together the sweetened condensed milk, lemon juice, lemon zest, and egg yolks until well combined.  Pour into partially baked crust
Return the baking pan into the oven and bake until the filling is set, 20-25 minutes.  Cool completely at room temperature, then transfer to the refrigerator for 1-2 hours, or overnight, until bars are set.
Cut bars into squares and top with additional confectioners sugar immediately before serving.
A Bunsen Burner Bakery Original Protocol