July 16, 2018
Gooey S'mores Bars
A crunchy graham cracker cookie crust, melted chocolate, and sticky marshmallows make these Gooey S'mores Bars the perfect portable version of your favorite childhood summer treat.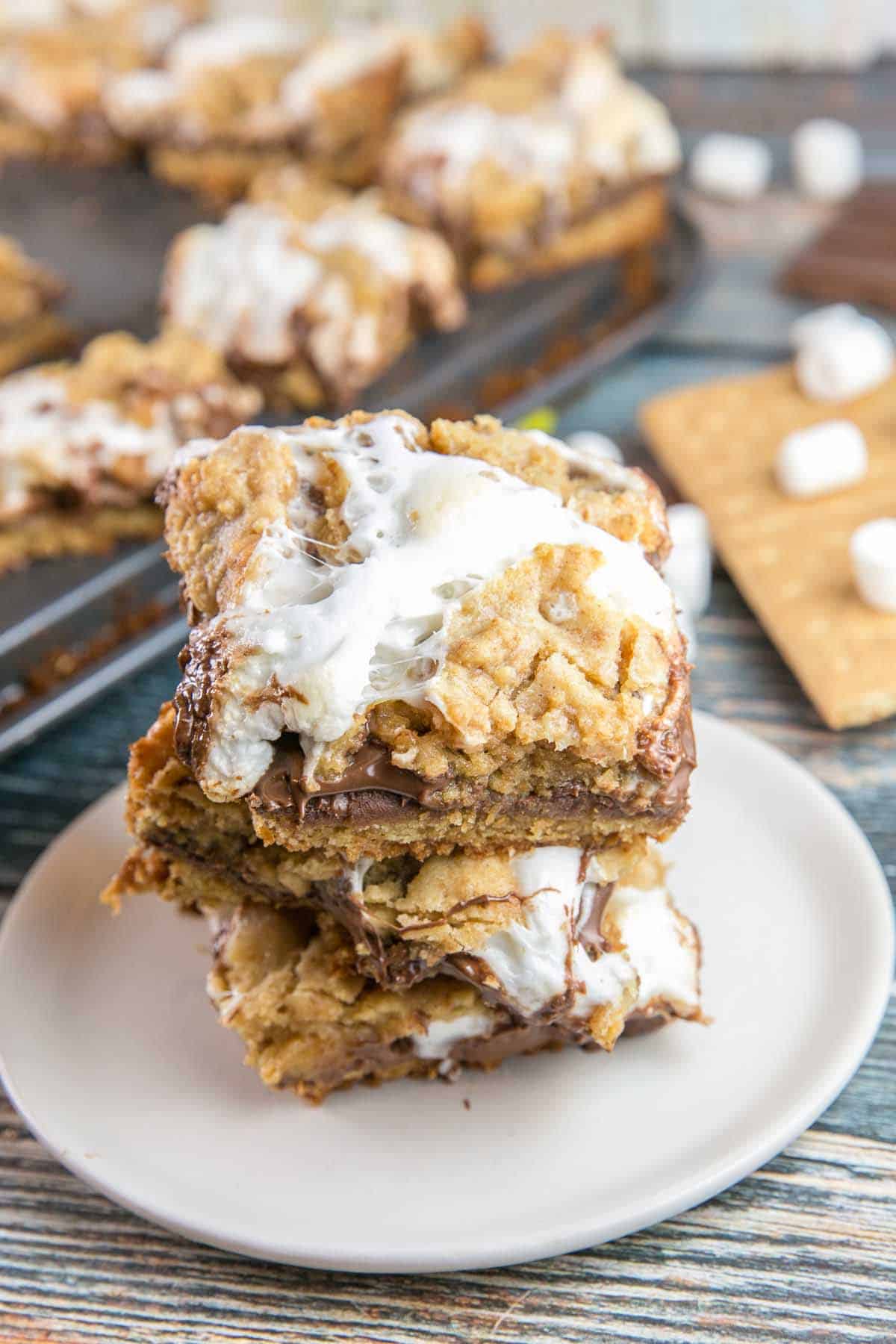 It's time to admit something. I might have a teeny tiny addiction to everything s'mores flavored.
I don't know what it is, but something about that melted chocolate + charred gooey marshmallow combination is totally irresistible.
Maybe it's nostalgia from my many summers spent at overnight camp. Perhaps it's getting to feel like a kid again, despite being very much not a kid, with two children of my own.
Or really, it could just be because s'mores are universally adored because graham crackers + marshmallows + chocolate is the best combination, ever.
Regardless, this is the first of not one, not two, but three s'mores-themed desserts I have in the queue for this summer. Like I said, I can't help it!
First up, we have these ooey gooey s'mores bars. It's basically everything you love about a s'more, except you can make it ahead of time, in your oven, any time of year.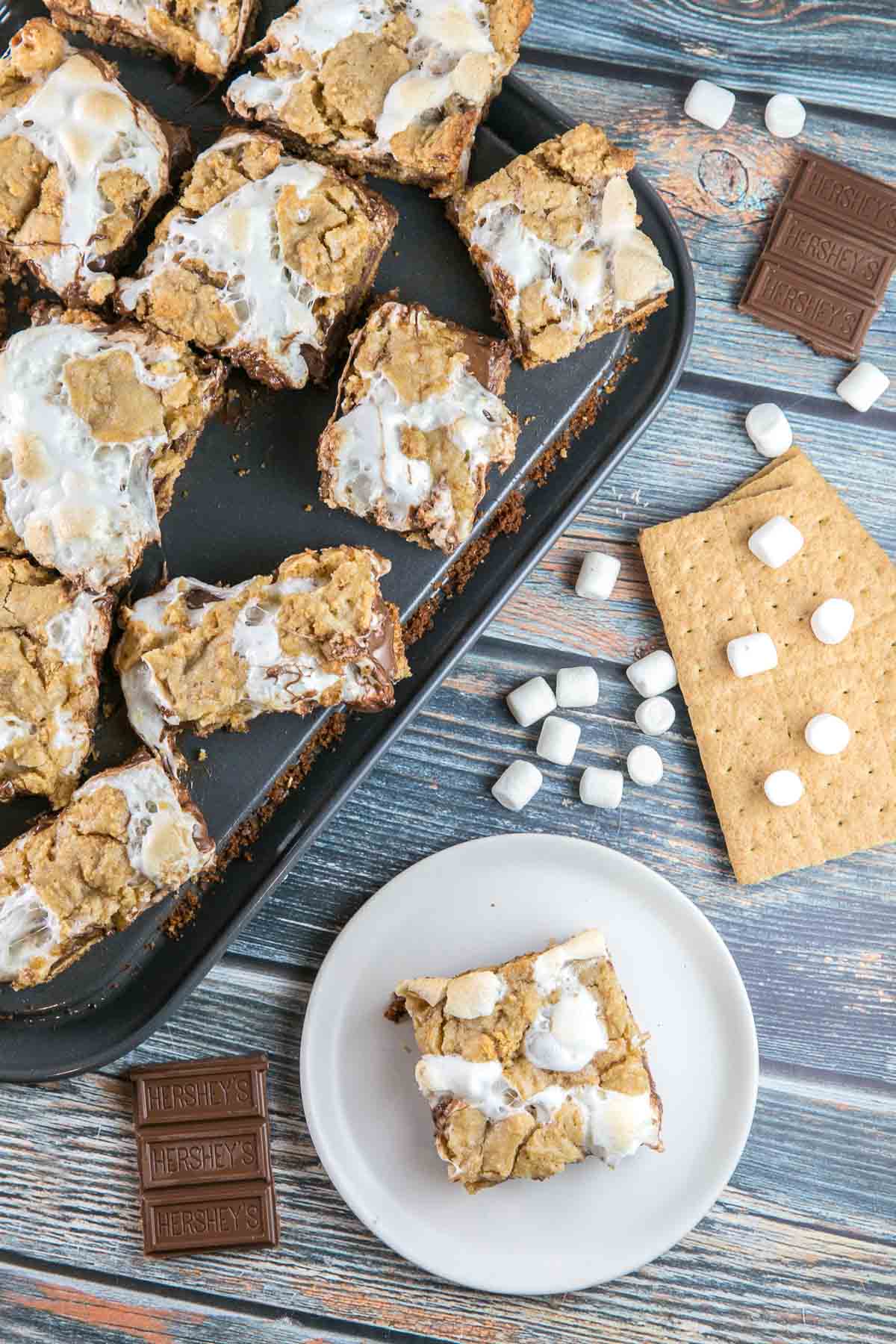 Four Gooey S'mores Layers
Just like a s'more has four layers, so do these s'mores bars.
Graham Cracker Crust: The bottom layer of our s'mores bars is a graham cracker cookie-based crust, pressed down into the bottom of a 9×13-inch pan. Bake this first to get a nice crispy base — something sturdy to hold, and a little crunchy like a graham cracker.
Melted Chocolate: Super simple — all you're going to do is place chocolate bars on top of the baked crust layer. You can, of course, use dark chocolate for a more grownup s'mores bar, but I went with good old-fashioned milk chocolate Hershey bars.
Mini Marshmallows: You'll want to go small here — jumbo marshmallows won't give an even surface coverage and sit so tall, they won't develop that gooey, stringy texture you expect from a s'more.
More Graham Cracker Crust: Unlike a true s'more, this isn't a full covering. Just take some of the reserved crust and drop it on top. As it bakes, it will spread enough to provide some covered spots to hold your s'mores bar without grabbing it by the sticky marshmallows.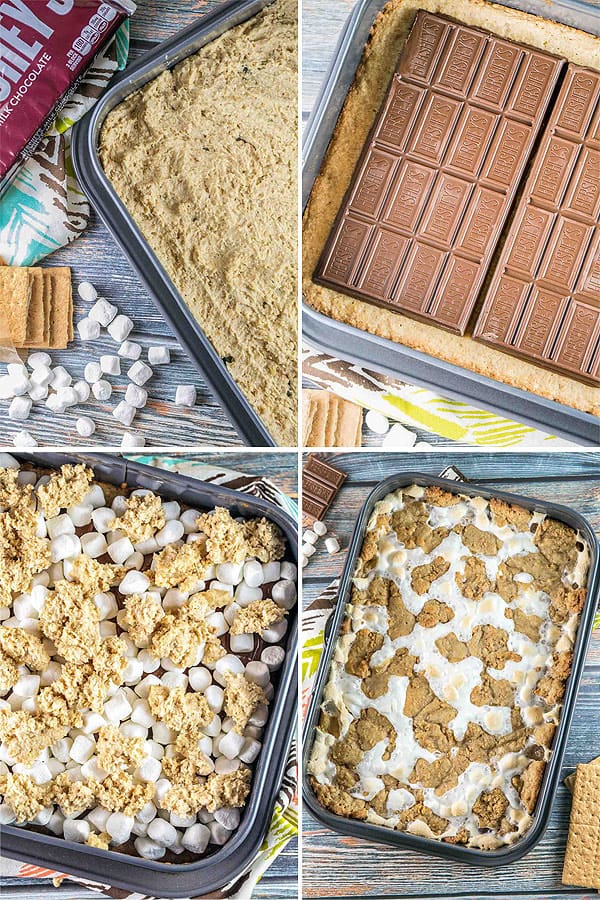 Parbake Before Adding Marshmallows
These s'mores bars have two baking steps. First, layer roughly two-thirds of the dough in the pan and bake until the dough is set and slightly cooked through.
Then add the chocolate and marshmallow and top with crumbles of the remaining graham cracker cookie dough base.
Why do we do this in two layers? It's time for my favorite subject… kitchen chemistry!
Kitchen Chemistry

Store-bought marshmallows contain gelatin, which melts at 104 °F. As the marshmallows heat, they expand, creating holes in the structure of the cake or cookies. As the sugar melts, it absorbs into the cake batter, resulting in sugary-lined holes in the cake.
While brownies or cakes with sugary lined holes can be delicious, it's not what we want for our s'mores bars. We want a clear distinct layer of marshmallow!
So we'll bake the bottom of the bars first to set the structure and then add the chocolate and marshmallows. The marshmallows will heat up enough to melt into a flat, gooey layer, but not so much that they melt into the cookie base and disappear!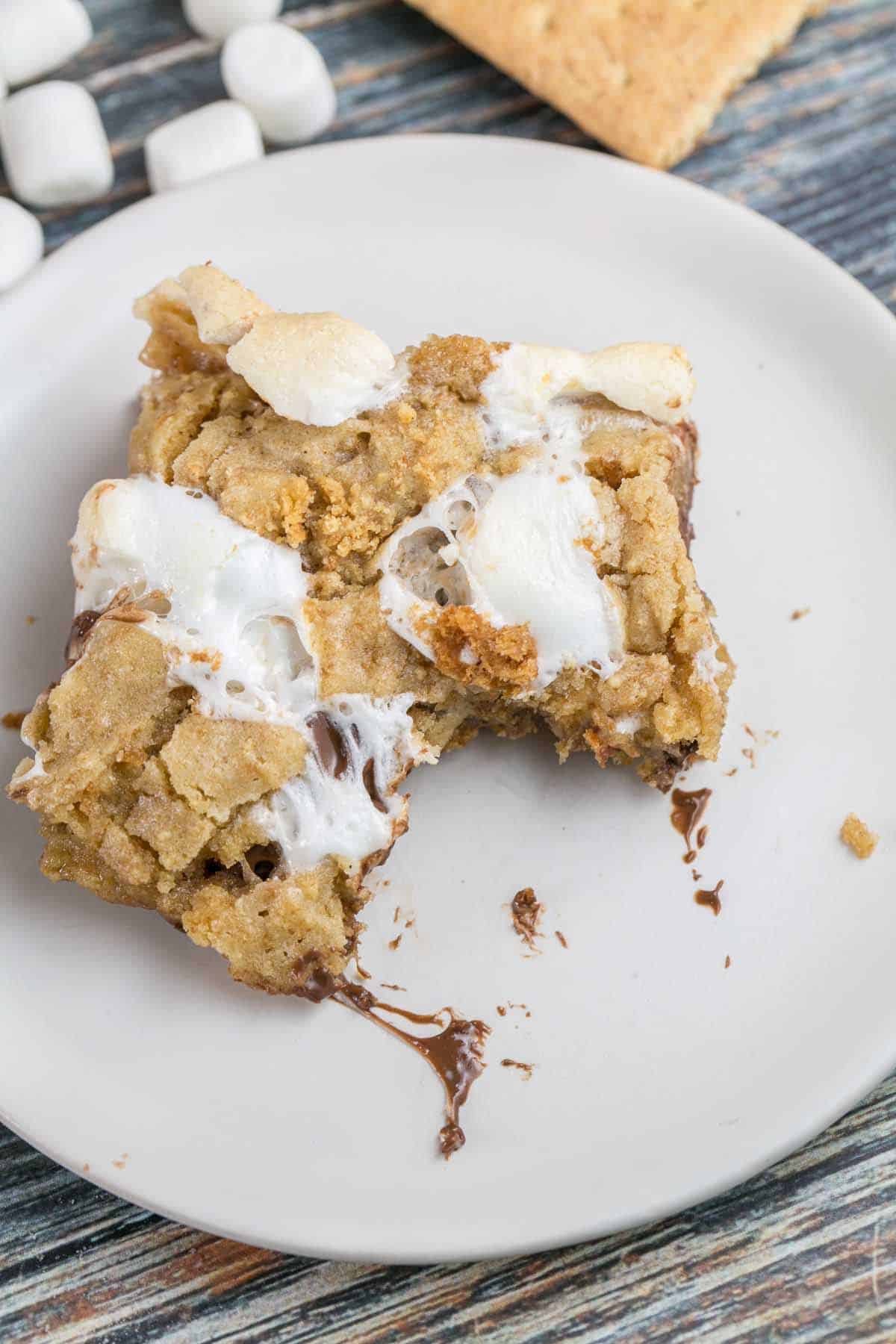 Tips and Tricks for the Best S'mores Bars
Crush the graham crackers into tiny crumbs. This imparts graham cracker flavor into the base while maintaining the perfect texture without large pieces of graham crackers.
Use miniature marshmallows, or cut large marshmallows into small pieces. Jumbo marshmallows are too tall! They won't melt into an even, gooey layer, and the graham cracker cookie topping will just fall between the marshmallows rather than create a layer on top.
For a browned, toasted appearance, pop the s'mores bars under the broiler for 2-3 minutes to add a little additional color.
Wait until s'mores bars are fully cooled before slicing – otherwise, your knife will get stuck in the melted marshmallow layer!
More S'mores Desserts: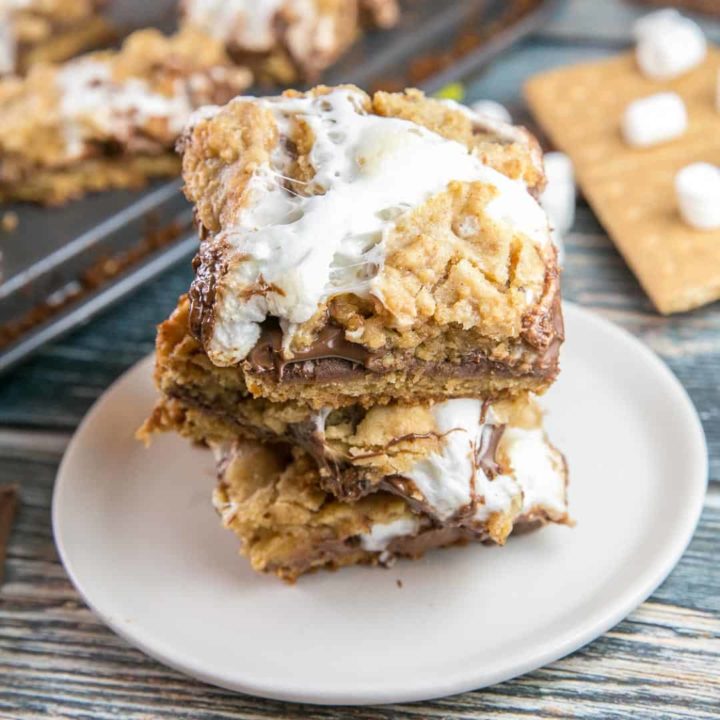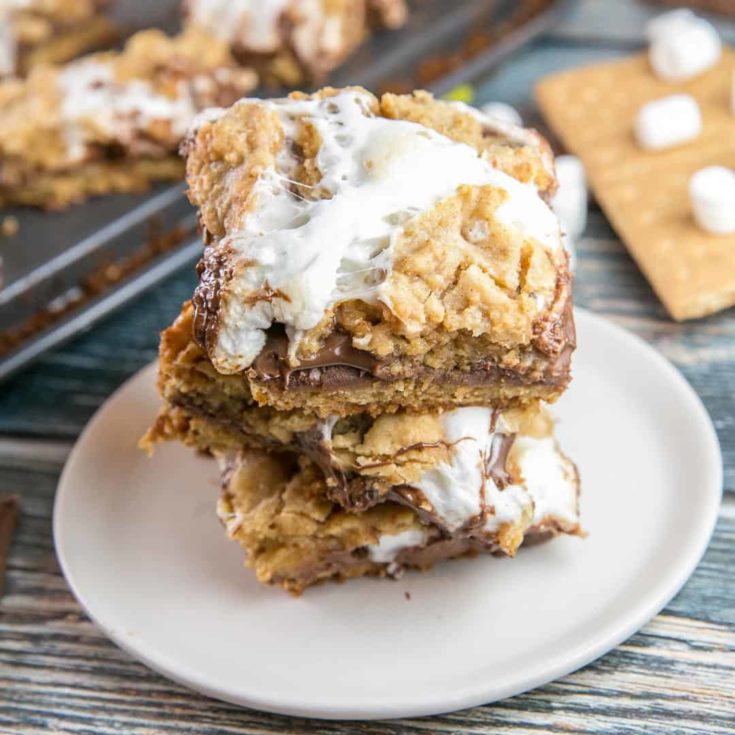 Gooey S'mores Bars
A crunchy graham cracker cookie crust, melted chocolate, and sticky marshmallows make these gooey s'mores bars a portable version of a classic summer treat.
Ingredients
1 cup (226 grams) unsalted butter, room temperature
1 cup (198 grams) sugar
1/2 cup (106 grams) brown sugar
2 large eggs, room temperature
2 teaspoons vanilla extract
2 cups (240 grams) all-purpose flour
2 teaspoons baking powder
1 teaspoon salt
2 cups (250 grams) graham cracker crumbs (approximately 12 full graham crackers)
3 7-ounce chocolate bars
1 10-ounce bag miniature marshmallows
Instructions
Preheat oven to 350 °F. Grease a 9 x 13-inch baking dish with cooking spray.
Using an electric mixer on medium speed, beat together butter, sugar, and brown sugar until light and fluffy, 3 to 4 minutes. Add in the eggs, one at a time, beating after each addition, followed by the vanilla extract. Slowly add in the flour, baking powder, and salt, continuing to beat and scraping down the sides of the bowl. Add in the graham cracker crumbs, mixing until just combined.
Press approximately two-thirds of the dough into the bottom of the prepared dish. The dough will be very sticky; press down into the corners using the bottom of a well-greased measuring cup or glass. Chill the remaining dough.
Bake for 15 minutes. Remove pan from oven. Layer the chocolate bars on top of the crust, followed by the miniature marshmallows. Drop the remaining graham cracker cookie base on top of the dough in spoonfuls.
Bake an additional 10-15 minutes, until marshmallows are puffy and clumps of dough are fully cooked. Remove from the oven and cool completely before slicing.
Notes
For even toasting, use miniature marshmallows or cut large marshmallows into small pieces.
For a browned, toasted appearance, pop the s'mores bars under the broiler for 2-3 minutes if desired.
S'mores bars can be stored at room temperature for up to 5 days or frozen for up to 3 months.
Recommended Products
As an Amazon Associate and member of other affiliate programs, I earn from qualifying purchases.
Nutrition Information:
Yield:

20
Serving Size:

1 bar
Amount Per Serving:
Calories:

439
Total Fat:

20.0g
Carbohydrates:

61.4g
Protein:

4.3g