August 27, 2018
S'mores Cookie Cake
A graham cracker-based cookie cake, covered with a layer of melted milk chocolate and toasted s'mores, this S'mores Cookie Cake is just like the real deal. No campfire necessary — make this nostalgic childhood treat anytime in your own oven!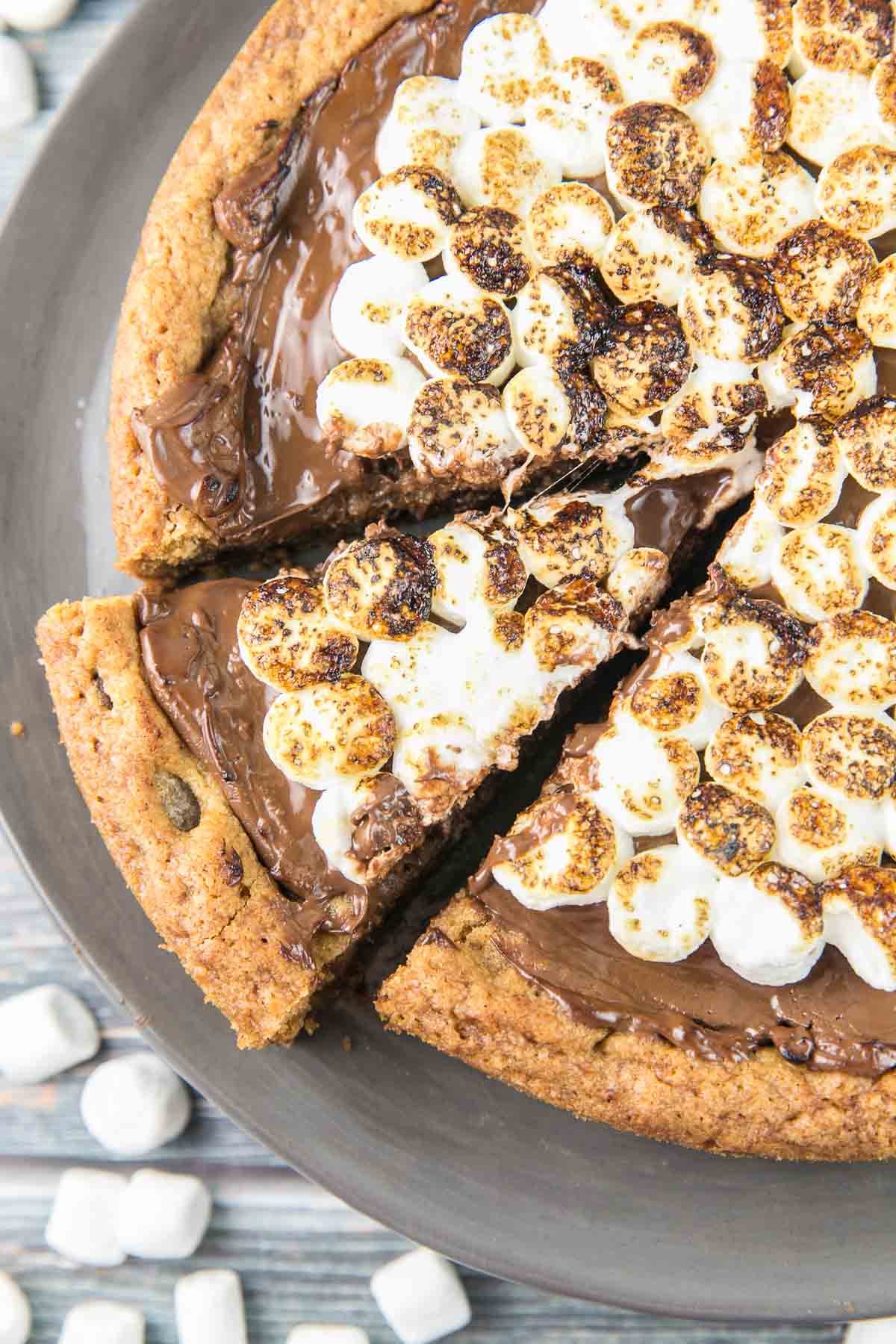 (This post contains affiliate links. If you make a purchase through one, I receive a small commission. For more information, please refer to my privacy policy.)
Labor Day is next week. Can you even believe it? Yes, yes, summer techincally goes until September 21st, but for all intents and purposes, what we think of as summer really ends with Labor Day. The last hoorah.
So even though I've already shared two other s'mores desserts with you this summer (gooey s'mores bars and s'mores pie), we're sending out summer with one more. Because you can never have too many s'mores.
How to Make S'mores Cookie Cake
Let's get right into the nitty gritty of how to make this s'mores cookie cake. It starts with an easy chocolate chip cookie cake, except we're replacing some of the regular flour with graham cracker crumbs. That's right — because every good s'more starts with a graham cracker! We'll also toss some chocolate chips into the cookie cake base, because if you like a s'more, you're bound to also like a little extra chocolate in the cookie part.
I like to bake this in a springform pan — this 9″ Nordic Ware springform pan is my favorite. The springform pan allows yu to easily remove the sides with no risk of the cookie cake falling apart. But if you don't have a springform pan, a 9″ cake pan or pie plate works, too!
Once the cookie cake is done baking, immediately add some milk chocolate to the top of the cake. You can, of course, use semisweet or dark chocolate, but since this is replicating the s'mores straight out of my childhood, I always use Hershey's milk chocolate. The heat from the cookie will melt the chocolate within a minute or two. Grab a knife or an offset spatula and spread around the chocolate out towards the edges.
Let the chocolate cool for a few minutes, then top with marshmallows and toast away!
How to Toast Marshmallows
There are a couple of options here for getting marshmallows toasted, depending on what you have available and how toasty you like your marshamallows.
Using the broiler of your oven. This is probably the easiest way, since most ovens come with a broiler. Put the cookie cake 5-6″ underneath the broiler and slowly move the pan from side to side to ensure even toasting. This ensures a nice golden, even toasty color.
Kitchen torch/welding torch. This is definitely the most fun way, since it involves FIRE! Kitchen torches, also called creme brûlée torches, have a very moderate flame and will allow you to get a nice golden color. A full on soldering torch, like what I use, has a pretty intense flame, and will result in marshmallows bordering on fully charred (which is just the way I personally love them).
Long-Reach Butane Lighter. You know, the long stick-like lighters people use to light birthday candles? I've used these before to toast meringue frosting on a s'mores layer cake. Just be prepared for this to take a long time because the flame is so small. But you won't run the risk of burning your marshmallows – it's just not a strong enough flame.
While we're talking about toasting marshmallows, why do they toast and burn anyway? It's time for a little… kitchen chemistry!
Kitchen Chemistry

Marshmallows are made predominantly out of sugar, which is composed of carbon, hydrogen, and oxygen. Carbon, hydrogen, and oxygen are the primary components of… you guessed it.. fuel! So basically, marshmallow is a piece of fuel, just waiting to catch fire and burn. If you keep the flames at bay and instead toast a marshmallow over the heat, the sugar begins to caramelize, which results in that nice toasty brown color and flavor. This heat also breaks down the chemical bonds of the gelatin in the marshmallows, which is why toasted marshmallows turn deliciously gooey as they melt.
A soft, pillowy graham cracker chocolate chip cookie cake. A thick layer of melted milk chocolate. Toasted (or burnt – your choice!) marshmallows. Yep – this s'mores cookie cake is the perfect way to send out another great summer.
Next step: apple pie, pumpkin bread, and all things fall!
More S'mores Desserts:
S'mores Cookie Cake
A graham cracker-based cookie cake, covered with a layer of melted milk chocolate and toasted s'mores, this S'mores Cookie Cake is just like the real deal.  
Ingredients:
1/2 cup unsalted butter, room temperature
3/4 cup brown sugar, packed
1 egg, room temperature
1 teaspoon vanilla extract
1 cup all-purpose flour
1 cup graham cracker crumbs (approximately 7 full-sized sheets)
1/2 teaspoon baking powder
1/2 teaspoon salt
1/2 cup semisweet chocolate chips
10 ounces milk chocolate
1 1/2 cups miniature marshmallows
Directions:
Preheat oven to 350 °F.  spray a 9″ springform pan (or cake pan or pie plate) with nonstick cooking spray.
Using an electric mixer, cream together the butter and sugar until light and fluffy.  Add in the egg and vanilla, continuing to beat together until well combined.  Slowly mix in the flour, graham cracker crumbs, baking powder, and salt until just combined, scraping down the sides of the bowl.  Mix in the chocolate chips by hand.
Transfer the dough into the prepared baking dish.  Bake for 25 minutes, or until the top is golden brown and the dough is set.  Remove from the oven and cover with the milk chocolate.  Allow the chocolate to sit for 2-3 minutes to soften, then spread in an even layer using a knife or offset spatula.  Allow the cookie to cool for at least 1 hour.
Before serving, top with the miniature marshmallows.  Toast marshmallows using either a broiler or a kitchen torch, until desired doneness.
A Bunsen Burner Bakery Original Protocol