May 28, 2020
Cheesy Jalapeño Chicken Skillet
Looking for a fast and easy one pan dinner? This 30-minute Cheesy Jalapeño Chicken Skillet fits the bill!  A little spicy, a little cheesy, a little creamy, and a whole lot of deliciousness!
Let's take a break from all the desserts and baked goods (hello, caramel pecan turtle brownies!) to share an incredible savory recipe that's perfect for a quick and easy weeknight dinner.  Here's what we love so much about this cheesy jalapeño chicken skillet:
One pan. Under 30 minutes. Serve with a simple salad or roasted broccoli for an easy, fast dinner. Done.
We are allllllll about quick and easy dinners right now.  Working full time from home while watching kids?  I need to maximize the amount of time I have to work and minimize the amount of time standing over the stove.
And this cheesy jalapeño chicken skillet totally fits the bill.
This one-pan wonder is a delightful combination of spicy, cheesy, and creamy flavors, making it an instant family favorite. Plus, it's ready in just 30 minutes, so you can whip it up any day of the week without breaking a sweat.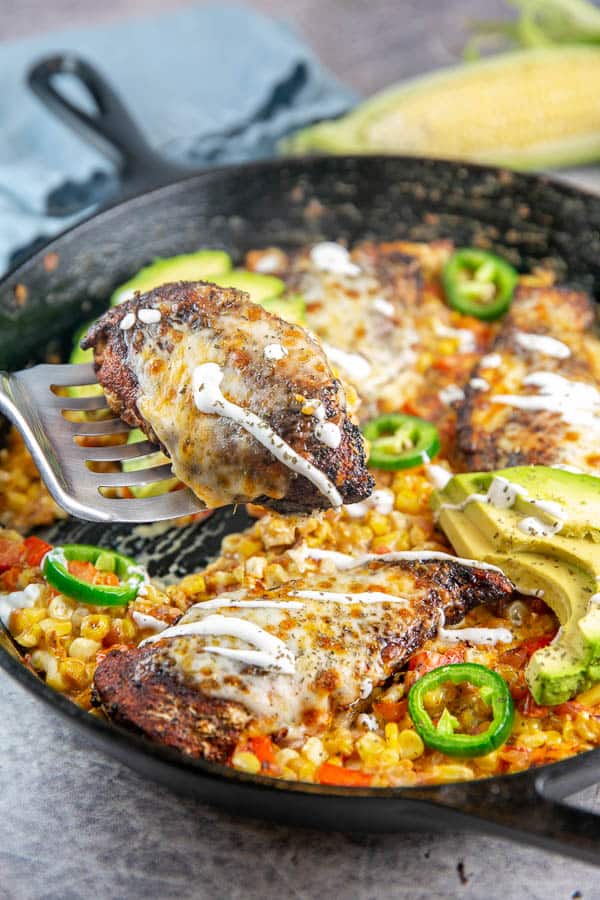 Quick and Easy Meal Prep
How easy is this? So easy.  Buy thin chicken cutlets or cut chicken breasts in half and pound down to roughly 1/2-inch thickness.  
Season with classic Tex-Mex spices: chili powder, chipotle powder, smoked paprika, Mexican oregano, cumin. Sear for a few minutes to cook.
Add in corn (fresh is great in summer, but frozen makes this a perfect year-round dinner), red onion, cherry tomatoes, red pepper, jalapeños, garlic, and a little lime juice.  Saute until the corn starts to brown just a little.  Stir in some cream cheese for creaminess.
Add the chicken back to the skillet, pile on some shredded cheese, and pop under the broiler. Top with some freshly sliced avocado and a drizzle of sour cream, if you wish. Ta-da! Dinner is ready.
And you have just enough time while the chicken is cooking at the beginning to pull together a salad or roast some broccoli in the oven Which basically makes this the perfect weeknight dinner.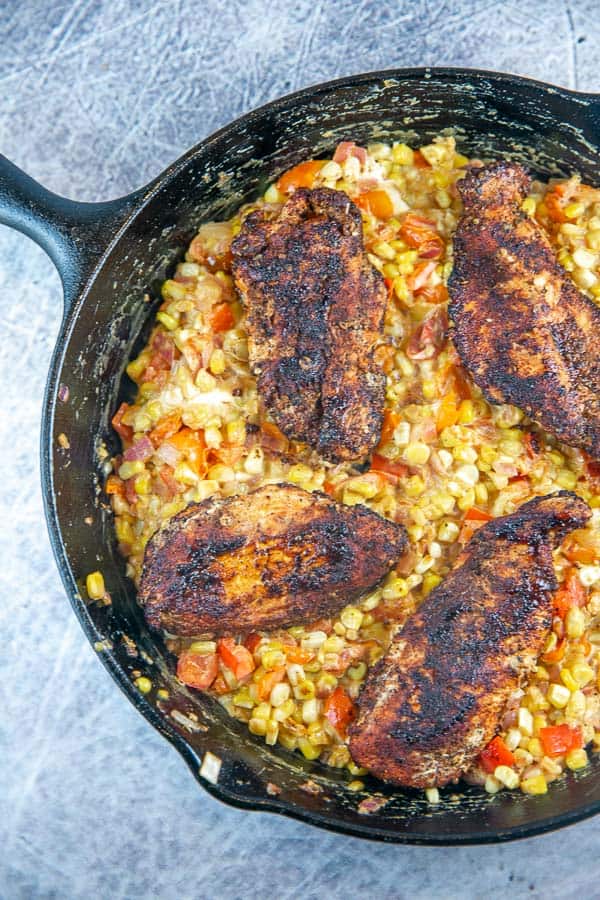 Adjustable Spice Level
Not into spicy? Don't let that scare you away from this recipe! Let's talk about how to control the spice level.  I know lots of people are spice-averse, or cooking for little kids.  It's time for my favorite subject… kitchen chemistry!
Kitchen Chemistry

Peppers are spicy because they contain capsaicin, the chemical compound responsible for that tasteless, fiery heat. Capsaicin is concentrated in the inner pith (the white rib part) of the peppers. While it is commonly thought that seeds are responsible for heat, it is actually the pith that should be removed to tame spicy peppers.
Love spicy?  Add an extra jalapeño!  Only like mild heat?  Remove the pith from one or both of the peppers.  Not into heat at all?  Omit the jalapeños from the corn mixture; it's plenty flavorful on its own, especially paired with just a little chili powder on the chicken.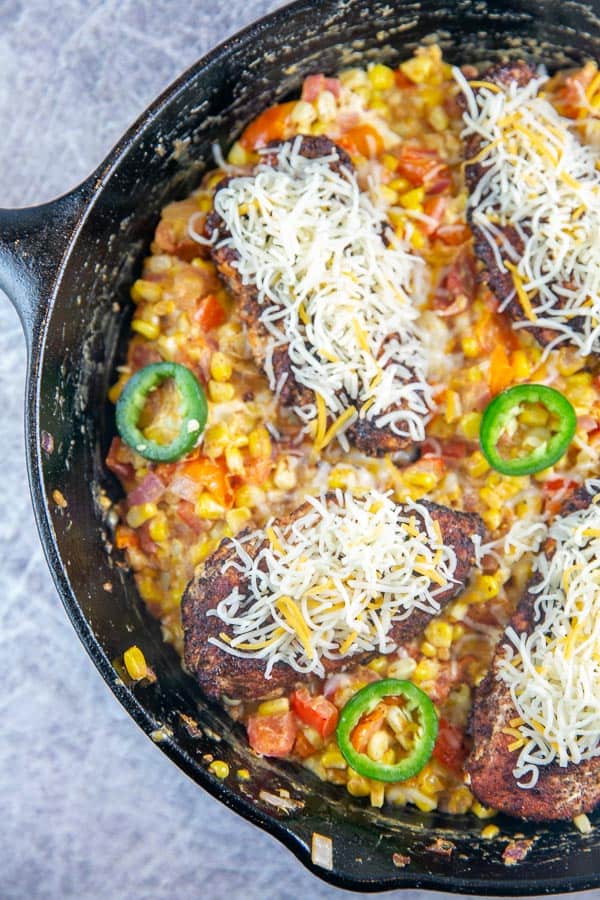 Recommended Tools to Make a Chicken Skillet
Mixing Bowls: These mixing bowls have all the sizes you need – for prepping ingredients, mixing the spices, and storing the chicken while you rub on the spices.
Cast Iron Skillet: A 12-inch cast iron skillet is large enough to hold all the chicken.
Chef's Knife: A strong, sharp knife is necessary for dicing and slicing all the vegetables.
Tips and Tricks for the Best Cheesy Jalapeno Chicken
Use chicken cutlets or chicken breasts that are no more than 1/2-inch thick; if thicker, pound for a thin, flat, even layer.  Thicker chicken breasts will take longer to cook and wind up tough and dry along the edges.
Pat the chicken dry with paper towels before seasoning and cooking. This step prevents excess moisture, allowing the chicken to get that beautiful golden sear.
For extra smooth, melty cheese, use a block of cheese and shred by hand.  For an extra shortcut, store-bought shredded cheese works too, it's just not quite as smooth.
To lower the spiciness of the dish, remove the pith (the white ribs) of the jalapeño peppers – or omit them altogether for the really spice averse.
No broiler?  After adding the chicken back into the skillet, cover with a lid and cook for 2-3 additional minutes to melt the cheese.
More Easy Chicken Dinner Recipes: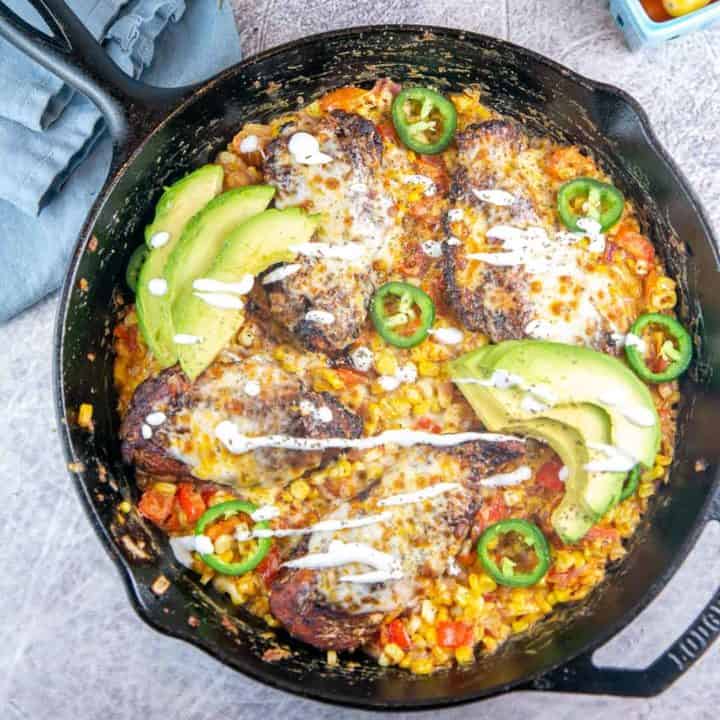 Cheesy Jalapeño Chicken Skillet
Looking for a fast and easy one pan dinner? This 30 minute cheesy jalapeño chicken skillet fits the bill!  A little spicy, a little cheesy, a little creamy, and a whole lot of deliciousness!
Ingredients
3 tablespoons vegetable oil, divided
1 1/4 - 1 1/2 pounds chicken cutlets or boneless skinless chicken breasts, sliced in half and pounded to 1/2 inch thickness
2 teaspoons chili powder
2 teaspoons smoked paprika
1 teaspoon garlic powder
1 teaspoon Mexican oregano
1/2 teaspoon dried chipotle pepper
1/2 teaspoon cumin
1/2 teaspoon kosher salt
1/2 teaspoon pepper
2 cups corn kernels (fresh or frozen and thawed)
1/2 red onion, diced
1 cup cherry tomatoes, quartered
1/2 red bell pepper, chopped
2 jalapeños, sliced into rounds
2 garlic cloves, minced
2 limes, juiced
4 ounces cream cheese, room temperature
3/4 cup shredded cheddar, Monterrey jack, or Mexican blend cheese
avocados, cilantro, and sour cream for garnish (if desired)
Instructions
Add chili powder, smoked paprika, garlic powder, Mexican oregano, chipotle pepper, cumin, salt, and pepper to a bowl and mix well. Dry the chicken with a paper towel and cover all sides of the chicken with the spice mixture.
Preheat a cast iron skillet or other large oven-safe skillet over medium-high heat. Add 2 tablespoons of oil. Once hot and shimmering, add the chicken to the skillet. Cook for 3-4 minutes per side, until browned and cooked through, then remove to a plate.
Add remaining 1 tablespoon of vegetable oil to the skillet, followed by the corn, red onion, cherry tomatoes, jalapeños, garlic, and lime juice. Cook, stirring often, until onions are soft and corn is golden brown, about 5 minutes. Season to taste with additional salt and pepper. Add in the cream cheese and continue to stir until fully melted.
Add the chicken back into the skillet and top with the shredded cheese. Broil under high for 2 to 3 minutes, until cheese is melted.
Serve with avocado, additional sliced jalapeños, sour cream, or chopped cilantro.
Notes
To reduce the spiciness level of the dish, remove the pith (ribs) of the jalapeño peppers.
Freshly shredded cheese will melt more smoothly than prepurchased shredded cheese (but shredded cheese works in a pinch!).
To melt the cheese without a broiler, cover the skillet with a lid and heat for 2-3 minutes until cheese melts.
Leftovers can be kept refrigerated for up to 3 days and reheated in the microwave.
Recommended Products
As an Amazon Associate and member of other affiliate programs, I earn from qualifying purchases.
Nutrition Information:
Yield:

4
Amount Per Serving:
Calories:

566
Total Fat:

33.7g
Carbohydrates:

25.2g
Protein:

43.5g
This Cheesy Jalapeño Chicken Skillet recipe was originally published on 10/06/2017. It was republished on 05/28/2020 with new text and pictures.