August 23, 2018
Grilled Tahini Chicken
This easy, make-ahead grilled tahini chicken is fast enough for a weeknight, but fancy enough for company. Grilled chicken thighs covered in a creamy tahini sauce take only 15 minutes to prepare. No grill? Make them in a grill pan or under the broiler . Dairy free, gluten free, soy free, and nut free, too!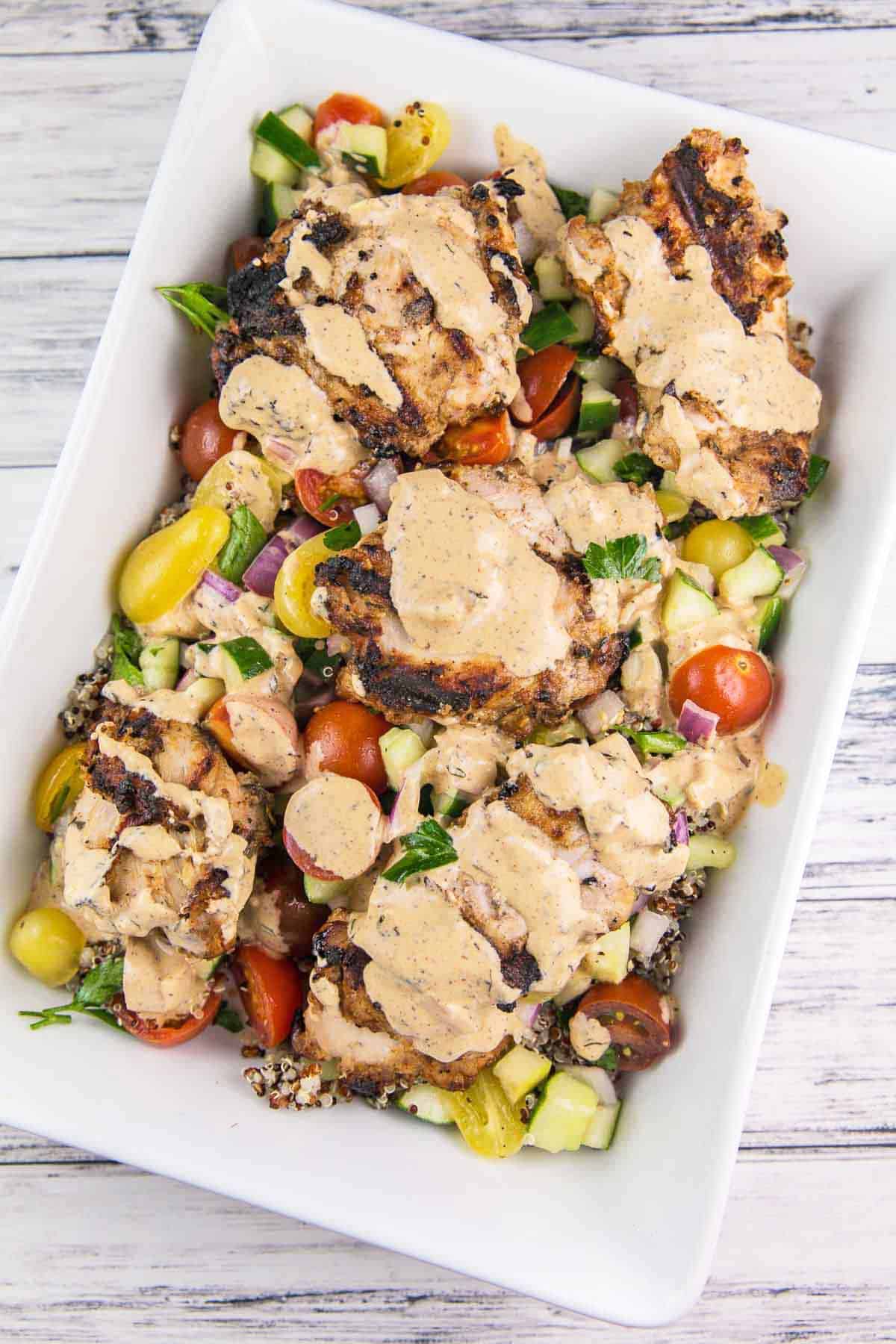 You guys have heard me talk about my love of tehina/tahini before.  It's become a true staple in our kitchen. 
I love the subtle, nutty-ish taste, how easily it switches from sweet to savory, and especially that I can still cook with it and use those leftovers in my son's nut-free preschool lunch.
So today I'm sharing a recipe that I've been making on repeat all summer: grilled tahini chicken. We like it plain, or served over a green salad, or with a side of three ingredient grilled potatoes. Today, I'm sharing a version over a tomato, cucumber, and quinoa salad.
Things I especially love about this grilled tahini chicken:
It's fast (no real marinading required; more on that below). 
It's easy to make ahead of time (more on that below, too). 
It's healthy and perfect for those with dietary restrictions (dairy free, soy free, paleo and Whole30 compliant if you skip the quinoa salad and serve with grilled vegetables or a salad). 
And of course, most importantly, it's delicious.
What is Tahini?
Every time I post a tehina recipe, I get comments asking what it is, or people saying they had no idea you can use it for anything other than hummus.  So… let's discuss.
Tahini, also called tehina or tahina based on geographic location, is a paste made from ground, hulled sesame seeds. 
Think peanut butter, except made from sesame seeds instead of peanuts.  It's an important part of Middle Eastern and Eastern Mediterranean cuisine.
How do you use Tahini?
If you hear tahini and think hummus – yes! But you can also do so much more with it. 
Much like peanut butter, it can go both sweet and savory.  Just like you'd put sesame seeds on a deli roll or a bagel or pressed into raw ahi tuna… ooooor eat sesame cookies or Chinese sesame dessert balls, tahini goes both ways, too.
You can use tahini as a sauce for grilled meats or vegetables.  It's a perfect condiment for falafel or schwarma or drizzled on top of sweet potatoes.  But it's also delicious in cookies, brownies, carrot cake, or basically anywhere you might put peanut butter.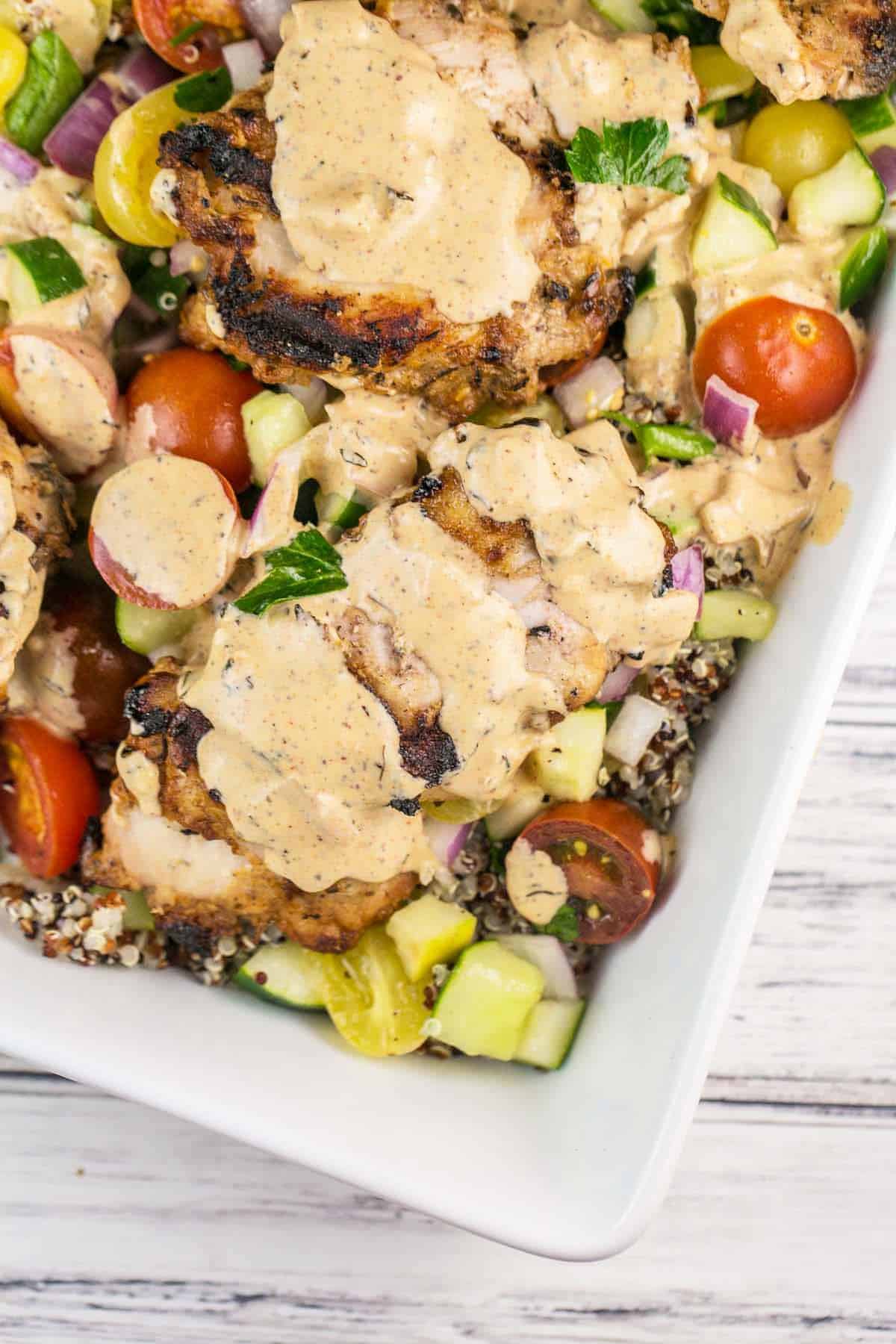 What's the Best Tahini?
One word: Soom. Several years ago, I took a cooking class with James Beard Award-Winning Outstanding Chef Michael Solomonov, of Zahav fame. (And also Abe Fisher, Dizengoff, Goldie, and The Rooster — all of which are amazing and on my "must visit" list if you come to Philadelphia.)
At this cooking class, Mike taught us the secret to his out-of-this-world hummus at Zahav: Soom Tahini. Push aside any notions of tahini you may have from other brands: dry, crumbly, bitter. Soom Tahini is perfectly smooth, creamy, and nutty.
Plus, Soom Foods is a Philadelphia-based, woman-owned company.  A world famous chef talking about how much he loves a local, woman owned business that just happens to make the best tahini ever?  I'm all in. 
The good news, for you, if you're not local to Philly is you can get Soom Tahini shipped straight to you, through either the Soom Foods website or Amazon (Amazon link is affiliate). So now wherever you are, you can enjoy the best tahini!
(Also to clarify: this is not a sponsored post. Soom did not provide me with any monetary compensation or send me any free tahini in exchange for this.  I buy my tahini just like the rest of you.)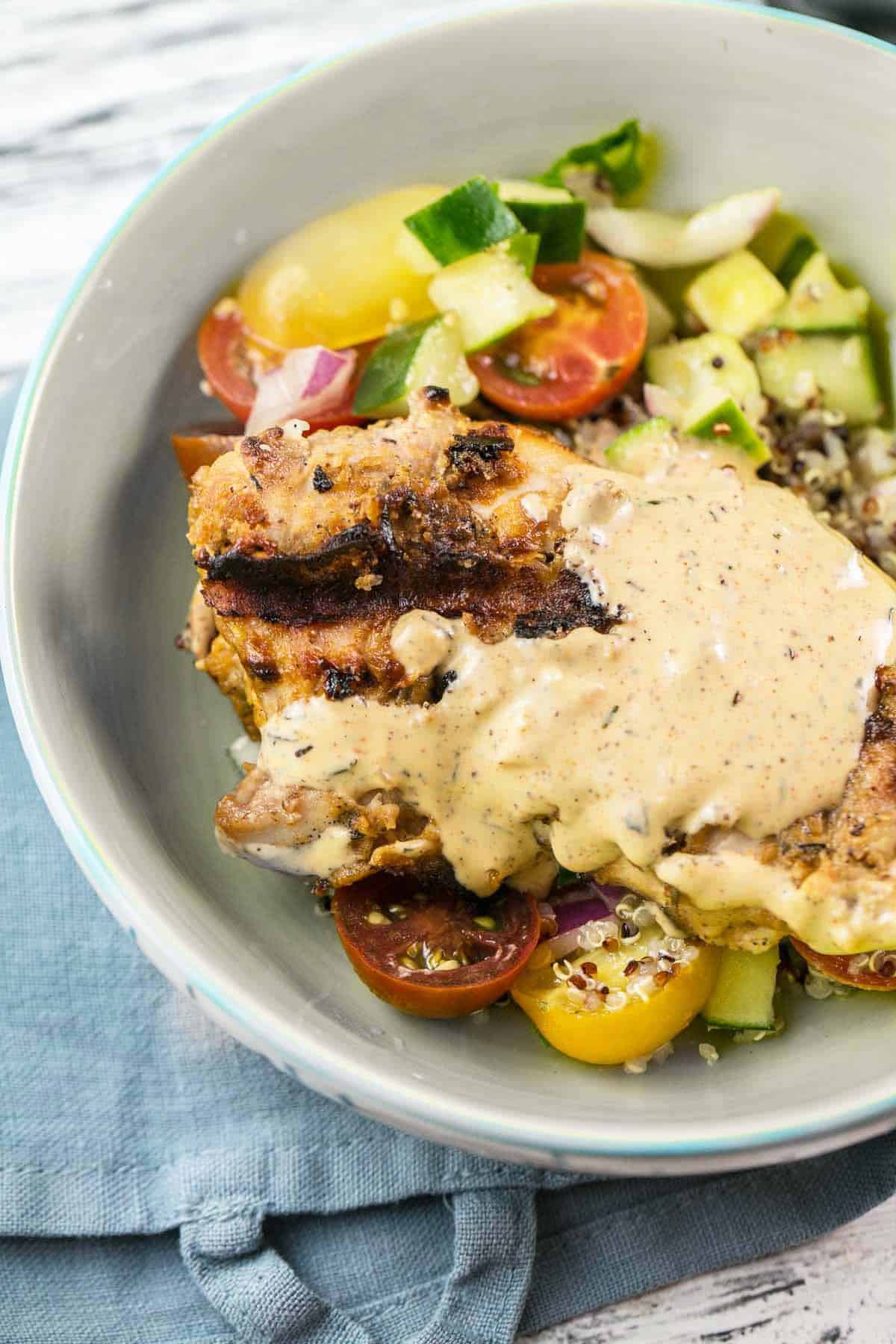 How to Make Grilled Tahini Chicken
Okay, enough about how much I love Soom tahini.  Now let's talk about this tahini chicken!  It's easy.  And most importantly, it's fast. 
You know all those recipes that call for marinating your meat for many hours before cooking them?  And then you forget to do it and question if you should just give up altogether?  In today's kitchen chemistry we're going to talk about why marinating doesn't even matter in the end.
Kitchen Chemistry

Recipes often call for soaking meat in a marinade for an extended period of time.  But no matter how long you do this, the marinade doesn't actually penetrate deeper than an 1/10th of an inch.  Meat is mostly made up of water — about 75%.  But marinades are usually oil based (in this case, oil from the tehina) and water + oil don't mix (water molecules are more attracted to each other than they are to oil molecules).  So skip the long marinades (unless it's brining, which is important for certain cuts of meat) and just brush some of the sauce on the meat as it cooks and extra to drizzle on top once it's done! (Read more on this here.)
Because we're not doing a long marinade for this, everything comes together really quickly. 
Stir together the tahini, some olive oil, lemon juice, lemon zest, garlic, za'atar, and smoked paprika.  Add in a few tablespoons of water to thin down to a drizzle-able sauce consistency.  Spread some on your chicken thighs and toss on the grill.  Easy-peasy.
Plus, once made, this will last for a good 3-4 days in the refrigerator (and it's delicious cold!) so it's easy to make over the weekend and enjoy later on during the week. Make ahead meal prep for those crazy busy weeknights!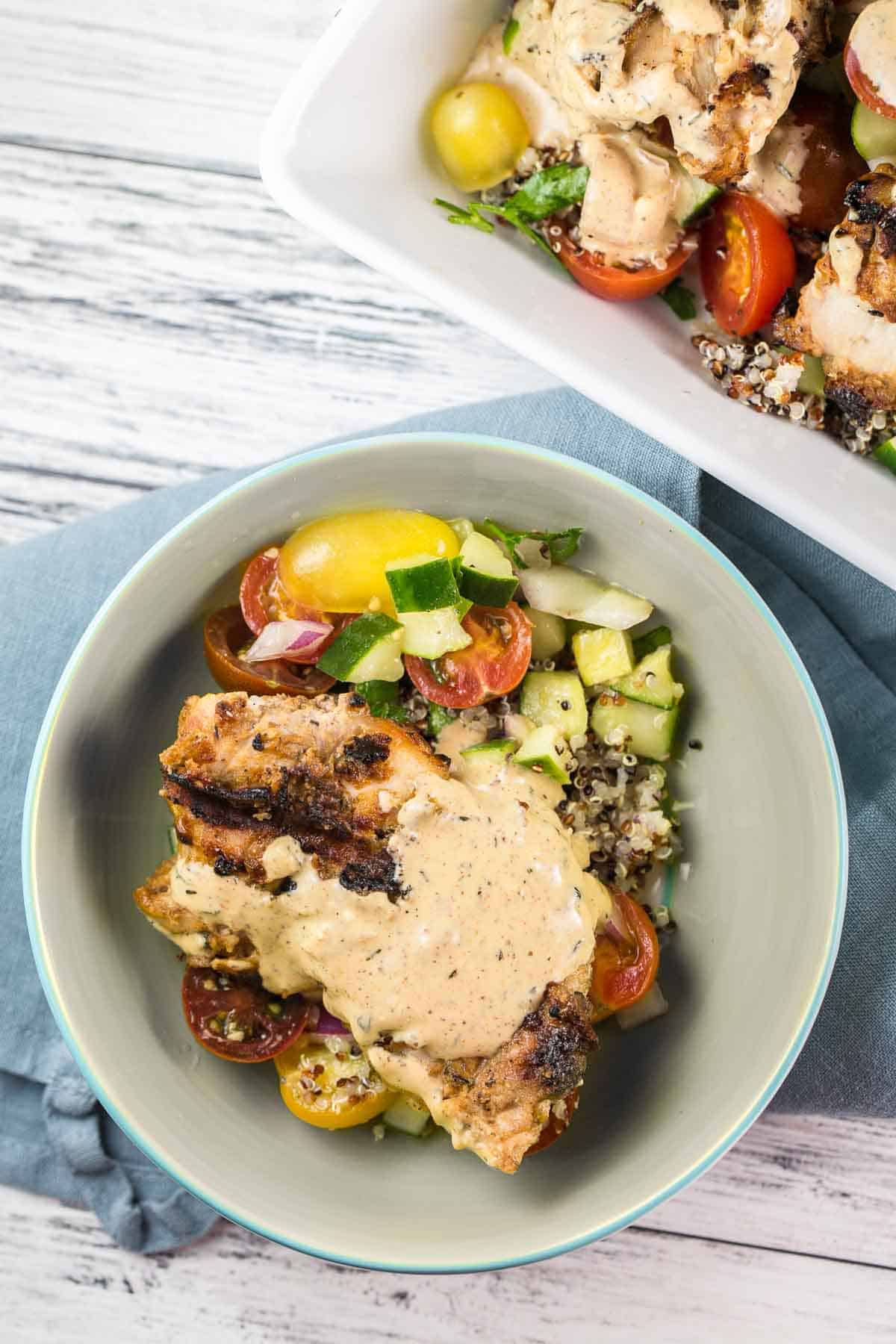 No Grill? No Problem!
Grilling is my favorite way to make this tahini chicken, and it's how my recipe instructions are written below. But if you don't have a grill (or you want to make this in the dead of winter), you can use a grill pan or broil the chicken in your oven.
To broil, cover both sides of the chicken with the prepared tehini sauce and place it on a wire baking rack (like a cookie cooling rack) on top of a foil-lined baking sheet. 
Turn the oven broiler to high with a rack positioned ~6 inches below the broiler.  Broil for 10-12 minutes, flipping halfway through cooking, until the thickest part of the chicken registers 160 °F.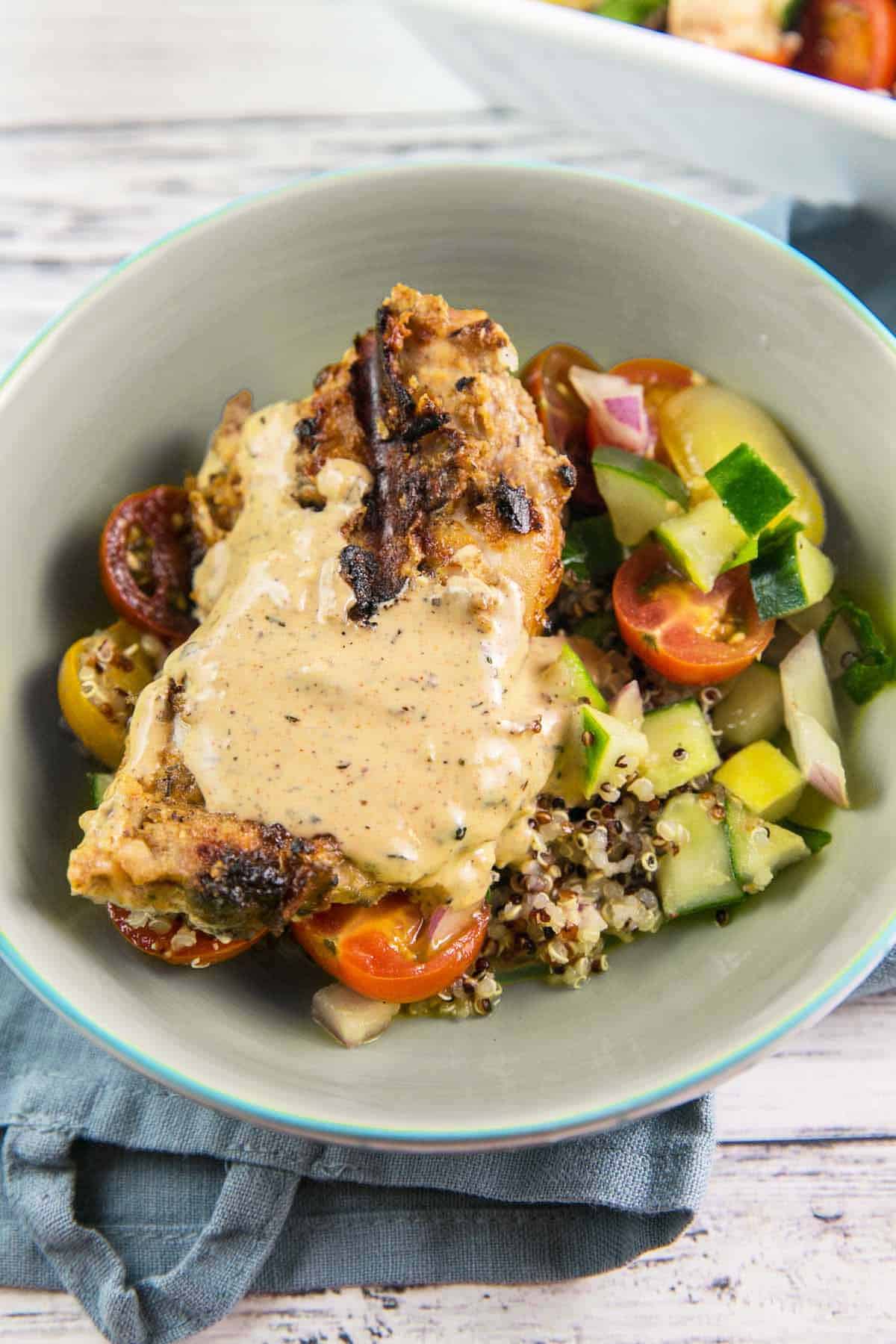 How To Serve Grilled Tahini Chicken
One of the things I love so much about this tahini chicken is how versatile it is. The tahini sauce is delicious and pretty much any vegetable/grain is delicious under a nice smothering of it. We're big fans of this chicken served with a simple side of grilled vegetables or over a pile of fluffy rice.
In colder weather, it's great served with roasted sweet potatoes (perhaps on top of this sweet potato kale chickpea bowl?). In the summer, we love it on a tomato, cucumber, and quinoa salad (like this simple one from Real Simple).
So, in summary: healthy, allergy friendly, easy, make ahead, and delicious. Basically, grilled tahini chicken is the perfect dinner. Even my 3 year old agrees.
More Tahini Recipes: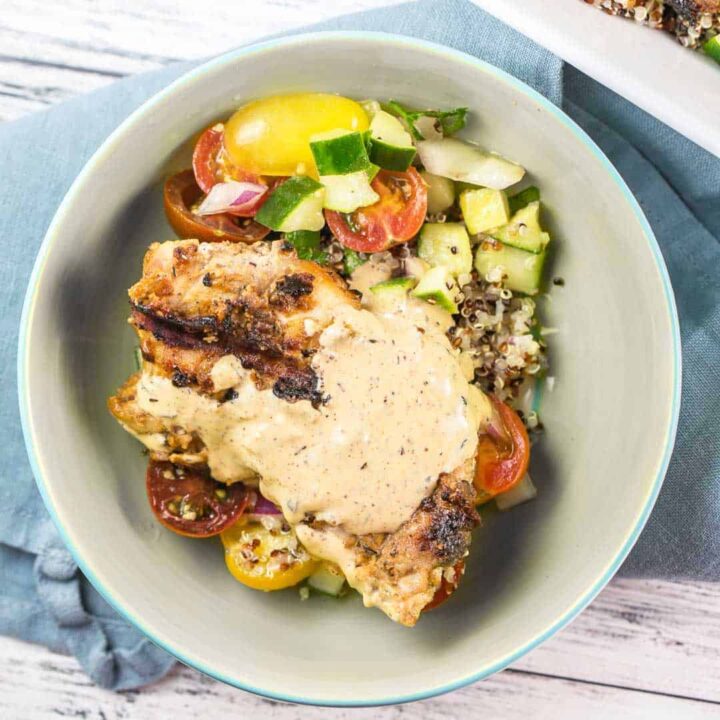 Grilled Tahini Chicken
This easy, make-ahead grilled tahini chicken is fast enough for a weeknight, but fancy enough for company.  Grilled chicken thighs covered in a creamy tahini sauce take only 15 minutes to prepare.
Ingredients
1/2 cup well-stirred tahini
3 tablespoons olive oil
2 tablespoons lemon juice
2 teaspoon lemon zest
2 cloves garlic, grated
1 tablespoon za'atar
1/2 tablespoon smoked paprika
3-4 tablespoons water
8 boneless, skinless chicken thighs
Instructions
Preheat grill (or broiler — see notes for broiler instructions) to medium-high heat. Lightly oil the grates on the grill.
Combine all ingredients, except water and chicken thighs, in a bowl. Whisk well, then add in water one tablespoon at a time until sauce becomes thin enough to pour.
Season the chicken thighs with salt and pepper. Spoon on some of the sauce and brush over both sides of the chicken, reserving half the sauce for later. Grill chicken for 3-4 minutes, then flip, basting with some of the remaining sauce. Cook the flipped side for another 4 to 5 minutes, until chicken comes to an internal temperature of 160 °F.
Serve chicken warm, at room temperature, or cold, with an additional drizzle of the tahini sauce.
Notes
To broil, cover both sides of the chicken with the prepared tahini sauce and place on a wire cooling rack set on top of a foil-lined baking sheet. Broil on high with the rack ~6 inches below the broiler. Broil for 10-12 minutes, flipping halfway through cooking, until the thickest part of the chicken registers 160 °F.
Chicken and sauce can be made up to 4 days ahead of time and stored in the refrigerator.
Suggested sides for a complete dinner: quinoa with a tomato and cucumber salad.

A Bunsen Burner Bakery Original Protocol
Recommended Products
As an Amazon Associate and member of other affiliate programs, I earn from qualifying purchases.