May 21, 2020
Caramel Pecan Turtle Brownies
These homemade Turtle Brownies are the ULTIMATE fudgy brownies, with a thick layer of salted caramel, pecan, and chocolate chunks.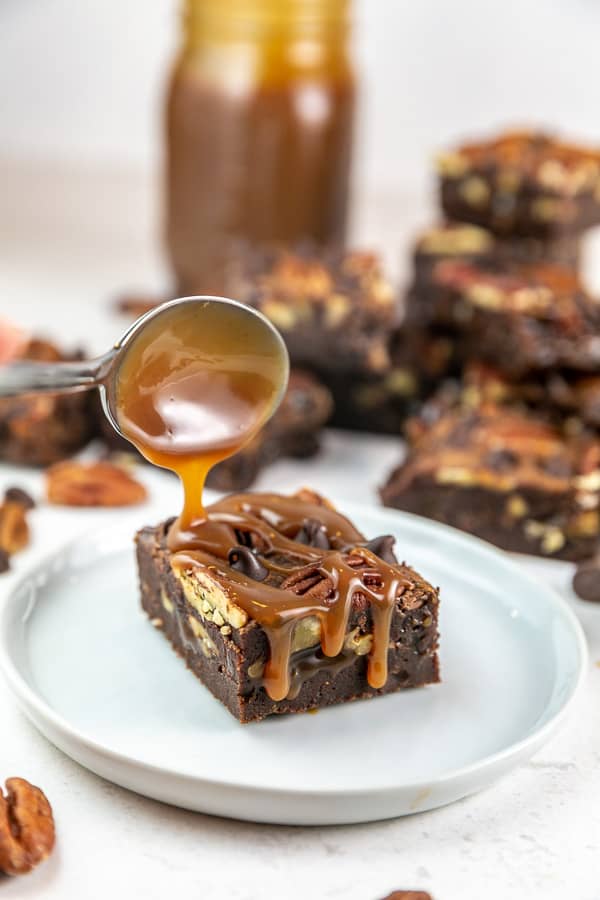 Earlier this week, I shared the easiest homemade salted caramel sauce. Three ingredients (sugar, heavy cream, salt) and 10 minutes are all you need to make a jar of this incredibly addictive silky smooth caramel sauce.
I've dipped a spoon into the jar more times than I care to admit, but I highly recommend you make a batch and save it for these pecan caramel turtle brownies. These brownies are, hands down, the best brownies I've ever made.
I know. We're not even halfway through my yearlong series of brownies, and I'm pretty sure I can't top these. Sure, we can try lots of other flavor combinations (and we will!) because life is too long to eat the same brownies all the time. But guys, these brownies are amazing.
So amazing that my husband, who does not like nuts in his brownies or particularly enjoys caramel sauce, went out of his way to tell me how good these were. He's not a gushing-over-food kind of a guy; everything gets an "it's good" response. But not these brownies – they were better than just "good."
Let's talk about what makes these brownies so darn delicious. Easy one-bowl super fudgy brownie recipe? Check! Gooey layer of homemade salted caramel mixed with chocolate chips and chopped pecans baked right in the middle? Check! More pecans and chocolate chips on top? Check. An extra drizzle of soft, gooey, salty-sweet caramel on top? Optional, but highly suggested.
These brownies are the perfect combination of sweet, salty, gooey, crunchy, and oh-so-fudgy and chocolatey. Grab your homemade salted caramel and let's get baking!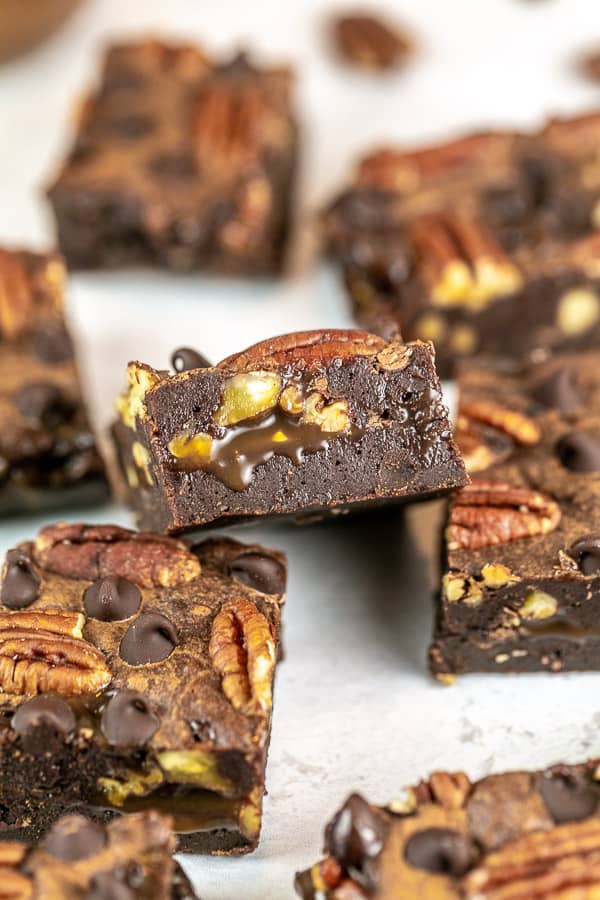 Just Like Turtle Candies
Turtle brownies. Yes, the name is strange. No, there are no turtles in these brownies (which is what my 5-year-old immediately thought — "Mommy! I don't want to eat turtles!") My quick polling of friends informs me that a lot of people aren't familiar with turtle candies in the first place, so let's address this.
Turtle candies are drop cluster candies made with pecans and caramel, covered in chocolate. If you grew up with an old-fashioned candy shop, you know exactly what I'm talking about. We came home with a little bag of these every year from the Jersey shore.
So we're taking the same chocolate + pecans + caramel profile and turning them into amazing brownies.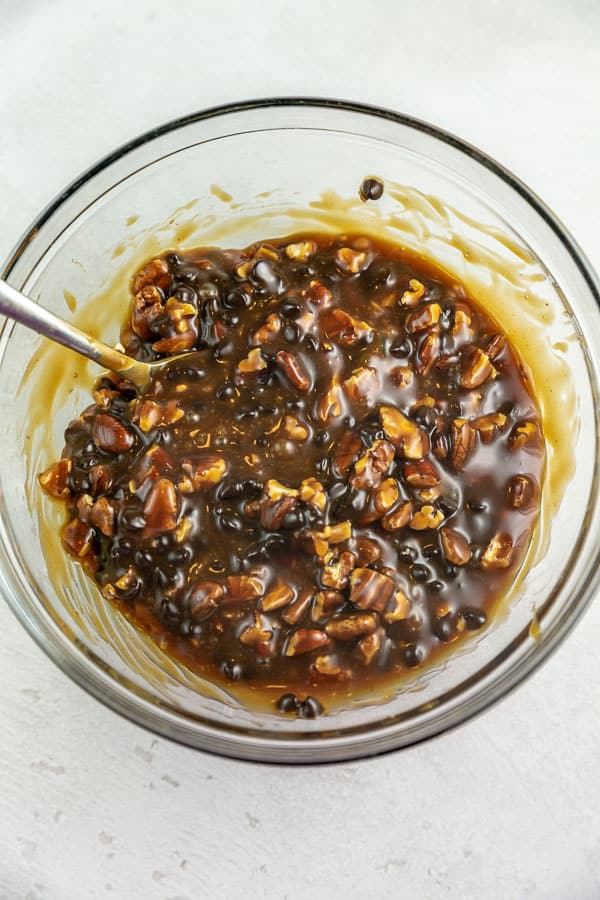 Extra Fudgy Brownies
For super fudgy brownies, we're using melted chocolate as our base, with just a little cocoa powder mixed in. To this, we're going to add cold eggs.
That's right — cold eggs. Even though bakers everywhere have told you to always use room-temperature ingredients.
Why are we adding cold eggs for the fudgiest brownies? It's time for my favorite subject… kitchen chemistry!
Kitchen Chemistry

Eggs help provide "lift" in baked goods. As an egg is whisked, the protein in the egg increases in volume by trapping air bubbles. In the oven, these air bubbles expand and rise, which helps to create additional volume. A room temperature egg whips much faster, creating more volume in baked goods.
More lift = a lighter crumb. This is just what we want for cakes – but not for super fudgy brownies. We want dense, thick, and oh-so-gooey. The tighter crumb texture locks in more moisture, creating the perfect fudgy brownie texture.
Because we don't want to heat and cook the eggs, just make sure the melted chocolate and butter mixture cools down before adding in the eggs!
Layers of Pecans and Caramel
Lots of turtle brownie recipes use store-bought caramel candies, but homemade caramel sauce is so, so easy to make. I never have caramel candies sitting around, but I always have sugar and usually have a container of heavy cream!
Much like my ultimate Nutella brownies and peanut butter stuffed brownies, we're putting a layer of pecans, chocolate chips, and salted caramel right in the middle of the brownies. And then putting even more on top.
The end result? Little drips of caramel oozing out from the middle of the brownies. Just enough – but not too much – crunch. Super chocolate flavor — like coffee, caramel makes chocolate taste even chocolate-ier.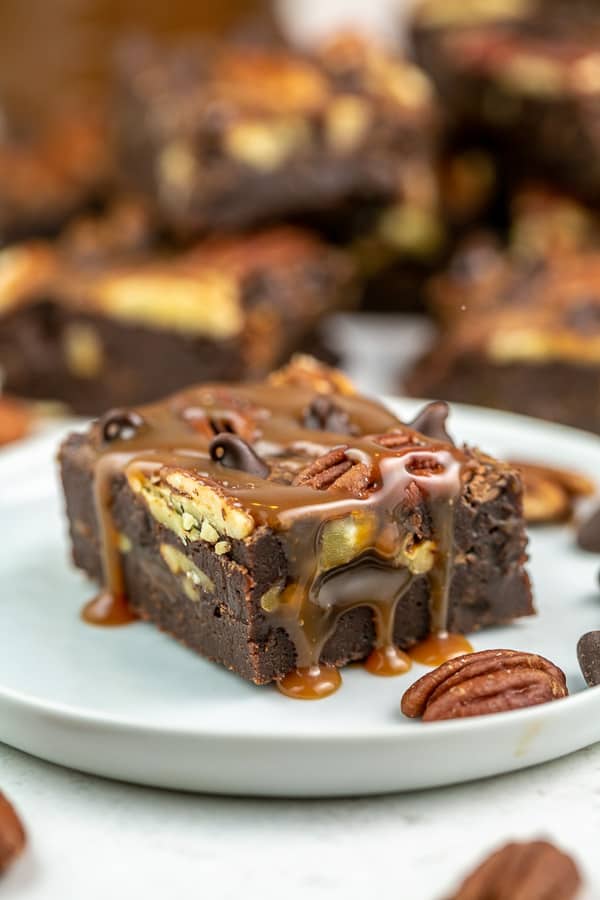 Tips and Tricks for the Best Turtle Brownies
Not into making homemade salted caramel? Store-bought caramel sauce or a thick dulce de leche will work — just don't use ice cream topping caramel (it's too thin).
Don't like nuts or pecans? Swap them out – this would be equally delicious with walnuts or almonds, or leave the nuts out completely for plain caramel brownies.
For the best flavor, use good quality chocolate for the brownies. Chocolate chips work in a pinch, but the flavor is better with a higher quality chocolate bar.
Need more turtle brownies in your life? (Yes, yes you do.). Double the recipe and bake in a 9×13-inch pan, adding an extra 5 minutes to the baking time.
Refrigerate these brownies for the best taste and texture. They do not require refrigeration for safety reasons, but the brownies taste much richer and fudgier consumed cold.
Made too many brownies? (Impossible!). Leftover brownies can be frozen for up to 3 months.
More Salted Caramel Recipes:
2020 Brownie of the Month Series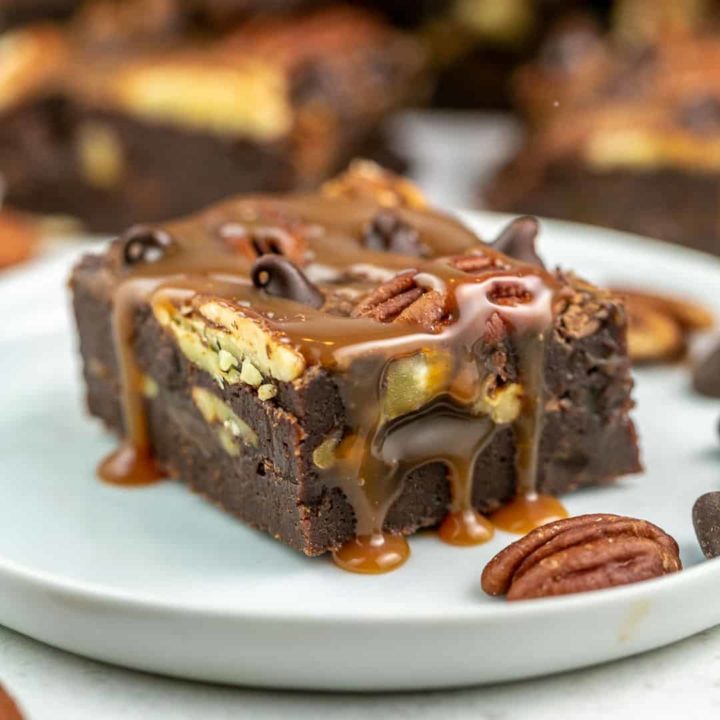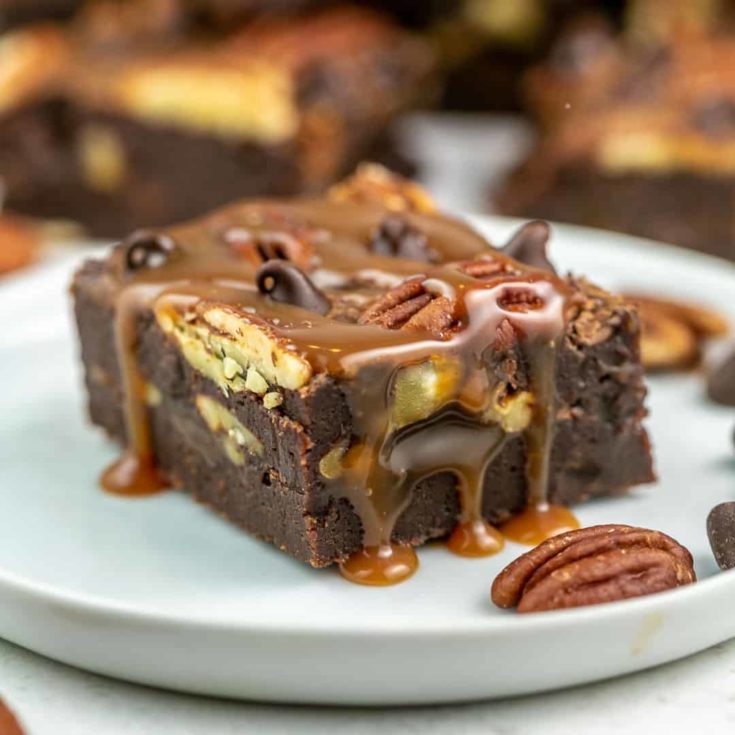 Caramel Pecan Turtle Brownies
Total Time:
3 hours
55 minutes
These homemade turtle brownies are the ULTIMATE fudgy brownies, with a thick layer of salted caramel, pecan, and chocolate chunks.  
Ingredients
For the Brownies:
8 tablespoons (113 grams) unsalted butter
8 ounces (226 grams) semisweet chocolate, chopped (~ 1 1/3 cups chocolate chips)
3 eggs, refrigerated
1 cup (198 grams) granulated sugar
1/2 teaspoon salt
2 teaspoons vanilla extract
1/4 cup (21 grams) natural unsweetened cocoa powder
1 (120 grams) cup all-purpose flour
For the Caramel Layer:
1/2 cup (60 grams) chopped pecans
1/2 cup (88 grams) miniature chocolate chips
For Topping:
1/2 cup (60 grams) halved pecans
1/2 cup (85 grams) chocolate chips
additional salted caramel, for drizzling
Instructions
Prepare the pan. Preheat the oven to 350 °F. Line a 9-inch square metal baking dish with aluminum foil and extended the foil over the edge. Spray with nonstick cooking spray.
Make the brownies. Combine the butter and chocolate in a large microwave safe bowl. Microwave the butter and chocolate for 1 minute at 50% power and stir. Continue microwaving in 1 minute increments at 50% power until chocolate is fully melted and mixture is smooth. Let the melted chocolate sit for 5 minutes, until no longer hot.
Whisk in the eggs, one at a time, followed by the sugar, vanilla extract, and salt. Stir in the cocoa powder and flour with a wooden spoon. The resulting brownie batter will be quite thick; it will take some effort to stir in all the flour.
Make the caramel pecan layer. In a medium sized glass bowl, stir together the salted caramel sauce, chopped pecans, and chocolate chips.
Bake the brownies. Scrape half the batter into the prepared pan, smoothing with a spatula into an even, thin layer. Bake for 15 minutes, or just until the top is barely set - the brownies should not be cooked through. Remove from the oven and drop spoonfuls of the pecan caramel mixture onto the brownies, spreading carefully to the edges of the pan. Dollop the remaining brownie mix over the caramel layer, again carefully spreading to the edges of the pan. Top with the remaining halved pecans and chocolate chips. Return to the oven for an additional 25 minutes, or until a toothpick inserted into the center comes out with a moist crumb. Transfer the pan to a wire rack to cool for one hour, then transfer to the refrigerator to cool completely, at least 2 more hours, before cutting into squares.
Brownies can be enjoyed at room temperature, but refrigeration is highly recommended for the best flavor. Before serving, drizzle with additional salted caramel sauce, if desired.
Notes
Pecans can be swapped for other nuts, like walnuts or almonds, or omitted altogether.
Recipe can be doubled and baked in a 9x13-inch pan; add 5 minutes to the total baking time.
Brownies can be stored at room temperature for up to 5 days, refrigerated for up to 2 weeks (recommended), or frozen for up to 3 months.
Recommended Products
As an Amazon Associate and member of other affiliate programs, I earn from qualifying purchases.