June 4, 2020
M&M Cookie Cake
Why make cookies when you can make one GIANT M&M Cookie Cake, perfect to celebrate any occasion?  The cookie is thick and soft and decorated with whipped chocolate ganache frosting – and lots of M&Ms and sprinkles!  Two "secret ingredients" ensure the center will stay soft for days, and the one bowl, no chilling necessary recipe comes together quickly.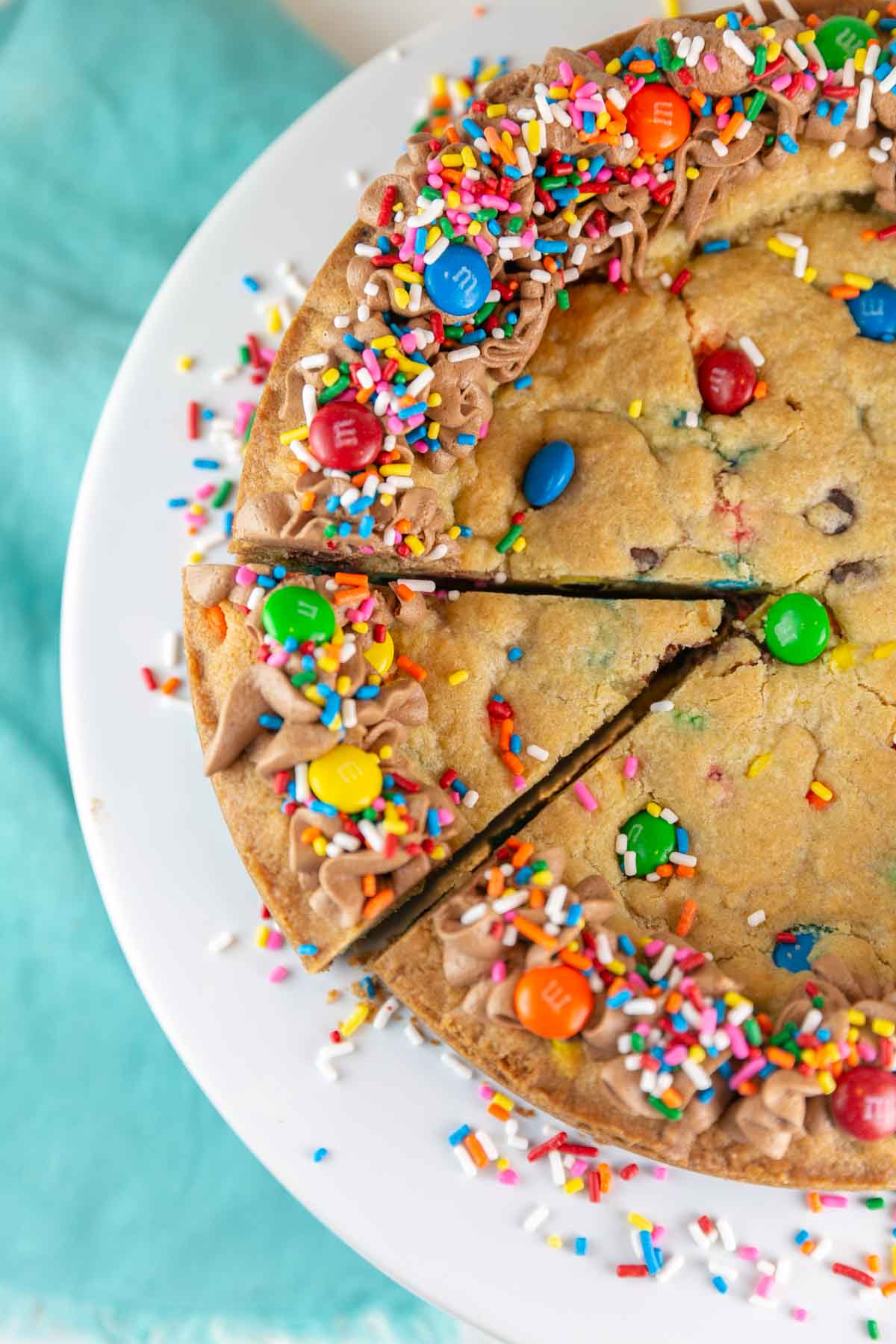 I've mentioned before that cookie cakes are one of my favorite desserts.  They're better than a regular cake and better than a cookie.  This is definitely one case where the sum of all parts is exponentially better than the individual pieces!
A super duper thick cookie, soft and just a little gooey in the middle, filled with (lots of) M&Ms. A ring of whipped chocolate ganache frosting, topped with sprinkles and more M&Ms.
And the best part? Cookie cakes are really easy to make! The ingredients are mixed in one bowl with an electric mixer.
Unlike a cookie, you don't have to wait for the dough to chill first or roll dozens of little balls, swapping cookie sheets every 10 minutes to bake.
And unlike a cake, you don't have to level any edges or do a crumb coat or any sort of fancy decorations.
(Sure, I put some frosting along the edges of mine, but it's totally optional. Or instead of piping, just spread some on with a knife and cover with sprinkles.)
Quick, easy, and delicious: a cookie cake is the true dessert trifecta!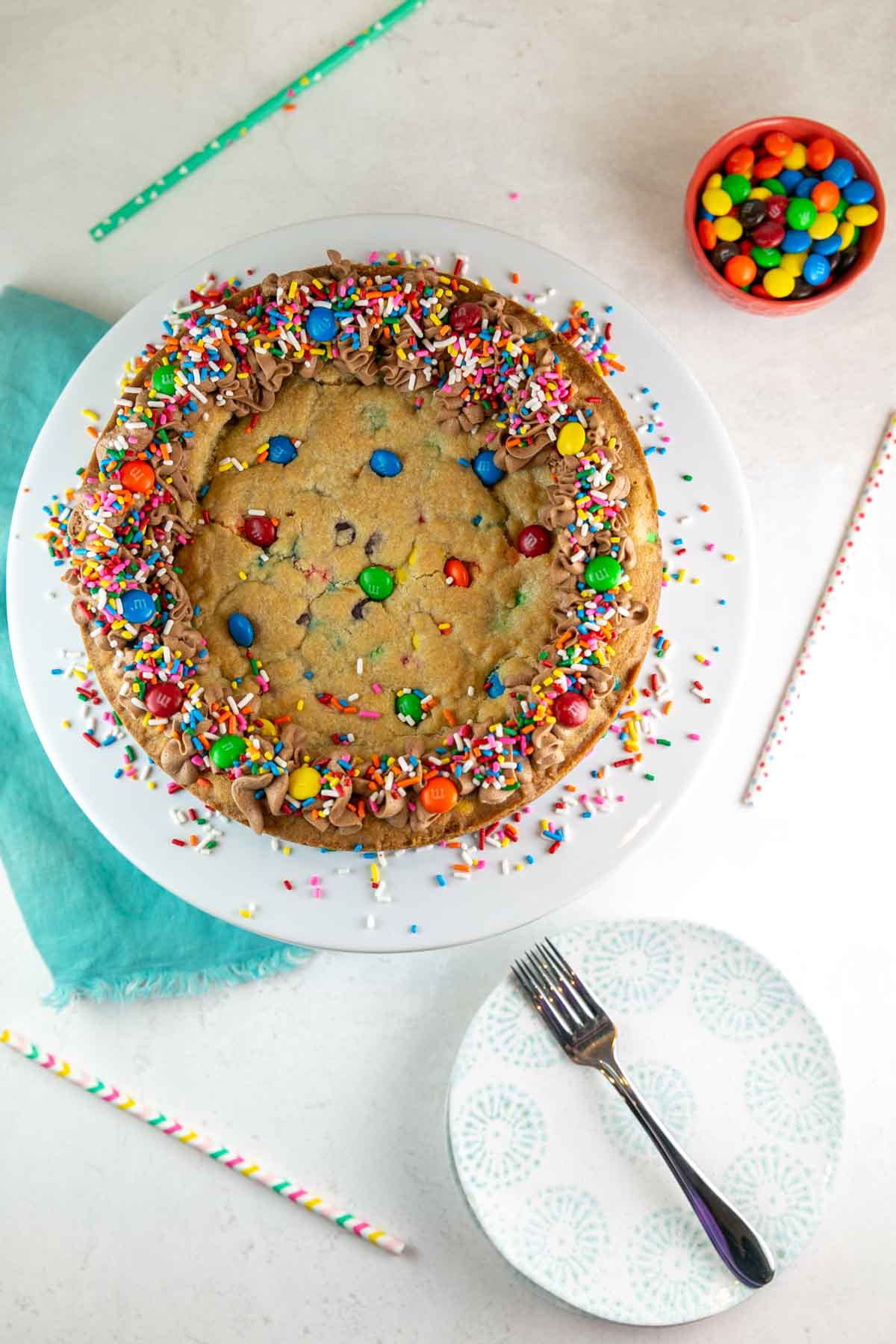 Cookie Cake or Giant Cookie?
For clarification purposes, I do want to emphasize that this is a cookie cake, which is not the same as a giant cookie.
Giant cookies can be made in skillets or on pizza stones, and are delicious on their own, but are a large cookie, not much thicker than a normal cookie.
This M&M cookie cake? It's like a cake. It's baked in a cake pan or a springform pan, and it's thick, like a slice of sheet cake.
The cookie cake is soft and chewy on the inside and gets a little more lift than a normal cookie. You could pick up a slice and eat it with your hands, like a cookie… but it's a little more at home on a plate with a fork.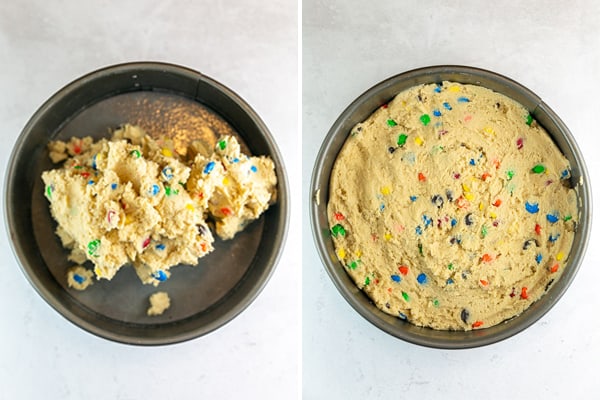 Secret to Soft Cookie Cakes
The best part about a cookie cake is the range of texture. Just a tiny bit crispy on the outside – the dough sets a little more along the metal edge of the pan. But the inside? Perfectly soft, bordering just on gooey.
We're including two "secret ingredients" to keep our cookie cake extra soft: cream cheese (to add extra fat and moisture) and brown sugar.
Playing with the ratio of brown and granulated sugar is one of my favorite tricks when it comes to making cookies or cakes chewier or, well, cakier. What makes brown sugar better? It's time for my favorite subject… kitchen chemistry!
Kitchen Chemistry

Brown sugar is brown because of the addition of molasses. This molasses both adds moisture to the sugar (making a more moist baked good), and also lowers the pH of the cookie batter (brown sugar is acidic, unlike granulated sugar). Lowering the pH of the batter does two things: first, it causes the proteins in the cookies to firm up faster while they bake, creating a chewier texture. Secondly, brown sugar reacts with the baking soda in the recipe to produce carbon dioxide, creating additional lift, which in turn results in a softer interior texture.
Between the cream cheese and the brown sugar, this M&M cookie cake will almost feel undercooked in the middle, it stays so soft.  (But fret not, it's cooked the whole way through and safe to eat!)
Remove your cookie cake from the oven when it feels just slightly underdone; the cake pan will retain heat for quite some time and continue to cook the cookie after removing it from the oven.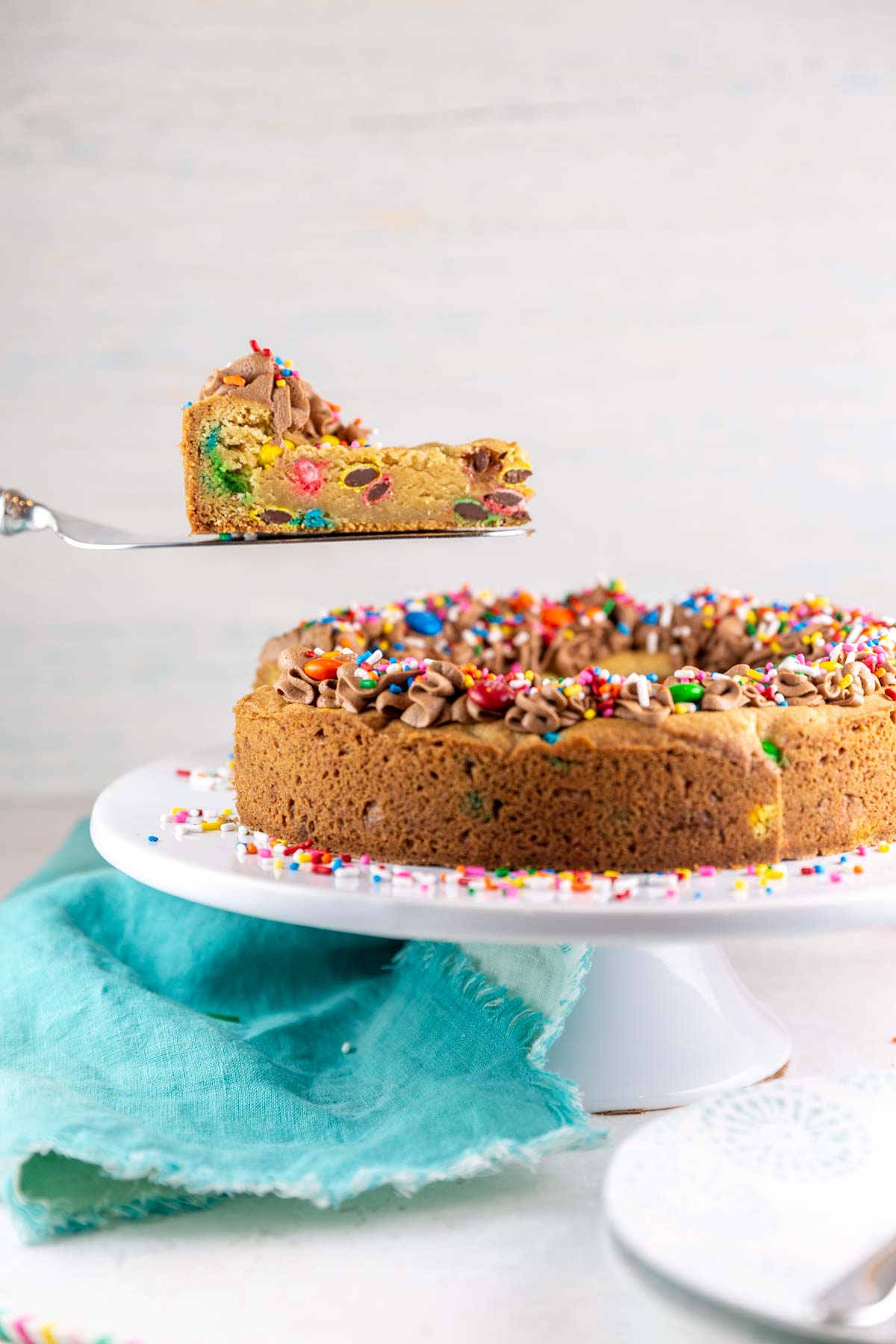 No Chilling Necessary
What's the hardest part about making cookies? Often, it's having to wait while the cookie dough chills!
We chill cookie dough because we want the butter to be as solid as possible before it goes into a hot oven. This helps cookies retain their shape, rather than spreading too quickly.
For a cookie cake, however, the cookies can't spread past the edge of the pan. No chilling necessary!
That said, if you want to make the dough ahead of time, you absolutely can.
Cookie dough often develops a more complex flavor after a day in the refrigerator, so this cookie dough can be made in advance and refrigerated for up to 24 hours or frozen for up to 3 months before baking.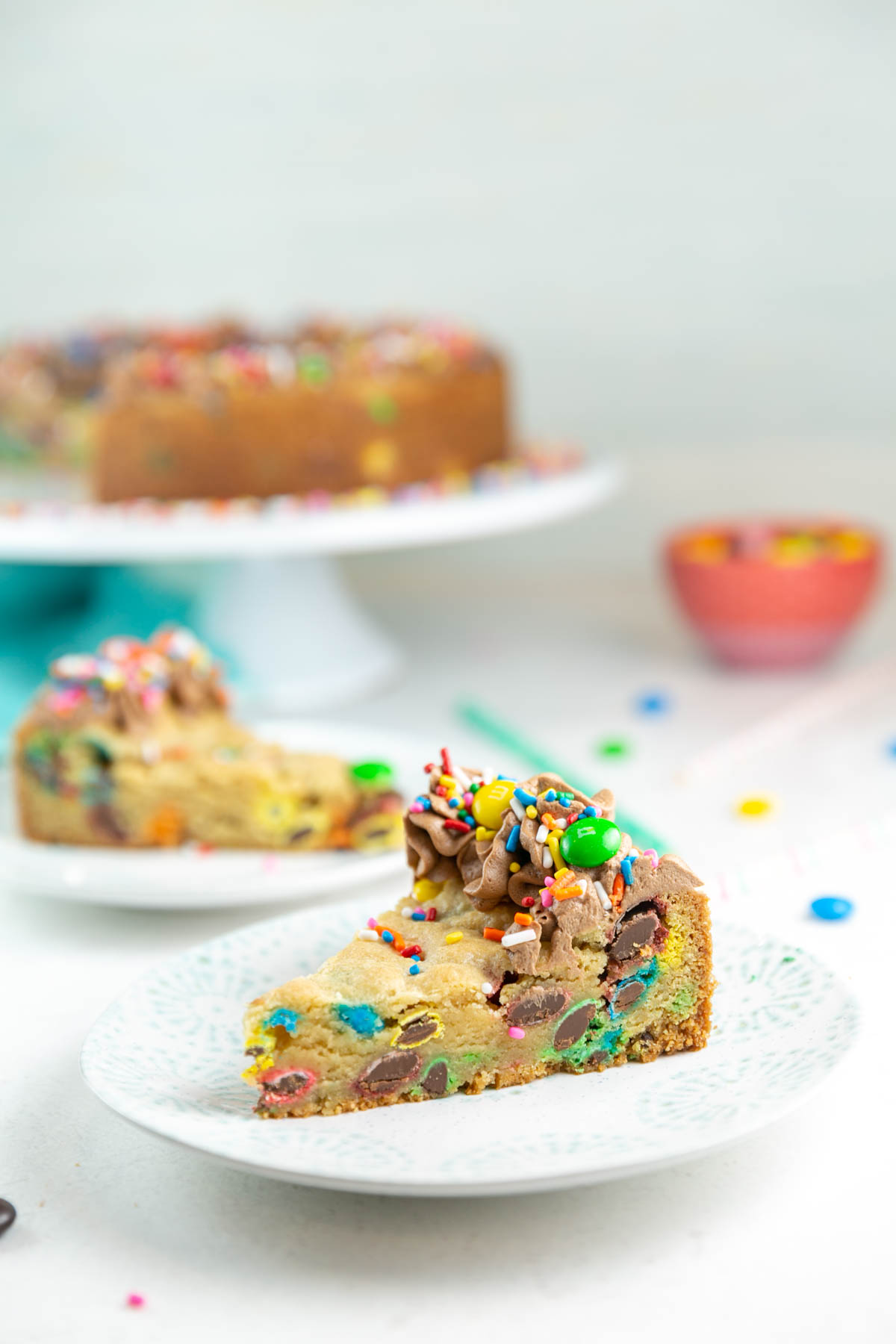 Tips and Tricks for the Best M&M Cookie Cake
Use baking soda, not baking powder. Yes, I know – you can read. But I sometimes get questions if I really meant baking soda, or did I forget to include baking powder? Nope! The brown sugar and cream cheese lower the pH of the batter, so the only leavening agent necessary is baking soda.
Use room temperature cream cheese and butter. Chilled cream cheese and butter won't incorporate as well, and the cookie cake won't get as much rise as it bakes or as soft of a texture.
The dough can be made ahead of time before baking. Once the dough is made, refrigerate for up to 24 hours or freeze for up to 3 months before baking.
Press a few additional M&Ms on the surface of the dough before baking, to ensure some M&Ms are visible after the cake bakes.
Let the cookie cake cool completely before slicing. Want a warm slice of cookie cake (with a scoop of ice cream, please and thank you!)? Let the cake cool, slice, and heat a slice in the microwave for 20 seconds.
More Cookie Cake Recipes: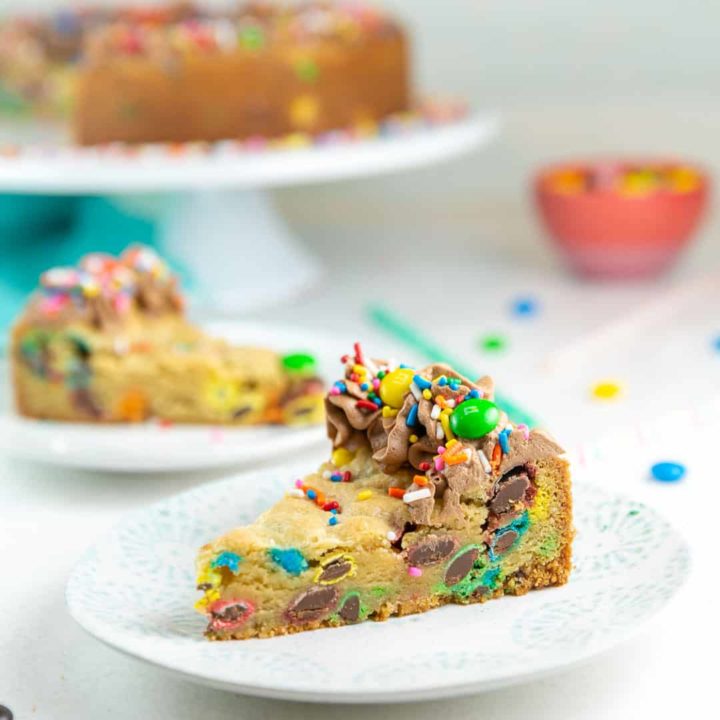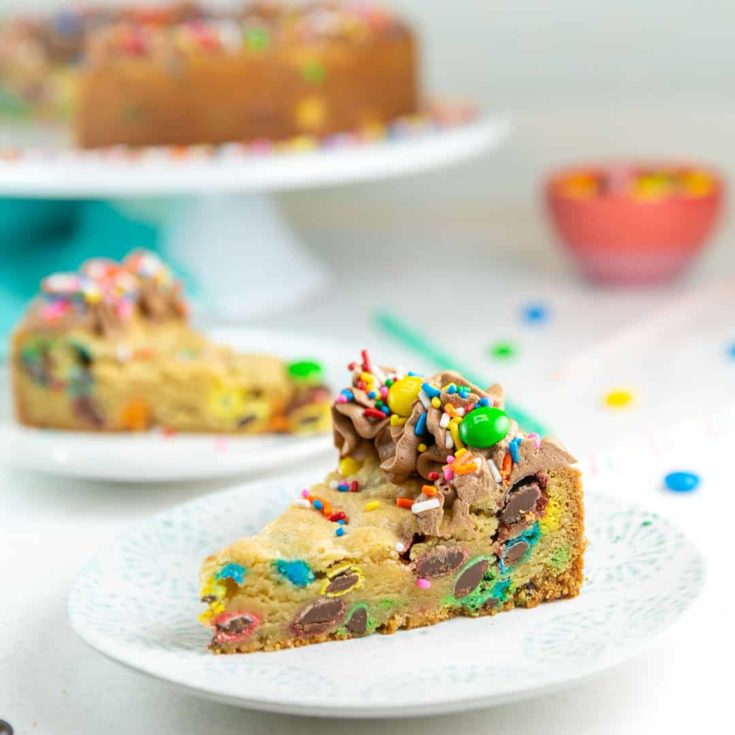 M&M Cookie Cake
Why make cookies when you can make one GIANT M&M Cookie Cake, perfect to celebrate any occasion? 
Ingredients
For the Cookie Cake:
4 ounces (113.5 grams) cream cheese, room temperature
1 cup (226 grams) unsalted butter, room temperature
1/2 cup (107 grams) brown sugar, packed
1/2 cup (99 grams) granulated sugar
2 large eggs, room temperature
2 teaspoons vanilla extract
1 teaspoon baking soda
3/4 teaspoon salt
2 1/2 cups (300 grams) all purpose flour
1 heaping cup M&Ms candies
FOR THE FROSTING:
1 cup (227 grams) heavy cream
6 ounces (170 grams) semisweet chocolate, chopped
sprinkles and additional M&Ms, for topping
Instructions
Preheat oven to 350 °F. Grease a 9-inch springform pan or cake pan.
Mix the dough. Using an electric mixer on medium speed, beat together the cream cheese and butter until well combined, 2 to 3 minutes. Add in the brown sugar and granulated sugar and continue to beat on medium speed until light and fluffy, 3 to 5 minutes more. Add in the eggs, one at a time, followed by the vanilla extract.
Turn the mixer speed down to low and beat in the baking soda, salt, and flour, mixing until just combined and no streaks of flour remain. Fold in the M&Ms.
Bake the cookie cake. Press the cooke dough into the prepared pan, evening the top with a spatula or the back of a spoon. Press a few additional M&Ms onto the surface of the dough. Bake for 20-25 minutes, or until the cookie cake is golden and just baked through. Cool the cookie cake in the pan on a wire rack.
Make the frosting. While the cookie cake is cooling, combine the heavy cream and chopped chocolate in a small microwave-safe bowl. Microwave for 30 seconds and stir well. Repeat this process until the chocolate is fully melted and smooth. Whip this chocolate ganache using the whisk attachment of a mixer or immersion blender on medium speed until the ganache is just able to hold its shape in a pipeable consistency (do not overwhip).
Decorate the cookie cake. Remove the cooled cookie cake from the pan and pipe or spread on the whipped chocolate ganache frosting. Decorate with sprinkles and M&Ms.
Notes
Use room temperature ingredients for the best texture.
The dough can be prepared ahead of time before baking, and stored in the refrigerator up to 24 hours or in the freezer for up to 3 months. Thaw fully before baking.
Let the cake cool completely before slicing. To eat a warm slice of cookie cake (delicious with ice cream!), microwave a slice for 20 seconds before serving.
M&M Cookie Cake can be stored in an airtight container at room temperature for up to 4 days or frozen for up to 3 months.
A Bunsen Burner Bakery Original Protocol
Recommended Products
As an Amazon Associate and member of other affiliate programs, I earn from qualifying purchases.
Nutrition Information:
Yield:

12
Serving Size:

1 slice
Amount Per Serving:
Calories:

564
Total Fat:

34.5g
Carbohydrates:

57.9g
Protein:

6.2g