November 3, 2011
Chocolate Oreo Layer Cake
A rich buttermilk chocolate cake, dotted with chocolate chips, and sandwiched between thick layers of Oreo cream cheese frosting.  Irresistible – this chocolate oreo layer cake is perfect for all your celebrations.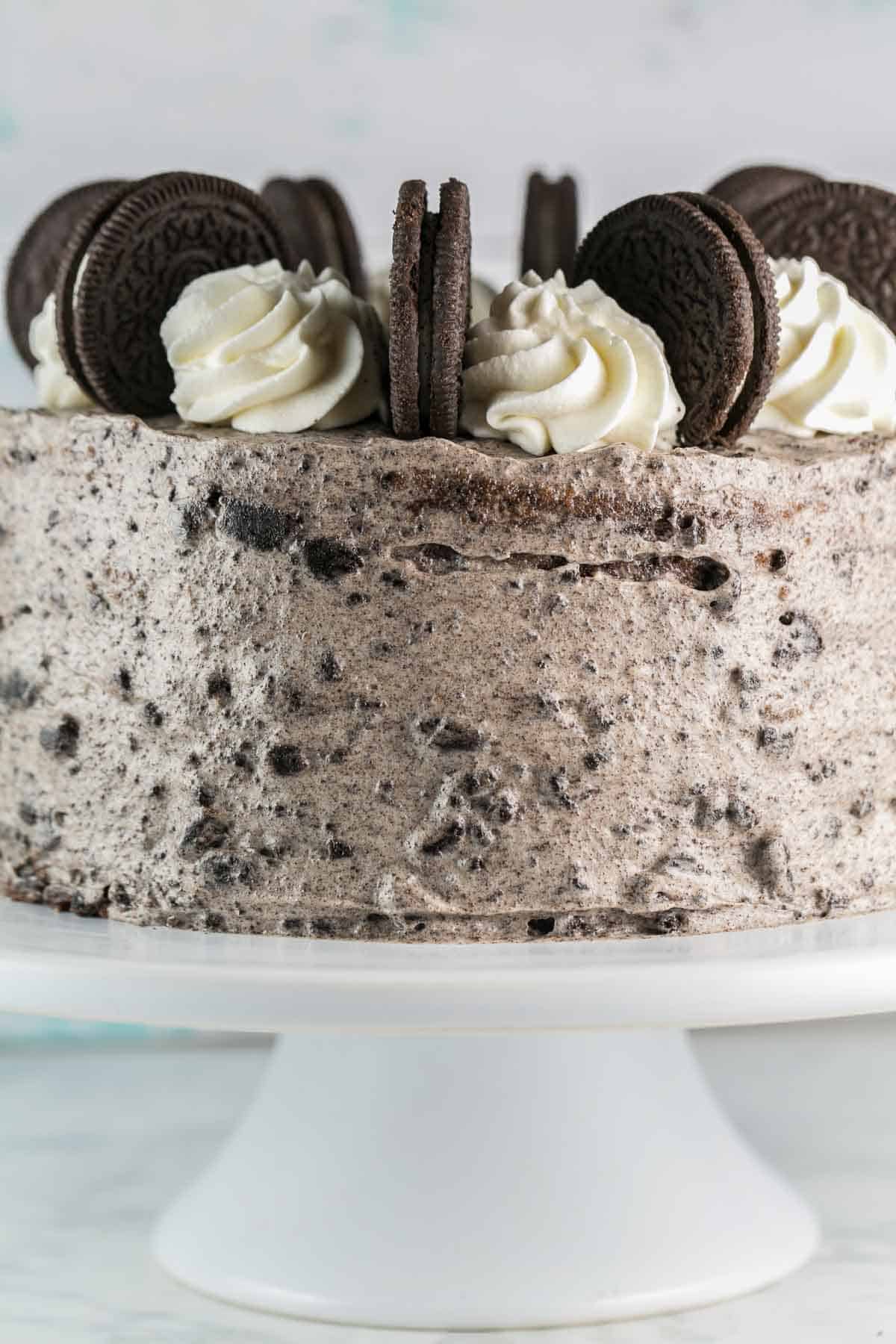 The whole reason I started this food blog was at the encouragement of my co-workers.  I'm a grad student, working towards my Ph.D. in cancer biochemistry — hence, the name Bunsen Burner Bakery.
I bake all the birthday cakes for all my lab members, who often email me asking me for the recipes.  They eventually decided it would be easier for me to put them online instead of emailing… and thus Bunsen Burner Bakery was born!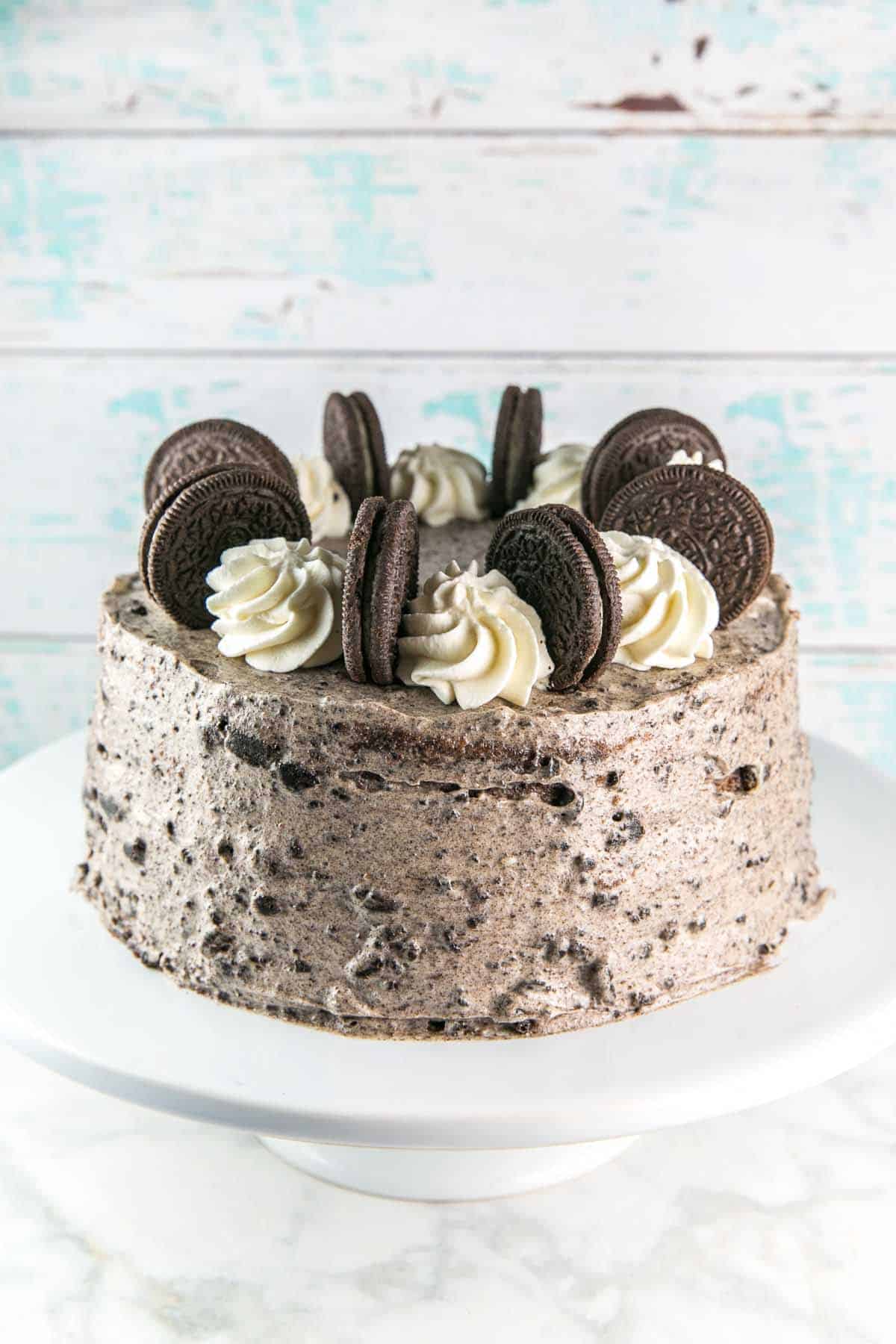 This chocolate oreo layer cake was for the birthday of one of the techs in our lab, Jared.  I have a pretty big backlog of recipes to post (the baking and picture-taking is the easy part; sitting down to write up the recipes is the rate-limiting step!), but Jared asked if I would put his birthday cake up on the blog ASAP so he could share it with his mother.  (Hi, Jared's mom!)
Jared asked me to surprise him with his cake flavor, but I know he's a big chocolate fan.  I went with my classic chocolate cake recipe and an oreo cream cheese frosting.  I like that this is a rich, chocolatey cake with the slight tang and tenderness of buttermilk.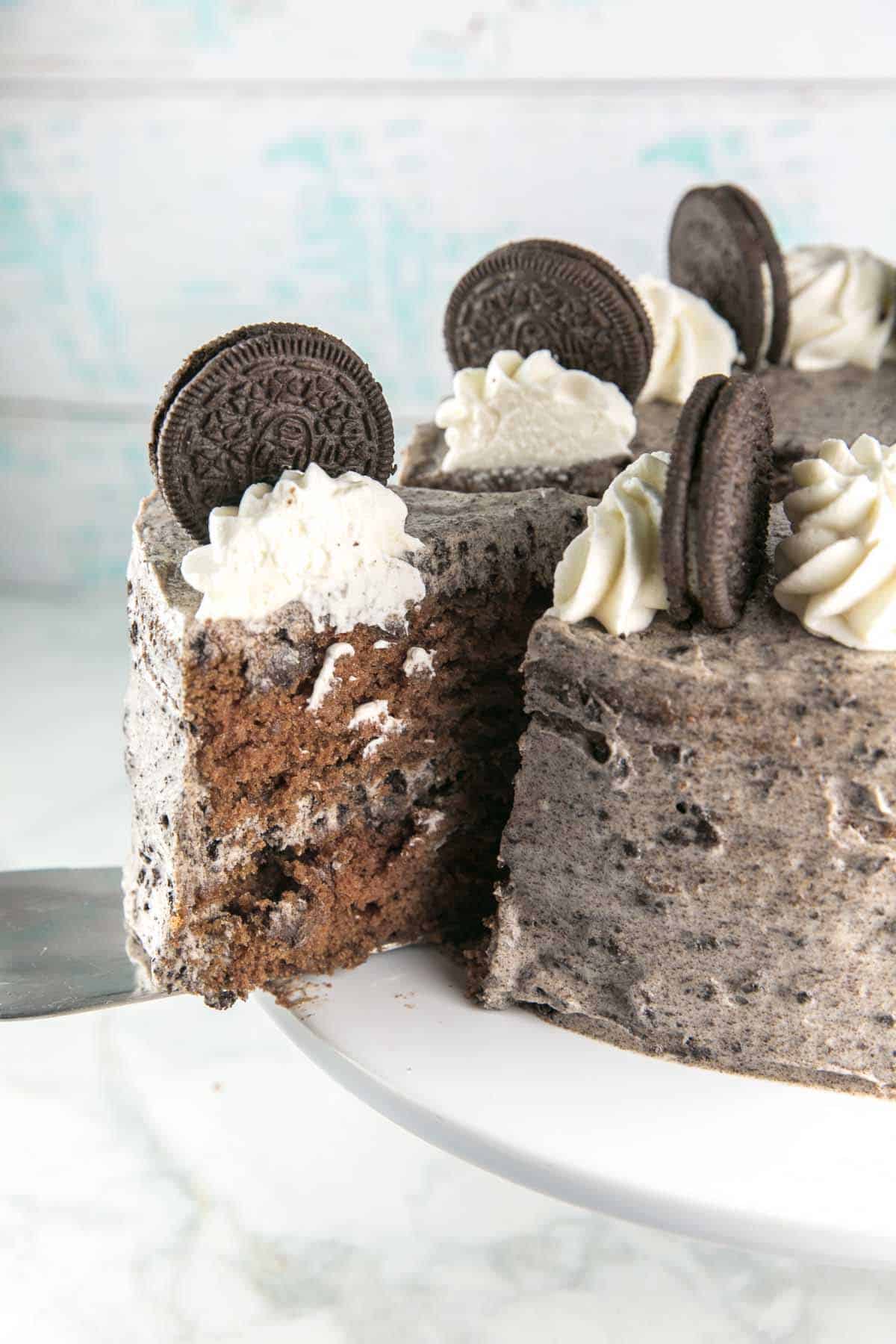 Why do we bake with buttermilk?  Time for some… kitchen chemistry!
Buttermilk is slightly acidic, and lowering the pH of the batter helps to break down the long strings of gluten.  What happens when we break down gluten?  We get a cake that is tender and more moist!  Buttermilk also helps to produce carbon dioxide when paired with baking soda, which means… you guessed it… lighter and fluffier cakes.
I really like pairing buttermilk-based cakes with cream cheese frosting, and who can resist crumbled Oreos?  (Certainly not my labmates.)  Top the cake off with some dollops of whipped cream and decorate with whole oreos for an extra special treat!
Happy birthday, Jared — I hope you enjoyed your cake!  I know the rest of our labmates sure did. 😉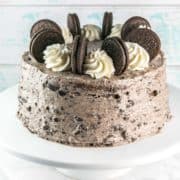 Chocolate Oreo Layer Cake
A rich buttermilk chocolate cake, dotted with chocolate chips, and sandwiched between thick layers of Oreo cream cheese frosting.
Ingredients:
For the cake:
2  cups all-purpose flour
1/2 cup natural unsweetened cocoa powder
1 teaspoon baking soda
1/2 teaspoon salt
10 tablespoons butter, room temperature
1 1/2 cups sugar
3 eggs, room temperature
2 teaspoons vanilla extract
1 1/2 cup buttermilk
3/4 cup chocolate chips
For the frosting:
1/4 cup butter, room temperature
12 ounces cream cheese, room temperature
2 tablespoons vanilla extract
2 cups confectioners sugar
20 oreo (or chocolate sandwich cookies), crushed
optional: additional cookies and freshly whipped cream for decorating
Directions:
Preheat oven to 350 °F.  Line two 8-inch round cake pans with parchment paper and lightly grease.
Using an electric mixer, cream together butter and sugar until light and fluffy.  Beat in eggs, one at a time, followed by vanilla extract.
Stir in half the flour, followed by half the buttermilk.  Add the remaining dry ingredients (half the flour, cocoa powder, baking soda, and salt), followed by the rest of the buttermilk.  Stir just until all dry ingredients are incorporated.  Gently stir in chocolate chips.
Divide batter evenly between two pans.  Bake for 30-35 minutes, or until a tester in the center of the cake comes out almost clean.  Cool in pans for 15 minutes, then turn onto a wire rack to cool completely (1-2 hours) before frosting.
To make the frosting, use an electric mixer to beat together the butter and cream cheese until smooth.  Add in the vanilla extract.  Slowly add in the powdered sugar, 1/4 cup at a time.  If frosting is too stiff, add in one tablespoon of milk.  Beat in the crushed oreos.
Unfrosted cake can be baked up to two days ahead of time and stored at room temperature, or frozen for up to 3 months.  After frosting, store cake in the refrigerator for up to 4 days.
A Bunsen Burner Bakery Original Protocol