January 7, 2023
Low Sugar Blueberry Muffins
Trade in your special occasion supersized bakery muffin for one of these Low Sugar Blueberry Muffins. All the great blueberry muffin taste you love, highlighting the natural sweetness of blueberries. Make ahead and freeze for a fast and easy breakfast!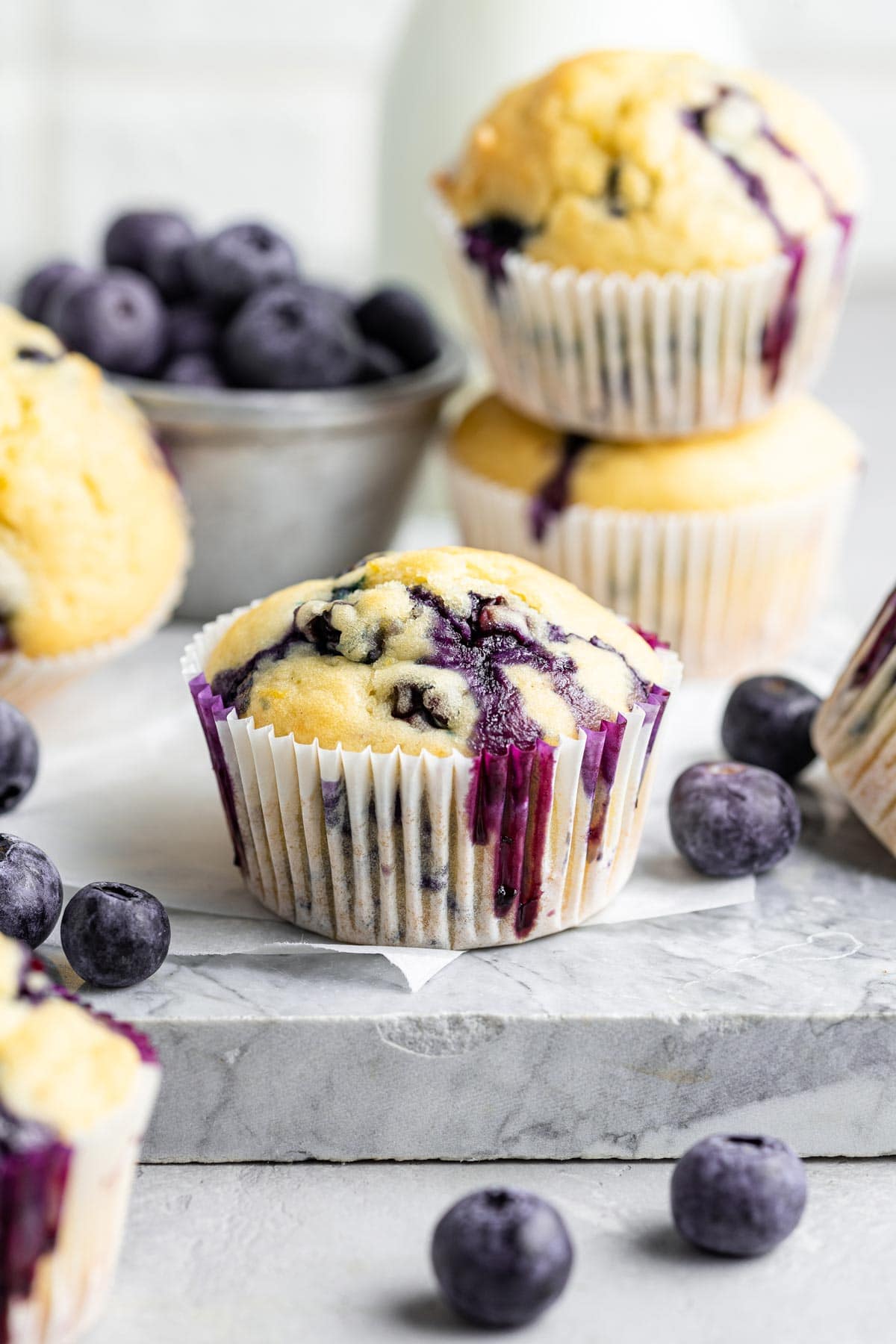 Every year, I pick a new theme for the year and share (at least) one new recipe in that category each month.
So far, we've done:
After significant waffling back and forth (cookies? snack cakes? cupcakes?), I've settled on MUFFINS for our theme of 2023! (Although the use of the word waffle makes me think waffle of the month could be a fun one!)
Muffin recipes are always pretty popular on my site, and I totally understand why. They're the perfect anytime treat – breakfast, snack, dessert – and since they freeze well, it's easy to always have some on hand. My kids love tiny mini muffins in their lunch boxes, and I always love to pull out some freshly baked muffins when we have weekend company.
So I hope you're excited to come along on this yearlong journey of delicious muffins!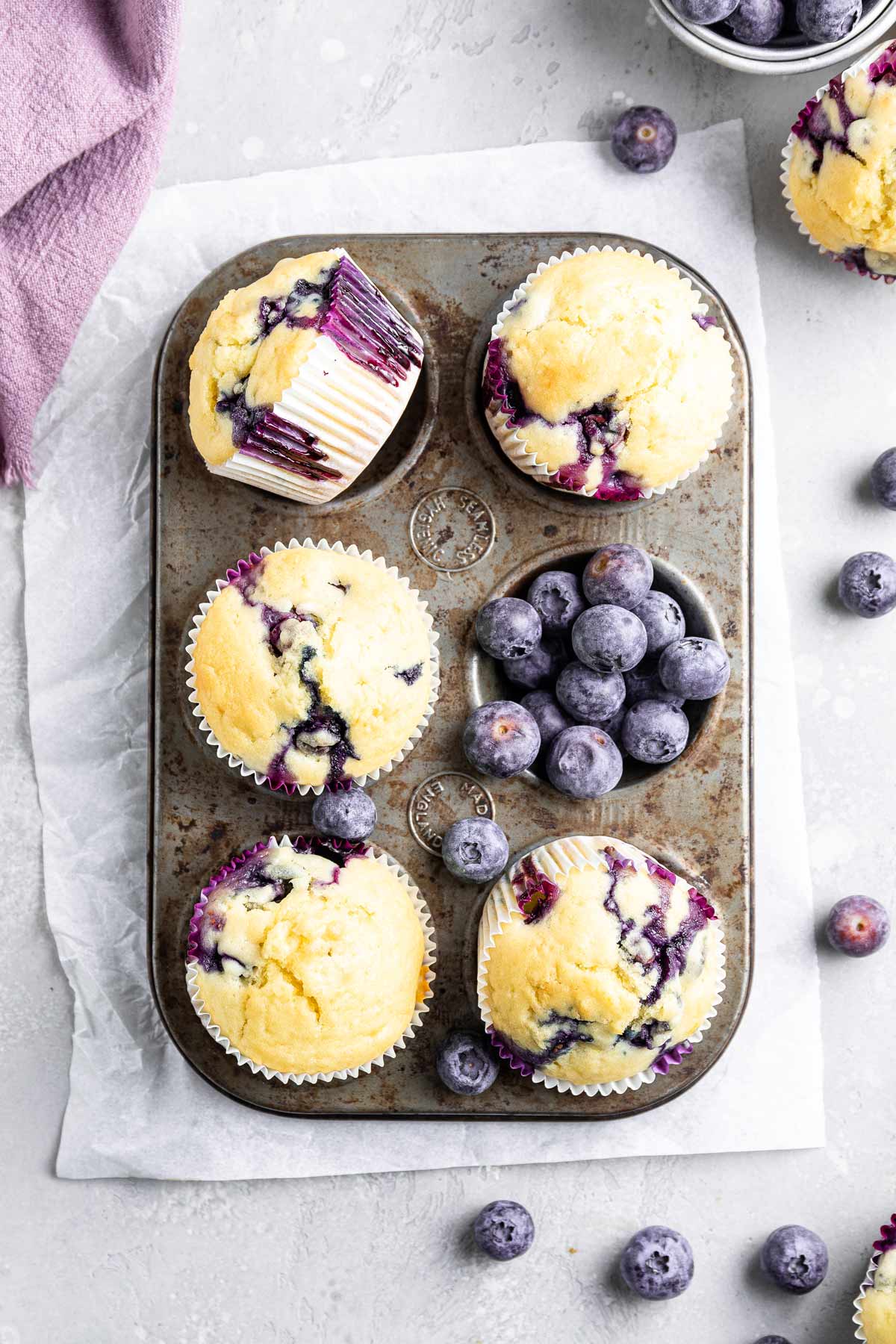 "Skinny" Blueberry Muffins
I'm kicking off this year with these low-sugar blueberry muffins. Admittedly, it makes me shudder a little because this is not supposed to be a correlation between January and New Years' resolutions and anything with low sugar or skinny. This is actually an ancient recipe I've wanted to update for a long time.
I, for one, do NOT believe food has any sort of morality or that we all need to lead a low-sugar lifestyle. (I'm a dessert-based food blogger, after all!) And I cringe a little that I named these skinny blueberry muffins when I first wrote this post in 2013!
But! I still believe that muffins have gotten a little out of control – so much sugar with streusel toppings and sugar crystals and glazes. Somehow muffins morphed from breakfast to the equivalent of a slice of cake. Don't get me wrong: I love a giant, sugary, crunchy-topped muffin as much as the next person – but not on a regular basis.
These low-sugar blueberry muffins are your everyday muffins.
These are not your typical jumbo-sized, sugary crumb-coated muffins. They are a little denser, a little more tart, and almost poundcake-like in their consistency… but still oh-so-good. They're muffins I'm happy to pack in my kids' lunches as is, or with an even bigger nutritional punch with the options listed below!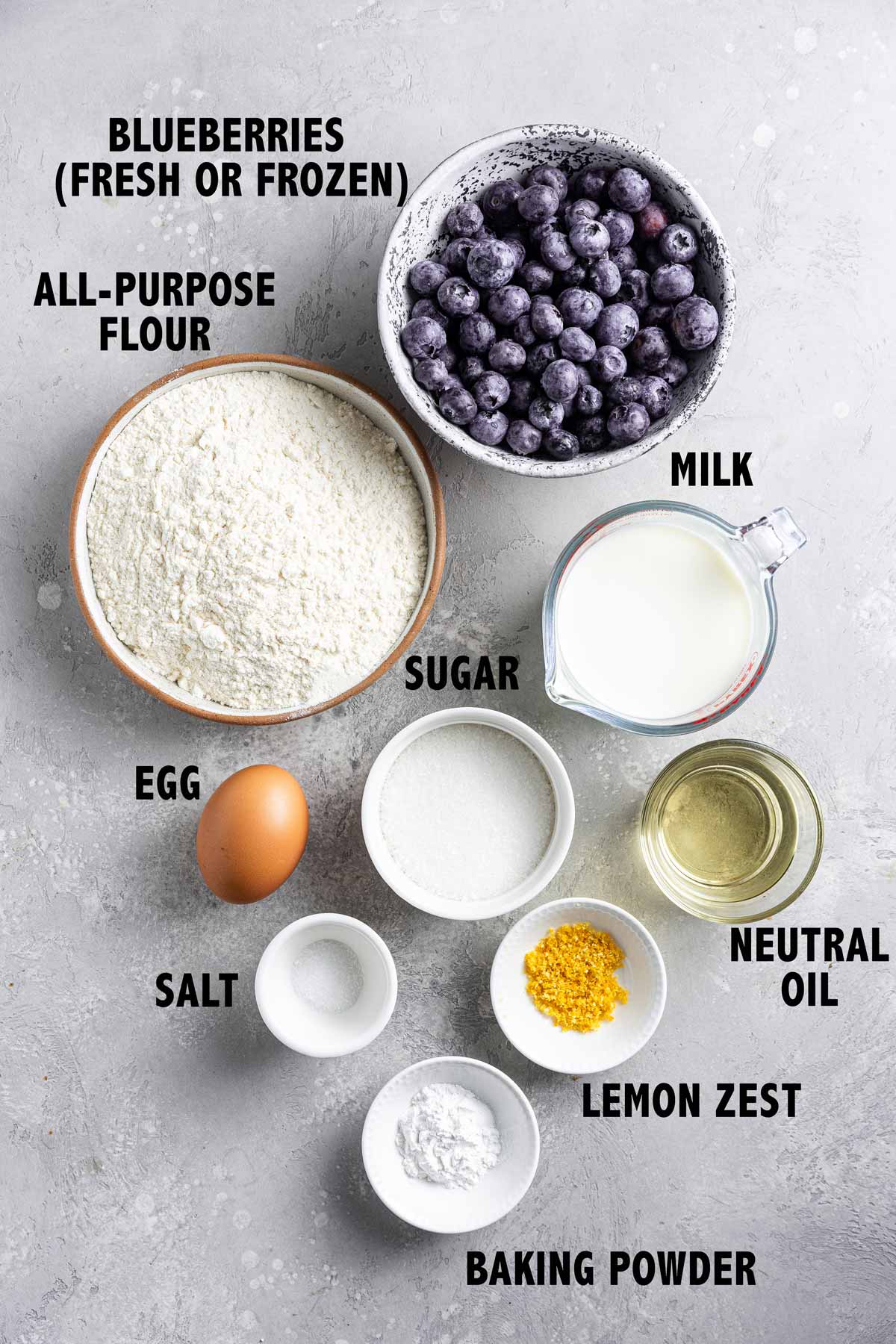 Quick & Easy Muffins
Let's talk about why I love these muffins so much: they're EASY! Mix-by-hand level easy, and pretty much impossible to screw up.
You can make a batch in just 30 minutes, so quick enough when you're short on time.
The ingredients are simple, and probably things you already have on hand: all-purpose flour, granulated sugar, baking powder, salt, one egg, milk, vegetable oil, lemon zest, and blueberries.
They are packed full of blueberries and lemon zest, which provide TONS of flavor, even without lots of oil, butter, or too much sugar. (In fact, one of these muffins clocks in around 150 calories with under 9 grams of sugar – compared to 490 calories and 34 grams of sugar from an Au Bon Pain blueberry muffin.)
And probably my favorite part: they freeze wonderfully. Make a batch (or a double batch!) on the weekend and pull out a homemade delicious blueberry muffin whenever you want. We store lots of these in the freezer in zip-top bags and pull them out for our kids' lunches the night before.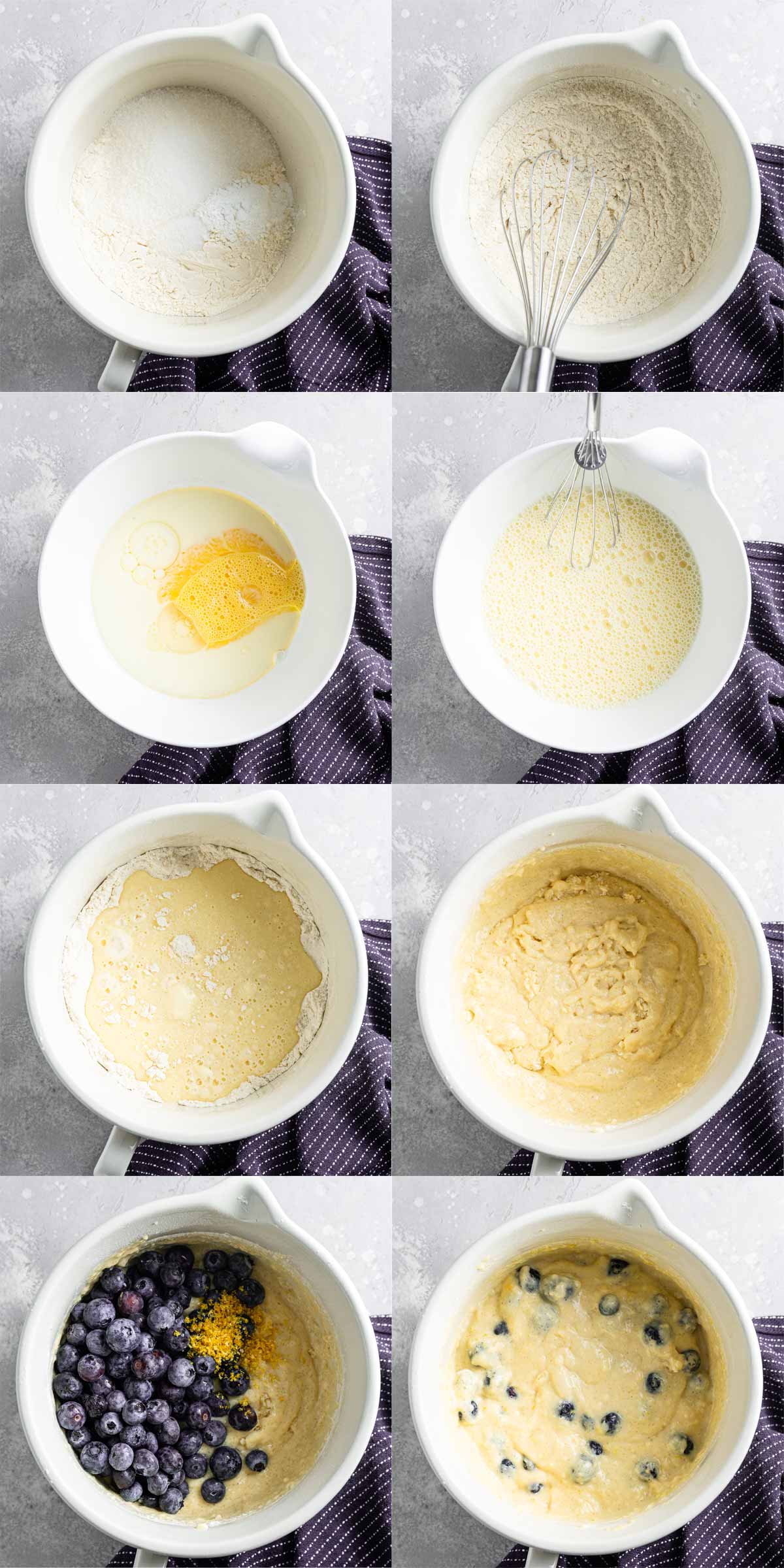 Use Fresh or Frozen Blueberries
Blueberries are one of those fruits that we can pretty much always find fresh year-round, so I usually make these with fresh blueberries. But if you're having trouble finding them, or find a great deal on frozen blueberries, you can use those instead!
One problem with baking with frozen blueberries, however, is the color bleed. The muffins taste the same, but they don't look the same. If you mix in blueberries that were frozen, the batter sometimes turns an unappealing purplish-gray color. Why does this happen and how can we prevent it? The answer, of course, all comes down to my favorite subject… kitchen chemistry!
Kitchen Chemistry

When blueberries are frozen and then thawed, the cell walls rupture. Liquid that was once contained within the cells of the blueberries can leak out into the batter once the blueberries thaw.
So how do we prevent this? There are two options: (1) mix in the blueberries while still frozen, before the juice has a chance to thaw, or (2) thaw the blueberries, rinse away all the excess liquid, and dry well before mixing into the muffins.
I usually find it's much quicker and easier to just mix in the still-frozen blueberries than to thaw, wash, and dry the blueberries.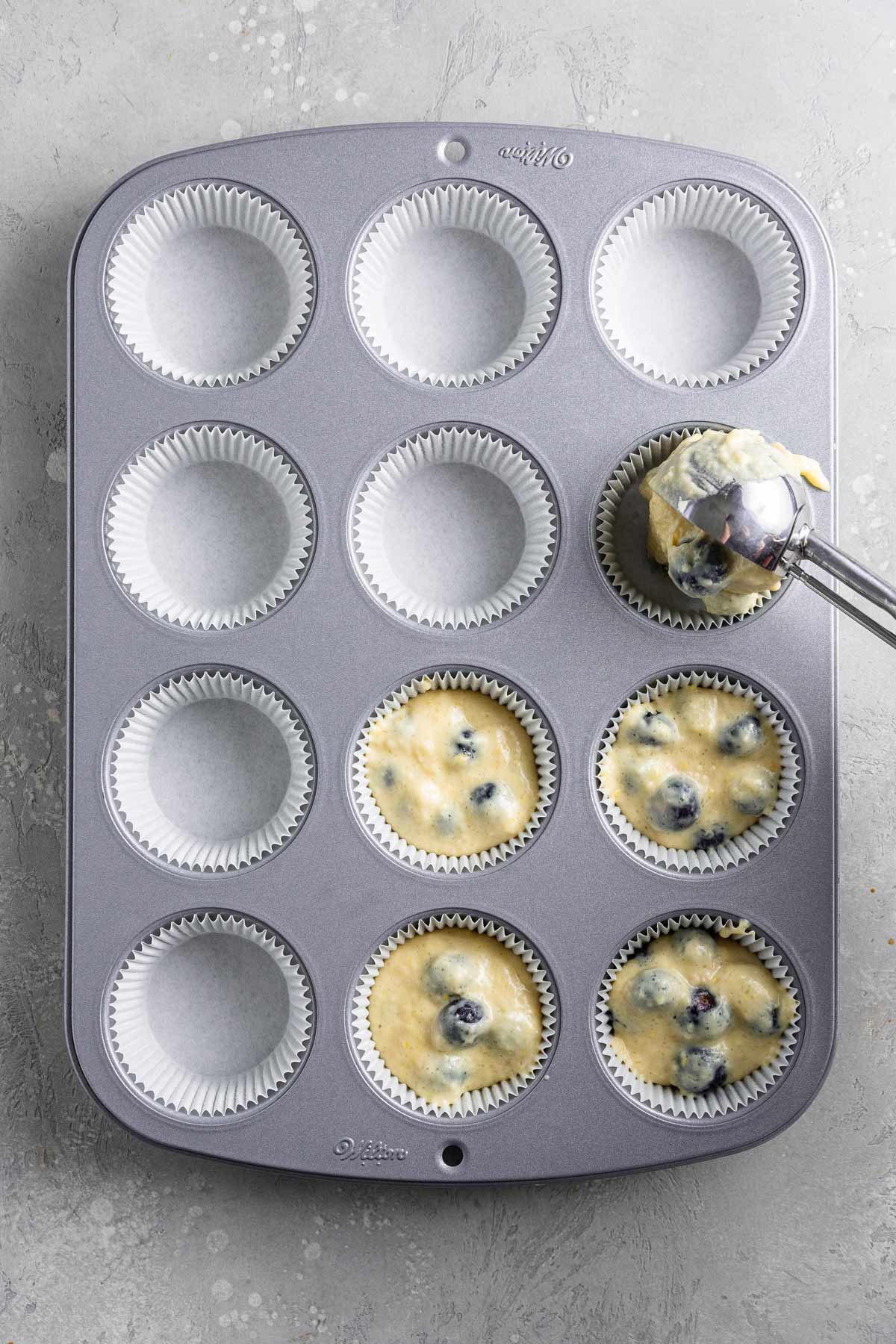 Healthy Muffin Add-Ins
Looking to bump up the nutrition profile of these muffins a little? Want some variation so it's not all blueberry muffins, all the time? This muffin base is endlessly adaptable, but here are a few ideas to get you started!
Replace 3/4 cup of the all-purpose flour with whole wheat flour (1 cup all-purpose flour, 3/4 cup whole wheat)
Replace 3-4 tablespoons of the all-purpose flour with ground flax seeds or chia seeds
Swap out blueberries with different fresh or frozen fruit, like raspberries, halved cherries, chopped apples, or chopped pears
Add 1/4 cup of chopped nuts (almonds are walnuts are my favorite) to the batter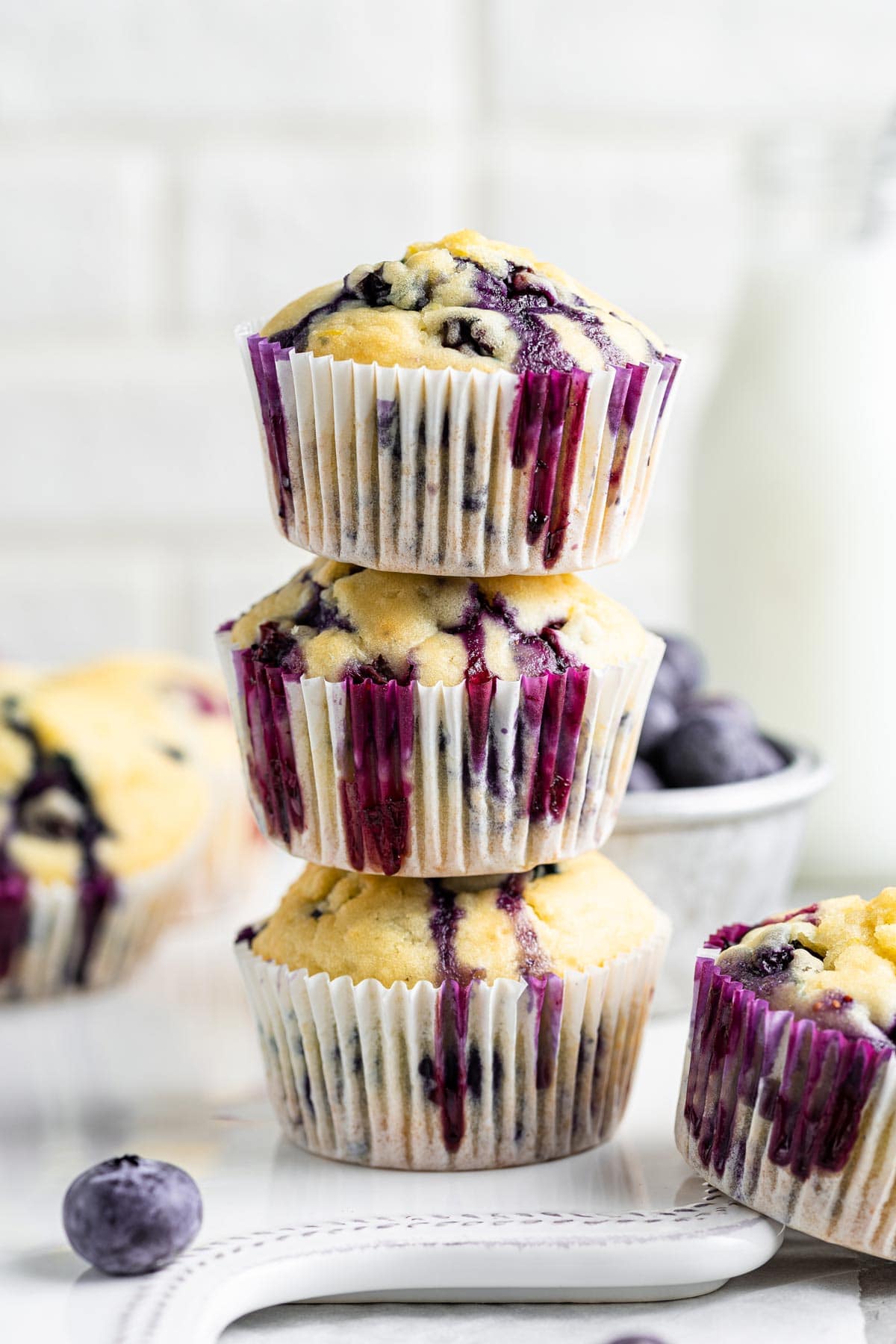 Tips and Tricks for the Best Low Sugar Blueberry Muffins
Fresh or frozen blueberries can be used for these muffins. If using frozen blueberries, don't thaw them before mixing them into the batter.
Skip the muffin liners (if desired) – grease the muffin tin well and liners are not necessary (less waste!).
Use an ice cream scoop to transfer the batter into the muffin tin for equal-sized muffins.
Want smaller muffins? Bake as 24 mini muffins, baking for 13 to 15 minutes.
No muffin tins? Bake as a quick bread in a 9 x 5-inch loaf pan at 350 °F for 45-50 minutes, or until a tester inserted into the center comes out clean.
Double or triple your batch of blueberry muffins and freeze the leftovers! These low-sugar blueberry muffins can be stored at room temperature for up to 4 days, or frozen for up to 3 months.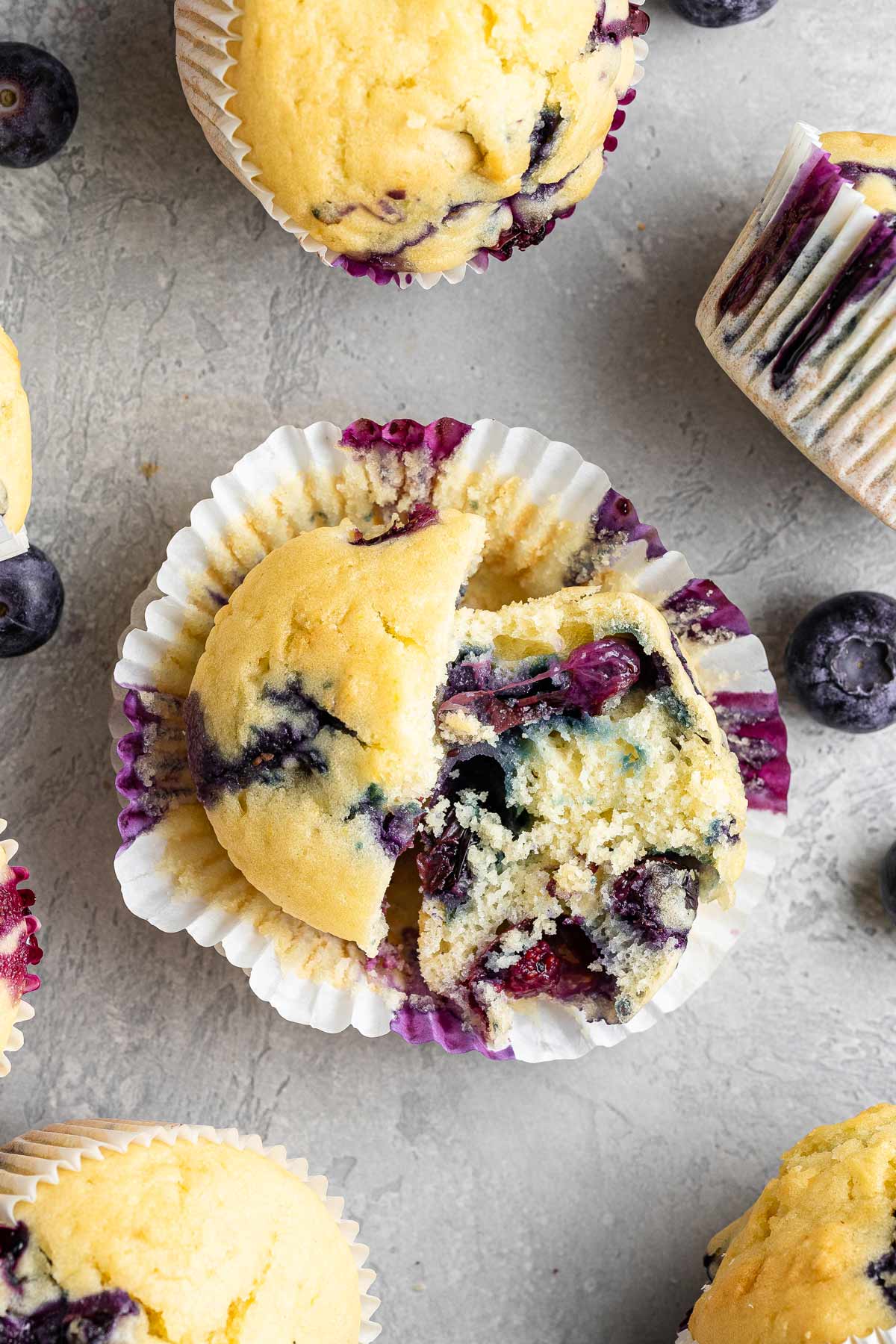 More Blueberry Recipes:
Low Sugar Blueberry Muffins
Trade in your special occasion supersized bakery muffin for one of these everyday-appropriate Low Sugar Blueberry Muffins bursting with blueberries.
Ingredients
1 3/4 cups (210 grams) all-purpose flour
1/3 cup (66 grams) granulated sugar
2 teaspoons baking powder
1/4 teaspoon salt
1 large egg
3/4 cup (170 grams) milk (whole, low-fat, almond, or soy)
1/4 cup (50 grams) neutral oil, like vegetable or grapeseed
1 teaspoon lemon zest
2 cups (310 grams) fresh or frozen blueberries
Instructions
Preheat the oven to 400 °F. Grease 12 muffin cups or line them with paper wrappers and set aside.
In a medium bowl, combine the flour, sugar, baking powder, and salt. Stir to mix, then make a well in the center of the flour and set aside.
In a second bowl, combine the egg, milk, and vegetable oil. Stir well. Pour this into the well in the flour mixture. Stir by hand until no dry streaks of flour remain.
Fold in the fresh blueberries and lemon zest.
Spoon the batter into the prepared muffin tin, filling each two-thirds full.
Bake for 18-20 minutes, or until a tester comes out clean. Cool muffins completely on a wire rack.
Notes
Either fresh or frozen blueberries can be used. If using frozen blueberries, fold in from frozen (do not thaw first).
The batter can also be baked as 24 mini muffins (bake 13-15 minutes) or as a quick bread in a 9x5-inch loaf pan (bake at 350 °F for 45-50 minutes).
Leftovers can be stored in an airtight container at room temperature for up to 4 days or frozen for up to 3 months.
Recommended Products
As an Amazon Associate and member of other affiliate programs, I earn from qualifying purchases.
Nutrition Information:
Yield:

12
Serving Size:

1 muffin
Amount Per Serving:
Calories:

150
Total Fat:

5.1g
Carbohydrates:

23.5g
Sugar:

8.8g
Protein:

3g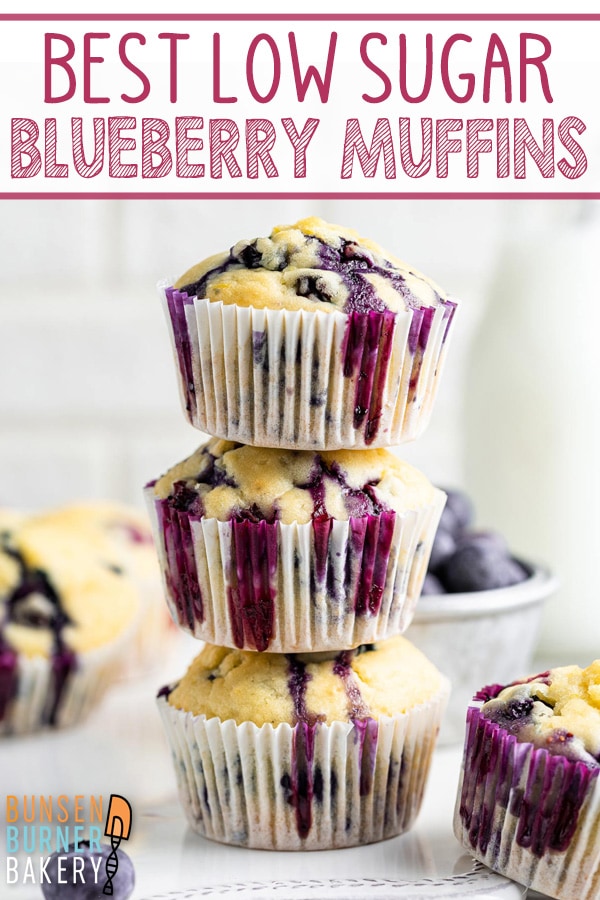 This recipe was originally published in December 2013 and updated with new photos and helpful tips in January 2023.