December 11, 2011
3 Ingredient No Bake Oreo Truffles
Only three ingredients? Yes! These No Bake Oreo Truffles are insanely easy – and incredibly addicting. A must for your next party or holiday gathering!
It seriously does not get any easier than these no bake oreo truffles.  Three ingredients (4 if you choose to drizzle with white chocolate).  No bake.  OREO TRUFFLES.  Come on, now.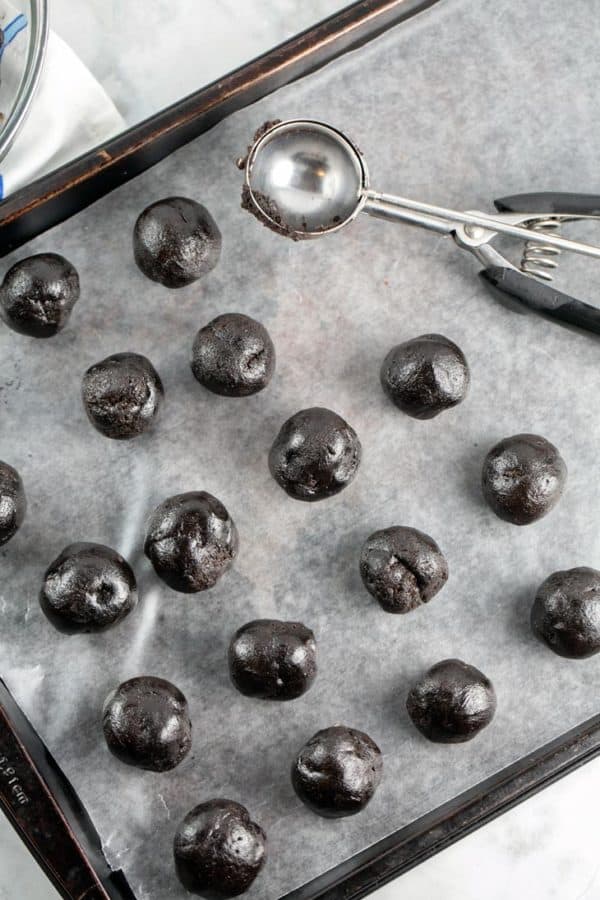 I've been making these no bake oreo truffles for as long as I can remember, and it's become sort of a tradition now.
My husband's best friend requests them for every party.  He jokes that he won't come down to DC for Chrismukkah if there won't be oreo truffles.
Since they are so easy to make, I am generally happy to oblige!
Things you need: Oreos, cream cheese, chocolate. That's it.
Smash up the oreos (a food processor helps, but a good old rolling pin and plastic bag works fine).
Mix in the cream cheese well. Use a spoon, or I find it's even easier to use your hands.
Scoop the truffles (I find a cookie scoop is key for this), roll into balls, and freeze until firm.
Let the truffles warm up a little, then roll in melted chocolate. Boom. Done.
The only important step here: don't use chocolate chips for your melted chocolate. Use a chocolate bar, baking chocolate, or candy melts.
Chocolate chips have stabilizers added to help form the classic chip shape. These added stabilizers mean the chocolate tends to get lumpy when melted.
So skip the chocolate chips and go for the real deal instead.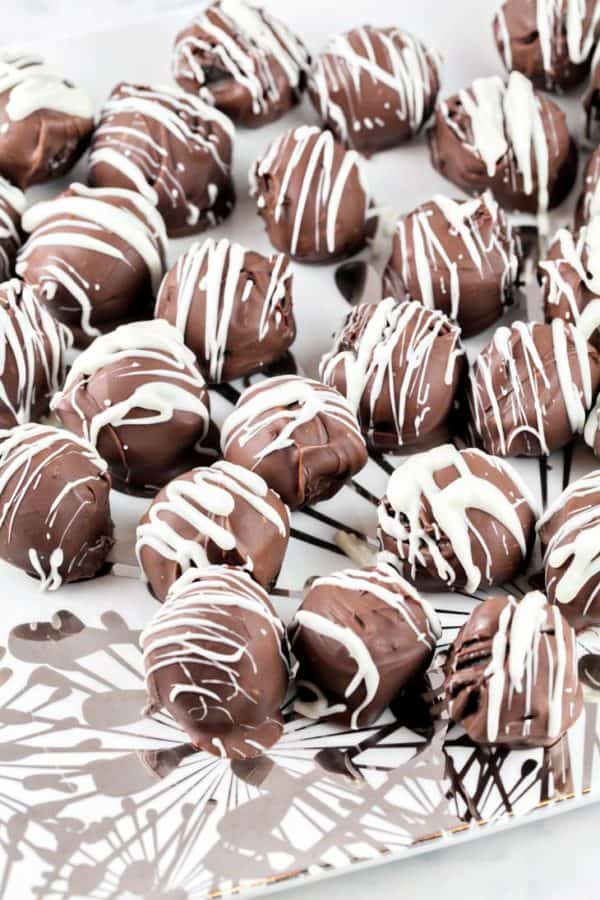 Just a quick warning, however. Once you start making no bake oreo truffles, you may not be able to stop!
Next thing you know, it will be 10 years down the road and you'll still get requests for them for every party! (Good thing they're so dang easy to make.)
No Bake Oreo Truffles
Only 3 ingredients and no bake, these oreo truffles are insanely easy and incredibly addicting.
Ingredients:
one package Oreos (39 cookies)
8 ounces cream cheese, softened
16 ounces semi-sweet chocolate (see note below)
optional: 4 ounces white chocolate
Directions:
Finely crush oreos, either using a food processor or rolling pin and a freezer bag.  Mix cookie crumbs with cream cheese in a large bowl until well blended.
Line a cookie sheet with parchment or wax paper.  Use a small scoop to roll cookies into a one inch balls.  Place the cookie sheet in the freezer for 10 minutes to firm.  (Oreo truffles can be left in the freezer for longer, but will need time to warm back up before dipping.)
Melt chocolate using a glass or metal bowl placed over a pot of simmering water.  Once completely melted, dip oreo truffleslinto melted chocolate and place back on wax paper covered cookie sheet.
Optional: melt white chocolate and drizzle over the truffles, using a fork.
Refrigerate truffles for at least one hour, until chocolate is set; then transfer to an airtight container.  Truffles can be kept under refrigeration for up to a week.
Use whole chocolate bars, baking chocolate, or candy melts for the melted chocolate — do not use chocolate chips.