September 11, 2017
Bacon Chocolate Chip Waffles
With the classic salty-sweet combination, these bacon chocolate chip waffles are sure to be at hit for your next weekend brunch!
Waffles are about as high maintenance as it comes for breakfast. They're not hard to make, per se, and I feel like waffles are almost universally adored. But they just take so dang long to make a whole batch.
Pour in the batter. Flip the waffle iron. Wait 4-5 minutes. Flip again. Open the waffle iron. Peel out the waffle. Pour in more batter. Repeat. For a batch of 8 waffles, that is a lot of standing around and waiting time.
Heck, even poached eggs, which are much more logistically difficult, can be made 4 at a time!
Waffles are not part of our regular breakfast routine. They are reserved solely for lazy weekend mornings with guests. Friends and family sitting around the table, leisurely chatting, in no rush to eat breakfast.
Company hanging out in the kitchen while I (wo)man the waffle iron for the better part of an hour. Waffles are for company.
At two years old, my son has already figured this out. My parents came to stay with us this weekend and when he went upstairs to read books with Grandma and Grandpa, I said I was going to go bake some blueberry blintzes for breakfast.
"No Mommy!" he declared. "Grandma and Grandpa here. We have waffles for breakfast!"
And who am I to argue with a two year old who knows that overnight guests mean waffles? So we made a batch of these bacon chocolate chip waffles for my bacon-loving 2 year old, which was met with rave reviews "Mommy, there's BACON hiding in my waffle! I found it!"
How to Keep Waffles Crispy
The perfect waffle is just a little crispy on the outside and fluffy in the middle. But all too often, waffles are soggy. So let's talk about how we can prevent that.
First up, make sure to not overwork the batter – lumps are okay when you mix by hand! And for something like this, you should mix by hand – a stand mixer will overbeat the batter.
Secondly, how you store the hot waffles makes a huge difference. If you're waiting to serve all the waffles together, you might be tempted to stack them on top of each other on one plate. Don't do this! The steam released from the hot waffle sandwich makes them super soggy.
Instead, let each waffle sit in a single layer on a plate, on a cooling rack, or even in a single layer on a cookie sheet in a warm oven. But don't create a giant waffle stack (you know, like pictured here… do as I say, not as I do!) unless you want soggy, extra chewy waffles.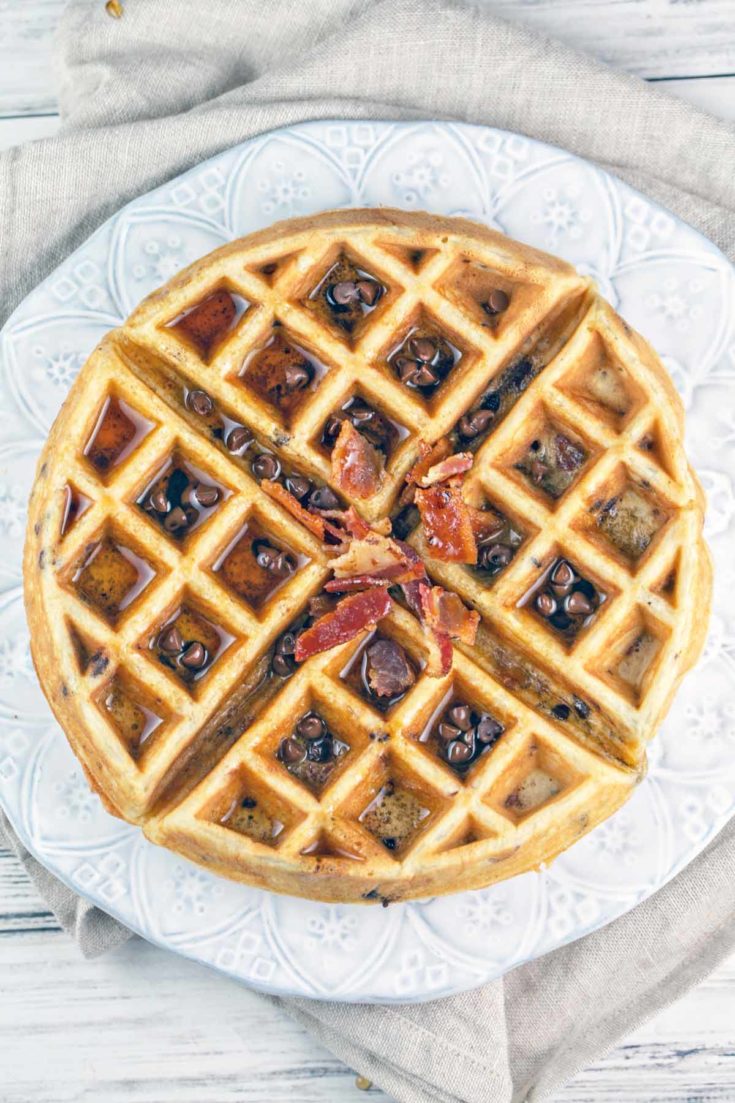 Freezing Bacon Chocolate Chip Waffles
Don't want to deal with waiting one at a time to make waffles for guests? Make them all ahead of time! Also perfect for a weekday morning breakfast. Whenever I make waffles, I make a few extra and store them, and my toddler loves a piece in the morning before I head off to work.
Cool each waffle on a wire rack, then freeze in a single layer on a cookie sheet until hard. Move the frozen waffles into a freezer-safe bag and store for up to 3 months. Whenever you want a bacon chocolate chip waffle, remove from the freezer and reheat straight from frozen in a toaster or oven. Easy peasy!
And believe me, you will want these often. Salty, smokey bacon with sweet and melty chocolate chips. It's easy to see why these bacon chocolate chip waffles are so crowd pleasing!
More Chocolate Breakfast Recipes: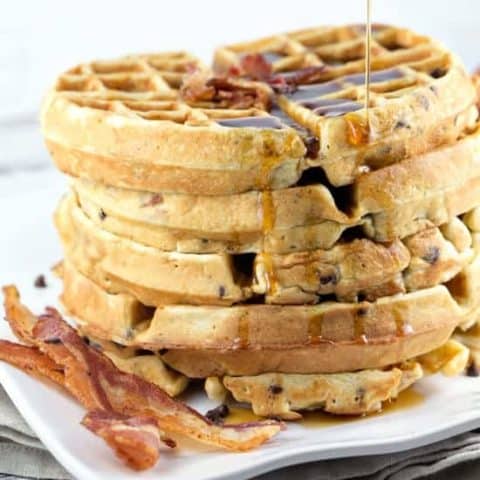 Bacon Chocolate Chip Waffles
With the classic salty-sweet combination, these bacon chocolate chip waffles are sure to be at hit for your next weekend brunch!
Ingredients
2 cups all-purpose flour
2 teaspoons baking powder
1/2 teaspon baking soda
1/4 teaspoon salt
1/4 cup sugar
3/4 cup buttermilk
3/4 cup milk
1 teaspoon vanilla extract
2 large eggs
1/3 cup butter, melted
10 slices of bacon, cooked and crumbled
1 cup miniature chocolate chips
Instructions
Preheat waffle iron to desired setting (recommended: medium).
In a large bowl, whisk together the flour, baking powder, baking soda, salt, and sugar. In a medium bowl, whisk together the buttermilk, milk, vanilla extract, eggs, and melted butter, stirring until smooth.
Pour the liquid mixture into the flour mixture, whisking to combine. Do not over-mix; batter will be lumpy but no streaks of flour should remain. Gently fold in the bacon and chocolate chips.
Scoop 1/2 to 3/4 cup batter into the waffle iron, spreading if necessary. Cook as directed by your machine. Remove cooked waffles and cool on a cookie rack (this will prevent waffles from getting soggy).
Serve immediately with your favorite toppings.
Notes
Waffles can be made ahead and frozen. Freeze in a single layer on parchment paper, then combine frozen waffles into a freezer bag. To cook, places waffles on a metal cookie cooling rack and bake for 10 minutes at 400 °F, or until fully heated throughout.
Recipe adapted from Bunsen Burner Bakery's Light & Fluffy Belgian Waffles
Recommended Products
As an Amazon Associate and member of other affiliate programs, I earn from qualifying purchases.
Nutrition Information:
Yield:

6
Serving Size:

1 waffle
Amount Per Serving:
Calories:

559
Total Fat:

29g
Cholesterol:

113mg
Sodium:

749mg
Carbohydrates:

57g
Sugar:

21g
Protein:

16g