June 5, 2015
Grilled Asparagus & Feta Salad
Grilled asparagus, tangy feta cheese, and a splash of lemon juice — Grilled Asparagus and Feta Salad is the perfect quick and easy summer salad.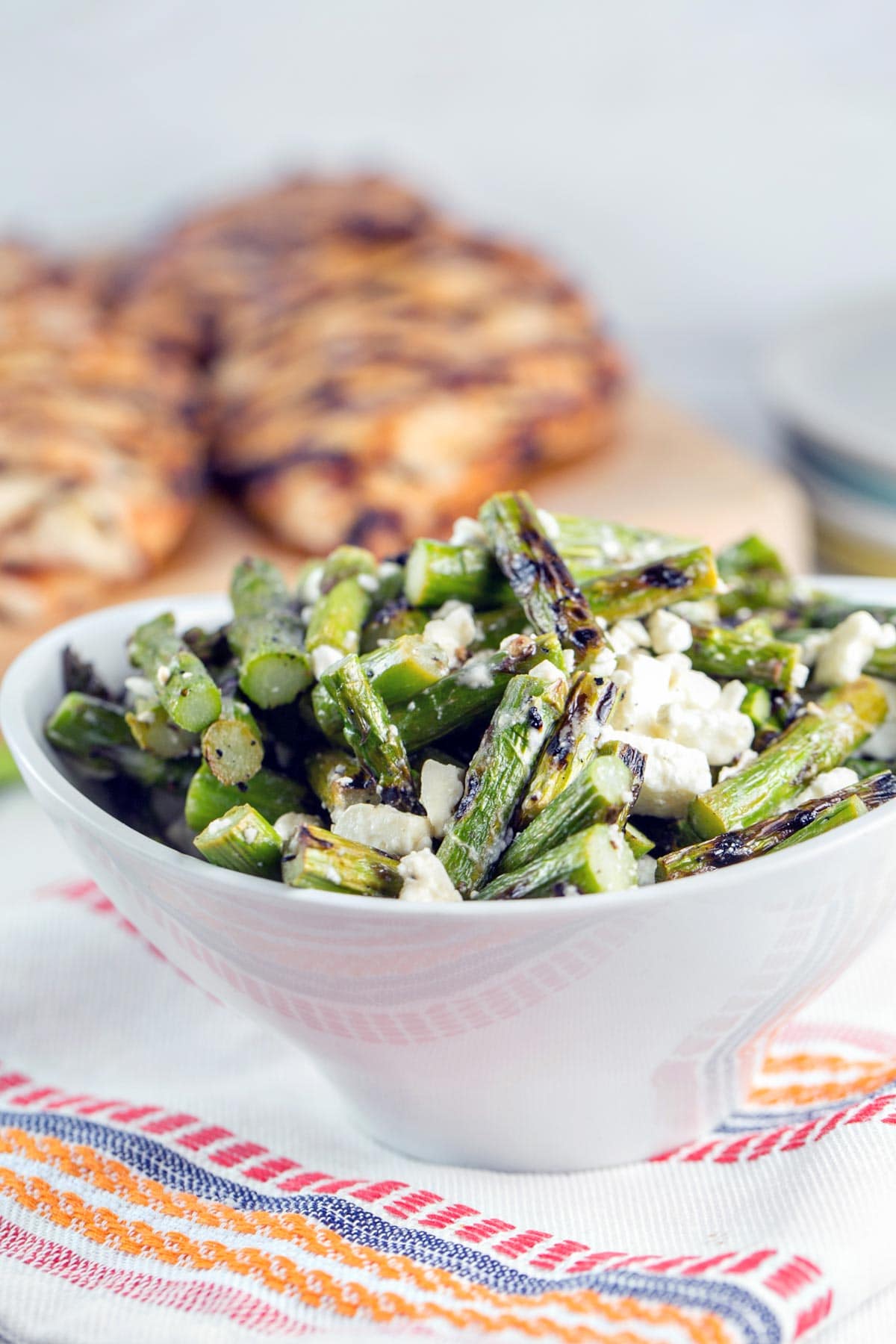 Even though it's June, asparagus is still going strong around here. I've spotted it at our farmers market and in our CSA box.
Growing up, asparagus was probably my favorite vegetable. I rarely make it anymore, though, since it's one of the few vegetables my husband refuses to eat. Sob! I know… I know… but he's willing to eat most other vegetables, so I let this one slide.
Instead, I get my asparagus fix when friends come over for dinner. If you've been to my house during asparagus season, there's a good chance I've had some on the grill. Asparagus is good sauteed or roasted, but I find it really shines when I find it's just a little charred over a hot grill.
How do you make grilled asparagus even better? With this grilled asparagus and feta salad! Toss with a little olive oil, salt, lemon juice, and feta for a great side dish or lunch.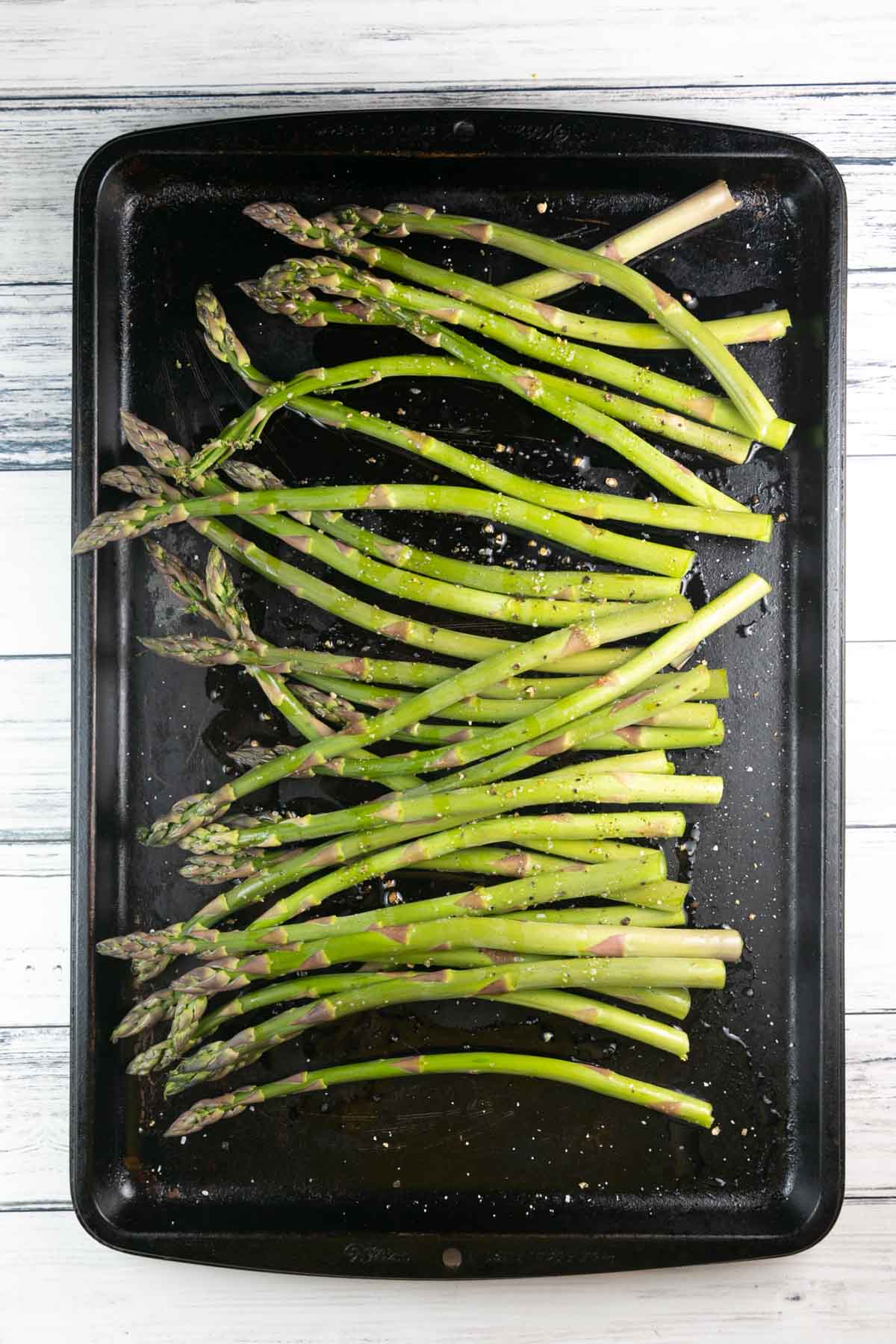 How to Pick the Best Asparagus
Because this asparagus and feta salad doesn't have many ingredients, we want to use high-quality asparagus and feta for the most flavor. But how do you choose the best asparagus? I'm here to help!
Look for firm, plump stalks with the top buds firmly closed. Asparagus comes in green, white, or purple varieties – whatever you choose, make sure the color looks bright and not dull and faded.
Choose a bunch of asparagus with similar size stalks. Thinner stalks are more tender and better for grilling, while thicker stalks have a more pronounced flavor. Whichever you prefer, try to use all the same size in one recipe, as thicker stalks take longer to cook than thinner stalks.
Use asparagus as quickly as possible after purchasing it. Asparagus will wilt quickly. If you will not be using the asparagus the same day it is purchased, trim the bottom of the stalks and store it in a glass with a few inches of water in the bottom. This will help keep the stalks crisp for a few additional days.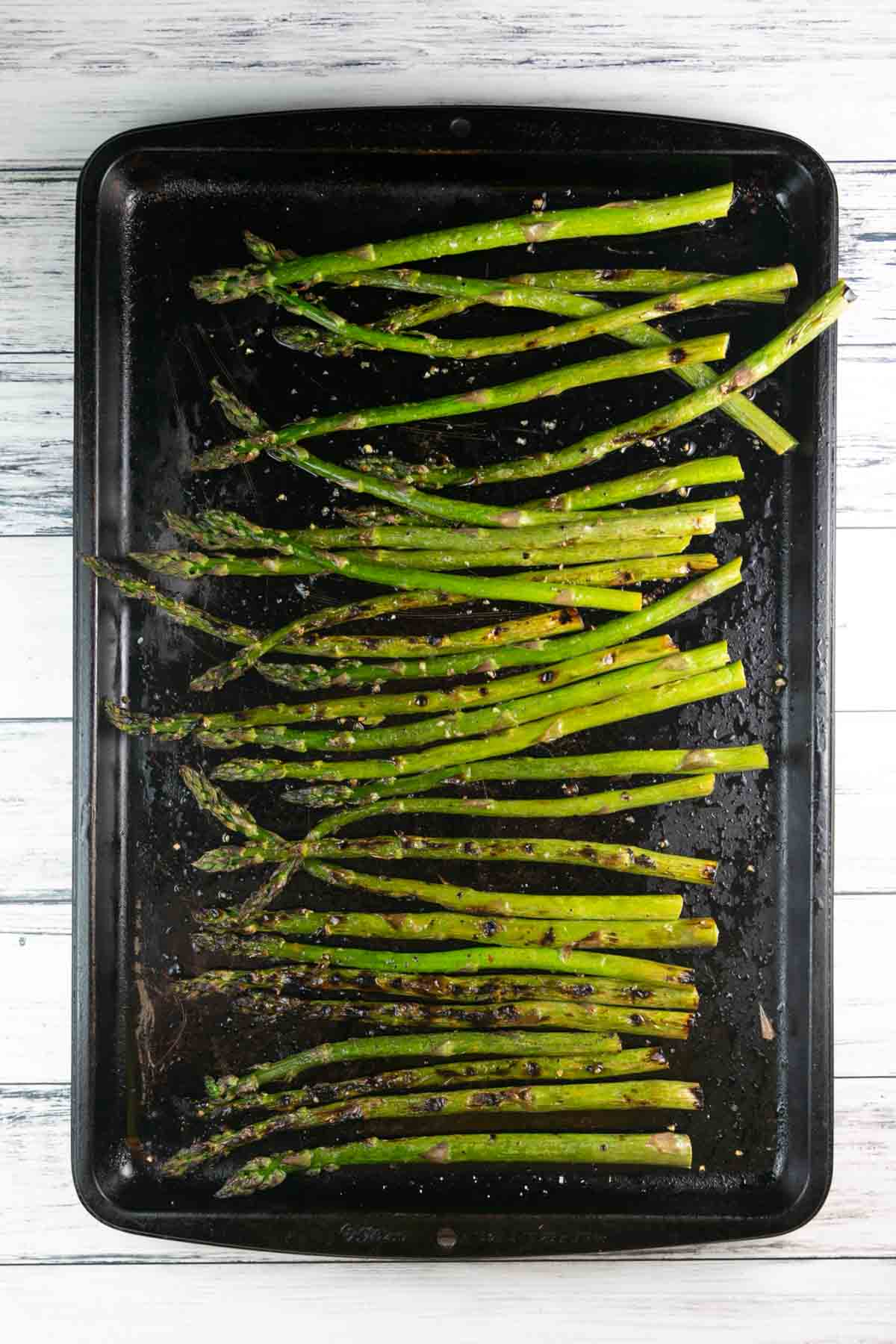 Grilling Asparagus
Before grilling, wash and dry the asparagus well – blot with a towel to absorb any excess water.
Next, toss with the olive oil, salt, and pepper. Place the asparagus perpendicular on preheated grill grates, or use a grilling basket. For particularly thick asparagus, turn the asparagus once during cooking.
Have you ever wondered why grilled vegetables taste so good? It's time for my favorite subject, of course… kitchen chemistry!
Kitchen Chemistry

Grilling exposes vegetables to higher heat than searing or roasting, which allows the naturally occurring sugars to caramlized. This creates new volatile flavor components, resulting in a different taste (and texture) compared to raw or slower cooked vegetables.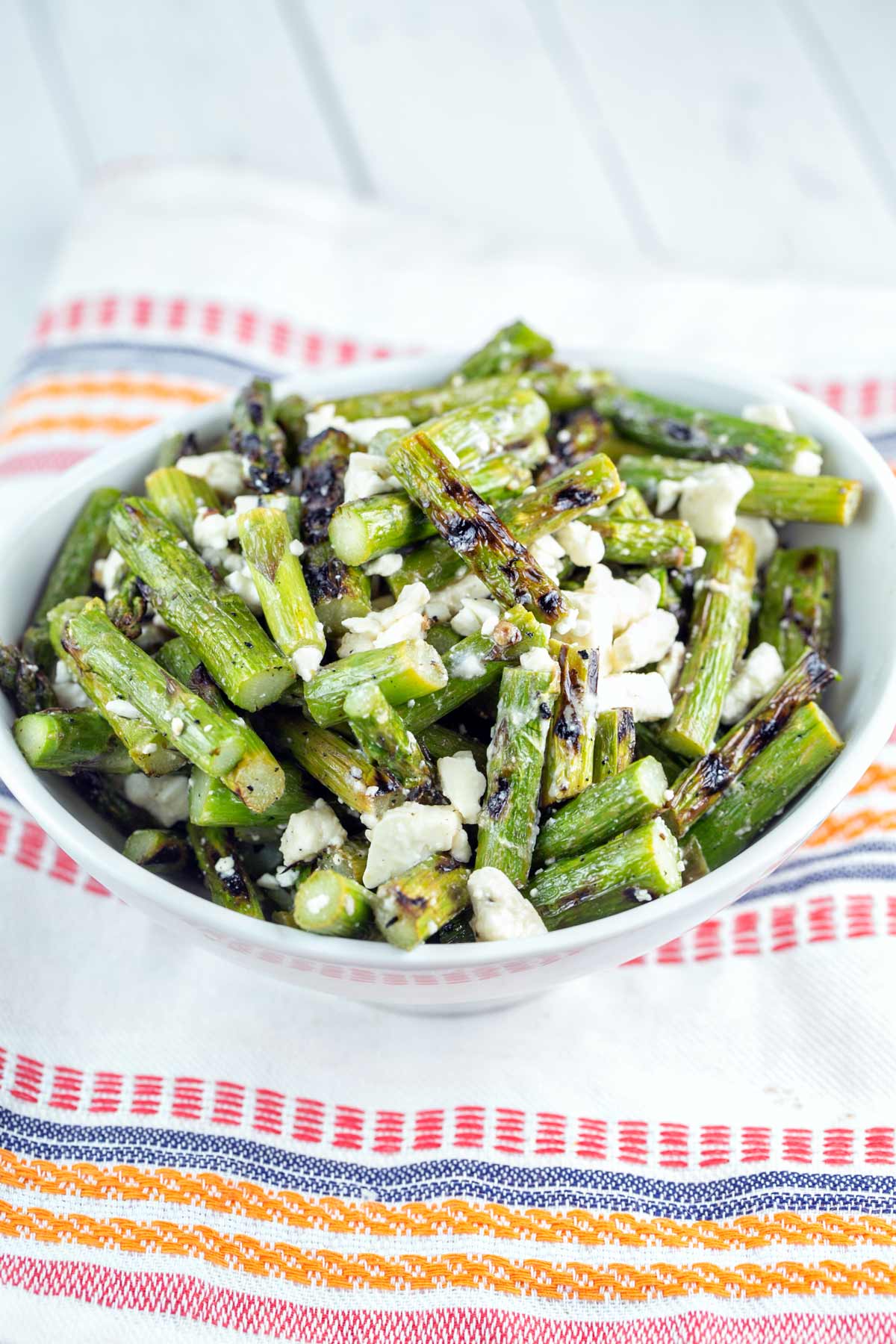 Other Salad Additions
I love how simple this salad is with just the asparagus and feta, but of course there are many other delicious additions!
Halved ripe summer cherry tomatoes is one of my favorites. Grilled mushrooms are also a great add-in, as is a hearty grain like farro to make this side salad more of a main course.
If serving on the side, I love to pair this asparagus and feta salad with grilled tahini chicken, mushroom black bean burgers, grilled pork tenderloin wraps, or Italian flank steak pinwheels.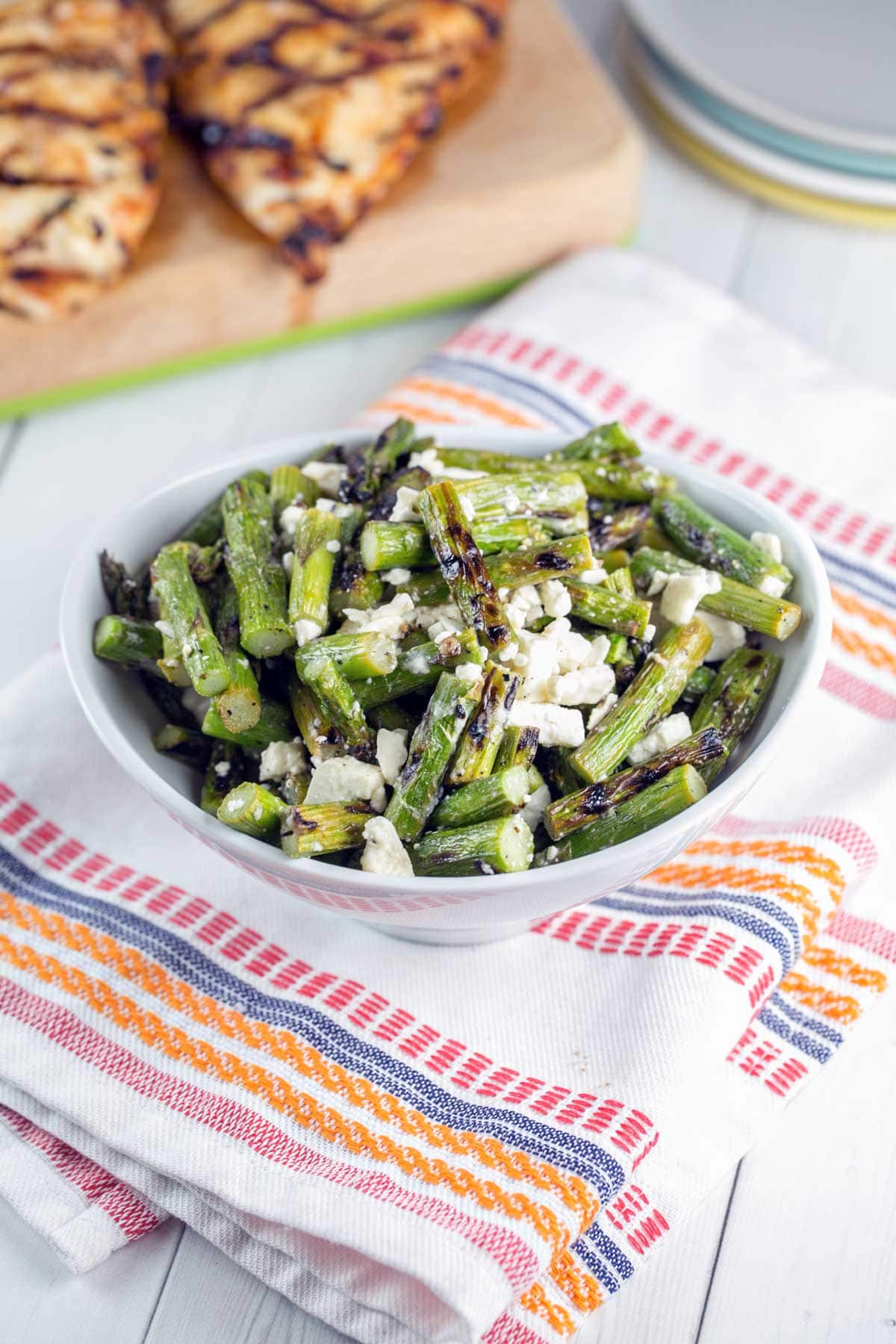 Tips and Tricks for the Best Grilled Asparagus Salad
Use fresh asparagus that is still stiff and has not yet started to wilt.
Dry the asparagus well before coating with oil, which will prevent the asparagus from steaming and getting soft and mushy on the grill.
Thick stalks of asparagus can be flipped once during the grilling process to ensure even cooking through the stalk.
This asparagus and feta salad is best served fresh, once cooled slightly to room temperature.
More Summer Sides:
Grilled Asparagus & Feta Salad
Grilled asparagus, tangy feta cheese, and a splash of lemon juice — grilled asparagus and feta salad is the perfect quick and easy summer salad.
Ingredients
1 bunch asparagus, ends trimmed
2 tablespoons olive oil
1/4 teaspoon sea salt
1/4 teaspoon ground pepper
2 tablespoons lemon juice
1/2 cup crumbled feta
Instructions
Toss the asparagus spears in a baking dish with olive oil, salt, and pepper.
Place asparagus on the grill perpendicular to the grates. Grill over medium-high heat for 3-4 minutes, until browned but still crisp, flipping once if asparagus stalks are thick. Asparagus can also be placed in a fish or grilling basket rather than directly on the grill grates.
Remove asparagus from the grill. Cut into bite-sized pieces and return to the original baking dish, tossing with any remaining olive oil mixture. Add the lemon juice and feta and season with additional salt and pepper to taste. Serve at room temperature.
Notes
Use fresh asparagus or store asparagus in the refrigerator in a glass with a few inches of water for 2-3 days before using.
Asparagus feta salad is best served at room temperature, right after grilling.
Recommended Products
As an Amazon Associate and member of other affiliate programs, I earn from qualifying purchases.