July 9, 2019
Tomato Basil Tortellini Salad
Pasta salad is an essential summer staple. Highlight freshly picked summer produce with this easy tomato basil tortellini salad, full of fresh summer tomatoes and corn.
Summer is in full swing over here, and you know what summer means. Grilling! Potlucks! Picnics! Backyard BBQs!
What's the best part of all these events? The food (duh).
And what's the best category of food at these events? The side dishes. (I'll accept desserts as another correct answer.)
Look, I love to grill as much as more than the next person. But can we all agree that it's the sides that really make or break these events? Burgers or chicken or flank steak pinwheels are delicious, but I judge picnics on the quality of the salads.
I've shared some of my favorite picnic or BBQ worthy sides before. Sweet potato black bean salad. Extra crunchy broccoli salad. Horseradish dill coleslaw. Perfectly charred grilled mustard mayo potatoes.
Today, I'm sharing probably the most popular of picnic sides: pasta salad. We basically never eat pasta at home the rest of the year, but in the summer, somehow pasta salads just happen to find their way onto our table every few weeks.
There are a million varieties of pasta salad, but this tomato basil tortellini salad is one of my favorite. (My other favorite? This classic Italian pasta salad.)
I love that the tomato basil tortellini salad highlights both fresh summer tomatoes and sweet corn, abundant in this part of the country.
How to Make Tomato Basil Tortellini Salad
One of the best things about pasta salad? They're so darn easy!
Boil pasta. Make a quick sauce. Chop some fresh produce. Done!
This tomato basil tortellini salad is easier than easy. The ingredients are all easy to find, and mainly staples you may already have around. Stop at the farmer's market for some cherry tomatoes, two ears of corn, and fresh basil (or pick it from your herb garden).
If I'm already grilling something else, I love to grill the cobs of corn and used grilled corn in the salad. Otherwise, I like to keep the corn uncooked for a little extra crunch. (Raw corn not your thing? Go ahead and boil or microwave for a few minutes to cook to your preferred texture.)
Add a little garlic and lemon juice, some olive oil, and a sprinkle of parmesan cheese (because pasta salads require cheese, right?). Top with a generous handful of freshly picked basil, and you have a perfect summer tortellini salad.
What to Serve with Tortellini Salad
I feel like 80% of my food related Google searches are "what to serve with grilled chicken" or "what to serve with meatloaf." If you're like me, let me help you out a little in this department.
The tomato basil tortellini salad is delicious as both a side or as the main star of dinner. I'm perfectly happy with just a big bowl of this and calling it a night. If you're not oppose to double carb-ing, it would be lovely with a slice of fresh bread.
We usually eat it as a side dish, however – it's perfect with just about any grilled meat, like chicken, sausage, or steak. These Italian flank steak pinwheels or sweet & spicy chicken skewers are perfect!
No grill? No problem. Serve it as a side to a crowd paired with these baked roast beef sliders or BBQ slow cooker pulled pork sliders for a fun summer dinner.
To keep things vegetarian or up your daily veggie intake, serve with a big green side salad or some grilled vegetables (spicy grilled okra and grilled asparagus and feta salad are favorites!).
Tips and Tricks for Tomato Basil Tortellini Salad
Salt your water well — add 4 teaspoons of Morton's kosher salt (or 2 tablespoons of Diamond kosher salt) per gallon of water for boiling the tortellini.
Use home grown or farmer's market tomatoes, if at all possible. (Fun fact: generic grocery store tomatoes are missing nearly 5,000 genes from generations of breeding — which makes them taste so much blander.)
To keep your basil fresh longer, store it in a jar of water with a plastic bag over the jar. Yes, it looks funny — but the plastic bag will help keep your cut basil fresh for up to a week! Store at room temperature, as refrigeration can bruise basil leaves.
Make this tortellini salad ahead of time! I find it's even better when made the night before – the basil flavor is more pronounced.
Store leftovers in the refrigerator for 3-4 days (perfect to pack for lunch for the rest of the week!)
Because the tomatoes and basil are really the star of this tortellini salad, we save it only for summer when we can get both at peak ripeness. Lucky for you, it's only early July, so there is plenty of time left to enjoy this!
More Summer Sides:
Tomato Basil Tortellini Salad
Yield:
Serves 6 (as a main course)
Pasta salad is an essential summer staple. Highlight freshly picked summer produce with this easy tomato basil tortellini salad.
Ingredients
20 oz. refrigerated cheese or spinach-filled tortellini
1/2 cup olive oil
1/2 cup freshly grated Parmesan cheese, divided
1 teaspoon lemon zest
juice from 1 lemon
3 cloves garlic
1 tablespoon good quality balsamic vinegar
1/2 teaspoon salt
3 cups halved cherry tomatoes, grape, or small heirloom tomatoes
2 ears of corn, grilled or raw, kernels removed
1/2 cup fresh basil, coarsely chopped
Instructions
Prepare refrigerated tortellini according to package directions.
While tortellini cooks, combine olive oil, half of Parmesan cheese, lemon zest and juice, garlic, balsamic vinegar, and salt in a blender or food processor, processing until smooth. Toss the olive oil mixture with the hot, drained tortellini. Stir in the tomatoes, corn, and basil. Top with the remaining Parmesan cheese.
Serve warm or cold.
Recommended Products
As an Amazon Associate and member of other affiliate programs, I earn from qualifying purchases.
Nutrition Information:
Yield:

6
Amount Per Serving:
Calories:

533
Total Fat:

27.7g
Carbohydrates:

56.3g
Protein:

17g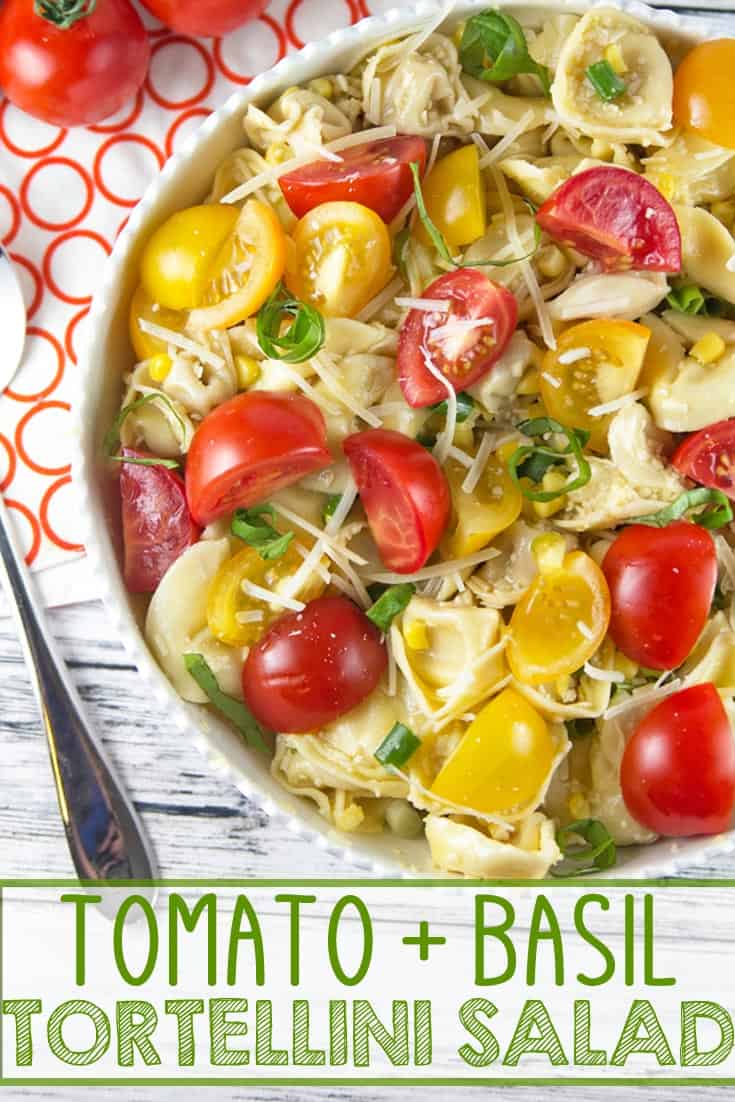 This post was originally published in June 2017 and updated in July 2019.