June 8, 2017
Tomato Basil Tortellini Salad
Pasta salad is an essential summer staple. Highlight freshly picked summer produce with this easy tomato basil tortellini salad.
Despite the current 60 degree, rainy weather, the calendar tells me summer is right around the corner.  My weather app agrees — 90s all next week!  (As someone who walks to work and hates to sweat, I'll gladly take 60s over 90s, please and thank you.)  And you know what summer means: grilling! potlucks! picnics! backyard bbqs!
What's the best part of all these events?  The food (duh).  And what's the best category of food at these events?  The side dishes.  (I'll accept desserts as another correct answer.)
Look, I love to grill as much as more than the next person.  But can we all agree that it's the sides that really make or break these events?  Burgers or chicken or flank steak pinwheels are delicious, but I judge picnics on the quality of the salads.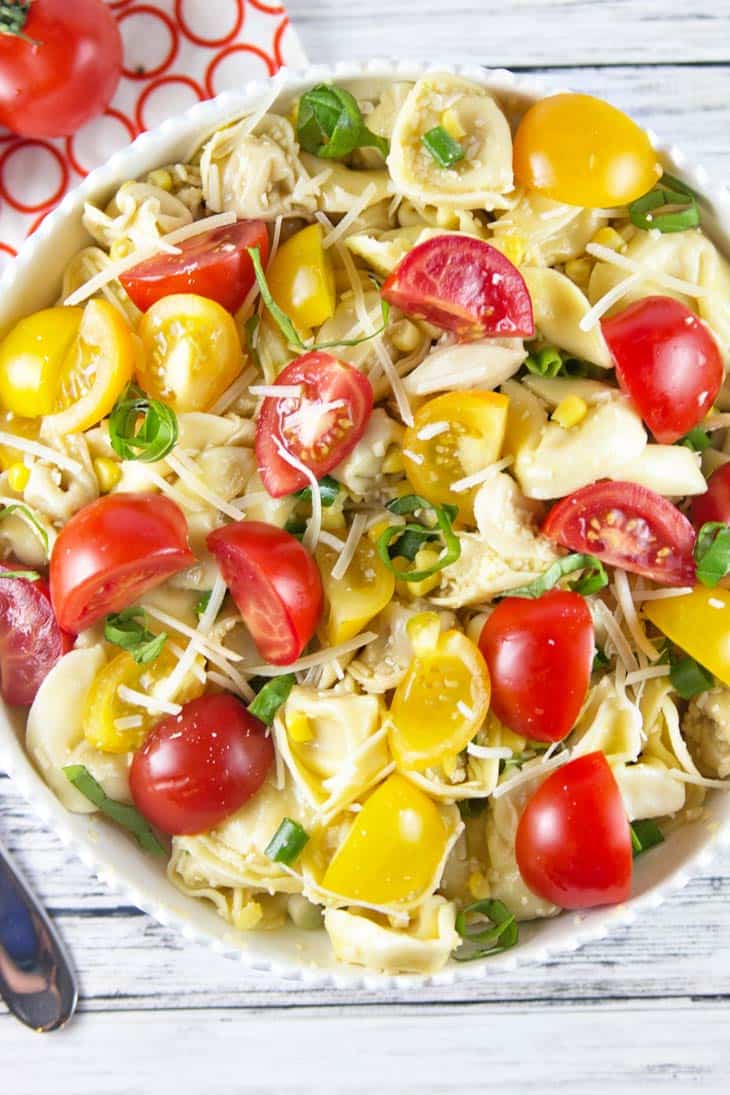 I've shared some of my favorite picnic or BBQ worthy sides before.  Sweet potato black bean salad.  Extra crunchy broccoli salad.  Horseradish dill coleslaw.  Perfectly charred grilled mustard mayo potatoes.   Today, I'm sharing probably the most popular of picnic sides: pasta salad.
There are a million varieties of pasta salad, but this tomato basil tortellini salad is my favorite.  I love that it highlights fresh summer tomatoes and sweet corn, abundant in this part of the country.
If I'm already grilling something else, I love to grill the corn (still on the cob) and used grilled corn in the salad.  Otherwise, I like to keep the corn uncooked for a little extra crunch.  (Raw corn not your thing? Go ahead and boil or microwave for a few minutes to cook to your preferred texture.)
Add a little garlic and lemon juice, some olive oil, and a sprinkle of parmesan cheese (because pasta salads require cheese right?).  Top with a generous handful of freshly picked basil, and you have a perfect summer tortellini salad.
Delicious as a side or as the main star of dinner.  Actual summer temperatures not necessary to enjoy.
Tomato Basil Tortellini Salad
Pasta salad is an essential summer staple. Highlight freshly picked summer produce with this easy tomato basil tortellini salad.
Ingredients:
20 oz. refrigerated cheese or spinach-filled tortellini
1/2 cup olive oil
1/2 cup freshly grated Parmesan cheese, divided
1 teaspoon lemon zest
juice from 1 lemon
3 cloves garlic
1/2 tablespoon good quality balsamic vinegar
1/2 teaspoon salt
2-3 cups halved cherry tomatoes, grape, or small heirloom tomatoes
2 ears of corn, grilled or raw, kernels removed
1/2 cup fresh basil, coarsely chopped
Directions:
Prepare refrigerated tortellini according to package directions.
While tortellini cooks, combine olive oil, half of Parmesan cheese, lemon zest and juice, garlic, balsamic vinegar, and salt in a blender or food processor, processing until smooth.  Toss the olive oil mixture with the hot, drained tortellini.  Stir in the tomatoes, corn, and basil.  Top with the remaining Parmesan cheese.
Serve warm or cold.