January 20, 2015
Clementine Vanilla Quick Bread
A delicious vanilla-studded quick bread, full of fresh clementines and a sweet clementine glaze. Clementine Vanilla Quick Bread is a winter citrus favorite!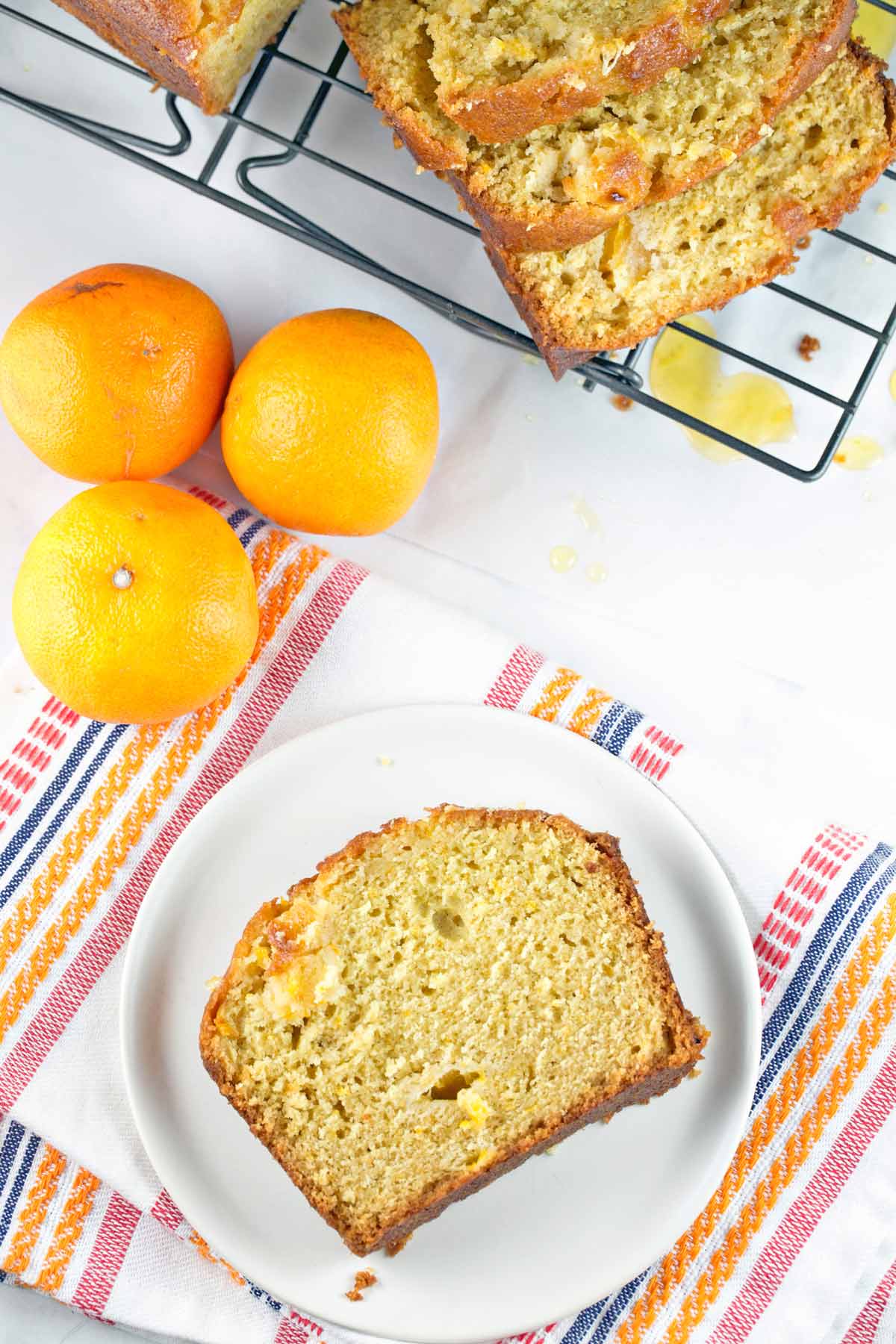 This post may include affiliate links. As an Amazon Associate I earn a fee from qualifying purchases
It's pretty much a guarantee that if you stop by my kitchen between November and February, you will find a crate (or two) of clementines sitting on the counter.
Hi, my name is Julie, and I'm a clementine addict. I pack them for lunch every day, I snack on them all weekend – I just can't help it (and judging from the additional peels I find in the sink, my husband feels the same way!).
Given my love of clementines, it's probably no surprise that I also enjoy baking with them.
Example A: this clementine vanilla quick bread. It's not too sweet, which I like, and has a dense consistency similar to pound cake, which I love. Plus a clementine syrup coating to infuse with extra delicious clementine flavor!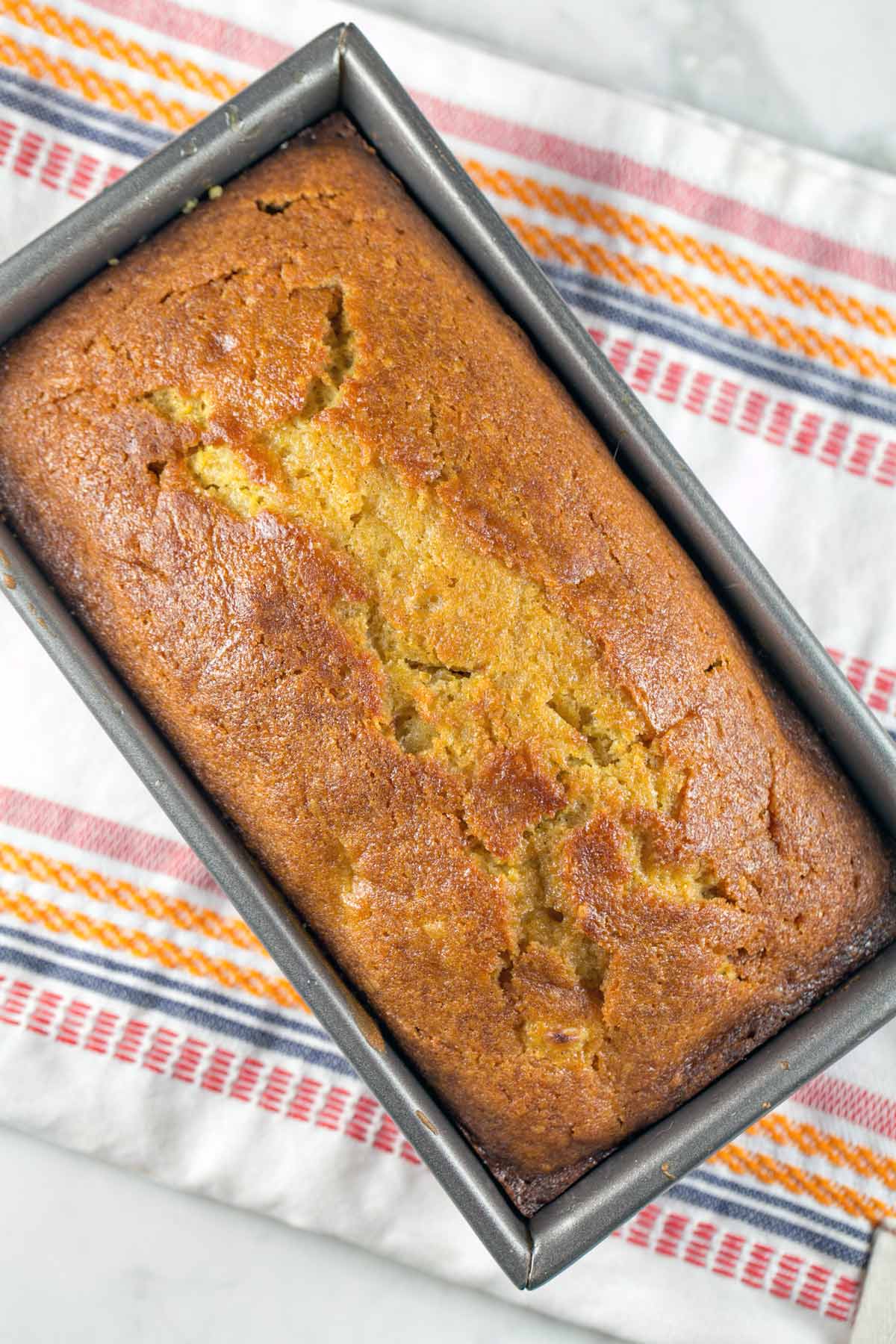 Easy Quick Bread Recipe
The quick bread base for this recipe comes together quickly and easily. Start by creaming together the butter with clementine zest, adding in sugar and vanilla bean paste.
Add in eggs and dry ingredients, like usual, along with some heavy cream. The heavy cream adds both moisture and fat. This results in a soft, tender crumb – and a quick bread that is not at all dry!
After baking, this bread has a perfect golden color and the ideal "crack" running across the top of the bread. What is this crack, and why do we want it in quick breads? It's time for my favorite subject… kitchen chemistry!
Kitchen Chemistry

As quick breads bake, they develop a classic crack along the top because the outer edge of the bread sets faster than the inside.  As the batter inside continues to heat and rise, it pushes up through the already set crust and creates a crack.  This internal rise and resulting crack indicates that the bread will be light and fluffy, rather than heavy and dense.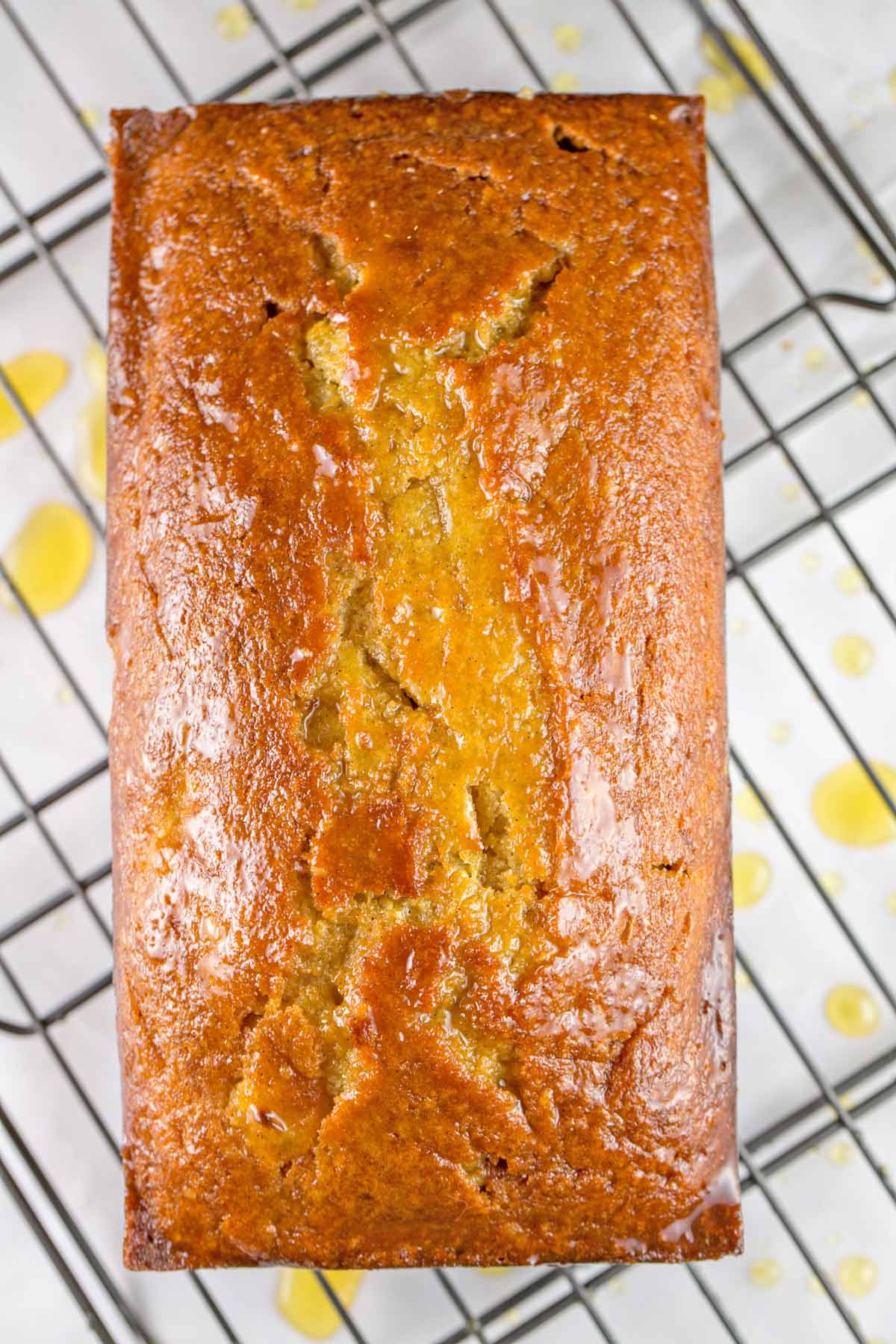 Vanilla Extract vs Vanilla Bean Paste
You might notice that this contains both vanilla bean paste and vanilla extract.  The double dose of vanilla is delicious!  But why not just use vanilla extract?
Vanilla bean paste is a thick paste (whaddya know, aptly named!) full of beautiful little specks of vanilla beans.  It's basically the equivalent of scraping a vanilla bean right into whatever you're making.
It leaves behind these beautiful brown vanilla-y specks, so it's perfect in light-colored bread like this clementine vanilla quick bread, where you can really see them.  Delicious – and gorgeous!
You may be able to find vanilla bean paste in the grocery store, but you can also order it online.
(Or for the serious bakers – I get mine in the 32 ounce size. Running out of vanilla bean paste is apparently a pretty serious concern around here.)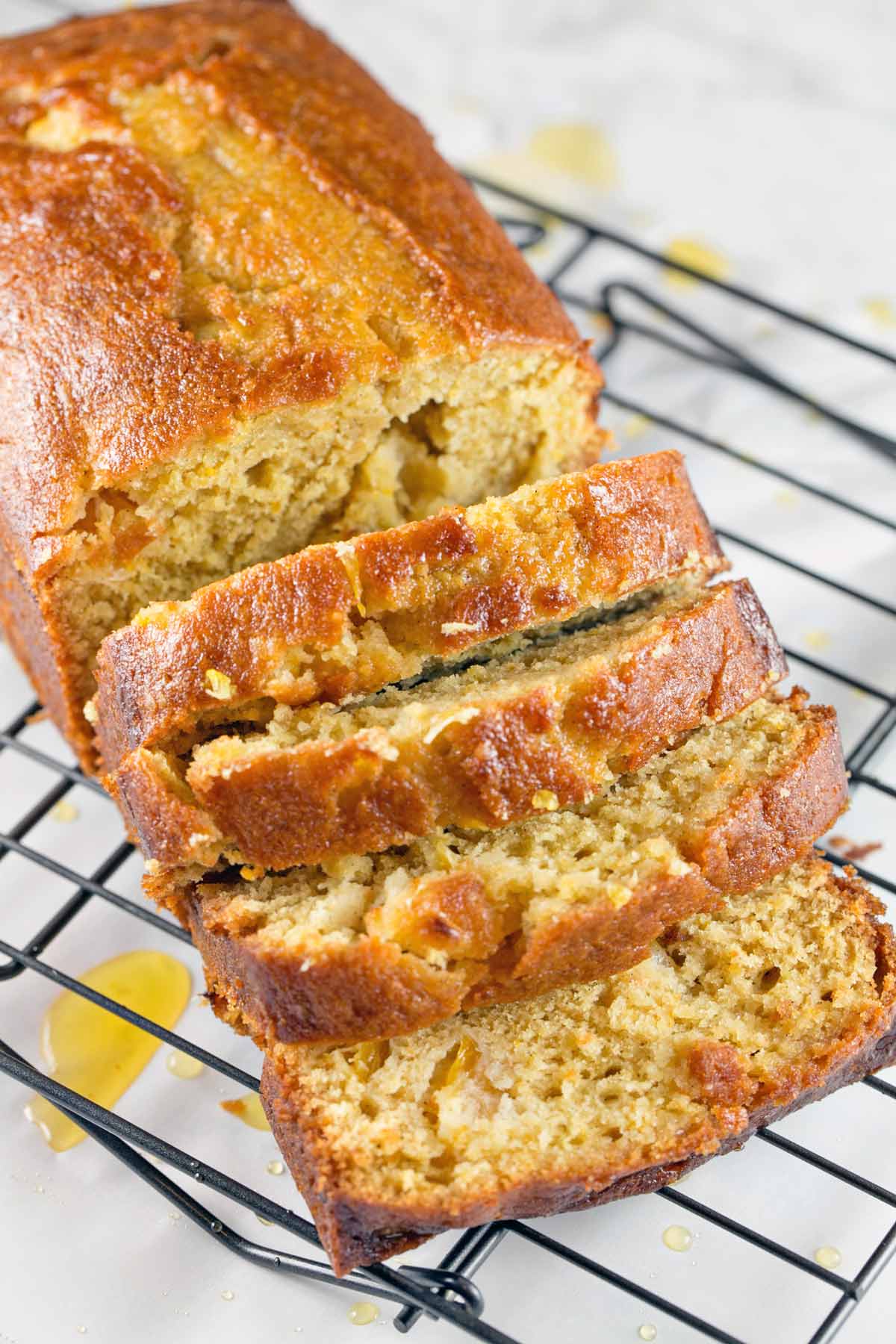 Delicious Clementine Glaze
To add even more clementine flavor to this bread, we'll cover it with a sweet clementine glaze.
Instead of dusting with powdered sugar or adding a thick frosting, pouring a clementine simple syrup adds both flavor and moisture.
As soon as the cake comes out of the oven, while still hot, poke holes all over the top of the cake with a knife or skewer. Pour half the glaze over the top of the cake and let it sit for 15 minutes.
Then remove the cake from the pan and brush the remaining glaze all over the sides and top of the quick bread.
The glaze absorbs into the bread, infusing extra flavor without leaving a sticky coating.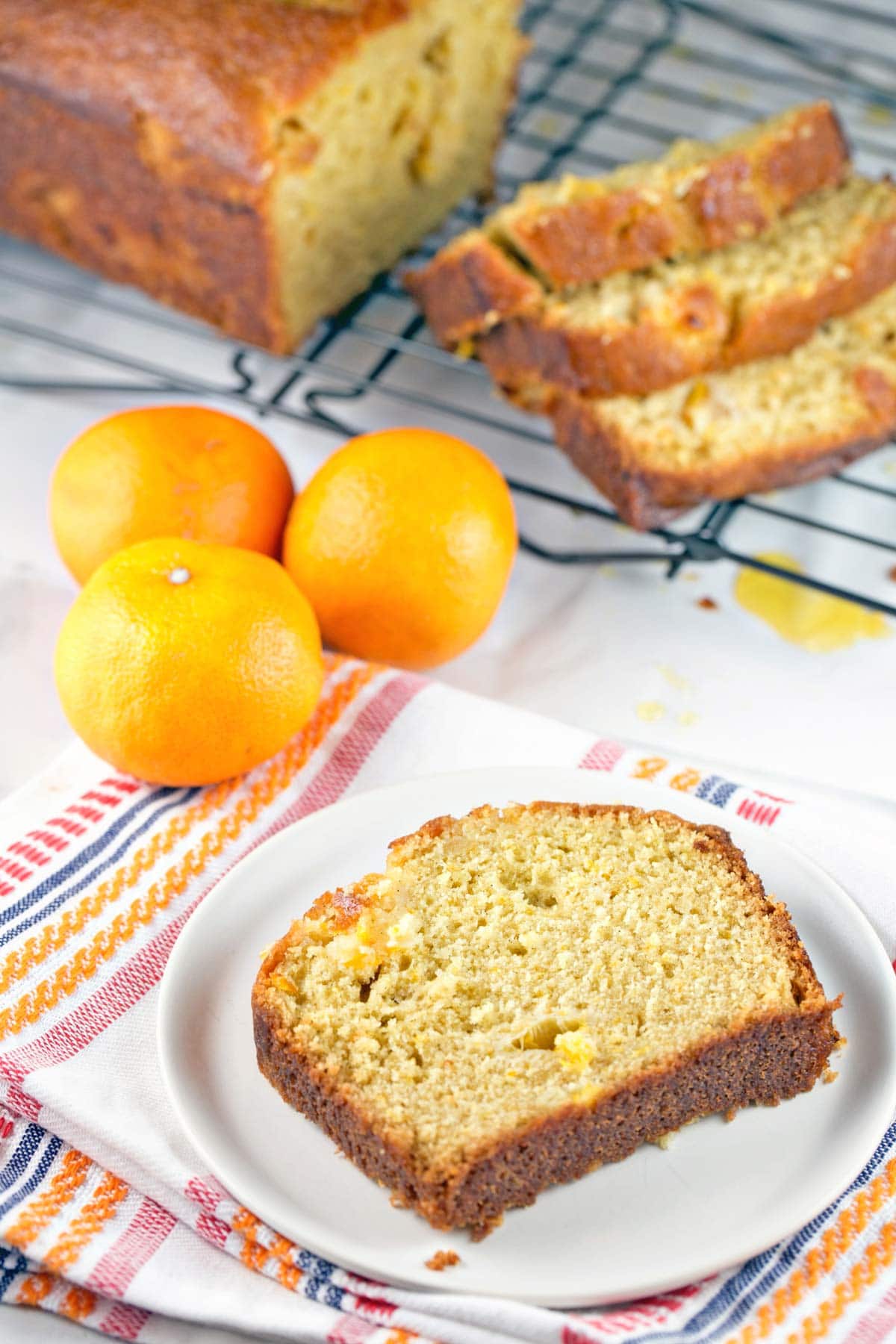 Tips and Tricks for the Best Clementine Vanilla Quick Bread
Make sure your butter and eggs are at room temperature. This ensures everything will properly mix together without over-mixing, which can cause quick bread to fall and collapse.
For the best flavor and appearance, use both vanilla bean paste and vanilla extract. If you don't have vanilla bean paste, double the vanilla extract in the recipe.
Tent the loaf pan with foil after 30 minutes of baking to prevent the top of the bread from over-browning.
Spread the simple syrup on the bread while it is still hot for better absorption.
The bread can be stored at room temperature for up to 4 days or frozen for up to 3 months.  To freeze, wrap fully cooled bread in plastic wrap, followed by a layer of aluminum foil.  
More Citrus Desserts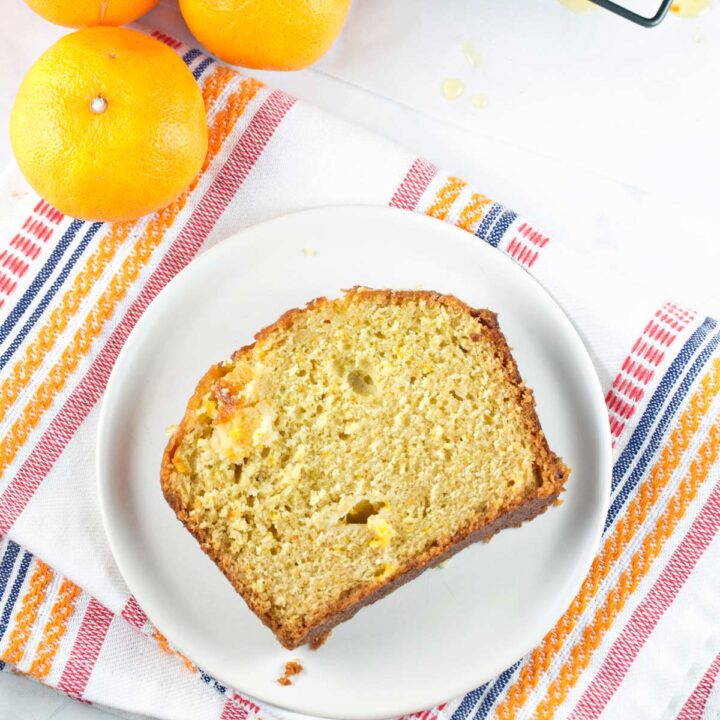 Clementine Vanilla Quick Bread
Yield:
1 loaf (12 slices)
Total Time:
1 hour
10 minutes
A delicious vanilla-studded quick bread, full of fresh clementines and a sweet clementine glaze.
Ingredients
10 clementines
1/2 cup (113 grams) unsalted butter, room temperature
1 1/4 cups (247.5 grams) granulated sugar, divided
2 large eggs, room temperature
2 cups (240 grams) all-purpose flour
1/4 teaspoon baking powder
1/4 teaspoon baking soda
1/4 teaspoon salt
3/4 cup (170 grams) heavy cream
2 teaspoons vanilla extract
Instructions
Prepare the pan. Preheat oven to 350 °F. Butter and flour an 8.5 x 4.5-inch loaf pan.
Make the quick bread batter. Zest 6 of the clementines. Cut the pith from 2 of these zested clementines and cut the fruit along the membrane to collect the segments, discarding any seeds. Juice the remaining 4 zested clementines, along with the 4 unzested clementines.
Beat together zest, butter, 1 cup (198 grams) of the sugar, and the vanilla bean paste in a mixer with medium speed until well combined and butter is pale and fluffy. With the mixer running, add in the eggs, one at a time.
Whisk together the flour, baking powder, baking soda, and salt. Add half of this mixture to the butter and eggs and beat on low speed until just combined. Pour in the heavy cream, 1/4 cup clementine juice, and vanilla extract, mixing to combine, followed by the remaining dry ingredients.
Fold the clementine segments into the batter and pour into the prepared pan. Gently smooth the top using a spatula.
Bake the quick bread. Bake for 50 minutes, or until a tester comes out clean. Halfway through baking, tent aluminum foil over the top of the pan to prevent the bread from darkening.
Make the glaze. Bring remaining clementine juice (~1/2 cup) and 1/4 cup (49.5 grams) sugar to a boil in a small saucepan over medium heat. Reduce heat and simmer for 3 minutes.
Remove the bread from the oven, poke the top all over with a knife, and brush with half of the clementine syrup. Transfer the pan to a wire rack and allow to cool for 15 minutes. Invert the pan to remove the bread and cool completely. Once cool, brush the remaining clementine syrup on the sides and top of the bread.
Notes
The clementine vanilla quick bread can be stored at room temperature, wrapped in plastic wrap, for up to 5 days, or frozen wrapped in foil and stored in a freezer bag for up to 3 months.
Recipe adapted from Martha Stewart
Recommended Products
As an Amazon Associate and member of other affiliate programs, I earn from qualifying purchases.