June 4, 2021
Lemon Meringue Cake
Do you love lemon meringue pie? If so, this show-stopping Lemon Meringue Cake is for you! Three layers of lemon cake filled with homemade lemon curd and covered in Swiss meringue frosting. The sweet-tart filling and fluffy meringue frosting are out of this world!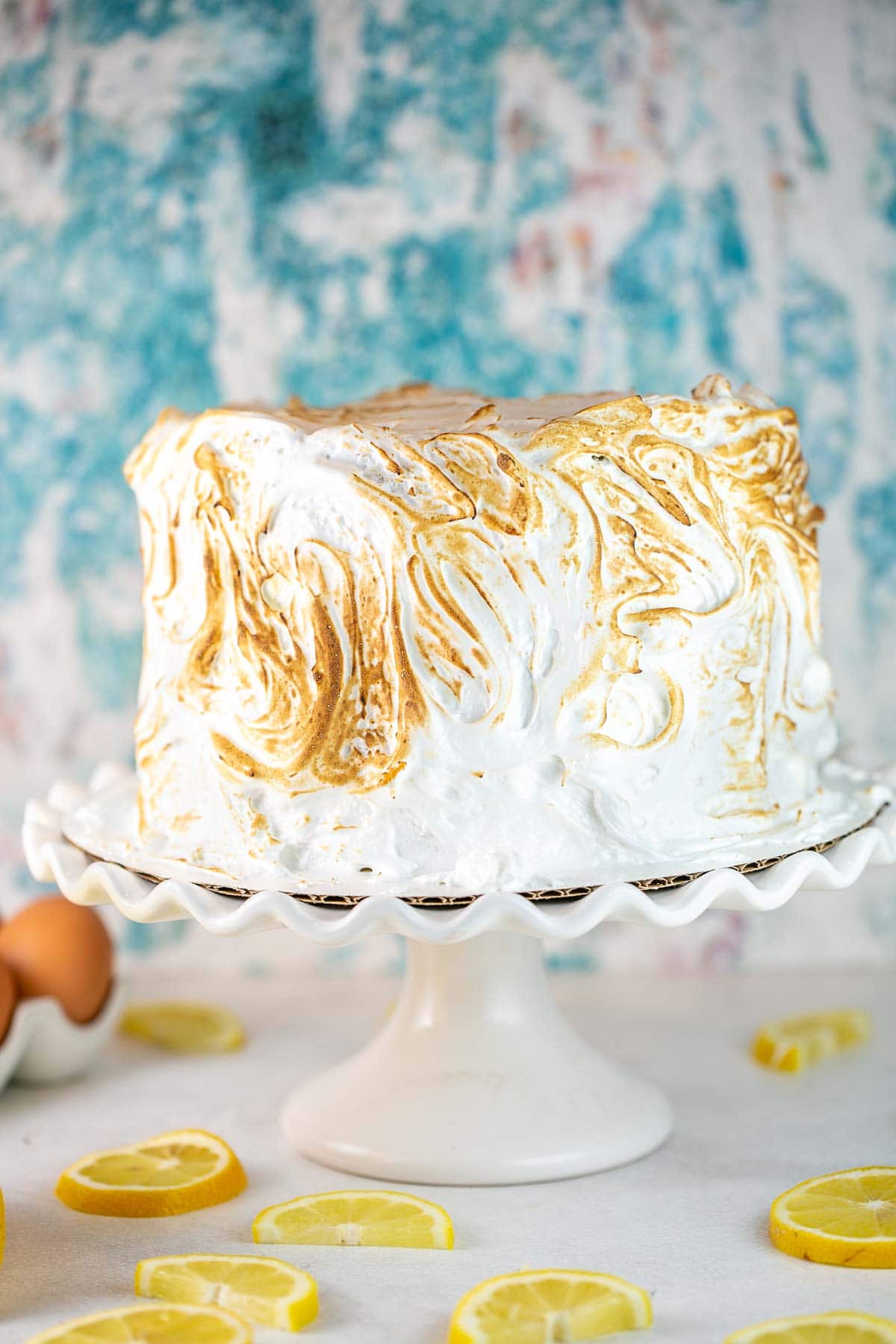 This post may include affiliate links. As an Amazon Associate I earn a fee from qualifying purchases.
If you know me at all, you know I love lemon desserts. LOVE.
So obviously, if I'm doing a year-long series on layer cakes, at least one has to include lemon, right? Right!
I also love meringues. Little bite-sized meringues. Giant bigger-than-your-face meringues from Ottolenghi.
How better to combine these two favorites than with a lemon meringue cake? Three layers of lemony cake, a homemade lemon curd filling, and instead of frosting, a pile of light and fluffy meringue?
This is a cake of contracts: dense and tart lemon curd, airy and sweet meringue. And it is delicious.
While this might seem complicated, I promise it really isn't, and I'm here to help break down the cake into easy-to-follow step-by-step instructions!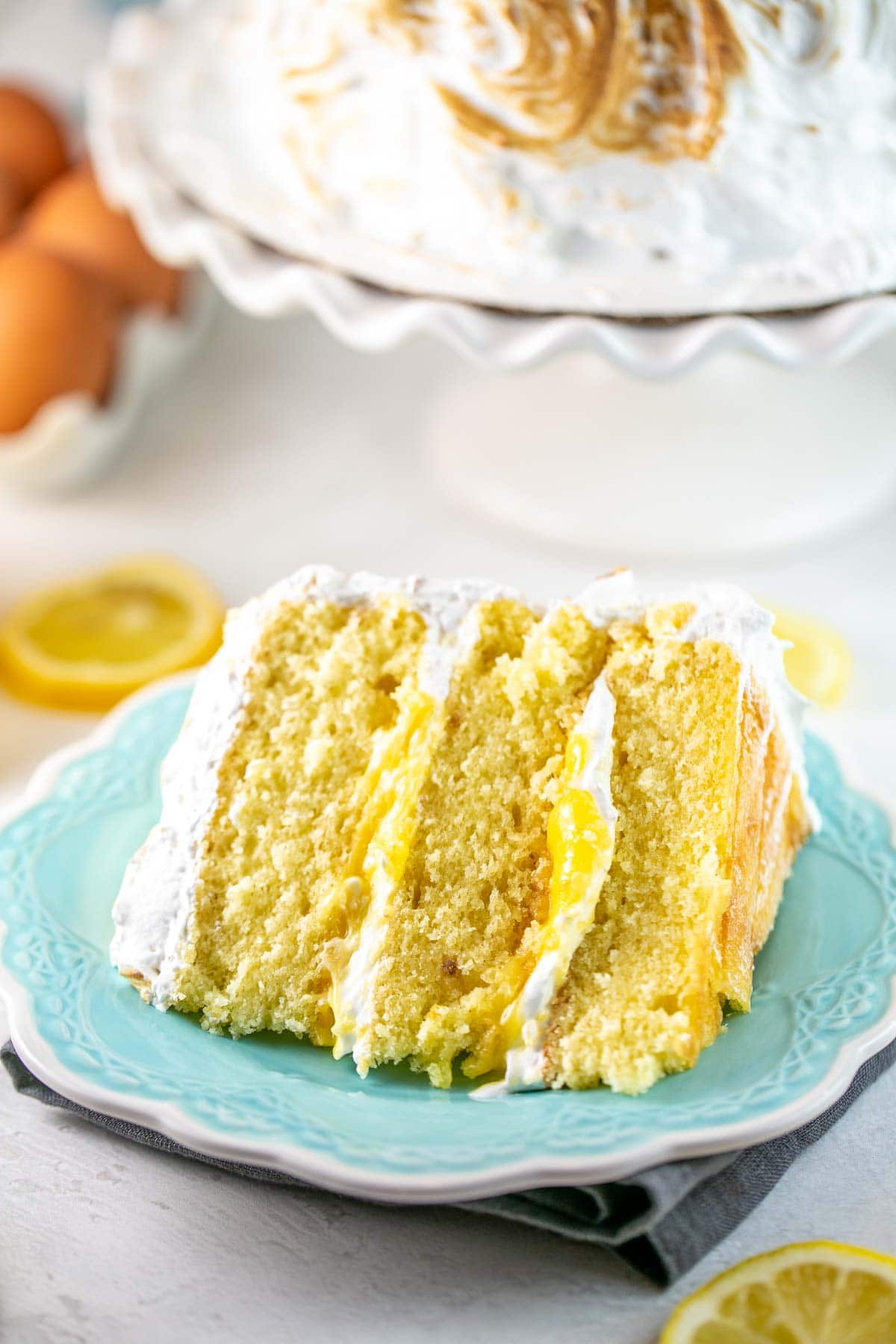 Lemon Layer Cake
First up for our lemon meringue cake: three layers of lemony cake!
This cake is full of bright lemon flavor, extra moist crumb, and just dense enough to stand up to a layer of lemon curd filling.
To make sure the lemon flavor really comes through, this cake uses both lemon juice and lemon zest.
What you won't find in this cake? Lemon jello, lemon pudding, or lemon extract. While these are common ingredients in many lemon cakes, I prefer to use natural lemon flavor!
One key ingredient to making the best structure of this cake? Using baking soda instead of just baking powder. Why is the addition of baking soda so important? It's time for my favorite subject… kitchen chemistry!
Kitchen Chemistry

Adding an acid, like lemon juice, to cake batter denatures (unfolds) the proteins in the batter. Too much acid causes the structure of the cake to fall apart. Because we're adding a lot of lemon juice to bump up the real lemon flavor, we need to add baking soda to the cake to neutralize the acid. As the baking soda interacts with the lemon juice, carbon dioxide forms, which releases bubbles and gives the cake extra lift.
These cake layers can be made ahead of time and stored at room temperature for up to 2 days or frozen for up to 3 months before assembling the cake!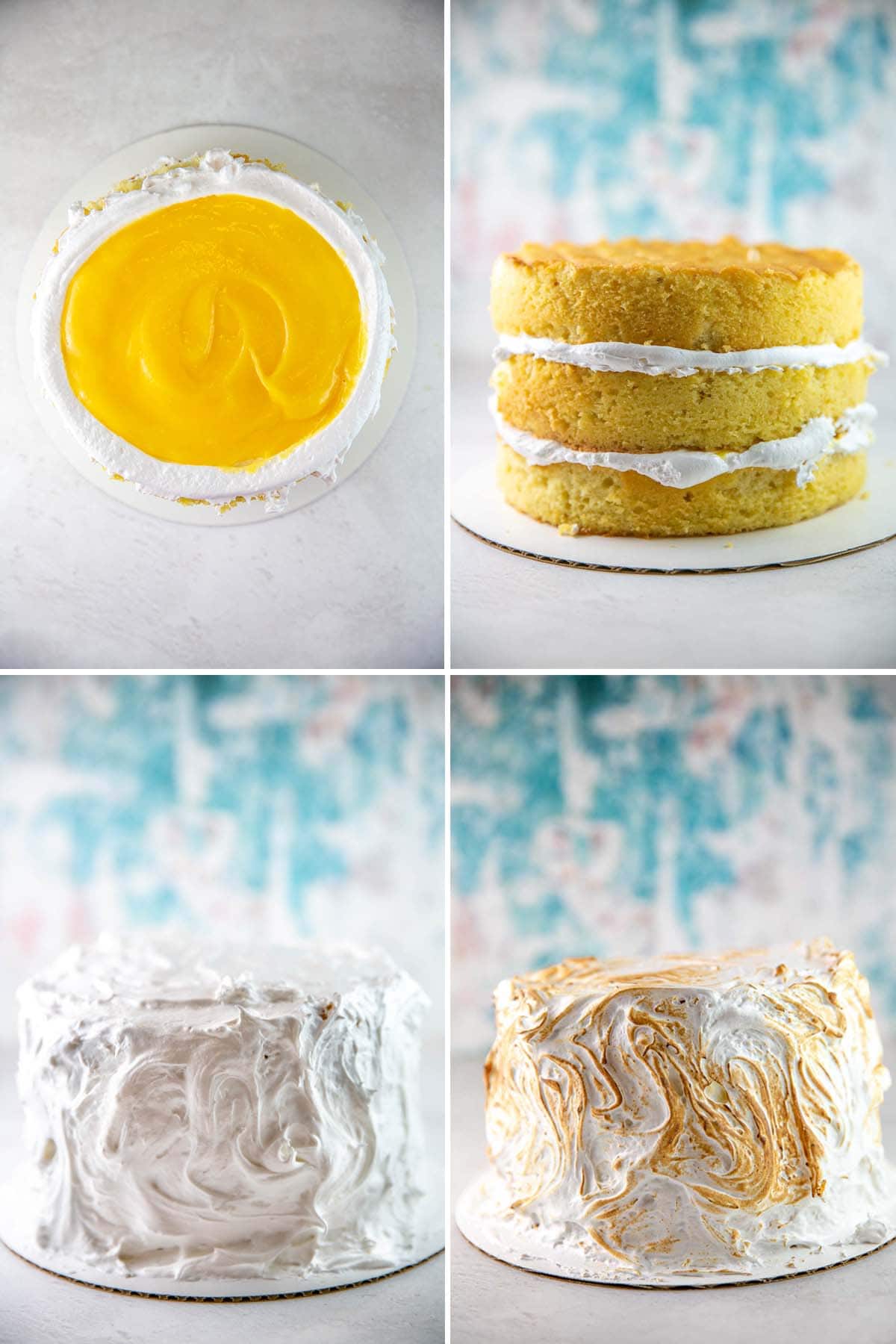 Easy Homemade Lemon Curd
In between each of those layers of delicious lemon cake? A layer of dreamy, creamy lemon curd.
You'll find all the step-by-step instructions you need to make perfect lemon curd on my homemade lemon curd post.
One batch will be plenty — you'll likely have some left over (to eat with a spoon, obviously). There isn't a precise amount to put on each layer; just eyeball until you have a nice coating out to the edge.
Lemon curd has a high moisture content – it's what makes it so soft and creamy. But while this creates a wonderful texture, the moisture can also start to soak into the cake, creating soggy cake layers.
We definitely don't want soggy cake layers, so we're going to use our meringue frosting as a barrier between the cake and the curd.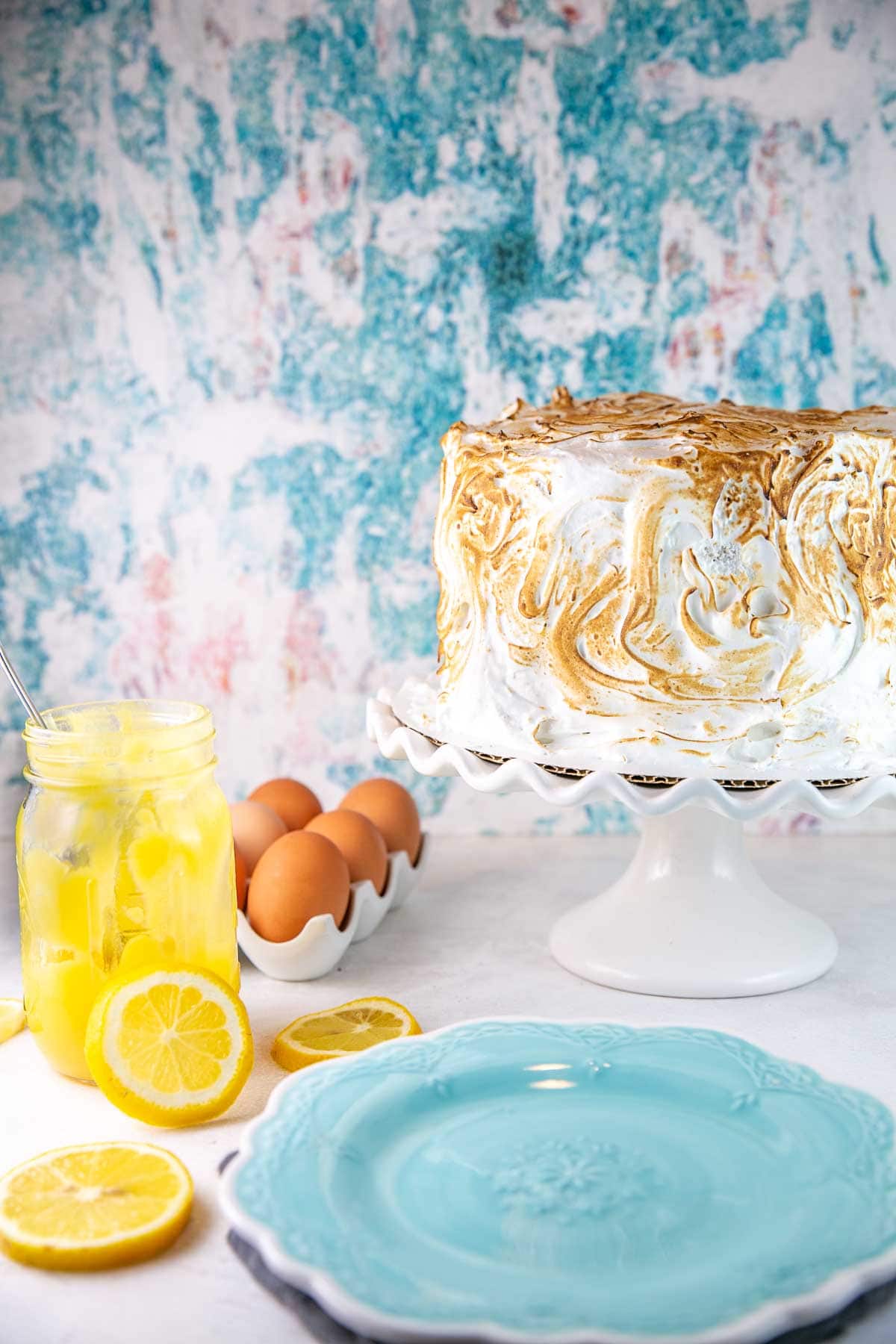 Swiss Meringue Frosting
Obviously, the key to a lemon meringue cake is… the meringue! We'll use a homemade Swiss meringue frosting between each layer of cake and to decorate the outside of the cake.
Just like meringue cookies or pavlova, this Swiss meringue frosting is made from egg whites and sugar, with a pinch of cream of tartar and vanilla extract.
Swiss meringue is my favorite type to make because the egg whites are cooked and the frosting is stable and can easily be piped or swirled onto the cake.
To make Swiss meringue, a double boiler is used to cook together egg whites and sugar until the sugar dissolves at 160 °F. This mixture is then whipped with an electric mixer until fluffy and able to hold stiff peaks.
Not only is Swiss meringue easy and delicious, but it also toasts beautifully, just like the big fluffy pile of meringue on a lemon meringue pie!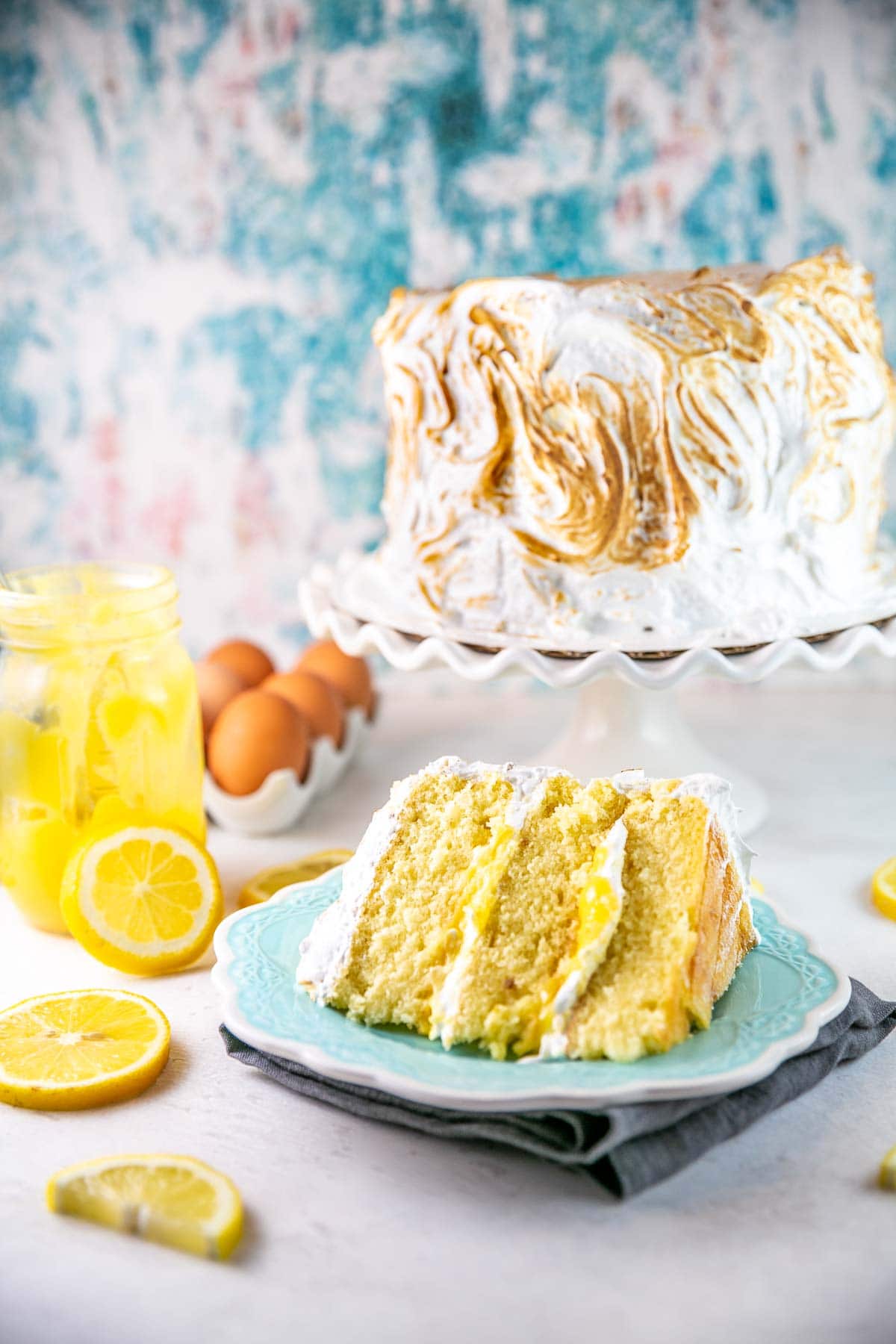 How to Toast Meringue
To assemble the cake, start with a layer of lemon cake. Spread a thin layer of meringue frosting all along the top of the cake and pipe a thicker 1-inch wide border along the edge.
Spread the chilled lemon curd inside the meringue frosting border, then top with another layer of cake and repeat. After the third layer of cake has been added, refrigerate for 15 minutes to set the curd and the frosting.
Using a spatula, spread the rest of the meringue frosting along the sides and top of the cake. Use the back of a spoon to swirl the meringue, if desired.
To toast the meringue, use a kitchen torch to carefully brown areas of the frosting. Kitchen torches, also called creme brûlée torches, have a very moderate flame and will allow you to get a nice golden color.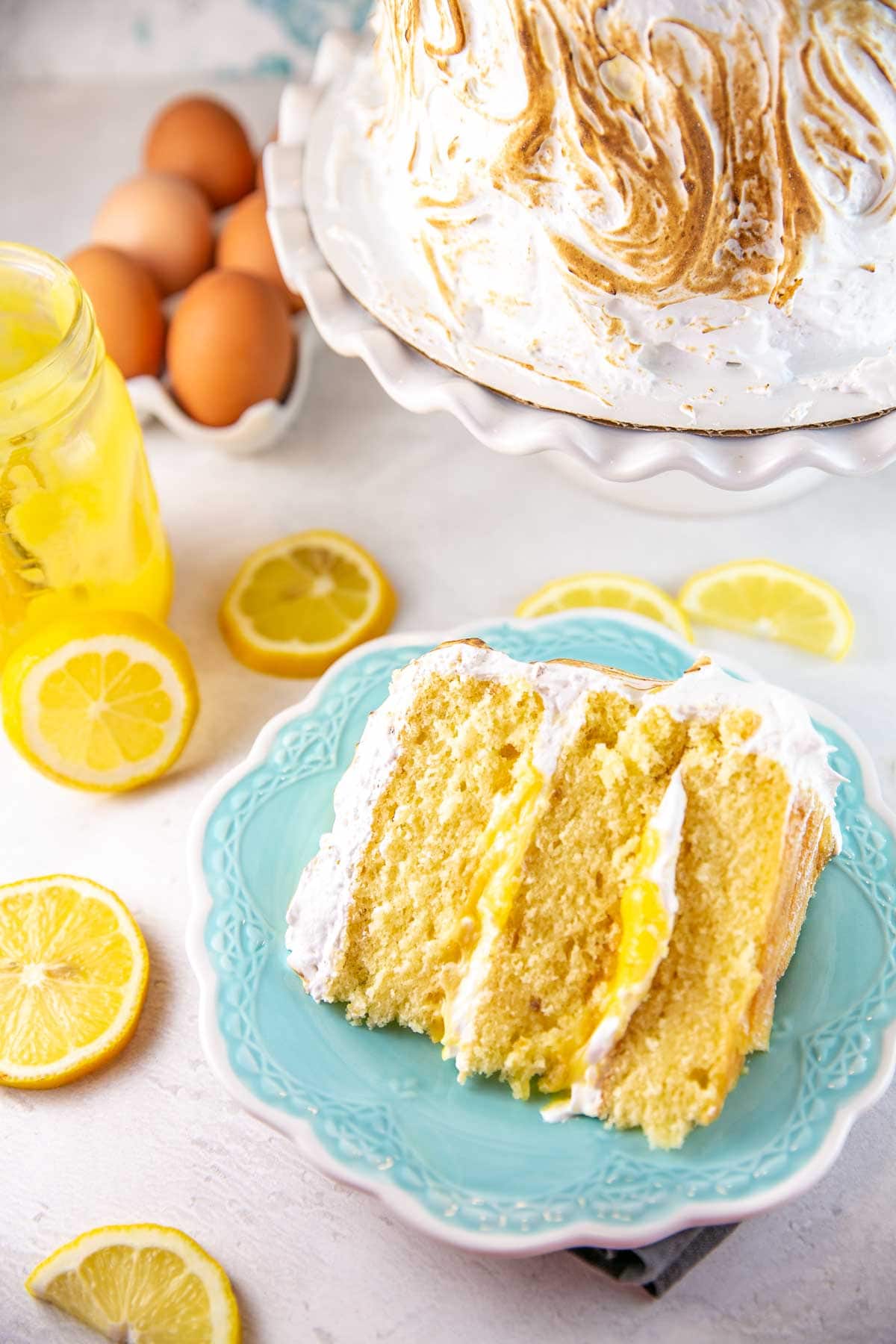 Tips and Tricks for the Best Lemon Meringue Cake
To keep cake layers perfectly flat, use Bake Even Strips (or wet cloth soaked in water and wrapped tightly around the outside of the cake pan).
For even cake layers, weigh the batter of the cake and divide it into three baking pans.
Store the lemon meringue cake in the refrigerator. The lemon curd does require refrigeration.
To prevent the cut cake from getting stale, wrap leftover slices in plastic wrap or push wax paper against the exposed edge to minimize contact with air.
More Lemon Desserts: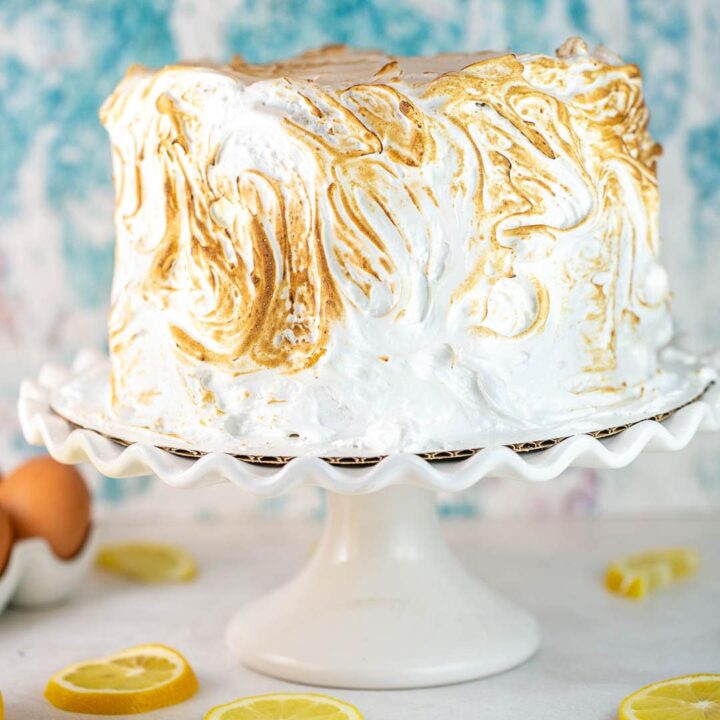 Lemon Meringue Cake
Total Time:
2 hours
45 minutes
Three layers of lemon cake filled with homemade lemon curd and covered in Swiss meringue frosting. The sweet-tart filling and fluffy meringue frosting are out of this world!