December 31, 2014
2014: Most Popular Recipes on Bunsen Burner Bakery
Another year winding down – doesn't seem possible, does it?
I have to say, this year was pretty darn good to us: my husband finished his fellowship, ending a very long process to becoming a radiologist (4 years of medical school, 1 year of internship, 4 years of residency, 1 year of fellowship), most of the years which were spent married and living in separate states.
Finishing up his medical training in June also meant the end to our many years of living apart, as he signed a contract for an attending position here in Philadelphia and moved back home.
The dog and I are thrilled to get to see him every day, and the transition to living together again went much more smoothly than I was expecting.  It's so very nice to finally be living a "normal" married life, after a mere 6 years of marriage.
We both hit some unexpected health issues in the later half of 2014 which forced me into an unintentional blogging hiatus.  Despite several months of no posting, I still managed to share 42 new recipes with you this year (although sadly, none of them provide the answer to the life, the universe, and everything).
Many of these recipes were featured on Tastespotting, Foodgawker, and Tasteologie, and I thought I'd share the top 10 recipes from this year, based on pageviews.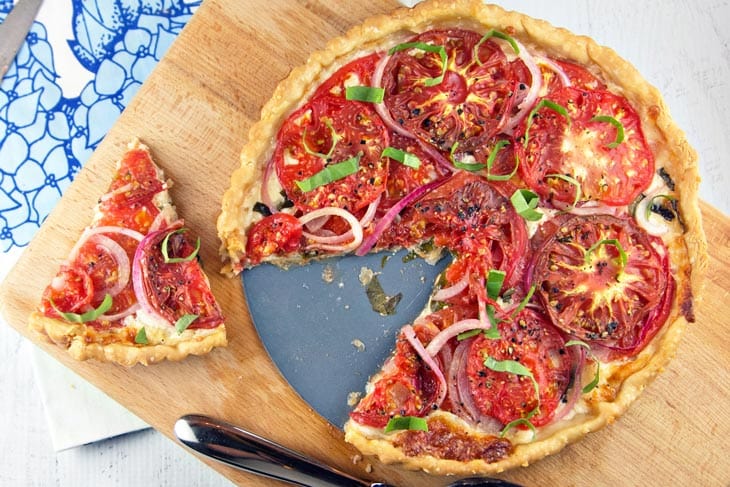 This Northerner's take on tomato pie (double the tomatoes, halve the mayo) kicked off Tomato Week on Bunsen Burner Bakery, as I tried to use up an overload of tomatoes from my CSA.  It's definitely one of my personal favorite things I made this year, and I can't wait for the return of tomato season so I can make it again!
9) Baked Peach French Toast

I'm not a breakfast person, but I like this baked french toast.  It's also quite pretty, making it a perfect option to serve guests for brunch.  If I didn't already have a bagels and lox tradition for New Year's, I'd probably serve this to our friends, swapping out the peaches for berries.

Another delicious brunch option – duly noted that Bunsen Burner Bakery readers like fancy brunch foods!  I made these for Mother's Day, and they were a huge hit.  We have friends over for brunch every-other Sunday after a dog pack walk… perhaps it's time to bring some blintzes into the rotation.
7) Chocolate Chocolate Chip Muffins

Ah, the chocolate chocolate chip muffin… toeing the line between breakfast and dessert.  A good classic recipe to keep on hand!

The closing of Sprinkles and other cupcake chains seems to indicate that the cupcake craze is dying down… or perhaps individuals are just becoming more savvy to how easy they are to make at home.  Looking for something that's a little fancier than your typical vanilla cupcake with chocolate frosting?  Look no further than these s'mores cupcakes.

This is the second blueberry muffin recipe I've shared on my blog – these are the more traditional muffins: a little sweeter, lighter, and sugary on top.  This is also when I started to realize that I have a bit of a blueberry problem, as I try to put blueberries in everything.  True to form, I have bite-sized blueberry pies waiting to serve at our New Year's Eve party tonight, so I guess my blueberry craze is still going strong.
After several sweet recipes in a row, we're finally back to something savory.  This curry is delicious – and gluten-free and vegan by default, though I didn't set out to create a recipe with either of those labels.
3) Ultimate Hot Chocolate

If you're used to drinking hot chocolate from the little packages, you really need to try this.  It's a little more work, but oh-so decadent and thick.  I always keep a little heavy cream on hand throughout the winter so I can make this for guests.  Even better, add a little liquor for an extra special treat.
2) Gnocchi, Sausage, and Tomato Skillet

This comes together in under 15 minutes, and can be easily adapted for those who are gluten-free, vegetarian, or vegan.  Does it get any better?
1) Garlic Naan
Finally, this brings us to the most popular recipe on my blog in 2014… garlic naan.  It's so much easier than you think and freezes beautifully.  In fact, I have a few pieces in my freezer as we speak, which will probably accompany some saag paneer later this week.  Go ahead, try it – homemade bread is always worth the effort!