November 13, 2017
Nutella Swirled Pumpkin Pie
Take your classic pumpkin pie and give it a little upgrade with decadent swirls of rich nutella. Plus, tips for the best pumpkin pie you've ever made, whether you go classic or try this nutella swirled pumpkin pie.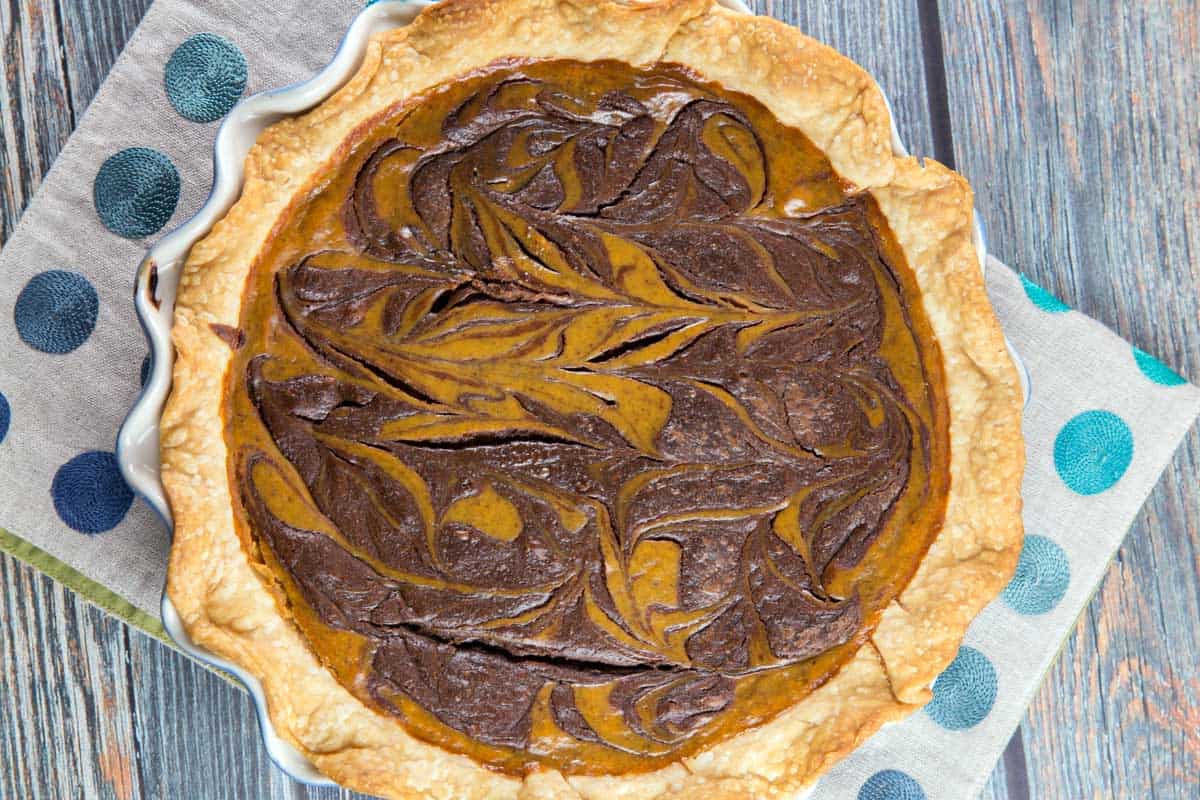 Oh, hey. Did you realize that Thanksgiving is next week? It sure snuck up on me this year! Do you know what you're making?
If you don't have your dessert menu set yet, I highly encourage you to switch up your normal pumpkin pie with this nutella swirled pumpkin pie.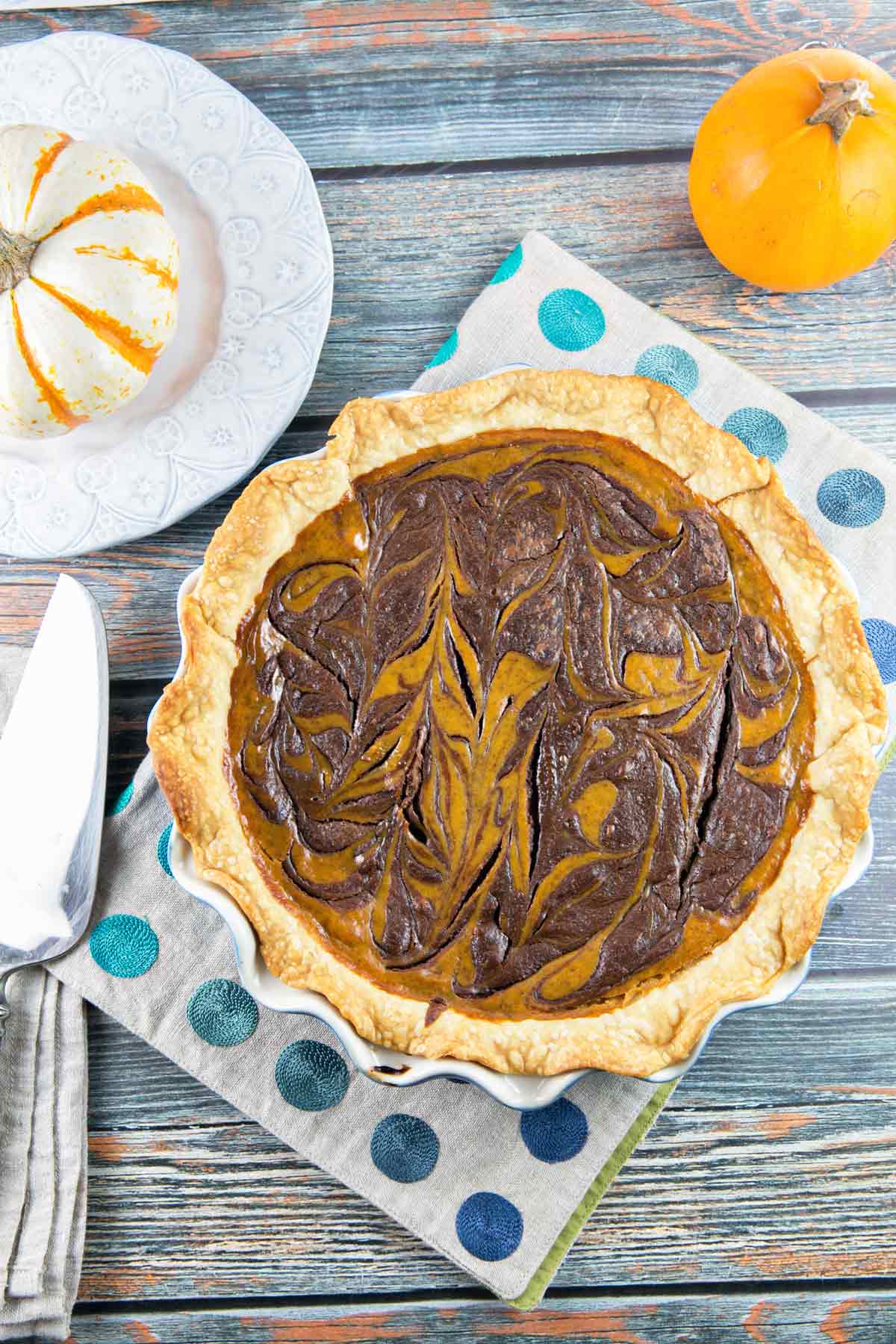 That's right. A classic, spicy pumpkin pie… swirled with decadent nutella.
I know you guys love the pumpkin and nutella combination. I probably get more emails/texts/facebook comments about my Nutella Swirled Pumpkin Bread than any other fall recipe.
So why not take that delicious, winning combination and transfer it to your holiday pumpkin pie? Nutella swirled pumpkin pie, to be exact.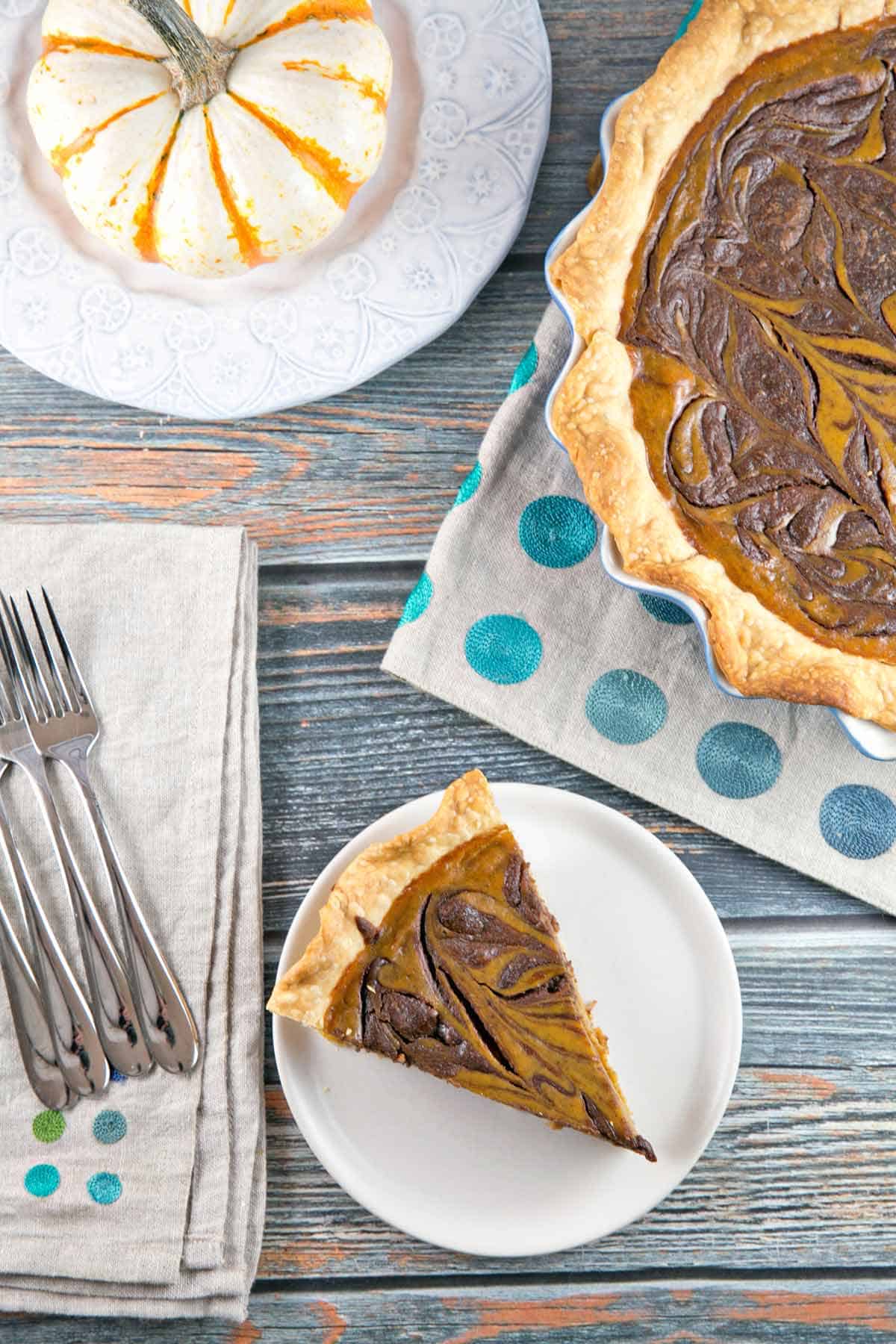 "But wait!" you might be saying. "I'm a traditionalist! I can't mess with pumpkin pie!" I hear you. Really, I do.
That's why this is 95% classic pumpkin pie… 5% swirled nutella. (Okay, I didn't do the math. It might be more like 85%/15%).
This is a pumpkin pie with just a hint of nutella. Trust me on this. I love pumpkin pie. I do not love chocolate. And I loved this nutella swirled pumpkin pie.
(If, like my husband, you don't really like pumpkin pie, the swirl of nutella will not win you over. In that case, save the pumpkin pie for me and make yourself this Flourless Gooey Chocolate Brownie Pie for Thanksgiving. You're welcome.)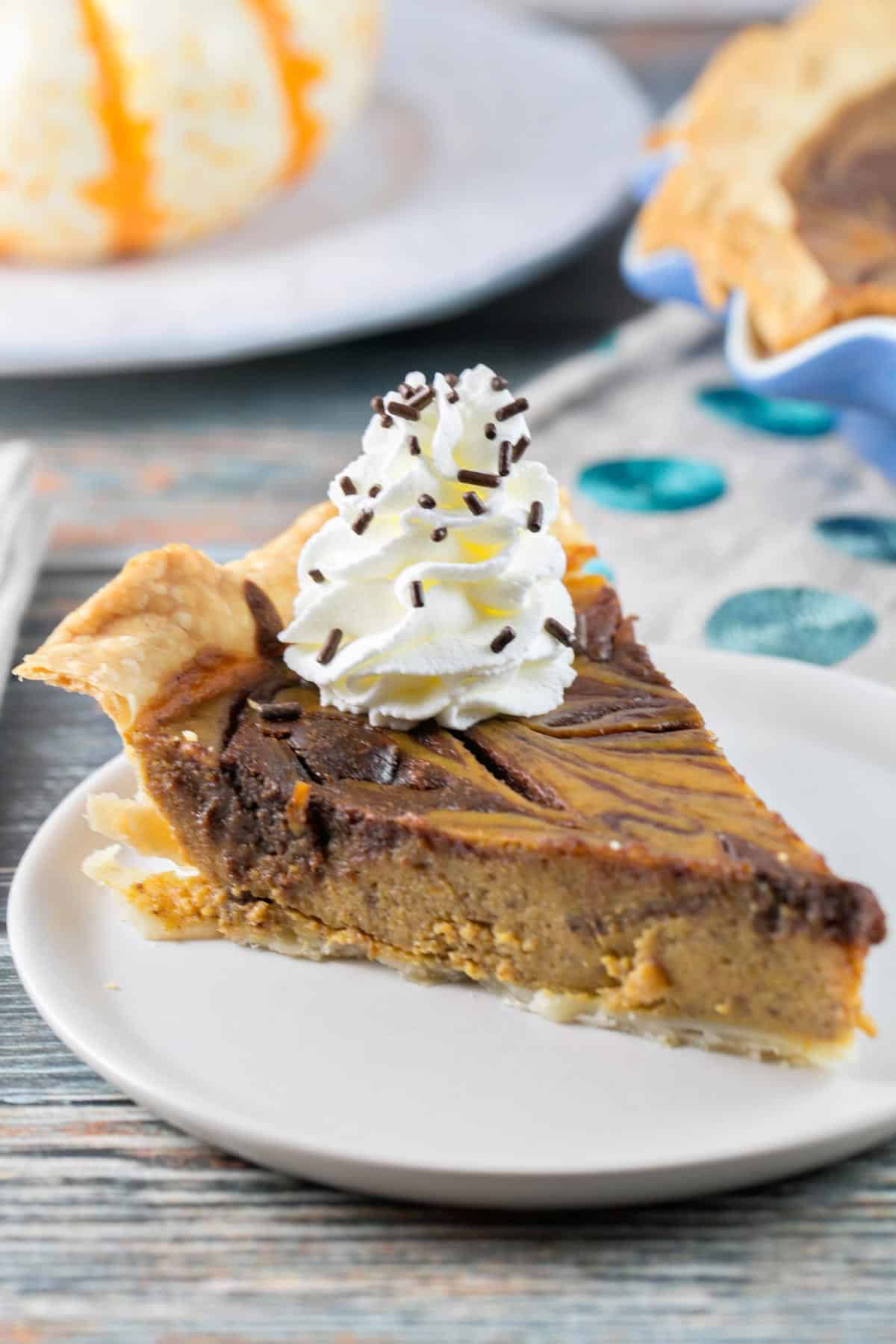 How to Make a Perfect Pumpkin Pie
I've made a couple (dozens? hundreds?) of pies in my life, so let me share a few of my favorite secrets for a perfect pumpkin pie:
Blind bake your crust. This is pretty easy, and definitely helps prevent your crust from getting too soggy. Your pie crust will be perfectly crisp and flaky, and your pumpkin pie won't be overcooked. (Note that this is not necessary for all pies, but I highly recommend it for pumpkin pie!)
Use sweetened condensed milk. Pumpkin pie recipes tend to fall into two categories: sweetened condensed milk or brown sugar and heavy cream. Both are delicious, but the former is definitely prettier: I've found that pies made with the condensed milk don't crack the same way the heavy cream/brown sugar mixture pies do. Now, in this particular case, you'll see some cracks do appear along the nutella swirls; that's a factor of mixing in the nutella, which is a different density than the rest of the pie. But should you opt to omit the nutella part, this is still my favorite pumpkin pie recipe – and it will give you a gorgeous, uncracked, smooth surface!
For a super smooth pumpkin pie, mix ingredients in a food processor. You'll see I don't actually do this — I like pumpkin pie just fine without it. But if you want the smoothest, creamiest, practically drink-through-a-straw kind of custard, give everything a whirl in the food processor instead of whisking.
Take the temperature of your pie to determine doneness. Don't mess around with a knife inserted into the pie one inch from the crust, or jiggle. Just trust science: an instant-read thermometer inserted into the center of the pie should read 175 °F. Science never lies, people.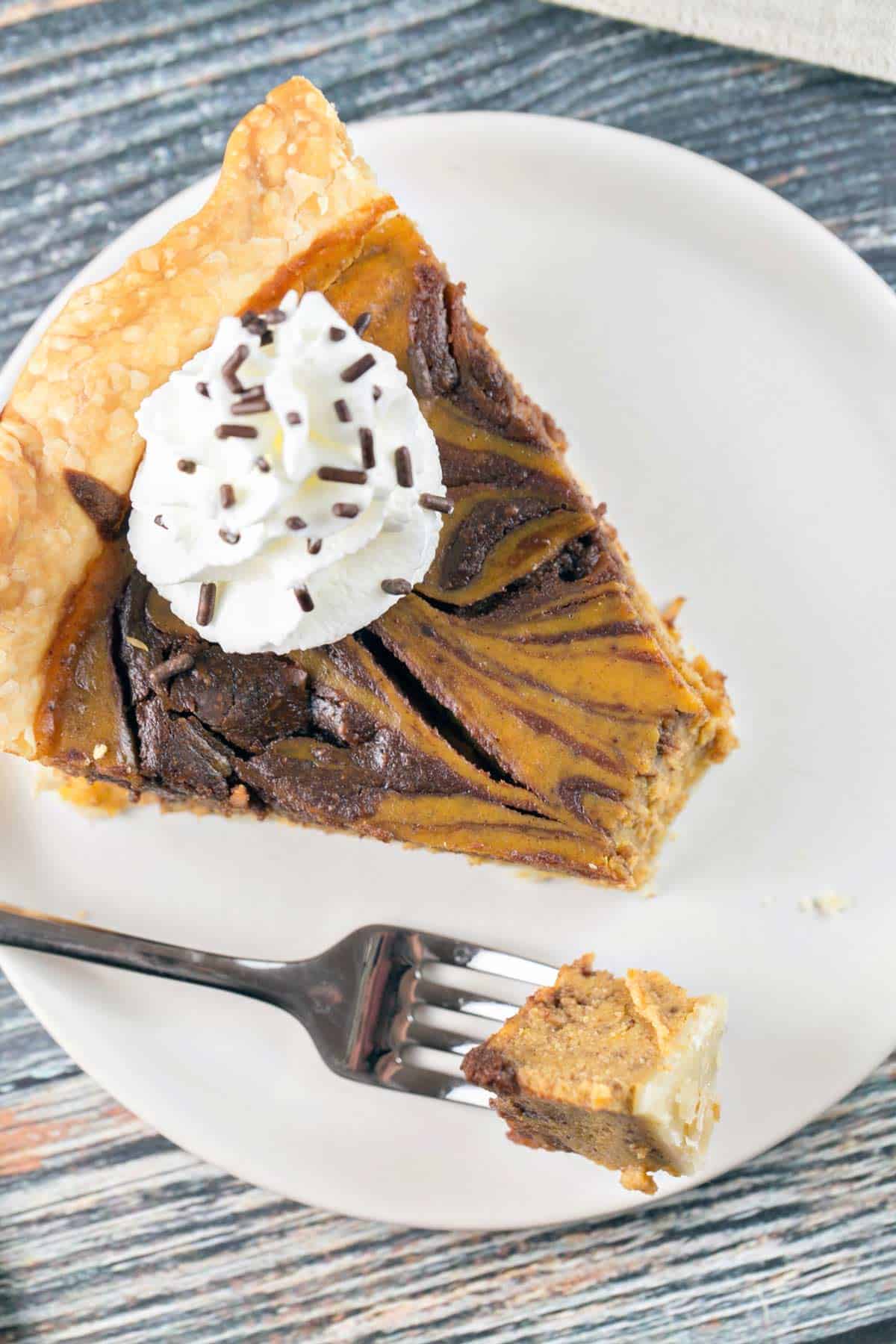 How to Make Nutella Swirled Pumpkin Pie
Great, so we're all squared away on how to make a perfect pumpkin pie. How do we upgrade this to a nutella swirled pumpkin pie? Easy peasy!
Heat half a cup of Nutella in the microwave, just to soften it up so it's easy to swirl. Dollop it on top of the pie and spread it around with a knife. I like to stick the knife straight down into the pie and swirl in an S pattern in both directions. That's it!
(And if you don't like nutella, feel free to skip – or replace with something else. Would a cashew butter pumpkin pie work? I think it would indeed!)
Now go forth and make your nutella swirled pumpkin pie. Just don't forget to invite me over to your house for a slice, please and thank you!
More Nutella Desserts: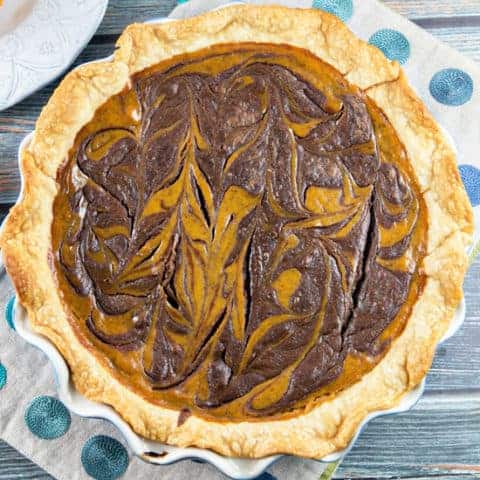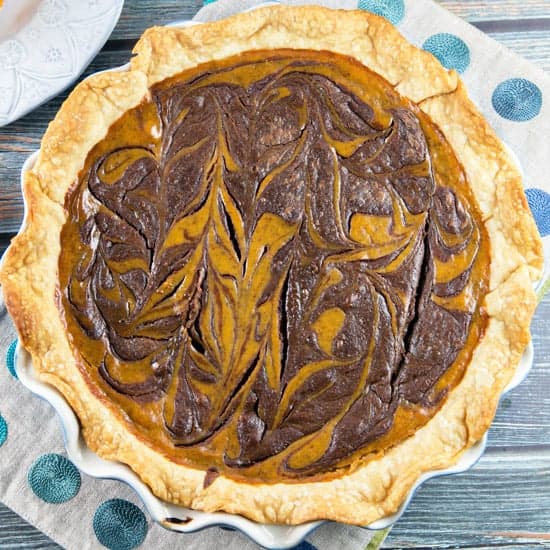 Nutella Swirled Pumpkin Pie
Cook Time:
1 hour
10 minutes
Total Time:
1 hour
25 minutes
Take your classic pumpkin pie and give it a little upgrade with decadent swirls of rich nutella.
Ingredients
1 (15 ounce) can pumpkin puree
3 egg yolks
1 large egg
1 (14 ounce) can sweetened condensed milk
1 teaspoon ground cinnamon
1/2 teaspoon ground ginger
1/2 teaspoon ground nutmeg
1/4 teaspoon ground cloves
1/2 teaspoon salt
1/2 cup nutella
Instructions
Preheat oven to 425 °F.
Fit pie crust into a 9-inch pie plate and crimp the edges. Poke the bottom of the pie crust several times with a fork. Place the pie plate in the freezer for 10 minutes to allow the dough to firm up.
Place pie weights (or dried beans, etc) in the pie crust and bake for 15 minutes, until the crust just starts to brown. Remove the pie weights and bake an additional 10 minutes to fully cook the bottom of the crust. Remove the pie crust from the oven and allow the crust to start to cool.
Reduce the oven temperature to 325 °F.
Whisk together the pumpkin puree, egg yolk, and egg in a large bowl until smooth. Add in the sweetened condensed milk and spices, continuing to whisk until completely combined. Pour pie batter into the blind baked crust, reserving about half a cup of the batter in the bowl.
Heat the nutella in the microwave for 20-30 seconds, until easy to stir with a spoon. Scoop the nutella into the bowl with the remaining batter and mix to combine. Dollop tablespoons of the nutella mixture onto the surface of the pie, swirling gently with a knife.
Cover the edges of the crust with a pie shield or tented aluminum foil. Bake for 40 to 45 minutes, until an instant read thermometer inserted into the center of the pie reads 175 °F. Cool completely before slicing and serving.
Recommended Products
As an Amazon Associate and member of other affiliate programs, I earn from qualifying purchases.