January 8, 2018
Cranberry Orange Streusel Muffins
Tart cranberries and oranges pair perfectly with a sweet crumbly streusel topping in these giant, domed cranberry orange streusel muffins. The best way to start off a cold, dreary winter morning! Plus, tips for giant bakery-style domed muffins baked in regular sized muffin pans.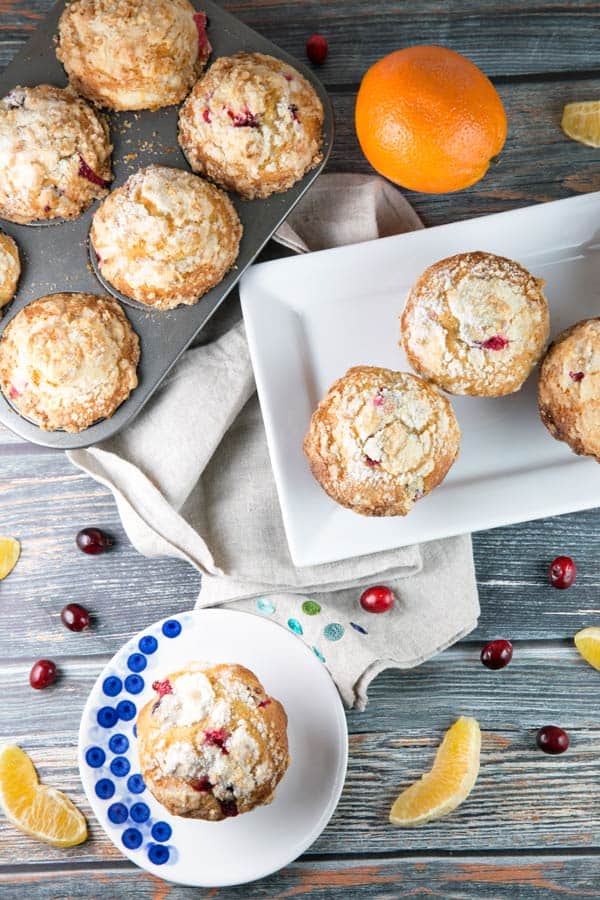 Let's talk about muffins for a minute. Is there anything better on a lazy morning than a muffin (presumably with a big cup of coffee, if you're a coffee drinker)? I'm going to go with… no.
And while I have quite a few muffin recipes on here, most are a little more summery. Zucchini muffins. Blueberry muffins (dense and thick like poundcake or fluffy and sugar topped). Cherry chocolate chunk with fresh summer cherries.
Plus seasonless classics, like chocolate chocolate chip muffins or banana bread muffins. But what I really wanted, what with all the absurdly cold and snow weather we've been having, was a winter muffin. Like these cranberry orange streusel muffins.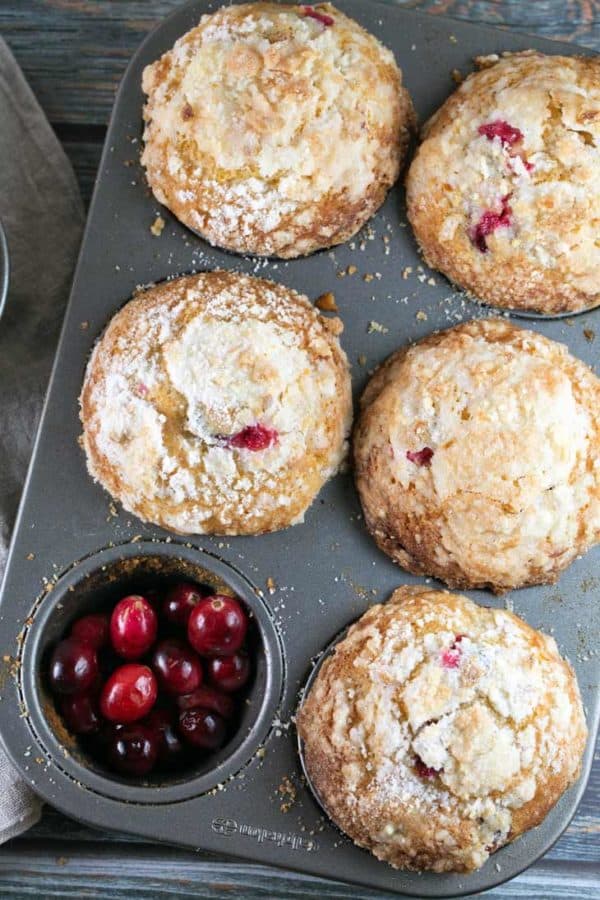 It's hard to find a better winter flavor combination than cranberry and orange. Tart cranberries paired with bright winter citrus is delicious.
And because we're fighting those dreary January snowy cold weather blues, I made these muffins giant-sized. And covered them in a sweet streusel topping. Because really, we need all the help we can this time of year, right?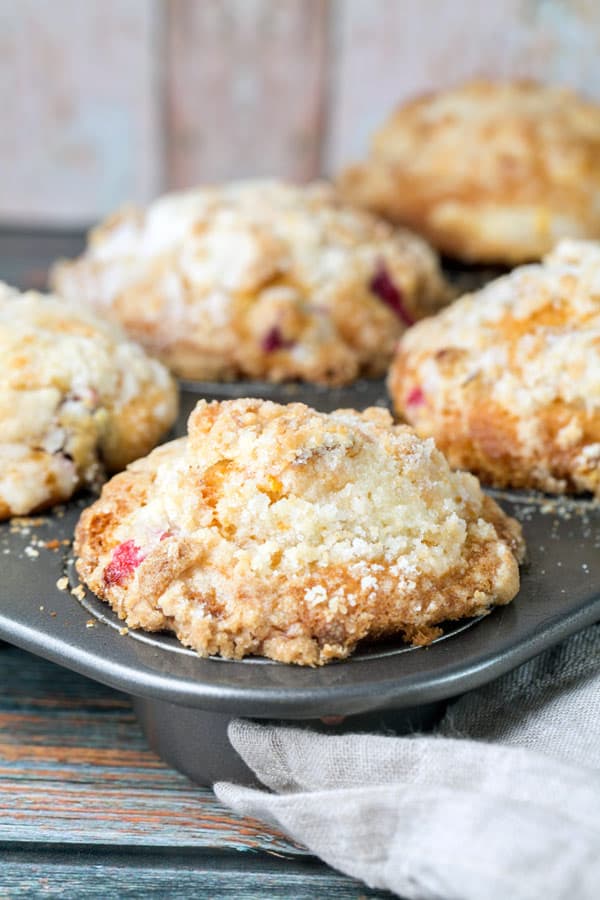 These cranberry orange streusel muffins look jumbo thanks to the giant, crumbly tops. But they're actually baked in plain old regular sized muffin tins. So how did we get them so tall and big? Time for a little…
Kitchen Chemistry: To get giant, perfectly domed muffin tops, start the muffins at a higher temperature for the first five minutes. This initial high heat temperature releases steam, helping to boost the height of the muffins. The outside edges of the muffin start to set while the middle is still batter, which will continue to rise as the muffin bakes inward.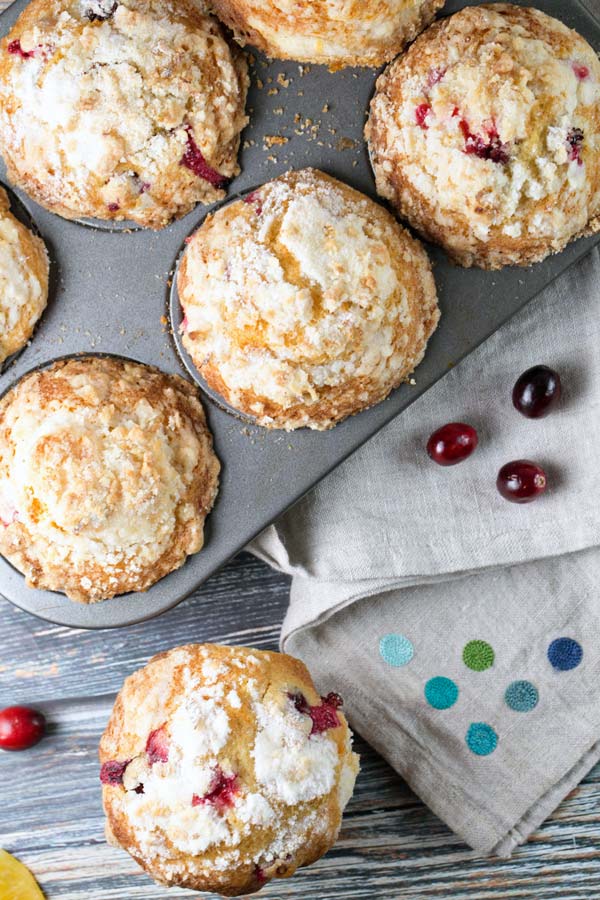 Also important (but less scientific): fill your muffin cups all the way to the top, and skip the paper liners which bind to the batter and hold the muffins down. Flatter, more dense muffins totally have their place in the world of baked goods — I'm a big fan.
But if you want beautiful, domed muffins like a bakery, these tips will get you there. No jumbo-sized muffin tins necessary.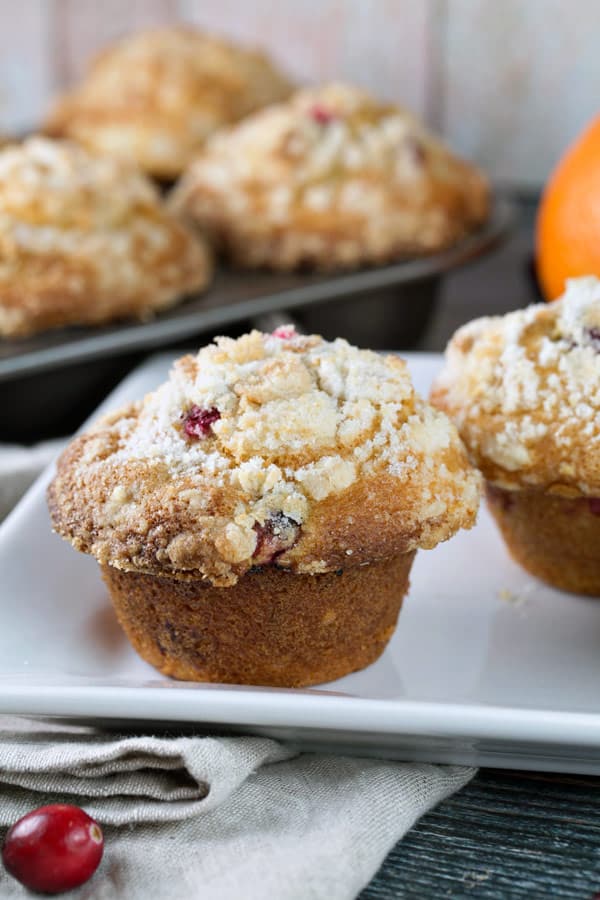 To ensure these release nicely from the pan, with the big streusely dome, I spray a little nonstick cooking spray on the very top of the pan. Let the muffins cool for 10 minutes, then run a small, sharp knife under the domed edge to release.
Pop them out and cool on the counter for another 30 minutes. Easy peasy.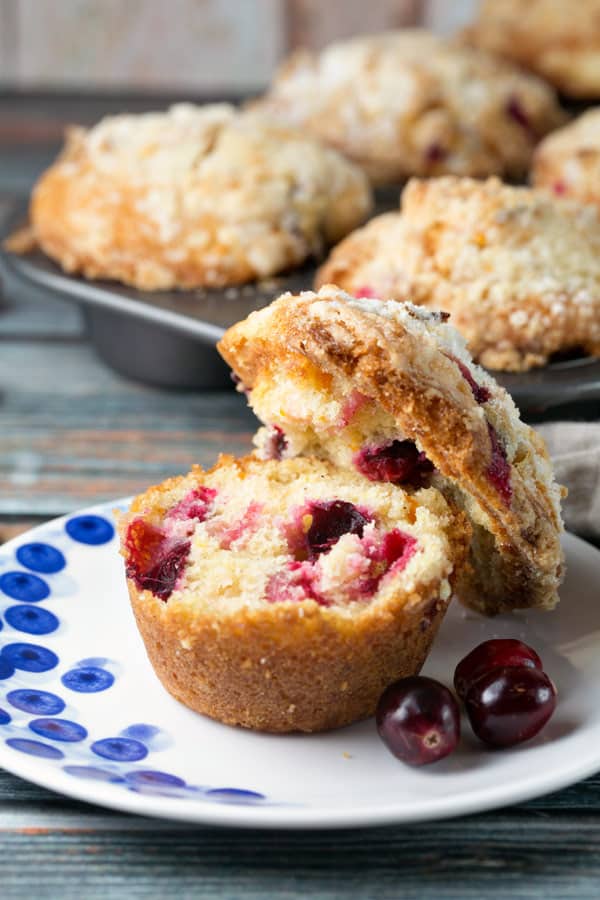 It's brutal out there, folks. After a weekend of highs in the single digits and below zero wind chills, we're now facing an impending ice storm. I hope a big, fluffy, crumbly cranberry orange streusel muffin and a steaming cup of coffee, tea, or cocoa helps to brighten your day.
I'm pretty sure we need to make another batch to get through the rest of the week!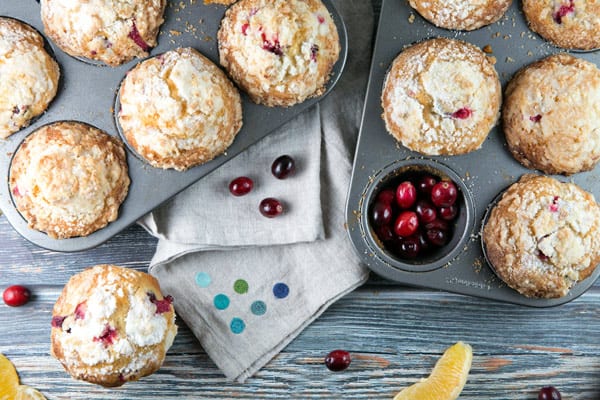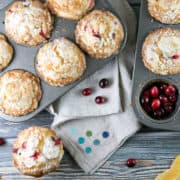 Cranberry Orange Streusel Muffins
Tart cranberries and oranges pair perfectly with a sweet crumbly streusel topping in these giant, domed cranberry orange streusel muffins.
Ingredients:
For the muffins:
1/2 cup vegetable oil
1 cup sugar
2 eggs, room temperature
1/2 cup buttermilk
1/4 cup freshly squeezed orange juice
zest of 2 oranges
1 teaspoon vanilla extract
2 1/2 cups all-purpose flour
4 teaspoons baking powder
1/2 teaspoon salt
1/2 teaspoon cinnamon
1 1/2 cups cranberries, fresh or frozen (do not thaw if frozen)
For the streusel topping:
1/2 cup sugar
1/4 cup all-purpose flour
4 tablespoons cold butter, cut into half-inch size pieces
zest from 1 orange
Directions:
Preheat oven to 425 °F.  Spray a 12 cup muffin tin with non-stick cooking spray.
In a large bowl, whisk together the vegetable oil, sugar, eggs, buttermilk, orange juice, orange zest, and vanilla.  Slowly add in the flour, baking powder, salt, and cinnamon.  Mix until just combined and no dry streaks of flour remain.  Fold in the cranberries.
Divide the batter amongst the 12 muffin cups, filling nearly to the top.
To make the streusel, combine the sugar, flour, butter and orange zest in a small bowl. Using a pastry blender or fork, cut the butter into the dry ingredients until the streusel has the texture of clumpy, wet sand.  Sprinkle the streusel evenly over the tops of the 12 muffins.
Bake at 425°F for 5 minutes, then reduce the oven temp to 375°F (do not open the oven in between!) and bake for another 13-15 minutes.  Cool muffins in the muffin tin for 10 minutes, then remove muffins and cool on a wire rack for an additional 30 minutes.
Muffins will stay fresh at room temperature for up to 5 days, or in a freezer bag in the freezer for up to 3 months.
A Bunsen Burner Bakery Original Protocol