February 28, 2019
Cinnamon Hazelnut Babka
Full of cinnamon (in the dough, the filling, and the streusel on top!) and chopped hazelnuts, this cinnamon hazelnut babka is most definitely not a lesser babka. Sprinkle extra hazelnuts on top for a delicious unexpected crunch — this is not your Bubbe's babka.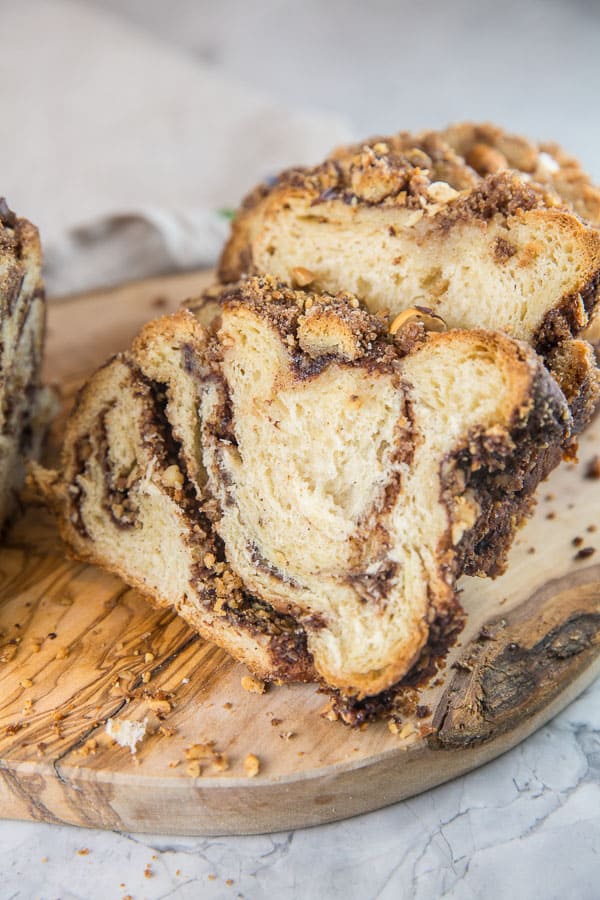 Earlier this month, I shared a recipe for the best chocolate babka, which was kicking off my 2019 Yeast Bread of the Month series.
At the end of the post, I joked that since babka is clearly the best yeast bread of them all, maybe I should just do Babka of the Month instead.
It was a joke… until people reached out and said "yes! babka of the month! do it!"
So I did what any undecided person does and polled the masses (i.e., my instagram followers). I put up an Instagram Story poll asking if I should do babka of the month or yeast bread of the month.
And with 52% of the vote, the winner was, obviously, BABKA.
(I am thrilled about this. Instagram followers, you get me.)
So get excited: we have an entire year of babka coming up. Babka is having a big moment right now, and I'm excited to be a part of that.
We'll do sweet babkas (duh). We'll do savory babkas. There will be seasonally appropriate and fun and festive babkas. ALL BABKA ALL THE TIME. (Okay fine. One babka a month for the rest of the year.)
We covered the history of babka and what defines a babka in the chocolate babka recipe post, so let's jump right on in with information about this cinnamon hazelnut babka.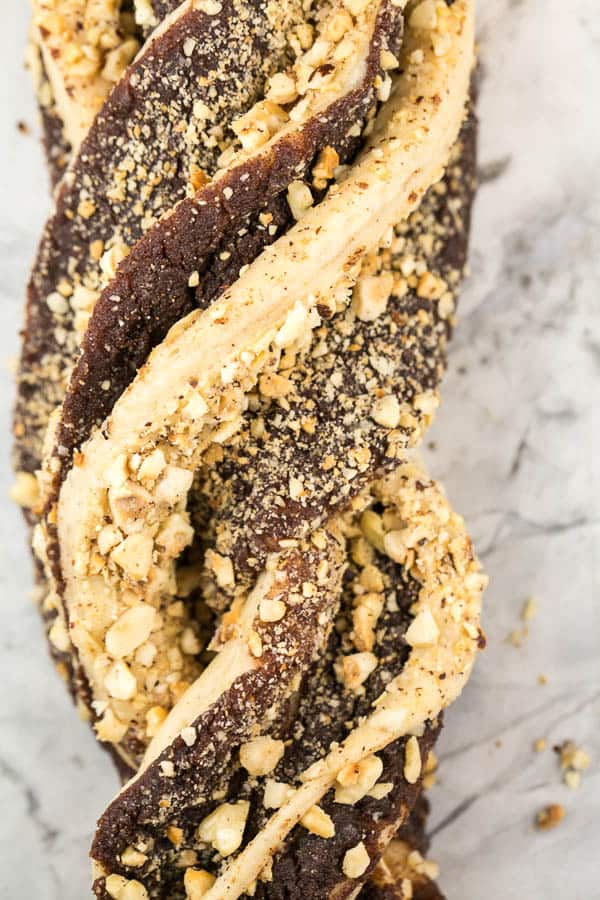 What is Cinnamon Hazelnut Babka?
Quick babka refresher: a babka is a sweet yeast bread with a swirled filling. And for this particular babka, we're using cinnamon and hazelnuts.
We've really amped up the cinnamon flavor here, with a triple punch: it's in the dough, in the filling, and in the streusel topping. (Too much cinnamon? No such thing!)
We'll also include hazelnuts, in various states of chopped/ground, in the filling and the streusel. Hazelnuts pair beautifully with cinnamon and are a little unexpected as far as nuts go. We've got tons of baked goods with almonds, walnuts, and peanuts, but outside of Nutella, hazelnuts kind of take the back burner.
Not anymore, people. You know the Seinfeld joke about cinnamon babka being the "lesser" babka? This is not a lesser babka, thanks in part to the hazelnuts. This is a damn good babka – every bit as good as chocolate.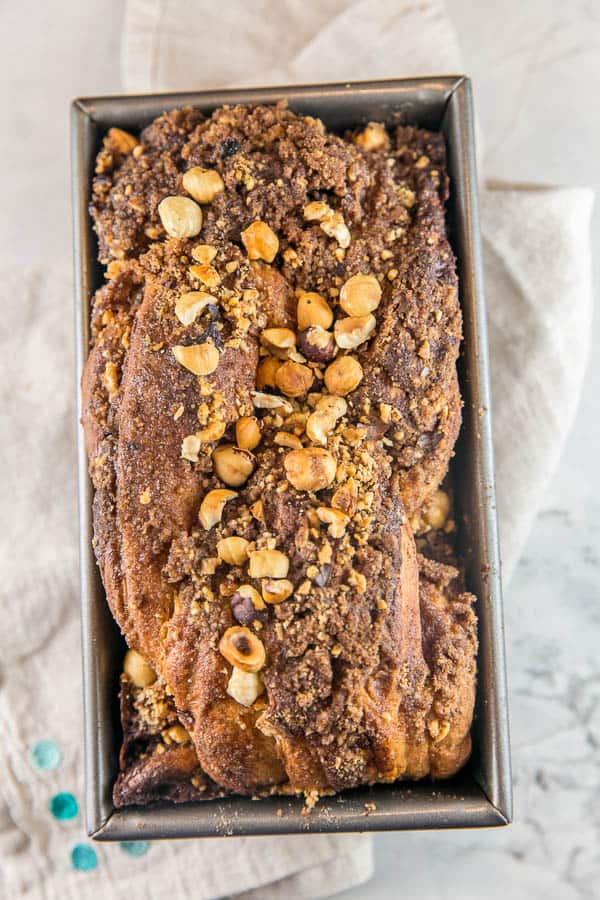 How to Make Cinnamon Hazelnut Babka
Making babka takes time, but you can easily fit it into a long morning or afternoon. The steps may look complicated, but I promise: it isn't!
Here's the babka game plan:
1) toast the hazelnuts
2) make the dough –> you can do this by hand or in a stand mixer to make it a little easier
3) let the dough rise at room temperature for 1 hour
4) let the dough rise in the refrigerator for another hour-ish
5) roll out the dough
6) cover dough with cinnamon hazelnut filling
7) twist the dough and place in a loaf pan
8) let the dough rise again
9) top dough with streusel topping
10) bake
11) top freshly baked, still hot babka with simple syrup
12) cool babka
13) eat babka
Thirteen steps, but I assure you, the thirteenth step makes the first twelve 100% worth it.
(Also, your kitchen will smell amaaaazing while this bakes. What is it about cinnamon in the oven that just smells so absolutely wonderful?)
As for the filling, I added a little cocoa powder to the brown sugar and cinnamon mixture. If you're not feeling chocolate at all, leave it out completely. I find just a little cocoa powder really enhances the cinnamon taste, though – and isn't at all overpowering enough to verge on chocolate babka territory.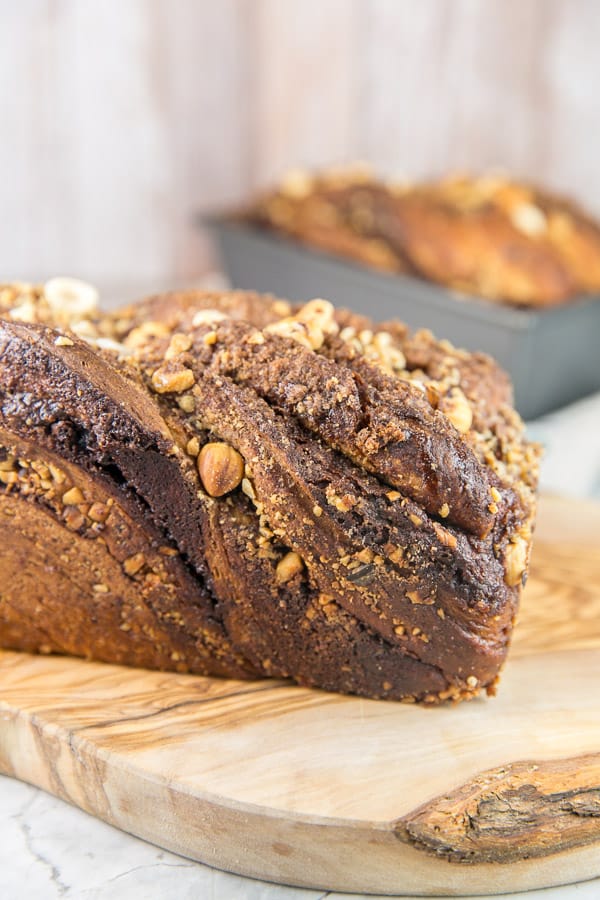 How to Toast Hazelnuts
Hazelnuts are an important part of this babka, and they're even better when toasted. Fortunately, this is a simple easy step you can do right at home!
Spread the hazelnuts on a baking sheet and bake at 350 °F until toasty brown (10ish minutes). When you pull them out of the oven, immediately cover and wrap in a clean kitchen dishtowel. This will trap the steam and help to loosen the outer skins.
After a few minutes, rub the nuts inside the towel for a minute or two until most of the skins come off. (Don't worry about any that are still on — they'll just add a little more color to the chopped hazelnuts!)
Toasted hazelnuts will last for about a month at room temperature, so I always make a big batch and use them in various cooking and baking dishes — or for snacking!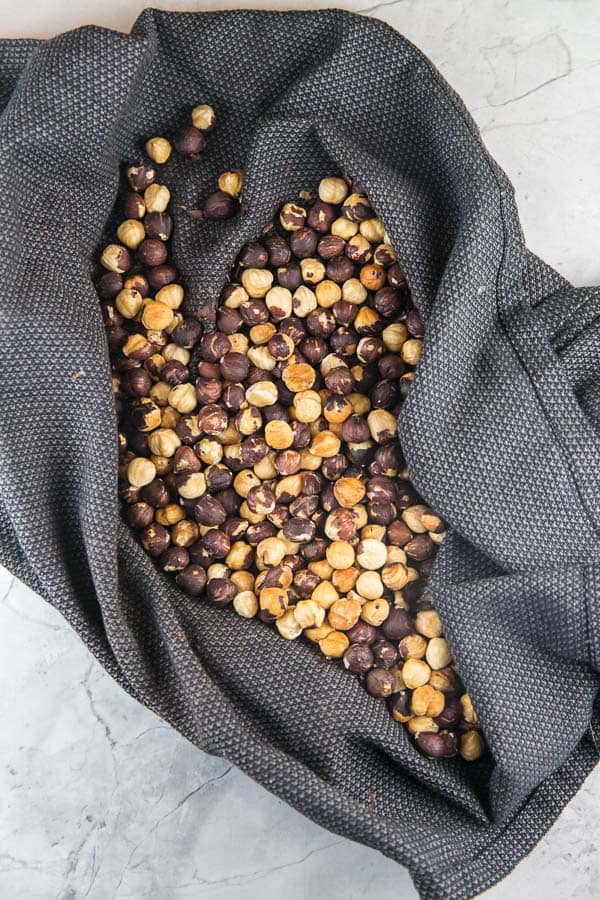 How to Shape Cinnamon Hazelnut Babka
We tackled this last month with the chocolate babka recipe, but a refresher is always good. Photos below are from the chocolate babka post — just pretend it's cinnamon hazelnut filling, instead!
Start by rolling your dough out into a big rectangle. Spread on the cinnamon filling and sprinkle with chopped hazelnuts.
Next, take the long side and start to roll the babka into one long line. Rather than squeezing the dough into a tight coil, lift the dough and roll loosely — if you try to roll too tight, you'll squish out the hazelnuts.
Once the dough is fully rolled, grab a knife and cut it in half, the whole way through, vertically. You'll have two really long pieces of dough with chocolate running through them.
Twist these two pieces of dough around each other from start to finish. Then take this long twist, fold it in half, and give it another twist.
Place this twisted dough into the prepared loaf pan. It doesn't matter which way you put it in — swirly side up or down — because we're going to cover it with a streusel topping anyway.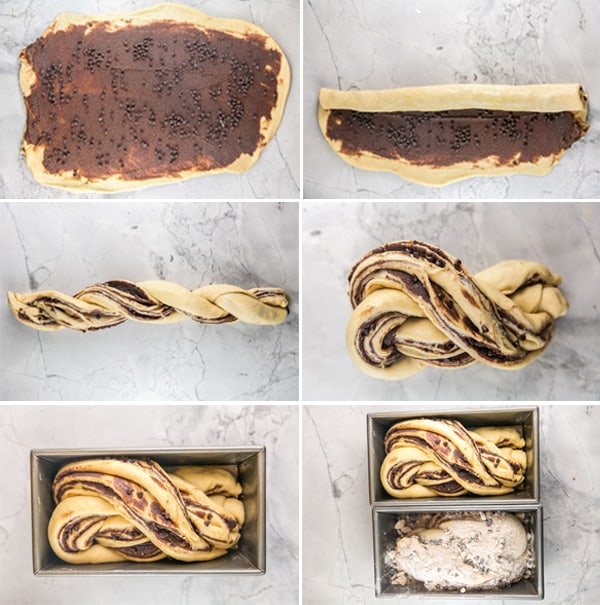 How Long to Bake Cinnamon Hazelnut Babka
This involves my most favorite aspect of baking: science!
Yeast breads are done when the temperature reaches 190 °F, which you can check with an instant read thermometer. No need to try to take the babka out of the pan and 'thump' the bottom, or figure out if the goo on your knife is dough or melted cinnamon mixture.
With a babka, which has so many layers and swirls, it's hard to find the exact middle and ensure you're in the dough and not the filling or an air pocket. I generally take the temperature from 3 or 4 places in the dough and ensure that each is at least 190 °F before removing the loaf from the oven.
How to Store Babka
This recipe makes two loaves, so you can do what I do and give some to your neighbors or… you can save it for later.
This cinnamon hazelnut babka will last in an airtight container for 4-5 days at room temperature.
Or you can freeze your extra babka, either a whole loaf or sliced (I prefer a whole loaf, as it protects the insides from freezer burn). Once the babka is fully baked and cooled, wrap in a layer of aluminum foil and place inside a zippered freezer bag. Store in the freezer for up to 3 months.
Thaw overnight and enjoy the next day at room temperature, or pop back into the oven for 5-10 minutes for a toasty warm slice.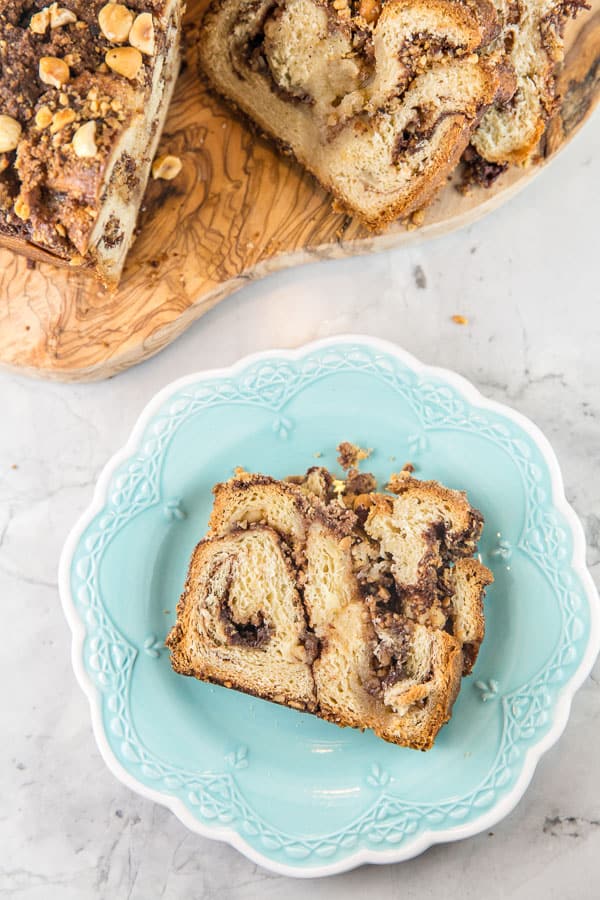 So how do we feel about the Babka of the Month plan? Not really into sweet breads? Fret not — there just might be a savory, cheesy, dinner-ish babka headed your way very soon…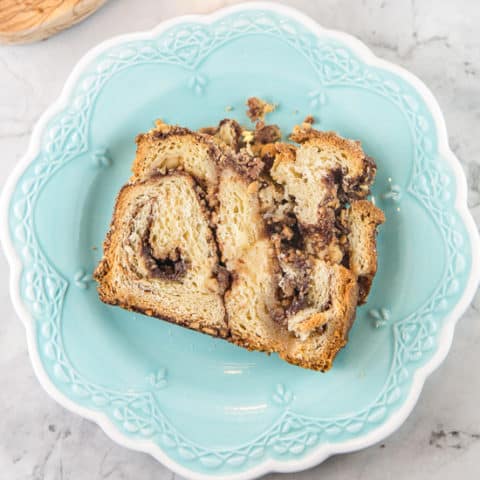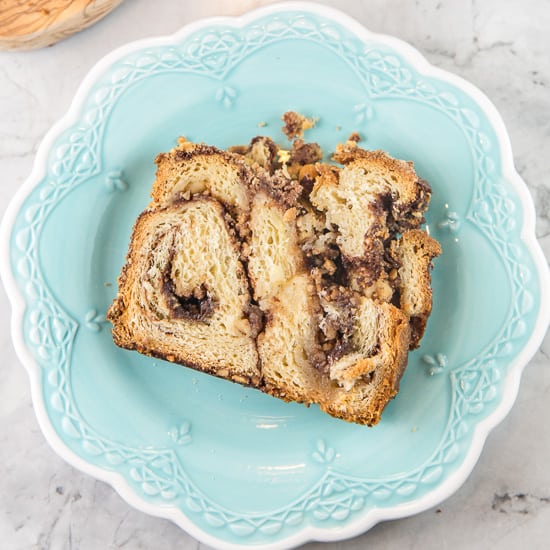 Cinnamon Hazelnut Babka
Prep Time:
3 hours
30 minutes
Total Time:
4 hours
15 minutes
Full of cinnamon (in the dough, the filling, and the streusel on top!) and chopped hazelnuts, this cinnamon hazelnut babka is most definitely not a lesser babka.
Ingredients
FOR THE DOUGH:
1 cup whole milk, heated to 110 degrees F
3 teaspoons instant yeast
1/2 cup + 1 tablespoon sugar
2 eggs
2 teaspoons vanilla extract
4 1/2 cups all purpose flour
1 teaspoon salt
1 teaspoon cinnamon
12 tablespoons unsalted butter, softened and cut into 12 pieces
FOR THE CINNAMON HAZELNUT FILLING:
1 cup packed brown sugar
2 1/2 tablespoons cinnamon
2 tablespoons cocoa powder (or flour)
2 tablespoons flour
8 tablespoons melted butter
1 teaspoon vanila extract
1 cup diced roasted hazelnuts
FOR THE STREUSEL TOPPING:
1/4 cup brown sugar, packed
1/4 cup flour
1/2 teaspoon cinnamon
4 tablespoons butter, cut into 8 pieces
1/2 cup halved or chopped roasted hazelnuts
FOR THE SYRUP:
2/3 cup sugar
2/3 cup water
Instructions
Prepare the dough. Combine together the milk, yeast, and 1 tablespoon of the sugar in the bowl of an electric stand mixer fitted with a dough hook (or in a large glass mixing bowl). Whisk together and set aside for 5 minutes, or until frothy.
On low speed, beat in the remaining sugar, eggs, and vanilla extract. Add in the flour, salt, and cinnamon and mix just until the dough comes together, another 2-3 minutes. Increase the speed to medium-low and add the butter one piece at a time, beating after each addition until all pieces have been added. Continue mixing with the dough hook until the dough is smooth and pulls away from the sides of the bowl, about 10 minutes. (Alternatively, whisk together ingredients by hand until combined; knead by hand for 10 minutes until dough is soft and smooth.)
Transfer the dough to a large lightly greased bowl and cover with plastic wrap or a clean kitchen towel. Set aside to rise at room temperature for 1 hour. After 1 hour, transfer the bowl to the refrigerator, still covered, and set aside for 1 hour, until dough has doubled in size and is firm to the touch.
Prepare the filling. While the babka is rising in the refrigerator, make the cinnamon hazelnut filling (see text of post for information on roasting hazelnuts). In a small bowl, combine the brown sugar, cinnamon, cocoa powder, and flour. Pour in the melted butter and vanilla and stir to combine. This mixture will look a little granulated from the sugar.
Shape the babka. Grease two 9x5-inch loaf pans. Remove the dough from the refrigerator and gently punch it down. Cut the dough in half; remove half from the bowl and recover the other half and set aside.
Roll the dough into a roughly 9-inch by 18-inch rectangle. Spread half the filling over the dough, leaving a slight border along the edges. Sprinkle half the diced hazelnuts over the top of the dough. Working from the long side of the dough, roll the dough into a long cylinder (see photos in post for more detail). Using a sharp knife, cut the dough in half long-ways down the length of the cylinder to expose the chocolate filling, creating two logs of dough. Twist these two logs together (pictured above in post). Fold in half one more time, twisting again, and place dough in the prepared loaf pan. Repeat with the remaining dough. Cover both loaf pans with plastic wrap or a dish towel and set aside to rise again at room temperature, for another hour.
Make the streusel topping. In a small bowl, mix together the brown sugar, flour, and cinnamon. Cut in the cold butter using a pastry cutter or two knives until the butter is pea-sized and the mixture has a sandy texture. Stir in the chopped hazelnuts. After the dough finishes rising, sprinkle the streusel topping over both loaves.
Make the syrup glaze. Combine the sugar and water in a small saucepan over medium heat. Simmer for 5 minutes, stirring occasionally, until the sugar dissolves. Set aside to cool.
Preheat the oven to 350 °F.
Bake the babka. Bake the loaves at 350 °F for 45 to 55 minutes, until the top of the loaf is golden brown and the inside registers 190 °F using an instant read thermometer. As soon as the babkas are done baking and come out of the oven, use a long skewer or knife to poke holes all over the bread, pushing all the way down to the bottom. Brush the simple syrup on top, equally dividing between the two loaves. Allow the breads to cool in the pans for 10 minutes, then transfer to a wire rack to cool completely before serving.
Notes
Babka can be stored in an air-tight container for up to 5 days, or frozen for up to 3 months. To freeze, wrap fully cooled loaf in aluminum foil and place inside a plastic freezer bag.
A Bunsen Burner Bakery Original Protocol
Recommended Products
As an Amazon Associate and member of other affiliate programs, I earn from qualifying purchases.
Nutrition Information:
Yield:

24
Serving Size:

1 slice
Amount Per Serving:
Calories:

343
Total Fat:

17.1g
Carbohydrates:

44g
Protein:

5g
Love cinnamon? More cinnamon desserts here!