February 8, 2018
Easy Instant Pot Beef Stew
Make winter comfort food even better with this easy Instant Pot beef stew recipe! Full of chuck roast, carrots, celery, onions, potatoes, and mushrooms, it tastes like it simmered on the stove for hours… but it's actually ready, start to finish, in under an hour. 
Okay friends, here we go.  I'm jumping on the Instant Pot recipe bandwagon!
I've had my Instant Pot for over a year and a half now, but I've been taking my time trying to develop some recipes.  Why?
Well, first of all — there are a lot of bad Instant Pot recipes out there.  There are a lot of awesome ones, but boy did I discover some terrible ones while I was first trying to use it.
Pro tip: if the recipe calls for a lot of dense food but less than half a cup of liquid?  Skip it! 
Also, I wanted to create recipes with an actual realistic timeframe.
Here's the thing about the Instant Pot: if a recipe says "cook on high pressure for 10 minutes"…. it doesn't actually take 10 minutes.  It takes 15-20 minutes to come to pressure, and then you may also have to do a slow release.
There is nothing more frustrating than seeing a recipe that says "Cook Time: 10 minutes" and realizing it's actually going to take 40 minutes.
So here's my vow to you with my Instant Pot recipes: they are tested many times to ensure there is enough liquid to come to pressure and the time is as realistic as possible for a 6 quart Instant Pot.
Plus, as always, they taste good, not bland and boring like some of the recipes we tried.
So… are you ready to come along on this Instant Pot journey with me?  Let's go!
First off, you need an Instant Pot.  I have this 6 Quart version (Amazon links may be affiliate) and you'll probably want some extra sealing rings (I like these colorful ones – I can use different colors for different recipes, since the sealing rings tend to absorb the odors of whatever you cook).
Once you get your Instant Pot, I highly suggest you do the pressure tests listed in the instructions.  I did not, because… I don't believe in following directions.
My Instant Pot unit has given me a lot of grief as a result, because the inner metal ring was bent from the start and it has a hard time achieving pressure.
Save yourself the headache and make sure your unit is fully functional before you start!
Instant Pot ready to go?  Let's get started!
This Easy Instant Pot Beef Stew is a great starting recipe, because it's delicious, really easy, and highlights the best part of the Instant Pot: the ability to sauté right in the pot.
Sure, you can make beef stew in a slow cooker, but you have to braise the meat separately on the stove.  More dishes.  Not the case with the Instant Pot – do it all together!
Beef stew is such a classic winter recipe, but traditionally it involves a few hours on the stovetop, or all day in the slow cooker.  This version takes about an hour total, but I'll share my secret that makes this easy Instant Pot beef stew even tastier and gets it ready within 30 minutes of getting home.
Serve with a loaf of crusty bread to soak up some of the extra sauce and a nice green salad and boom: perfect weeknight winter comfort food.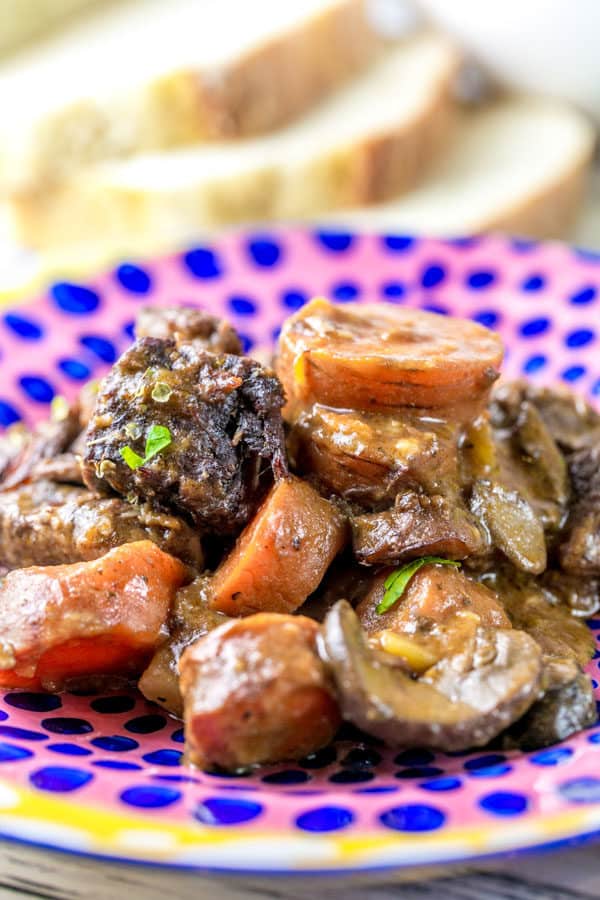 We'll start by tossing the meat with a little flour (or use cornstarch to keep it gluten free), salt, and pepper, and using the sauté feature to brown all the sides of the meat.  Once done, pour in broth to deglaze the bottom of the pan.
Then toss in your seasonings and vegetables, set for 30 minutes of manual pressure, and walk away.
Because it takes 15-20 minutes to come to pressure, 30 minutes to cook, and a 10 minute pressure release, this isn't weeknight quick.  But what I love so much about this easy instant pot beef stew is that it's even better the next day.
So I like to make it the night before, transfer it to the fridge, and then bake it in a hot oven for 20-30 minutes the next day before eating.
The last baking step helps get the top of the meat nice and caramelized, thickens up the gravy a little bit more, and really takes it over the top.
Want to eat it the same day?  No problem!  Instant Pot beef stew is still delicious right out of the pot.  But the extra step bumps up the flavor even more and means you can have dinner on the table 30 minutes after getting home from work.
And that's the ultimate weeknight win-win.
Easy Instant Pot Beef Stew
Make winter comfort food even better with this easy Instant Pot beef stew recipe, cooked in under an hour!
Ingredients:
1 tablespoon butter
2 pounds beef chuck roast, cubed into 1.5-2 inch cubes
1/3 cup flour or cornstarch
salt and pepper, to taste
1 cup beef broth
2 tablespoons Worcestershire sauce
3 cloves garlic, minced
3 tablespoons tomato paste
1 tablespoon Italian seasoning
2 stalks of celery, chopped
6-7 large carrots, sliced diagonally into thick pieces
1 onion, cut into chunks
2 medium russet potatoes, cut into 1-2 inch cubes
8 ounces mushrooms, sliced
Directions:
Turn on sauté function of Instant Pot.  Add 1 tablespoon butter.  Toss the beef chuck roast with the flour (or cornstarch), salt, and pepper.  Once butter is melted, add in the stew meat and brown on all sides, turning every few minutes until the outside is brown and crispy.
Pour in the beef broth, stirring and scraping the bottom of the Instant Pot with a wooden spoon to deglaze the pot.
Add the Worstershire sauce, garlic, tomato paste, and Italian seasoning.  Stir to combine with the meat.
Add in the celery, carrots, onion, potatoes, and mushrooms.  Stir to combine.
Set the Instant Pot to 30 minutes manual pressure.  The pot should come to pressure in 15-20 minutes, and then start counting down from 30 minutes after sealing.  Once the pressure cycle has completed, wait 10 minutes, then release pressure.
Beef stew can be consumed immediately, but for extra flavor, transfer contents to a baking dish and bake uncovered in a 400 °F oven for 20 minutes to caramelize the meat and thicken the gravy.
Beef stew is even better made ahead of time.  Remove from Instant Pot, cool to room temperature, and refrigerate overnight.  When ready to serve, bake at 400 °F for 20-30 minutes, until hot.
Leftovers can be stored in a freezer-safe container for up to 3 months.  Thaw overnight in the refrigerator, then proceed with oven instructions listed above.
A Bunsen Burner Bakery Original Protocol