November 5, 2019
Easy Instant Pot Beef Stew
Make winter comfort food even better with this Easy Instant Pot Beef Stew recipe! Full of chuck roast, carrots, celery, onions, potatoes, and mushrooms, it tastes like it simmered on the stove for hours… but it's actually ready, start to finish, in under an hour.
This post may include affiliate links. As an Amazon Associate I earn a fee from qualifying purchases.
Things have been awfully sweet around here lately — meaning, we've been on quite a dessert kick. It's time for some weeknight dinners. After all, (wo)man cannot survive on chocolate peanut butter cup bundt cake alone.
It's also getting colder, so that means winter comfort foods. Instant pot beef stew to the rescue!
I love using my Instant Pot, but I've been learning a lot while developing my own recipes.
There are a lot of bad Instant Pot recipes out there, and I want to help you weed through and figure out which ones to use and which ones to skip.
Pro tip: if the recipe calls for a lot of dense food but less than half a cup of liquid? Skip it!
Also, I wanted to create recipes with an actual realistic timeframe.
Here's the thing about the Instant Pot: if a recipe says "cook on high pressure for 10 minutes"…. it doesn't actually take 10 minutes. It takes 15-20 minutes to come to pressure, and then you may also have to do a slow release.
There is nothing more frustrating than seeing a recipe that says "Cook Time: 10 minutes" and realizing it's actually going to take 40 minutes.
So here's my vow to you with my Instant Pot recipes: they are tested many times to ensure there is enough liquid to come to pressure and the time is as realistic as possible for a 6-quart Instant Pot.
Plus, as always, they taste good, not bland and boring like some of the recipes we tried.
So… are you ready for some easy, not bland, realistic timeline Instant Pot beef stew? Let's go!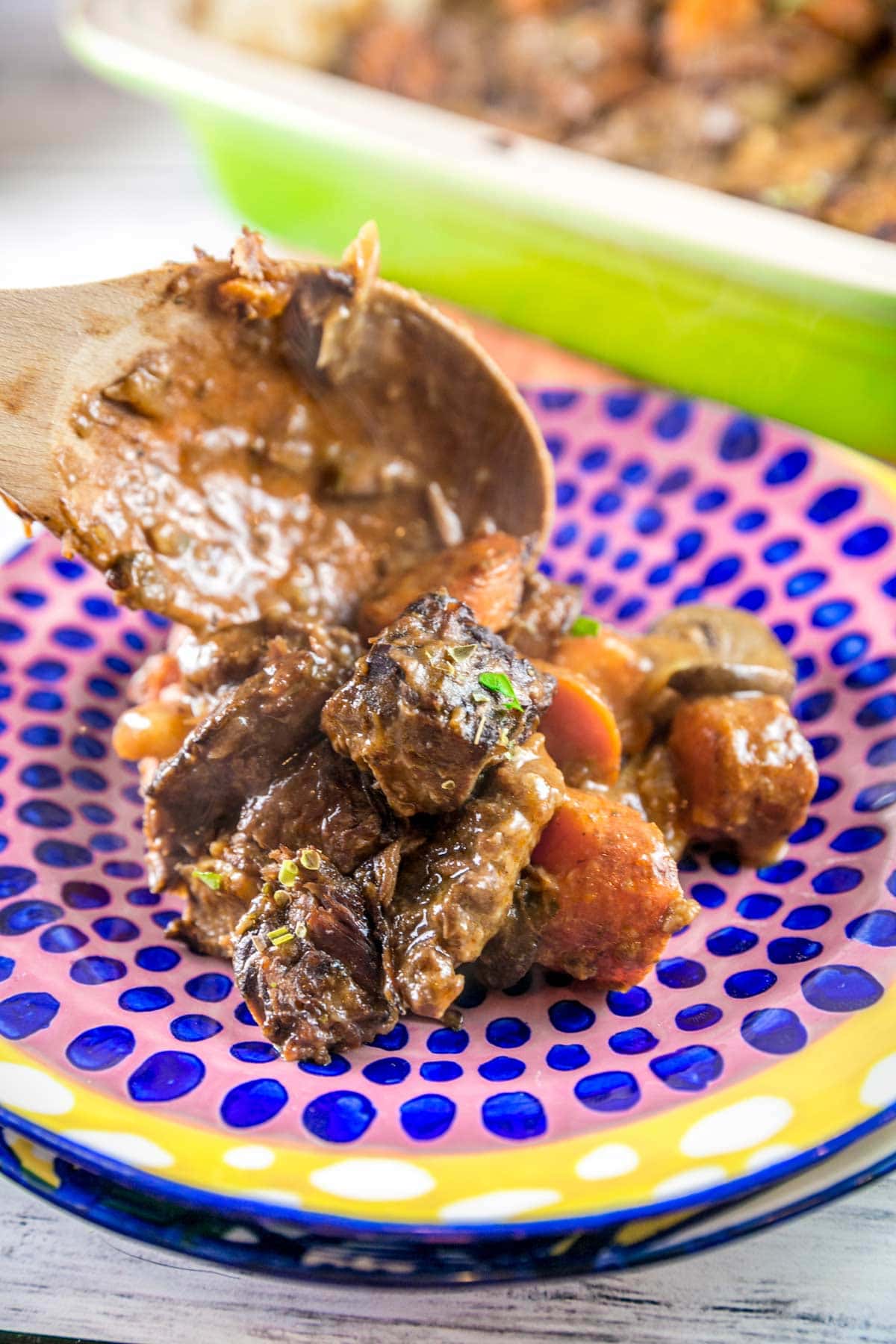 Make Ahead Beef Stew
I've been talking to a lot of people lately about weeknight dinners, and how hard it can be. Mostly, but not all, parents, struggling to get dinner on the table quickly.
One of the things that I've tried to do (with varying degrees of success) as a full-time working mom with two littles is meal prep ahead of time.
As often as I can, I either cook for the week over the weekend. or I'll cook what we've having for dinner the night before, after the kids have gone to bed. Then when we get home from work, I just have to reheat dinner in the oven or on the stovetop.
The Instant Pot Beef Stew? It's the perfect make-ahead meal prep recipe because it actually tastes even better the next day.
Make everything in the instant pot on the first day. Let it sit in the refrigerator overnight. Reheat in the oven the next day for 20 minutes.
Why do stews tend to taste even better the next day? It's time for my favorite subject… kitchen chemistry!
Kitchen Chemistry

Even under refrigeration, foods continue to breakdown. An overnight rest in the refrigerator helps complex carbohydrates break down into fructose and glucose, which makes onions and carrots taste a little sweeter.
It's the answer to your weeknight dinner woes, and it is delicious and easy. You're welcome.
Instant Pot Basics
First off, you need an Instant Pot.
I have this 6 Quart version.
You'll probably want some extra sealing rings. I like these colorful ones – I can use different colors for different recipes, since the sealing rings tend to absorb the odors of whatever you cook.
Once you get your Instant Pot, I highly suggest you do the pressure tests listed in the instructions. Safety first, friends!
Hands Off Beef Stew
Beef stew is such a classic winter recipe, but traditionally it involves a few hours on the stovetop, or all day in the slow cooker. This version takes about an hour total, but I'll share my secret that makes this easy Instant Pot beef stew even tastier and gets it ready within 30 minutes of getting home.
We'll start by tossing the meat with a little flour (or use cornstarch to keep it gluten-free), salt, and pepper, and using the sauté feature to brown all the sides of the meat. Once done, pour in broth to deglaze the bottom of the pan.
This deglazing step? Super important – don't skip it! If little burnt bits are stuck on the bottom of the pan, your instant pot might not come up to pressure, so make sure to take the extra minute to take a spoon and give them a quick scrape.
Then toss in your seasonings and vegetables, set for 30 minutes of manual pressure, and walk away.
Because it takes 15-20 minutes to come to pressure, 30 minutes to cook, and a 10-minute pressure release, this isn't weeknight quick. But what I love so much about this easy instant pot beef stew is that it's even better the next day.
So I like to make it the night before, transfer it to the fridge, and then bake it in a hot oven for 20-30 minutes the next day before eating.
The last baking step helps get the top of the meat nice and caramelized, thickens up the gravy a little bit more, and really takes it over the top.
Want to eat it the same day? No problem! Instant Pot beef stew is still delicious right out of the pot. But the extra step bumps up the flavor even more and means you can have dinner on the table 30 minutes after getting home from work.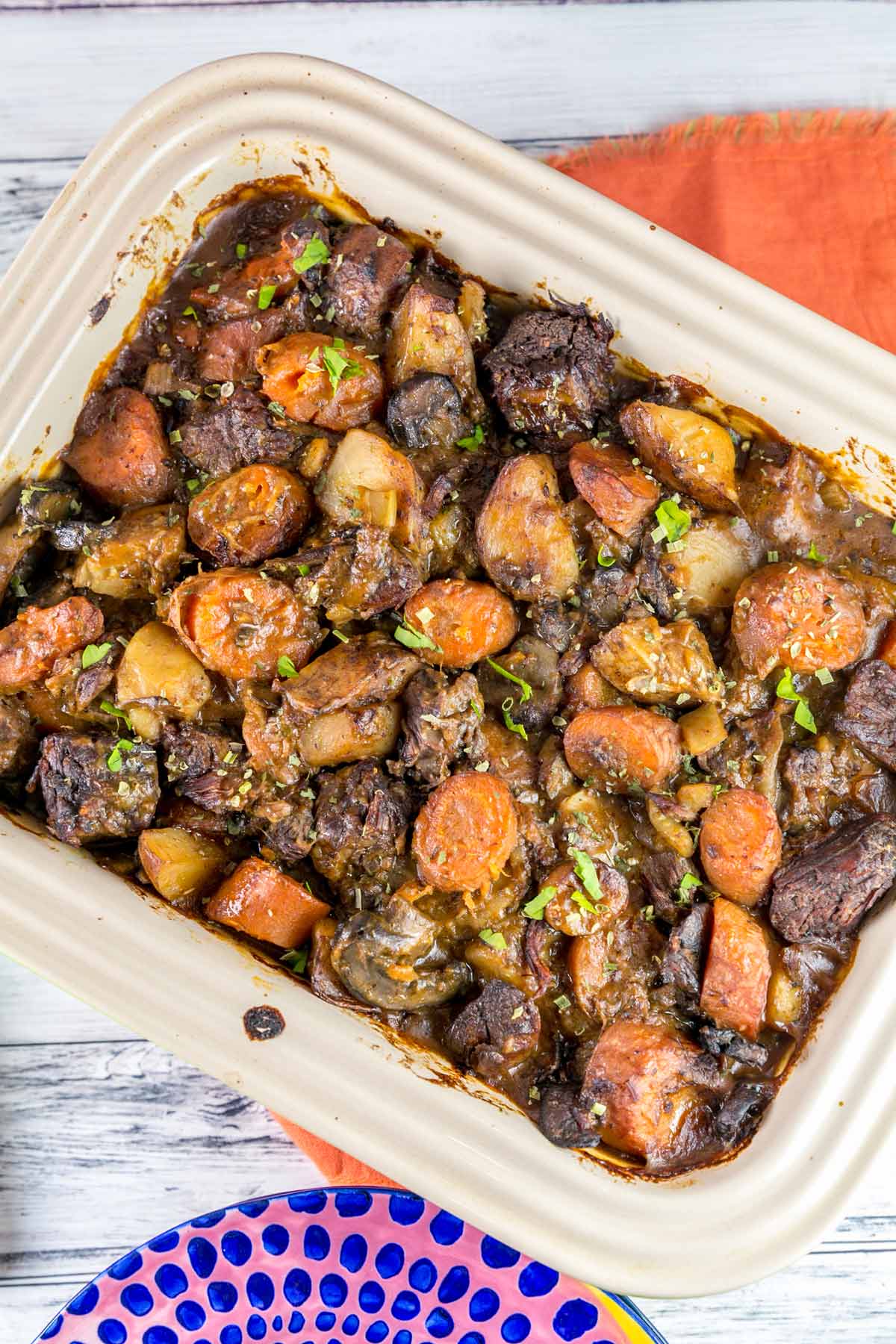 What to Serve with Instant Pot Beef Stew
Sometimes thinking of side dishes can be the hardest part of dinner. Let me help you take the mental tax out and list a few of the things we like to eat with this:
sauteed or steamed green beans
roasted broccoli (roast in the oven while reheating stew)
roasted brussels sprouts (roast in the oven while reheating stew)
simple green salad or Caesar salad
loaf of crusty bread to soak up any extra gravy
Tips and Tricks for the Best Instant Pot Beef Stew
Use a tougher cut of meat, like chuck roast, for beef stew. Pressure cooking is perfect to break down the meat into tender and flavorful bites.
Sear the meat until a dark crust forms. This makes for the most flavorful beef stew!
Deglaze the instant pot well – don't leave burnt bits on the bottom of the pot. Not scraping this off can lead to an error message when the Instant Pot tries to come up to pressure.
Instant Pot Beef Stew is even better the next day, so make it ahead of time and reheat the next day in a hot oven for 20-30 minutes until bubbling and the gravy thickens.
Store the beef stew in the refrigerator for up to 4 days or make a large batch and freeze for up to 3 months.
More Winter Comfort Food Recipes: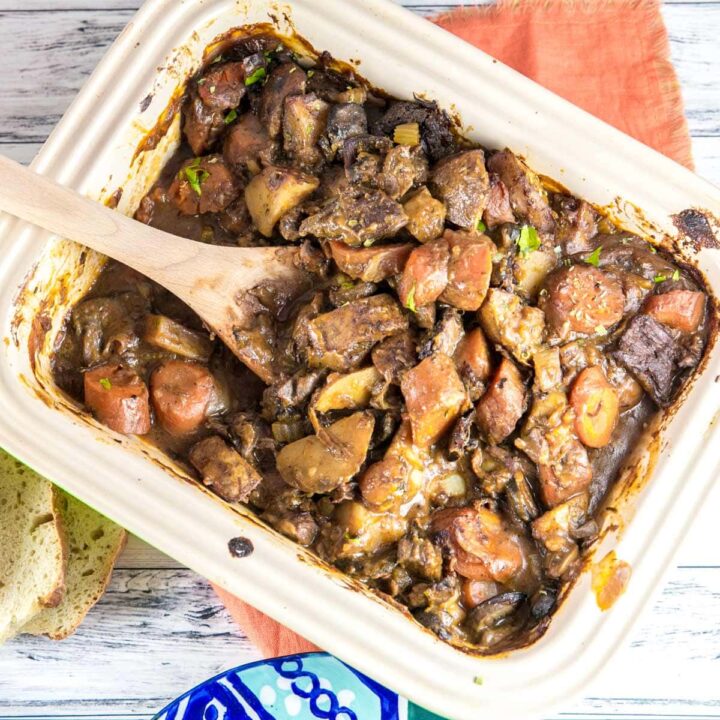 Easy Instant Pot Beef Stew
Total Time:
1 hour
15 minutes
Make winter comfort food even better with this easy Instant Pot beef stew recipe, cooked in under an hour!
Ingredients
1 tablespoon butter
2 pounds beef chuck roast, cubed into 1.5-2 inch cubes
1/3 cup flour or cornstarch
salt and pepper, to taste
1 cup beef broth
2 tablespoons Worcestershire sauce
3 cloves garlic, minced
3 tablespoons tomato paste
1 tablespoon Italian seasoning
2 stalks of celery, chopped
6-7 large carrots, sliced diagonally into thick pieces
1 onion, cut into chunks
2 medium russet potatoes, cut into 1-2 inch cubes
8 ounces mushrooms, sliced
Instructions
Turn on sauté function of Instant Pot. Add 1 tablespoon butter. Toss the beef chuck roast with the flour (or cornstarch), salt, and pepper. Once butter is melted, add in the stew meat and brown on all sides, turning every few minutes until the outside is brown and crispy.
Pour in the beef broth, stirring and scraping the bottom of the Instant Pot with a wooden spoon to deglaze the pot.
Add the Worcestershire sauce, garlic, tomato paste, and Italian seasoning. Stir to combine with the meat.
Add in the celery, carrots, onion, potatoes, and mushrooms. Stir to combine.
Set the Instant Pot to 30 minutes manual pressure. The pot should come to pressure in 15-20 minutes, and then start counting down from 30 minutes after sealing. Once the pressure cycle has completed, wait 10 minutes, then release pressure.
Beef stew can be consumed immediately, but for extra flavor, transfer contents to a baking dish and bake uncovered in a 400 °F oven for 20 minutes to caramelize the meat and thicken the gravy.
Notes
To make gluten free, toss with cornstarch instead of flour. Ensure all ingredients used are gluten free (Lea and Perrin Worchestershire sauce is gluten free).
Deglaze the pot well after browning the beef; if burnt bits are stuck to the bottom of the pan, the pot may not come up to pressure. Use a wooden spoon to scrape any bits off before proceeding.
Beef stew is even better made ahead of time.  Remove from Instant Pot, cool to room temperature, and refrigerate overnight.  When ready to serve, bake at 400 °F for 20-30 minutes, until hot.
Leftovers can be stored in a freezer-safe container for up to 3 months.  Thaw overnight in the refrigerator, then proceed with oven instructions listed above.
Recommended Products
As an Amazon Associate and member of other affiliate programs, I earn from qualifying purchases.
Nutrition Information:
Yield:

6
Serving Size:

1 serving
Amount Per Serving:
Calories:

410
Total Fat:

9.4g
Carbohydrates:

44.2g
Protein:

39.6g