January 15, 2018
Vegan Sweet Potato Peanut Soup
Filling and hearty, spicy gluten free and vegan sweet potato peanut soup with kale is the perfect way to warm up from the cold. Combining classic West African and Thai flavors, this soup is anything but boring.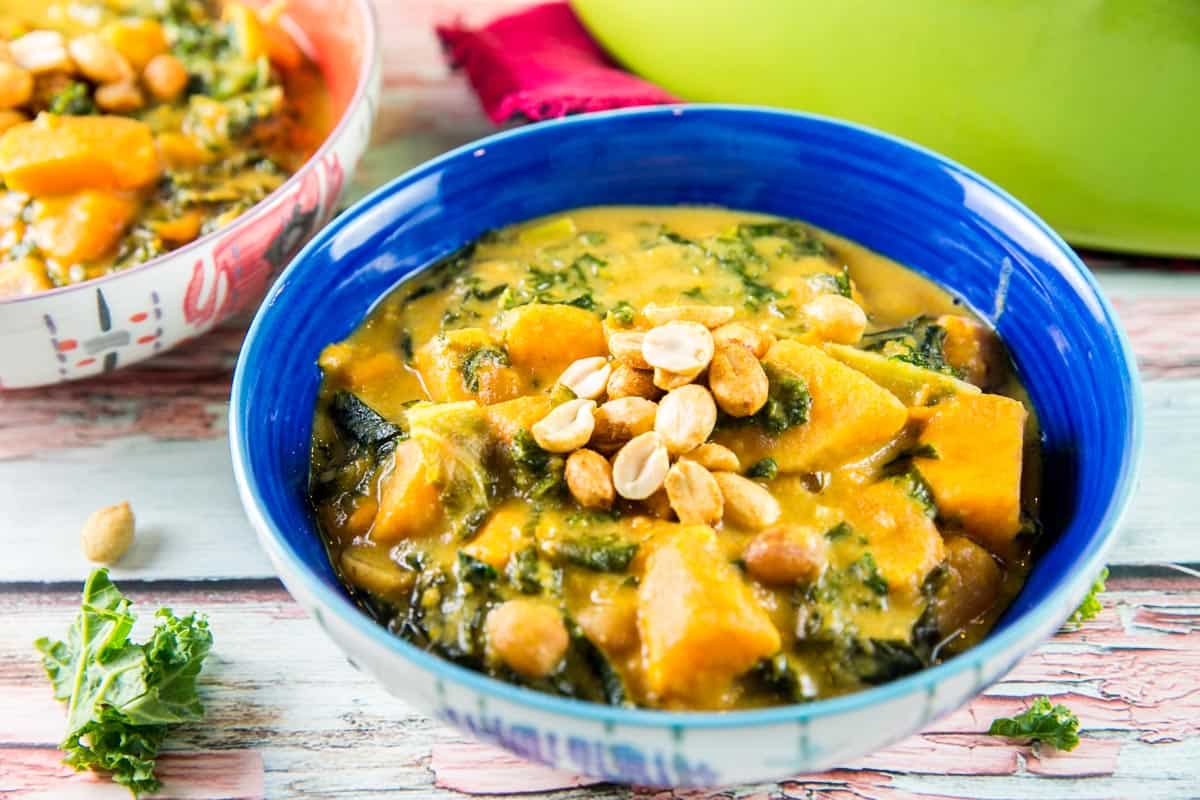 Oh, hey, It's still winter. It's still cold. We had a nice little break with a 60 degree temperature increase for a day… and now we're back into below freezing winter weather.
So basically, what I'm saying is… it's soup weather. The ultimate soup weather.
I touched a little on my feelings on soup in this recipe post for vegetarian mushroom and wild rice soup. Basically, I'm not really a huge soup fan, which is ironic given that I joined a soup group this year.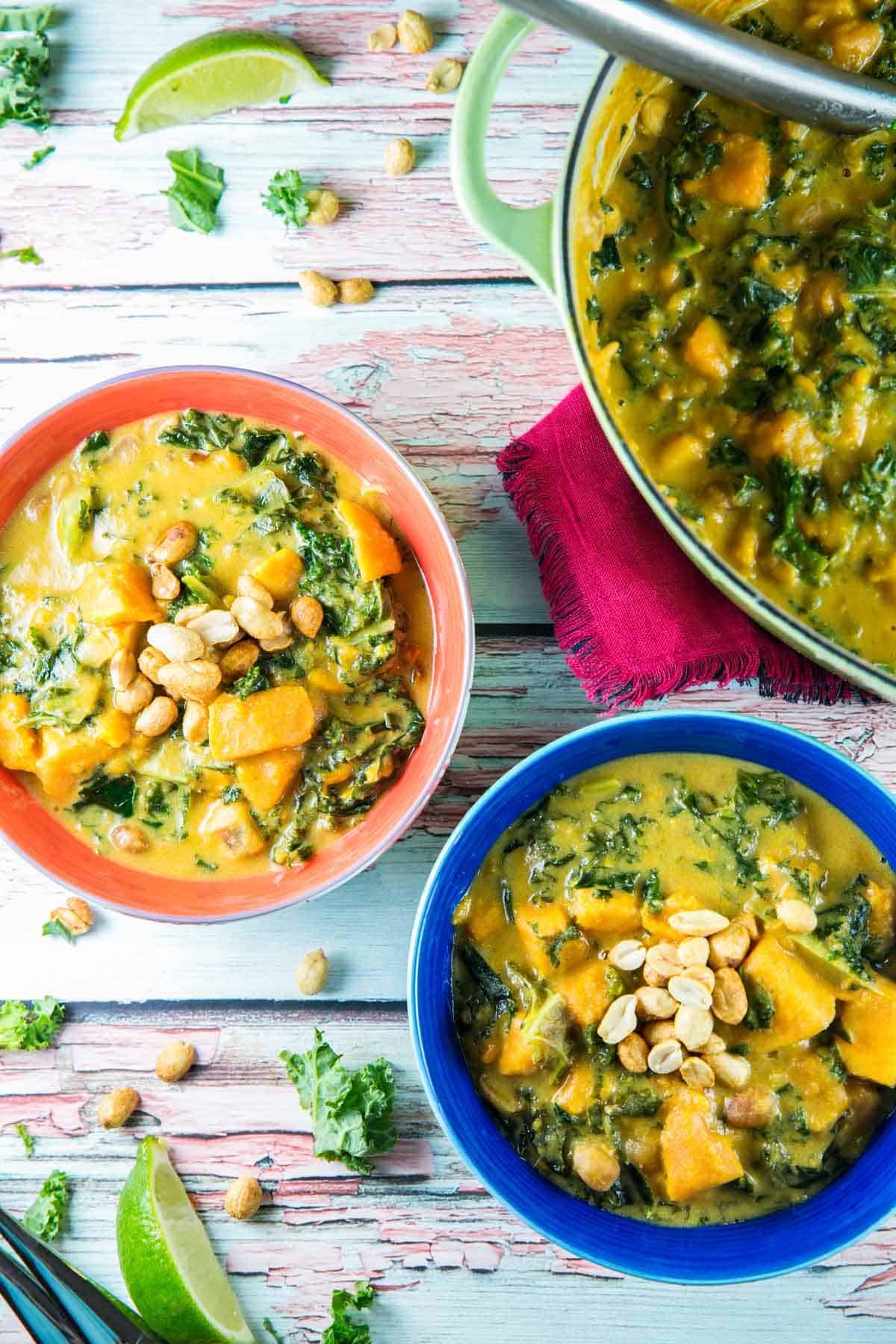 My soup requirements are as such: thick and hearty, full of delicious "things," cook for long enough that said delicious things are soft and creamy, and no chicken.
Once again, this spicy vegan sweet potato peanut soup (with kale, but seriously, that is a long recipe name) nails all my basic soup requirements.
And again, half the people in our soup group were no shows, and I was a-okay with eating this for lunch every single day during the week. (I think this means I have to revoke my membership in the anti-soup club!)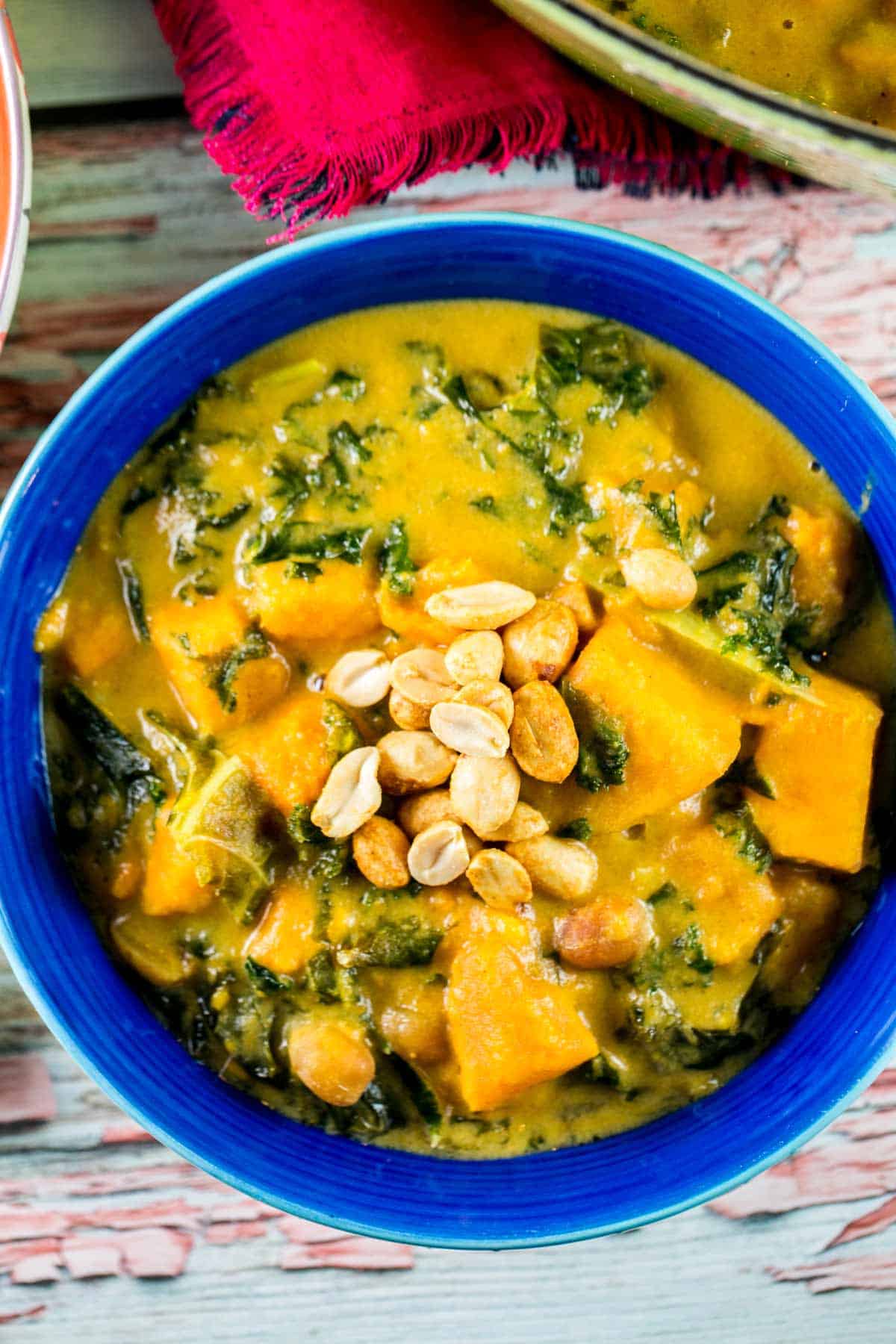 What is Sweet Potato Peanut Soup?
The inspiration for this recipe comes from my ultimate science-food writing crush, Kenji López-Alt, over at Serious Eats.
In his version of Peanut, Sweet Potato, and Kale Soup With CoconutPeanut, Sweet Potato, and Kale Soup With Coconut, he takes the West African groundnut soup of his childhood and mixes it with southeast Asian Thai flavors.
As a sucker for a good culinary mashup, I knew I had to try it.
Of course, I've changed things up in my own version, but Kenji totally nailed the flavor combination on the head. Spicy jalapenos, creamy peanut butter, and thick and hearty sweet potatoes… paired with coconut milk?
Yes, and yes again! And the best part is this soup is naturally vegan and gluten free — no substitutions necessary, and so good, you won't want to sub in any chicken broth.
Spicy peppers. Thick and hearty sweet potatoes, simmered until they practically fall apart. Rich and nutty peanut butter (and a sprinkle of peanuts for crunch). Sweet coconut milk. Earthy kale. A squeeze of bright lime juice. Delicious.
Can You Freeze Sweet Potato Peanut Soup?
Another reason why this soup is so perfect? You can't overcook it, and you can make a giant batch and save more for another day.
This doubled perfectly for our soup group, and held up really well simmering on the stove for an extra 2 hours waiting for people to come pick up their share.
The longer it sat on low heat, the thicker the soup got, as the sweet potatoes continued to break down. (I think I liked it even more after the extra simmering time!).
It reheated well in the microwave at work, and the rest of our leftovers went into the freezer for a later day.
To freeze, make sure the soup is thoroughly cold in the refrigerator. Transfer to a plastic freezer bag or a freezer-safe container and freeze for up to 3 months.
To thaw, either transfer the soup to the refrigerator overnight or use the 'defrost' setting on the microwave. Reheat on a pan on the stovetop or a bowl in the microwave.
(Oh, and did I mention this is toddler friendly, too?? ↓↓↓)
So make yourself a giant batch of vegan sweet potato peanut soup and enjoy lunch all week, or an easy dinner from the freezer. Winter is sticking around for a while – you may as well make the most of it.
More Vegan Dinners: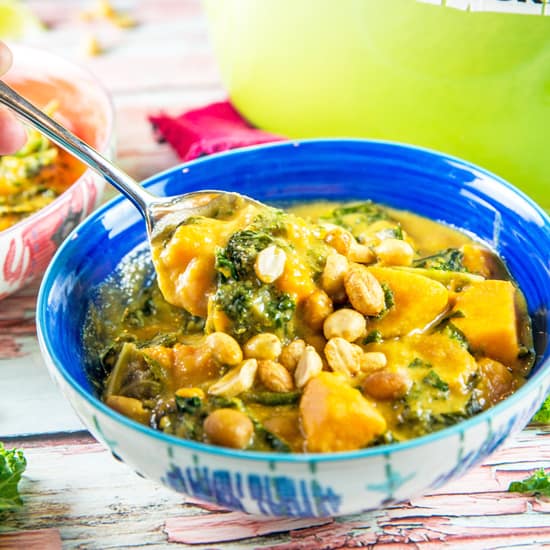 Vegan Sweet Potato Peanut Soup
Filling and hearty, spicy gluten free and vegan sweet potato peanut soup with kale is the perfect way to warm up from the cold.
Ingredients
2 tablespoons olive oil
1 onion, diced
1 serrano or jalapeno pepper, minced
4 cloves of garlic, minced
1 1/2 inch of fresh ginger, peeled and diced
3 large sweet potatoes, peeled and cubed
3 tablespoons tomato paste
1 (14-ounce) can full fat coconut milk
1 (14-ounce) can light coconut milk
2 cups water
1 teaspoon salt
1 teaspoon turmeric
1/2 cup peanut butter
1/2 cup chopped peanuts
2 cups kale, stems removed, chopped
1 tablespoon freshly squeezed lime juice
Instructions
Heat the olive oil in a dutch oven or large soup pot over medium heat. Add the onion, serrano or jalapeno pepper, garlic, and ginger. Saute until soft and fragrant.
Add in the cubed sweet potatoes, followed by the tomato paste, coconut milks, water, salt, and turmeric. Simmer for at least 30 minutes, until sweet potatoes are fork-tender.
Add peanut butter and peanuts and stir until peanut butter is well combined in to the soup. Add the kale and simmer an additional 15 minutes to an hour, until soup reaches desired thickness and sweet potatoes are broken down to taste preference. Stir in the lime juice before serving. Top with additional peanuts.
Recommended Products
As an Amazon Associate and member of other affiliate programs, I earn from qualifying purchases.
Nutrition Information:
Yield:

6
Amount Per Serving:
Calories:

484
Total Fat:

39g
Carbohydrates:

31g
Protein:

12g