May 25, 2018
Sheet Pan Mini Meatloaves
These easy Sheet Pan Mini Meatloves are on the table in just 30 minutes – the perfect weeknight dinner! A childhood comfort food, upgraded with a little extra zing and cooked on one sheet pan for easy cleanup or make-ahead meal prep.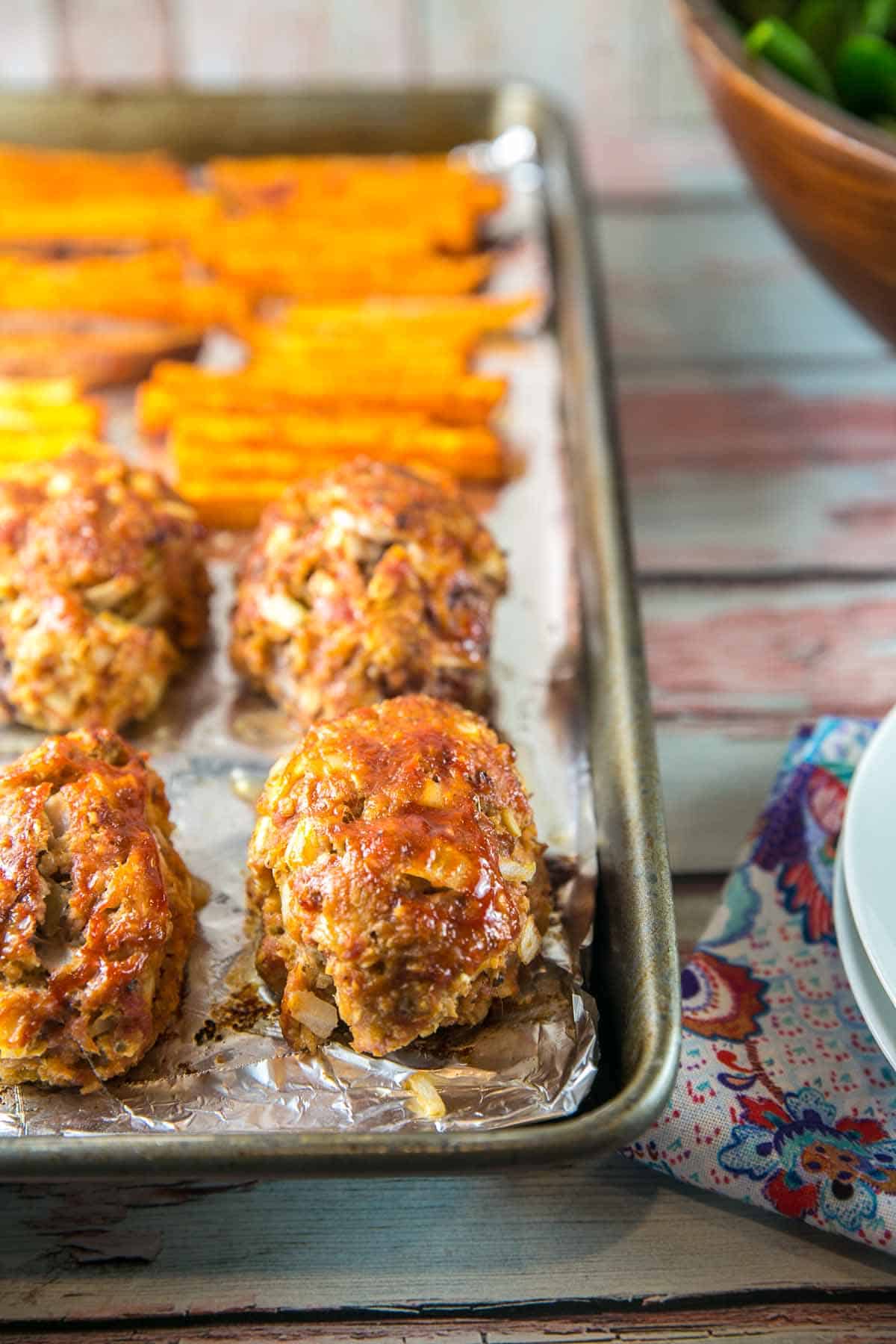 I've been singing the praises of sheet pan dinners far and wide lately, and you guys are on board! I keep getting more emails and questions about sheet pan dinners and about weeknight dinners in general.
If you're struggling with getting dinner on the table at a reasonable hour, I get you. I get you so much. I often don't get home from dinner until 7 pm or later, and I have a 3-year-old. We try to eat dinner together every evening. You see the struggle here.
Sheet pan dinners are key in making this work. You can prep everything ahead of time and leave it on the sheet pan in the refrigerator. When you get home from work (or the playground, or wherever), just pop the whole sheet pan in the oven. Done.
Mini Meatloaves = Faster Dinner
These sheet pan mini meatloaves have become a favorite around here. Why mini meatloaves? They cook so much faster than one large meatloaf. Plus, what 3 year old doesn't love to get his own individual food item on his plate, rather than having to cut and (gasp!) share?!
The mini meatloaves come together really quickly even if you don't have your act together enough to prep ahead of time. Because they're hand-formed, rather than cooked in a loaf pan, you don't have to worry about anything sticking to the loaf. It's easy to tell if they're done by cutting one open if you can't find your meat thermometer.
Basically: foolproof. And easy and delicious, too.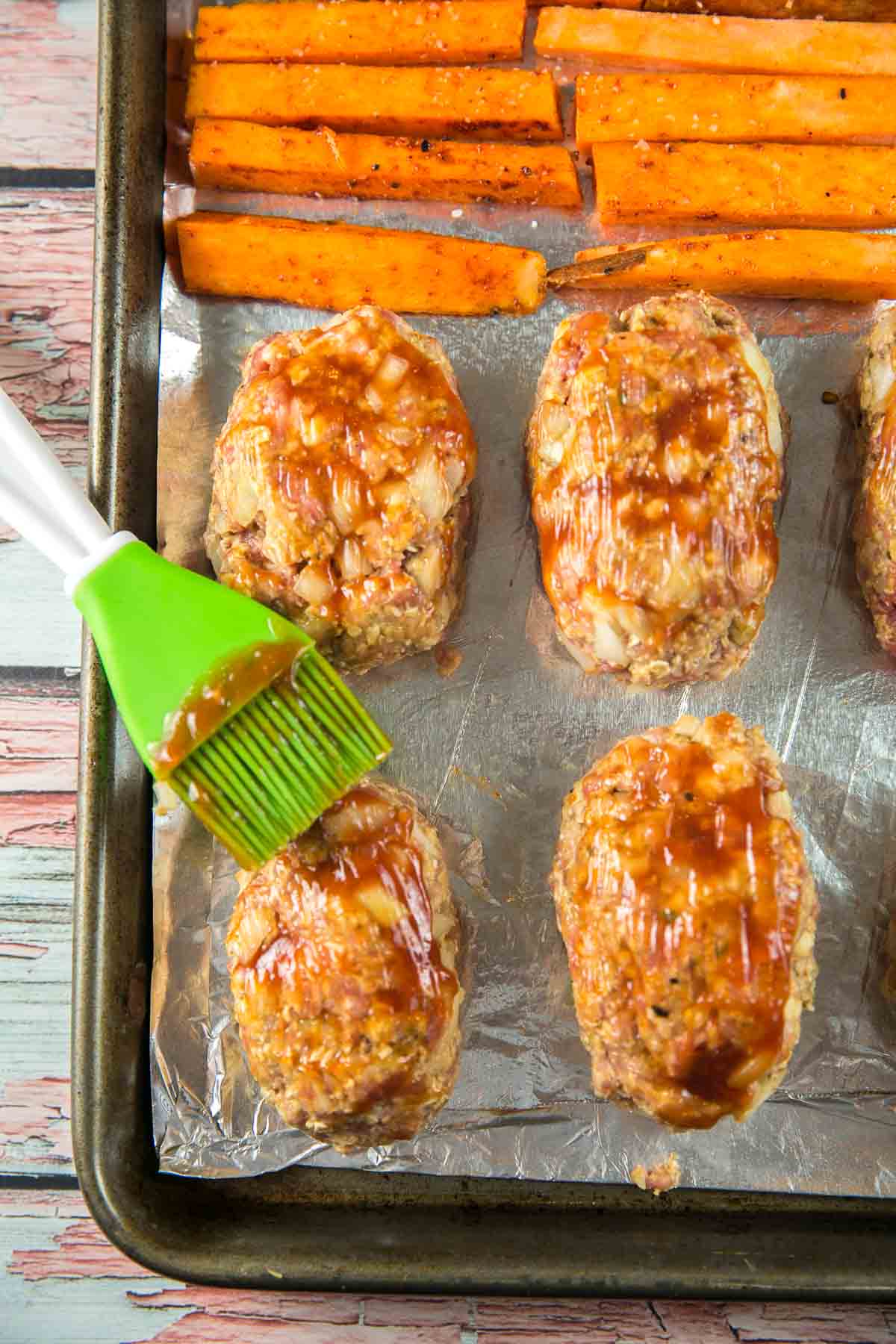 Ingredients and Substitutions
Ground Meat: I like to use a 50/50 mix of ground beef and ground pork because ground beef can sometimes seem a little dry. Don't eat pork? No problem! These work just as well with all beef or even ground chicken.
Onion
Garlic
Almond Flour: Instead of breadcrumbs, these meatloaves use almond flour for binding and thickening. Almond flour adds a little extra protein, cuts down on refined carbohydrates, and makes this an easy gluten-free dinner. You can use breadcrumbs, however, or even ground oats.
Ketchup
Horseradish: Use the refrigerated prepared kind – I always use white, but if you prefer the red beet horseradish, it will work as well.
Mustard: Use your favorite type of mustard. Spicy brown mustard is my choice, but this works equally well with deli mustard, Dijon mustard, or even hot English mustard.
Egg: Since the egg acts as a binder and isn't used for leavening, a flax egg can replace the egg in this recipe.
Dried Italian Herbs: A premade Italian herb mix makes this easy, but if you don't have one on hand, just toss in a little dried basil, oregano, parsley, or even marjoram, rosemary, or thyme.
Mozzarella: I love mixing some shredded cheese into the meatloaf mixture for a little extra flavor, but it's completely optional and you can leave it out to keep these meatloaves dairy-free!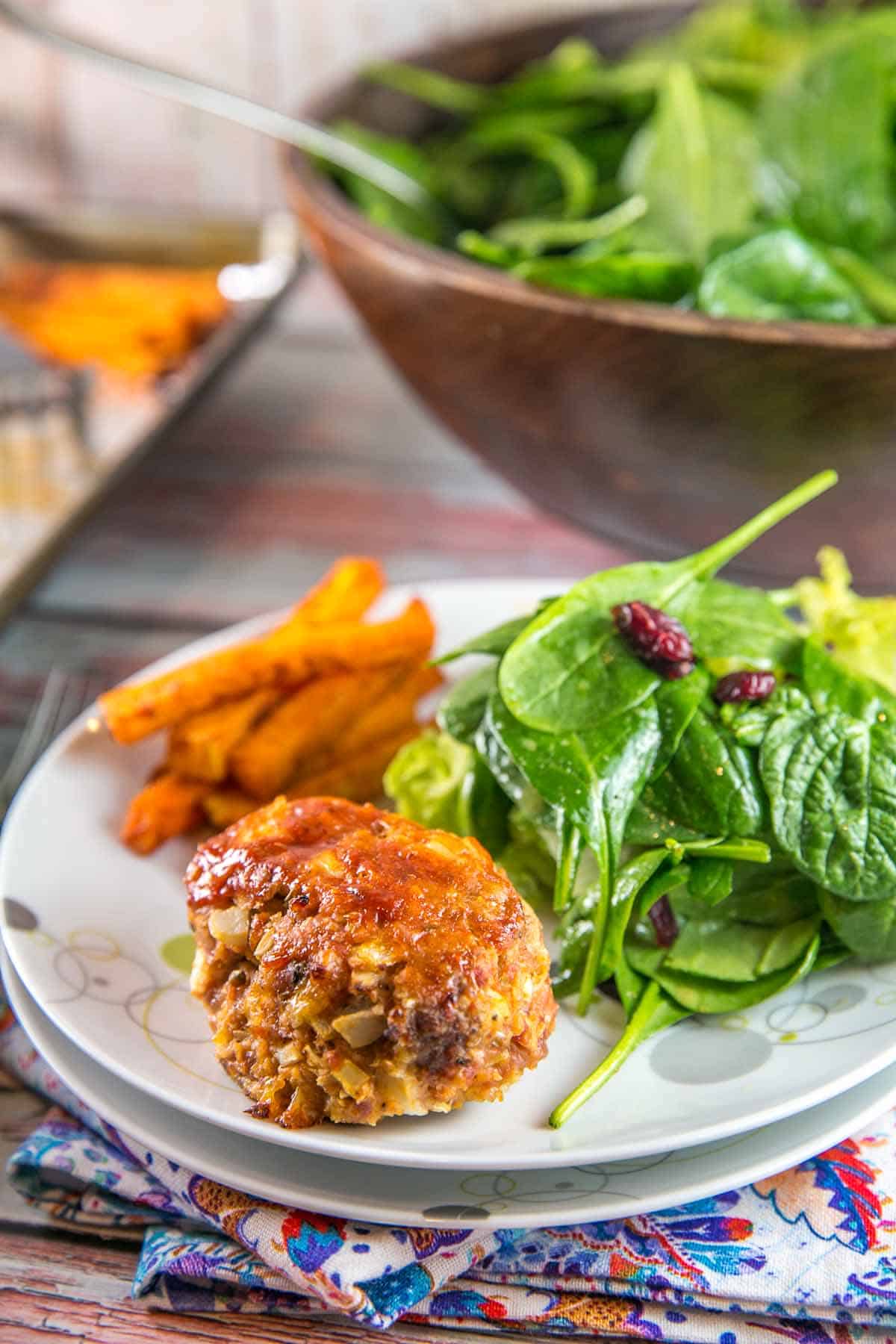 Mix Gently for the Best Texture
Making these meatloves is super easy! Combine all the ingredients in a bowl and mix together. Feel free to use your hands to get in there and squish the spices and flour into the ground meat, but mix just until combined and do so gently.
Overhandling the meat results in tough, chewy meatloaf. Have you ever wondered why? We can answer this with my favorite subject… kitchen chemistry!
Kitchen Chemistry

Meat is primarily composed of proteins. Vigorous mixing causes the proteins to denature, which means bonds between proteins break down and unwind. As the proteins denature, they form new bonds with each other, a process known as cross-linking. Too much protein crosslinking results in a dense and tough final product. Furthermore, too much mixing can squeeze the moisture out of the meat proteins, leading to a dry final loaf.
So what's the best way to mix your meatloaf mixture? Mix gently, just until everything is evenly incorporated. Use a gently folding or kneading motion rather than stirring vigorously with a spoon. And don't be afraid of a few lumps! These will typically cook out during baking.
Sweet Potato Fries
You're also getting a bonus recipe for sweet potato "fries" with the mini meatloaves because there's nothing I love more than a full sheet pan dinner. The sweet potatoes bake for the same amount of time as the mini meatloaves, which makes everything really easy.
Not into sweet potatoes? Try the tiny little potatoes, cut in half and seasoned with a little olive oil, salt, and your favorite herbs. Brussels sprouts are super delicious, too! Broccoli is another good one, but if you don't like little blackened edges, let the meatloaves cook for 5-10 minutes first before adding the broccoli to the sheet pan.
Or of course, a big green salad is easy and perfect to throw together while the meatloaves and sweet potato fries bake!
Recommended Tools to Make Sheet Pan Meatloaf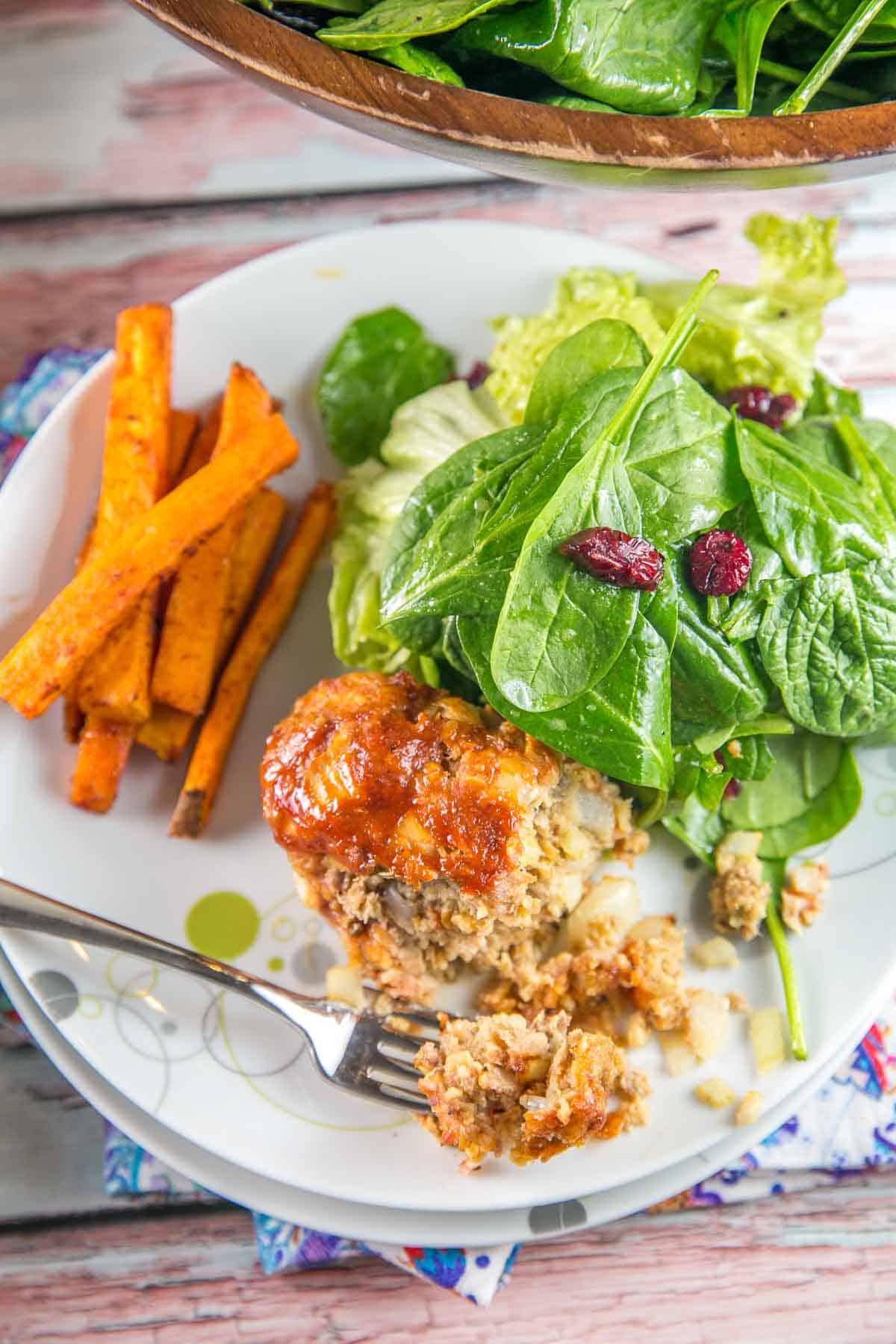 Tips and Tricks for the Best Sheet Pan Mini Meatloaves
Choose the Right Meat: Opt for meat with a higher fat content for a juicy and flavorful result. Use ground beef that is at least 15-20%, or mix ground beef with ground pork, turkey, or chicken for variety.
Handle the Meat Gently: When combining the meatloaf ingredients, use a gentle handle. Overmixing can lead to a tough texture.
Try Different Toppings: While the recipe is written with ketchup, try experimenting with Worcestershire sauce, BBQ sauces, glazes, or even a sweet chili sauce for a unique twist.
Check the Internal Temperature: The best way to ensure your mini meatloaves are cooked to perfection is by using a thermometer. They're safe to eat when the center of each loaf reaches 160°F (71°C).
Let the Loaves Rest: Allow the meatloaves to rest for a few minutes after baking. This helps redistribute juices throughout the meat.
Make-Ahead Meal Prep: Bake a batch in advance, let them cool, and then store them in an airtight container in the refrigerator for up to 3-4 days or freeze for up to 3 months.
More Sheet Pan Dinners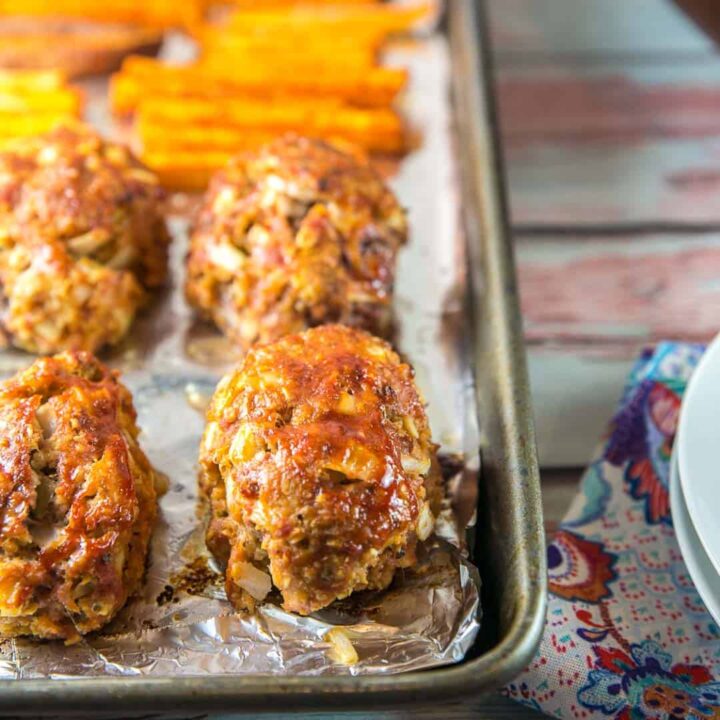 Sheet Pan Mini Meatloaves
Mini meatloaves are on the table in just 30 minutes – the perfect weeknight dinner! 
Ingredients
For the Meatloaf:
1/2 pound ground beef
1/2 pound ground pork
1 small onion, diced
3 cloves garlic, minced
1/2 cup almond flour (also called almond meal)
2 tablespoons ketchup, divided
1 tablespoon prepared horseradish
2 tablespoons spicy brown mustard
1 egg
1 tablespoon dried Italian herb mix
1/4 teaspoon salt
1 cup shredded mozzarella cheese
For the Sweet Potato Fries:
2 small sweet potatoes, cut into 1-inch wide sticks
1 tablespoon vegetable oil
1/2 teaspoon salt
1/2 teaspoon paprika (preferably smoked paprika)
1/4 teaspoon cumin
1/4 teaspoon garlic powder
1/4 teaspoon chili powder
Instructions
Preheat oven to 400 °F. Line a half sheet pan (18 x 13 inches) with aluminum foil and lightly spray with nonstick cooking spray.
In a large bowl, combine all the meatloaf ingredients, except for 2 tablespoons of the ketchup. Mix together well, using your hands, until all ingredients are combined. Form meatloaf mixture into 8 evenly sized loaves. Place the mini meatloaves side by side on the sheet pan. Brush remaining ketchup on top of the meatloaves.
In a second large bowl, combine all the sweet potato fry ingredients, tossing well until all sweet potato sticks are coated with the spice mixture. Place the sweet potatoes in a single layer on the other half of the sheet pan.
Bake in the oven for 20-25 minutes, or until the meatloaves reach an internal temperature of 160 °F. Remove from the oven and allow the meatloaves to rest for 5 minutes before serving.
Notes
Mix gently! Overmixing the meatloaf mixture results in a tough, chewy texture.
The best way to ensure the meatloaf is cooked properly is by using an instant-read thermometer. The center of each meatloaf should reach 160°F (71°C).
Mini meatloaves can be stored in an airtight container in the refrigerator for 3-4 days or frozen for up to 3 months.
Recommended Products
As an Amazon Associate and member of other affiliate programs, I earn from qualifying purchases.