September 25, 2017
Maple Glazed Walnuts Recipe
Perfect for a snack, topping a salad, or embellishing a dessert, these 5-minute, 4 ingredients Maple Glazed Walnuts are easy and delicious for fall – or year round!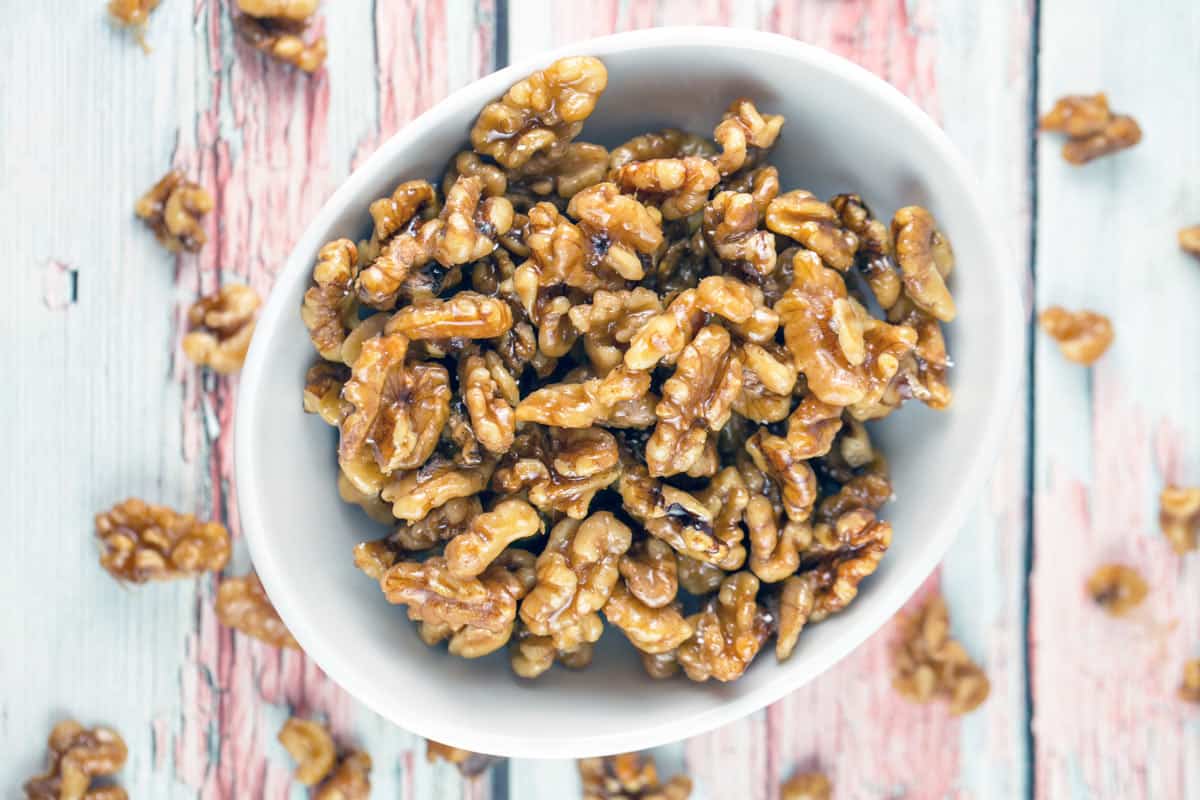 Late September. Fall is in the air. The crisp crunch of leaves on the ground, a chilly breeze, a cup of warm tea.
Wait.  Scratch that.  More like: late September.  It's blisteringly hot outside.  The drip of sweat down the back of your neck, seeking the shady spot at the playground, coming home to an ice-cold popsicle.
Nevermind the heat, we're here to talk about something decidedly fall-related today: maple glazed walnuts.  Although to be honest, despite the fall flavors, I find these are actually a year-round staple in our house.
Not only are they the perfect just-slightly-sweet after-dinner treat, but I love adding them to savory dishes as well.  These maple glazed walnuts wind up in our salads, tossed with our roasted Brussels sprouts, and piled on top of baked brie.  
They also (obviously) work perfectly with desserts.  In fact, I just might have a recipe coming for you later this week, featuring these very same maple glazed walnuts… (update: it's this maple walnut bundt cake!).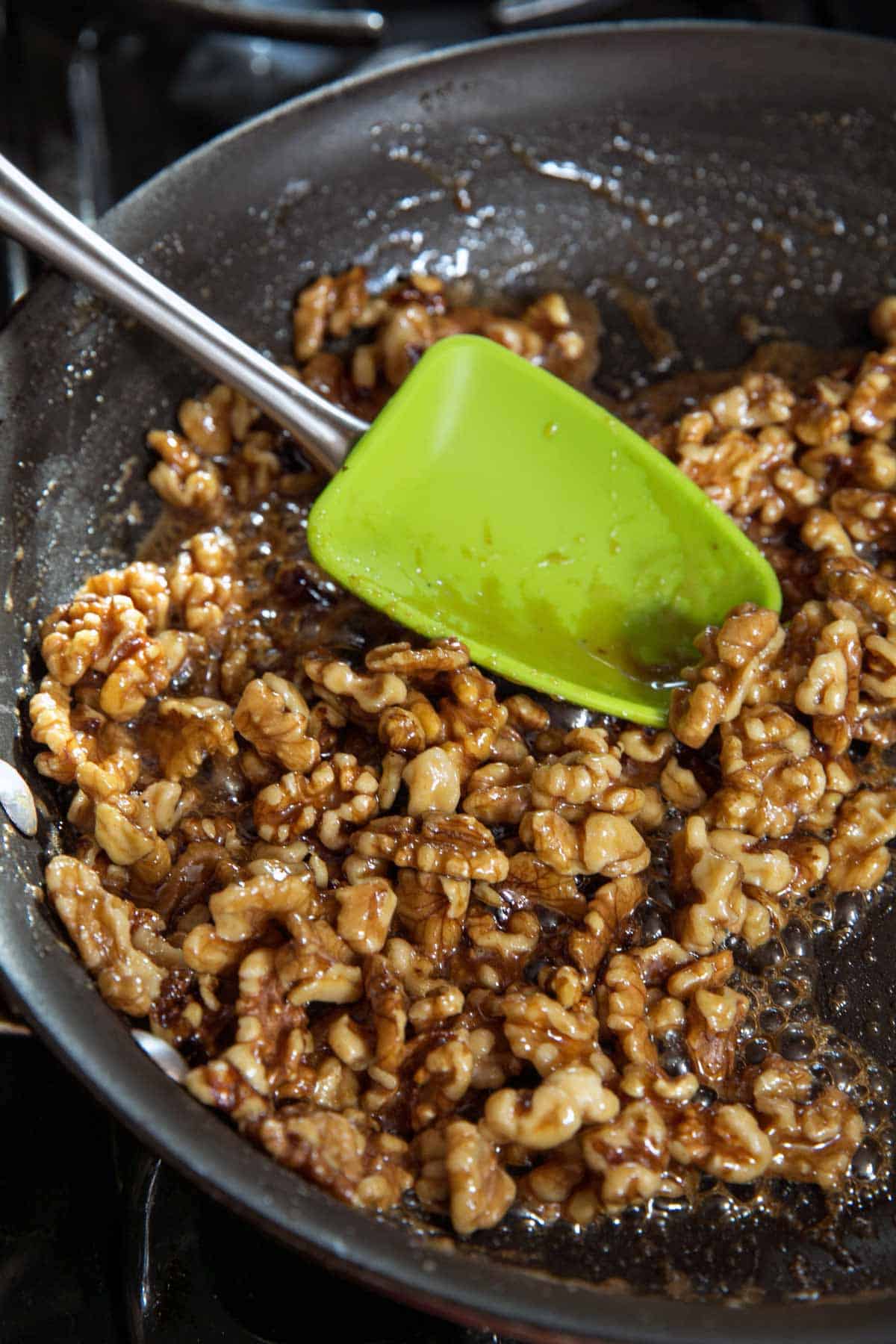 Easiest Way to Make Candied Walnuts
There are two ways to make typical candied walnuts (and I'm a fan of both). Option one: melted butter + sugar. Option two: maple syrup. Given that the title of this post is maple glazed walnuts, you probably have a good guess which way we're going to describe today.
"Natural" sweeteners, like maple syrup, have become especially trendy lately.  Fueled in part by the paleo crazy, there's a lot of thought that natural sugars are better for you than refined sugars.
I'm not going to weigh in on whether or not there is any truth to that line of thought, but I will say this: the maple flavor is delicious. Also, unlike typical candied nuts, these are vegan – a perfect party snack for your animal product-free friends.
These 4-ingredient, 5-minute maple glazed walnuts seriously could not get any easier.  Add the nuts, maple syrup, and vanilla extract to a pan and heat.  Push the nuts around with the spatula until the syrup coats the nuts and there is very little excess left in the bottom of the pan.  Transfer to wax paper or parchment paper to dry, and sprinkle with a little salt.
I do find that these get a little stickier than candied nuts made with granulated sugar, so they need a little extra drying time.  I usually like to leave mine out overnight to make sure there's no residual stickiness.  If you're in a time crunch, an hour or two is sufficient, though.
And let's be honest – there are worse problems than having to eat several pieces of stuck-together maple glazed walnuts at once.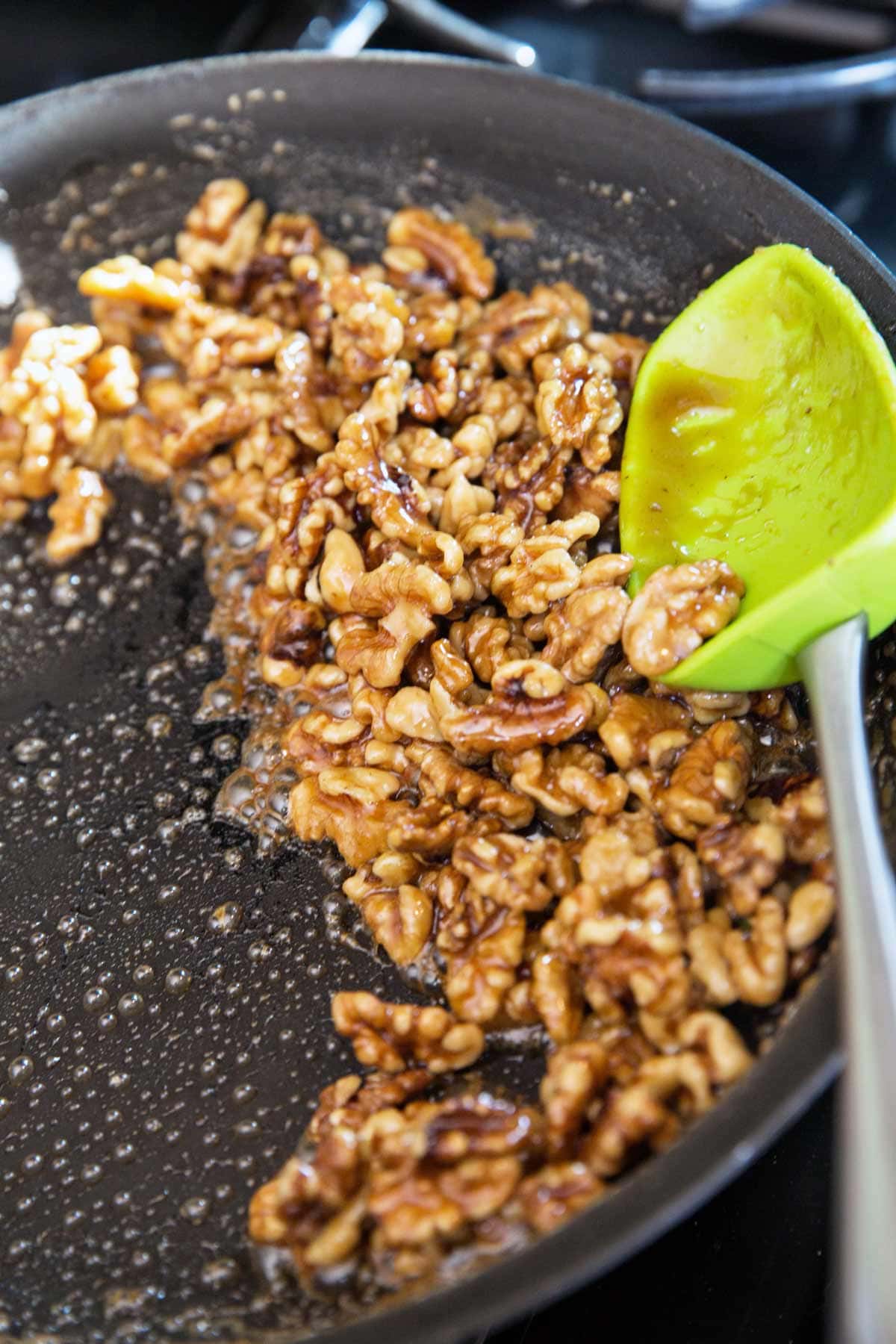 How to Use Maple Glazed Walnuts
My favorite method: eat with your fingers.  No really, these are the best after-dinner snack, when you want something a little sweet, but not a full-on dessert.  So good.
Add them to a cheese or charcuterie board. Fancy cheeses, crackers, fruit, smoked meat, maybe even some of these two ingredient sugared cranberries, and a pile of maple glazed walnuts.
Add some on top of this Jewish apple cake, flourless chocolate tahini cake, or cranberry orange streusel muffins. Swap out the regular walnuts for maple glazed walnuts in this rocky road banana bread or add some to this maple glazed banana bread.
Or use it in these two recipes, which specifically call for maple glazed walnuts: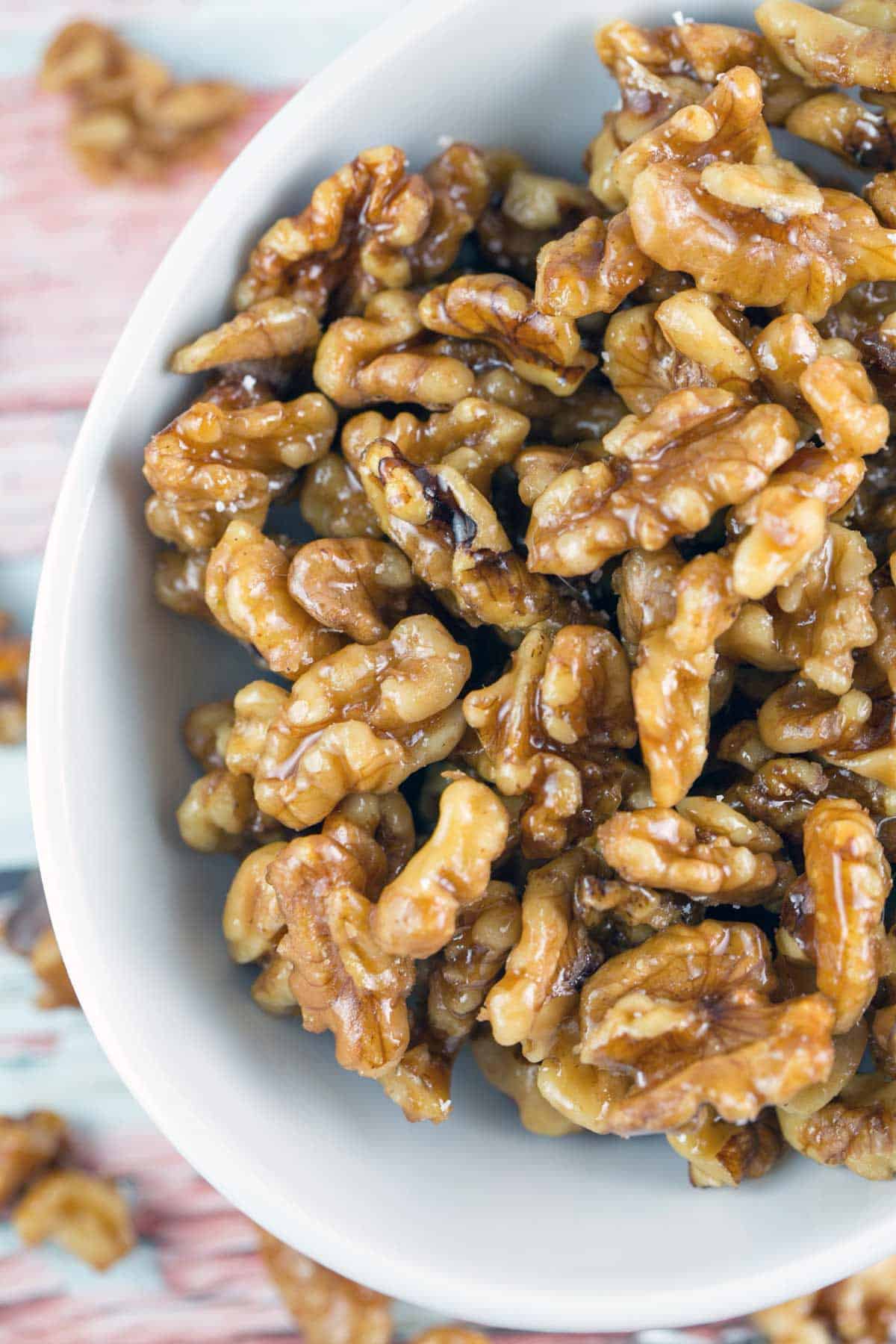 Storing Candied Walnuts
Once your walnuts are fully dried and you've broken apart any clumps that stick together, you can hang onto them for several weeks. But first, we need to make sure they're stored properly! Don't just toss them in a bowl – we want to keep them in the smallest container they fit into, minimizing the amount of air surrounding the walnuts. Why is this important?
Kitchen Chemistry

Walnuts, especially when coated with a maple glaze, can absorb moisture from the surrounding environment. When exposed to air or humidity, the glazed walnuts lose their crispiness and become softer over time as the nuts pull moisture from the air.
To slow down this process, keep the candied walnuts in a small, airtight container. Temperature fluctuations can also impact the texture, as this can lead to condensation within the container. Store them at room temperature to prevent these big temperature changes.
If your walnuts do become slightly soft with time, however, you can re-crisp them! Place the walnuts on a parchment-lined baking sheet and briefly bake them at low temperature (250 °F) for 5-10 minutes removes excess moisture and restore some of the original crispiness.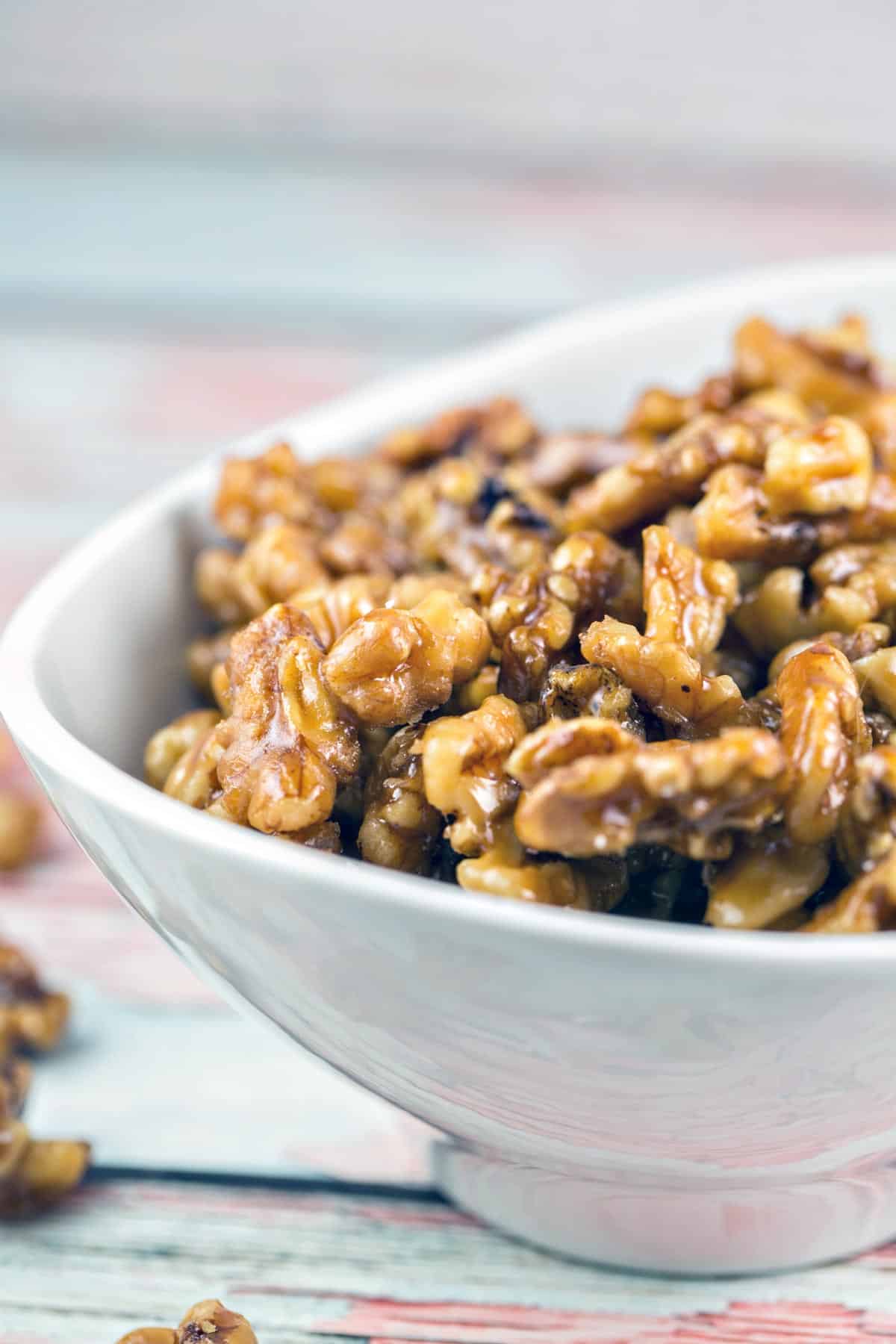 Tips and Tricks for the Best Maple Glazed Walnuts
Select Fresh Walnuts: Choose fresh, high-quality walnuts for the best flavor and texture. Ensure they are not rancid or stale.
Use Real Maple Syrup: Opt for pure maple syrup instead of artificial or imitation syrups for a more authentic and flavorful glaze.
Low Heat Cooking: When preparing the glaze, use low heat to avoid burning the maple syrup. Stir constantly and cook until it thickens slightly, giving a glossy texture.
Cool on Parchment Paper: After coating the walnuts, spread them out on parchment paper to cool. This prevents sticking and helps to maintain a nice texture.
Store Properly: Keep the maple glazed walnuts in an airtight container at room temperature. If they soften over time, you can re-crisp them in the oven for a few minutes.
Experiment with Spices: Add a dash of cinnamon, nutmeg, or a sprinkle of cayenne pepper to the maple glaze for an extra layer of flavor and depth.
More Easy Dessert Garnish Recipes: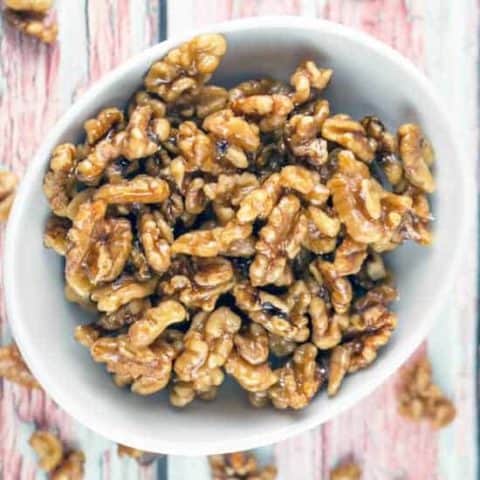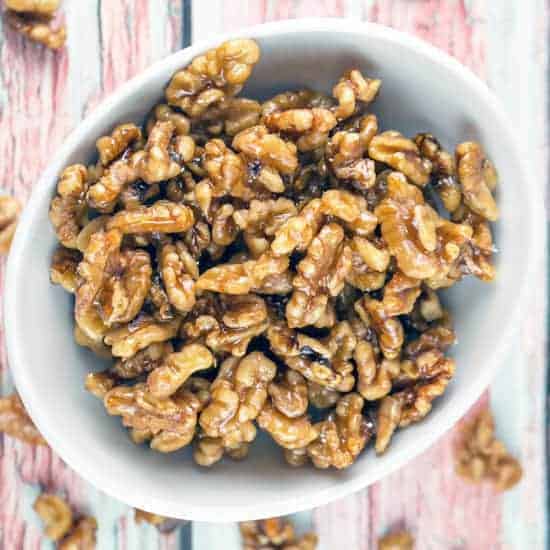 Maple Glazed Walnuts
Total Time:
1 hour
5 minutes
Perfect for a snack, topping a salad, or embellishing a dessert, these 5 minute, 4 ingredient maple glazed walnuts are easy and delicious for fall – or year round!
Ingredients
2 cups walnuts, halved or chopped
1/3 cup maple syrup
1/4 teaspoon vanilla extract
1/4 teaspoon salt
Instructions
Preheat a dry skillet over medium-low heat. Add the walnuts, maple syrup, and vanilla extract. Cook, stirring frequently, until syrup begins to caramelize and coats the nuts, about 5 minutes.
Sprinkle with salt, stir, and spread on parchment paper to cool.
Notes
Maple glazed walnuts will keep in an airtight container at room temperature for up to 1 month. If the walnuts lose their crunch, reheat them on a parchment-lined sheet pan in a 250°F oven for 5-10 minutes.
Recommended Products
As an Amazon Associate and member of other affiliate programs, I earn from qualifying purchases.