May 7, 2020
Pink Lemonade Bundt Cake
The BEST lemon bundt cake, with a surprise pink swirl — this Pink Lemonade Bundt Cake is the perfect cake for spring or summer (or any time you want to pretend it's warm!).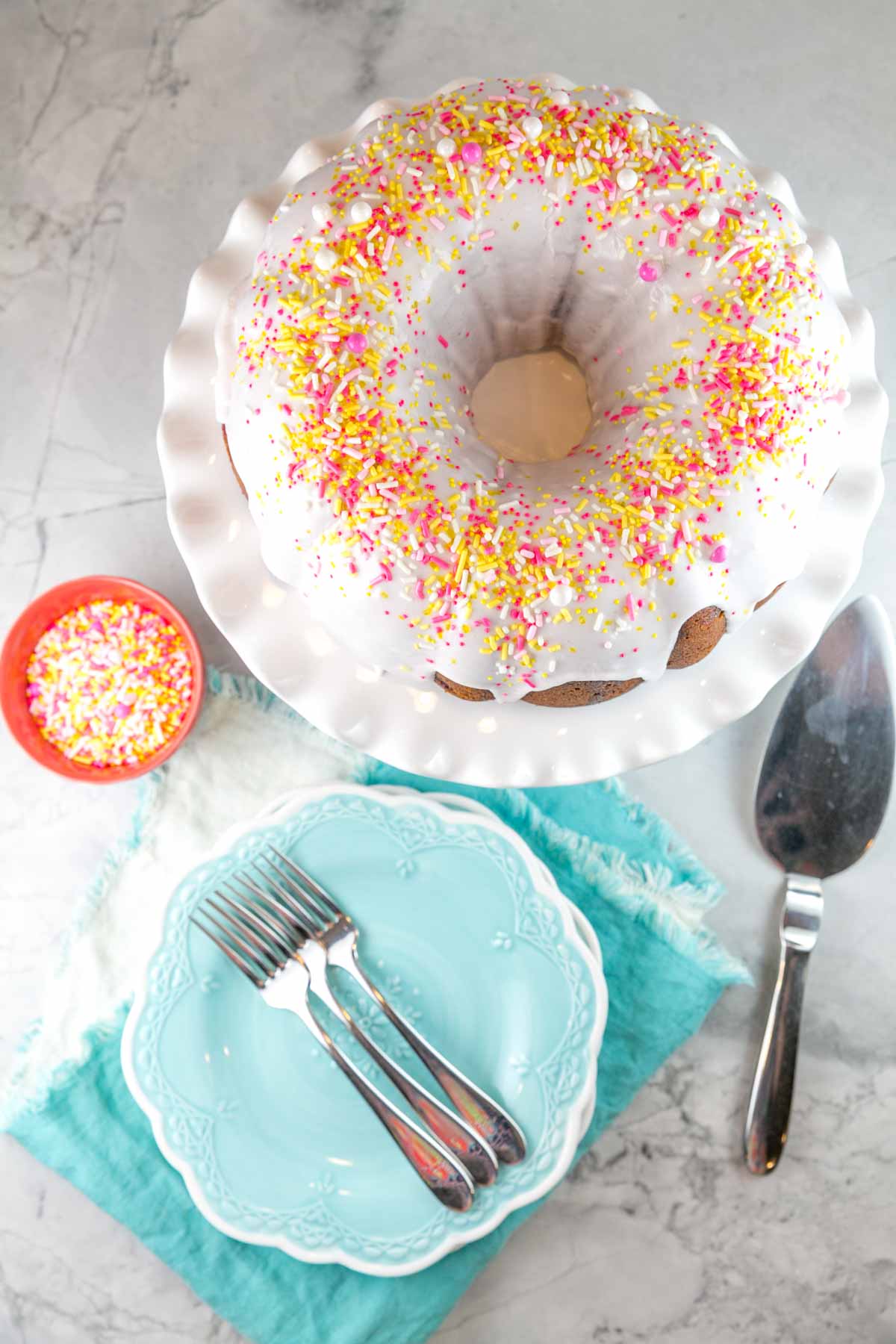 Spring has arrived!
The flowers are blooming, the sun is shining (… when it's not raining), and I'm dreaming of all sorts of spring and summer desserts, dinners, and drinks.
Like lemonade – nothing beats sipping an ice cold glass of lemonade on a hot day, even if we'll all be doing it by ourselves this summer.
Beautiful summer days (and beautiful sprinkles) were the inspiration for this Pink Lemonade Bundt Cake.
We'll start with an easy lemon-based bundt cake, which is – dare I say – the best lemon bundt cake. It's full of lemon flavor. Lemon zest, lemon juice, and (optional) lemon extract.
In the middle of the batter, a pink lemonade stripe, made with pink lemonade powder (or ground freeze-dried strawberries!).
We'll soak the cake in a lemonade syrup to keep it extra moist and lemonade-y. And then top with a thick lemon glaze covered with sprinkles, because obviously, every cake needs sprinkles!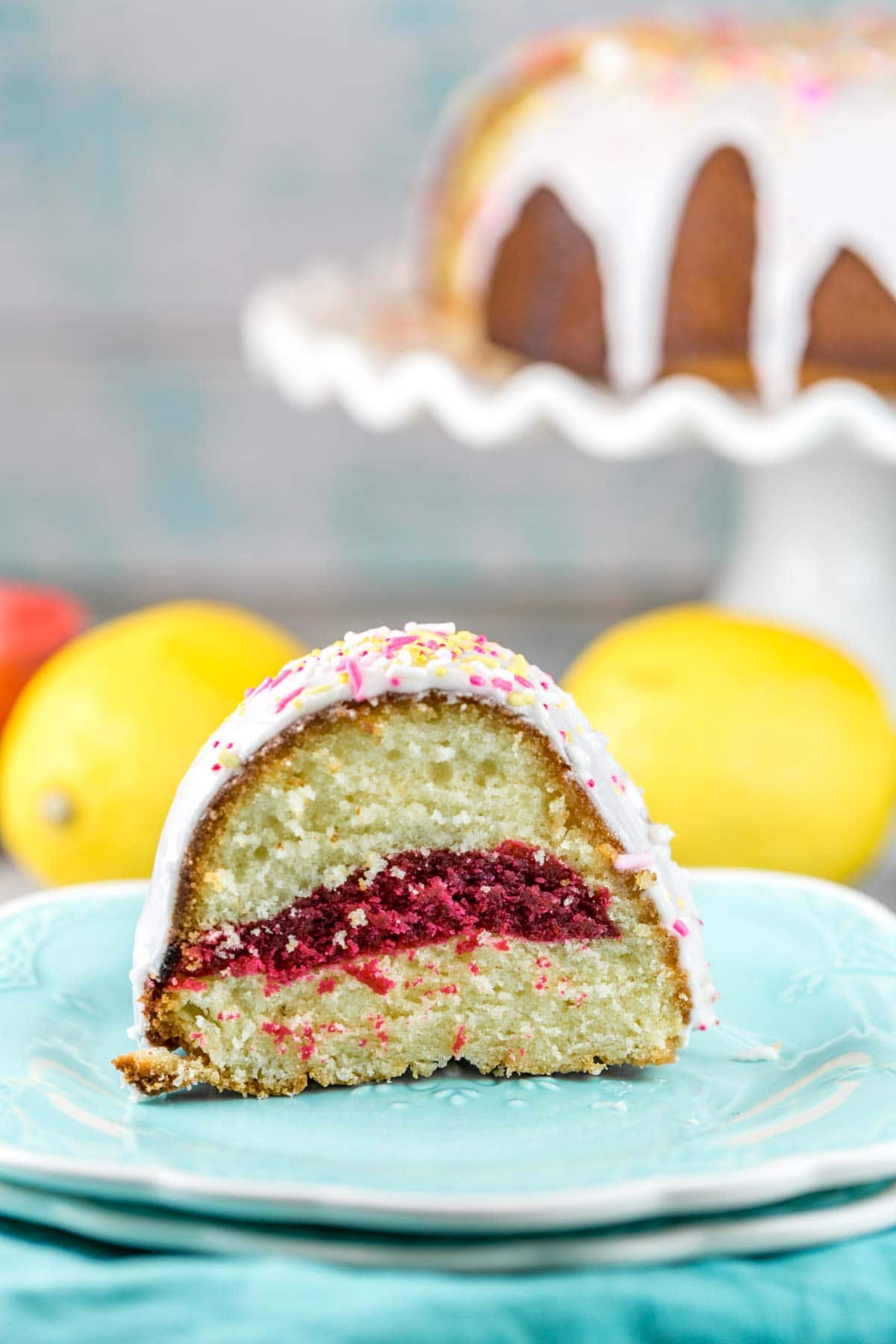 Ingredients & Substitutions
To make this beautiful spring and summer-inspired pink lemonade bundt cake, we'll need the following ingredients:
Butter: Use unsalted butter and make sure it's room temperature. This is generally cooler than we think – the butter shouldn't be soft, but you should be able to indent it with your finger if you press down hard. Butter that is too warm won't aerate properly and the final result will be a slightly-greasy textured cake.
Sugar: Granulated sugar for the cake and syrup, confectioners' (powdered) sugar for the glaze.
Salt: Use table salt, sea salt, or Morton's kosher salt. If you use Diamond Crystal salt, adjust the amount of salt as necessary.
Eggs: The eggs should be at room temperature before baking – either set them on the counter for a few hours or leave them in a bowl of warm water for 20 minutes.
Baking Powder/Baking Soda: Because this cake batter is acidic from the lemon juice and sour cream, we need both baking powder AND baking soda to neutralize the acidity.
Flour: Use properly measured or (preferably) weighed all-purpose flour. To keep the cake gluten-free, use a 1:1 direct substitution gluten-free baking mix.
Sour Cream: Full-fat sour cream results in the best cake texture and flavor! The sour cream should be room temperature for best incorporation into the batter.
Lemons: We'll need both lemon juice and lemon zest, so use fresh whole lemons.
Lemon Extract: Lemon extract is optional, but it provides a brighter, more lemony flavor. Vanilla extract can be substituted for lemon extract.
Pink Lemonade Mix: I use powdered pink lemonade mix for the pink swirl, but if you'd like this to be a strawberry lemonade cake or are looking for a more natural substitution, use the same measurement of ground freeze-dried strawberries.
Sprinkles: Sprinkles are optional to decorate the cake… but are sprinkles ever really optional?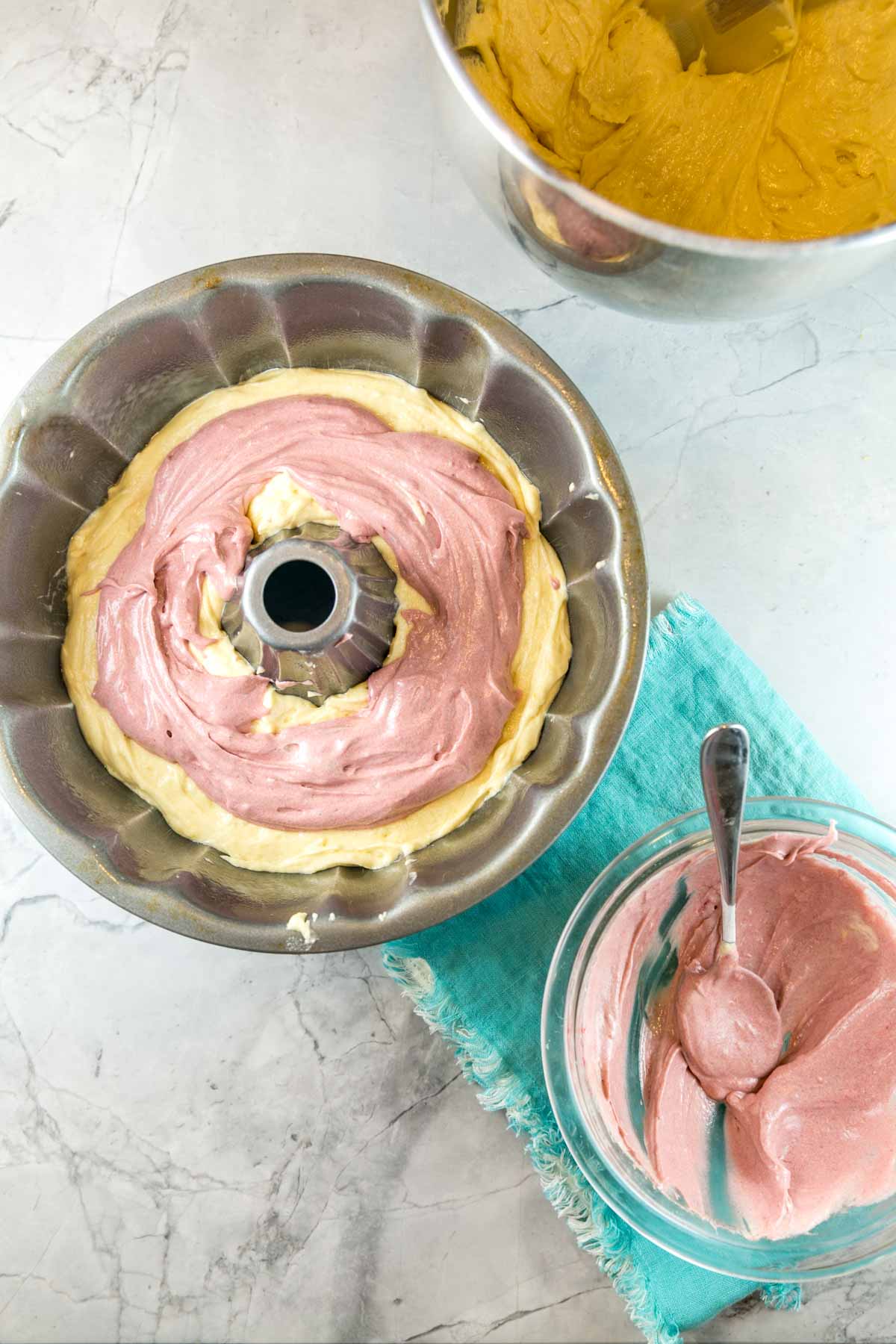 Pink Lemonade Swirl
Most of this cake is pretty straightforward — mix the batter, bake the cake, pour on the glaze, add frosting, and decorate with sprinkles.
But there are a few options for the pink lemonade swirl, based on what you have available and your personal preferences.
To stick with an authentic "pink lemonade" flavor, stir some pink lemonade mix into a little bit of the batter!
I used True Lemon Raspberry Lemonade for this version because it's what I had on hand.
Any other pink powdered drink mix — regular pink lemonade, strawberry lemonade mix, etc., works great!
If you're not into drink mixes and want an all-natural option, use freeze-dried strawberries to make a strawberry pink lemonade bundt cake!
Grind the strawberries up into a fine powder using a food processor, coffee grinder, or spice grinder, or purchase pre-ground strawberry powder. Mix them into the batter — just like this strawberry layer cake with whipped cream frosting.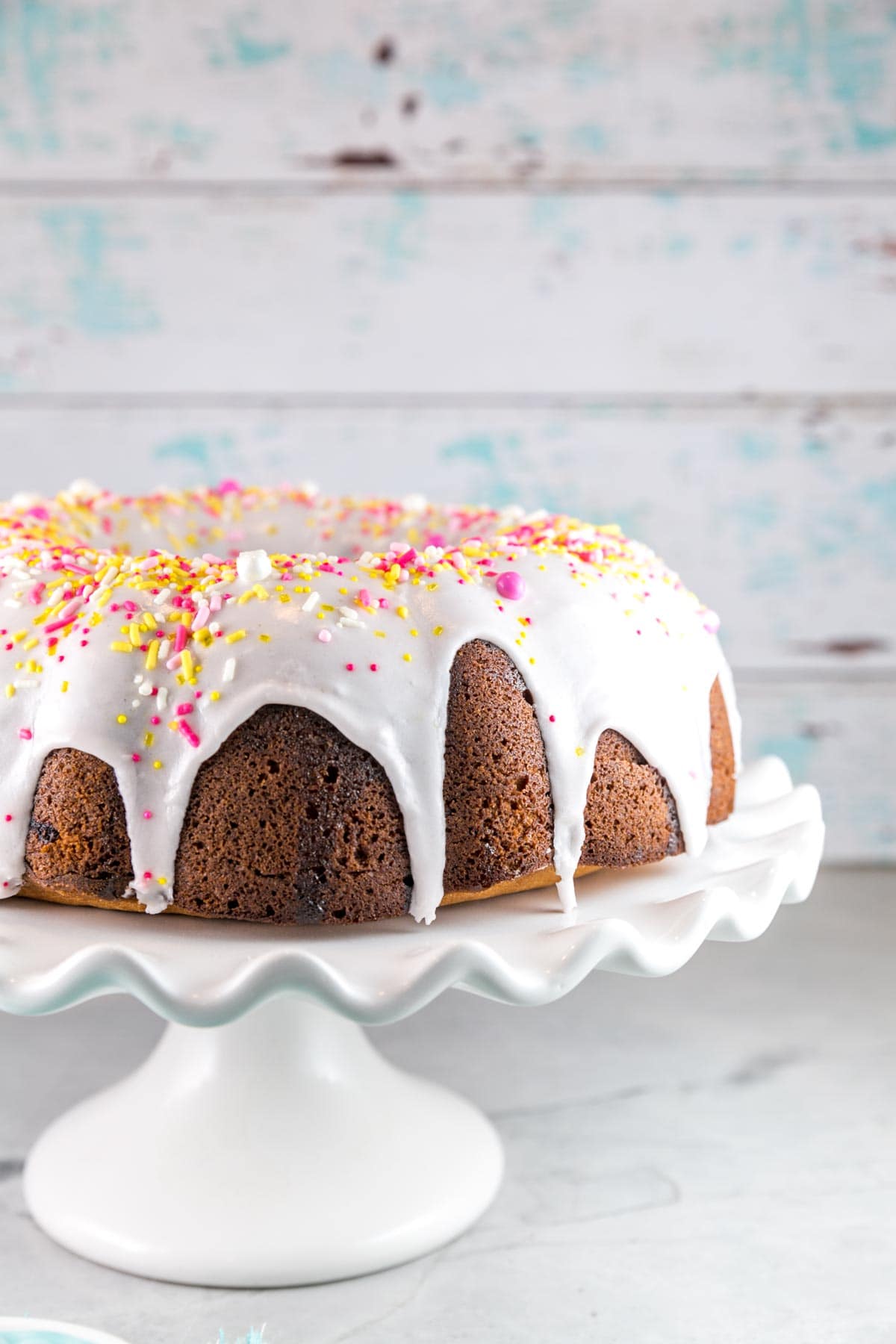 Sour Cream for the Best Cake Texture
One of the reasons this cake is so delicious? We include sour cream! Adding sour cream to a cake adds s rich flavor and keeps the crumbs of the cake tender and moist. How does this work? It's time for my favorite subject… kitchen chemistry!
Kitchen Chemistry

Adding sour cream to baked goods adds both acid and extra fat to the batter. Adding an acidic ingredient lowers the pH of the batter, which affects the structure of the cake. The additional hydrogen ions from the acid break apart protein bonds, causing them to unravel. This tenderizes the gluten in the flour and results in a more tender crumb.
Because right now, we're all about baking with what we have on hand, there are lots of substitutions that work for sour cream. You can add buttermilk or plain full-fat yogurt. Plain Greek yogurt also works as a substitution, but thin it down with a tablespoon or two of milk or water to adjust the consistency to match sour cream.
You can also replace the sour cream with plain milk; the texture is not quite as soft, but still delicious! If you do this, omit the 1/2 teaspoon of baking soda from the recipe.
Recommended Tools for Pink Lemonade Bundt Cake
Tips and Tricks for the Best Pink Lemonade Bundt Cake
New to baking in bundt pans? Looking for the best tips and tricks to ensure your cake turns out perfectly? Check out THIS POST for all my best bundt tips!
Use room temperature ingredients (butter, eggs, sour cream) for improved cake texture.
Use freshly squeezed lemon juice for the most lemon flavor. Bottled lemon juice will result in a more muted lemon flavor.
Don't overbake the cake – this will result in a drier, crumbly texture. Bake just until the edges begin to pull away from the pan and the top is springy when pushed back.
After removing the pan from the oven, run a knife along the edges to loosen the cake slightly, then side aside to cool for 10 minutes before inverting it onto a wire rack.
Brush the glaze on the cake while it is still hot so the cake will soak up the lemon and sugar mixture.
Wait until the cake is fully cooled before adding the frosting – otherwise it will not set and will run off the sides of the cake.
Oh, and if all this lemonade talk has you ready for the original beverage (which would pair deliciously with a slice of this cake!)? Let me offer up my two favorite lemonade recipes: blueberry basil lemonade and rosemary lavender lemonade. Both are delicious with a generous splash of bourbon or vodka, of course.
More Lemon Desserts: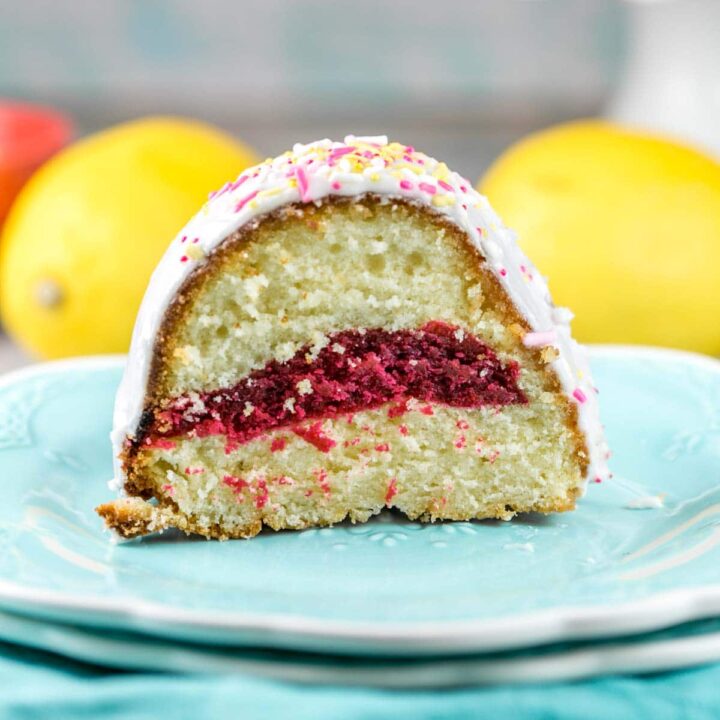 Pink Lemonade Bundt Cake
The BEST lemon bundt cake, with a surprise pink swirl — this pink lemonade bundt cake is the perfect cake for spring or summer (or any time you want to pretend it's warm!). 
Ingredients
For the Cake:
16 tablespoons (226 grams) unsalted butter, room temperature
2 cups (396 grams) granulated sugar
1 teaspoon salt
4 large eggs, room temperature
2 teaspoons baking powder
1/2 teaspoon baking soda
3 cups (360 grams) all purpose flour
1 cup (227 grams) sour cream, room temperature
1/3 cup (76 grams) fresh squeezed lemon juice
3 tablespoons lemon zest (approximately 3 lemons)
1 teaspoon lemon extract (optional)
2 tablespoons (24 grams) pink lemonade mix or freeze dried strawberries, ground
For the Syrup:
1/2 tablespoon (6 grams) regular or pink lemonade mix, optional
1/3 cup (76 grams) fresh squeezed lemon juice
2/3 cup (132 grams) granulated sugar
For the Glaze:
2 cups (227 grams) confectioners sugar
3 tablespoons lemon juice
1/2 cup (88 grams) pink and yellow sprinkles, optional
Instructions
Preheat the oven to 350 F.
Make the lemon cake batter. Using an electric mixer on medium speed, beat together the butter and sugar until light and fluffy, 3 to 4 minutes. Add in the eggs, one at a time, beating after each addition. Add in half of the flour, the baking powder, baking soda, and salt and beat until just combined. on low speed Beat in the sour cream, lemon juice, lemon zest, and lemon extract (if using). Add in the rest of the flour and mix until no dry ingredients remain.
Make the pink lemonade swirl. Remove 1 cup of batter from the cake batter and stir in the pink lemonade mix or ground freeze dried strawberries.
Bake the cake. Grease a 12 cup metal bundt pan. Spoon half of the batter into the pan. Spread the pink lemonade batter on top of this layer, keeping the batter away from the edges of the pan. Add the rest of the batter to the pan, smoothing the top with a spatula. Bake the cake for 45 to 55 minutes, or until a tester inserted into the center of the cake comes out with a moist crumb and the top springs back lightly when pressed.
Make the lemonade syrup. While the cake is baking, stir together the lemonade mix (or more freeze dried strawberries), lemon juice, and sugar. Heat just until the sugar melts into the lemon juice, either microwaving for two 30-second intervals, stirring in between, or over medium heat in a saucepan.
Soak the cake with syrup. When the cake finishes baking, allow the cake to sit in the bundt pan for 10 minutes, then invert onto a wire rack. Immediately brush half the syrup all over the top and sides of the cake while the cake is still hot. Wait 2-3 minutes until the syrup soaks in, then repeat with the remaining syrup. Set the cake aside to cool completely.
Make the lemon glaze. While the cake cools, whisk together the confectioners sugar and lemon juice until no lumps remain. Add more lemon juice or confectioners sugar, if necessary, for a thinner or thicker glaze. The glaze should be very thick but pourable for an opaque white glaze. Once the cake is fully cooled, pour the glaze on top of the cake and top with sprinkles.
Notes
Use fresh squeezed lemon juice for the most lemon flavor.
Buttermilk or plain full fat yogurt can be substituted for the sour cream. Plain full fat Greek yogurt should be thinned with 1-2 tablespoons of milk or water. Plain whole milk can also be used, but omit the 1/2 teaspoon baking soda.
Any powdered pink drink mix can be used in lieu of the pink lemonade mix -- strawberry lemonade, raspberry lemonade, etc., or use finely ground dehydrated strawberries.
The cake can be stored at room temperature for up to 5 days or frozen for up to 3 months. The fully baked cake, soaked with syrup, can be frozen and glazed before serving. Individual glazed slices can be wrapped in aluminum foil and stored in a freezer safe bag.
Recommended Products
As an Amazon Associate and member of other affiliate programs, I earn from qualifying purchases.
Nutrition Information:
Yield:

16
Serving Size:

1 slice
Amount Per Serving:
Calories:

426
Total Fat:

15.8g
Carbohydrates:

68.5g
Protein:

4.4g