September 8, 2016
Roasted Tomatillo Salsa Verde
Fire roasted tomatillos and cherry tomatoes pair beautifully with spicy jalapeno, onion, and garlic in this non-traditional salsa verde. A little sweet, a little tangy, a little spicy – all delicious.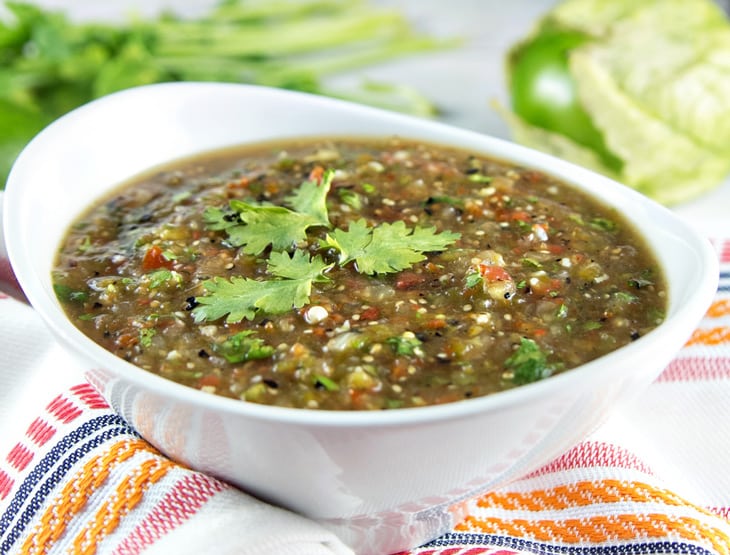 There are lots of reasons I love belonging to a CSA. I love the idea of supporting farmers before the season starts, guaranteeing their income regardless of weather outcomes on crops. I love the local aspect, eating food grown so close to my home and in season.
The convenience factor ranks really high – produce shows up, without having to go to the grocery store. It's especially convenient days like today, when weekends away mean we haven't been to the supermarket in 3 weeks. But hey – a box full of okra and lettuce and corn and nectarines just showed up!
But my favorite part of a CSA? Trying things I probably wouldn't buy otherwise.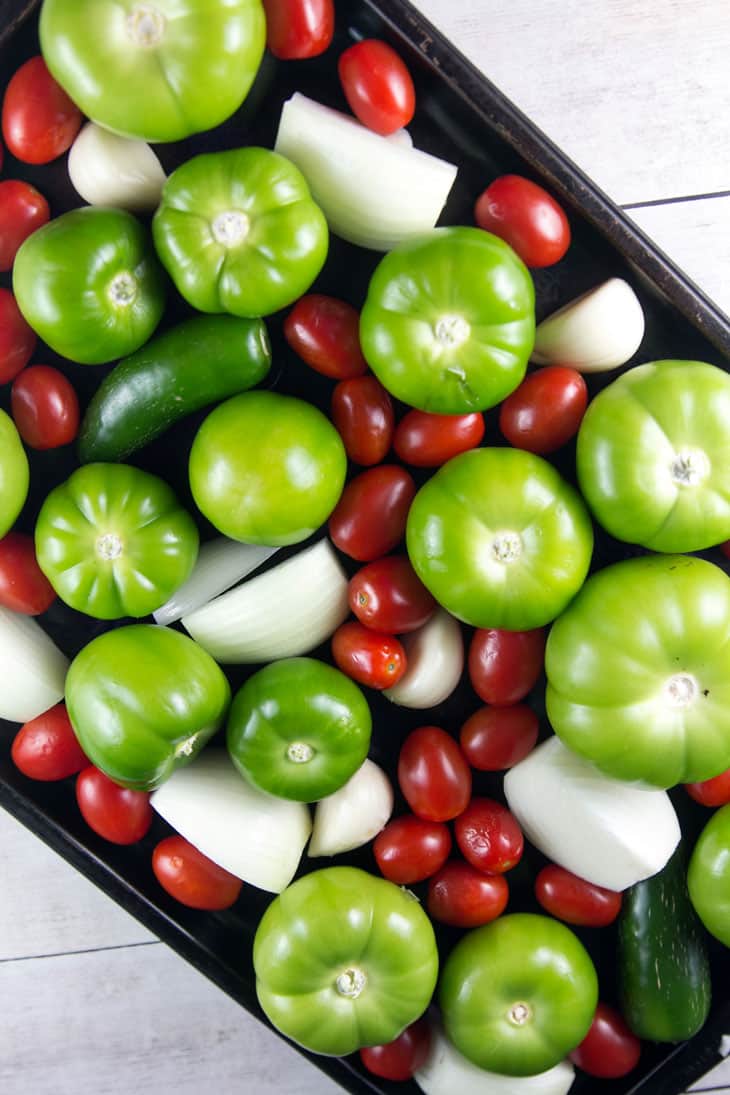 It's not that these vegetables are hard to find, per se (well, some are – ground cherries are pretty specific to farmer's markets and CSAs). But in a grocery store, I often tend to frequent the known when it comes to produce.
Broccoli and green beans are consumed by the pound in our house. Tomatoes, mushrooms, peppers of all colors and spiciness. These are vegetables I can cook with in my sleep, which is basically how I've been cooking lately. (Working full time, food blogging, and a teething 16 month old who keeps me up all night is exhausting.)
But then the CSA comes around and gives me a bunch of tomatillos, and suddenly I'm inspired to shake up our normal kitchen routine.
I'll be the first to admit that this isn't traditional salsa verde, because it contains both tomatillos and tomatoes. So maybe it's salsa verde-ish. Or salsa verde y rojo. Salsa verde rojizo? Whatever you want to call it, it's freaking delicious.
We split a full CSA share with friends, so we only get half the amount of produce. The first time we received tomatillos, we only received three. I could have made the world's tiniest batch of authentic salsa verde… or I could throw in some other tomatoes we had and make a tomatillo-tomato salsa hybrid.
You can tell which option I tried.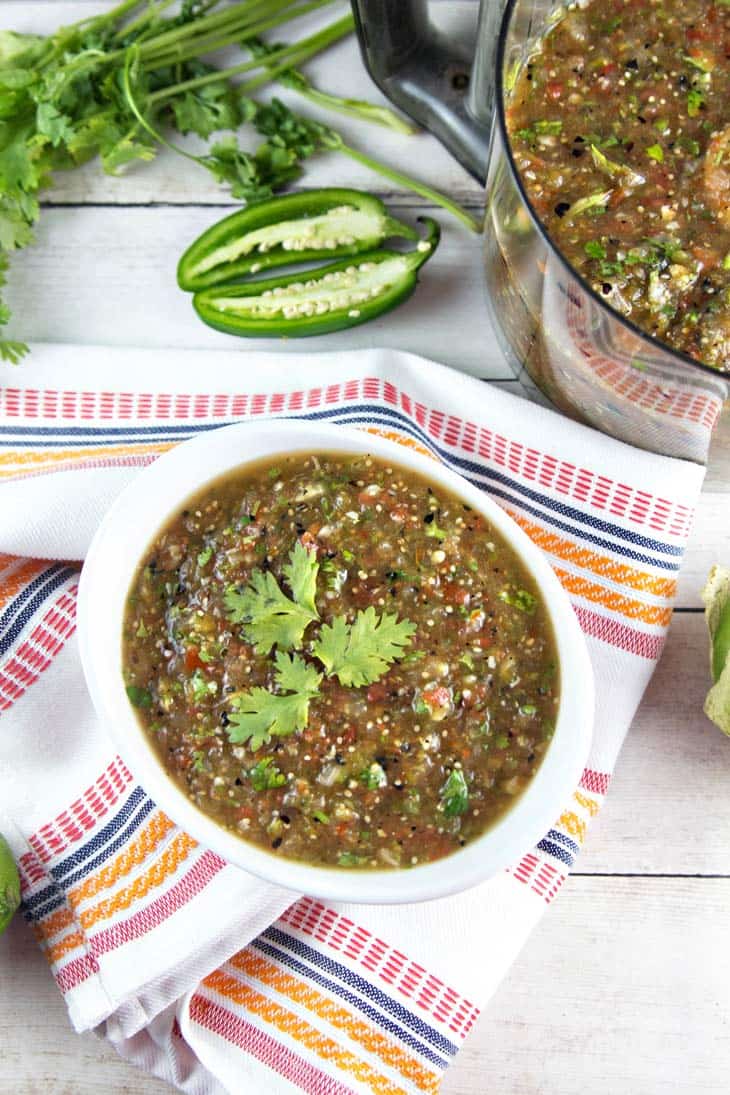 The slightly acidic flavor of the tomatillos. Sweet cherry tomatoes. Spicy jalapeno, the bite of onion and garlic. All fire roasted under the broiler until slightly charred, blended together with lime juice and cilantro.
I had all these ideas for how I would use the salsa verde, and instead I just ate it with a spoon right out of the food processor.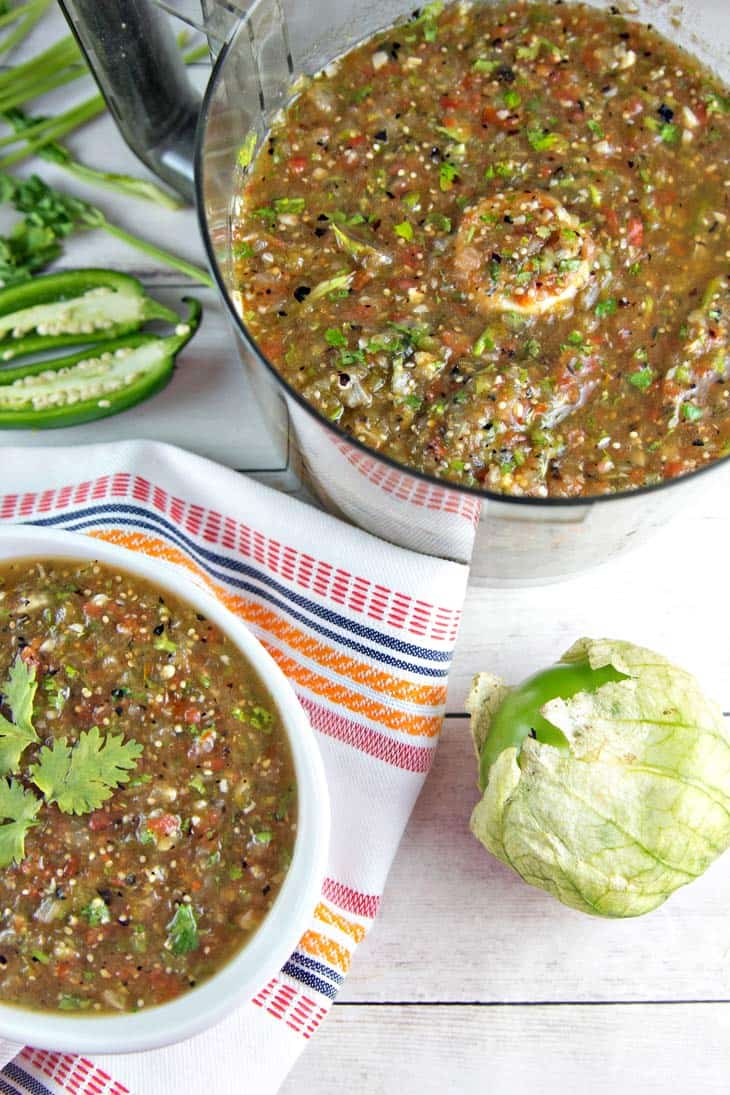 I loved it so much, the next week I requested a bulk order of tomatillos from our CSA. Again, I thought about making traditional salsa verde, but… nope. Somehow those tomatoes found their way onto my sheet pan and under the broiler instead.
This time, I at least managed to make enough to use the salsa verde in a few dishes, but even starting with 3 pounds of tomatillos, we used up all the salsa in a week. And this makes a lot of salsa. I'd say you could easily go ahead and halve the recipe so you don't have quite so much… but you should probably make it all. Or you know, go ahead and double it, because it's addictively good.
No chips? No problem. A spoon will do just fine.
Looking for a way to use your Roasted Tomatillo Salsa Verde?
Try this Pork Chile Verde!
Roasted Tomatillo Salsa Verde
Fire roasted tomatillos and cherry tomatoes pair beautifully with spicy jalapeno, onion, and garlic in this non-traditional salsa verde.
Ingredients:
3 pounds tomatillos, husks removed
1 pint cherry tomatoes
2 large jalapeno peppers
1 large onion, cut into 8 pieces
1 head of garlic, separated into cloves and peeled
large handful of cilantro, stems and leaves
juice of 1 lime
kosher salt, to thaste
Directions:
Place an oven rack a few inches below the broiler.  Set the broiler to high.
Place the tomatillos, cherry tomatoes, jalapenos, onion wedges, and garlic on a large roasting pan.  Broil for 6-7 minutes, until tomatillos and onions start to blacken.  Flip ingredients over and broil an additional 6-7 minutes, until everything is soft and charred.  If your broiler heats unevenly, slide the pan from one side of the oven to the other halfway through cooking time for each side of the vegetables.
Allow the vegetables to sit on the roasting pan until cool enough to handle, about 15 minutes.  Remove the seeds from the jalapenos (leave in for extra spicy salsa!).  Place the vegetables into a food processor or blender, pouring in the accumulated juices on the sheet pan.  Puree until small chunks remain.  Add in the cilantro, lime juice, and a pinch of salt, and pulse to combine.  Taste and add more salt if necessary.
The salsa verde will keep in a sealed container in the refrigerator for up a week.   For longer storage, cool in the refrigerator and then transfer to the freezer for up to 6 months.
A Bunsen Burner Bakery Original Protocol