April 9, 2021
Quick Pickled Red Onions
Easy 30 minute Quick Pickled Red Onions are the perfect way to add a little extra tang and crunch to everything from tacos to falafel to everyday salads! Make a batch and store them in the refrigerator for up to a month.
I usually focus on desserts or quick weeknight dinners on Bunsen Burner Bakery. This week, however, we're sharing a recipe that is quite clearly neither.
Whenever I ask what kind of recipes readers want, the response always includes some requests for more dinners – which I've been working on the past few months. As I was planning a posting schedule through the summer, I realized nearly all the dinner recipes included these quick pickled red onions.
So many recipes, in fact, it only made sense to add them as their own separate post.
As the name implies, these are quick. Make a batch in the afternoon and they're ready for dinner. They also last for quite a while; 4 weeks is the official safe length, but in our family where we like to live dangerously and just give foods the good old sniff test, we've had jars going for quite a bit longer.
Another big benefit to this recipe? It uses almost entirely pantry staples, so you can make them any time. All this recipe needs is vinegar, water, and kosher salt, with some optional honey and red pepper flakes for a little sweetness and spice.
We always have a jar of these in our refrigerator, and once you see how quick, delicious, and versatile quick picked red onions are, I have a feeling you will, too! They're the perfect way to add a little extra color, crunch, and zip to oh so many dishes.
What is Quick Pickling?
Quick pickling involves packing vegetables in a solution made from vinegar, salt, and water, and storing this in the refrigerator. Thicker vegetables, like these these garlicky dill refrigerator pickles, require several days in the solution.
Thinly sliced vegetables, like these quick pickled red onions, however, take far less time. To speed up the pickling process, we're going to use a hot brine – which means these pickled onions are done in only a few hours! And make sure the slice the onions thinly using a sharp knife or mandoline.
Pro tip: because we're going to heat the vinegary brine, this will make your kitchen smell like vinegar! The smell will dissipate with time, but I always recommend opening windows or turning on your range hood.
Quick pickled vegetables are stored in the refrigerator and do not require canning. Nearly any vegetable can be quick pickled, like tomatoes, asparagus, green beans, or peppers.
Brining Solution
The key to quick pickling onions, or any other vegetable, is the brining solution. This includes vinegar, salt, and water and helps preserve the vegetables for an extended period of time, along with adding the vinegary pickle flavor.
A variety of vinegars can be used — white vinegar, apple cider vinegar, white wine or champagne vinegar, rice vinegar, etc – but I like the combination of white vinegar and apple cider vinegar for red onions.
Why do we add salt and vinegar to our pickling solution? It's time for my favorite subject… kitchen chemistry!
Kitchen Chemistry

Salt and vinegar both prevent the growth of bacteria, allowing for longer storage of vegetables in the refrigerator. The salt in the brine produces lactic acid, while vinegar lowers the pH of the vegetables, both of which significantly slow the growth of bacteria.
Using Pickled Red Onions
In our house, these are a staple that go on nearly everything!
We like them added to tuna or egg salad or in Classic Italian Pasta Salad, or pile some on a typical side salad.
Pickled red onions are delicious on nachos, tacos, huevos rancheros, or on fajitas (we especially like them on fish tacos!).
Add them to falafel or homemade gyros, sloppy joes, or falafel, or homemade gyros.
Perhaps a better question is: what savory foods don't go with picked onions?! 🤔
Frequently Asked Questions about Quick Pickled Red Onions
What's the best way to store these onions?
A glass jar that can withstand the heat from the hot brining solution is the best choice. I prefer using wide-mouth pint jars as it's easier to add the onions in and remove to use.
How long do the onions need to pickle?
If the onions are sliced thiny and the brining solution is hot, the onions will be ready to use in just an hour. For more developed flavor or thicker onions, pickle the onions ahead of time and store the jar in the refrigeator.
How long do quick pickled onions last?
Stored in the refrigerator, pickled onions are safe to store and eat for one month.
What kind of vinegar should I use for quick pickled onions?
Distilled white vinegar, apple cider vinegar, rice vinegar, white wine vinegar, or champagne vinegar will all work.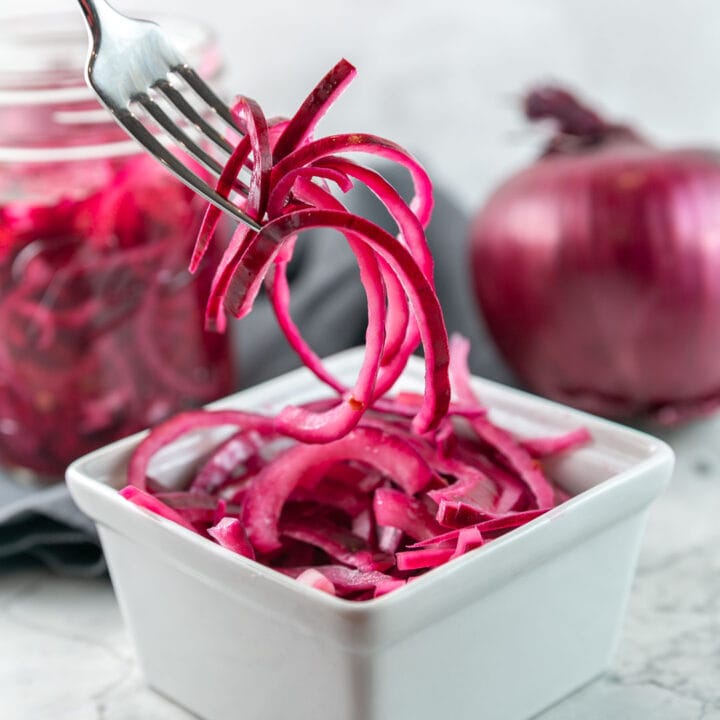 Quick Pickled Red Onions
Additional Time:
20 minutes
Easy 30 minute quick pickled red onions are the perfect way to add a little extra tang and crunch to everything from tacos to falafel to everyday salads.
Ingredients
1 large red onion, thinly sliced
1/2 cup apple cider vinegar
1/4 cup distilled white vinegar
1/4 cup water
1 tablespoon honey
1 1/2 tsp kosher salt
optional: small pinch red pepper flakes
Instructions
Combine the vinegars, water, honey, salt, and red pepper flakes in a medium saucepan, whisking to combine. Bring to a boil, then add the sliced onions. Reduce heat and simmer for 1 minute. Let the mixture cool for 20 minutes. Alternatively, combine the brine ingredients in a large glass measuring cup and microwave until boiling, then stir in the onions and cool.
After 20 minutes, onions can be used immediately or transferred into a 1 pint glass jar and stored in the refrigerator for up to 1 month.
Notes
The thinner the onions are sliced, the quicker they will pickle. A mandoline is recommended for even, thin slices.
Heating the vinegar brine will make your kitchen smell like vinegar! Run the stove hood or open windows to dissipate the smell more quickly.
Use a wide-mouth glass jar for easier transfer of the pickles and brining solution into the jar.
Recommended Products
As an Amazon Associate and member of other affiliate programs, I earn from qualifying purchases.