April 1, 2022
Coconut Bundt Cake
Packed full of triple coconut (coconut milk, coconut extract, and shredded coconut!), this Coconut Bundt Cake is incredibly moist and delicious.  Don't forget the coconut milk glaze and toasted coconut on top!  Perfect to welcome spring, celebrate summer… or fight away the winter blues!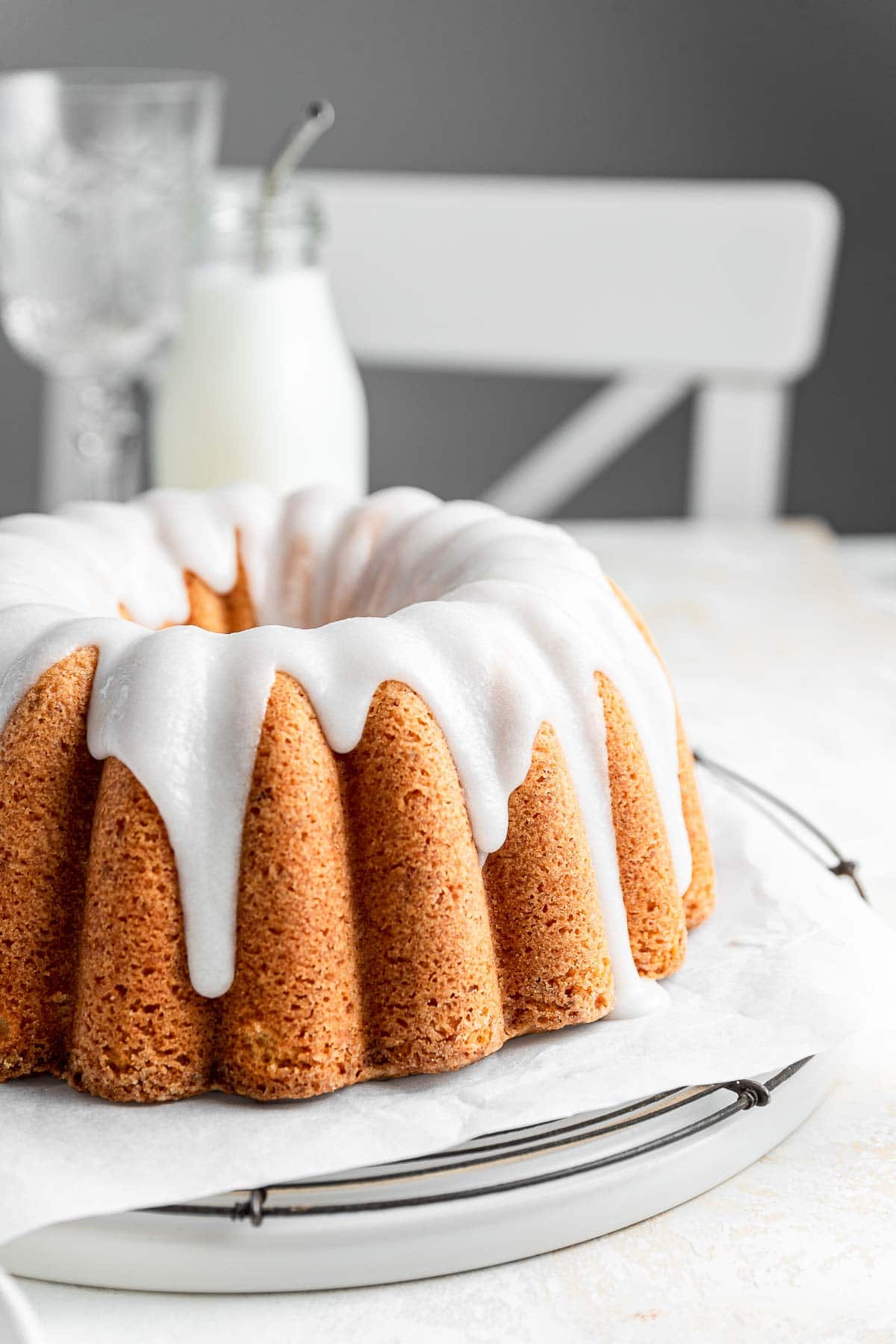 Today, one of my favorite recipes on Bunsen Burner Bakery is getting a bit of a refresh! After four years, this coconut bundt cake deserved new photos and some new, helpful tips.
I spent more time developing this cake than any other cake that I've made – it took no less than five tries to get it just right. (And I have a lot of cake recipes on my site!)
And it totally paid off. I know a lot of you guys love this cake just as much as I do. I routinely get comments like this from people who have made it in the past: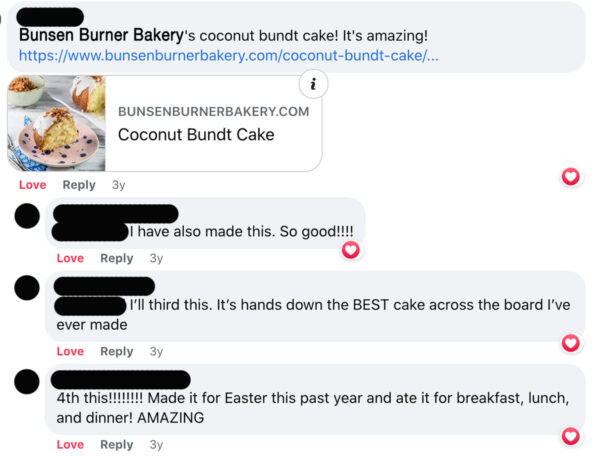 Plus, I have some great substitutions from people who have made it before and adapted the cake to be gluten-free and egg-free, which I'll include below!
If you're a coconut fan, I highly encourage you to give this cake a go. It's perfect for spring (Easter brunch, perhaps?) and summer, but really – coconut cake is appropriate any time of year.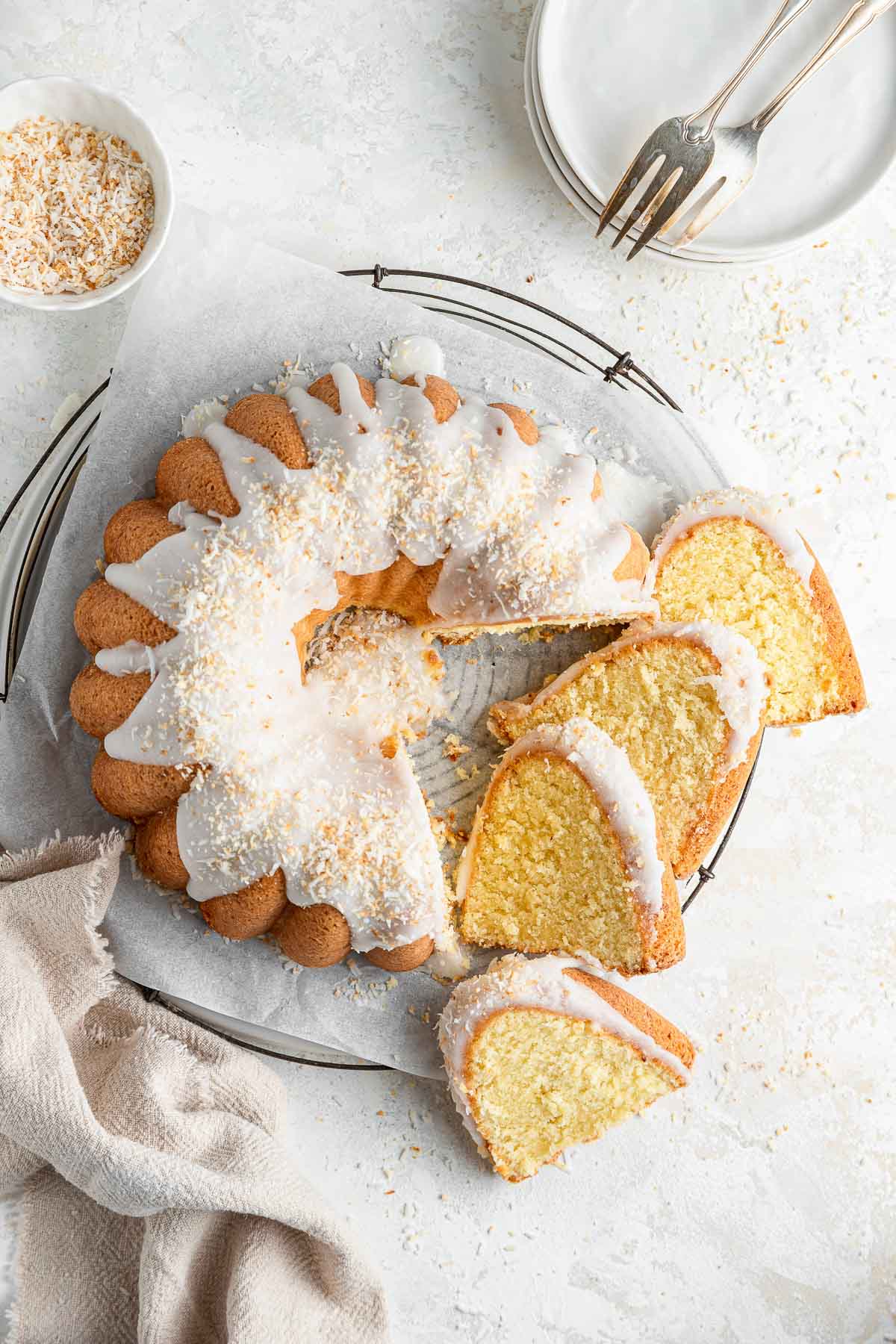 Developing New Cake Recipes
I tend to get a lot of questions on how I develop new recipes like this when I'm starting from scratch, and the answer is simple: ratios. (Math and science nerd for life!)
Ratios provide you with the perfect starting point to bake a cake with the right structure. I always call this section Kitchen Chemistry, but maybe today it should really be Kitchen Math instead!
Kitchen Chemistry

The base of a cake should contain sugar and flour at a roughly equal ratio (by weight, not volume). The eggs and fat should be roughly equal (again, by weight). The liquid in the cake (including the eggs) should weigh roughly the same, or a little more, than the sugar.
Boom.  Follow these rules for a traditional sweet, moist, light-crumbed cake.  (Plus leavening and a pinch of salt… about a teaspoon of baking powder per cup of flour.)
But, you know, rules are made to be broken… or at least bent a little, in the case of this coconut bundt cake.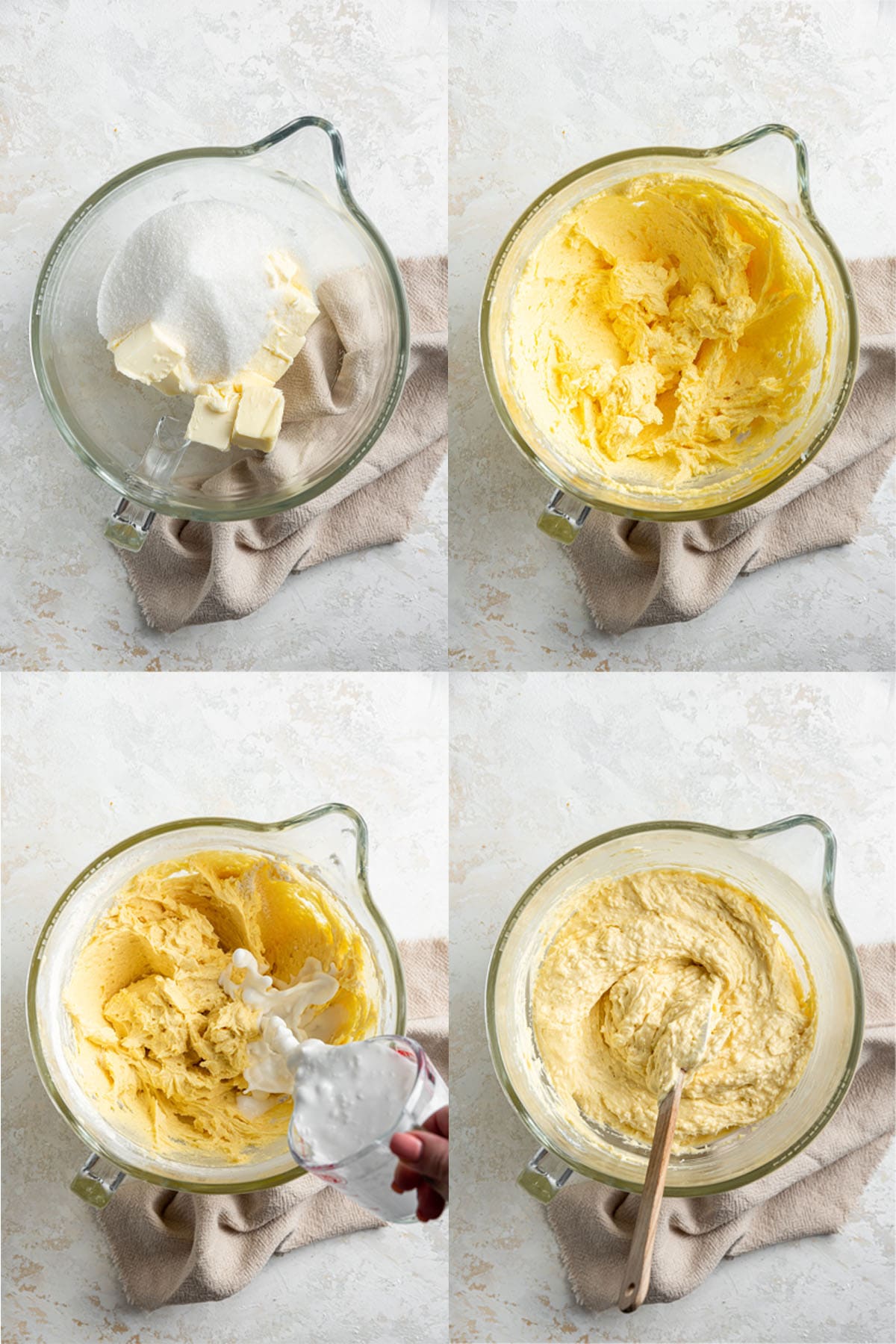 Packed Full of Coconut Flavor
My biggest complaint about flavored cakes, like coconut, is that the flavor is often way too mild. If I'm eating a coconut bundt cake, I want the coconut to be the foremost flavor. And so, I pushed all the limits.
Add in some coconut milk! Pour in half a bag of shredded coconut! How much coconut flavor can we pack into this cake and still keep a cake structure?
The answer took five tries. Let me tell you, each of the "failed" cakes was delicious. Like, outrageously so.
But they collapsed into the pan or crumbled when I tried to cut them.  And while I will happily eat a crumbly, moist, super coconutty cake, if I'm going to share it… it should resemble a cake when it's done, right?  Right.
So back to the drawing board we went again (and again) (and again) to make the most coconut-filled cake possible, while still maintaining a cake-like structure after cutting into it. And this coconut bundt cake was well worth the effort because I'm going to go ahead and call it perfect.
To maximize coconut flavor, we're using coconut milk, coconut extract, and shredded coconut in the cake. And topping it all with a coconut glaze.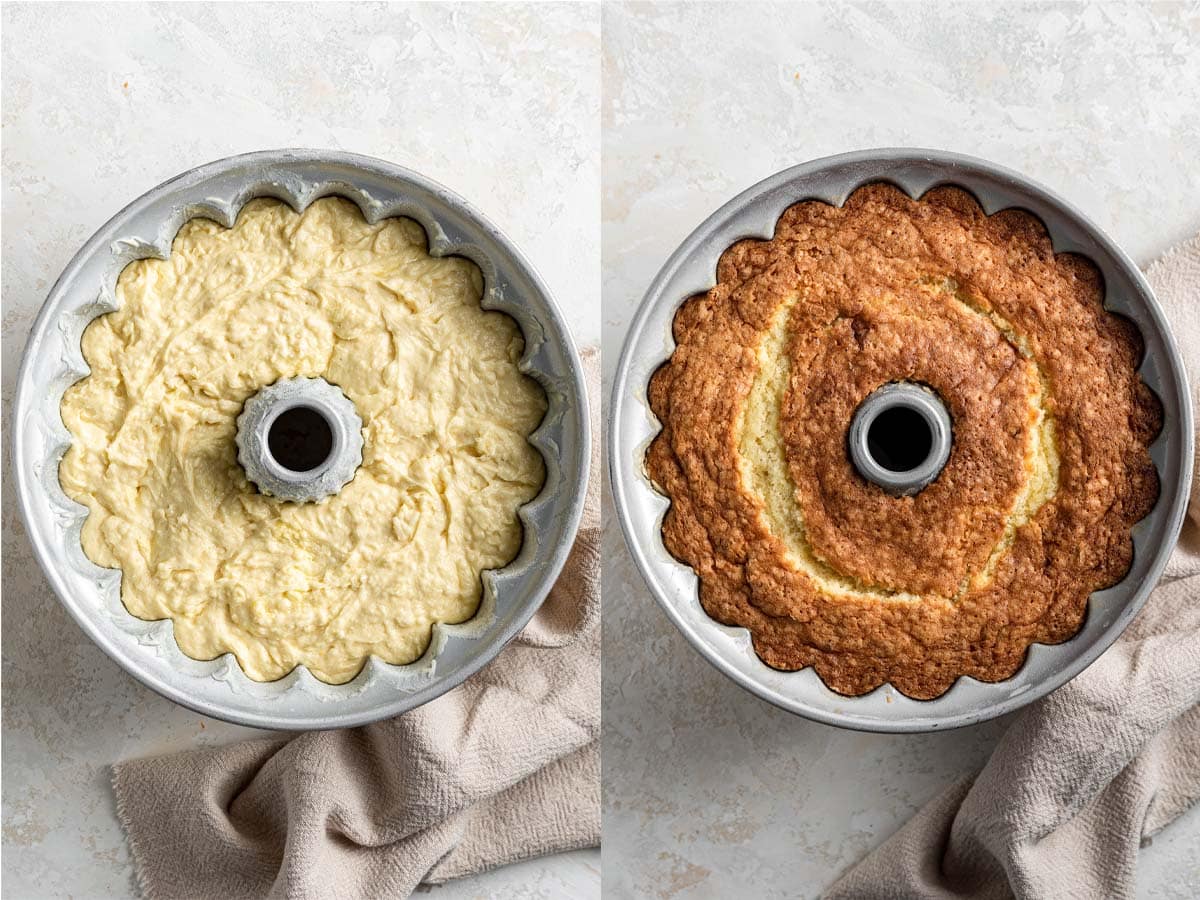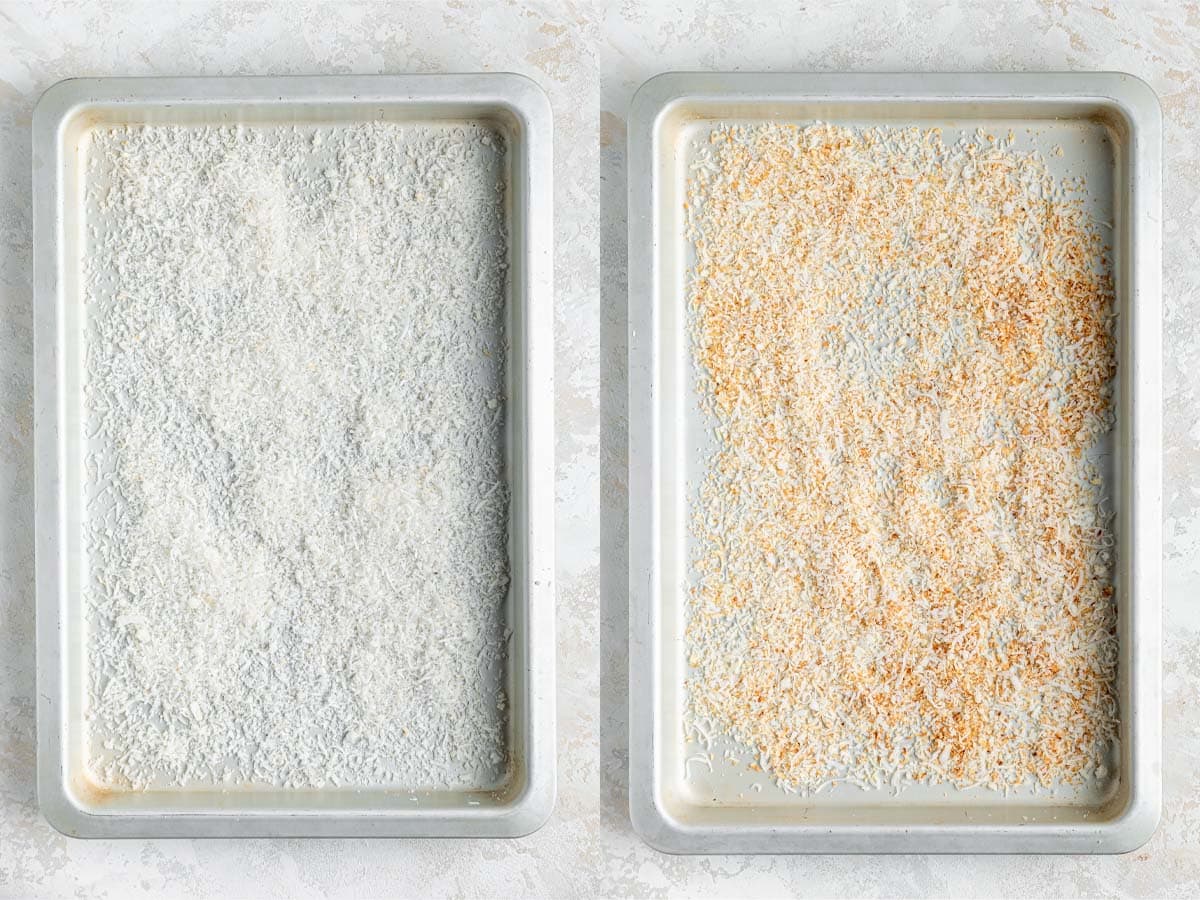 How to Toast Coconut
After the cake is baked and cool, it's topped with a simple coconut glaze, made from confectioners' sugar, coconut milk, and coconut extract. Before the glaze sets, we'll sprinkle some toasted coconut across the top.
Toasting coconut brings out a whole new range of flavors and adds a tiny little crunch, which is the perfect contrast to the tender, moist cake.
There are three ways you can toast your coconut:
On the Stovetop: Place the shredded coconut in a small or medium pan on the stove over medium-low heat. Stir constantly for 5 minutes, or until the coconut is golden brown.
In the Microwave: Place the coconut in a microwave-safe dish and heat for 5 minutes, stopping to stir after each minute. While this results in perfectly browned coconut, the coconut itself stays soft – perfect for those who dislike the little extra crunch of toasted coconut.
In the Oven: Spread the coconut on a sheet pan and bake at 350 °F for 6 to 8 minutes, stirring every few minutes. This is my favorite method since the oven is already on to bake the cake – once I pull the cake out of the oven, I put the coconut in the oven to toast while the cake cools in the pan.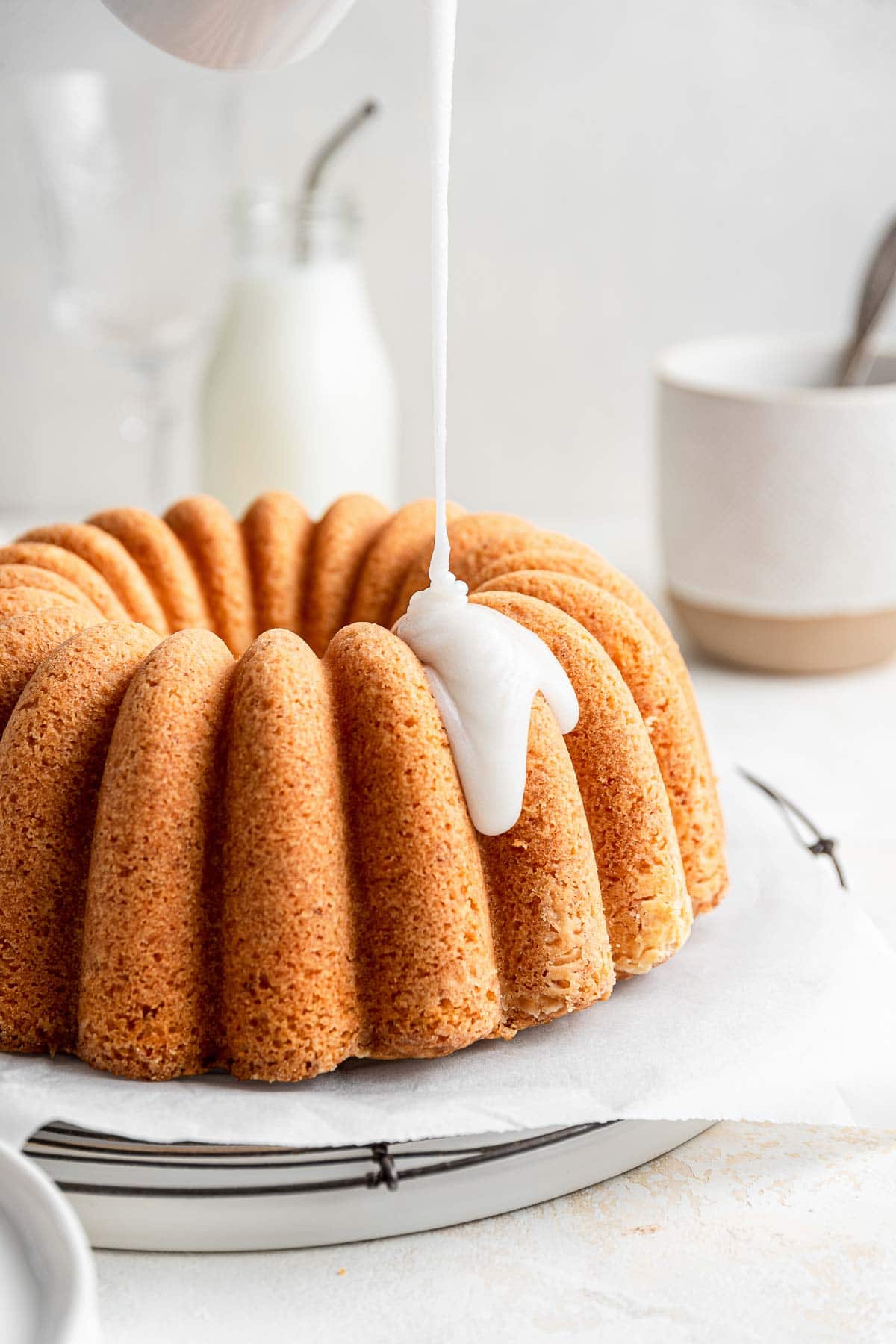 Optional Ingredient Substitutions
Thanks to readers who have made this cake, I now have tips for how to adapt the cake to be gluten-free, egg-free, and dairy-free!
Gluten-Free: This cake can be made gluten-free using a one-to-one flour substitute, such as King Arthur's Measure for Measure Flour.
Dairy-Free: Use a dairy-free butter stick replacement (because the butter and sugar are beaten together, we need a substitute stick form – not just oil), like Earth Balance Vegan Buttery Sticks.
Egg-Free: Substitute the eggs with hydrated chia seeds, using 1 tablespoon of chia seeds plus 2.5 tablespoons of water for each egg. Reader Madelyn, who is a huge fan of this cake, says it turns out really well but just requires a little bit longer to bake.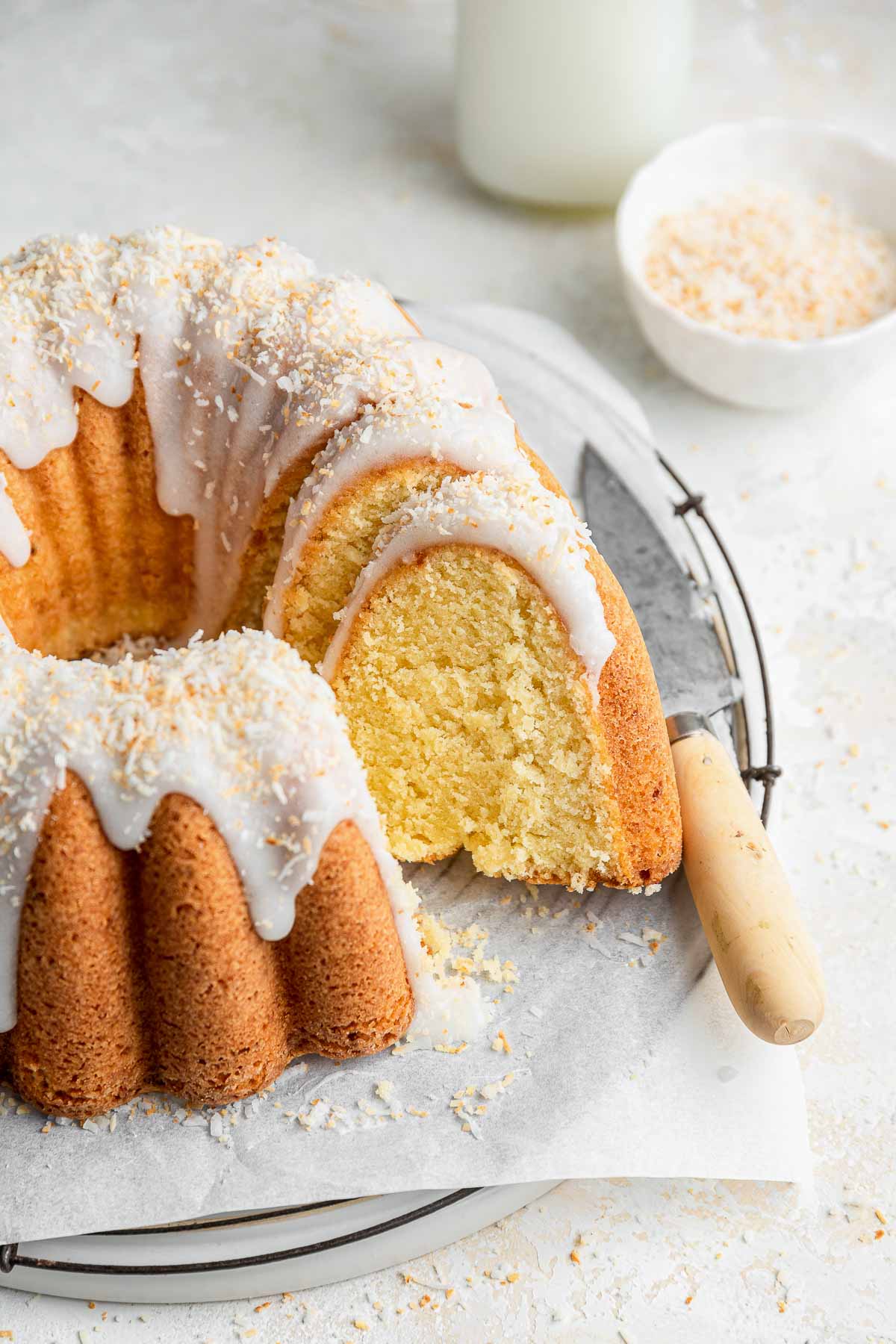 Recommended Tools to Make Coconut Bundt Cake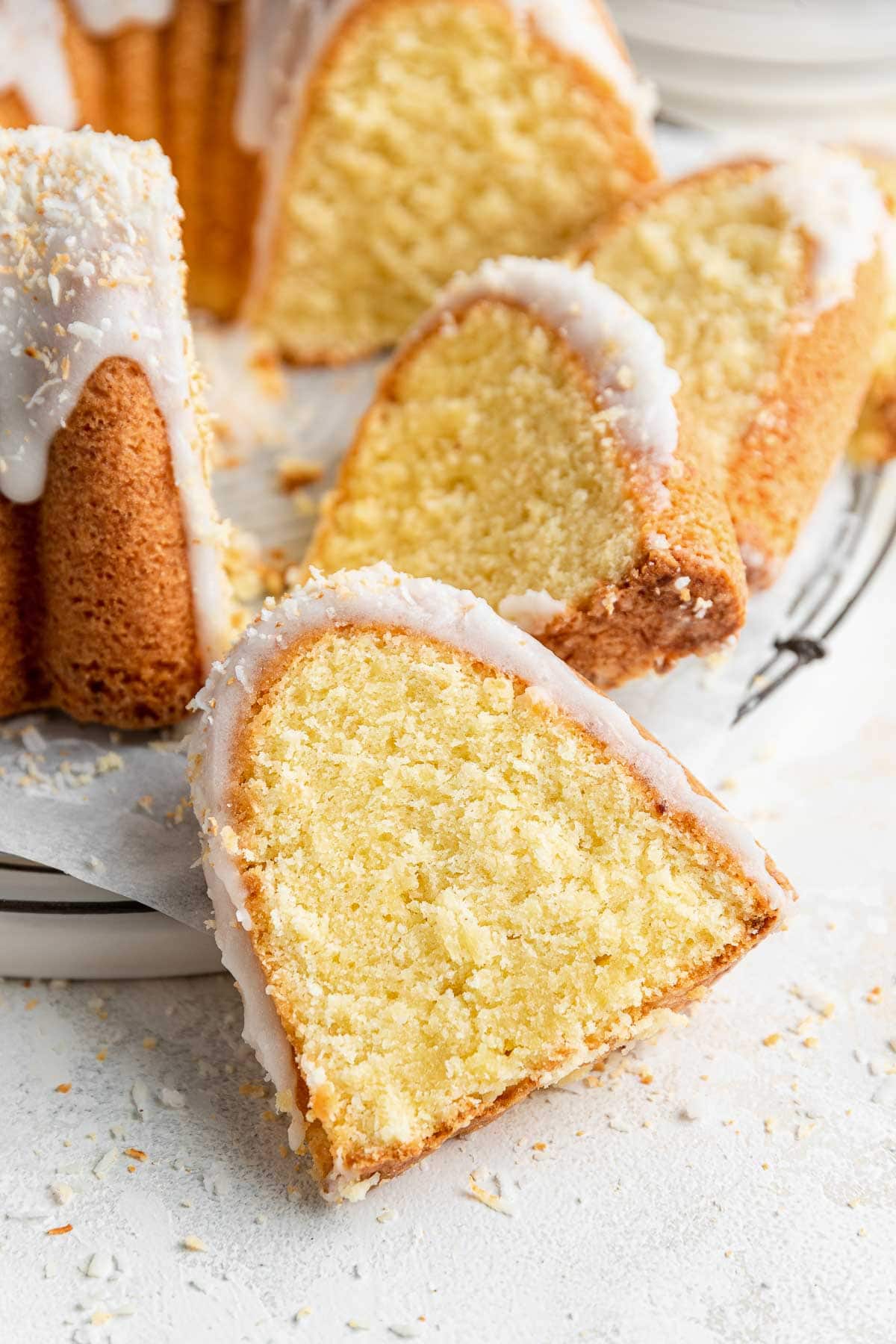 Frequently Asked Questions about Coconut Bundt Cake
What size bundt pan should I use?
This recipe was written for a 12-cup metal bundt pan. A 10-cup bundt pan can be used as well, but only fill until roughly 4/5th (80%) of the way full; discard any extra batter. Alternatively, this coconut bundt cake can also be baked in two well-greased 9 x 5-inch loaf pans, baked at 350 °F for 40-50 minutes.
Can I use unsweetened coconut instead of sweetened coconut?
The recipe was written using sweetened coconut and I prefer the flavor, but unsweetened coconut can be used instead if desired.
How do I prevent the cake from sticking in the pan? How do I tell when the bundt cake is done? How do I prevent the bundt cake from doming?
The answer to all of these questions — and more — can be found in my post about how to bake the perfect bundt cake!
How should I store coconut bundt cake?
The cake can be stored at room temperature in an airtight container for up to 4 days. To freeze, tightly wrap the cooled cake in a layer of plastic wrap, followed by a layer of aluminum foil. The cake can be stored in the freezer for up to 3 months and should be defrosted at room temperature.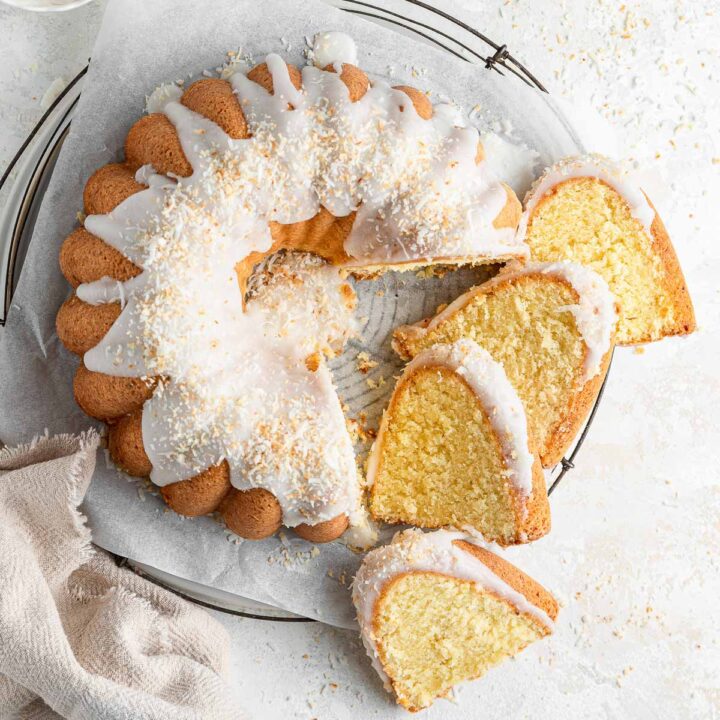 Coconut Bundt Cake
Packed full of triple coconut (coconut milk, coconut extract, and shredded coconut!), this coconut bundt cake is incredibly moist and delicious. 
Ingredients
For the Cake:
1 1/2 cups (330 grams) unsalted butter, room temperautre
2 cups (396 grams) granulated sugar
4 large eggs, room temperature
3/4 cup (180 grams) unsweetened full-fat coconut milk, well shaken
1 1/2 teaspoons baking powder
1/2 teaspoon salt
1 teaspoon vanilla extract
2 teaspoons coconut extract
2 1/4 cups (270 grams) all-purpose flour
1 3/4 cups (148 grams) sweetened flaked coconut
For the coconut glaze:
1 1/2 cups (170 grams) confectioners' sugar
1/4 cup (60 grams) unsweetened full-fat coconut milk, well shaken
1 teaspoon coconut extract
1/2 cup (42 grams) sweetened flaked coconut
Instructions
Preheat oven to 350 °F.
Beat together the butter and sugar in an electric mixer on medium speed until well beaten and lightened in color, 4 to 5 minutes. Add in the eggs, one at a time, and mix until light and fluffy. Add the coconut extract and vanilla extract.
Reduce mixer speed to low and add in the baking powder, salt, and half the flour. Add the coconut milk, followed by the other half of the flour. Mix just until no streaks of flour remain. Fold in the flaked coconut.
Grease and flour a 12 cup bundt pan. Bake for 50 minutes, or until the top of the cake springs back when touched and a toothpick inserted into the center comes out clean. Cool in the pan for 10 minutes, then invert onto a wire rack and cool completely.
To make the toasted coconut, spread the remaining flaked coconut on a sheet pan and bake at 350 °F for 6 to 8 minutes, stirring every 2 minutes to prevent the coconut from browning. Cool completely.
Whisk together the confectioners' sugar, coconut milk, and coconut extract to make the glaze. Thin with additional coconut milk if a thinner glaze is desired. Spread on top of the cake, followed by the toasted coconut.
Recommended Products
As an Amazon Associate and member of other affiliate programs, I earn from qualifying purchases.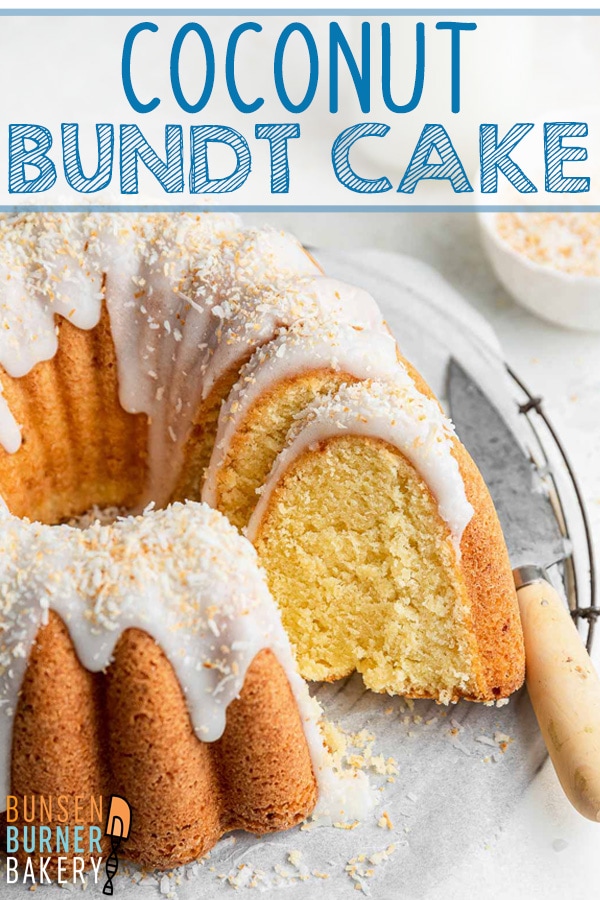 This recipe was originally published March 2018 and updated with new photos and helpful tips March 2022.