August 13, 2014
Eggplant Curry with Coconut Milk
Gluten free and vegan, this easy 30 minute eggplant curry with coconut milk is the perfect weeknight dinner! Skip the takeout and make your own Indian at home – you may even have everything you need already in your pantry.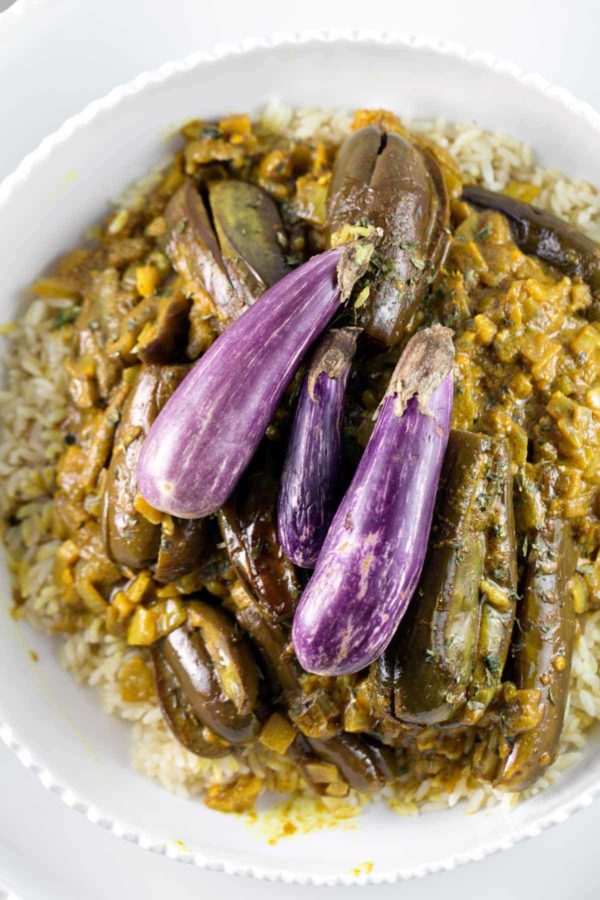 I love eggplant, and since we all know that the smaller version of anything (puppies, kittens, eggplants) is infinitely more exciting than the full size version, I was delighted to find baby eggplants in my CSA box.
One of the reasons I love our CSA so much is that it eliminates the need for regular grocery shopping – with a weekly delivery of fresh produce, I just keep a few basics around, and can generally come up with something for dinner.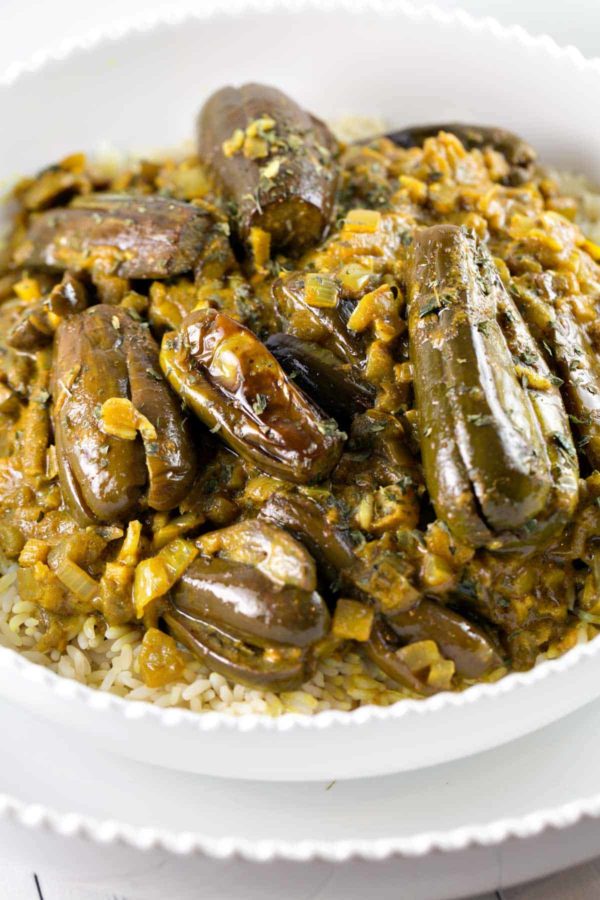 Even without grocery shopping for a few weeks, I was able to pull together everything for this makeshift eggplant curry, which I served with homemade naan and spicy green beans (from the CSA).
The only thing missing was coconut milk, but I've got you covered – see below for an easy homemade version!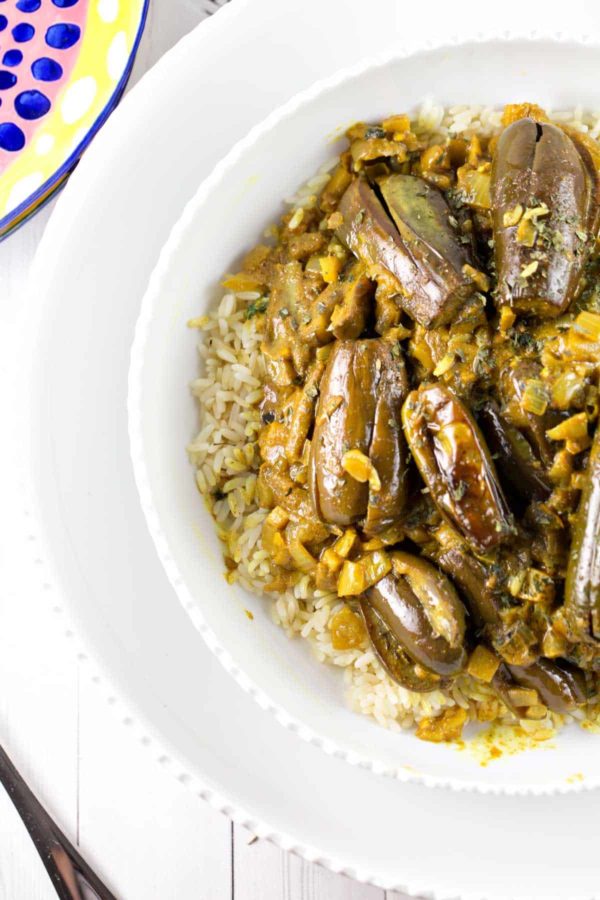 How to Make Eggplant Curry with Coconut Milk
Like I said, this eggplant curry is really made with all the basics, if you keep a well-stocked pantry. Onion and garlic — definitely staples. I cooked this using coconut oil, but you could substitute in olive oil if you don't have any on hand.
For flavor, we're looking at standards when it comes to homemade Indian food. Cumin, coriander, turmeric, and a pinch of cayenne pepper for heat. I used fresh ginger since I usually have some, but you can also use dried ginger. (General rule: use about a third to a half as much dried herbs as fresh, since the flavor is more concentrated!)
We'll start by cooking the eggplants, letting them heat in the coconut oil until soft. Next, add in the garlic and ginger and saute until soft. Add in the rest of the spices and heat until fragrant.
Finally, we'll add in the coconut milk. Now about that coconut milk…
How to Make Homemade Coconut Milk
If, like me, you open the pantry and realize you are all out, fear not! If you have unsweetened shredded coconut, you can make your own!
Combine 1 cup of water with 1/2 cup of shredded coconut in a blender, and presto: "homemade" coconut milk!
If you're picky about texture, you can pass the mixture through a cheesecloth, but I just poured the liquid and remaining little shreds into the curry together. The extra little pieces are not at all noticeable against the rest of the curry.
This curry was a big hit in our house. I've made other eggplant curries in the past which haven't really been my husband's cup of tea. I'm not sure if he just happened to like this version more, or if he's just being a good sport now that we're easing back into living together – but either way, I'll take it!
(Or perhaps it was the homemade naan that appeased him… yeast breads are certainly the way to his heart.)
More Homemade Indian Dishes: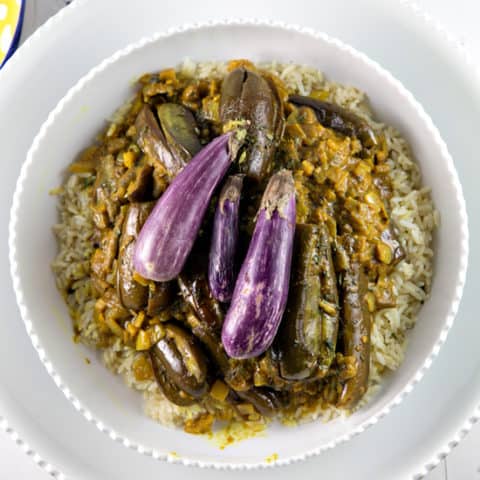 Eggplant Curry with Coconut Milk
Gluten free and vegan, this easy 30 minute eggplant curry with coconut milk is the perfect weeknight dinner.
Ingredients
2 tablespoons coconut oil
1 pound baby eggplants
1 large onion, diced
3 cloves of garlic, minced
2 tablespoons fresh ginger, minced
1 teaspoon cumin
1 teaspoon coriander
2 teaspoons turmeric
1 teaspoon cayenne pepper
2/3 cup coconut milk
1 cup prepared rice, for serving
Instructions
Cut off the tops of the eggplant, and cut a deep X through the bottom, without cutting all the way through the eggplants.
Heat the coconut oil in a large, heavy bottom pan over medium-low heat. Add the eggplants, cover, and cook for 15 minutes, stirring occasionally.
Remove the eggplants from the pan.
Add the onions and garlic to the pan, and cook over medium heat until softened, about 5 minutes.
Stir in the ginger and spices and cook, stirring for about a minute, until fragrant.
Increase the heat to high and stir in the coconut milk. Bring to a simmer for another 5 minutes, until slightly thickened.
Return the eggplants to the pan and stir until heated through. Serve over rice.
Recommended Products
As an Amazon Associate and member of other affiliate programs, I earn from qualifying purchases.
Nutrition Information:
Yield:

2
Amount Per Serving:
Calories:

516
Total Fat:

32g
Carbohydrates:

58g
Protein:

8g