October 23, 2017
Leftover Candy Cookie Cake
Leftover Halloween candy?  You can eat it plain… or you can turn it into an outrageous soft and chewy candy cookie cake filled with all your favorite chocolate!  Perfect for Halloween, Valentine's Day, wedding candy bars, birthday party pinatas, or any occasion that leaves you with an assortment of candy!
Okay, this title is a little bit of a misnomer.  You don't have to use leftover candy.
You could go to the store and buy all NEW candy just for this candy cookie cake.  And if you don't have any candy on hand, you totally should, because it is just that good.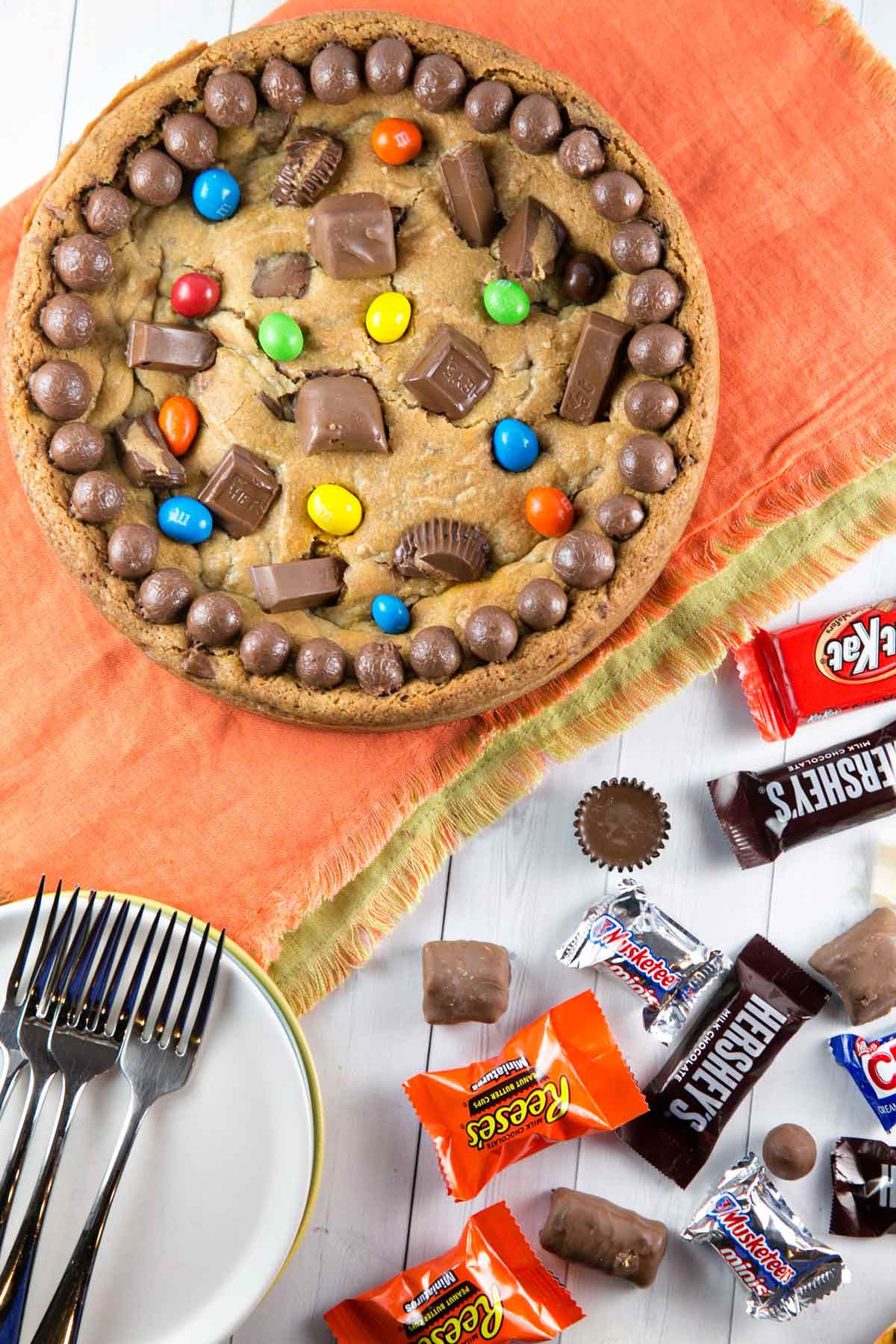 What to Do With Leftover Halloween Candy
Buuuuut it's almost Halloween, so there's a good chance you're about to have some leftover candy on your hands — or the perfect excuse to go buy a big bag of assorted candy at half off!
Now, you could eat all that candy straight out of the bag.  (And I support this, because I am pro-candy.)
Or you can bake with it.  And given that this is a baking-based food blog, I'm pretty sure you can guess which option I'm going to suggest.
Have Snickers? Make these snickers cheesecake bars.
Peanut Butter Cups?  Allow me to suggest this peanut butter cup cheesecake dip.  Or perhaps a chocolate peanut butter cup layer cake.  Maybe this one bowl chocolate peanut butter cup bundt cake is more your style?
Too many M&Ms?  I have you covered, with M&M pretzel kisses, soft and chewy M&M pudding cookies, or a no-bake M&M peanut butter pretzel pie.
Or you can use all your assorted leftover candy and turn it into a delicious, both crispy and chewy, decadent, chocolate-filled candy cookie cake.  Because, yes.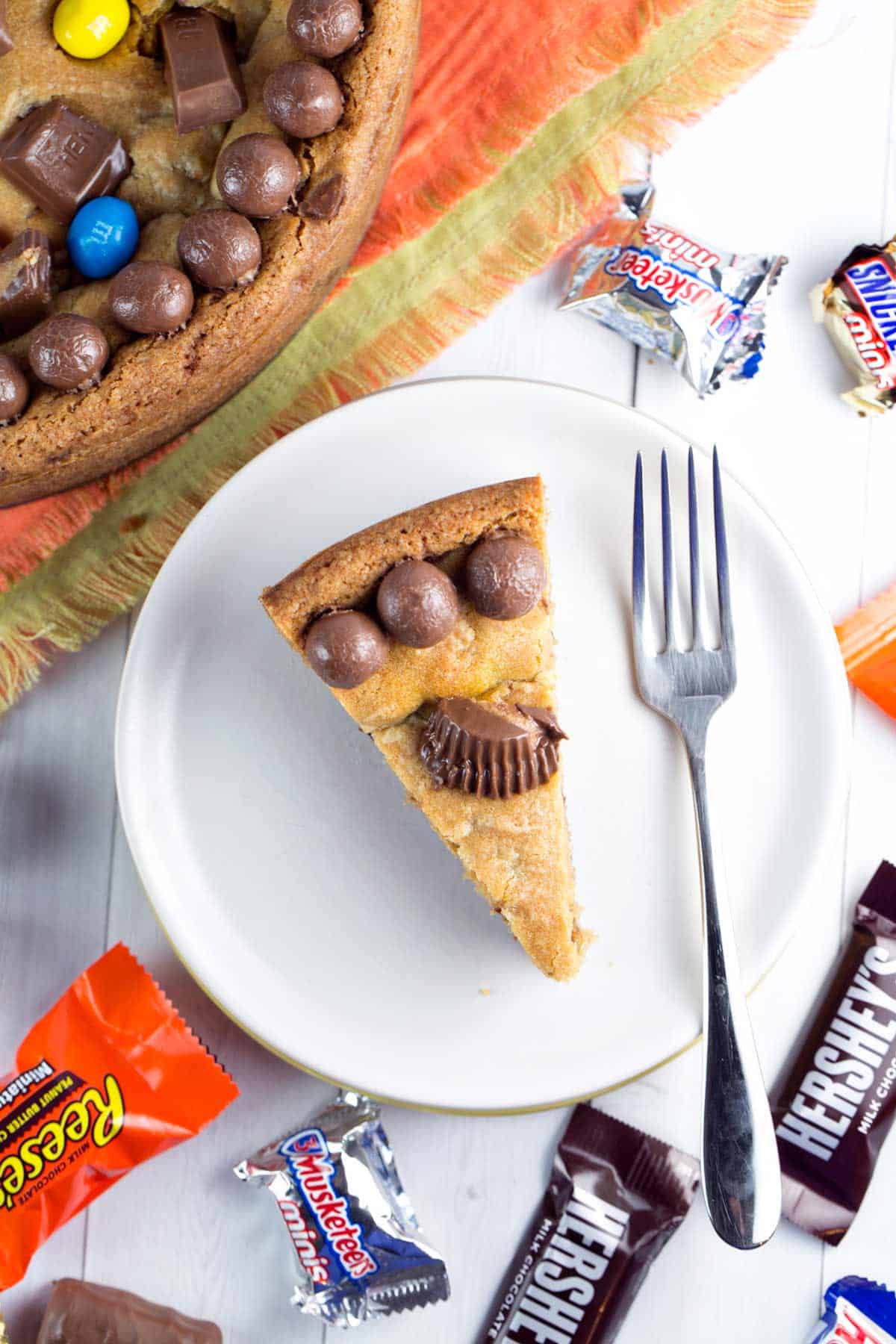 What is a Cookie Cake?
We've had the cake hierarchy discussion on here before.  Ice Cream Cake > Cookie Cake > Regular Cake.  Not to hate on regular cake or anything — it definitely has its time to shine.
But what's better than cake?  A giant cookie turned into a cake!  And especially a giant candy cookie cake.
It's like all the best parts of a cookie, but even better.  Because it's one GIANT cookie cake, the outside can get nice and crispy and the inside can stay ooey-gooey and soft.
I like to load of up my cookie cake with brown sugar to keep it extra soft and moist – it almost feels undercooked in the middle (but fret not – perfectly cooked and safe to eat!).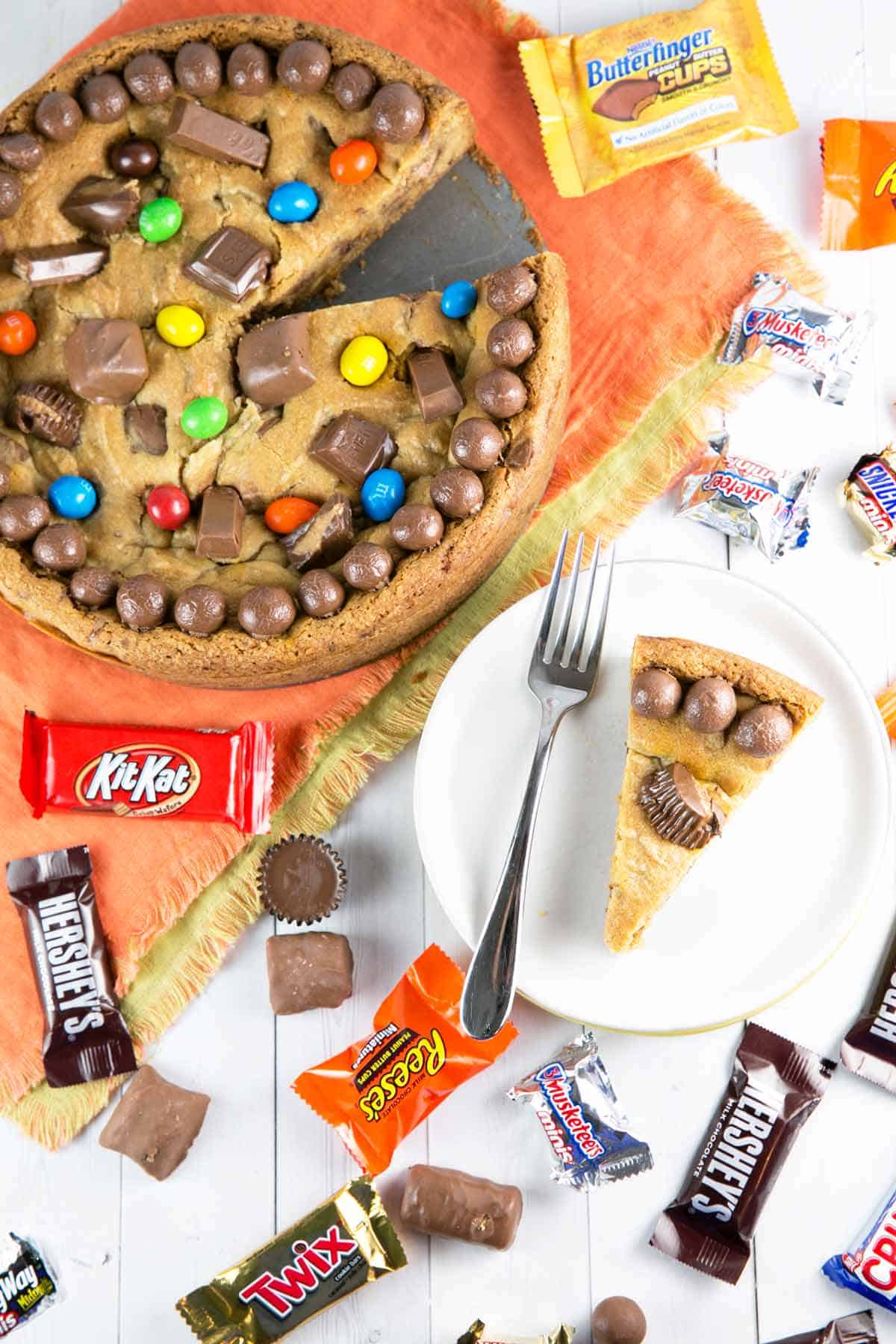 What kind of candy should you use in a candy cookie cake?
As far as what kind of candy to add to your leftover candy cookie cake?  Whatever you like!  I stuck with chocolate-based candy, because I wasn't sure how well Swedish Fish or skittles would work.
This version here has peanut M&Ms (my personal most favorite candy), Snickers, Butterfingers, Crunch, KatKats, 3 Musketeers, Milky Ways (my personal least favorite candy), Twix, Reeses Peanut Butter Cups, and a surrounding ring of Whoppers.
You could stick with all one kind of candy, but when it comes to candy, I kinda feel like variety really is the spice of life.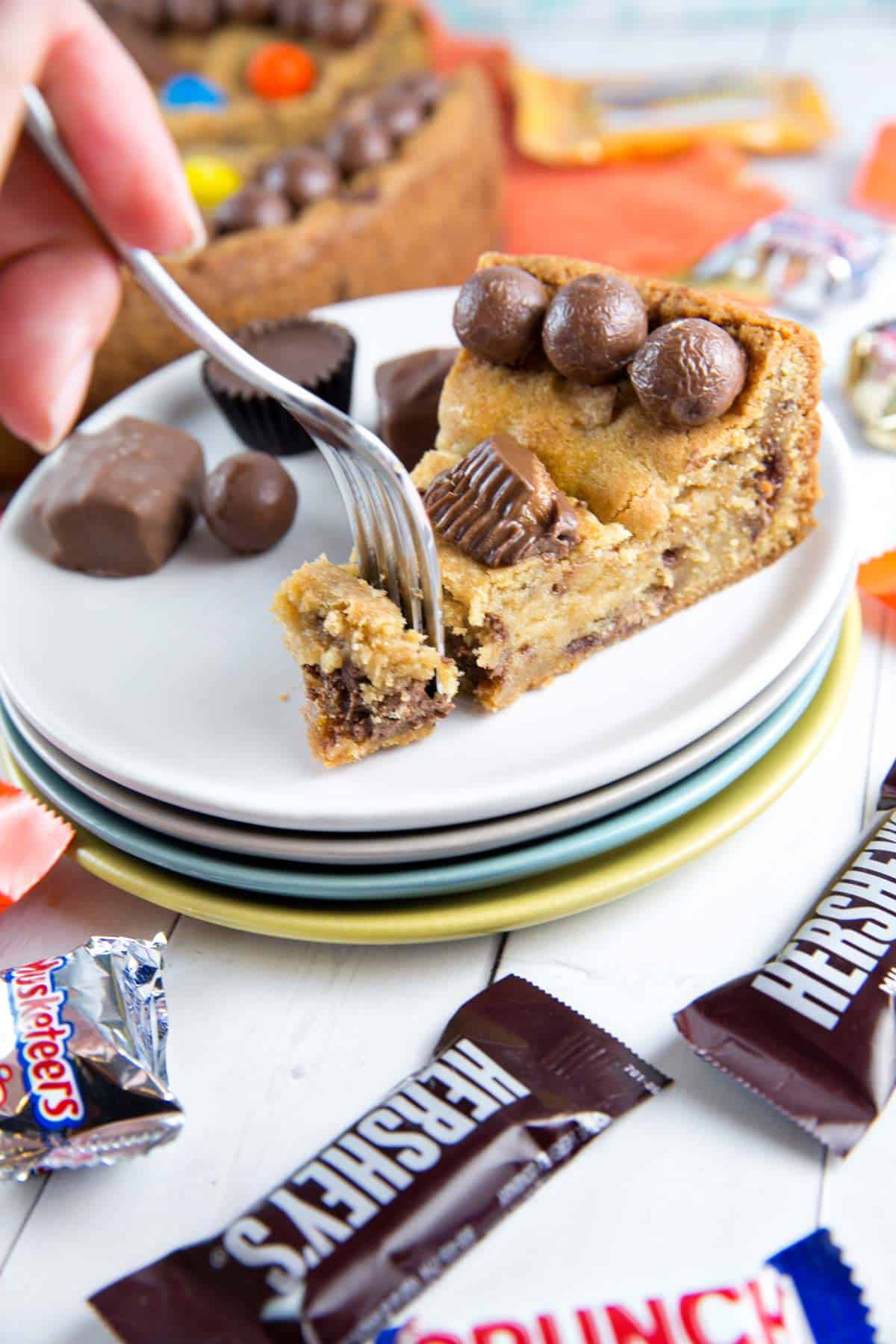 So set aside a little candy before you hand it out for Halloween.  Or raid your kid's Trick or Treat bag.  Hit up the supermarket the day after Halloween (or Valentine's Day!) for some half price candy.
However you do it, this Leftover Candy Cookie Cake is sure to be a big hit!
More Cookie Cake Recipes: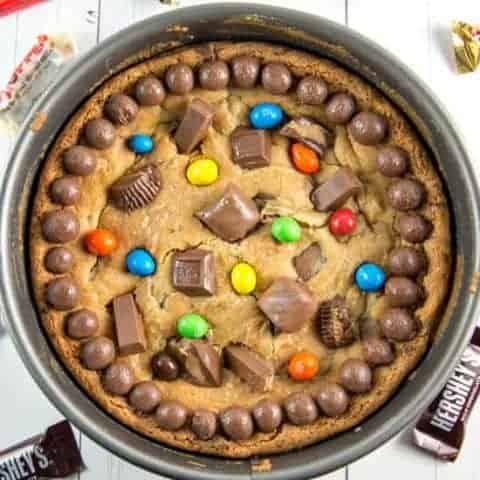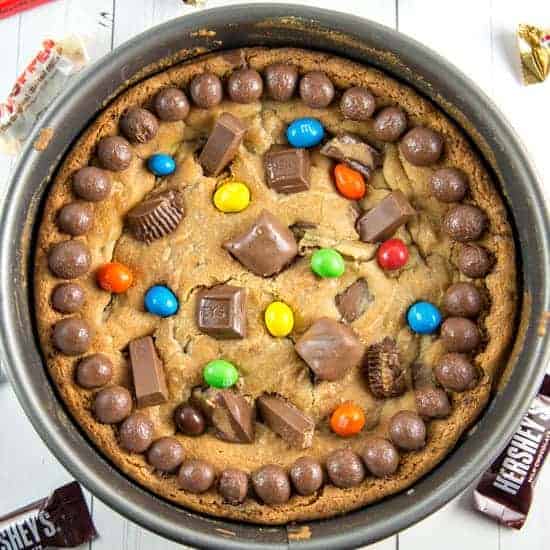 Leftover Candy Cookie Cake
A giant soft and chewy cookie cake, filled with all your favorite candy.
Ingredients
1 cup butter, room temperature
1 cup brown sugar, packed
1/2 cup granulated sugar
2 eggs, room temperature
1 tablespoon vanilla extract
2 1/2 cups flour
1 teaspoon baking soda
3/4 teaspoon salt
2 cups assorted candy, chopped, plus more for decorating
Instructions
Preheat oven to 350 °F. Lightly grease a 9″ springform pan, cake tin, or pie plate.
Beat together butter and sugars using an electric mixer until light and fluffy. Add in the eggs, one at a time, followed by the vanilla. Slowly add in the dry ingredients, continuing to mix just until no streaks of flour remain. Stir in the chopped candy.
Transfer the cookie dough into the prepared pan. Spread to the edges and smooth using a spatula. Bake for 25-30 minutes, until a tester inserted into the center comes out clean.
While still warm, press additional candy into the top of the cookie cake. Cool completely before slicing and serving.
Notes
Baked, fully cooled candy cookie cake can be wrapped in two layers of aluminum foil and stored in the freezer for up to 3 months. Thaw at room temperature overnight before slicing.
A Bunsen Burner Bakery Original Protocol
Recommended Products
As an Amazon Associate and member of other affiliate programs, I earn from qualifying purchases.